"Alright, 11:17. We're off. Here we go." Ron said as he put the truck in gear, heading on a new adventure.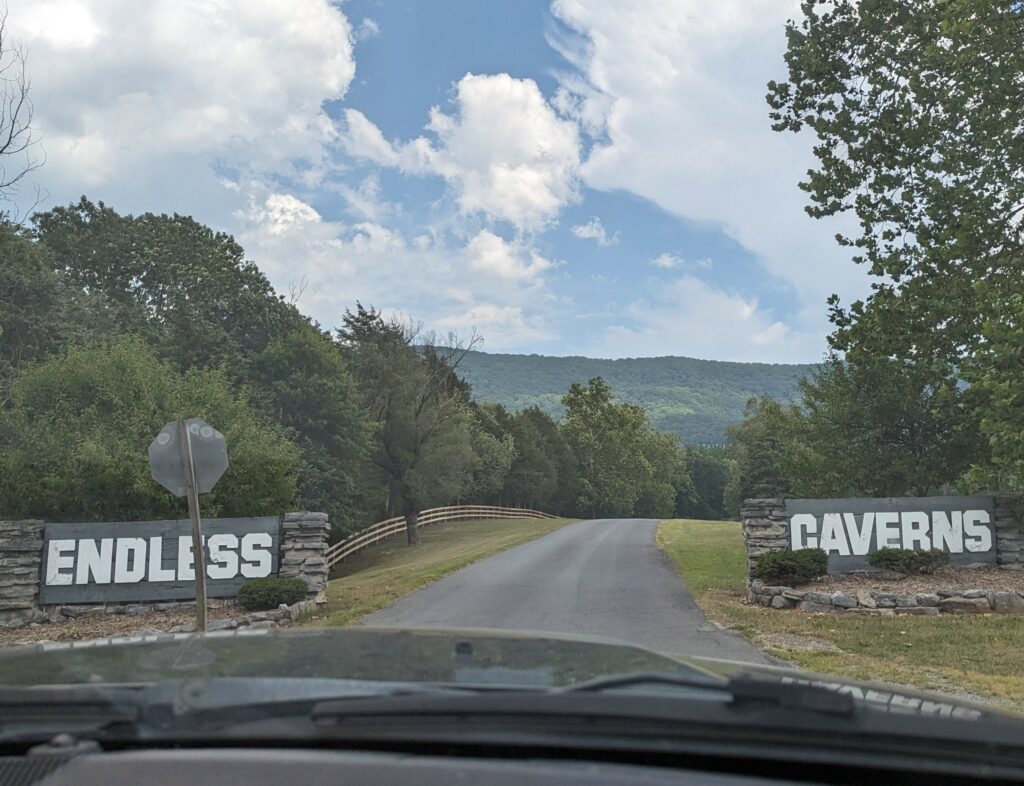 "Guess our elevation?" Ron asked after we cheered our arrival at Endless Caverns Resort. Having just glanced at my watch, 4:04 p.m. filled the screen.
"1100 feet." Ron's face filled with surprised wonder.
"1150. Good guess Honey."
And so our two-week mountain retreat began at site E42. A gravel driveway lined with rock walls and green leaves secluded us from the other campers. The last site in the row, a small green field, was our frontal view.
"Can't see the mountains because we're on the side of it," Ron said.
We spent a quiet evening at the camper, watching the sunset before heading in for bed.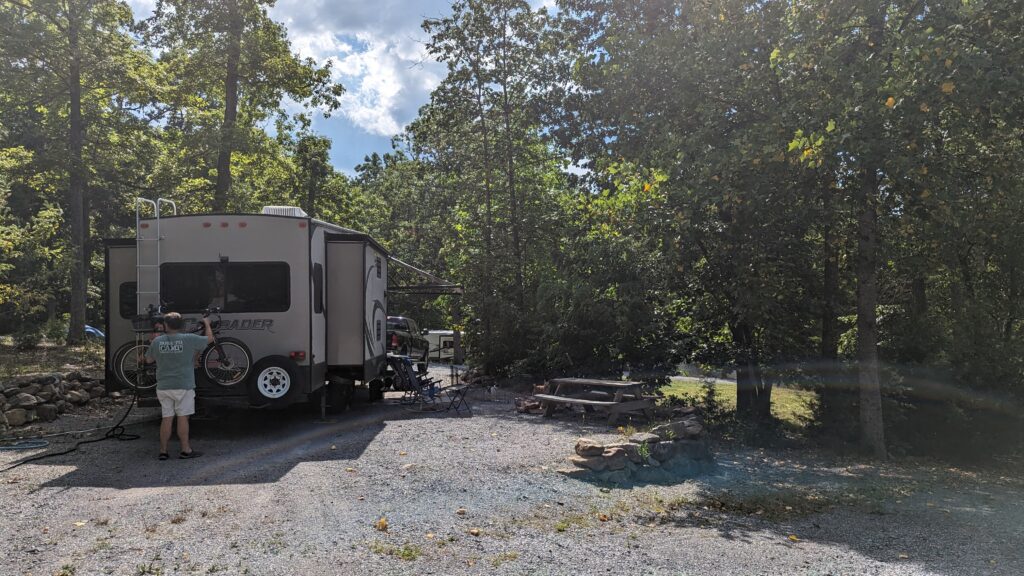 Early morning in the dark, I rose at 5:00. Sophia sat on my lap as I read my Bible. I watched the sunrise. = Wrote devotionals.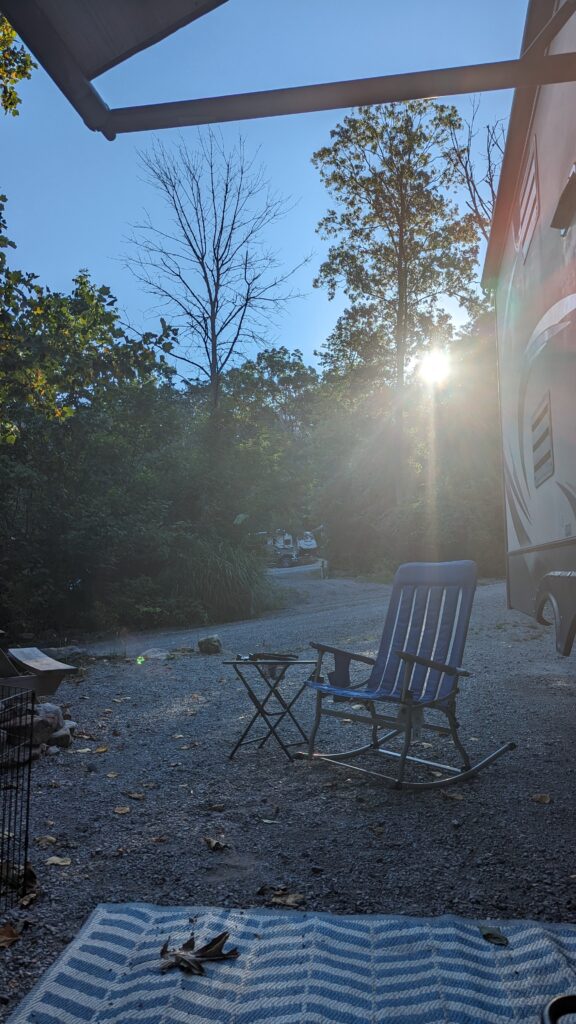 When my yoga instructor went on vacation at the end of June, I learned she had a YouTube channel, Yoga Now.
Nothing energizes me more than spending time outdoors strengthening my body with my favorite teacher.
"Today's message focuses on two words, Go and Stay."
The pastor started with a game of Would You Rather in honor of the "Best Week Ever," Vacation Bible School. Veering from the church's current series on Revelation, he talked about following God's calling, GO. And the reasons we don't, comfort, busyness, and fear, in a word, STAY.
Warm and welcoming, we've already decided to return next week for the continuation of Revelation.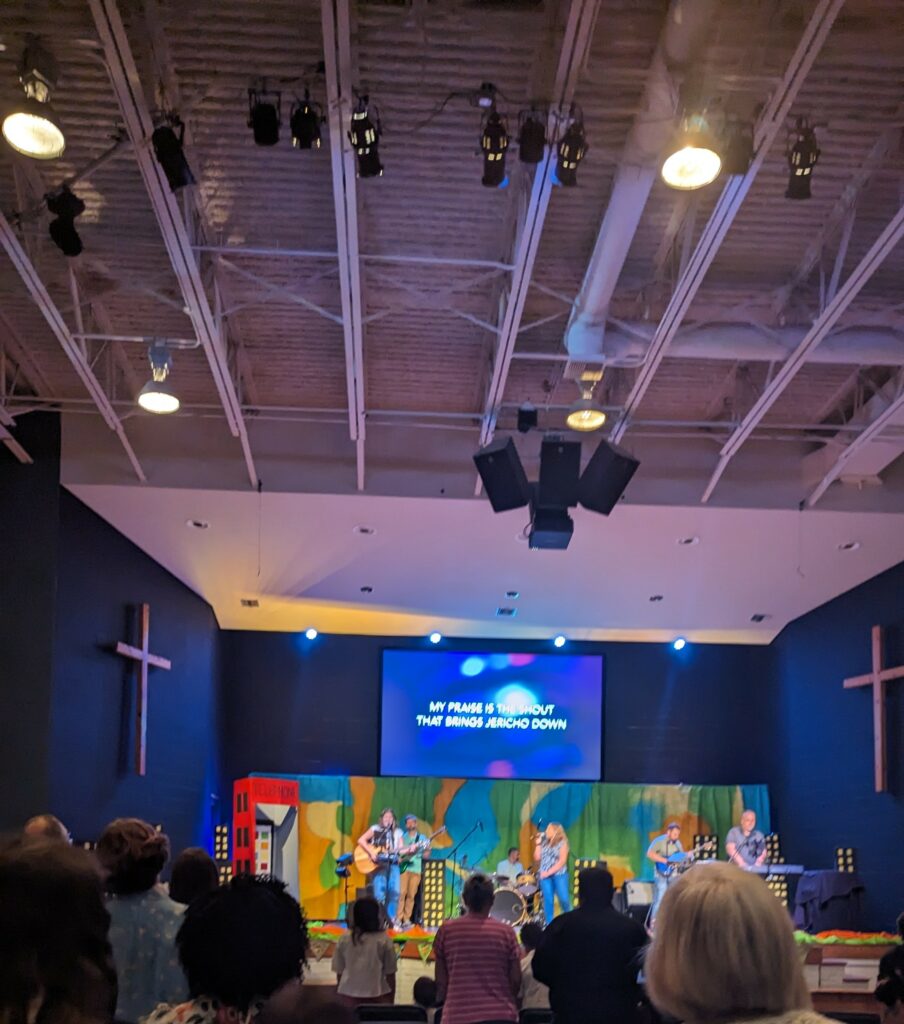 "That's where we were when your mom fell, January 19th," I said to Ron as we drove past the Joshua Wilton House. A bed and breakfast, we stayed at it when Ron showed me around his beloved Harrisonburg, where he spent five years getting his undergrad from JMU.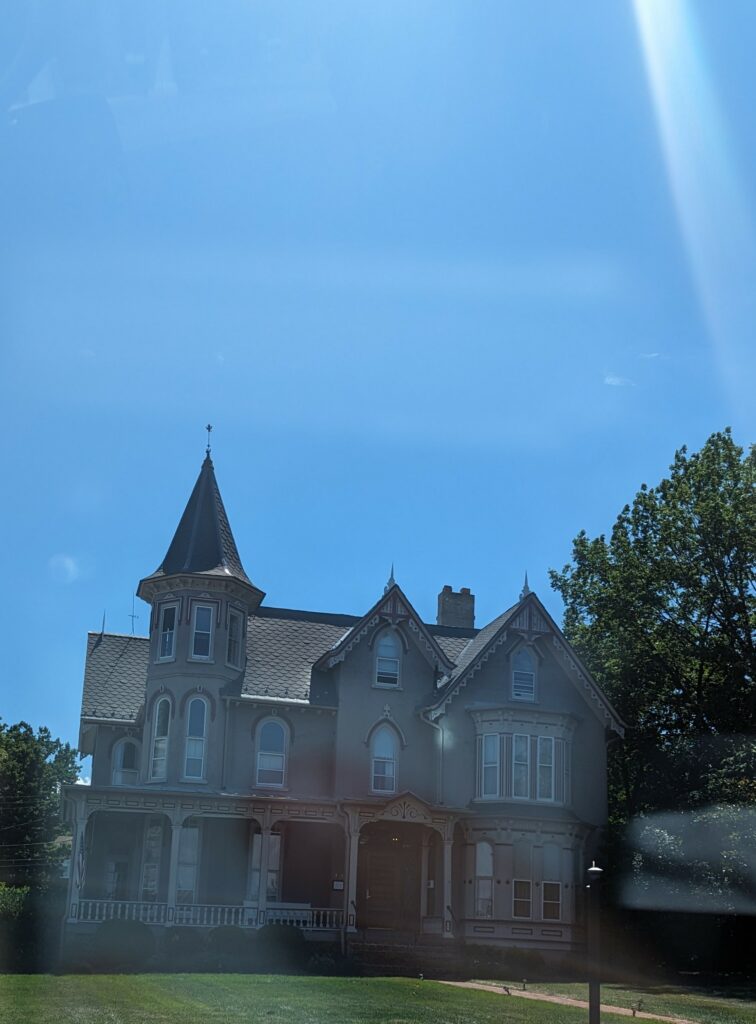 "Do you know what pernicious means?" Said the waitress at Billy Jack's Shack as she delivered Ron's beer so named, along with my spicy bloody Mary. Neither of us knew, so Ron looked up the word.
"Deadly, causing great harm." I guess if you have enough of the beer, it could have consequences.
Totchos, tater tots covered in sausage gravy, and an egg filled my belly. While Ron enjoyed breakfast sliders, commenting, "This is really good."
"You guys doing a donut with us today?" The waitress asked.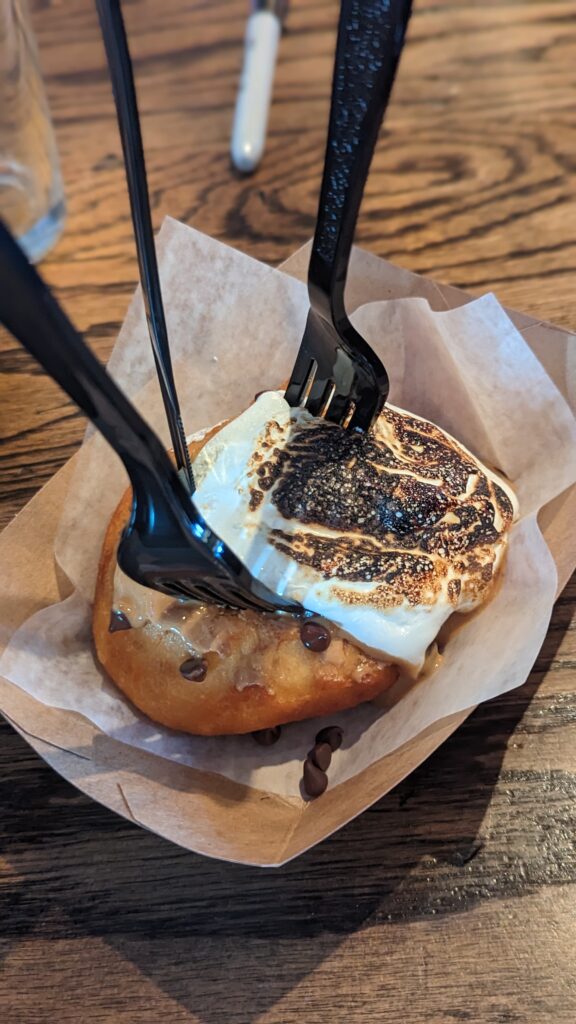 While saying yes, Ron asked what it was. "I don't know, but who says no to donuts."
"People just sign them and hang them on the wall. We have a theory, if the business fails, we'll just take all the dollars to keep running," the waitress said when I asked her about the dollar bills hanging on the wall. Of course, we had to sign one.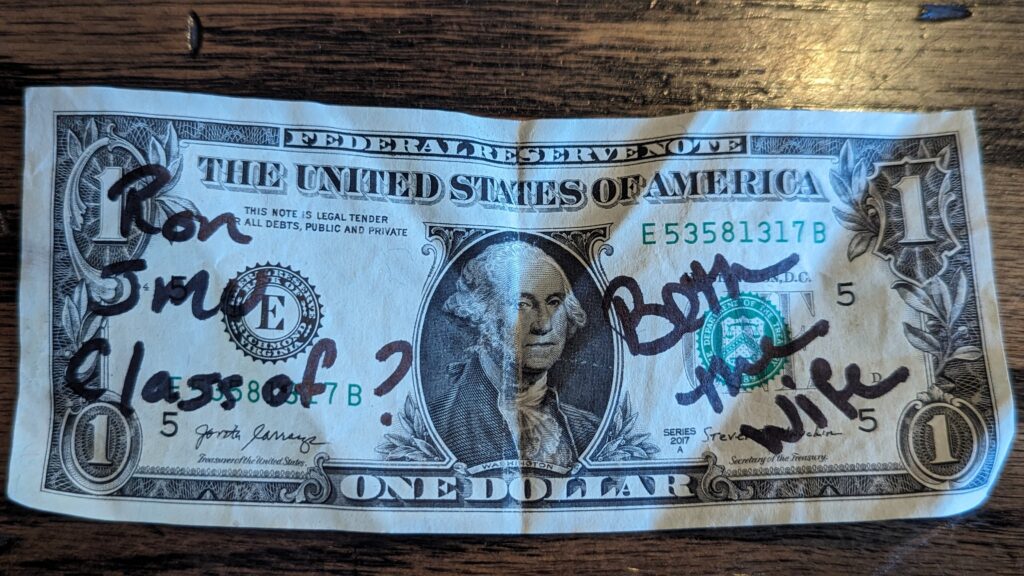 Ron never picked up his diploma because he had unpaid parking tickets. Young and reckless, he decided to buck the system and let them keep his sheepskin. Hence the question mark, and the only way he would agree to sign the dollar.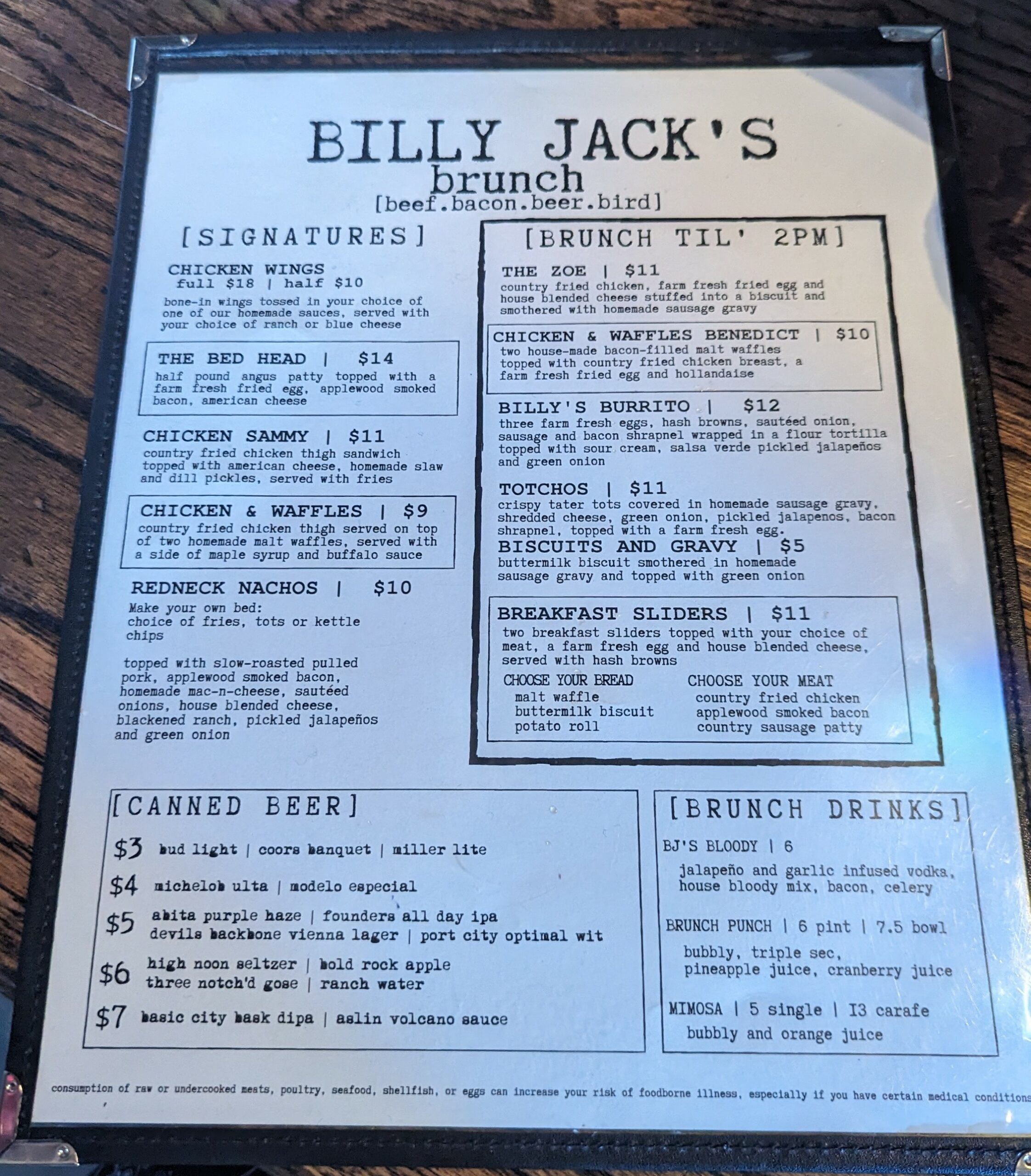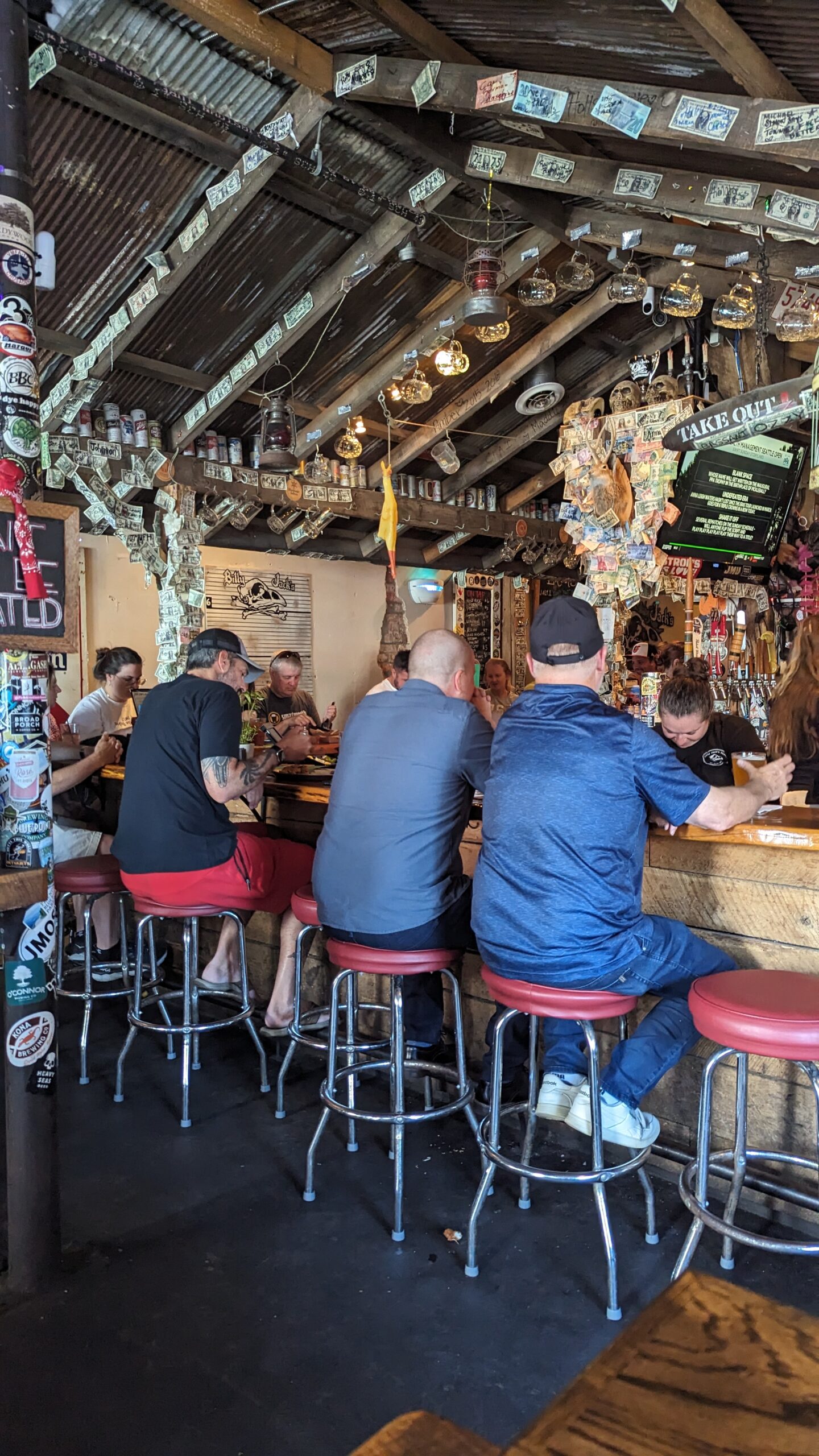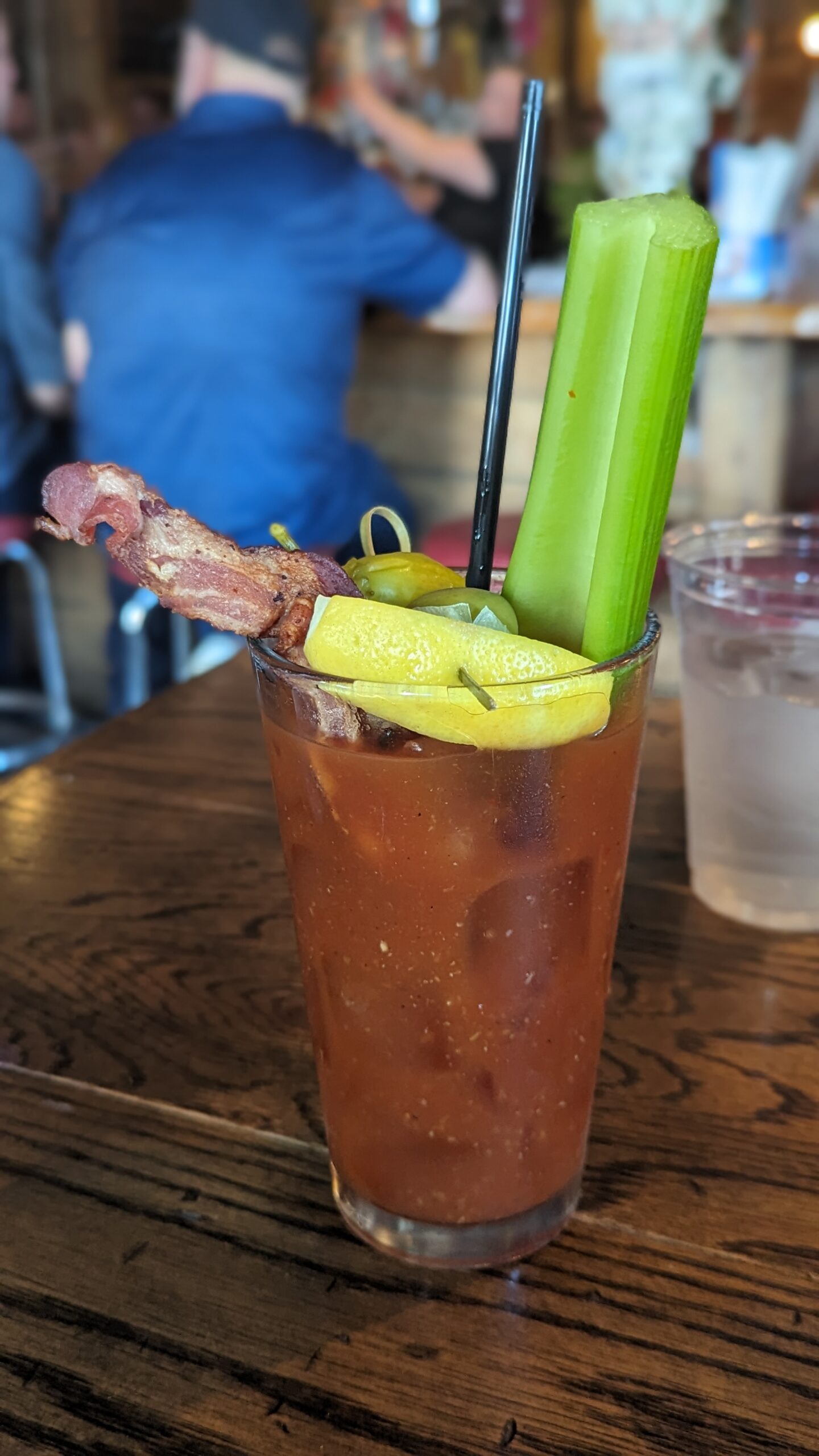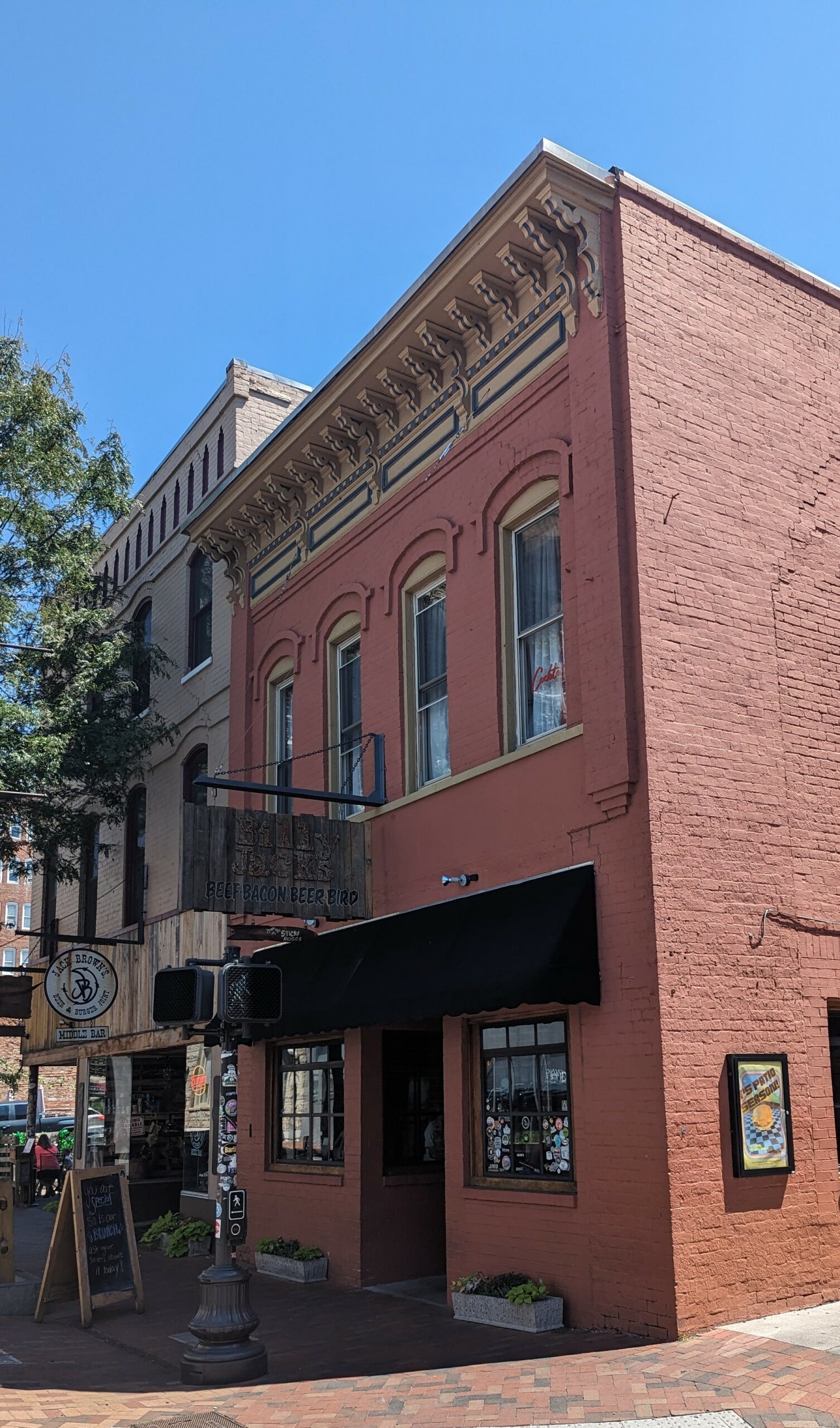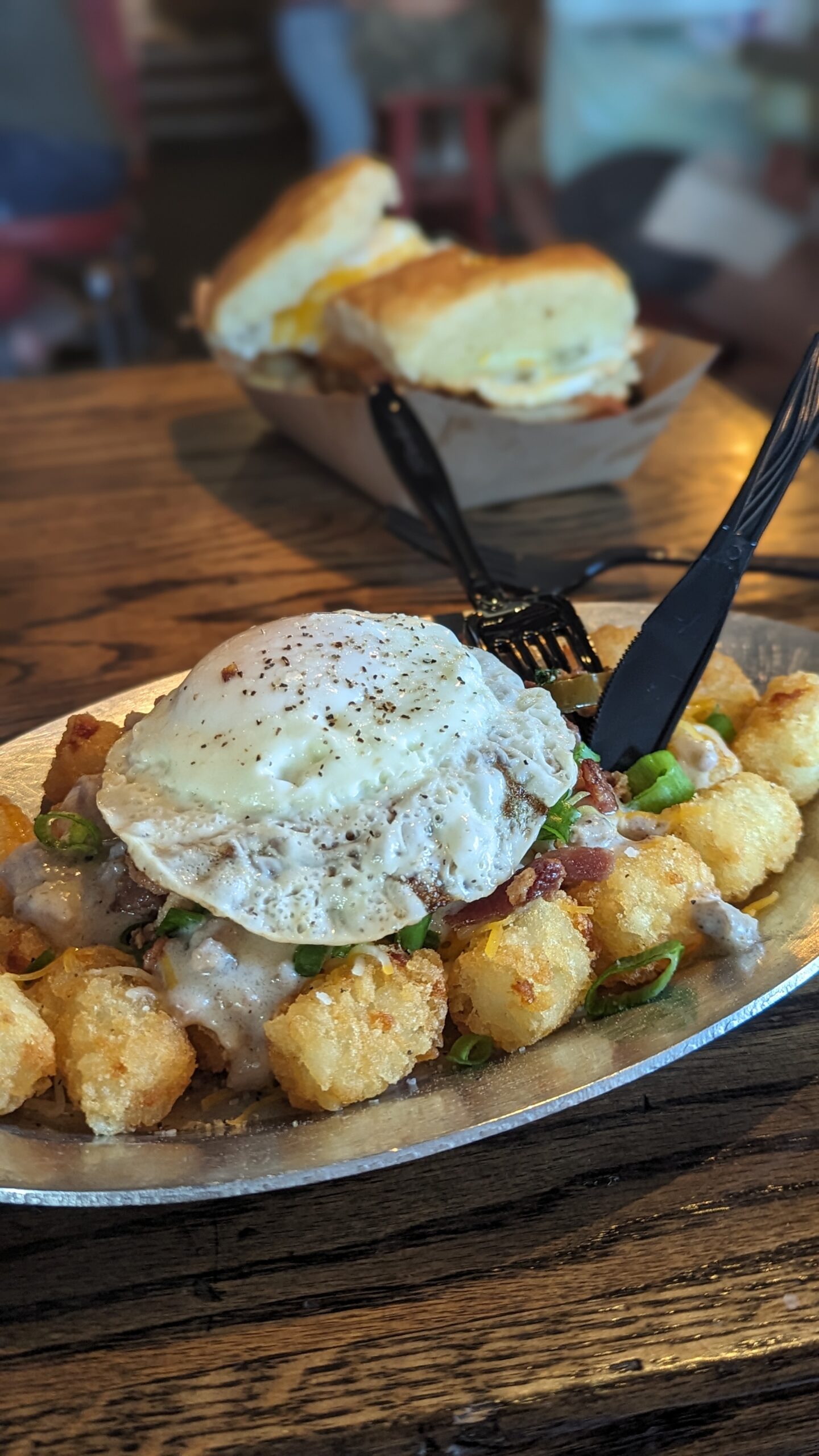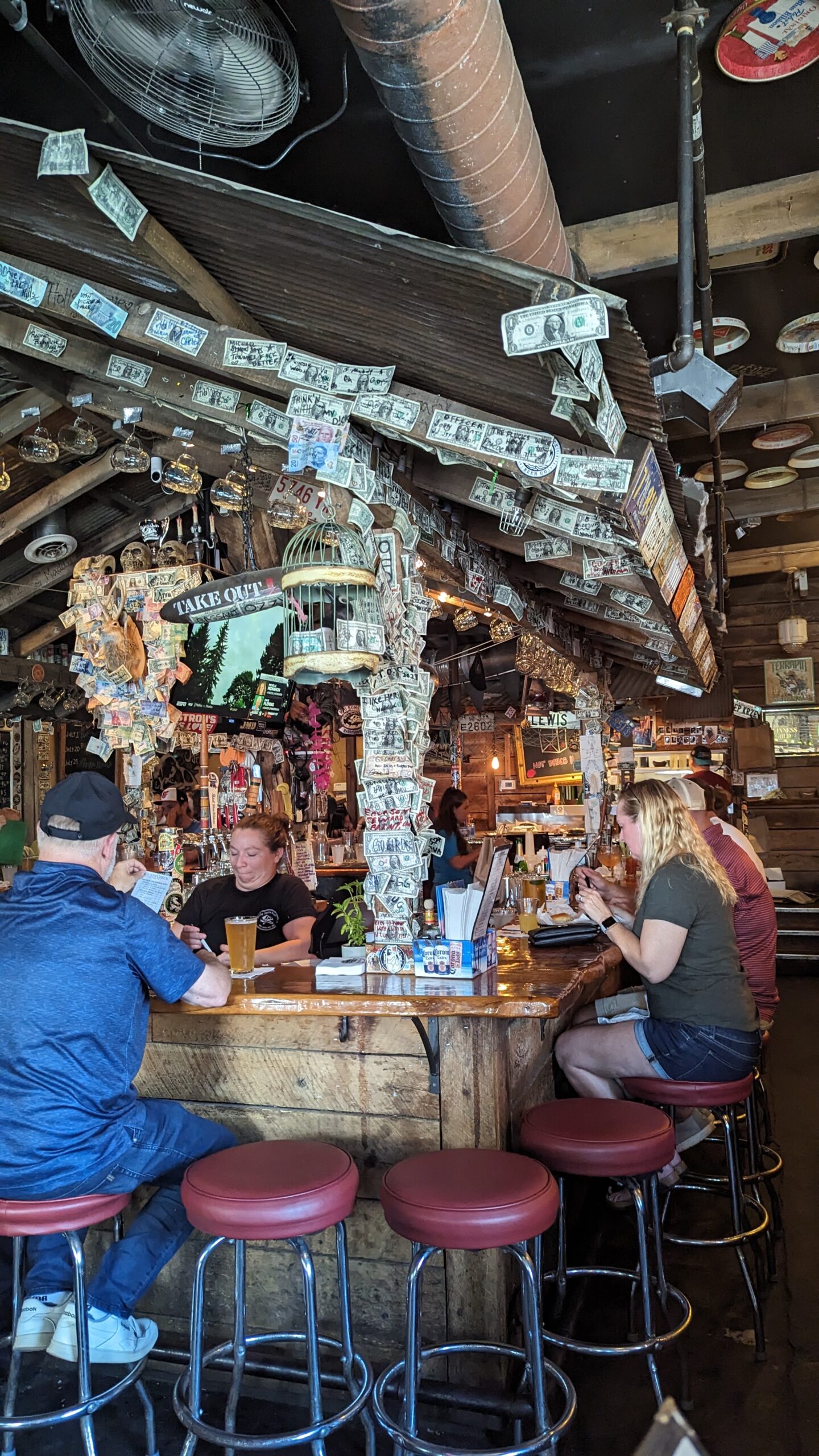 Winding up the Pack Ridge Golf Course entrance, we questioned our decision to walk. A bear with a pink golf ball in his mouth stood guard at the entrance to the magnificent clubhouse sitting on the ridge.
After talking to the girl running the pro shop, we decided to play 18 with a cart. However, after playing the front nine plagued by bugs so bad we could hardly hit, and without bug spray, we called it quits for the day. After getting a rain check for the back nine, we packed up and headed to Walmart for supplies and bug spray.
Maybe some golf balls as well; I think I lost six at least. I know I lost three on a par four and two on a par three. Playing a tight course lined with forests has its price.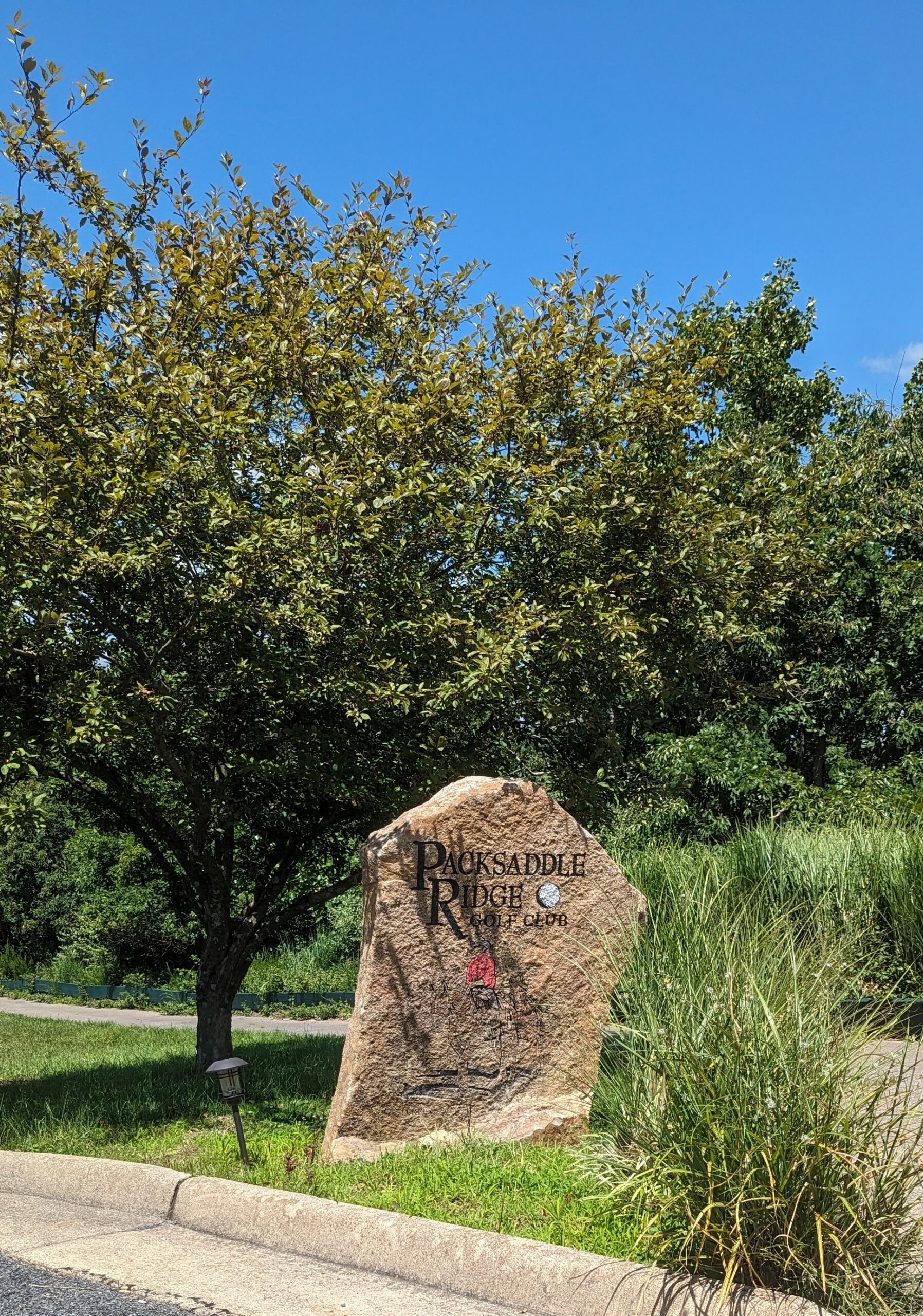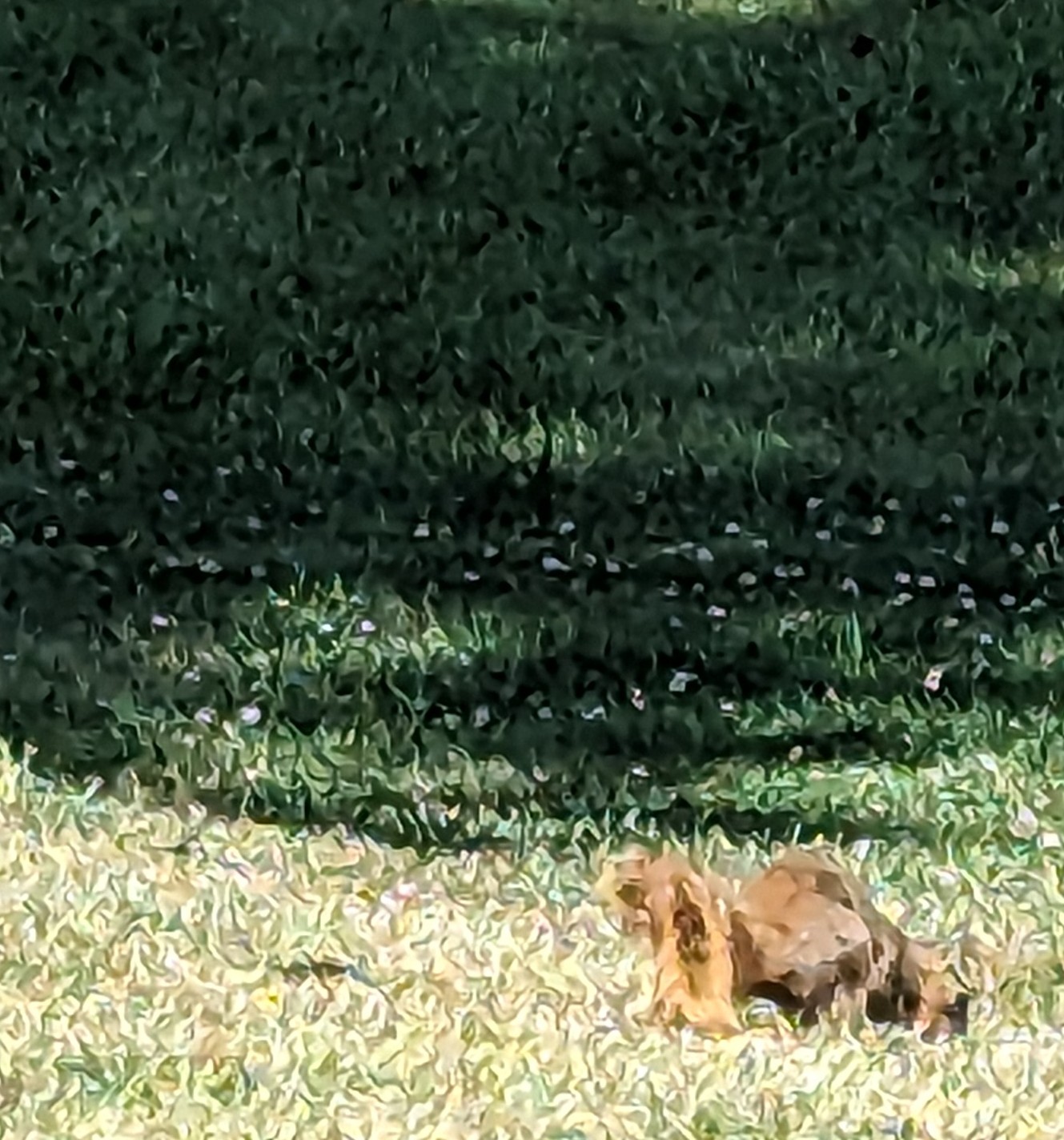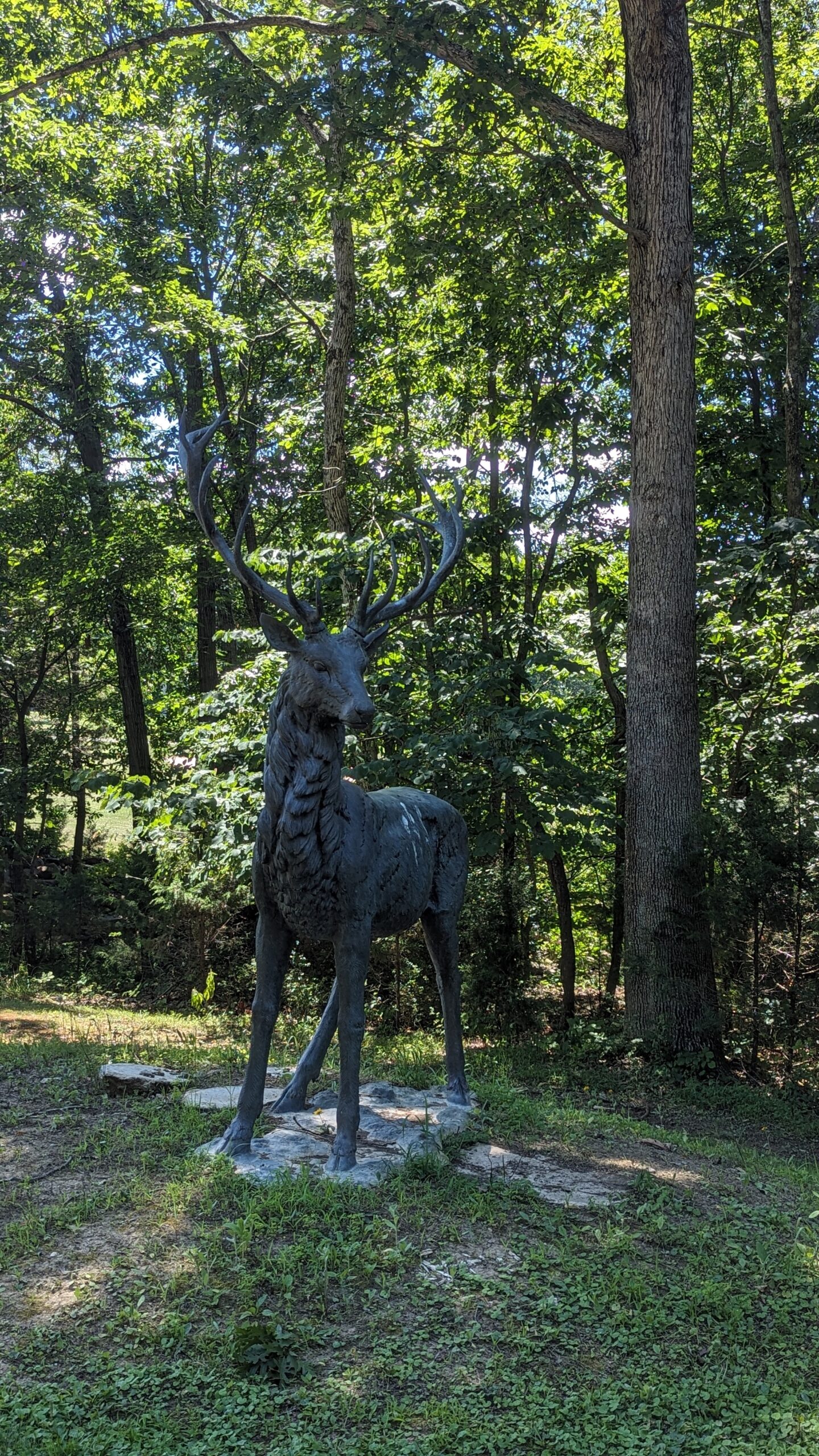 Once back at the campground, I napped while Ron played on his phone. Then we watched movies, cooked dinner, and called it a day.
Monday, July 31st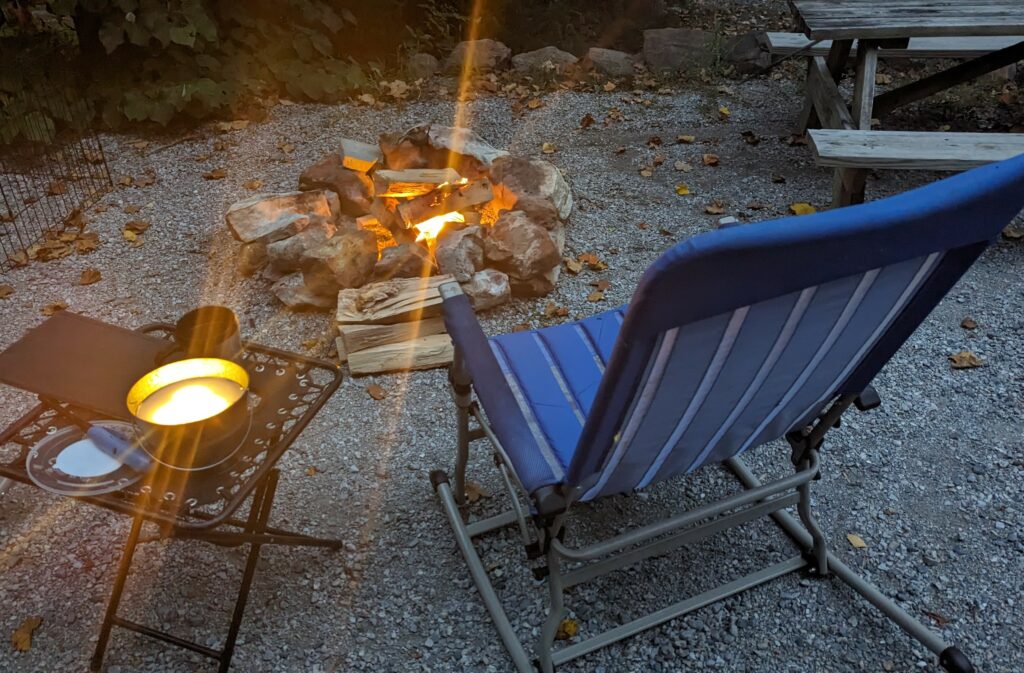 My favorite way to start the day sipping coffee by the fire while reading my Bible.
"How do you like being a camp host?" I asked
"' "Love it. This is my first year. I was a grocery store manager, a lotta stress. My husband works for Dominion Power. He said I could quit and give it a try. My blood pressure's down, and I'm happier than I've ever been."'
Tracy and I chatted for several minutes. She shared all the hot spots with me of things to do.
'"You've gotta see the sign. Just go to the top of the hill, there's one parking spot, and then you hike the rest of the way. It's not bad. It gets steep at the E. But the sunset's amazing over the West Virginia mountains. I got wood up there; all you need is a firestarter, and you can relax and watch the sunset."'
Tracy also told us about Shenvalee Golf Course, home to Miller's Grill, where we ended up having lunch and booking a tee time for the next day.
.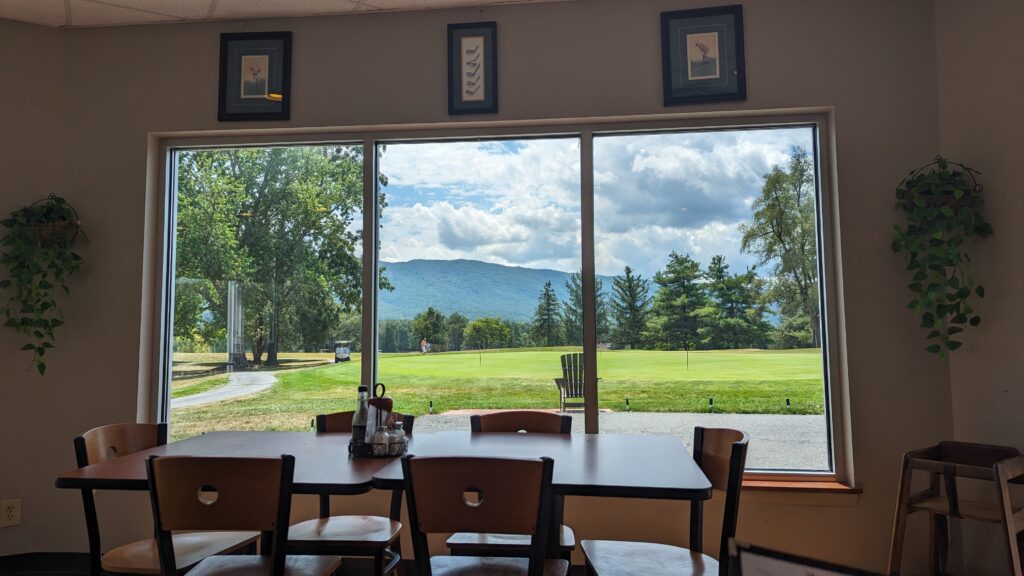 "Where you from?" I asked the young boy climbing on rocks beside us under the first "S" of the Endless Caverns sign.
"America," he said after thinking a moment.
"Us too, America. Good answer," Ron replied, chuckling.
We soon learned our new friend, Allan, hiked an hour to reach the infamous Shenandoah sign. Seven years old, he starts second grade in the fall. Traveling from New York, on the way to the beach, which he didn't know, he left his pet lizard, "Lizardly," a bearded dragon, at home.
"I did good in kindergarten, so I got a lizard."
Our hike to the sign didn't take long, the pictures didn't do the view justice, and the unexpected entertainment made our adventure memorable.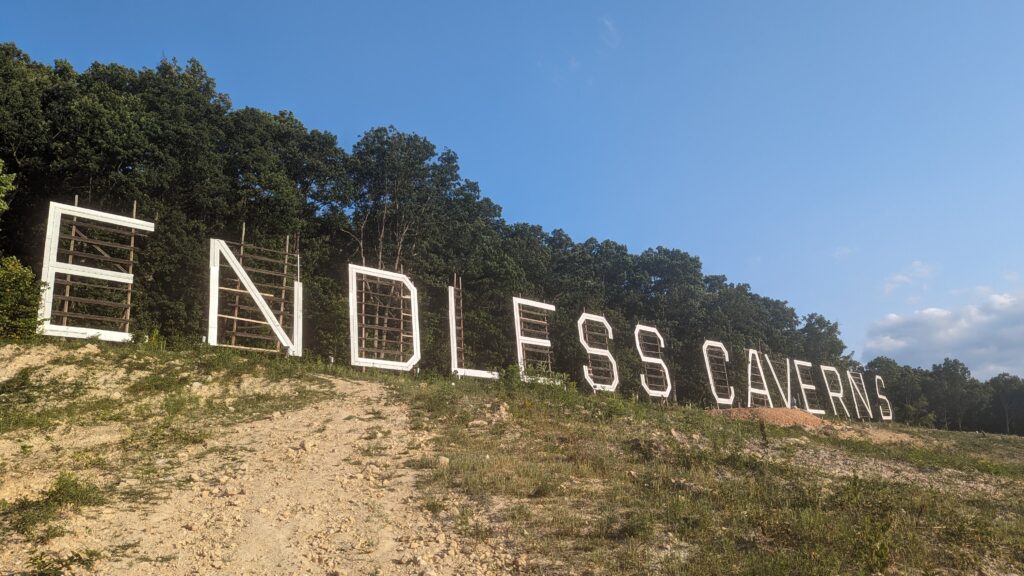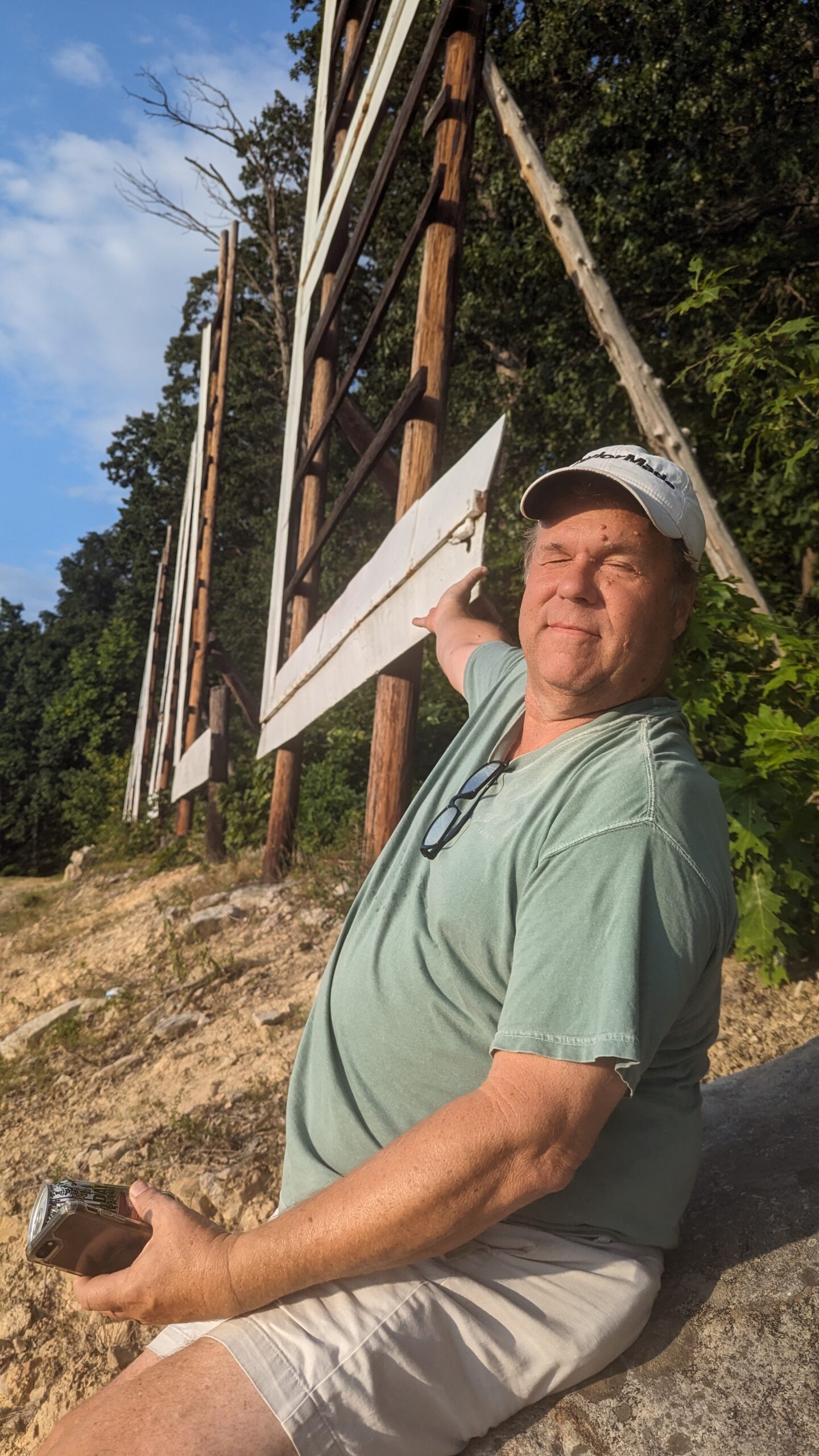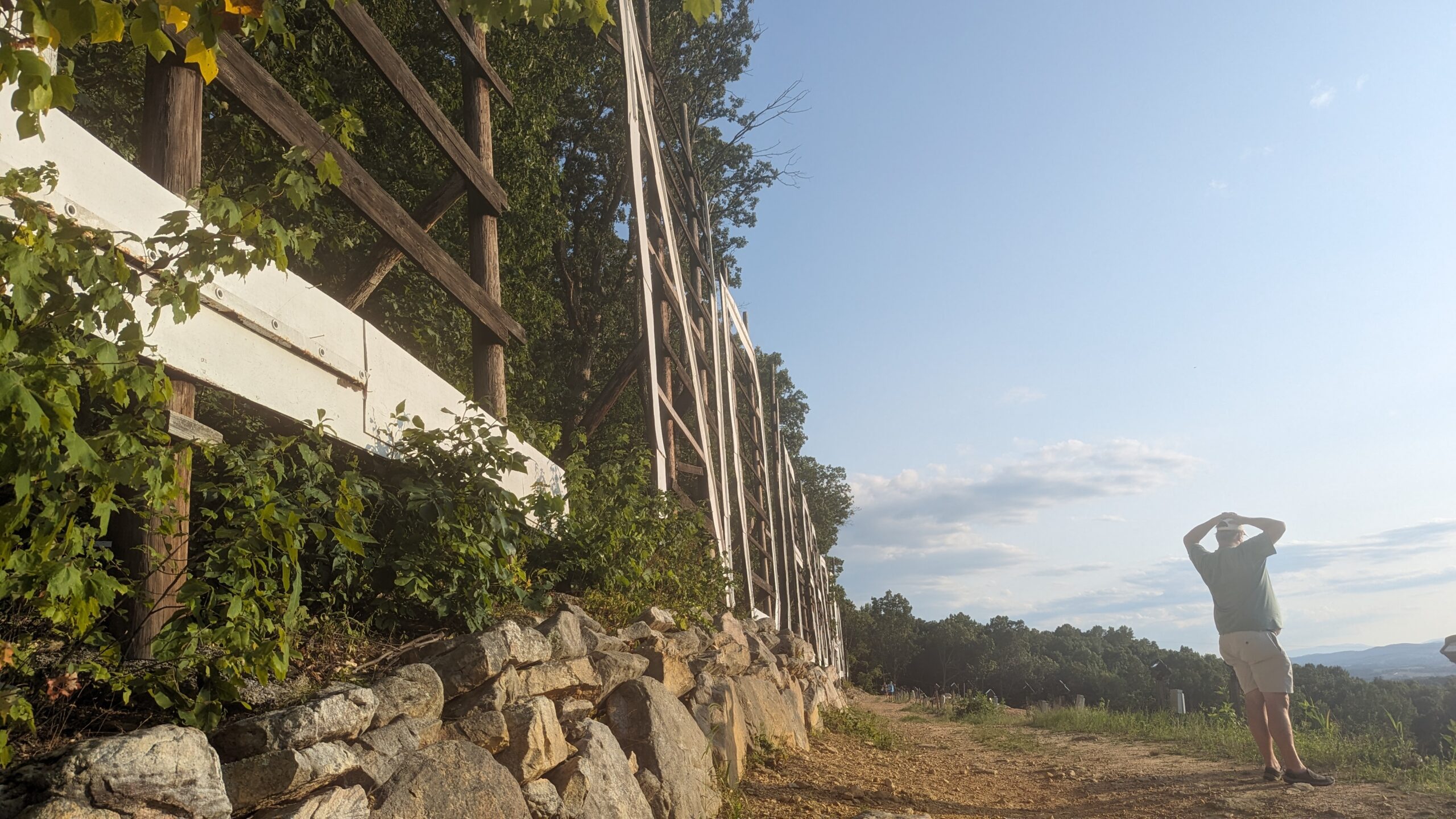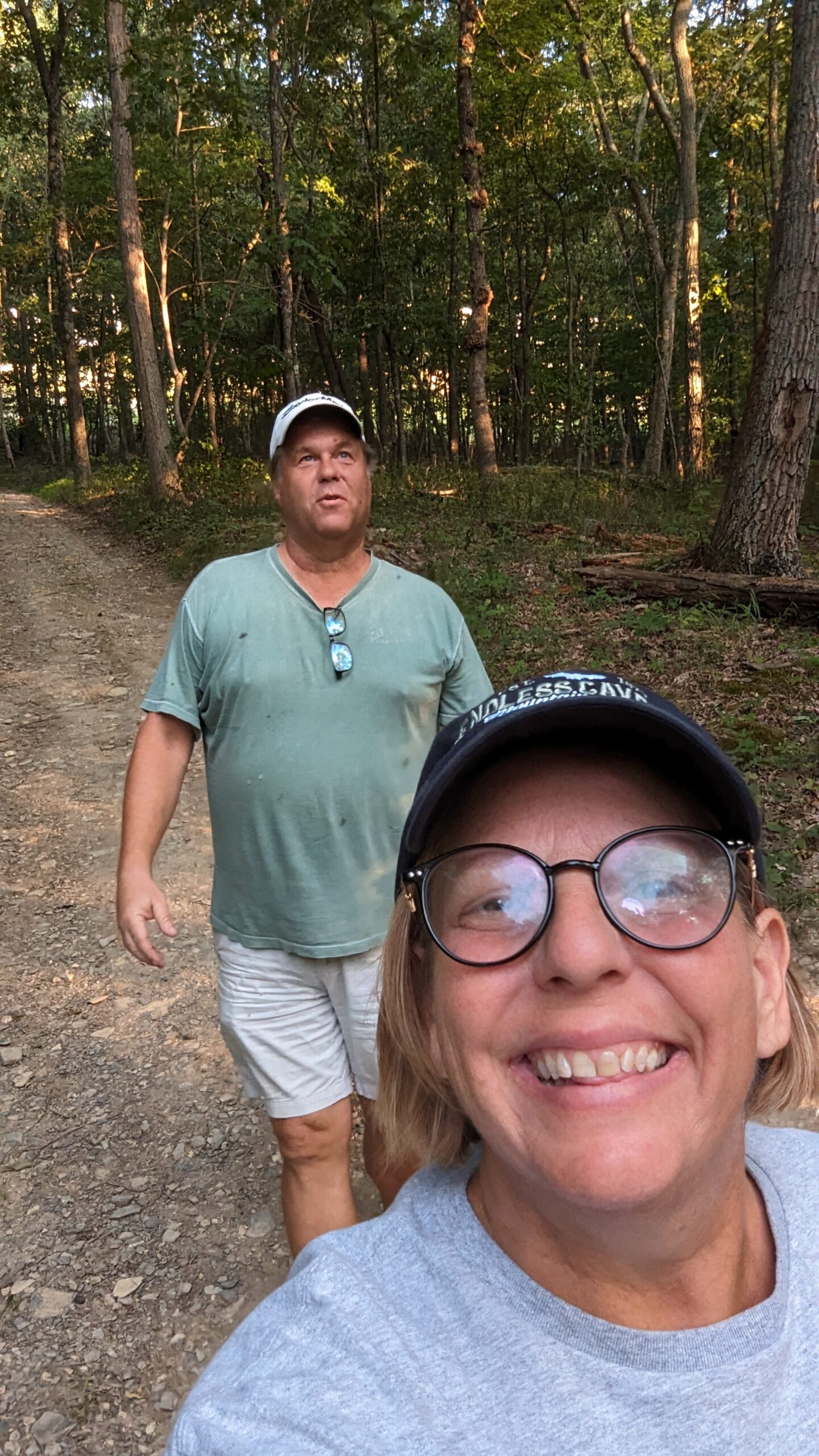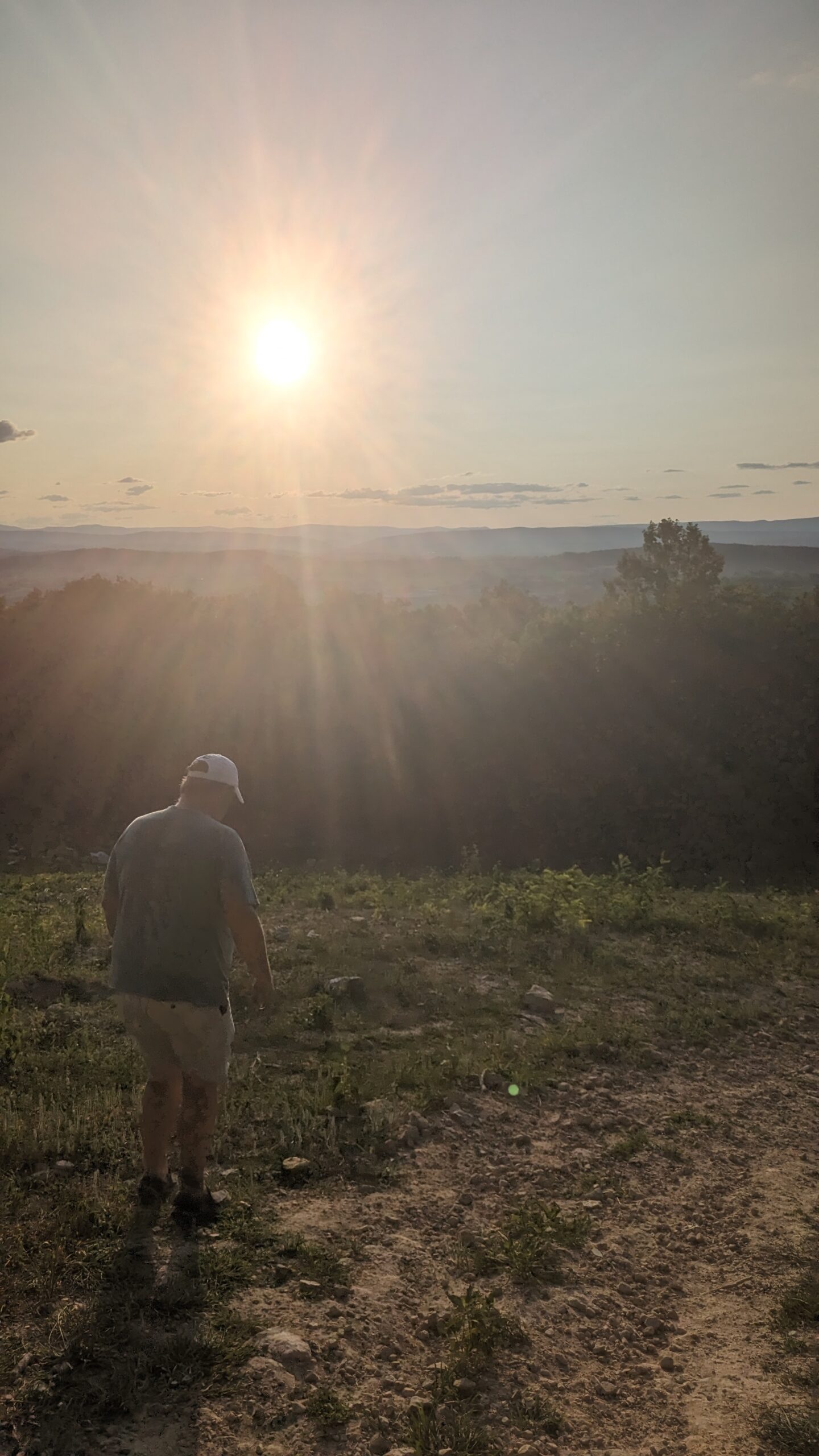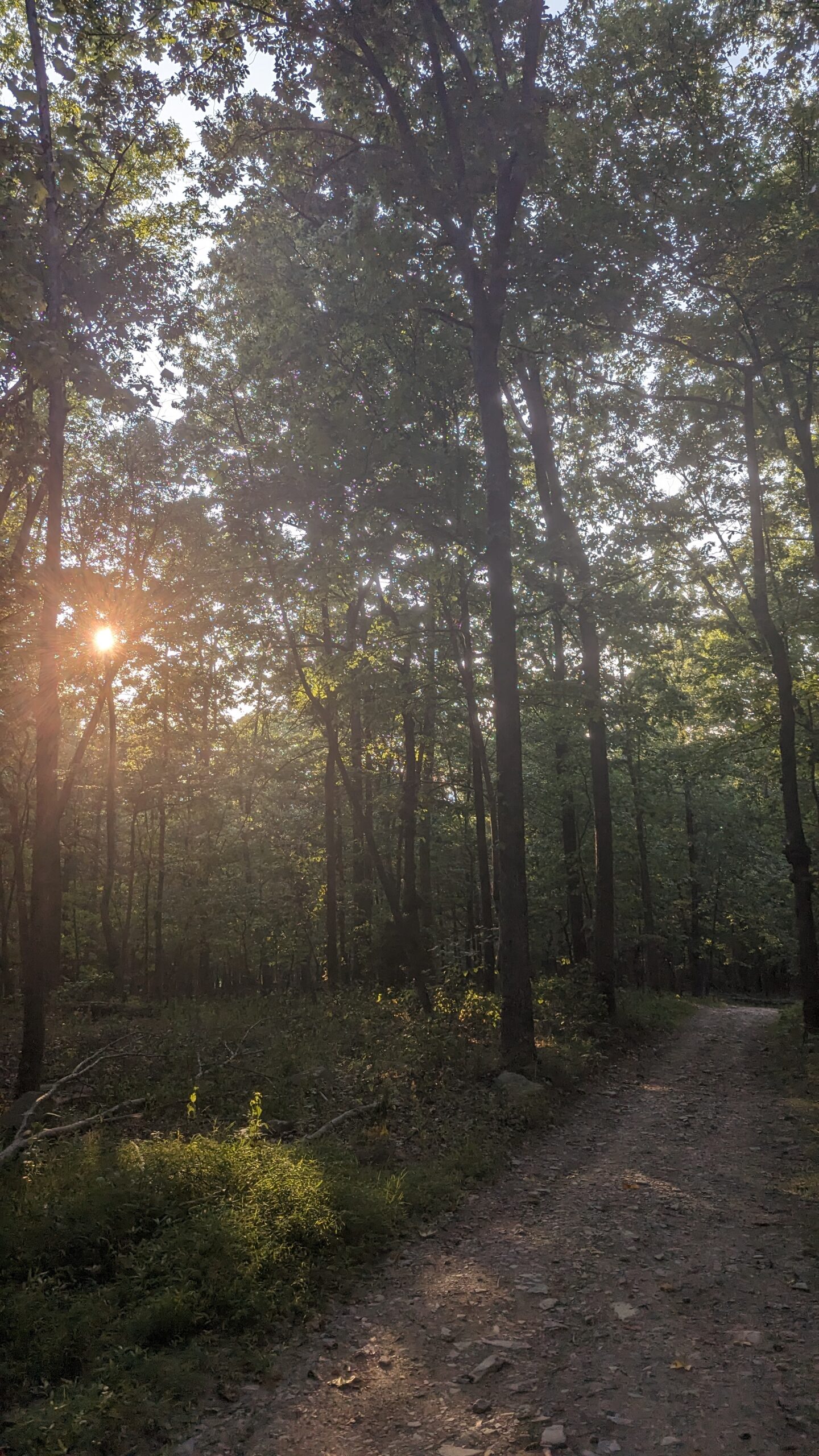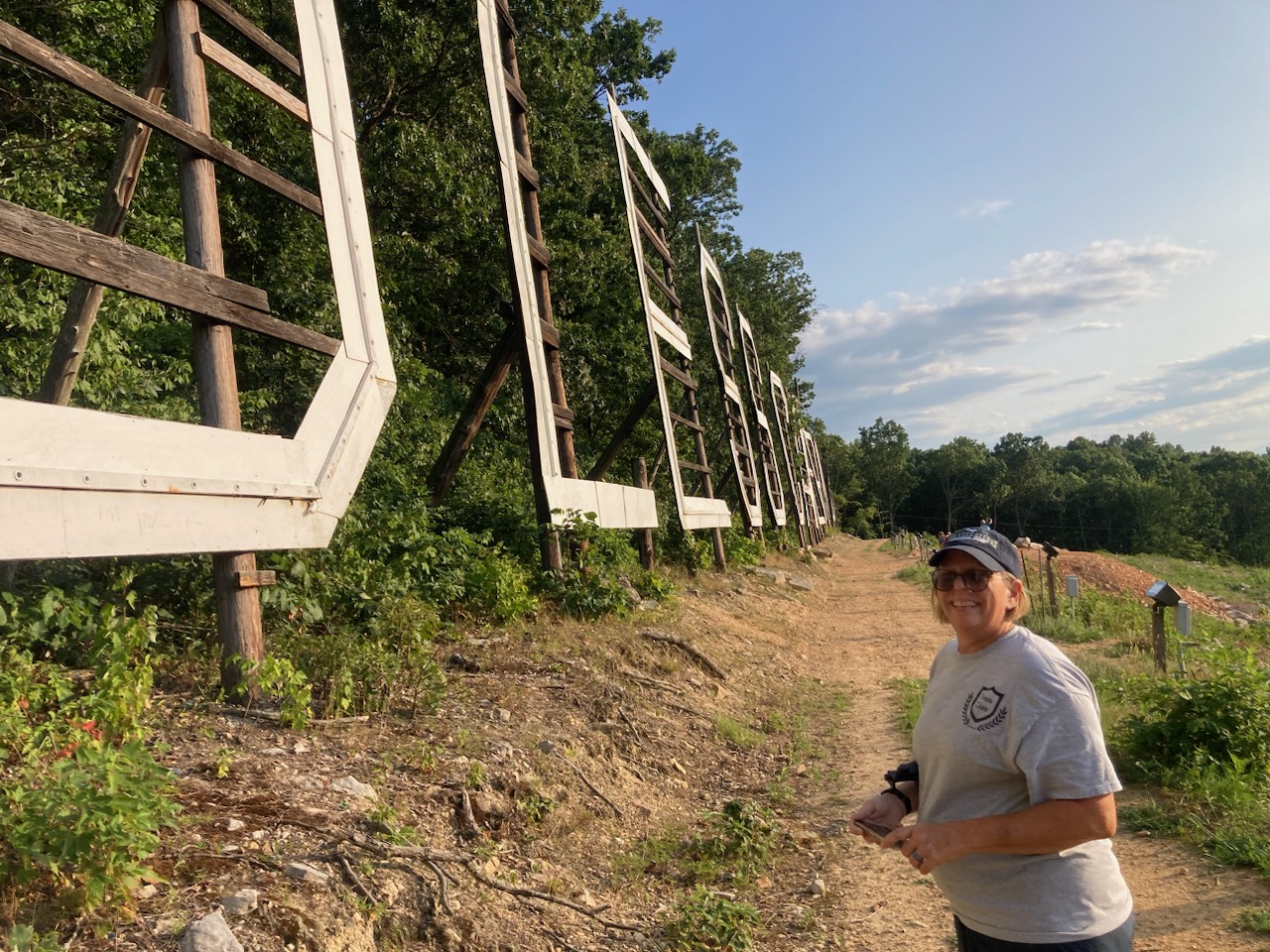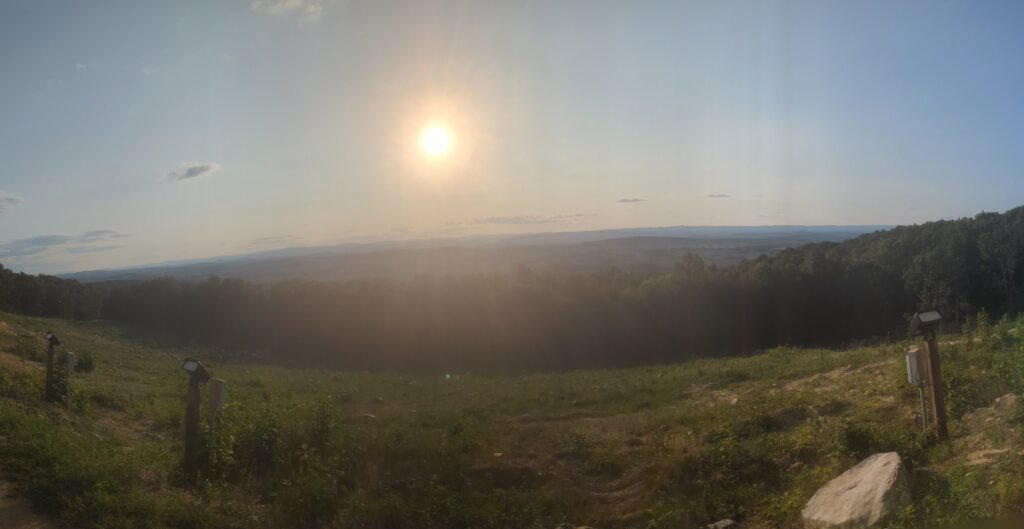 Tuesday, Aug. 1st
After starting the day with my Bible, coffee, and fire, we decided to tour the Endless Cavern at the resort.
"Our story begins in 1876 with two boys playing in the field. They discovered a hole with cool air coming from it, and after moving a few rocks, Endless Caverns was discovered. That's where we're no standing." Wyatt, our tour guide, said.
Tall and lanky, dressed in a brown jacket, black cargo pants, and Keds tennis shoes, gloves adorned his hands, and a blond mop of hair covered his head. With a deeper-than-expected voice, Wyatt gave us the history of the caves.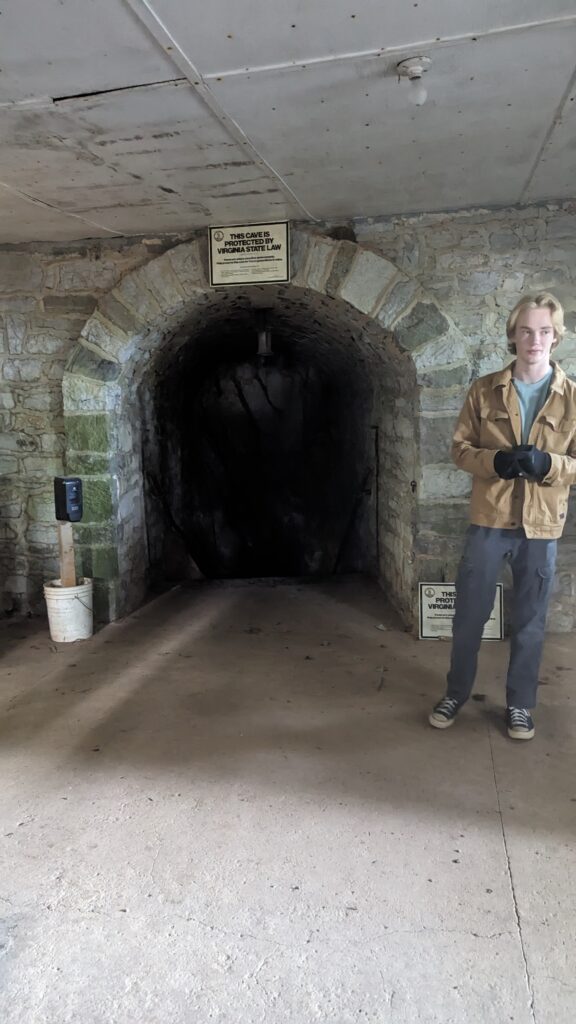 Leading us through the windy corridors, touching prohibited because of VA law about the oil on our hands, the average temperature of the cave, 55 degrees, kept us cool.
"Stalagmites come up from the ground while Stalagmites come down from the ceiling. The way I remember it is, Stalagmites MIGHT touch the ceiling while Stalagmites HOLD TIGHT to the ceiling. They grow an inch every 100 years." Wyatt said.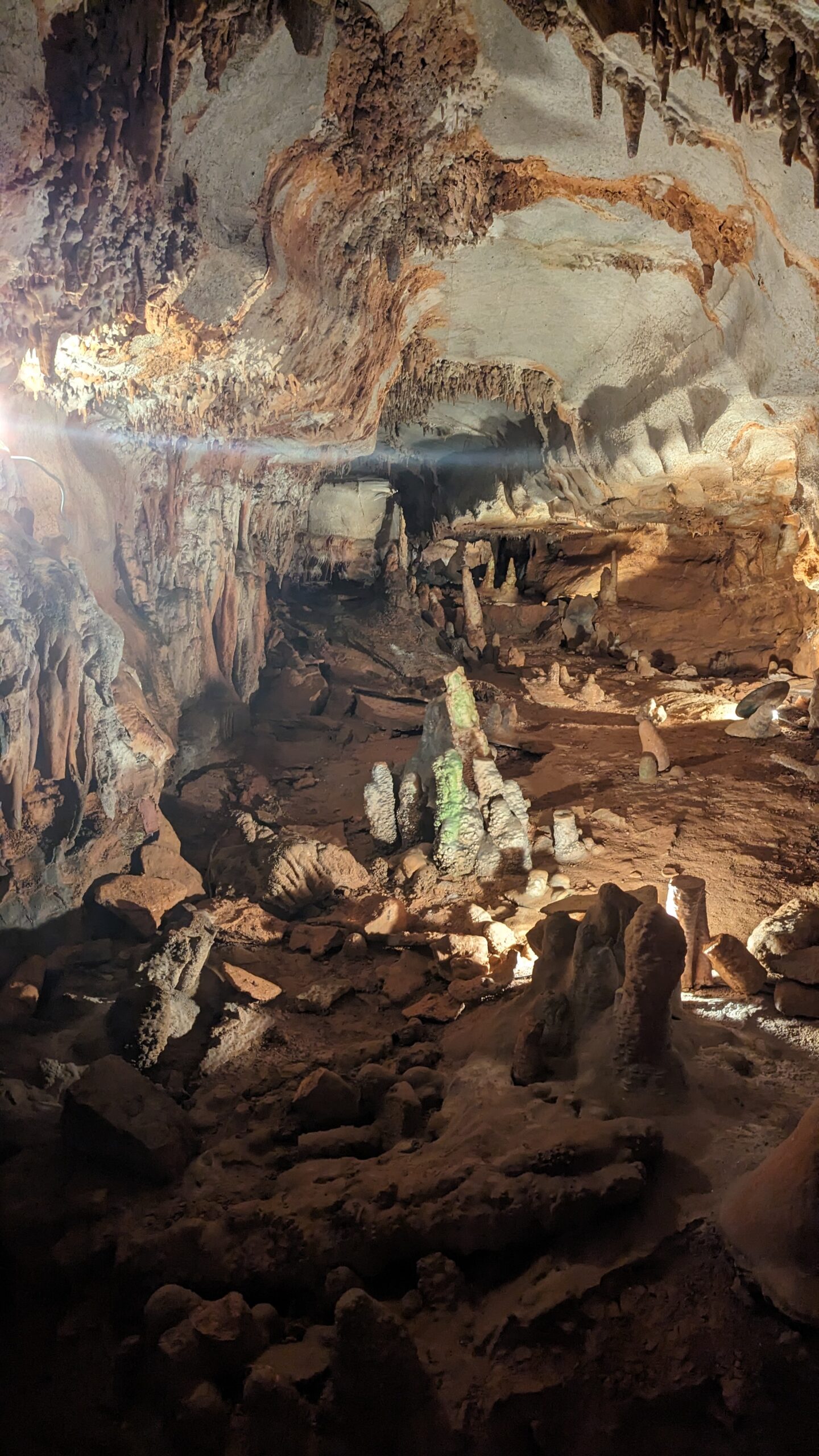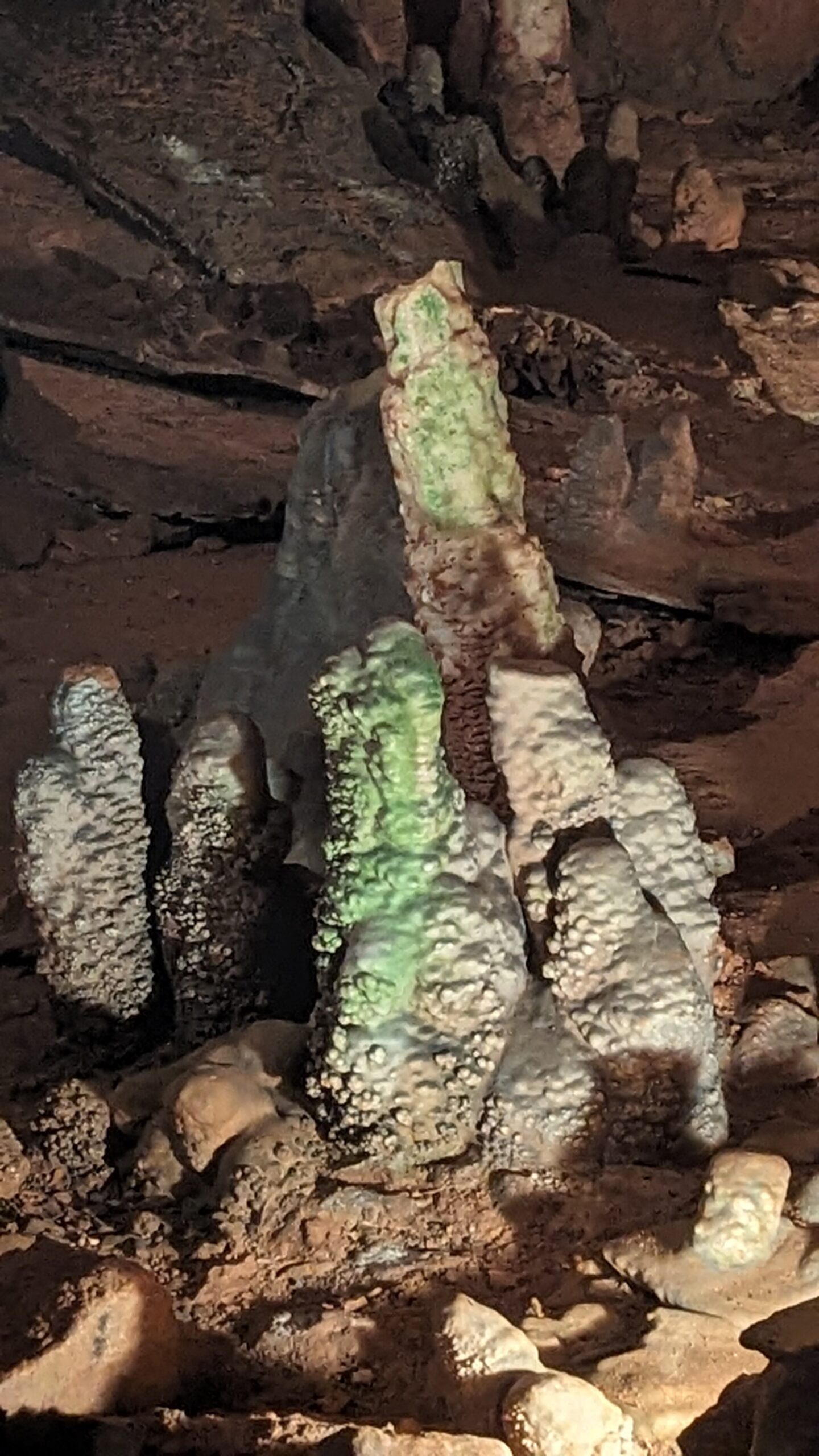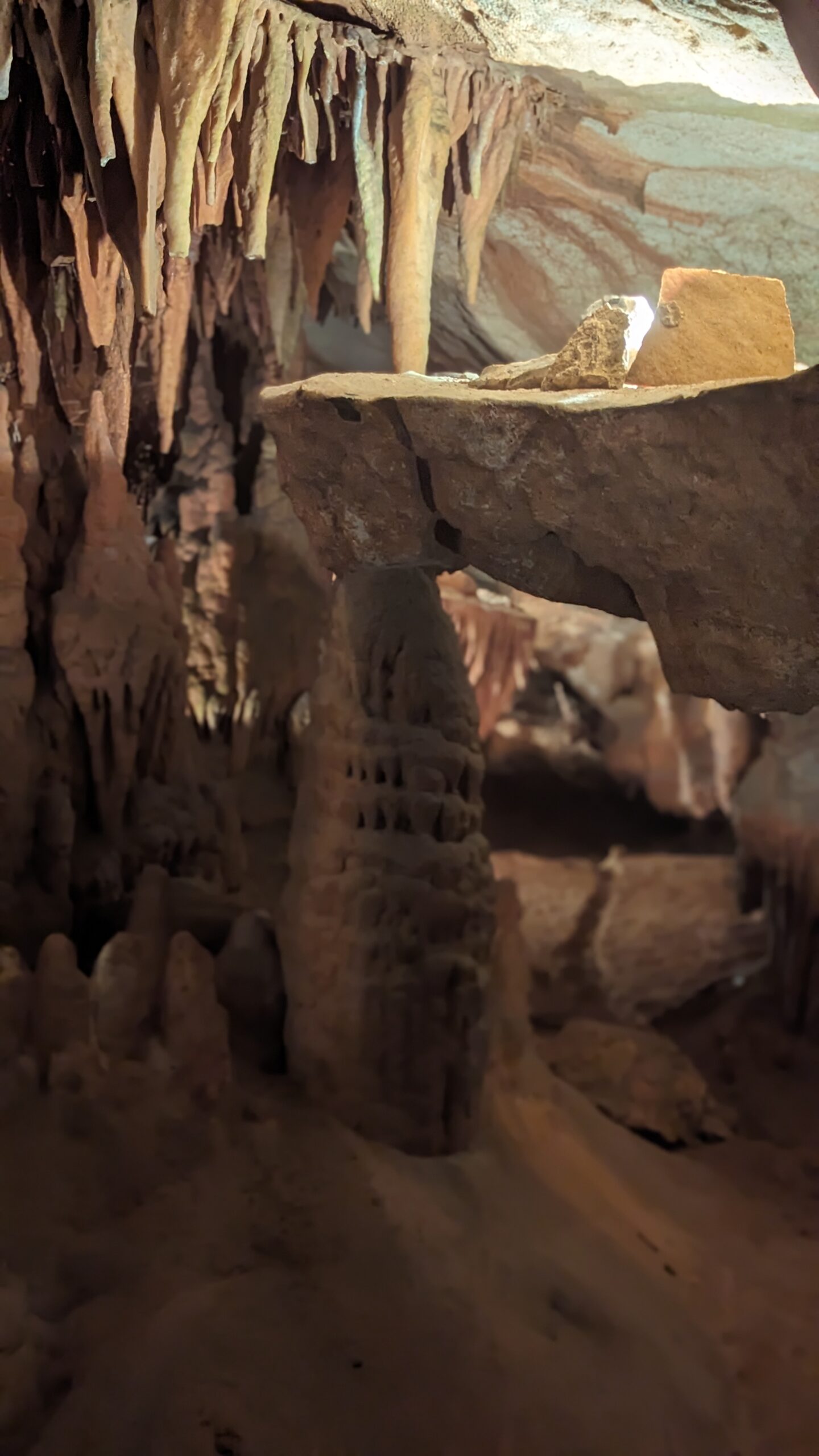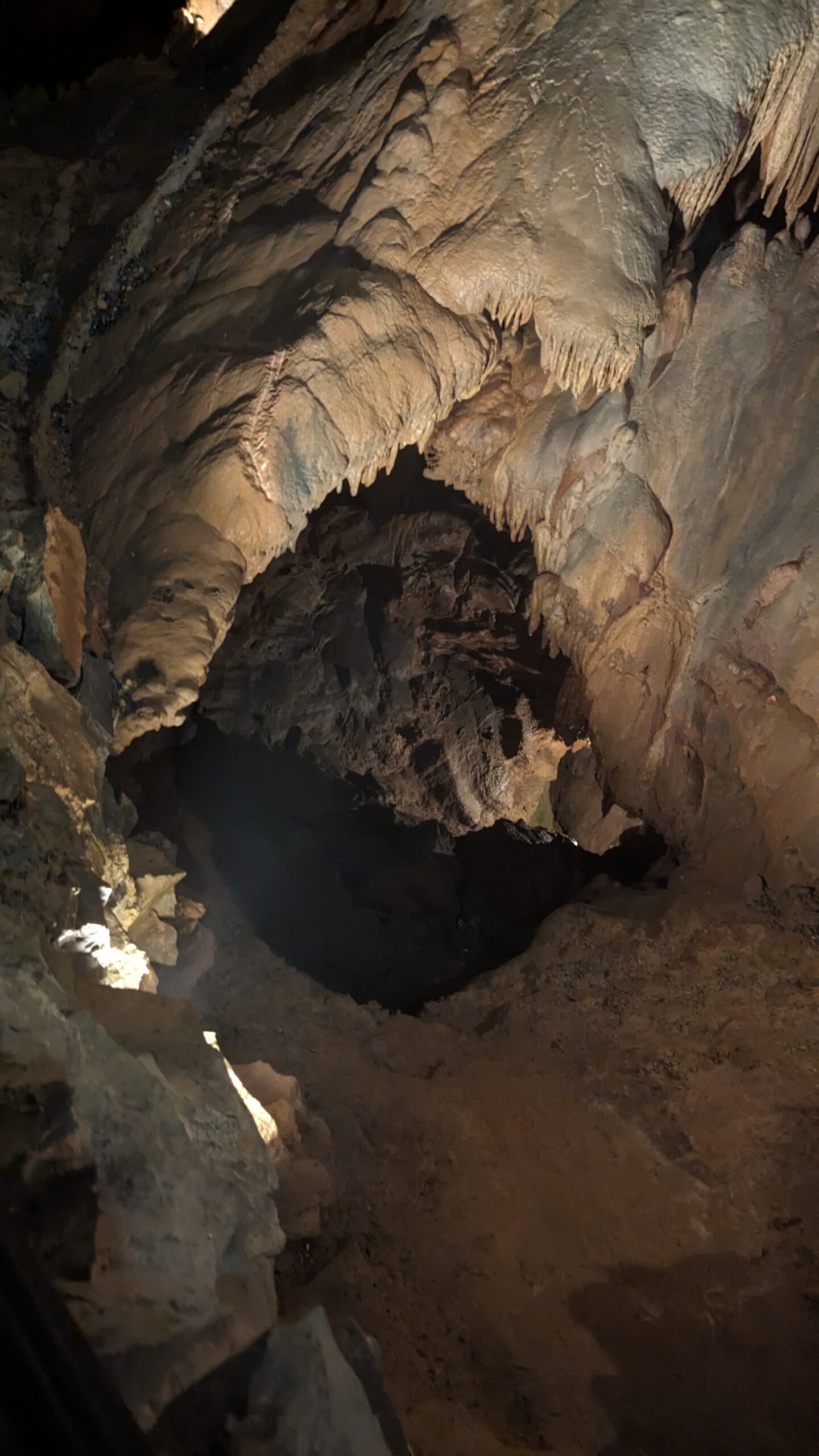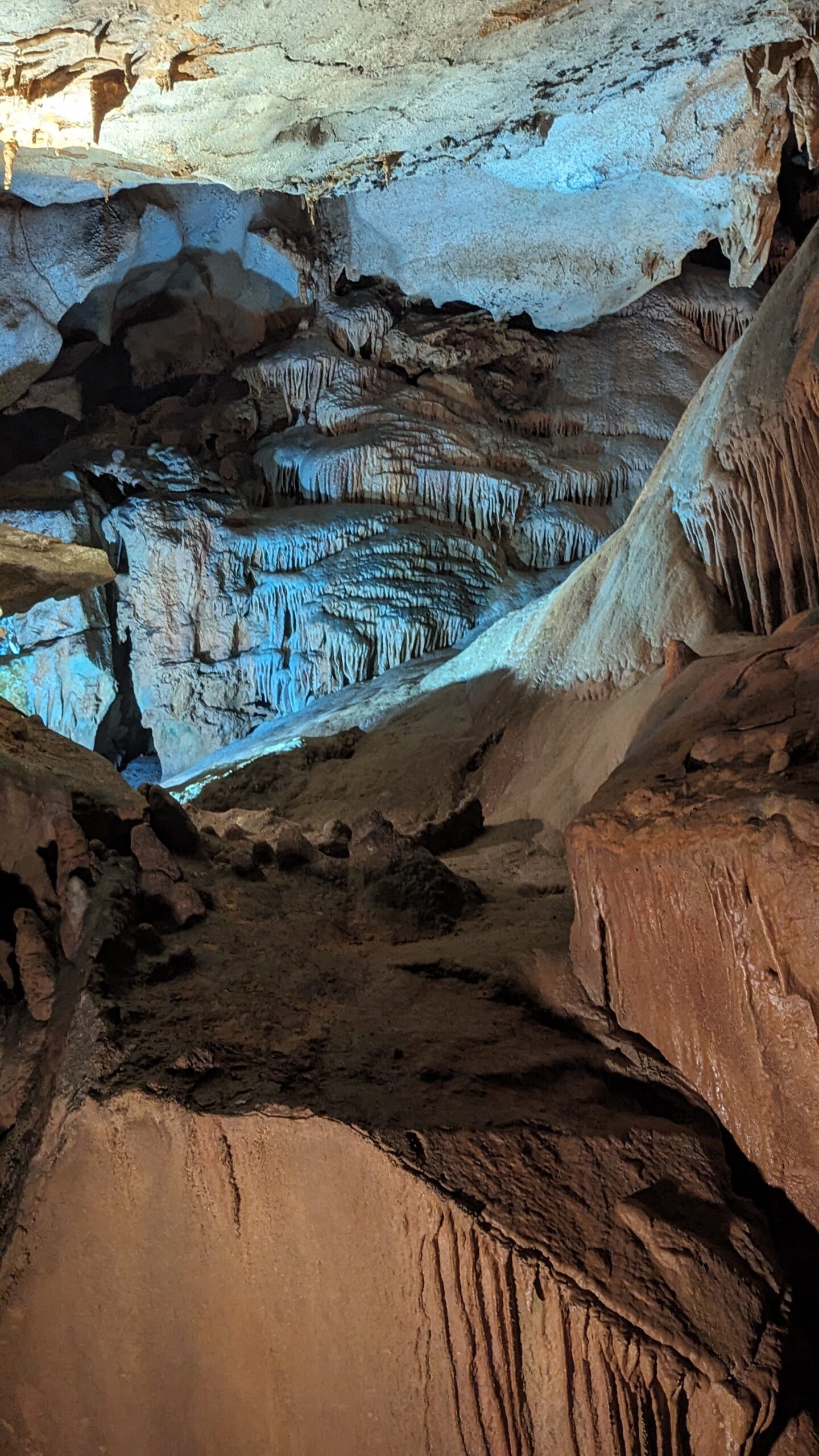 "Flowing rock is formed when water runs over them, making them look like waterfalls."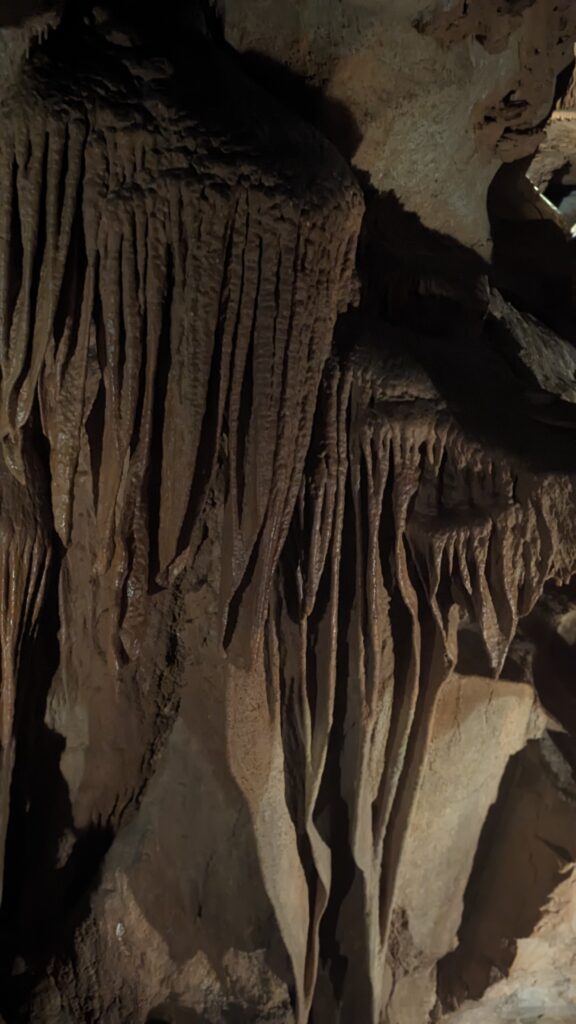 "At the end of this pathway, you will notice a bucket full of cave water, filled from the dripping water in the cave. Now people believe cave water brings good luck, so feel free to touch it. And if cave water falls on your head, it's considered a cave kiss, so sprinkle it on your head if you want to."
"The party room is where they held parties during prohibition. Every cave has one. You can make all the noise you want, and no one will hear you. It's also the driest room in the cave."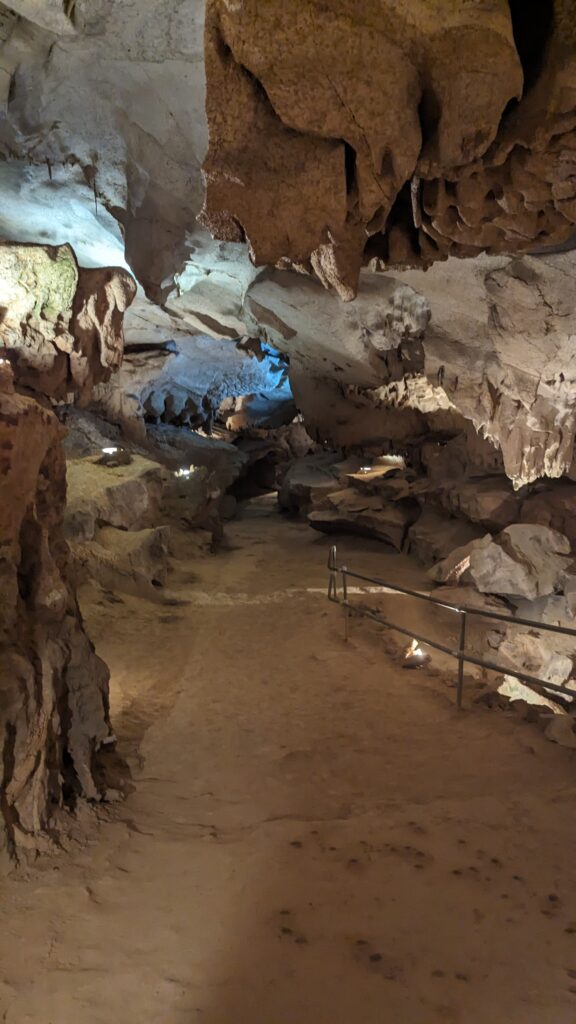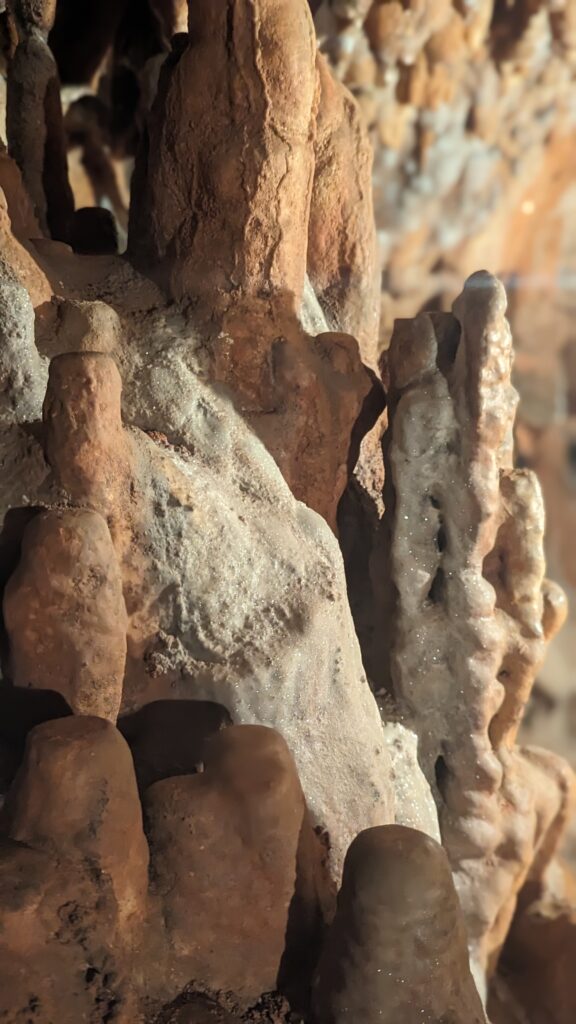 Last, on our tour, we visited the cathedral room filled with beautiful Rick formations that felt like a cathedral—the first room the boys, whose names Wyatt never gave us, discovered.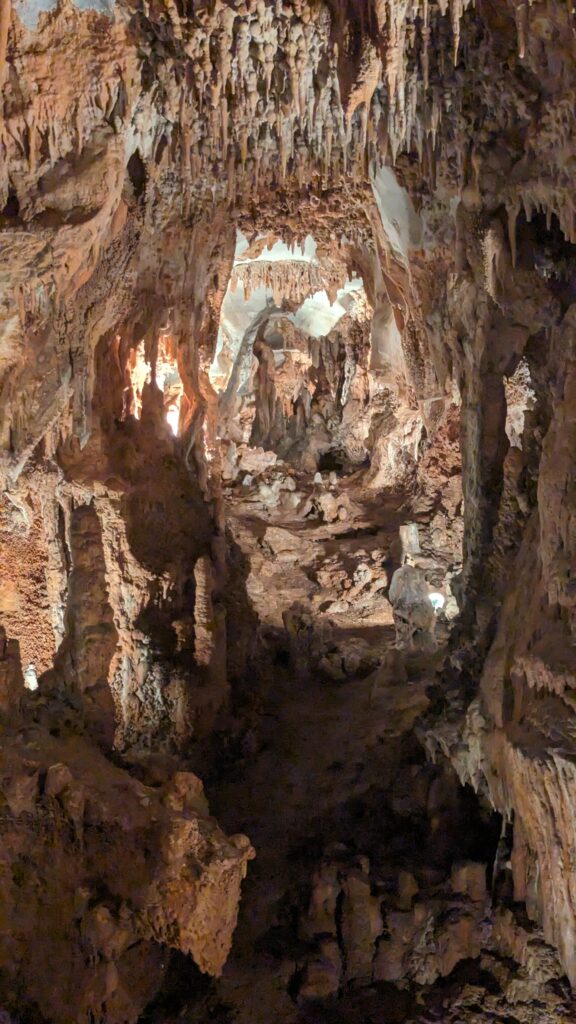 Explorers in 1967 made it six and a half miles into the cave, taking two weeks but had to turn around due to lack of food. After spending a month trying to find the end, they never did. As of now, no plans for further exploration trips exist, and the cavern's name remains intact, endless.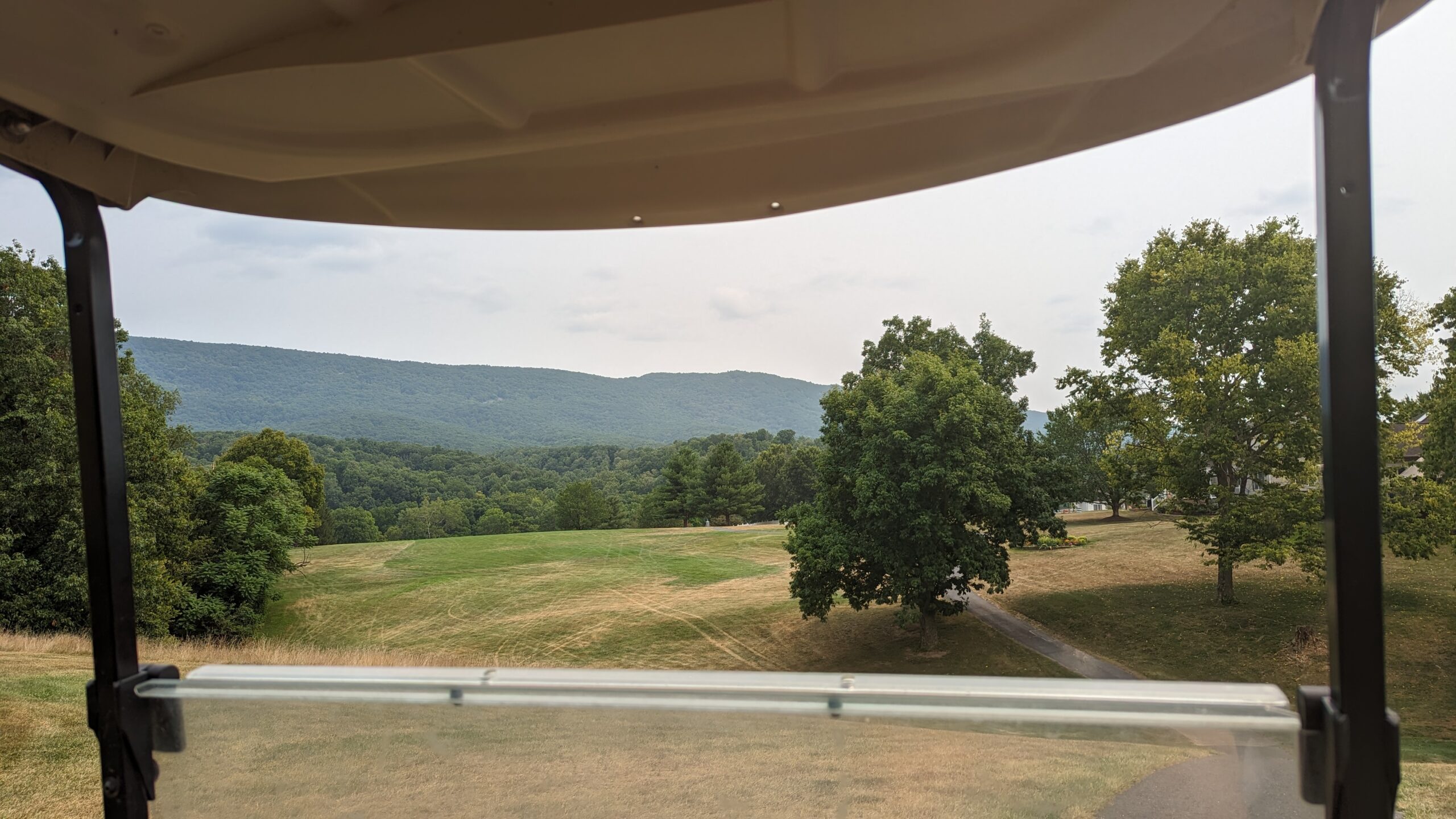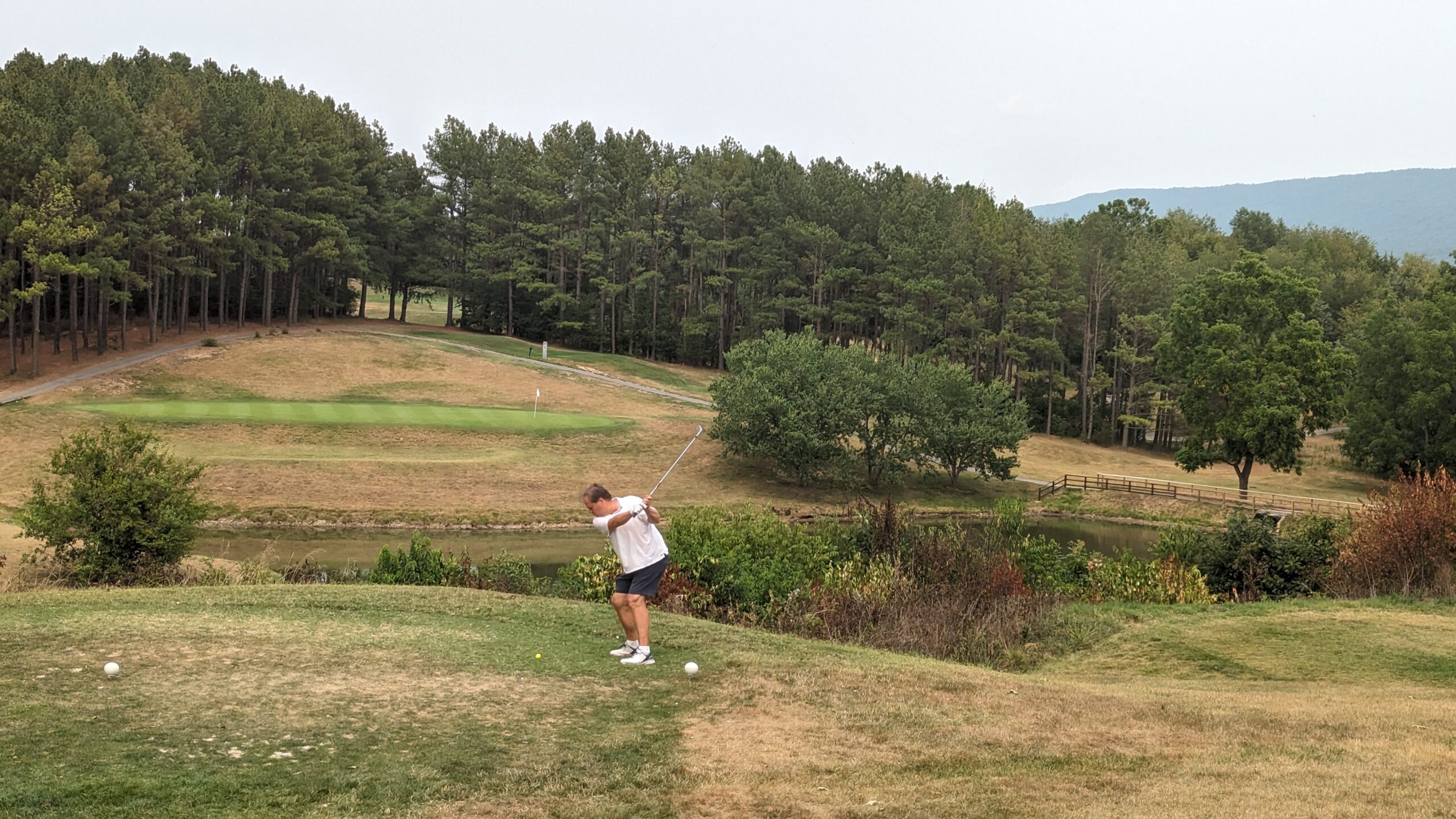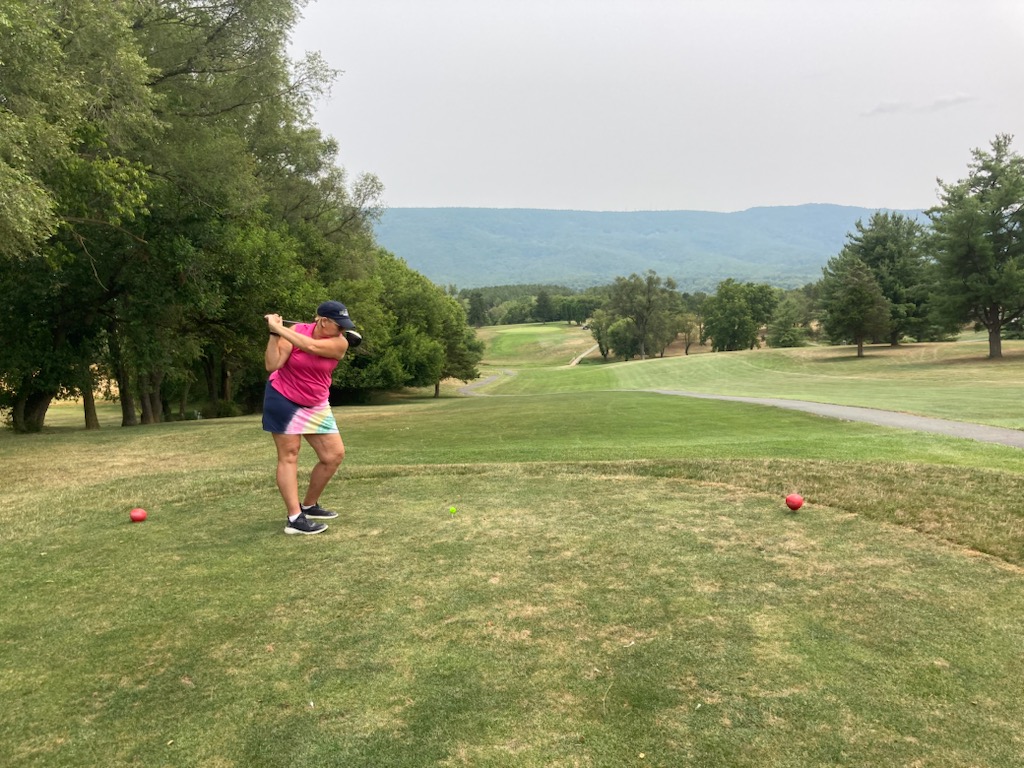 For our afternoon entertainment, we played 18 at Shenvalee, a fun and challenging course. Afterward, we enjoyed a frozen custard and picked up "John Wick 4" to watch.
Wednesday, August 2nd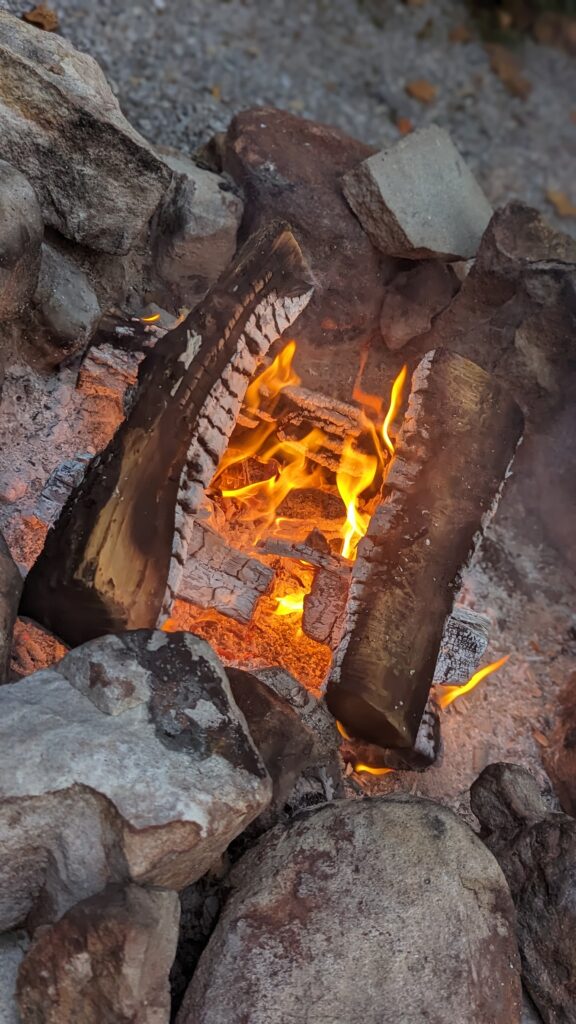 Something enjoyed our garbage Tuesday night, and the dogs went into protective mode, smelling, barking, and guarding. Small dogs have loud barks, which scare most creatures away. Thankfully, we haven't encountered any bears, and hopefully won't.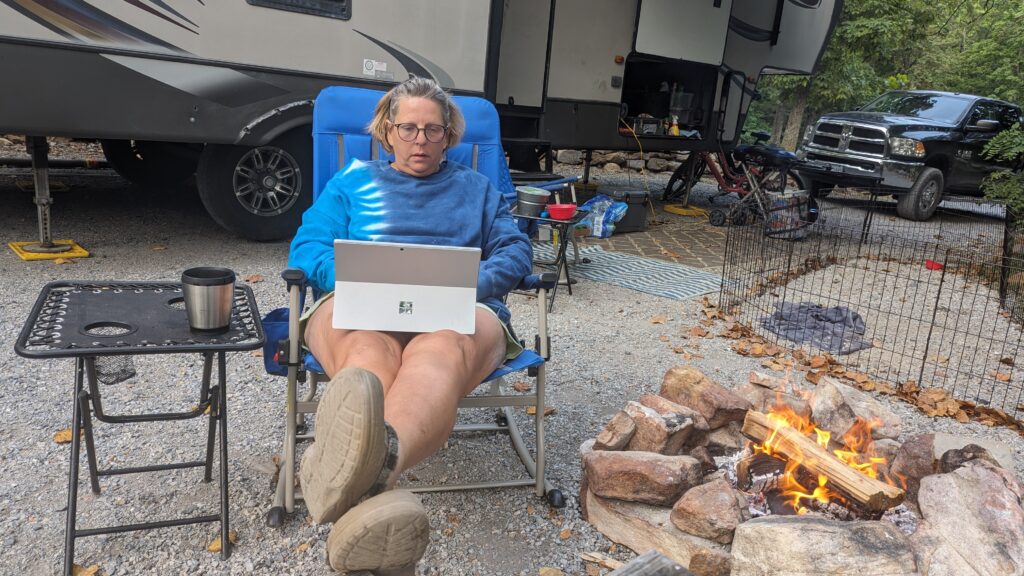 Designated a chill day, we lazed away time at the camper. After breakfast, I napped while Ron did honey-dos on the trailer. Hotdogs for lunch before Ron went on a beer run, and I finally published Love Remains, at least the paperback version, and started the Kindle version.
When Ron returned, I enjoyed a leisurely bike ride along the country roads. On their way back to the barn, a tractor and its driver passed me, the only traffic I saw. Cows and horses greeted me along my journey, a heron flew from its perch as I passed by, and hawks circled something no longer living.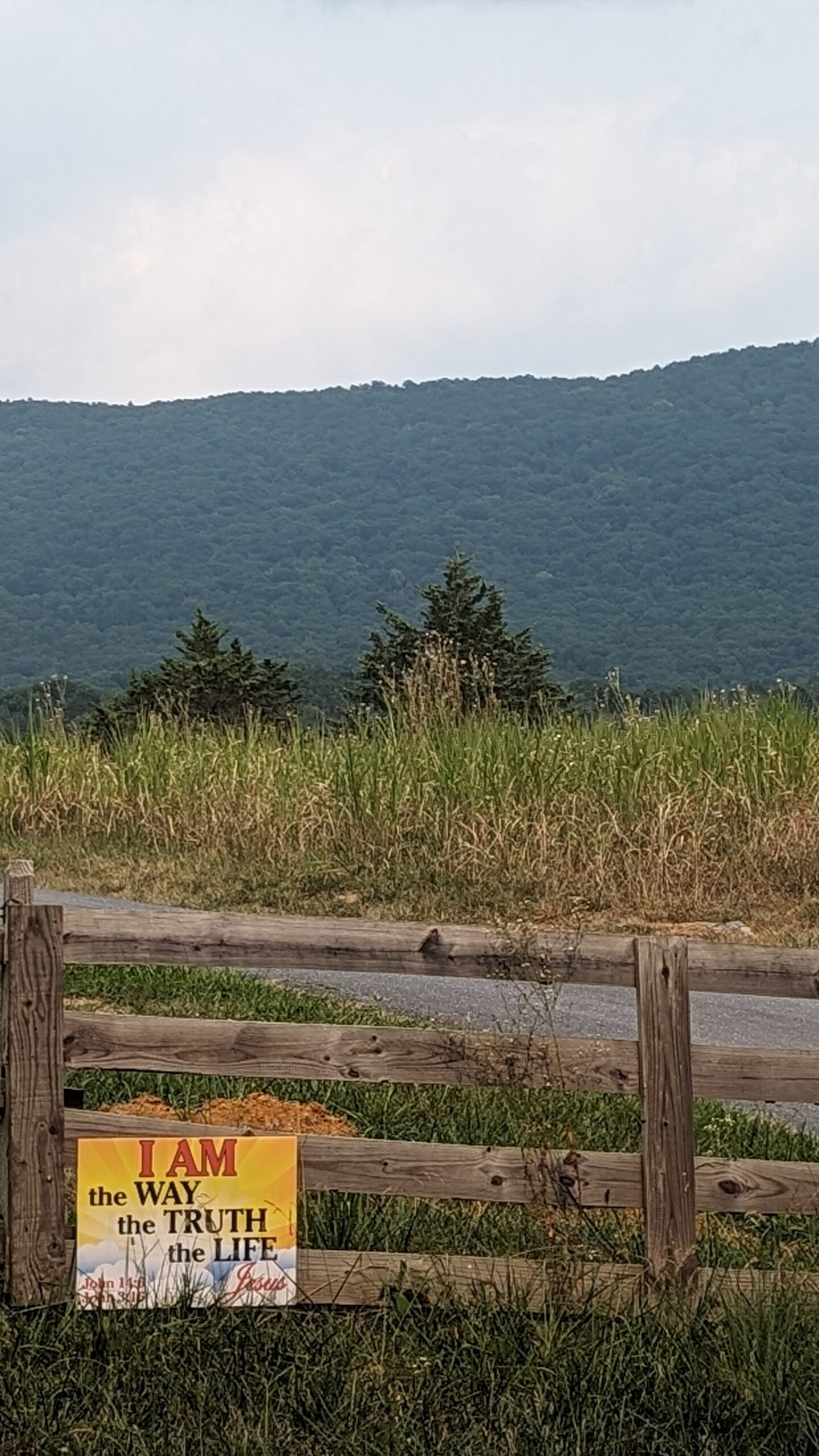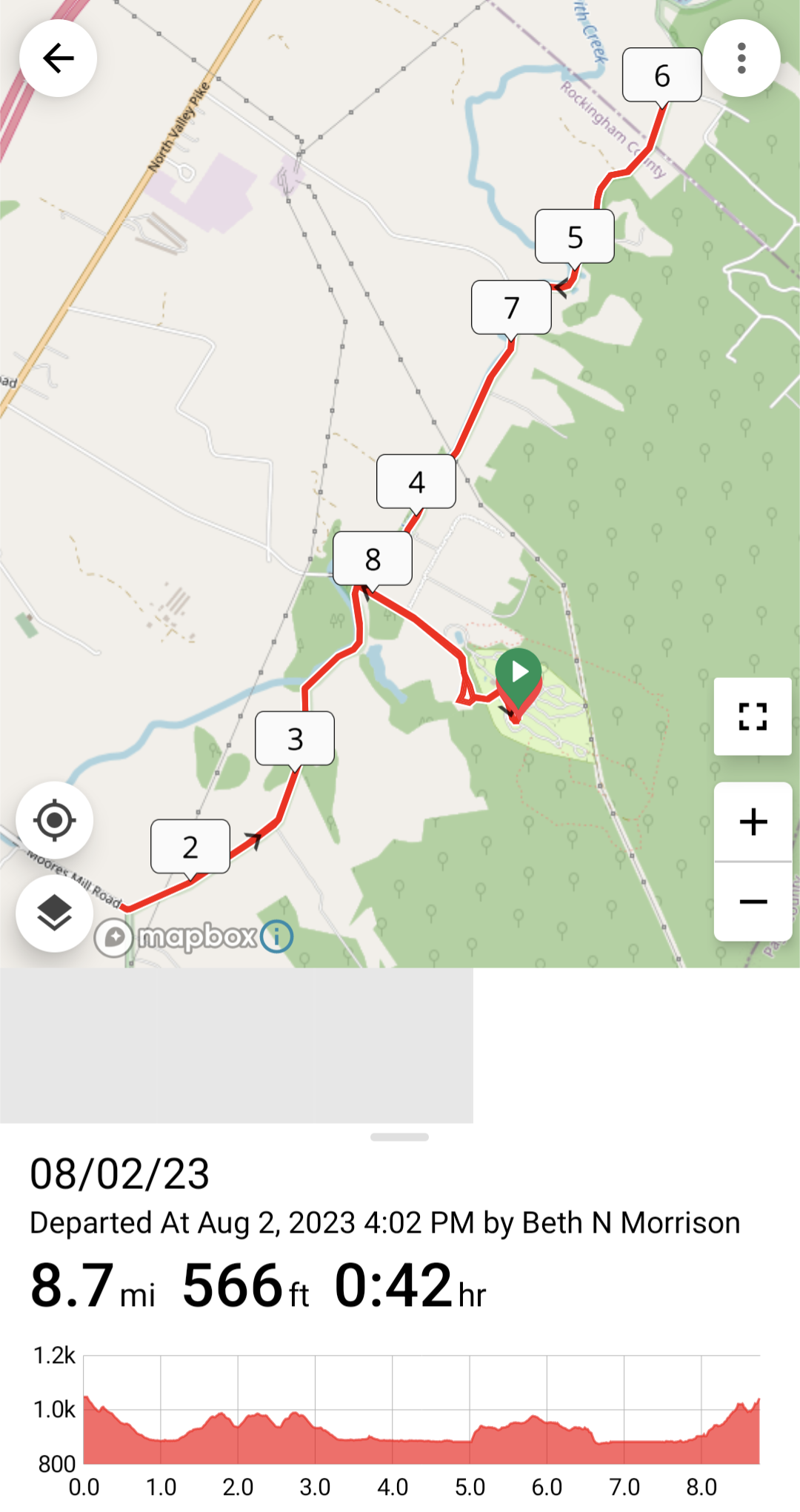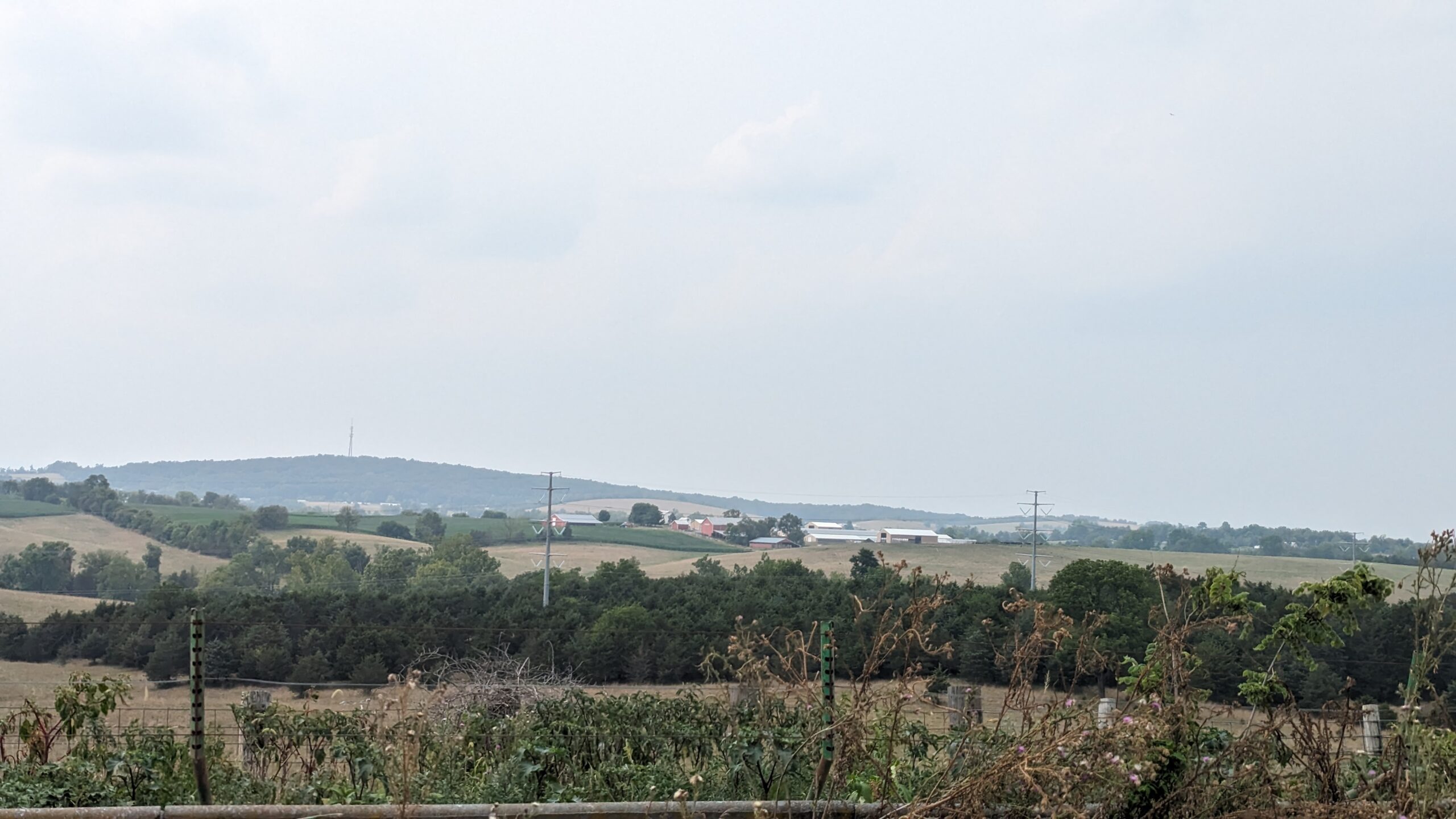 Thursday, Aug. 3rd
Ron had to go home to take care of some business with his Dad's estate, so the pups and I rode with him. We left at 7:07 a.m. and had little traffic.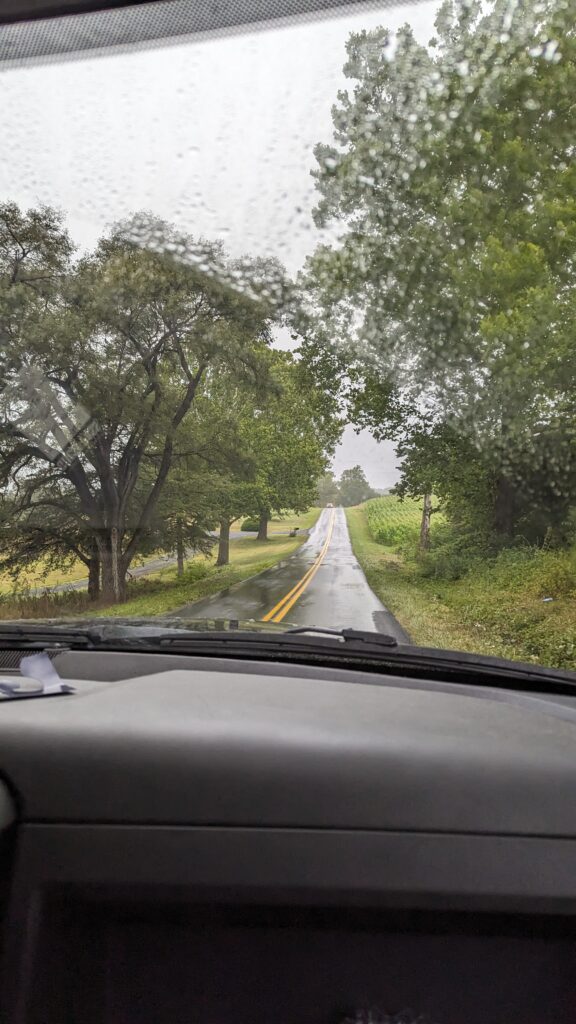 While Ron attended meetings, I worked on my crochet pumpkins for the fall. And I had a friendly long chat with my dear friend Lori. Busy schedules make it hard to catch up with each other, but today we did.
As soon as Ron's last meeting ended, we returned to camp. Traffic, rain, and accidents made the three-hour trip ad four and a half hours one, but eventually made it.
After feeding the dogs, we went to Jalisco Mexican Restaurant in New Market for dinner.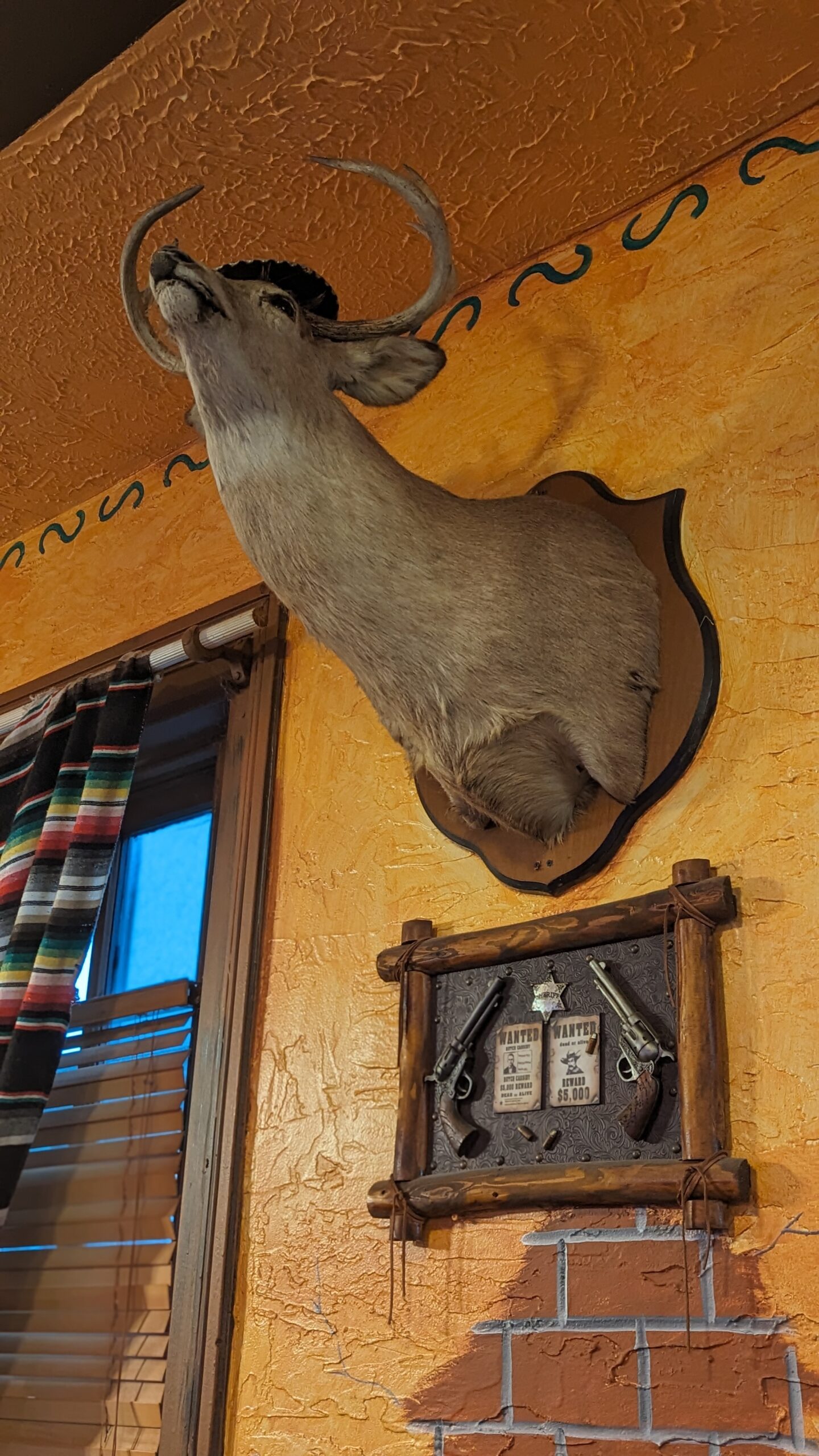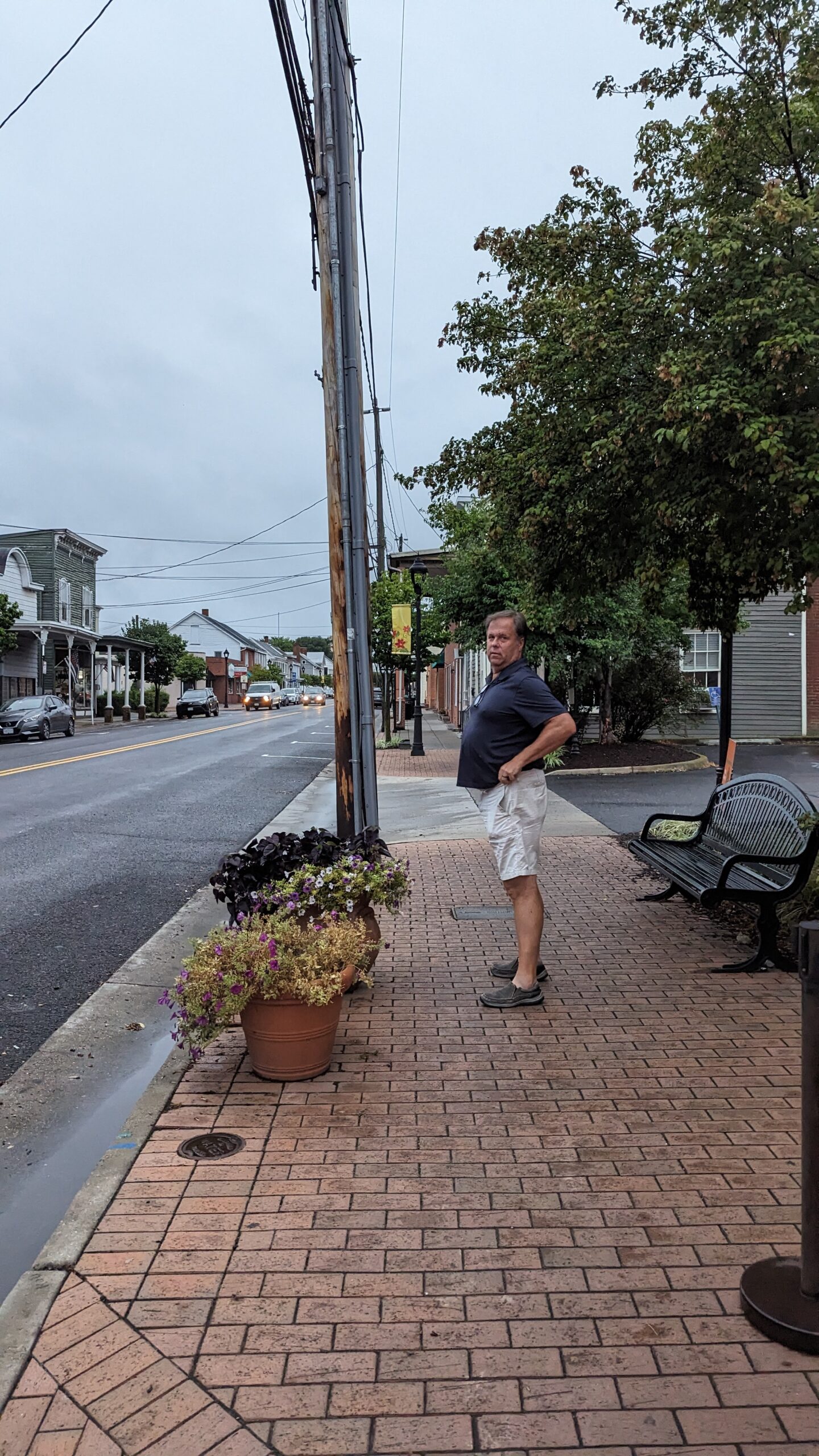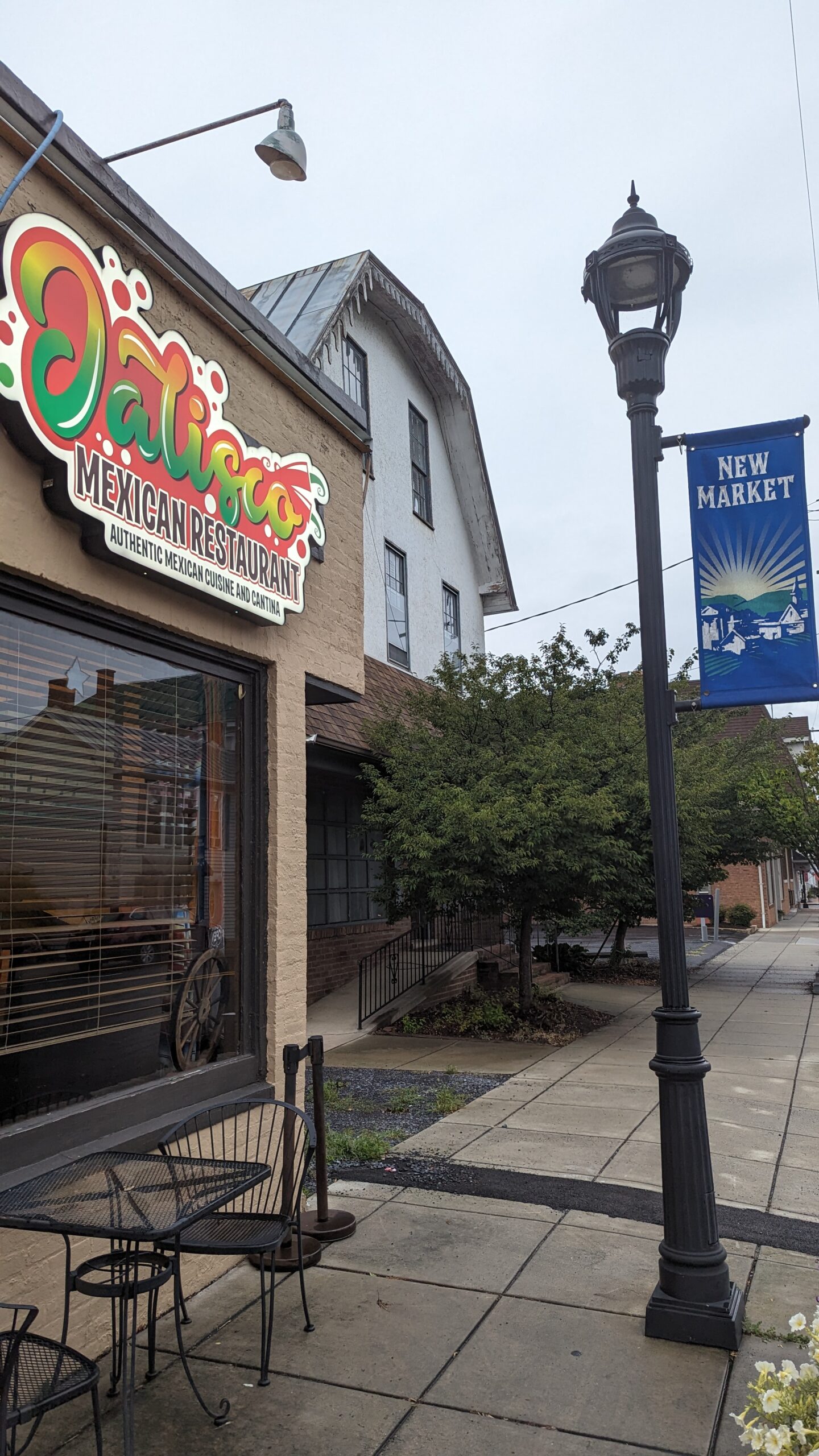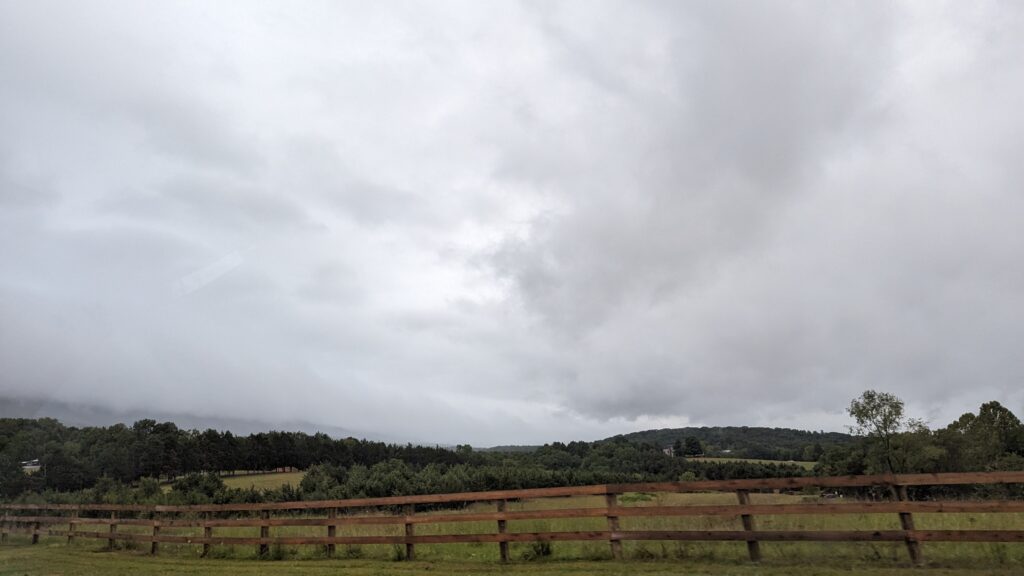 Friday, Aug. 4th
Ron joined me by the morning fire for the first time, making my heart soar.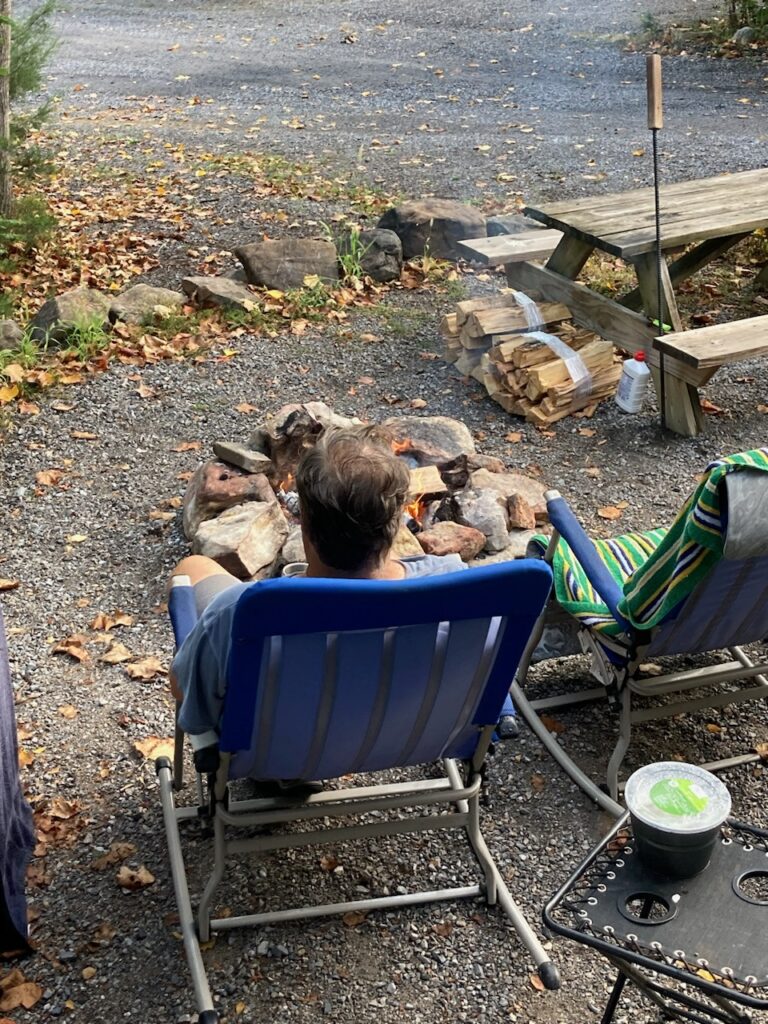 After lazing around the camper all morning, we headed back to Packsaddle Ridge to play the back nine and experience the beauty from home 13.
"There are two chairs at the top. I could just take me a bottle of wine and sit there all day." Said the girl in the pro shop.
Definitely agree; the view made up for all of the lost balls, three of which went in the woods on hole 10 for me.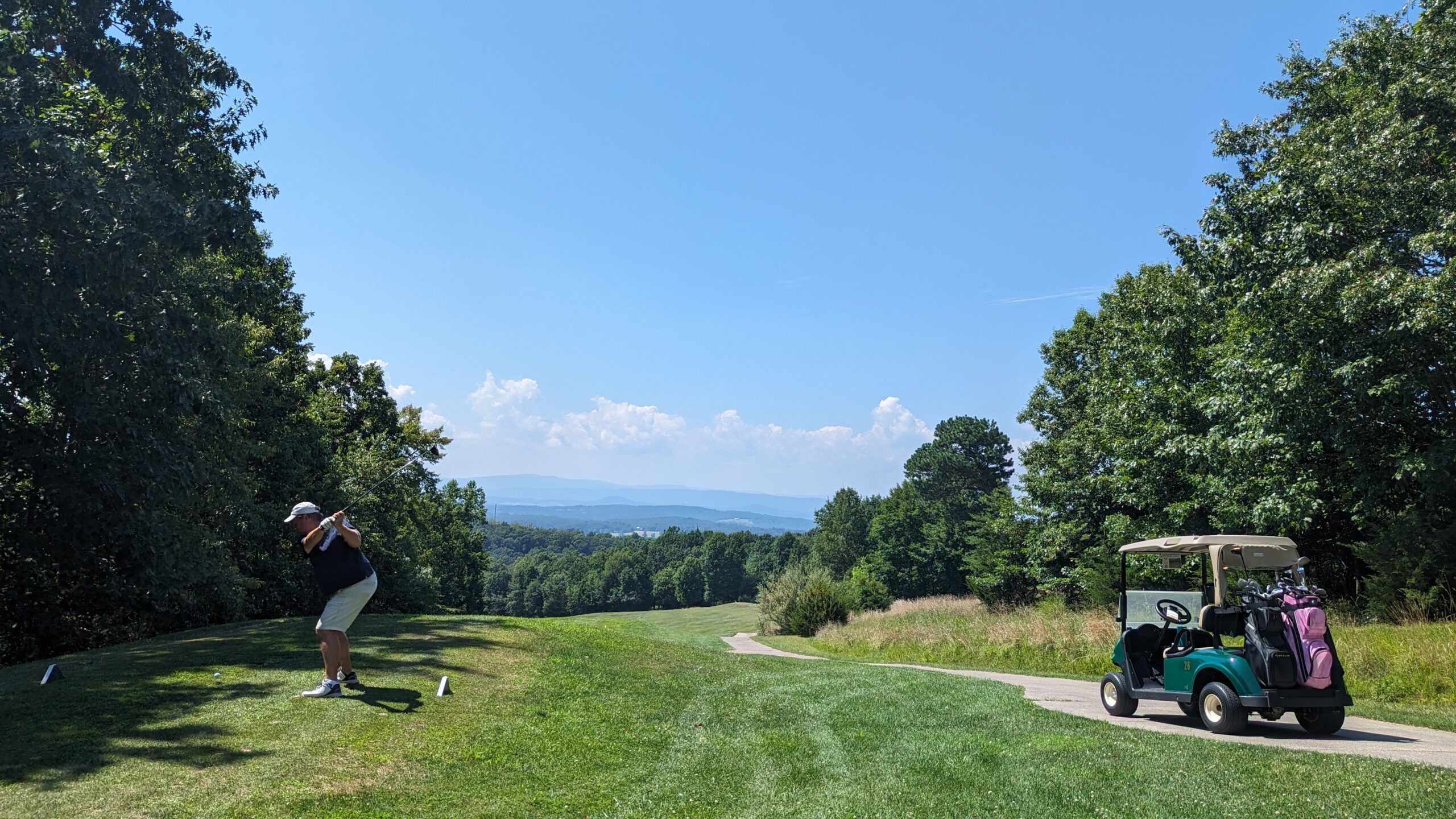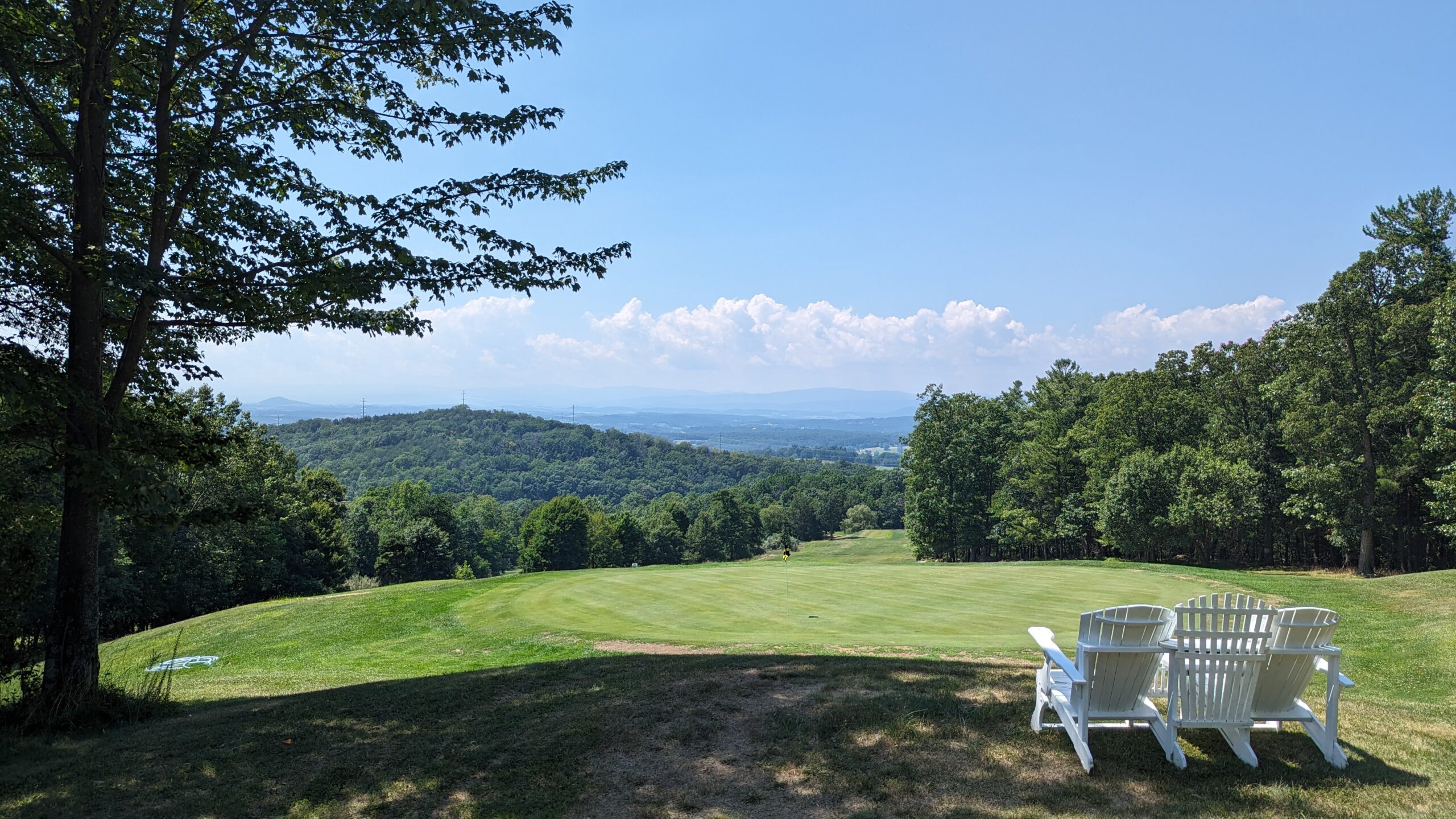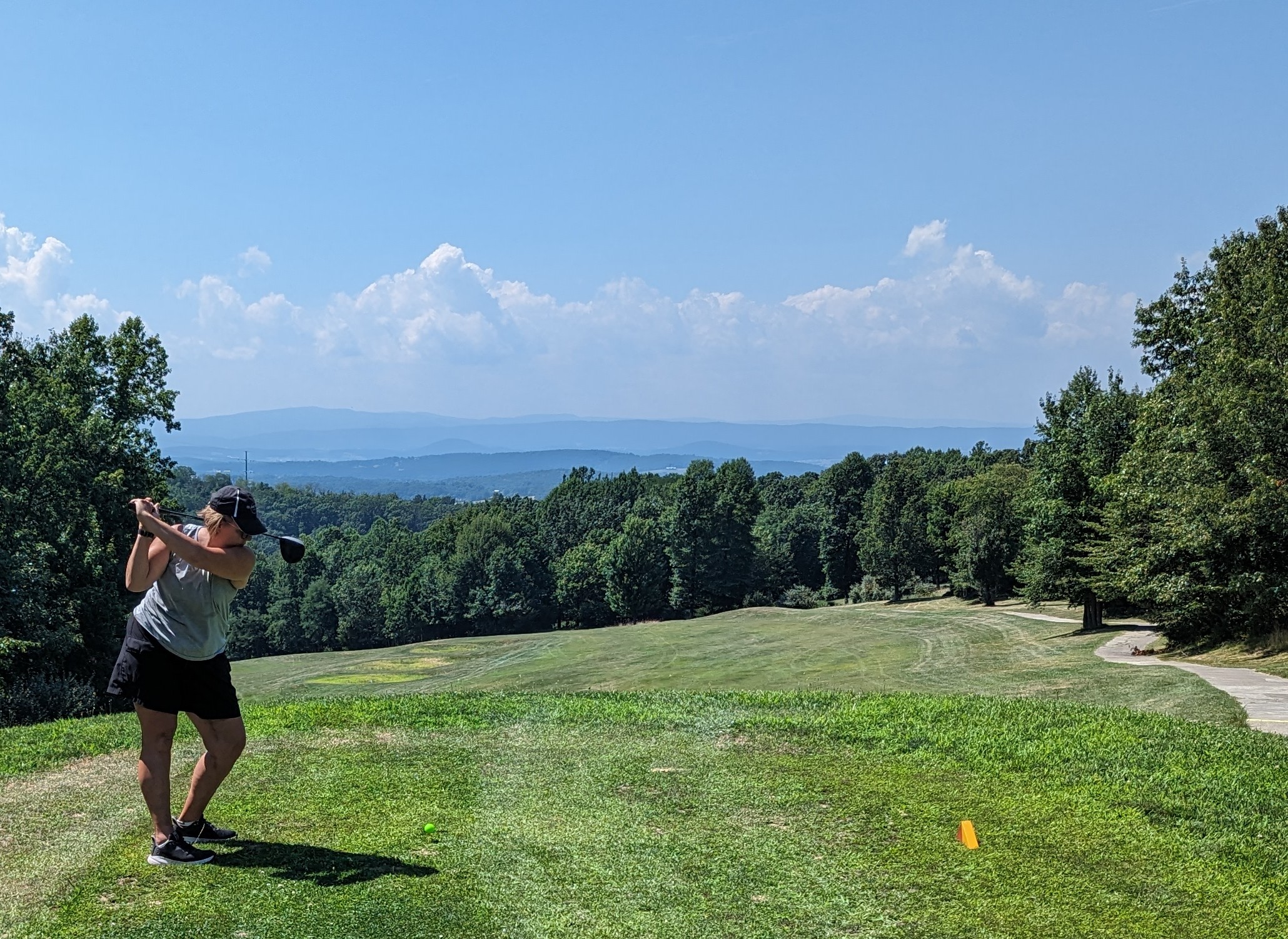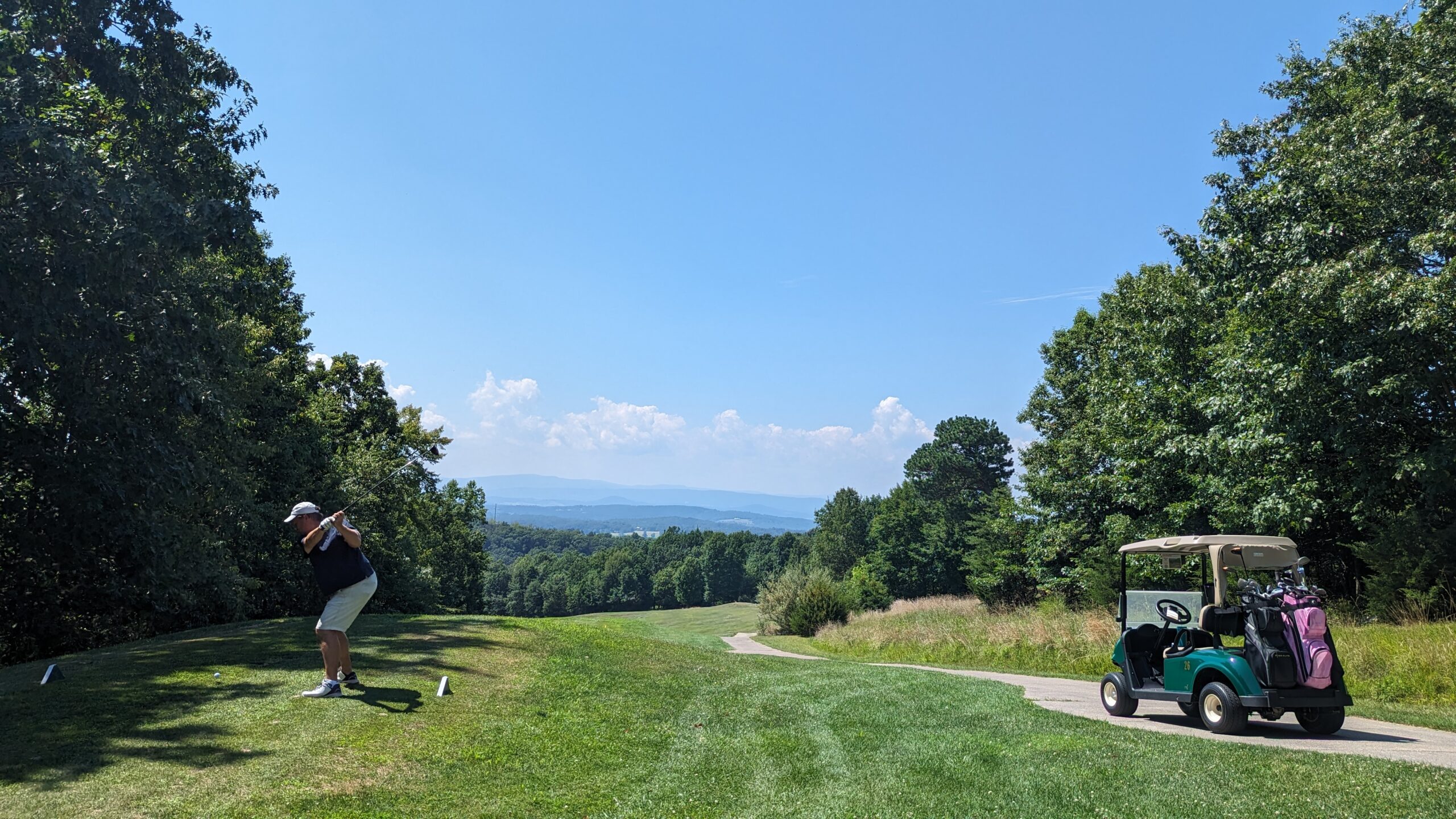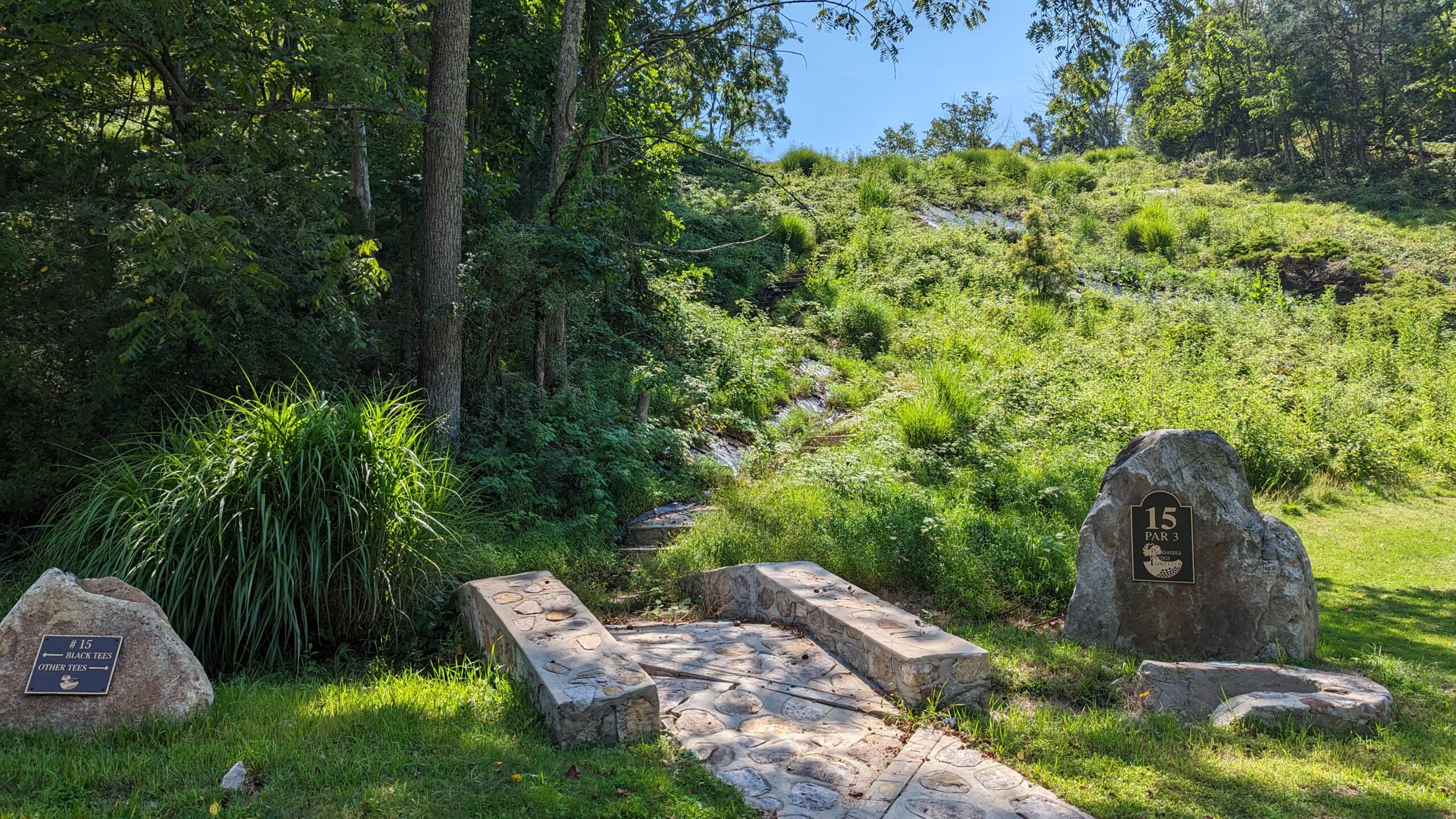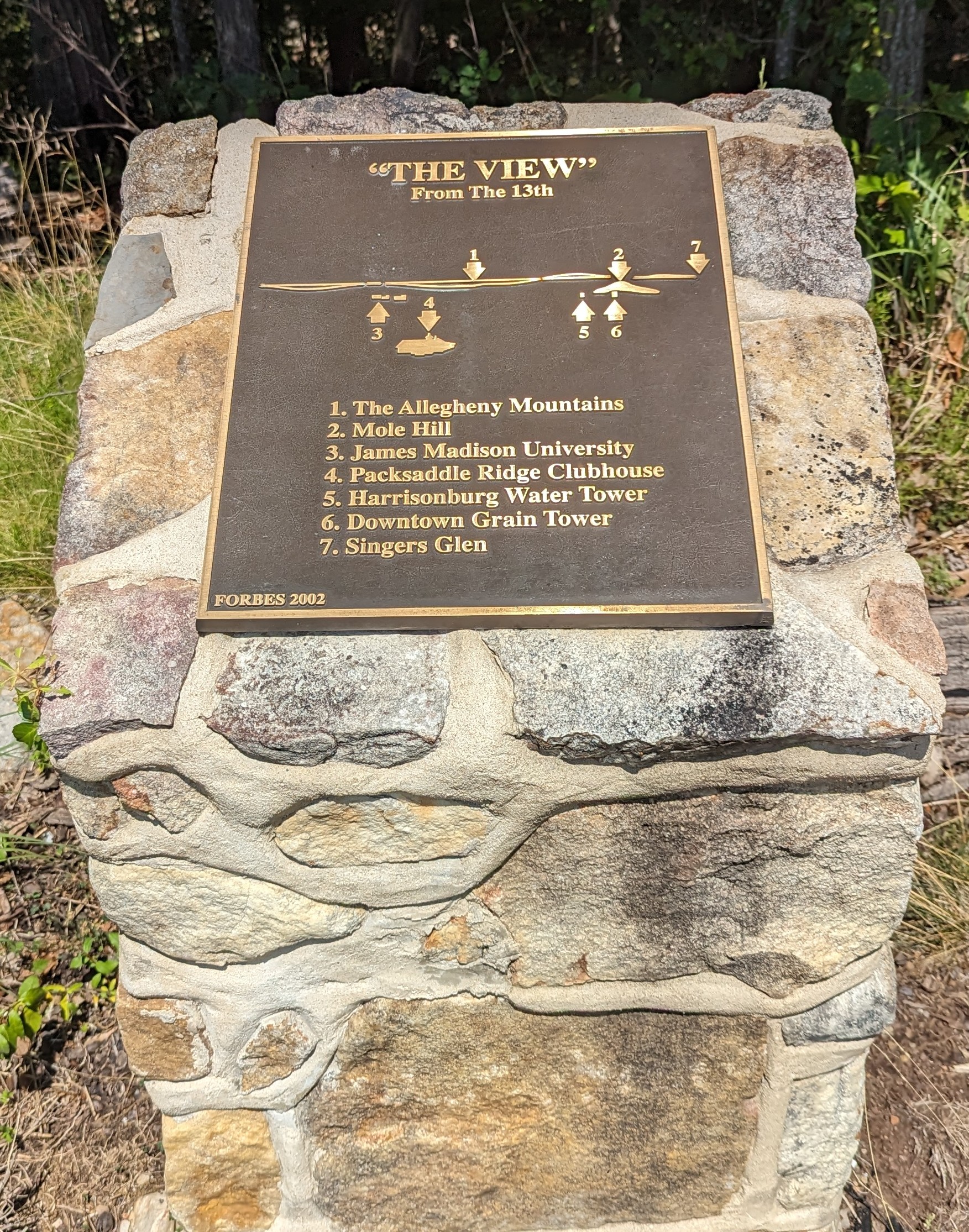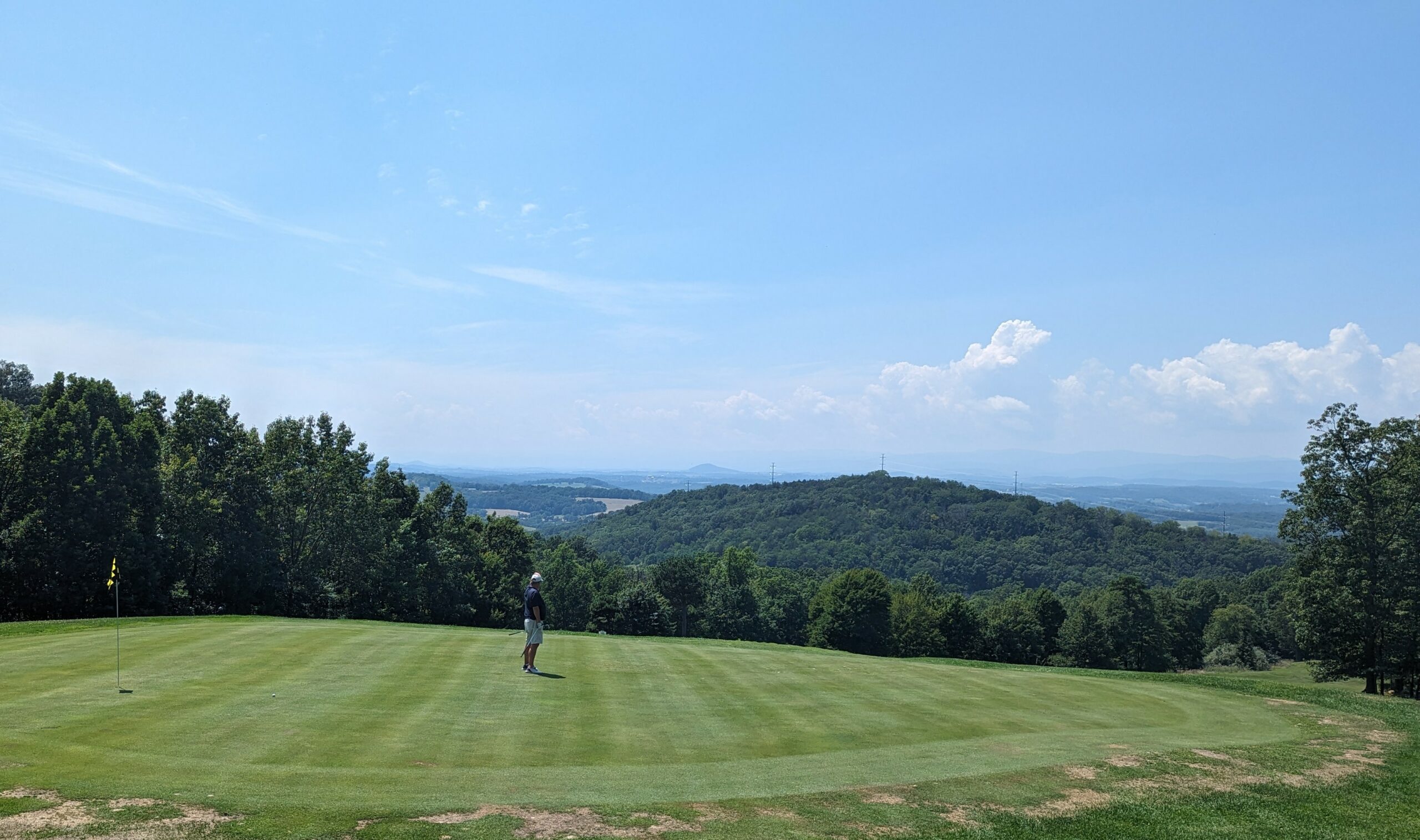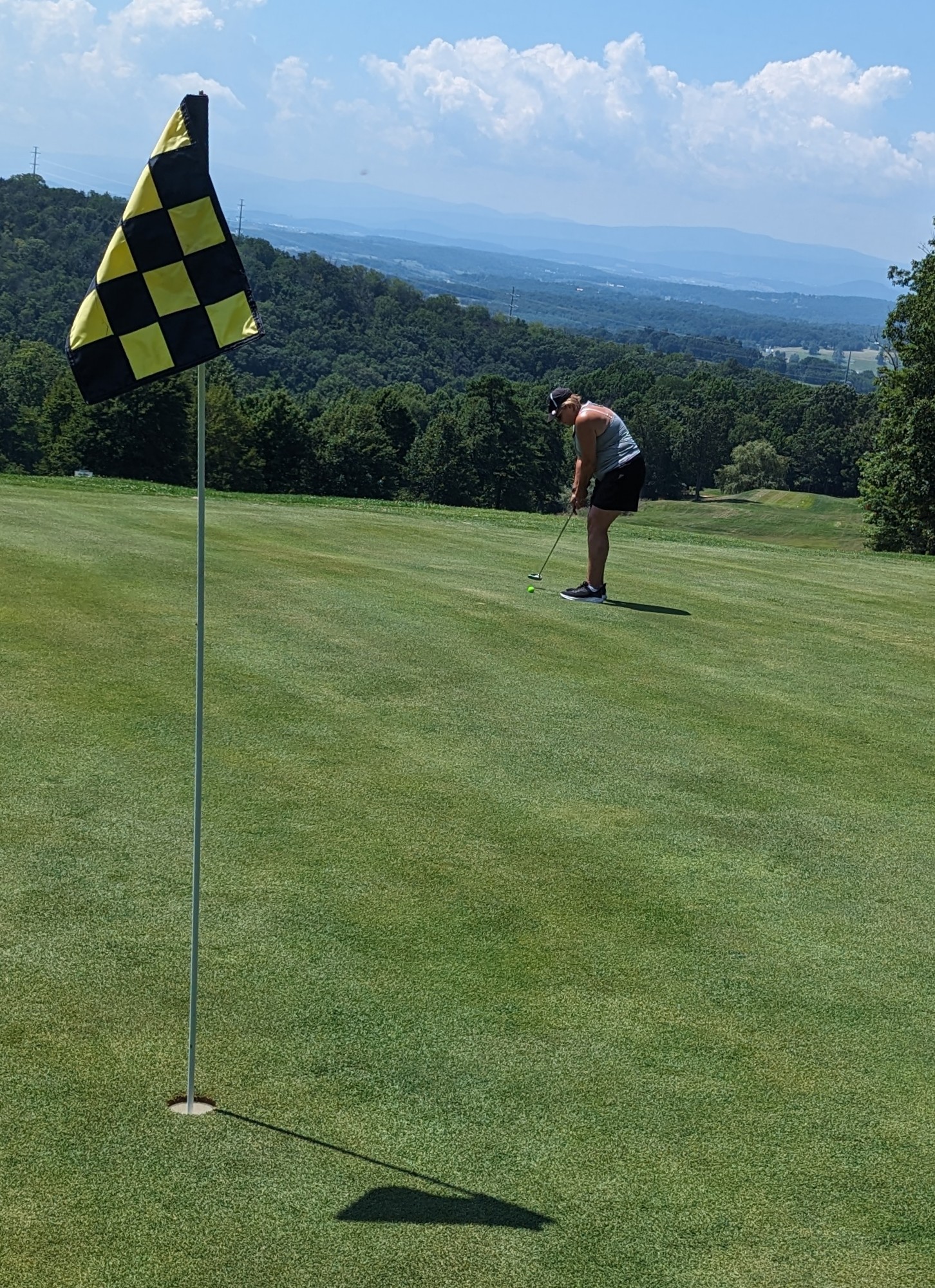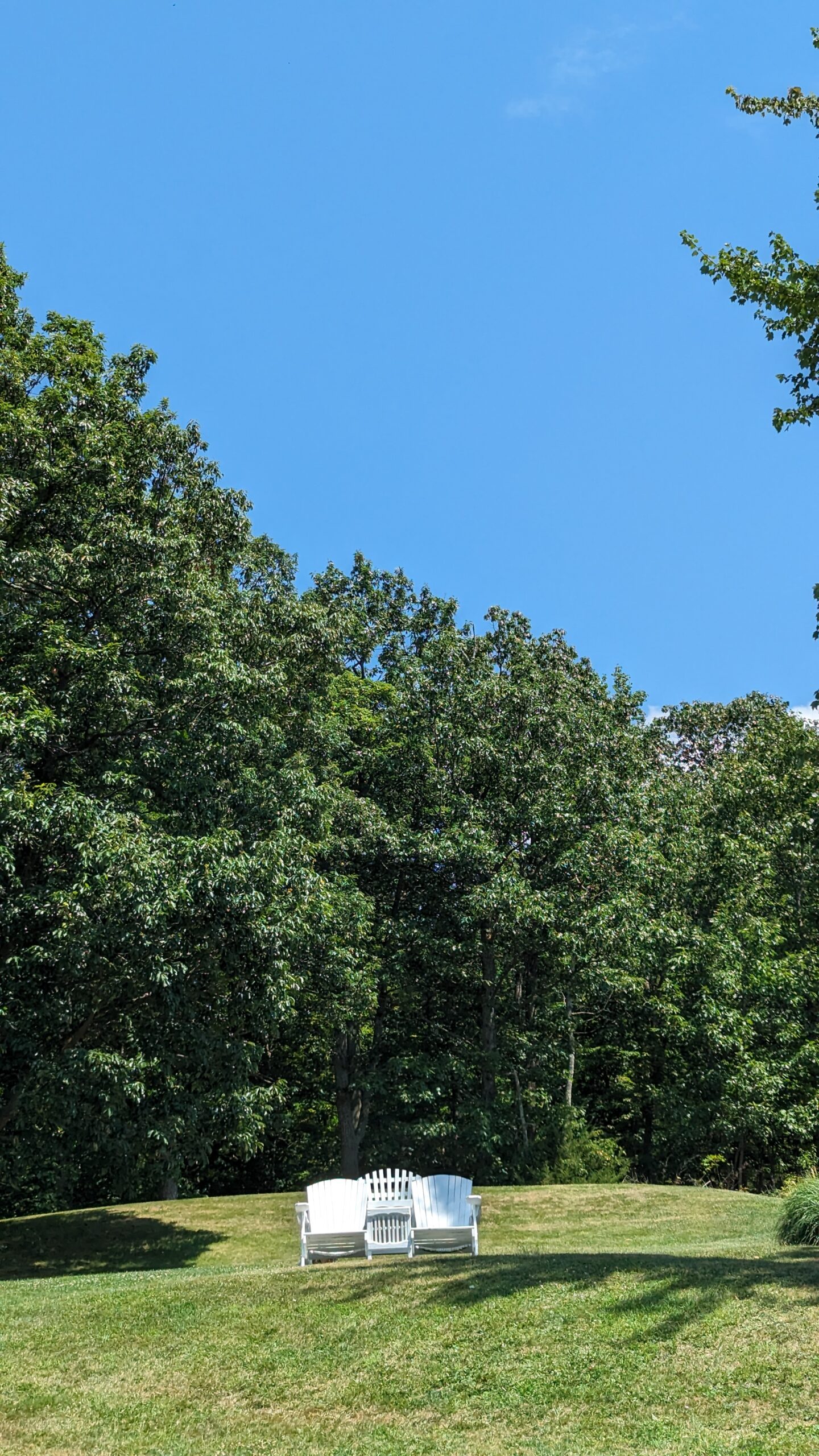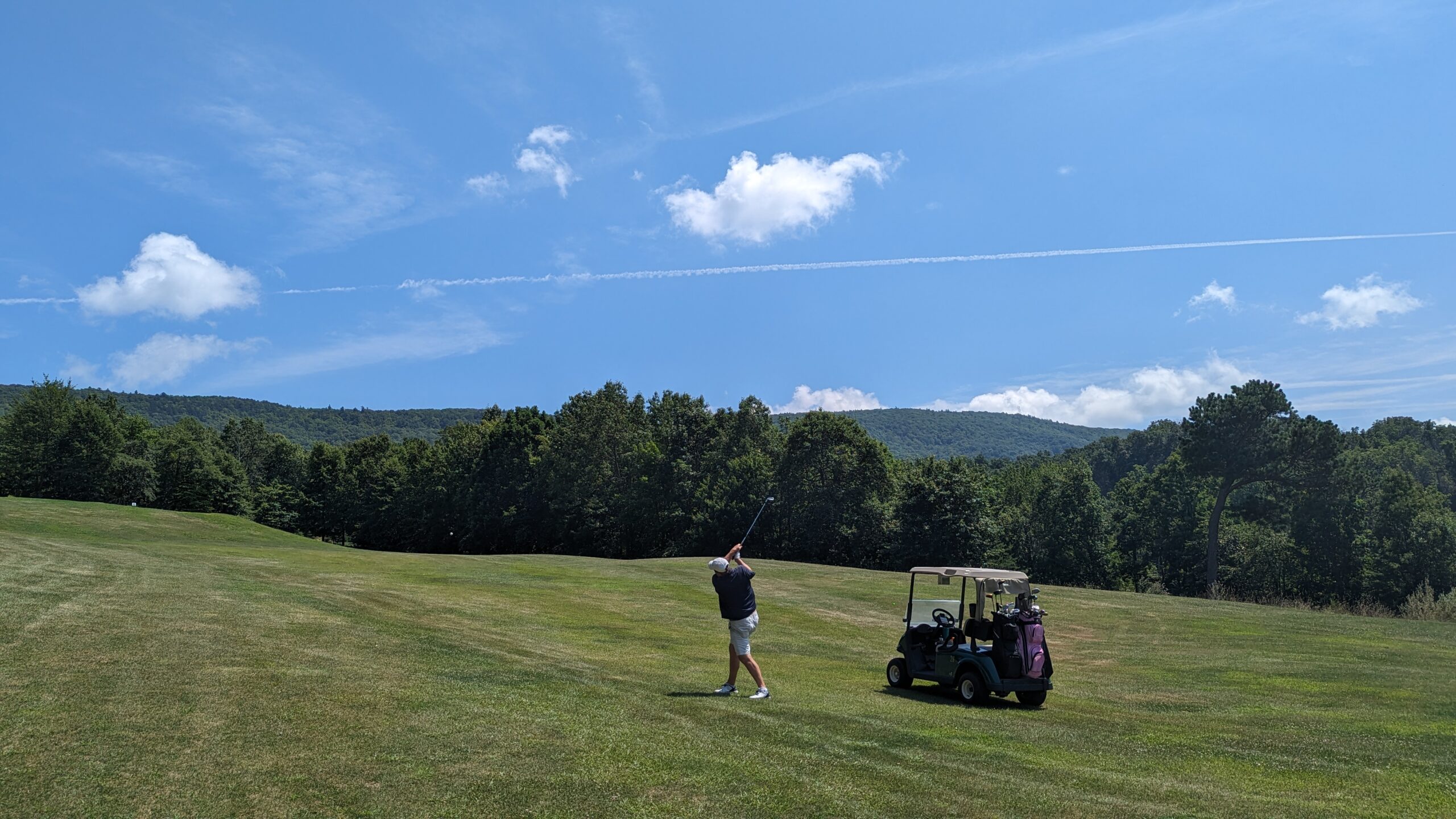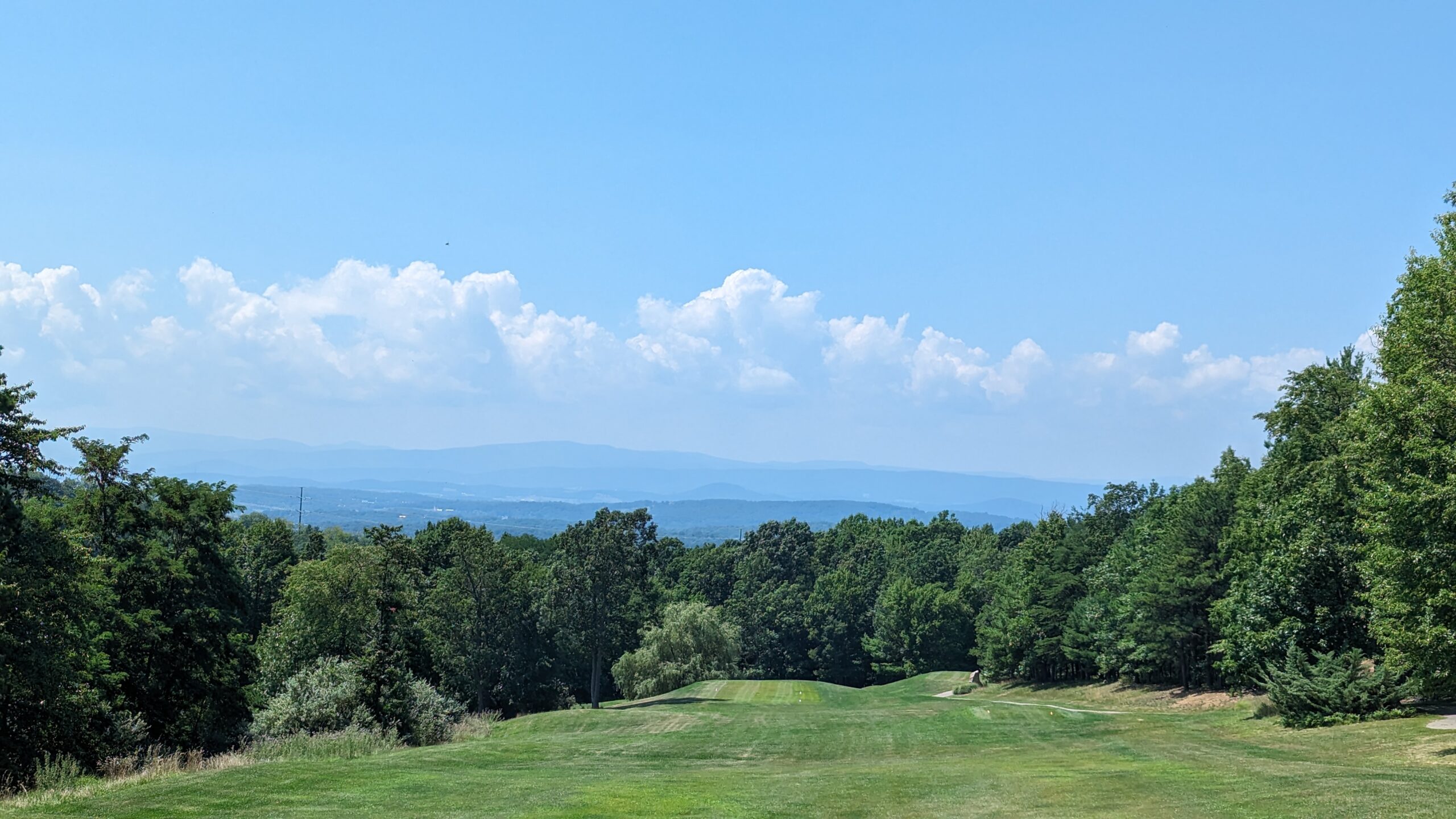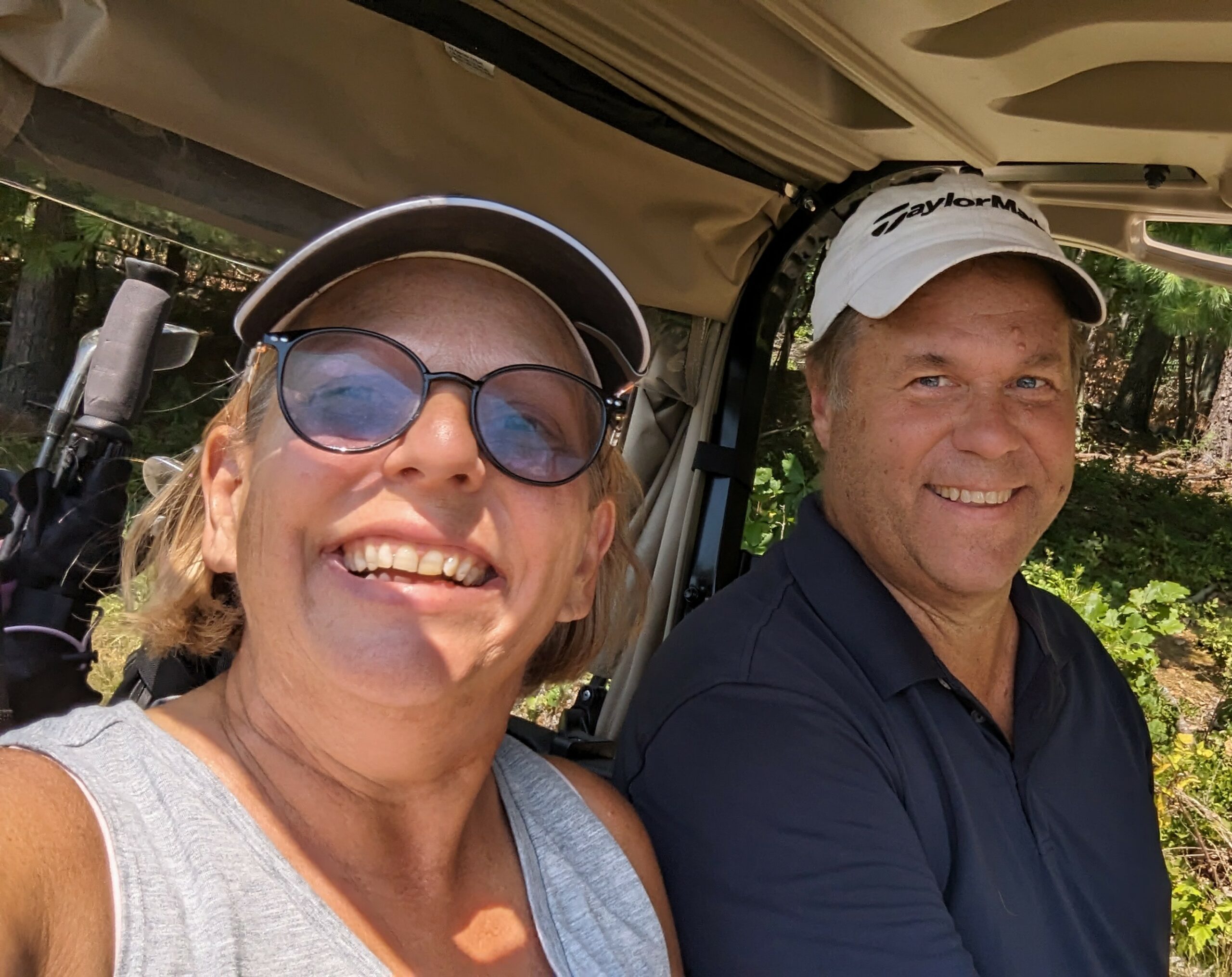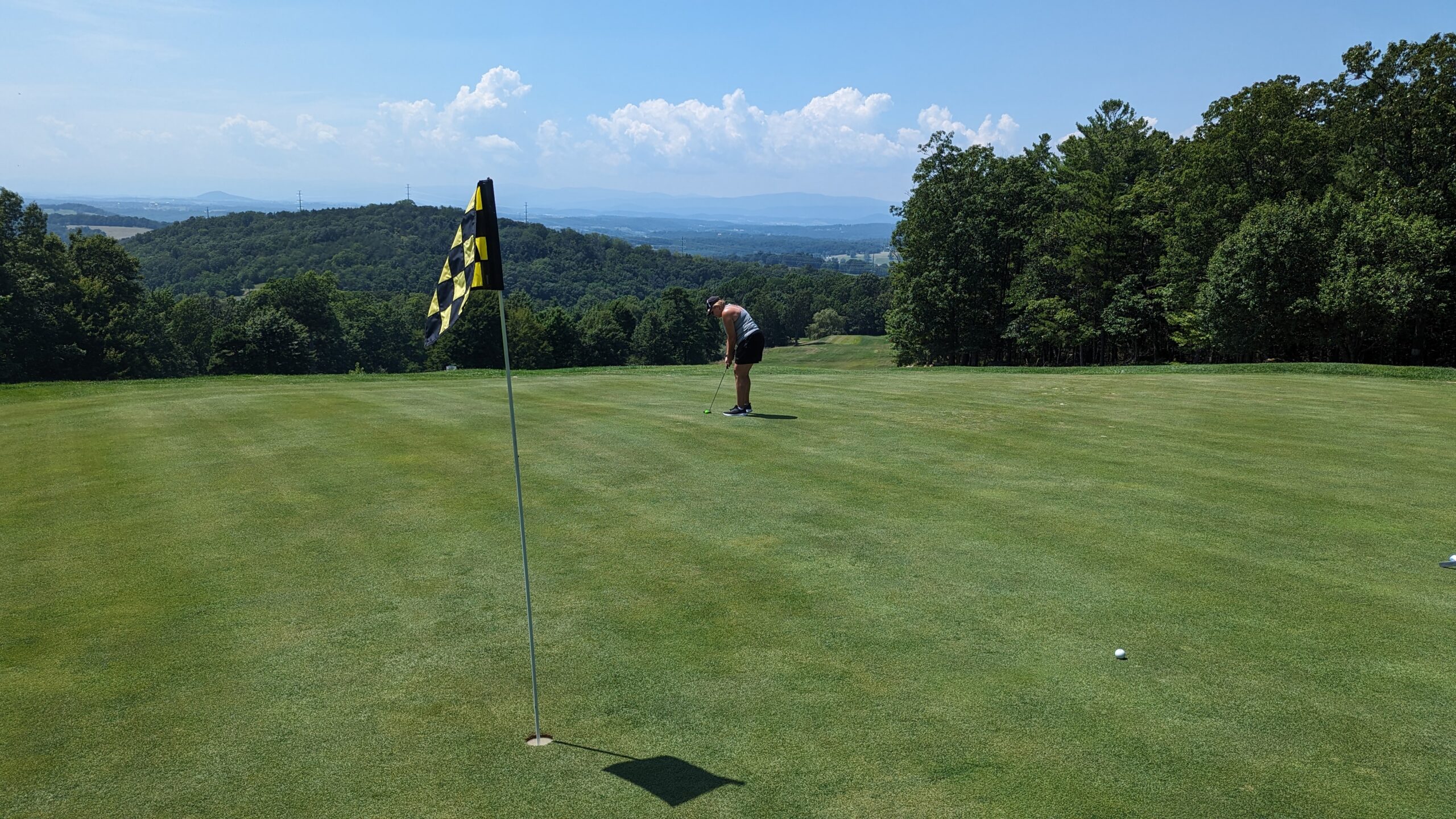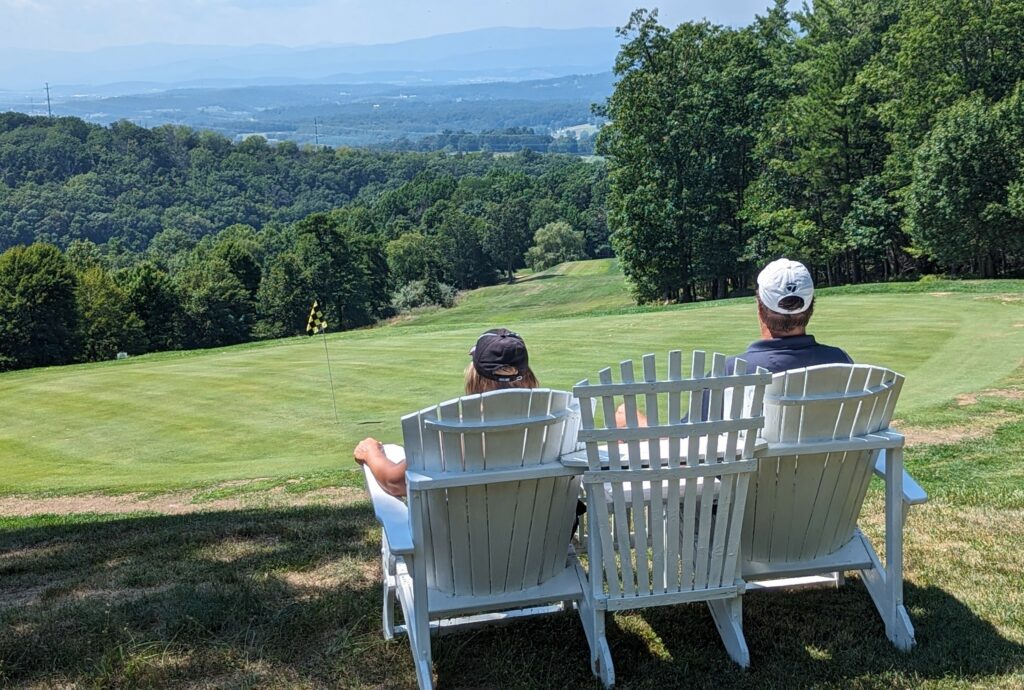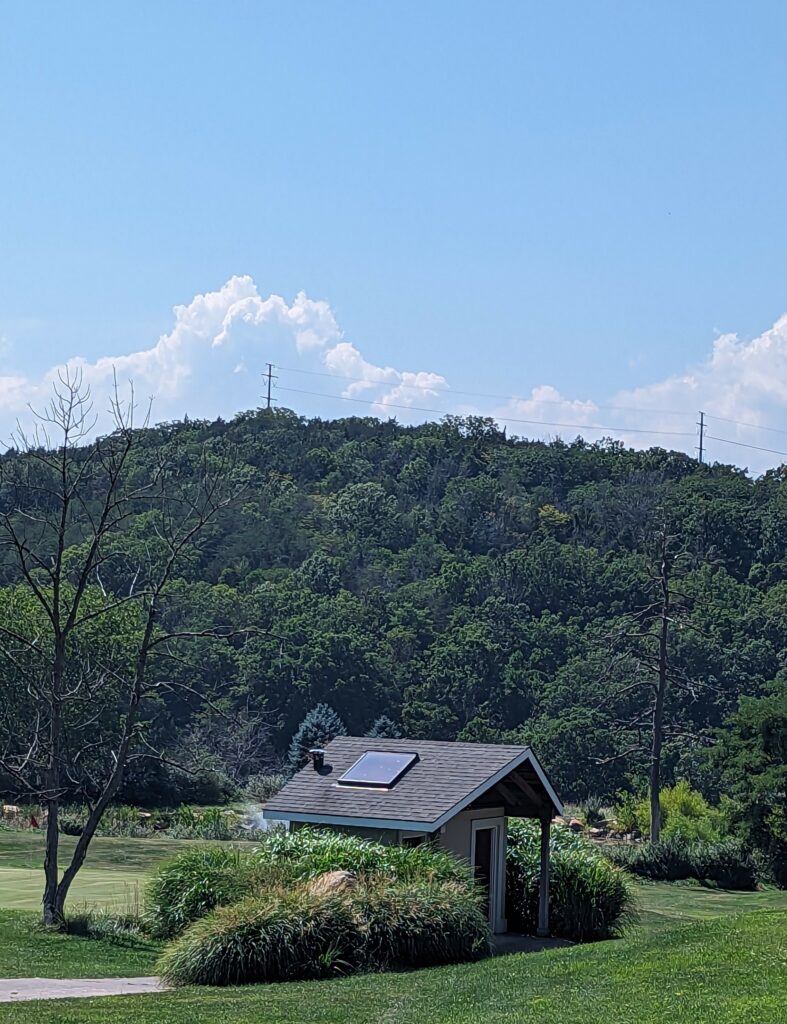 "If only I could have held it," Ron said as we rolled around to the green on hole 16, spotting the beautiful restrooms on the way to 17.
Thanks to Mobic, a medication he takes for his knees, he had an "incident" causing him to use the woods for relief.
"Don't use leaves of three, Ron," I heard coming from the woods beside me as I swung my seven-iron, shanking to the left.
"Hard to hit when someone's pooping in the woods beside you," I said as he exited the woods.
Life on the golf course.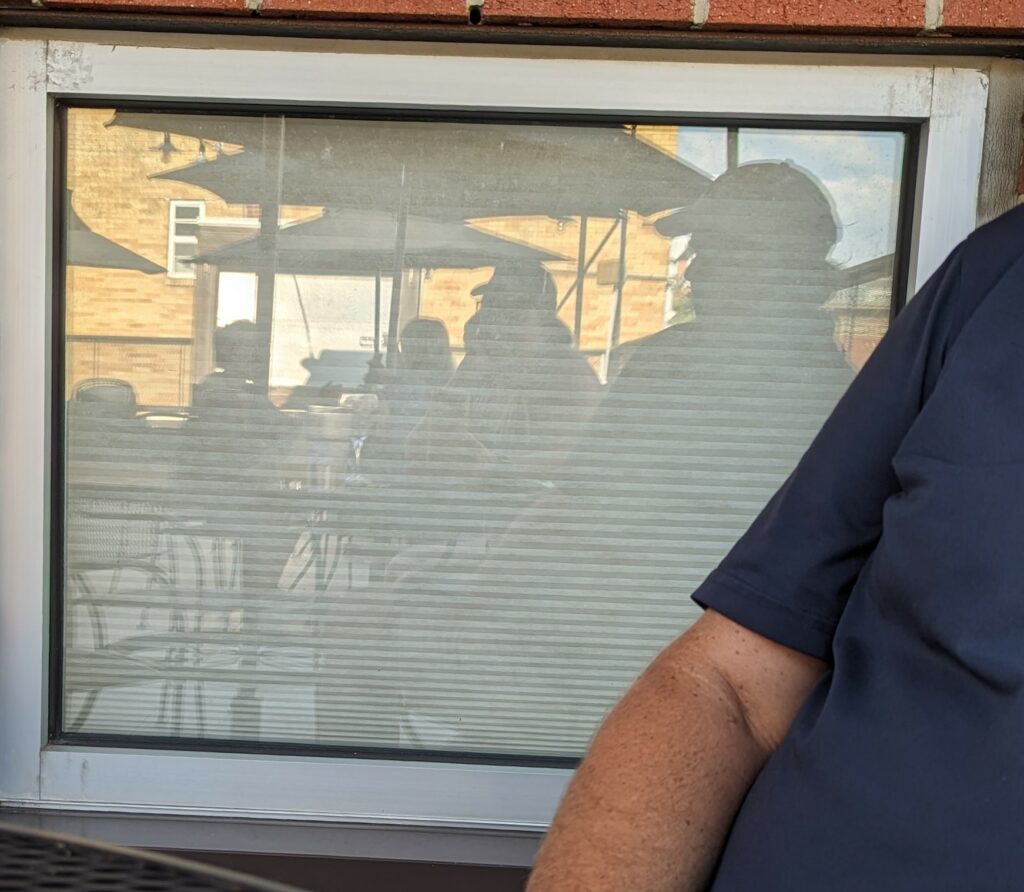 "Very artsy," Ron said of my picture from Jimmy Madison's, where we went after golf for drinks and an app.
Afterward, we drove down Water St. to see where Ron lived during his junior and senior years of college with five other guys: Brian Condra, Ken Hutton, Josh Rhoades, Eric Musslewhite, and Jimmy Pennington. White when he lived in it, blue siding now covers the sides of the house.
"Oh man, they let the back grow over. It had a great backyard, and you used to be able to drive down behind it. But they let it all grow over. So sad."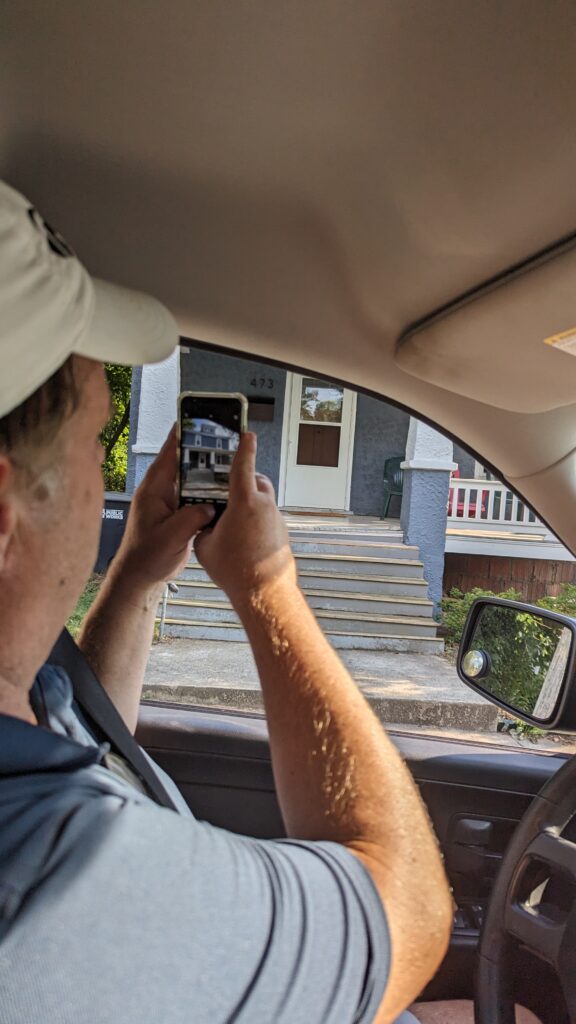 Back to the camper, we went.
"First bar I ever went to. They took me out to listen to Jazz, and I drank Rolling Rock. So good it's still around. First bar of many."
Ron pulled over quickly when he saw The Little Grill, where he went 38 years ago. Unfortunately, he couldn't remember who took him.
"Trombone player, I don't remember any more than that."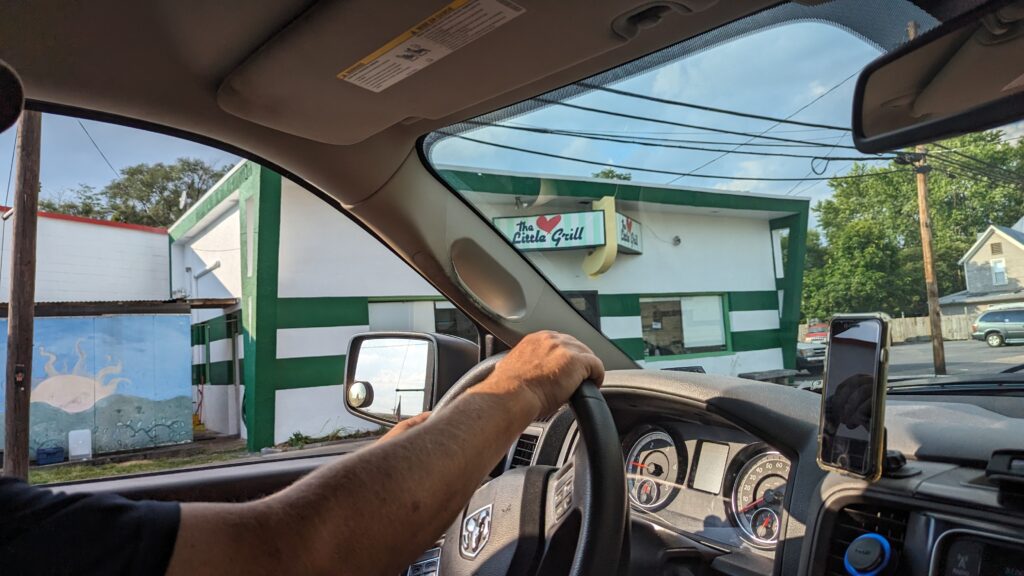 Saturday, Aug. 5th
Both of us love our lazy mornings. I've started pre-laying my morning fires so the flames blaze before my coffee finishes brewing. Meanwhile, Ron and the pups snooze away.
"So the Cadets came from the south, passed the farm, and lost their shoes here." I said to Ron as we stood in the middle of the "Field of Lost Shoes," where students from nearby VMI stormed the Yankees, forcing them to retreat and capturing their cannon.
Three days of heavy rain and hundreds and hundreds of soldiers fighting turned the field into a bog of mud, sucking the shoes off the soldiers as they charged. Hence the name Field of Lost Shoes. Dry and packed dirt when we visited; it seemed hard to believe.
After watching the movie, touring the museum, and biking the battlefield, we had a new appreciation for the men and boys who died on May 15th, 1864.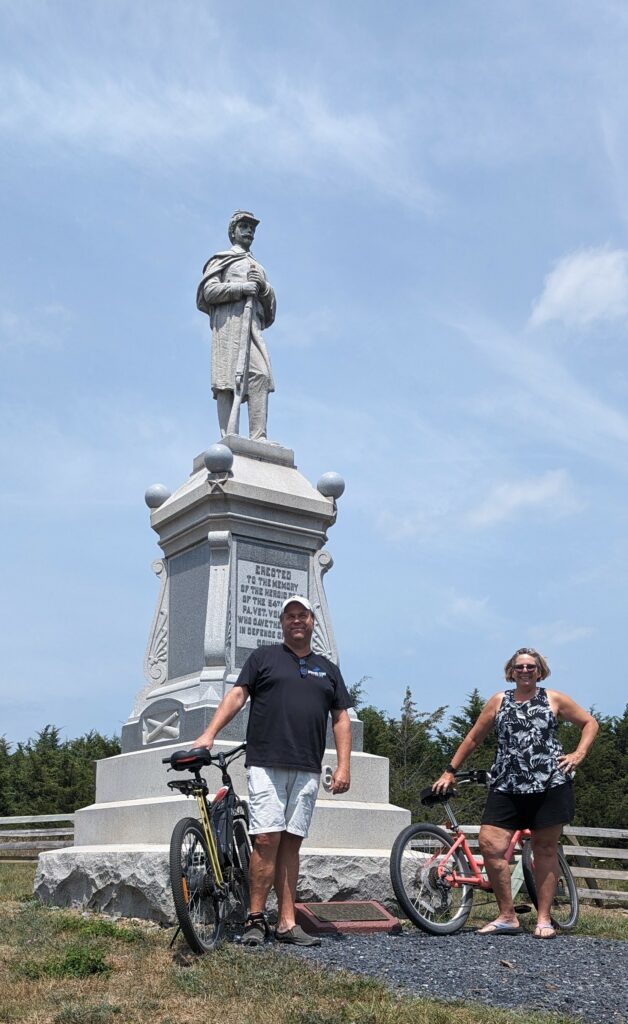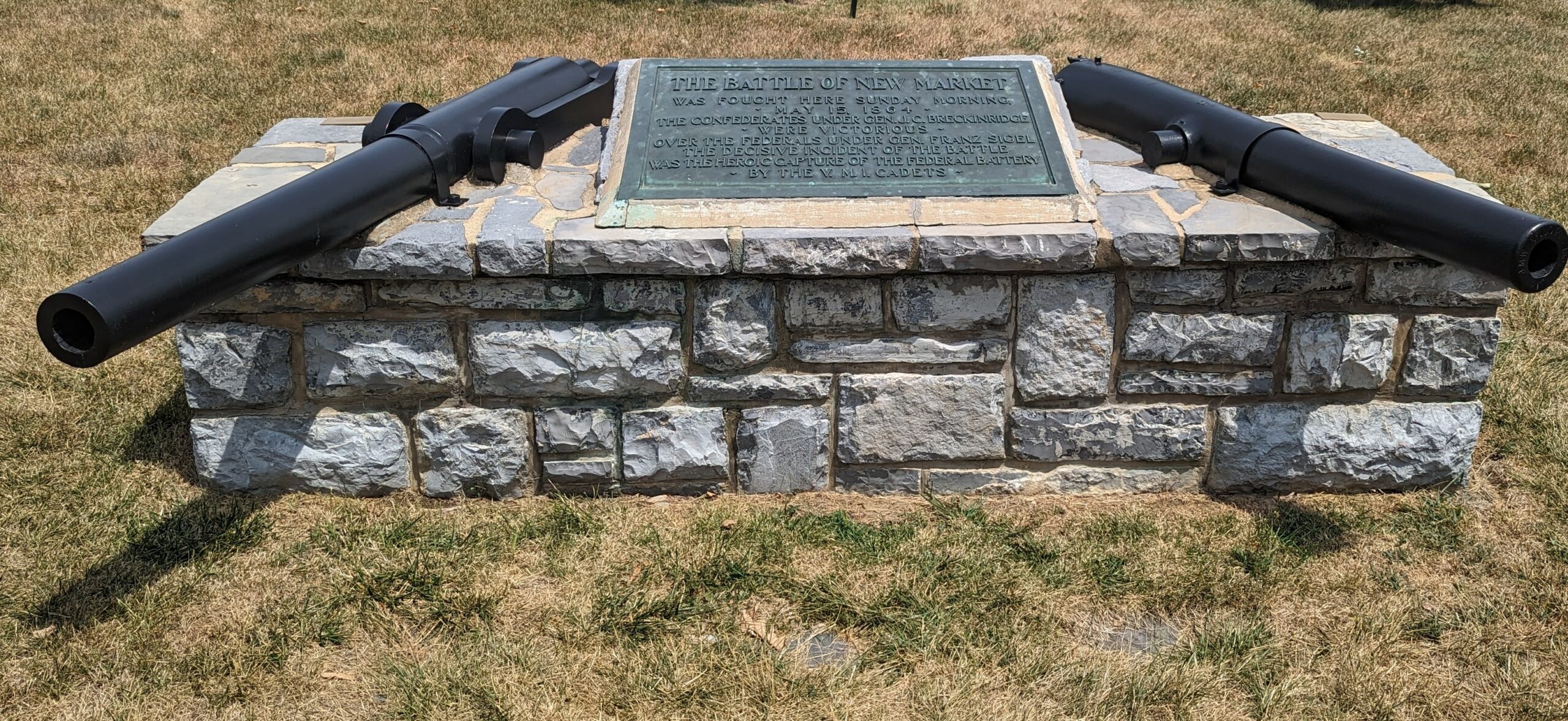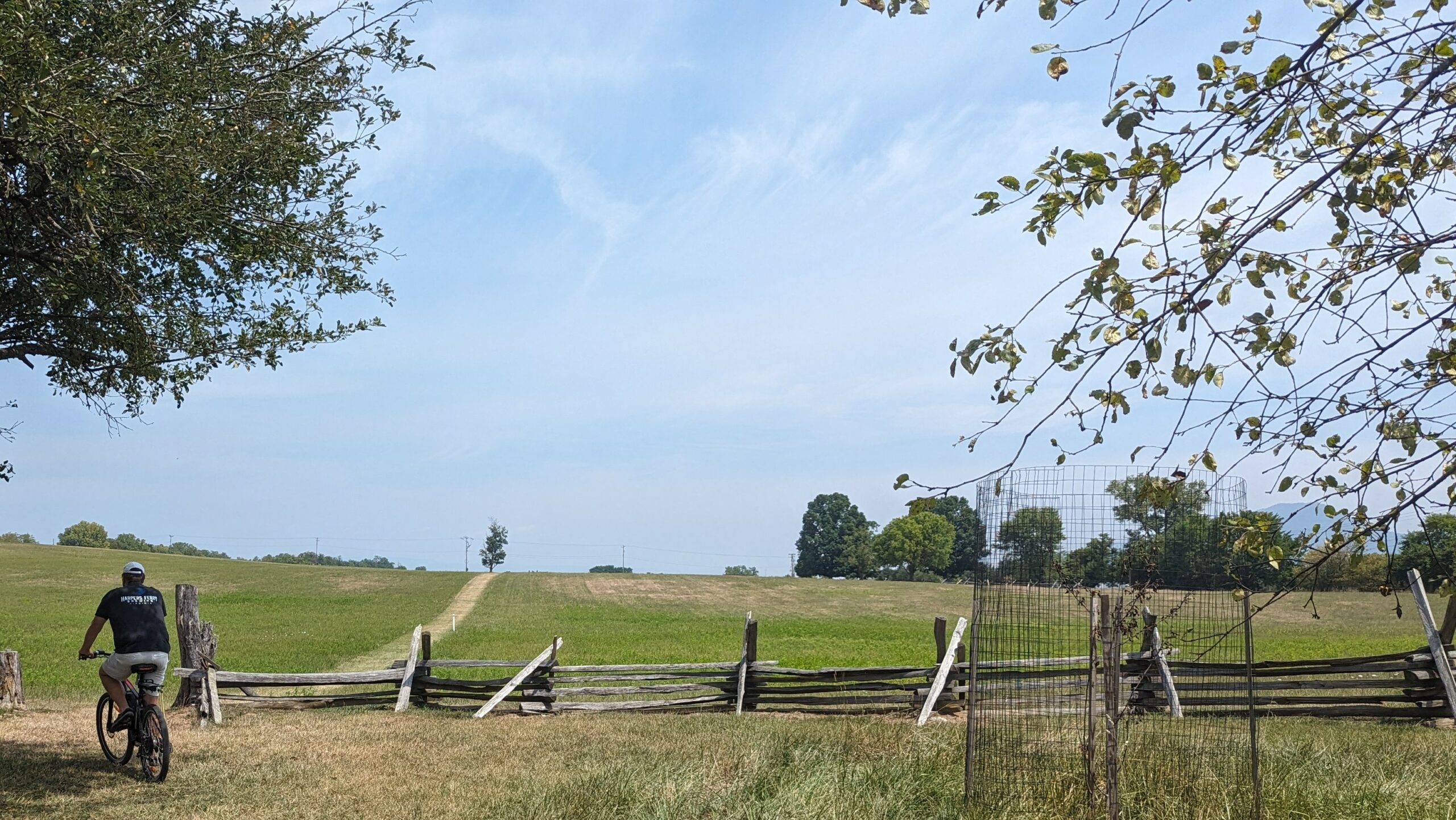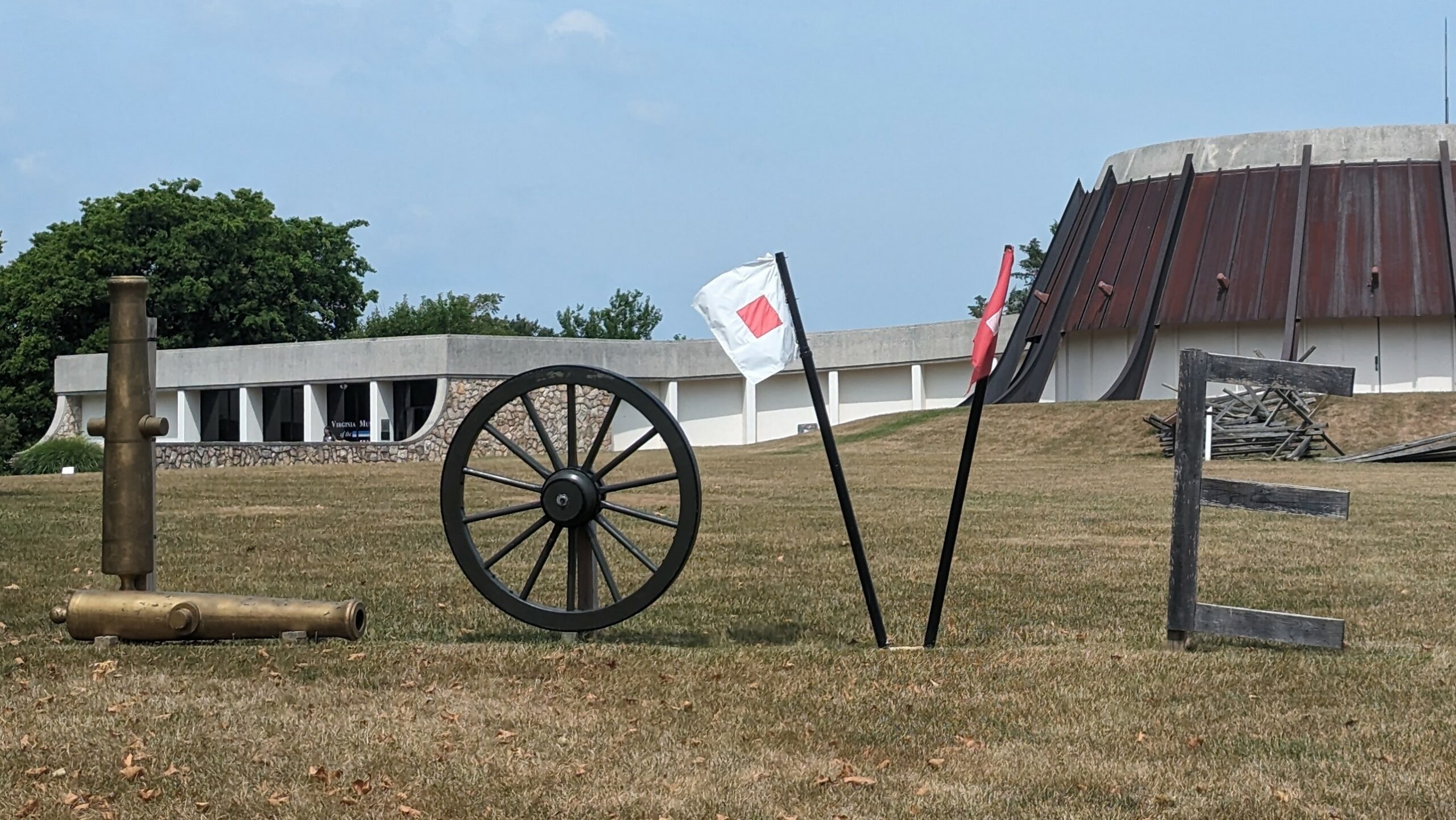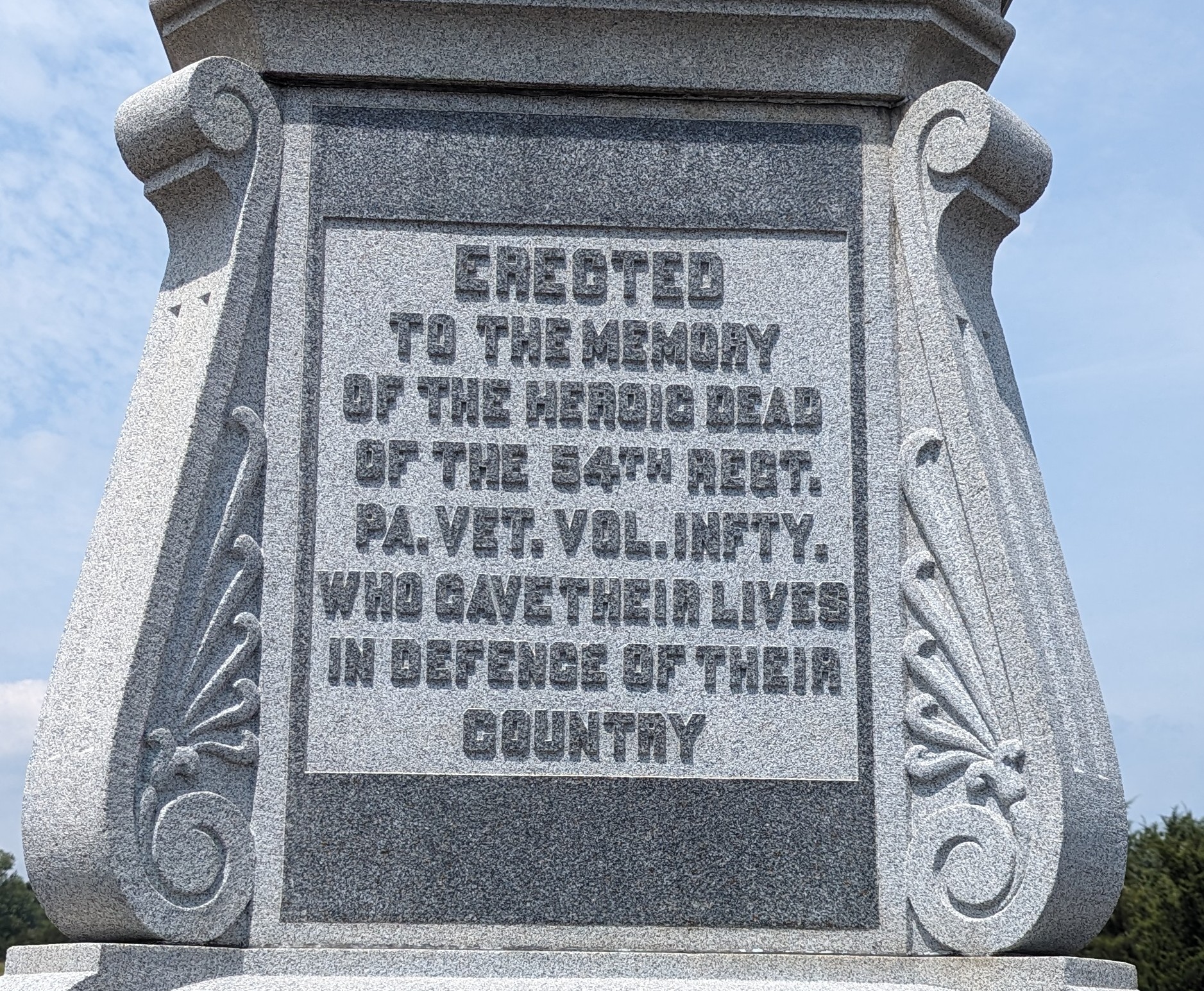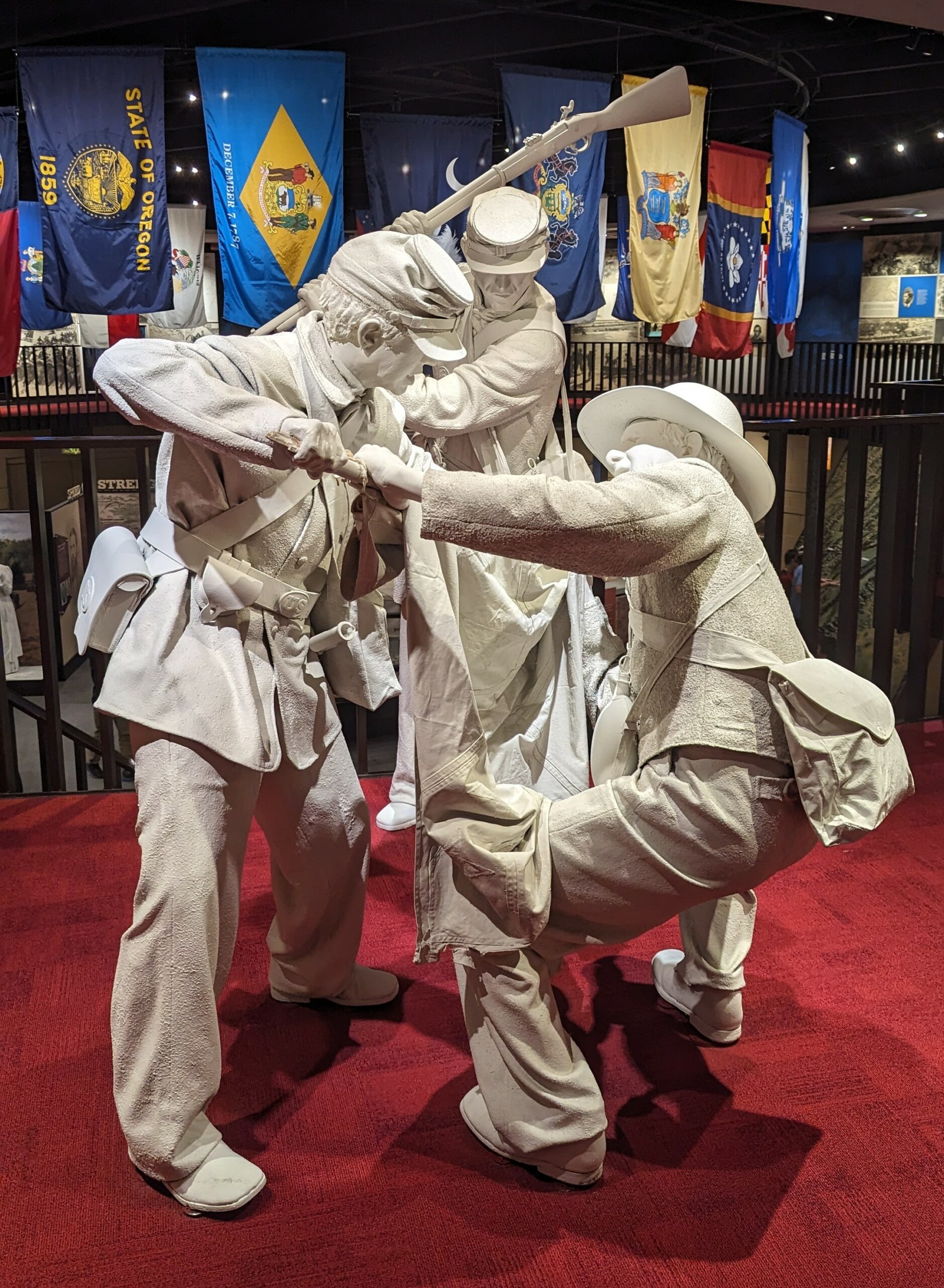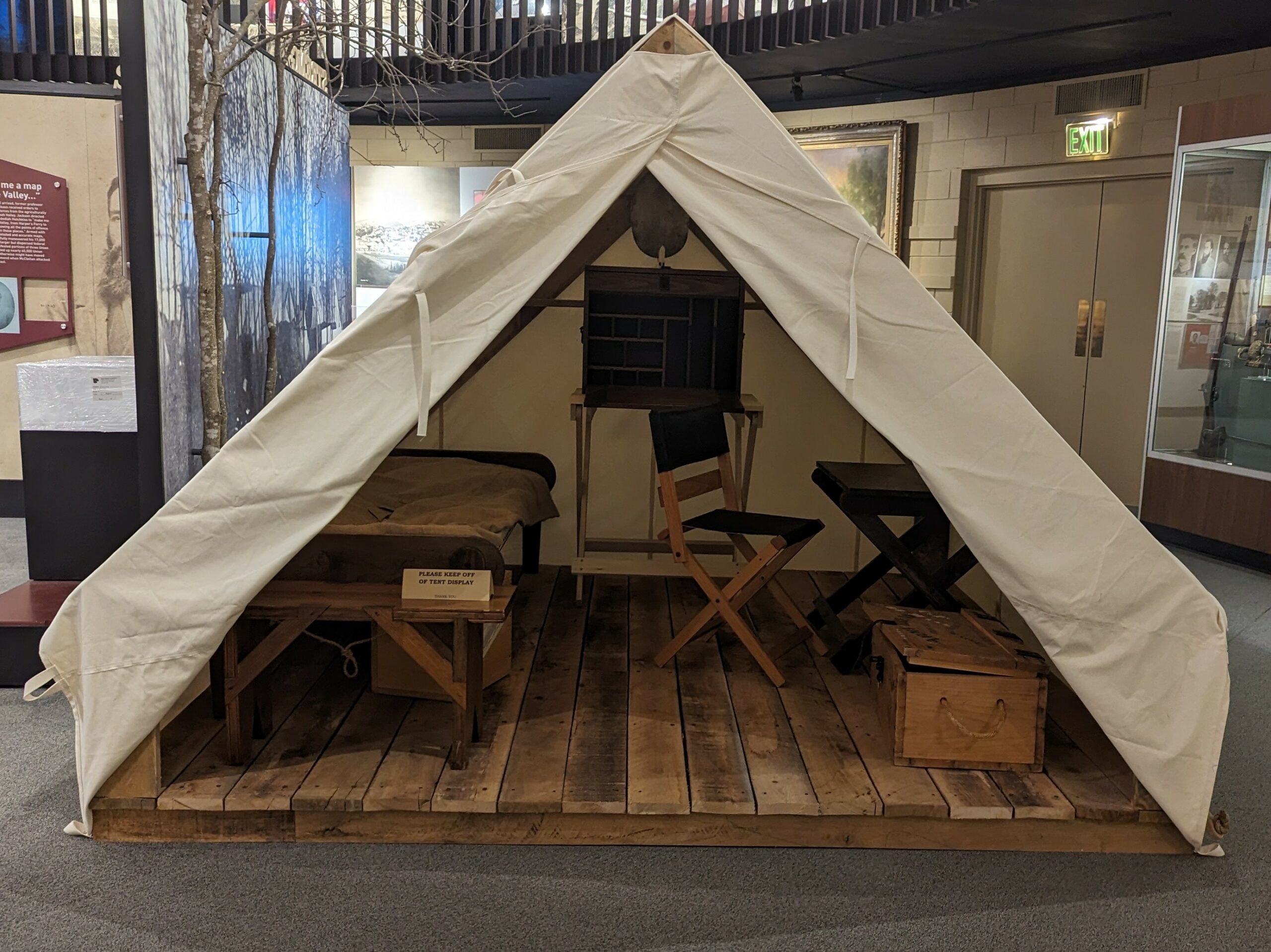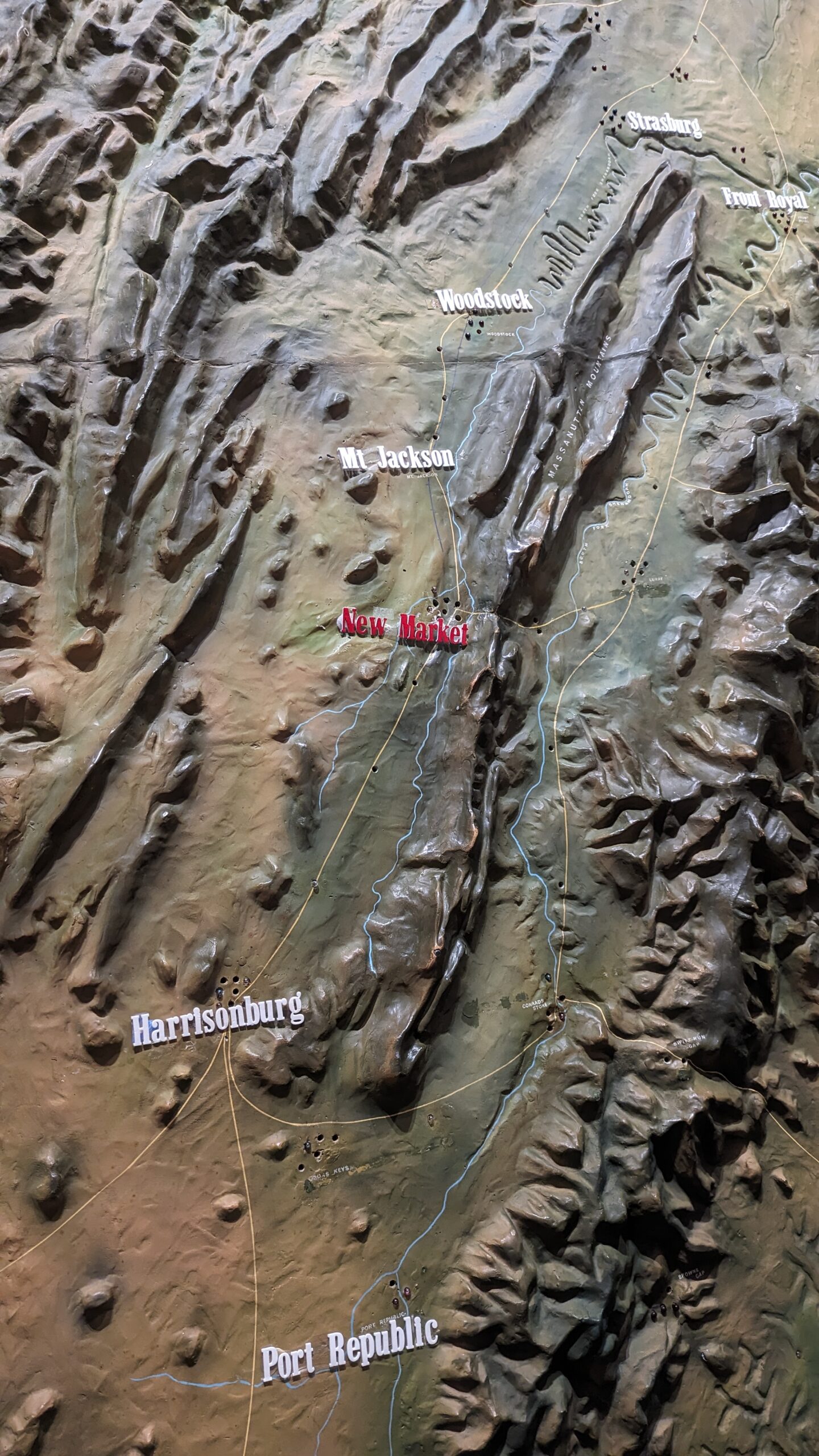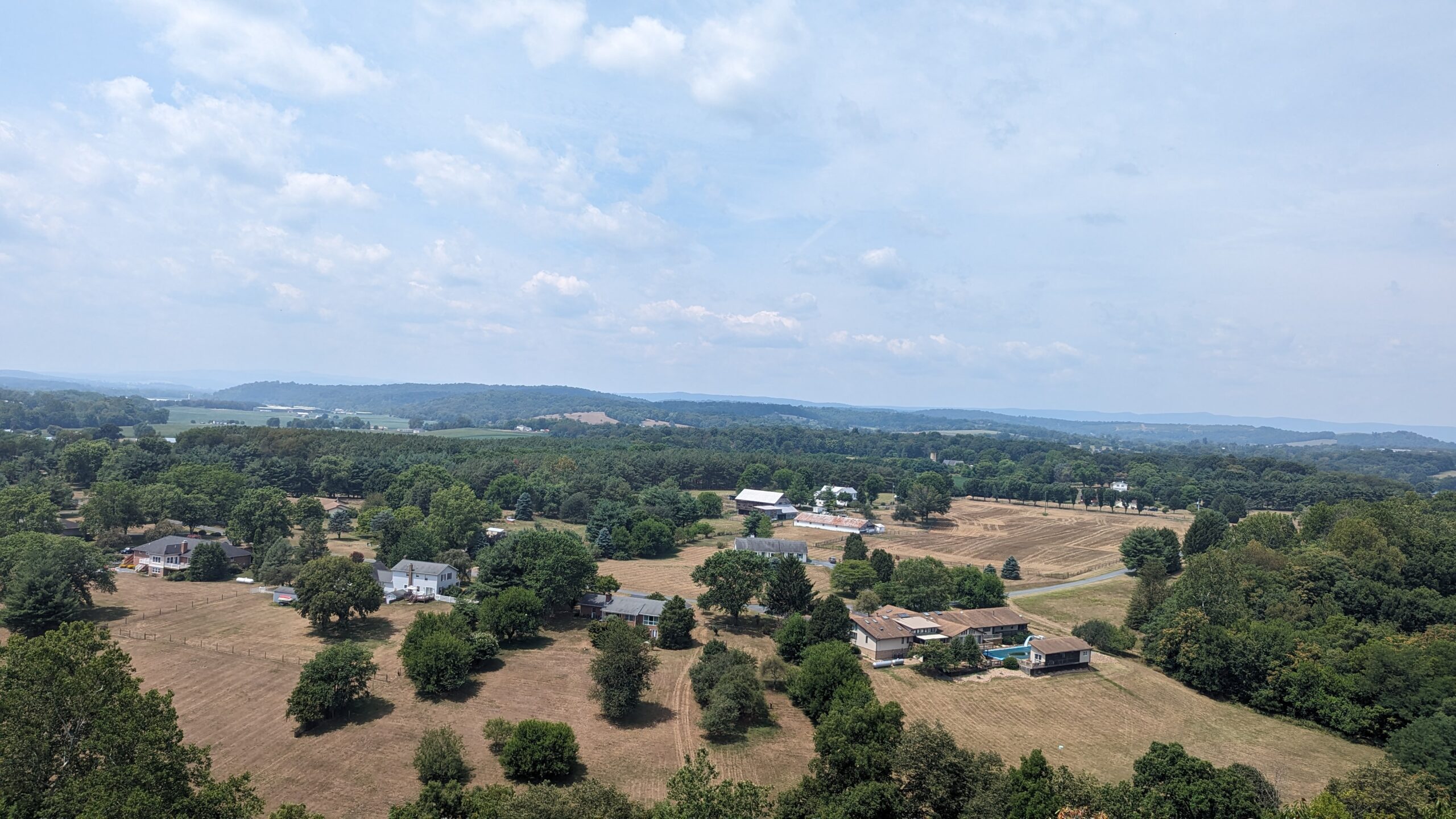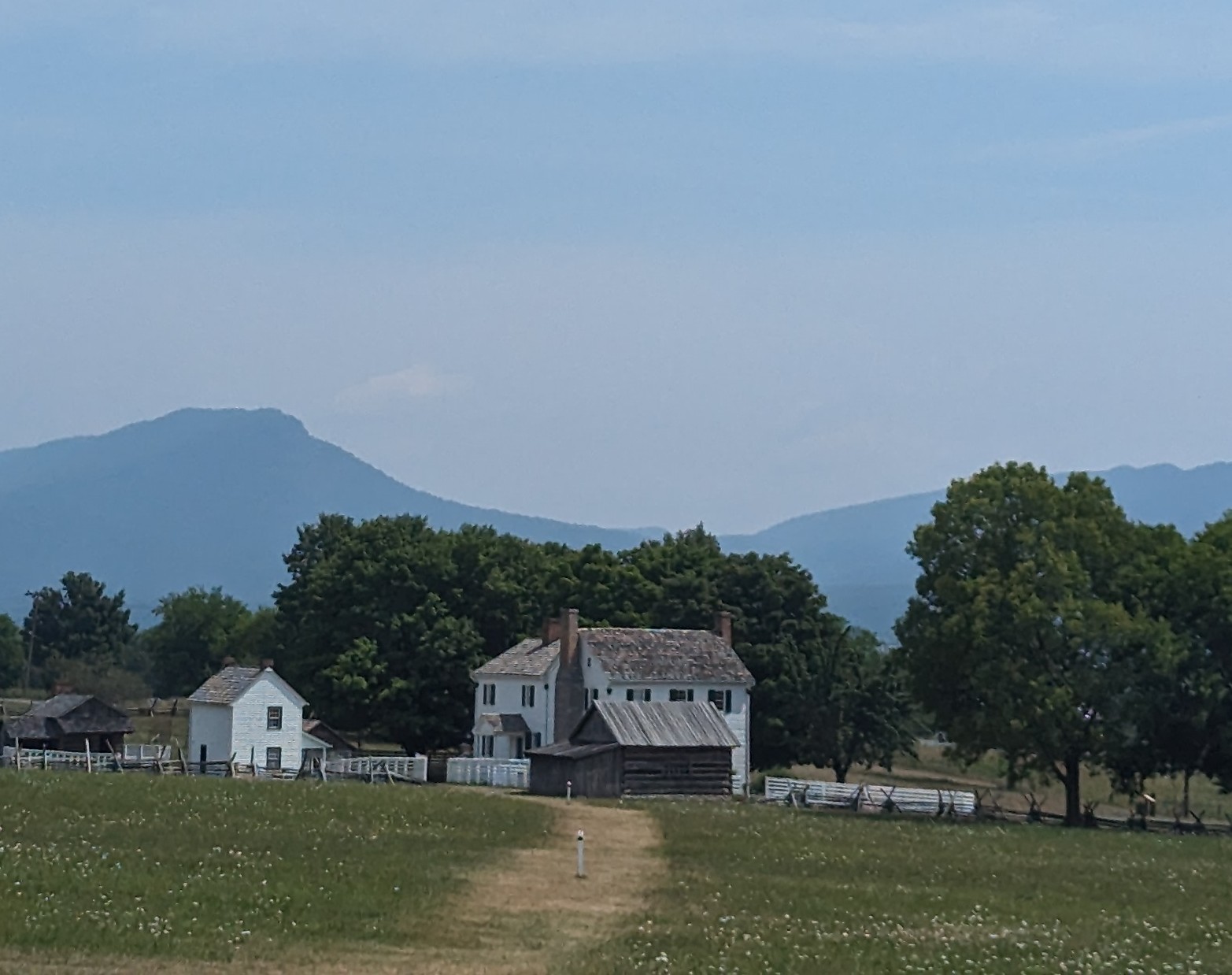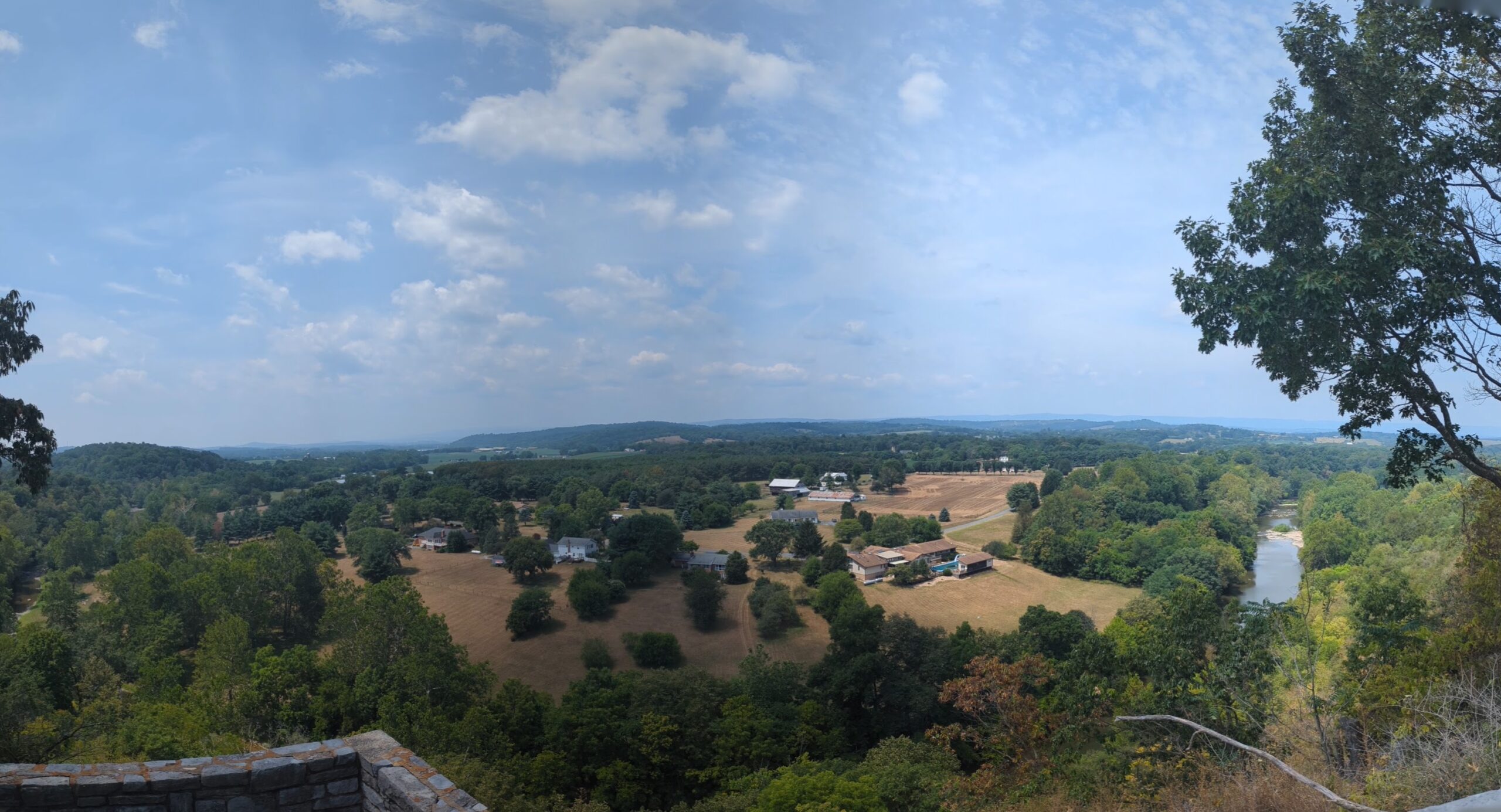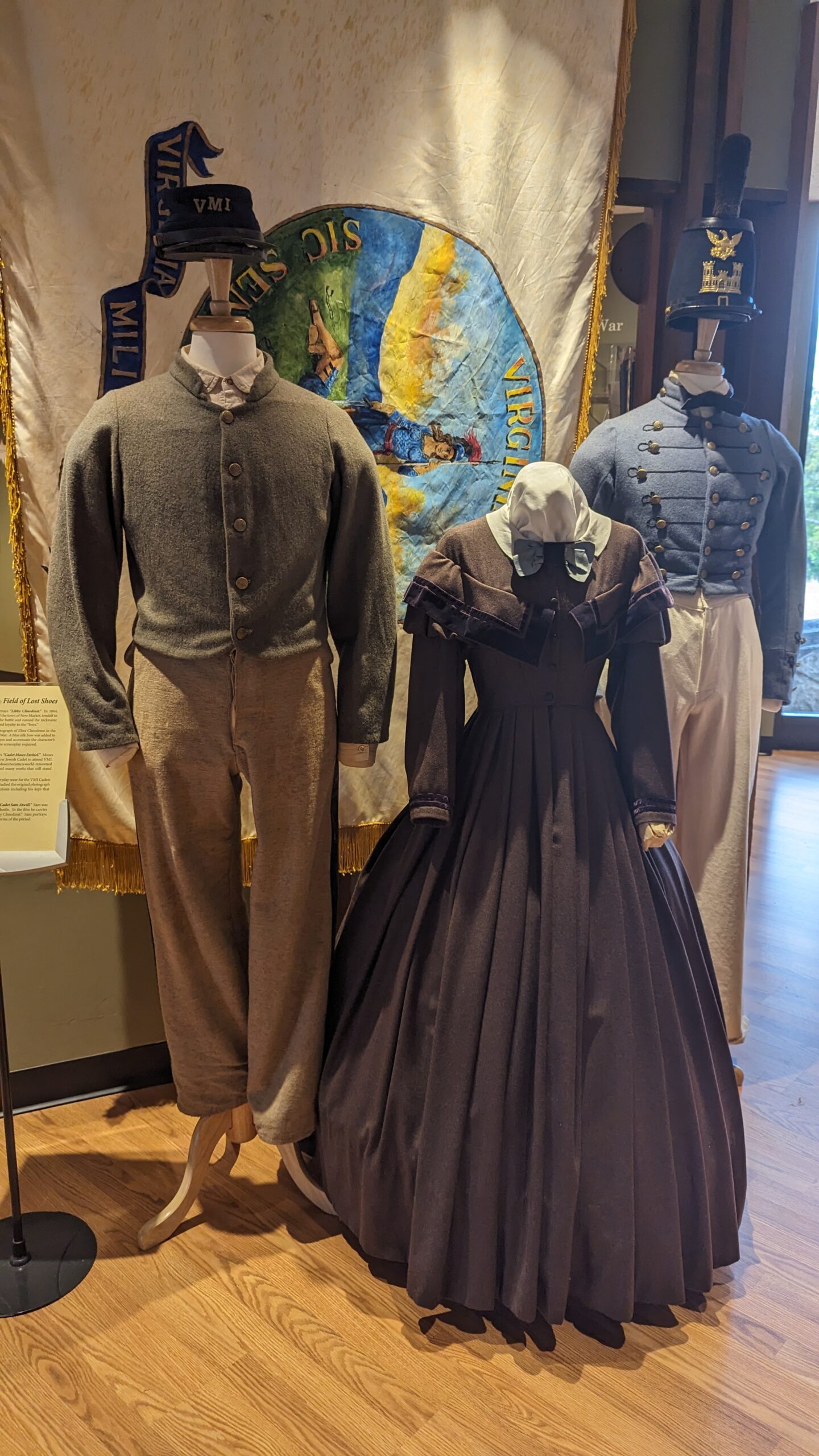 After shopping at Walmart for necessities, we ate lunch at Beard's and Broads, where they promote axe throwing, then headed back for afternoon naps and a quiet evening at the camper.
Sunday, Aug. 6, 2023
Once again, we attended the Church of Nazarene, where they continued their series on the seven letters in Revelation.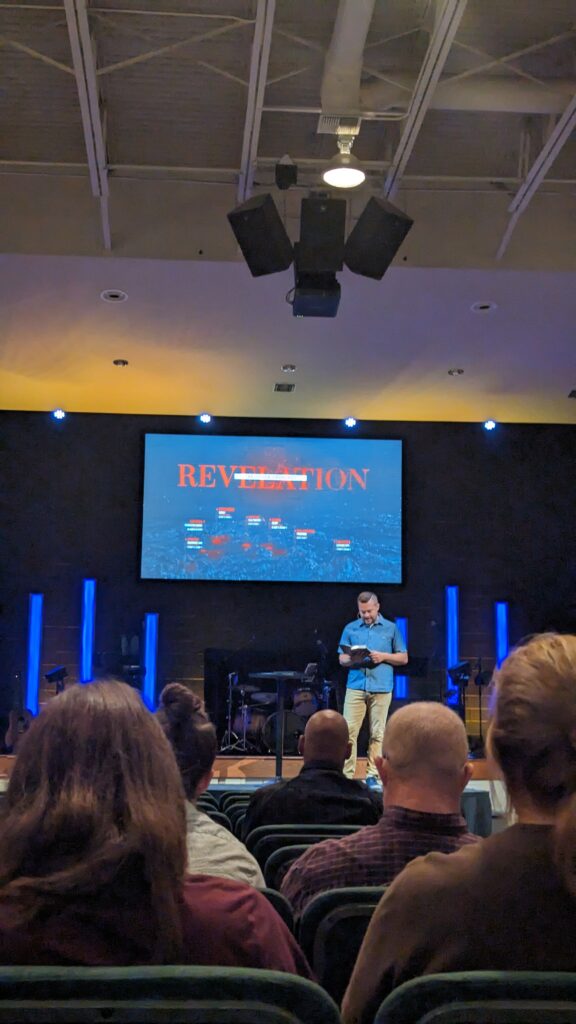 Home for burgers on the grill, we waited for the afternoon sun to subside before heading to Shenvalee to walk nine. Playing the Creek, I posted a 47, my best score yet.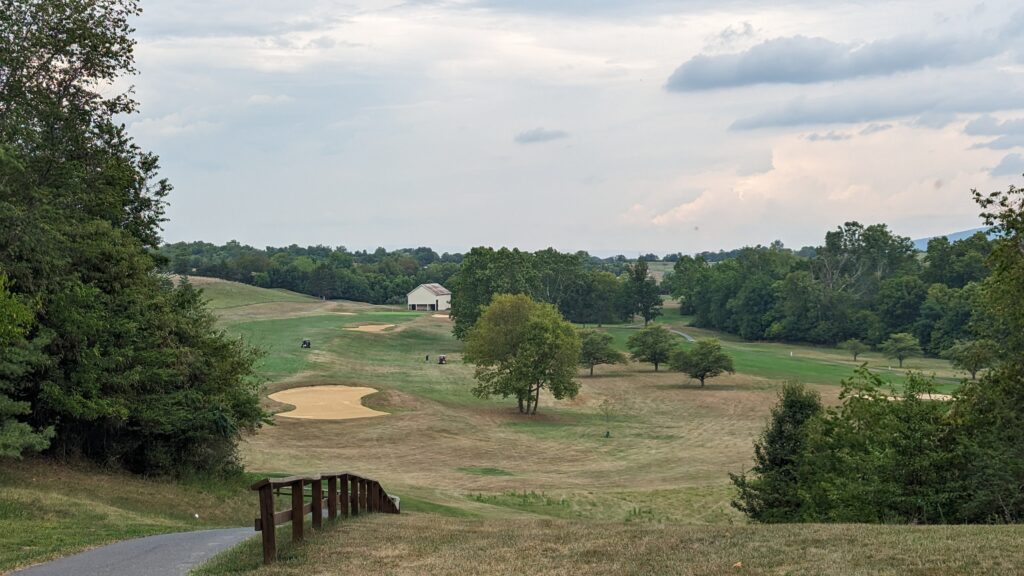 Monday, Aug. 7, 2023
"Let's go spelunking," Ron said as I sat outside by the fire formatting "Love Remains" for Kindle. Intense in my work, I didn't realize 6:30 had turned into 10:30.
"Alright, just give me ten more minutes."
And so off we went to Luray Caverns, where we ran into my friend Marie and her husband John celebrating her birthday with a weekend away.
"A mile and a quarter, we did it in an hour and ten minutes. They said it would take an hour and 25 minutes," John said.
"Yeah, it used to have a 100 steps, but now it has a gentle slope, much easier to walk," Marie said.
Ron and I completed the walk in 35 minutes, finding it a larger-scale version of Endless Caverns. Thankful for Wyatt's guidance, we recognized the different types of rocks, and Ron received two cave kisses (drops of water on his head from the cave, a symbol of good luck). I, unfortunately, did not experience any drips.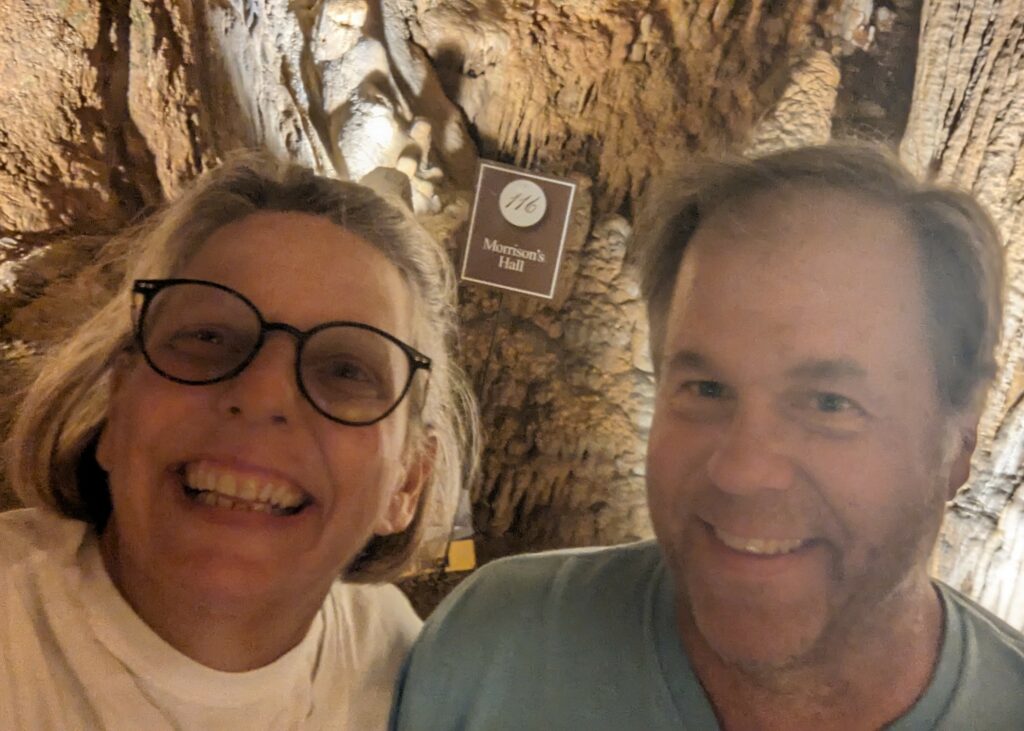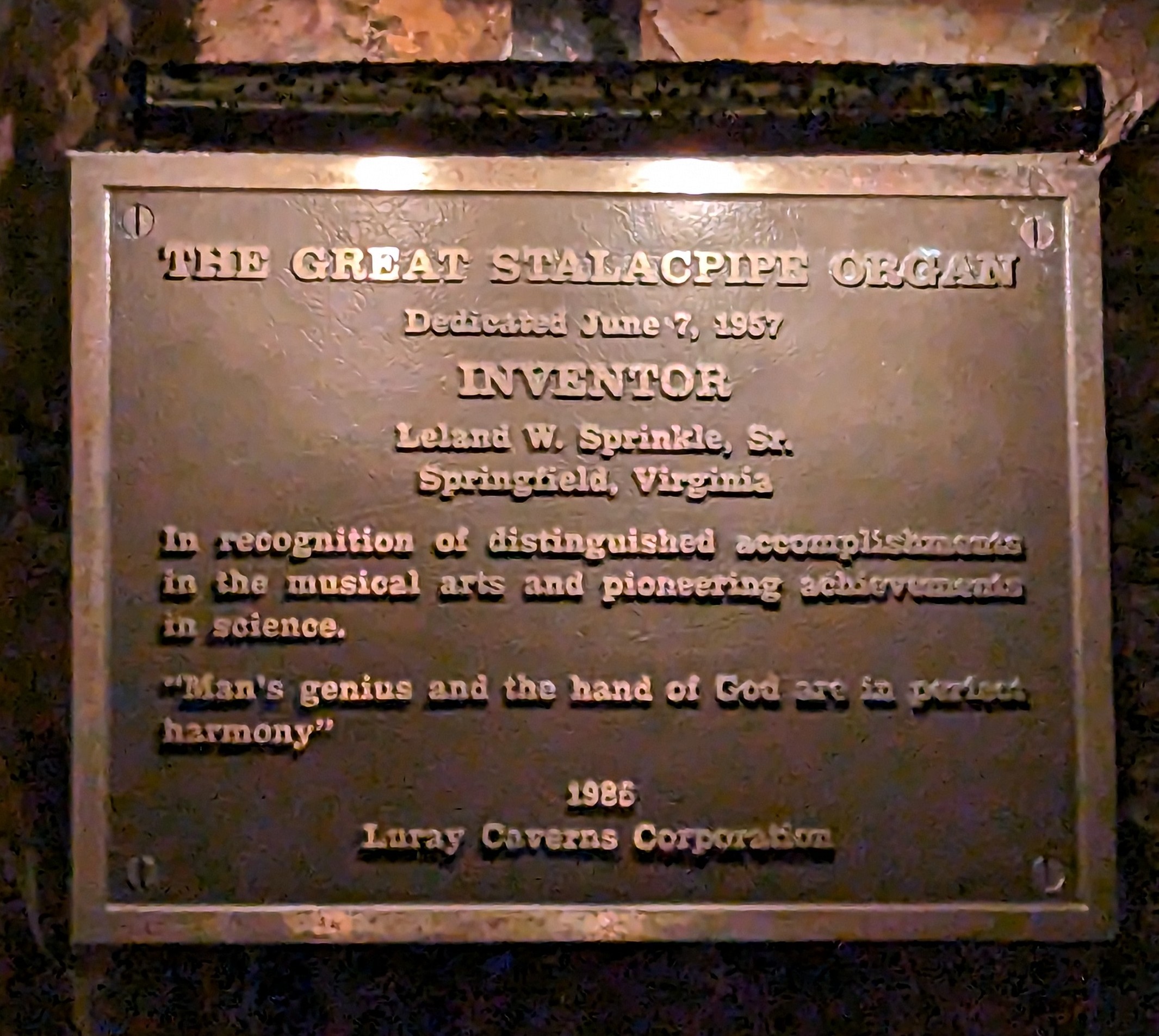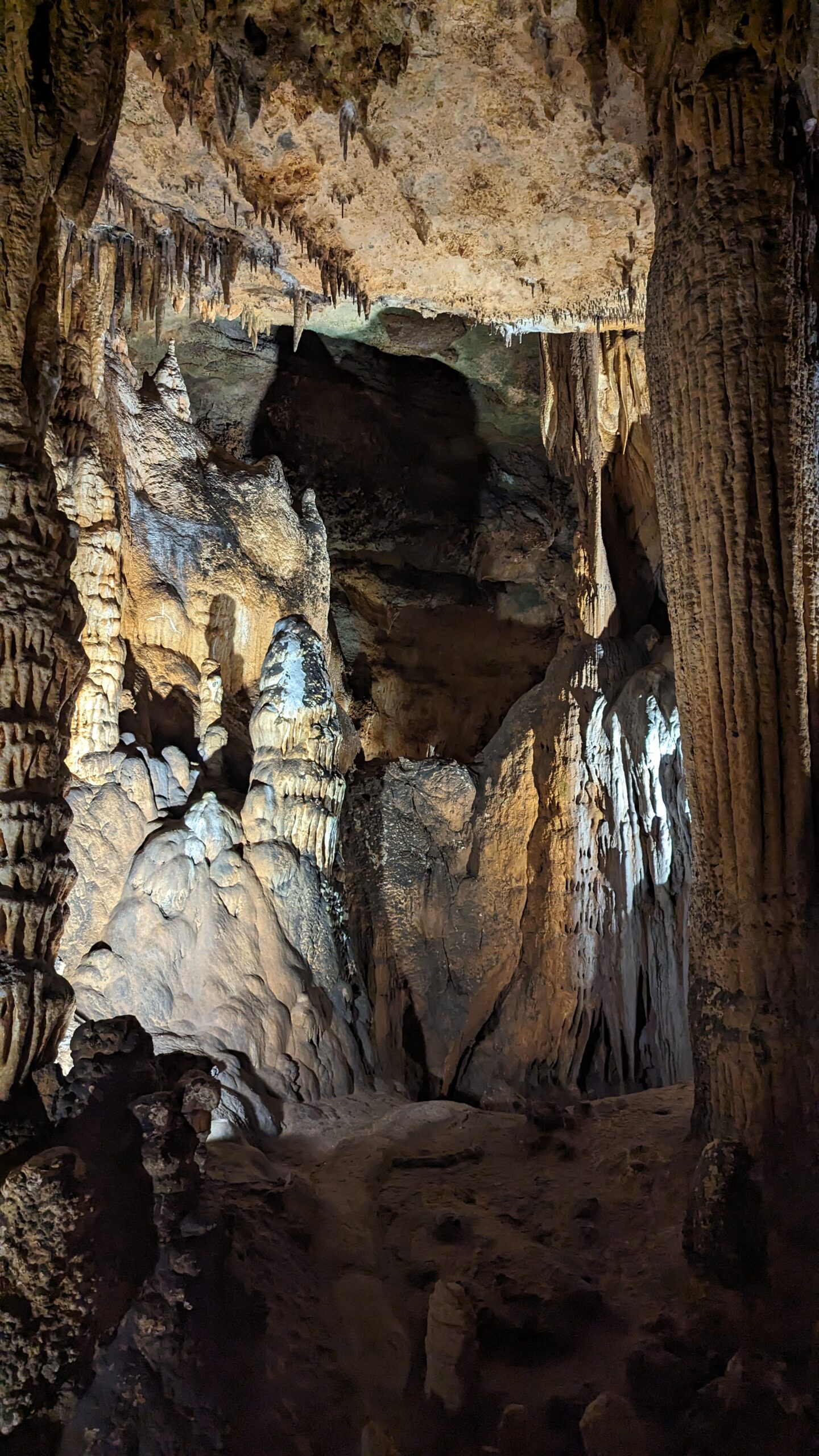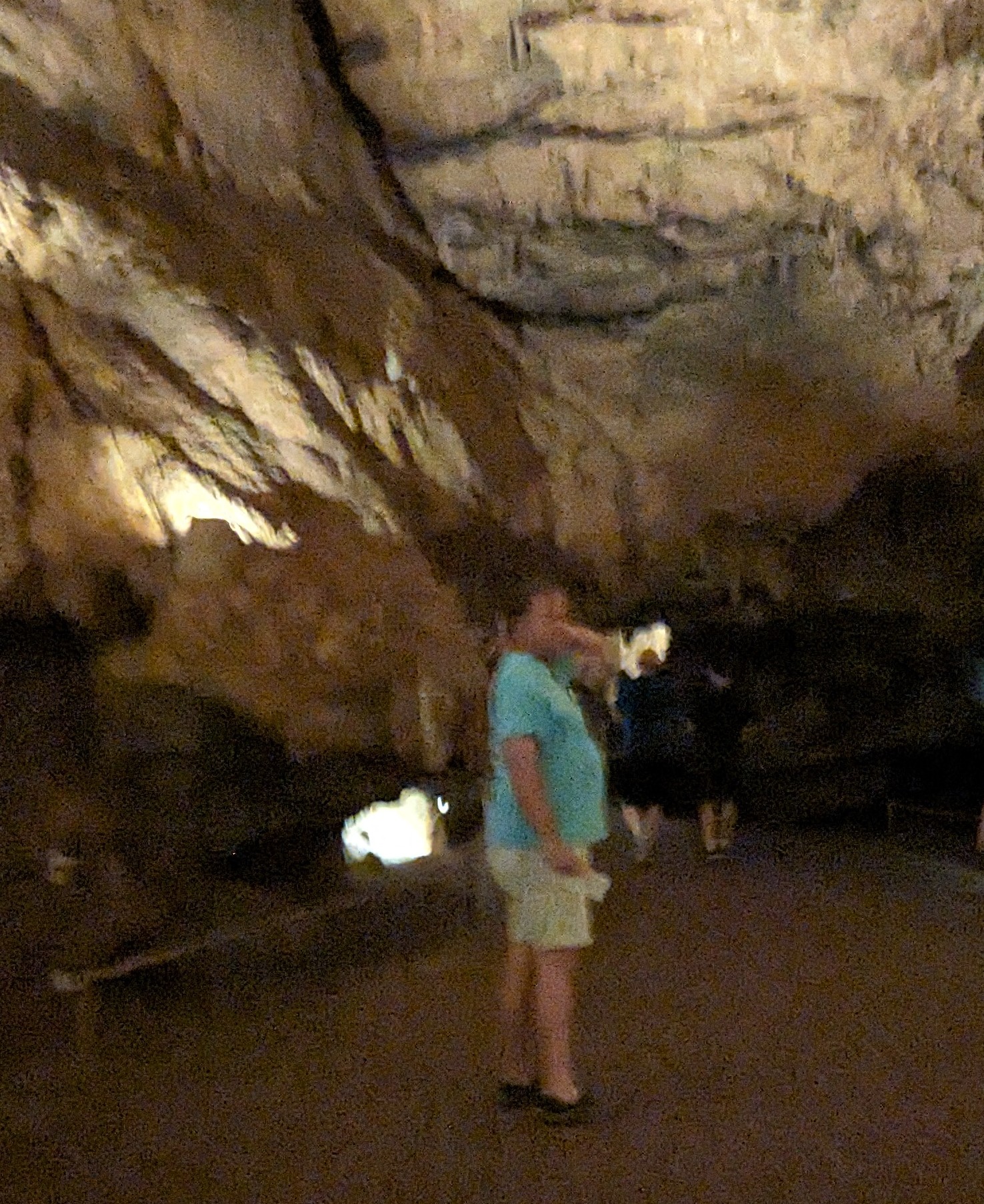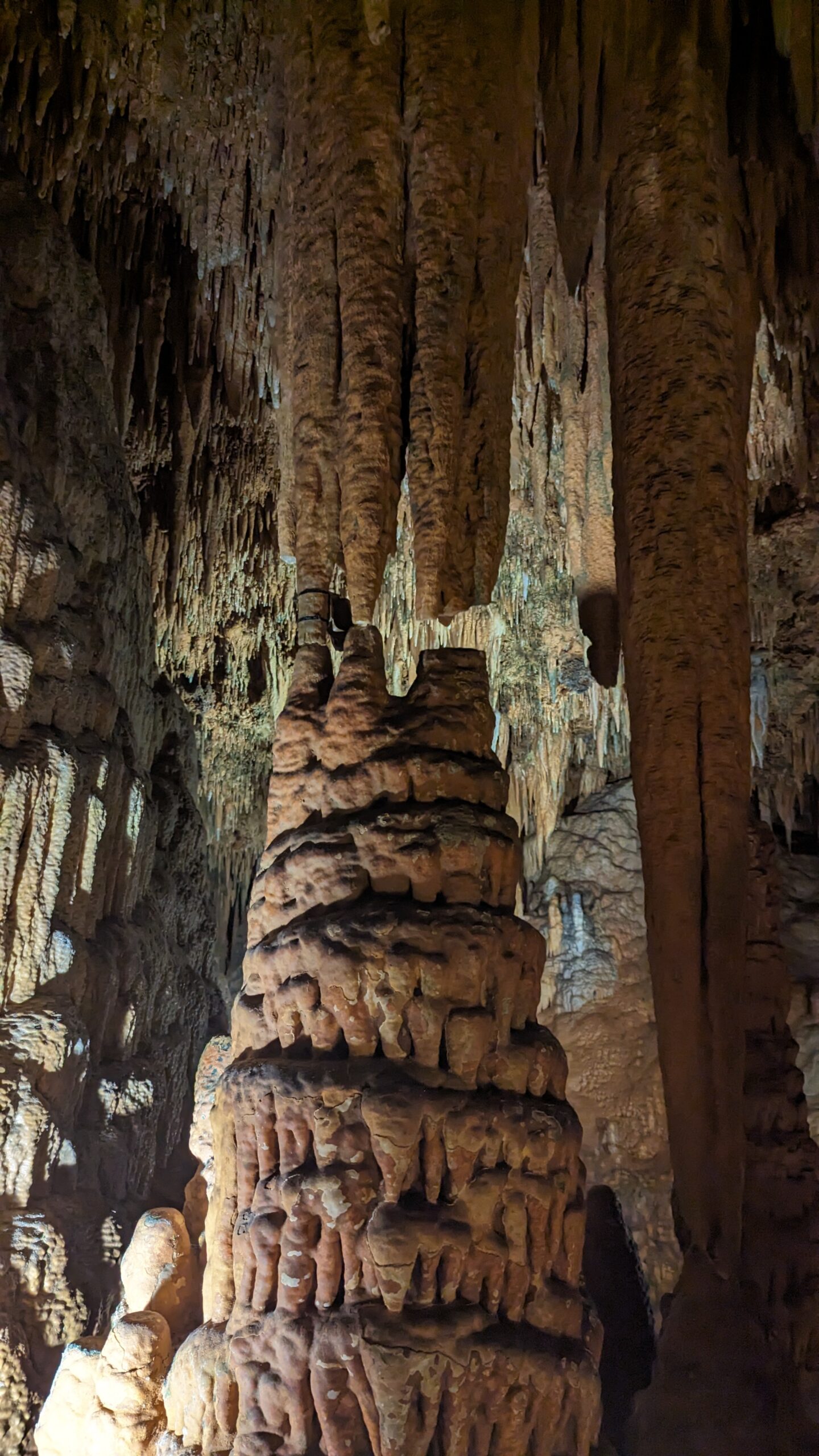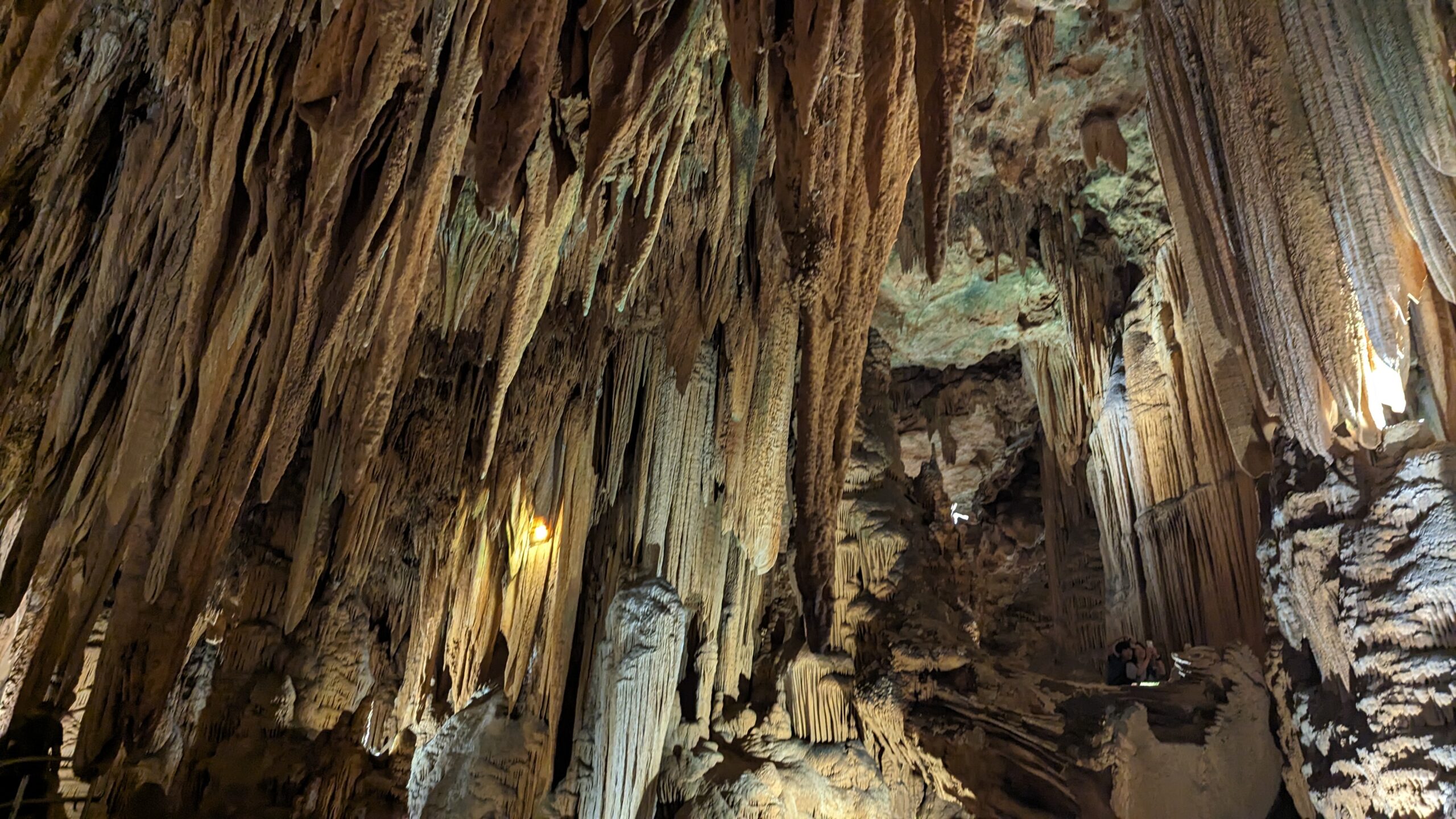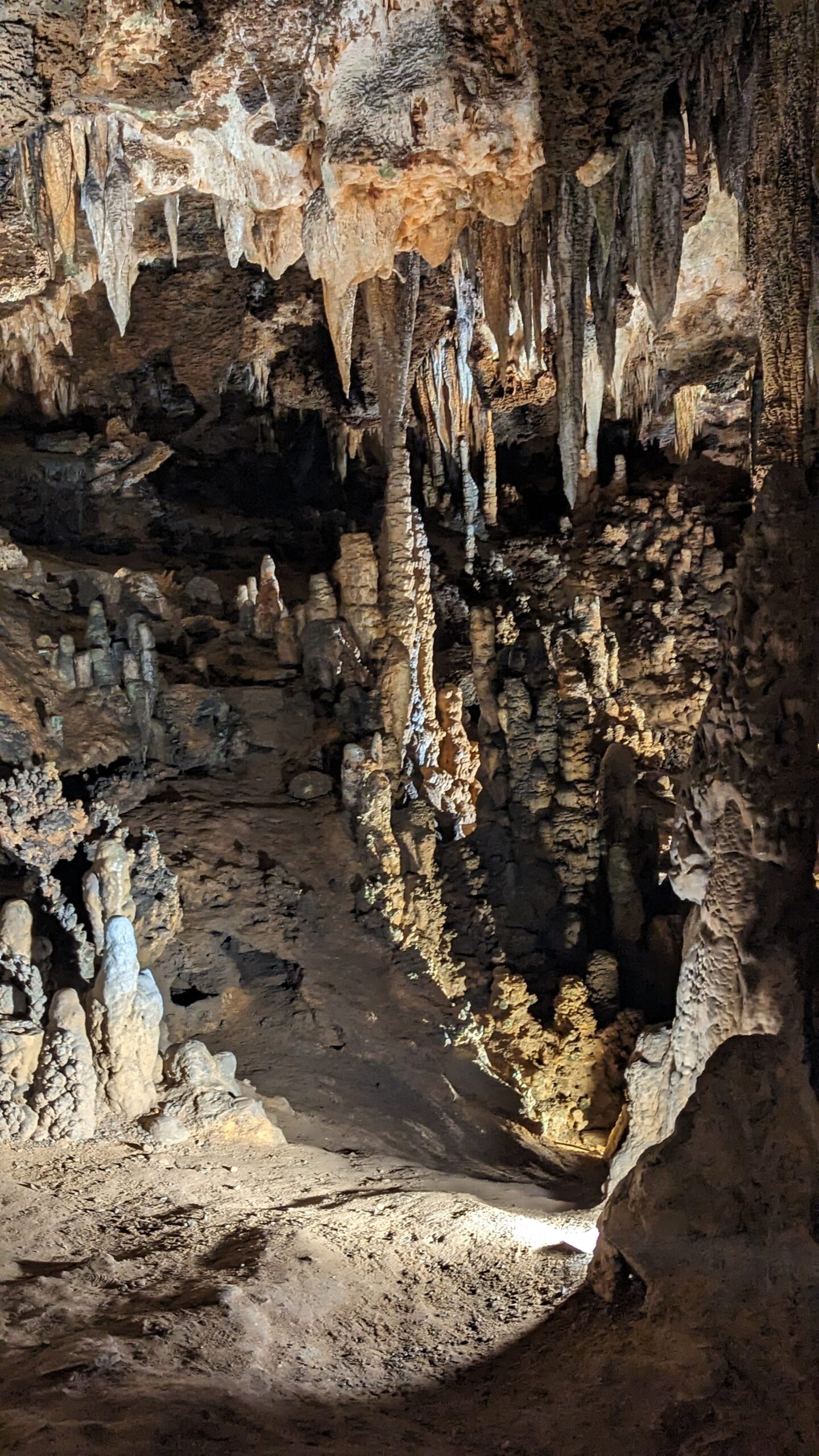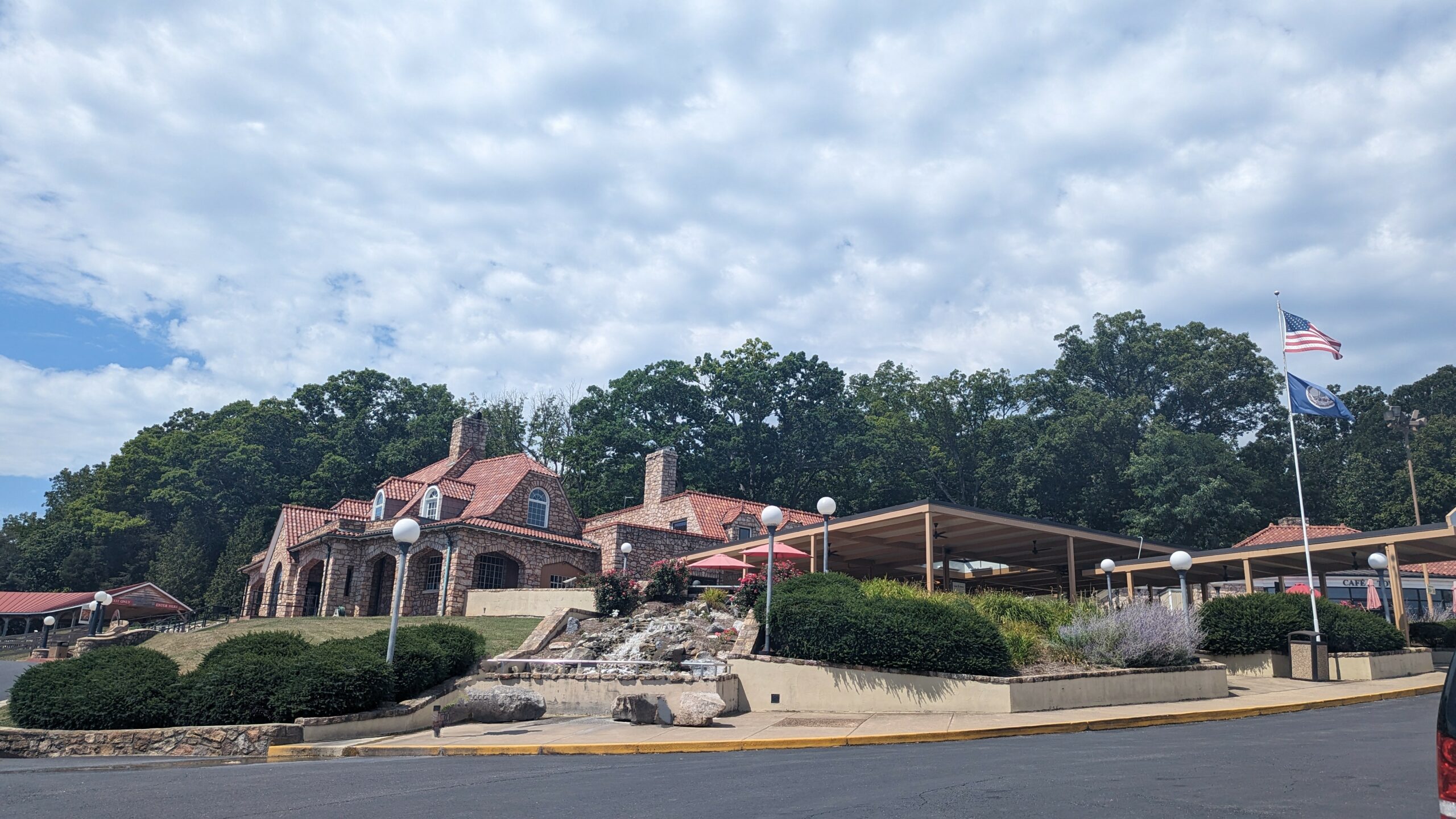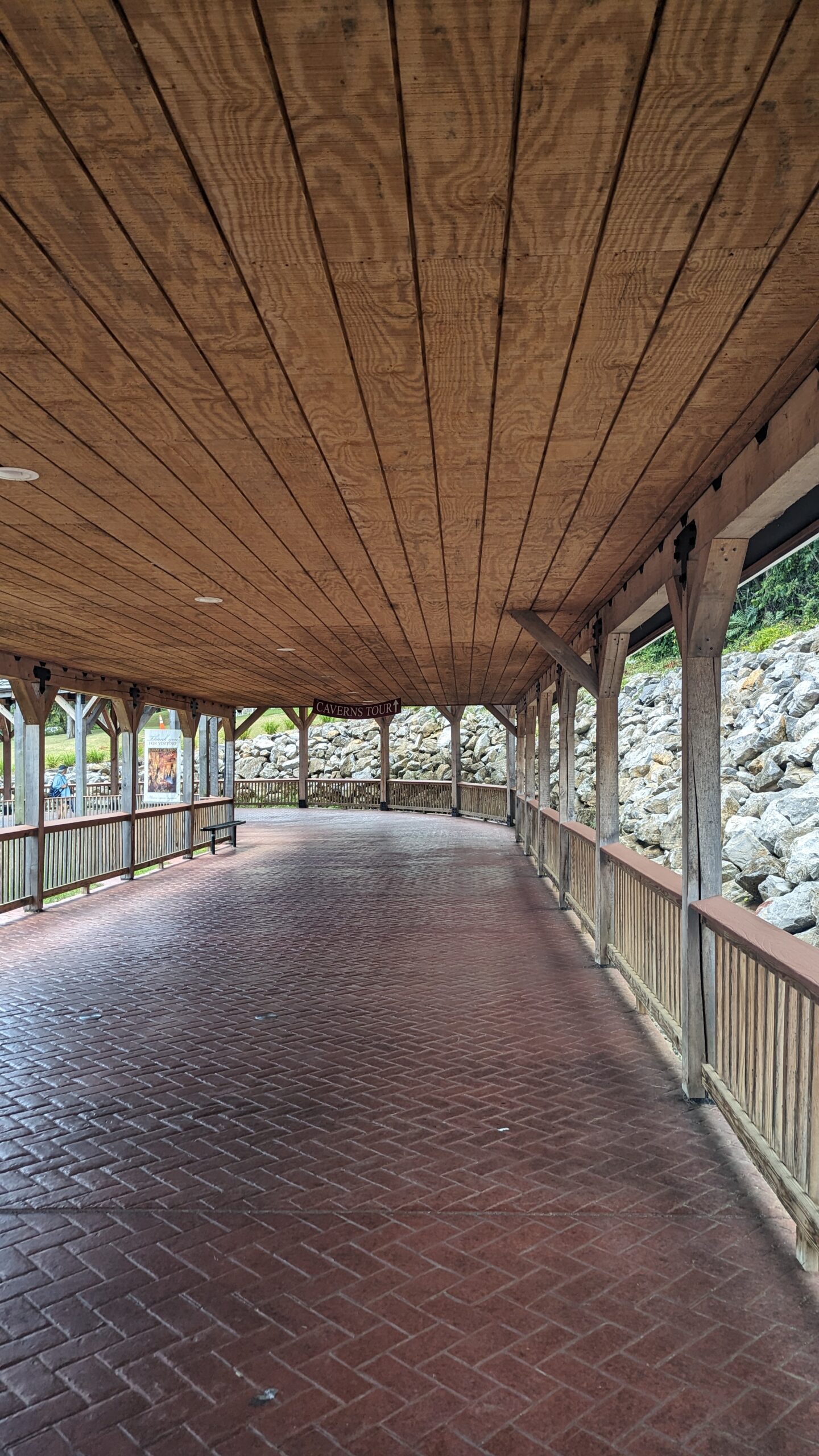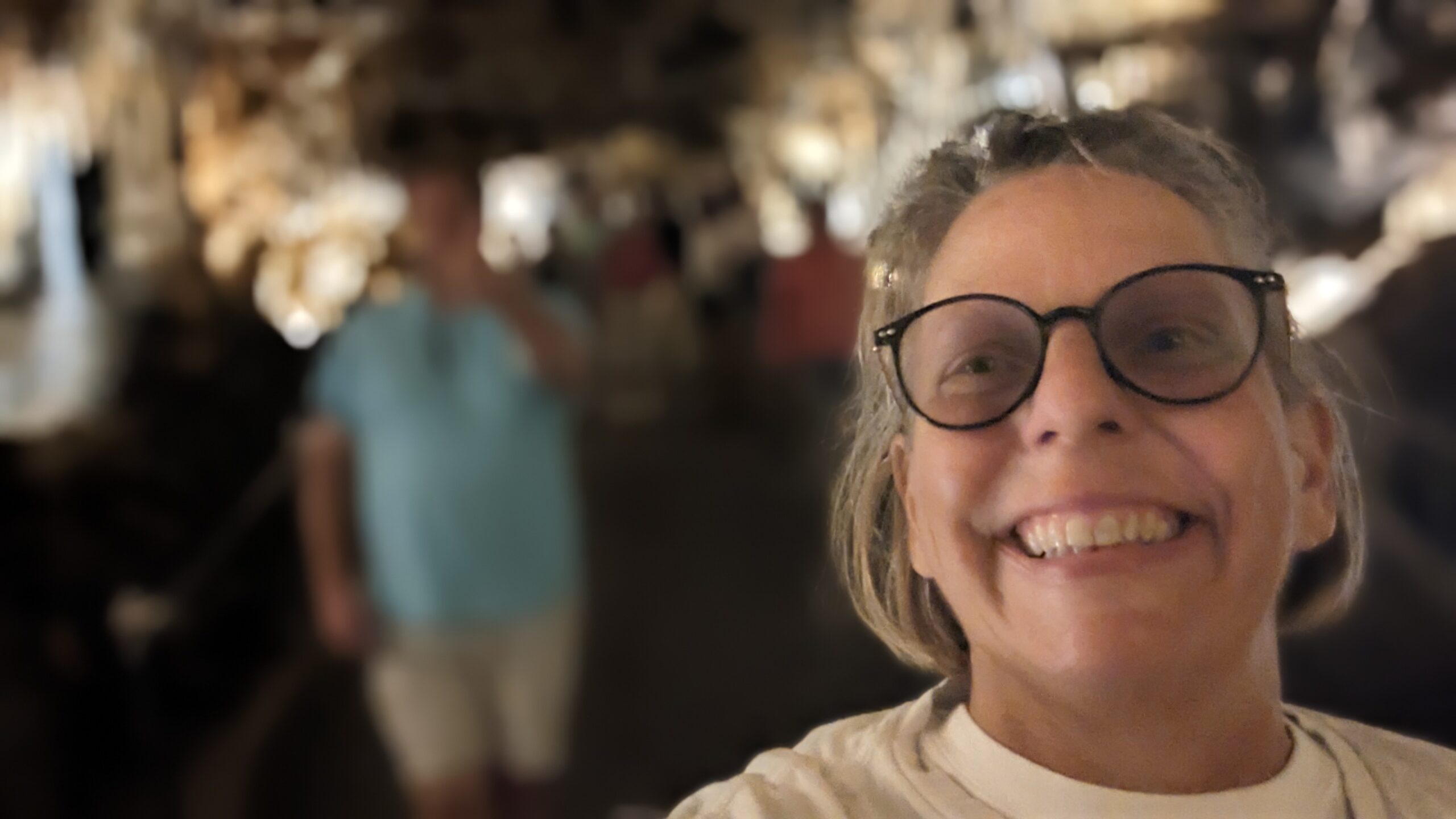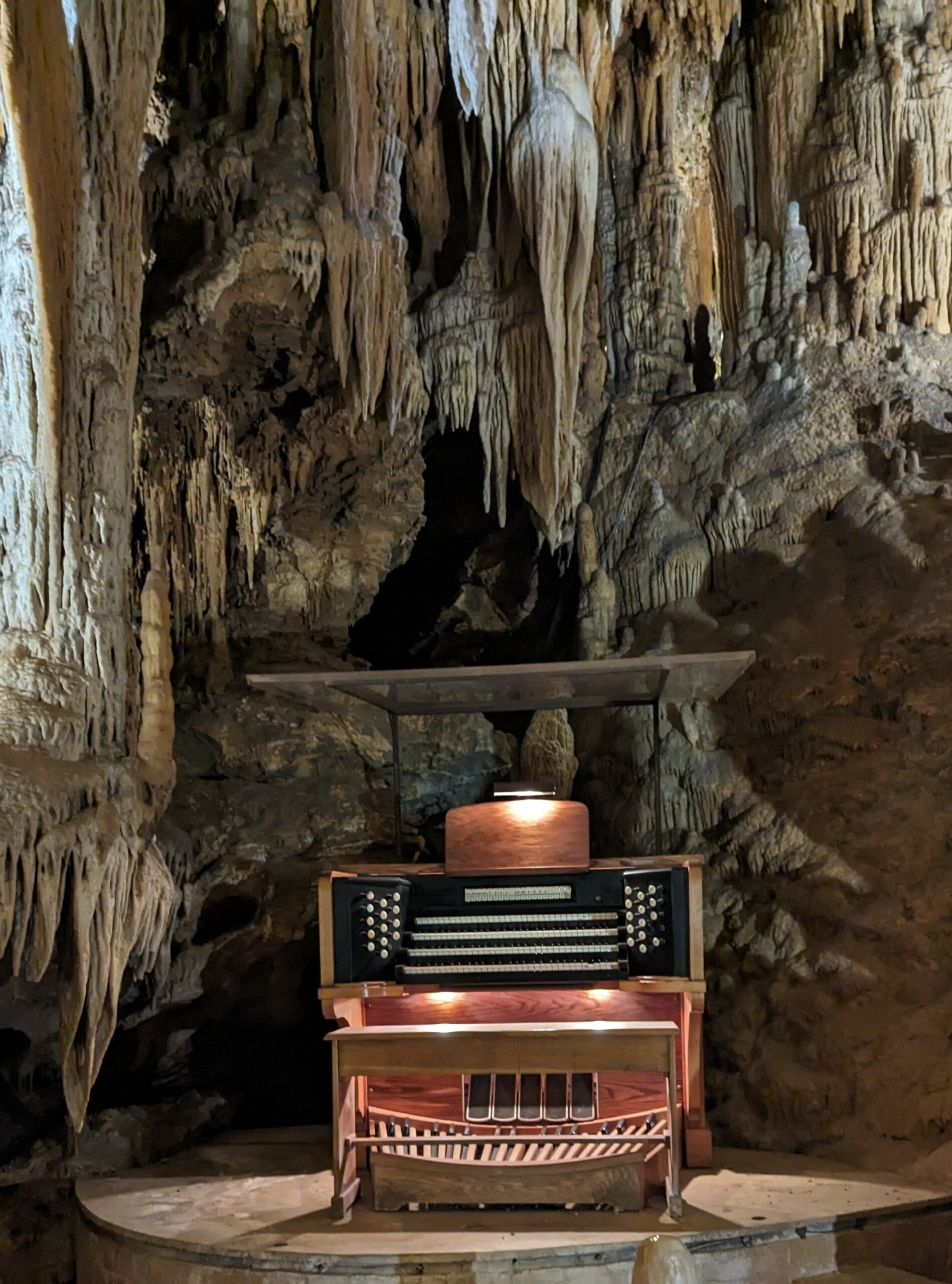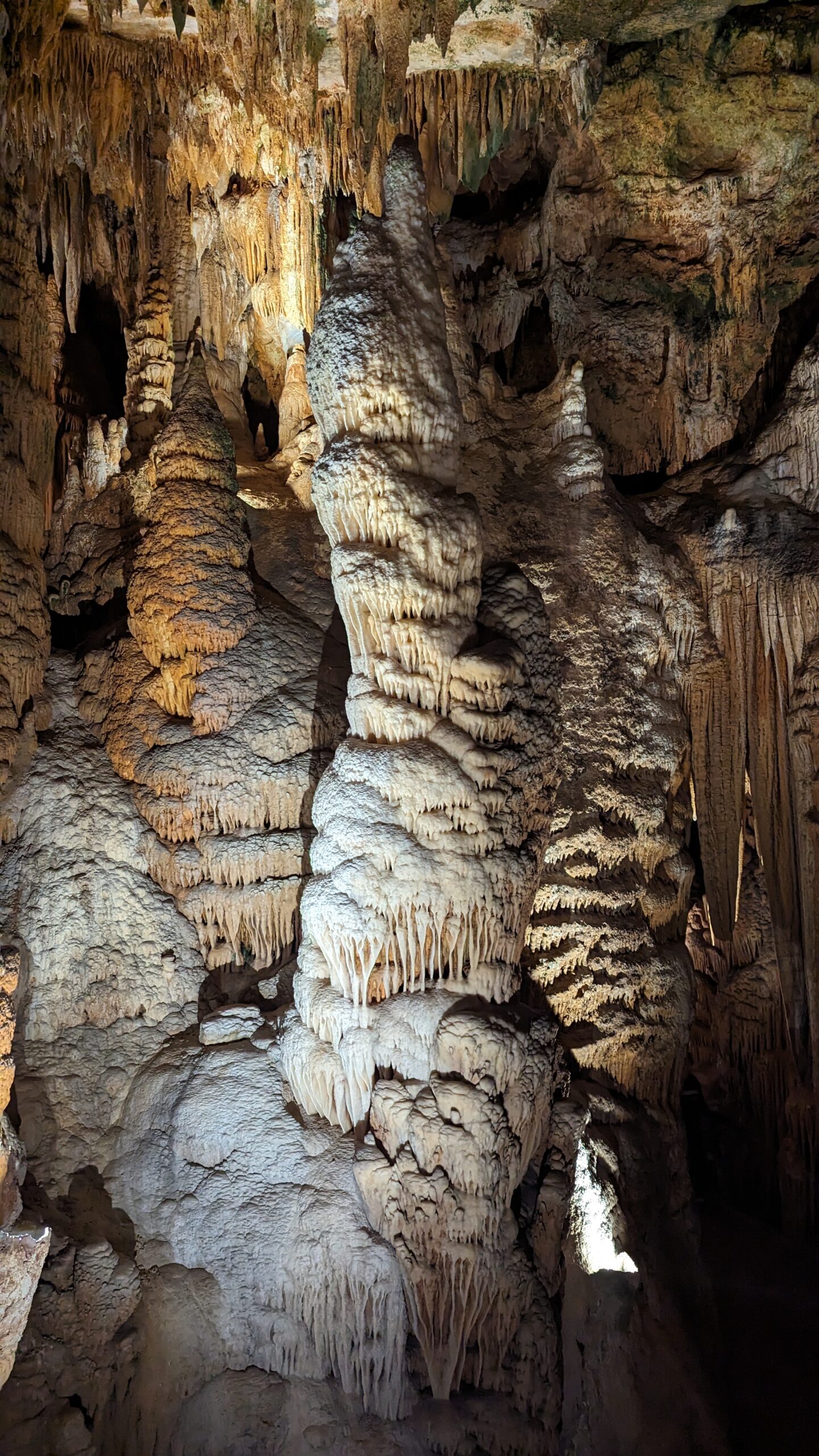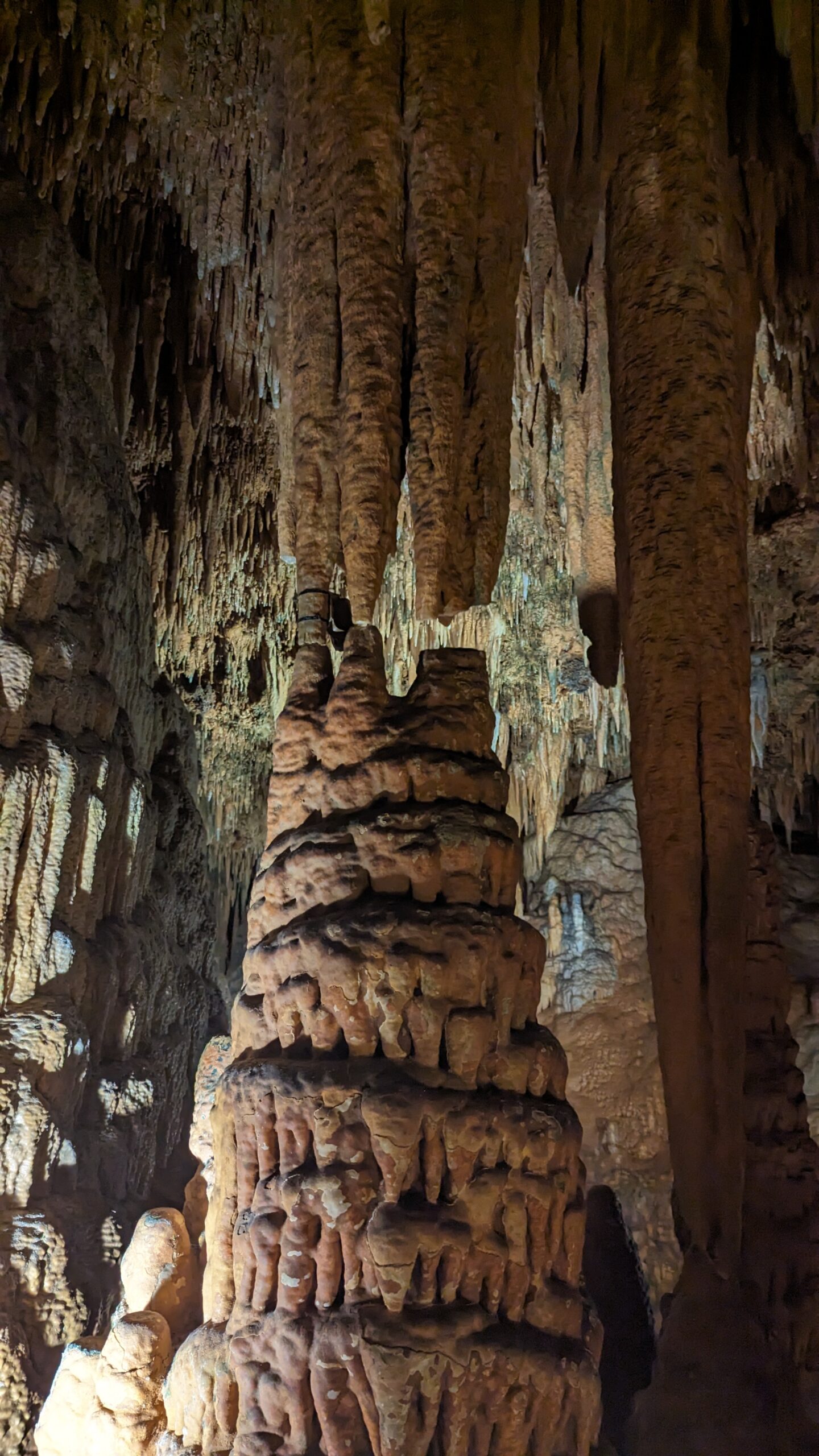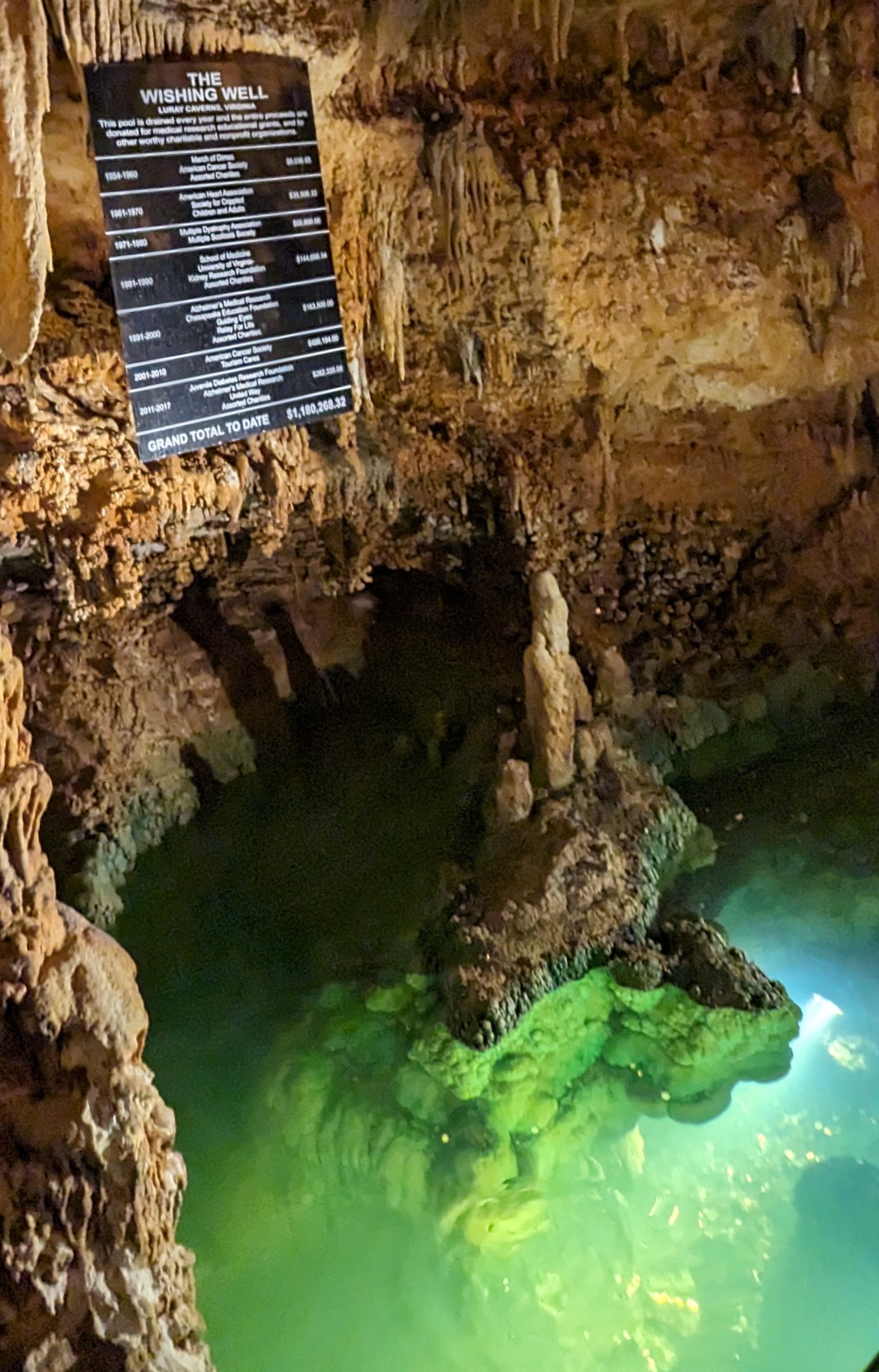 After lunch of delicious perogies at Ollie's Tavern, we toured Luray and looked at potential properties to buy.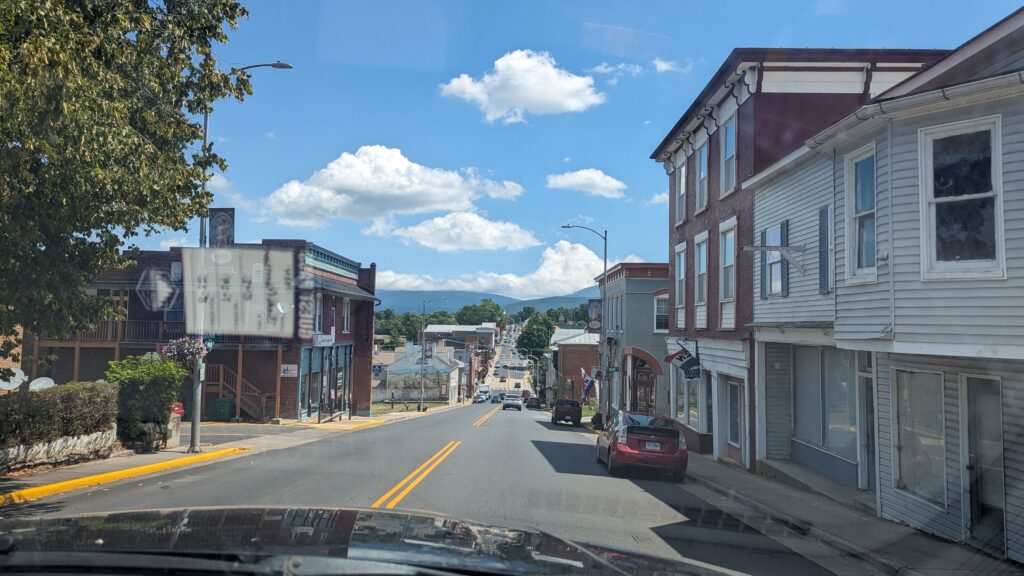 We spent the afternoon looking at investment properties and discussing possibilities but found none we liked.
"I don't know if you can hear that, but it's storming pretty good. You might want to shop a little longer."
"Sure, Honey, I can do that. What wife doesn't want to hear those words from her husband?"
Stopping at Hobby Lobby on the way back to the camper, Ron's phone call made me smile. I walked out with two huge bags of goodies, primarily clearance, to use in my shop.
And the rain persevered, following us home. We saw cloud-to-ground lightning all around us; huge storm clouds painted the sky.
Tuesday, Aug. 8th, 2023
"Let's go spelunking," Ron said around 9:30. Not realizing so much time had slipped by since I started my early morning fire, I closed my laptop and headed towards the shower.
Ron's last visit to the Natural Bridge happened in the late 80's. I had never witnessed the geological wonder surveyed by George Washington in 1750 and gifted to Thomas Jefferson in 1774.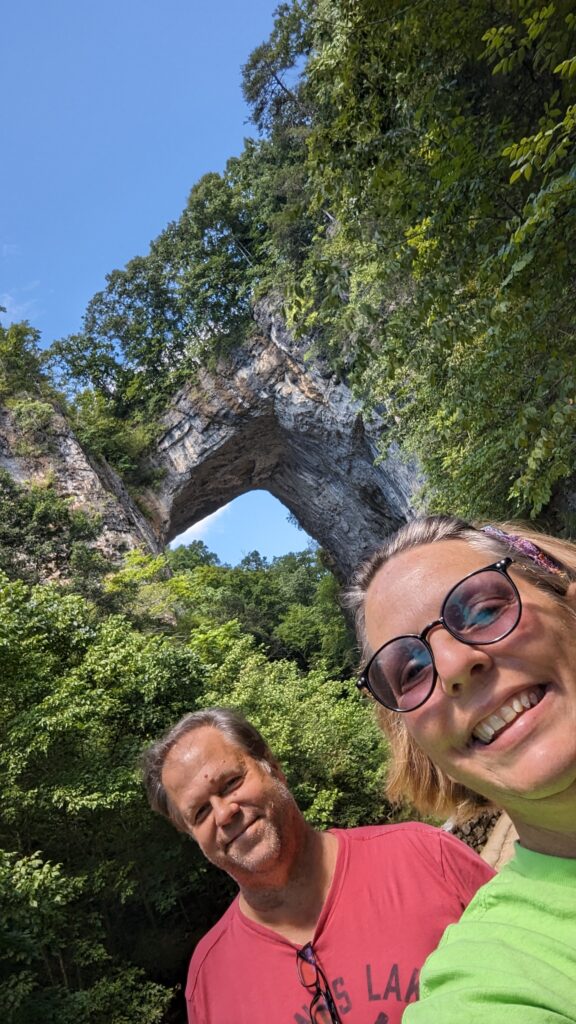 Ron played trumpet for the Easter Sunrise service here during his college years.
"1989 was the last time I was here, I think. Can't remember for sure, but I do remember how cold that trumpet was against lips."
My first time in the park, Ron had never gone further than the bridge until today. We walked the entire trail to Lace Waterfall, my pedometer reading over 7200 steps when we returned to the truck.
Shaded gravel paths led us through the picturesque woods. Trickling water serenaded us as we strolled. Cool and moist, the trail had a few muddy spots, but for the most part, it made for easy walking.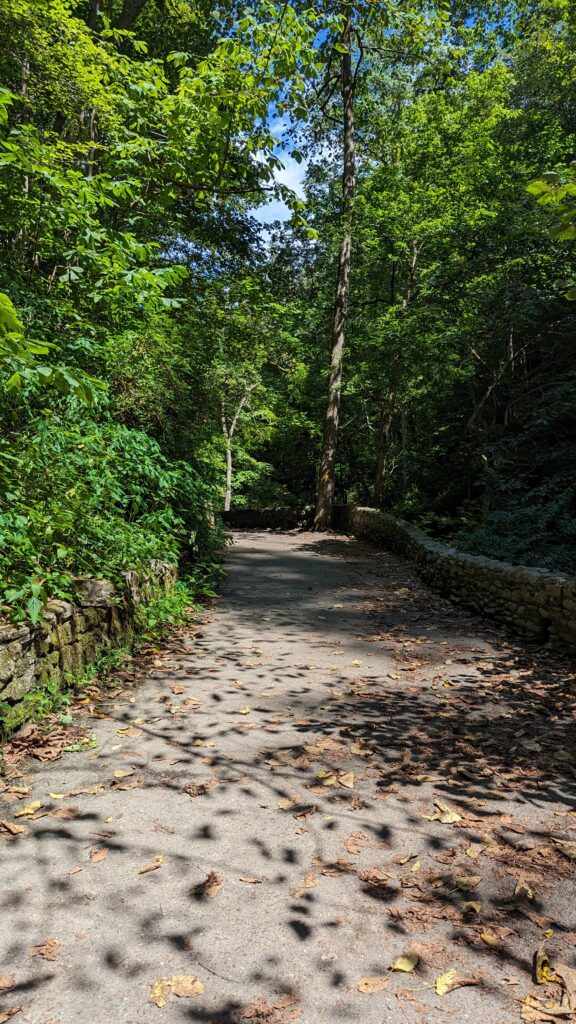 "How many steps do you have now?" Ron asked at the one-mile marker on the way back. He didn't feel like the park posted accurate measurements; the walk seemed much longer. Of course, his loafers felt every protruding rock on the trail, but my walking shoes had sufficient padding to protect my feet.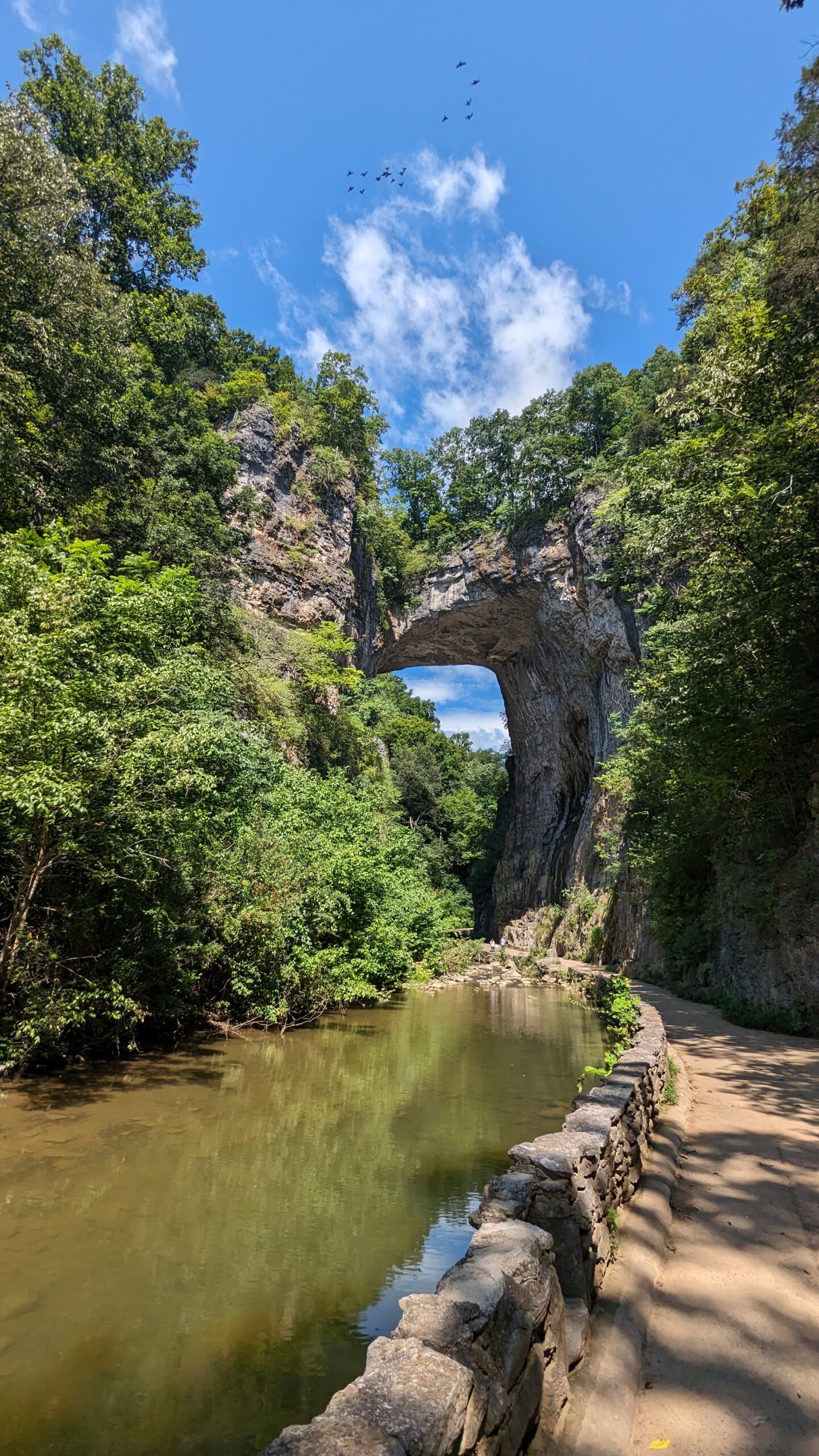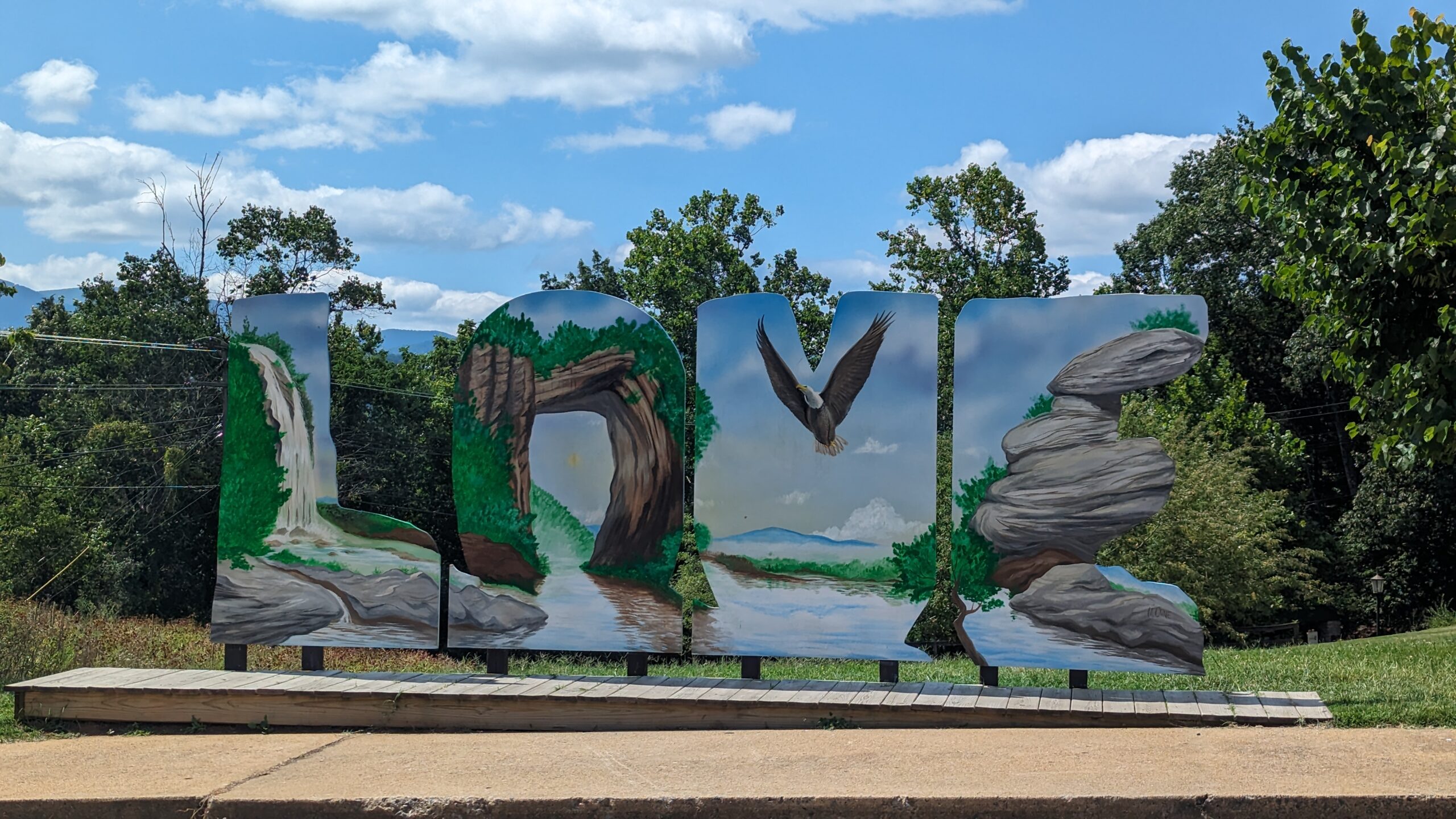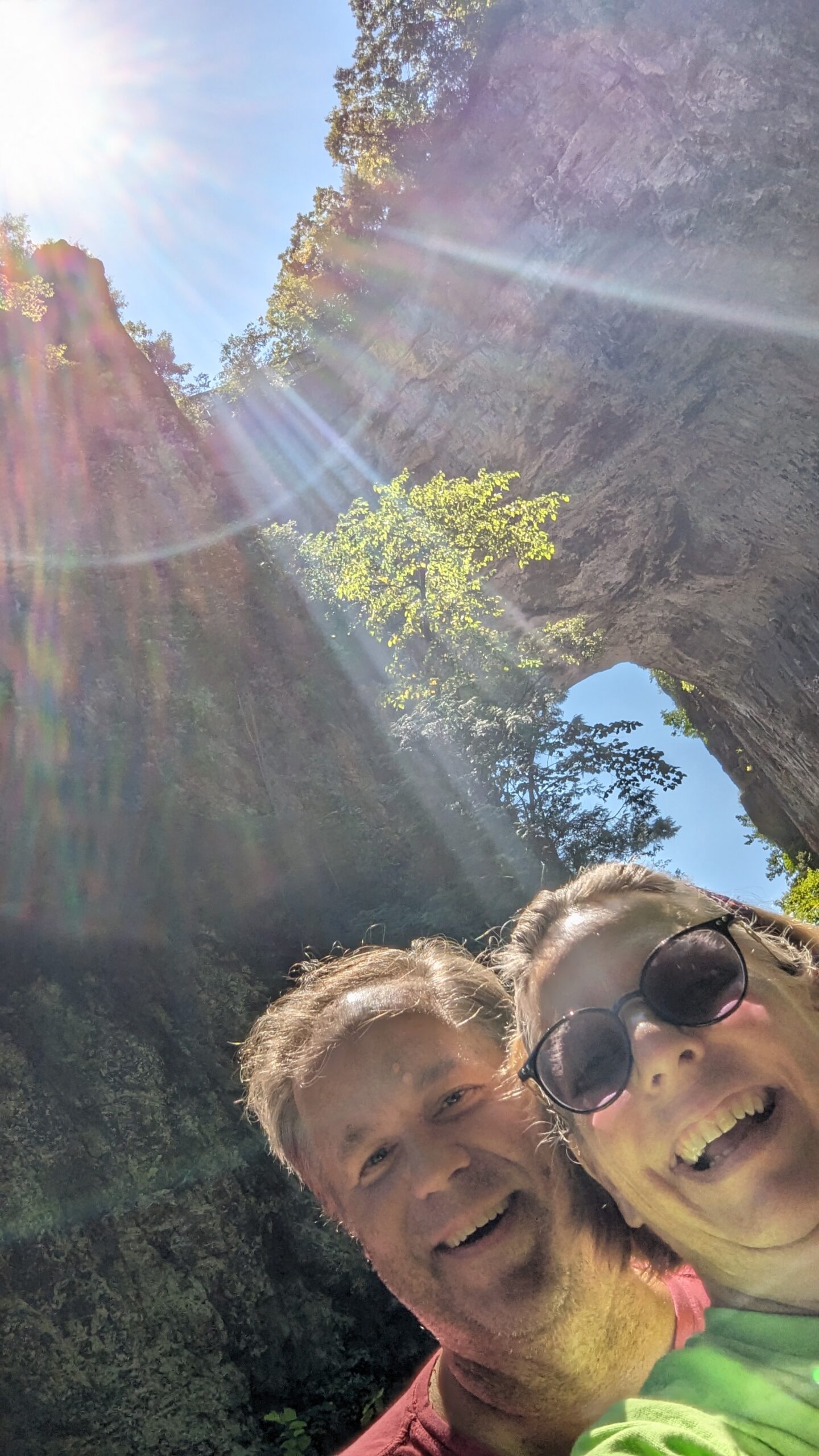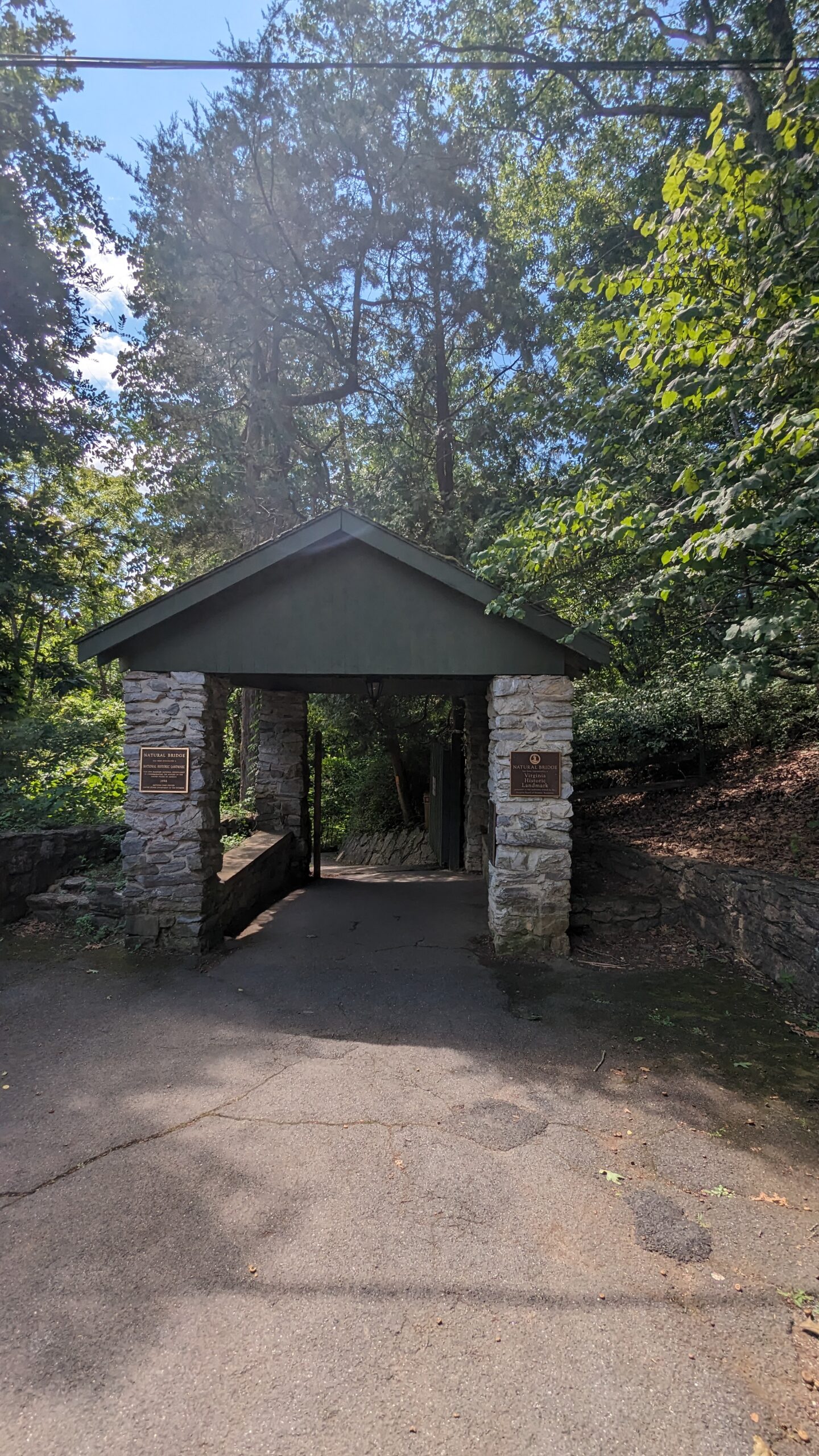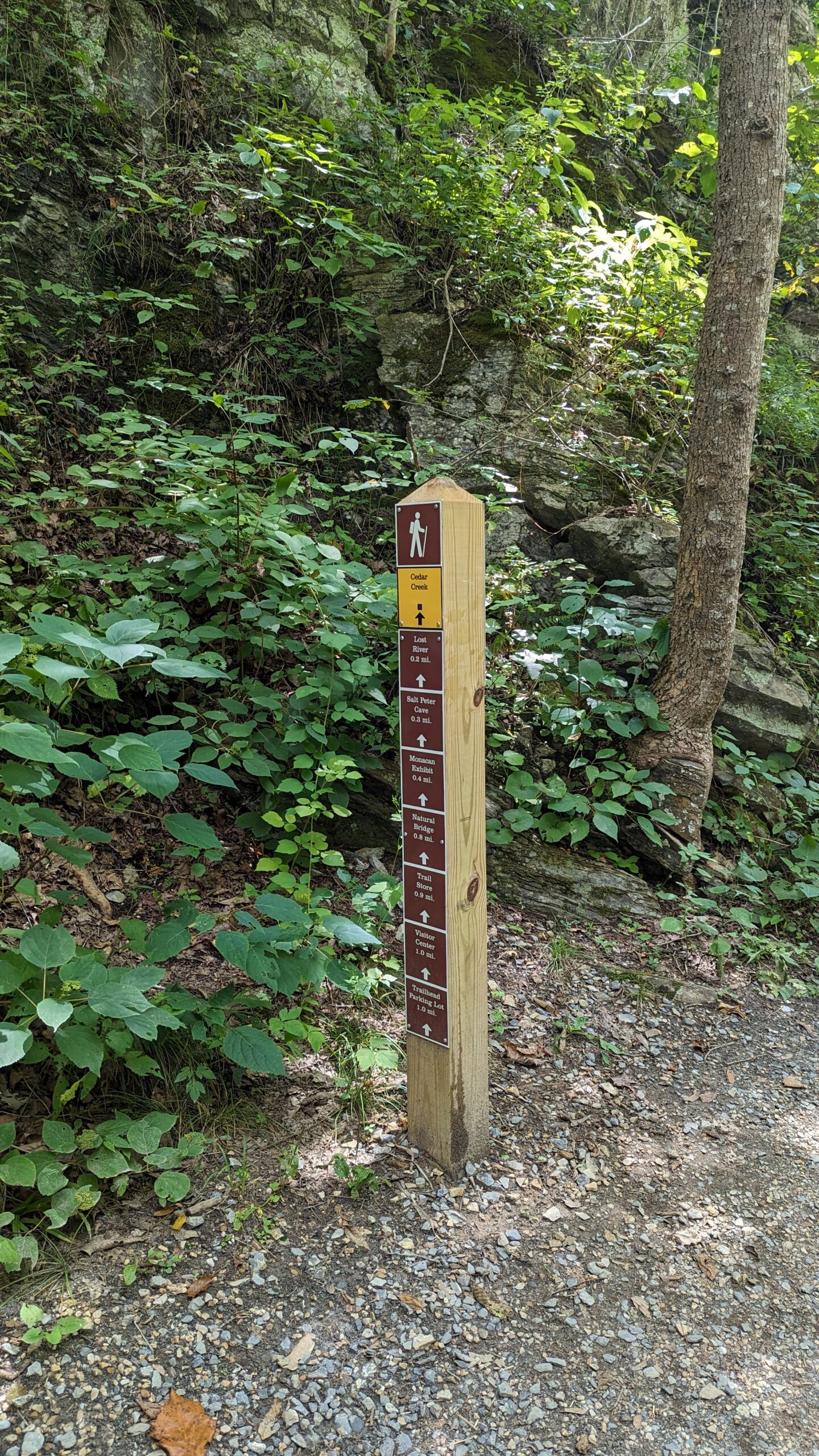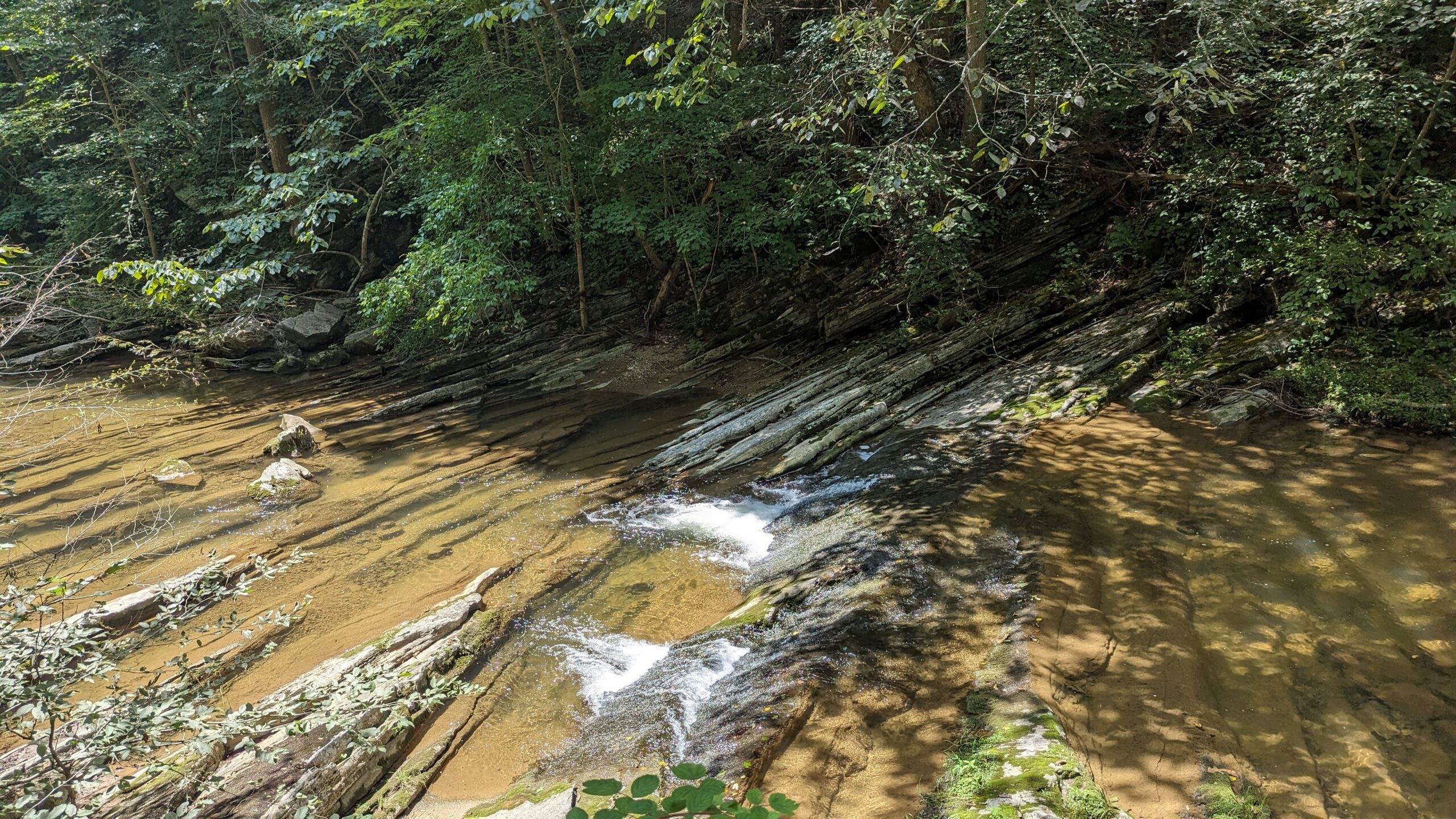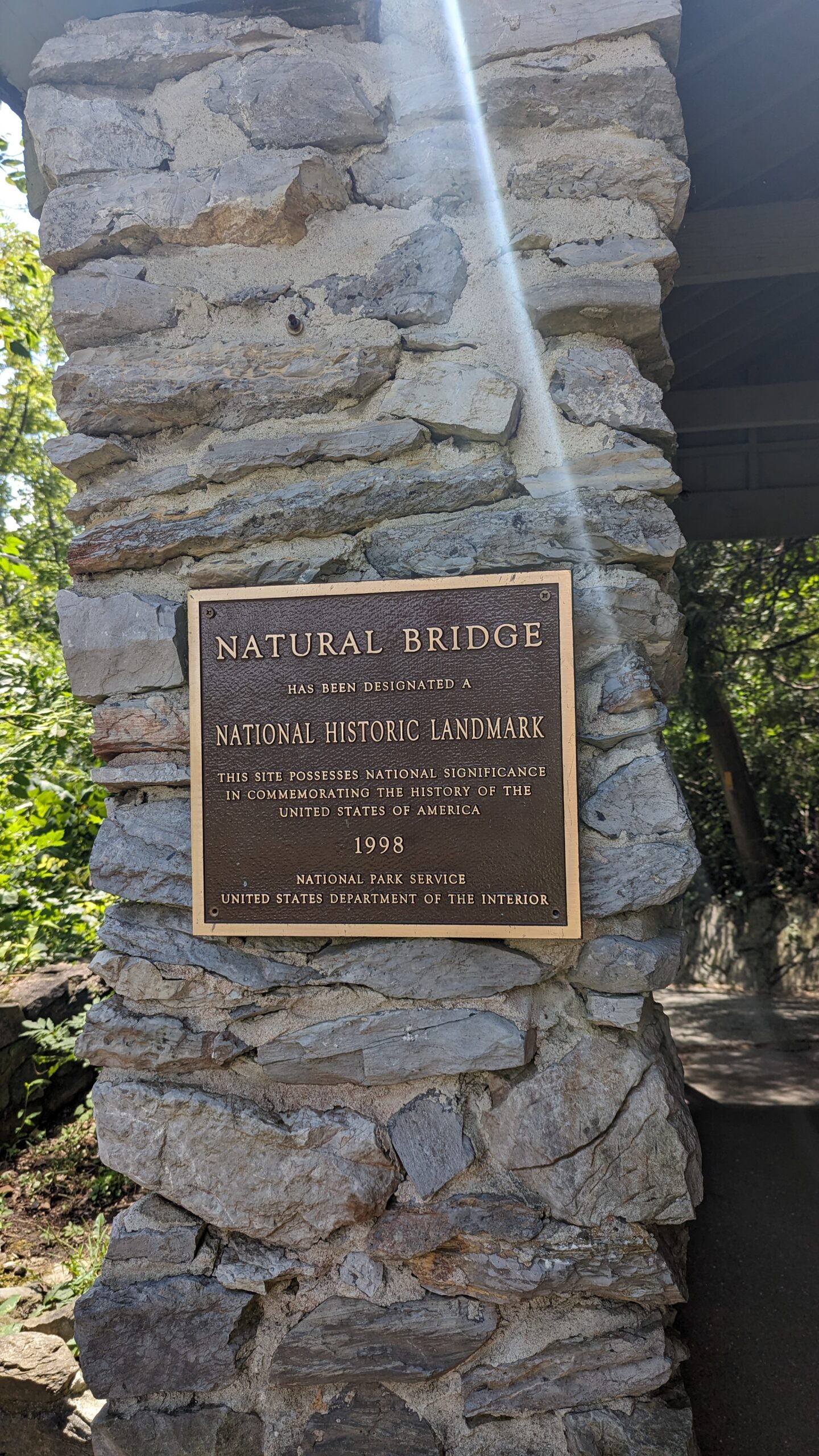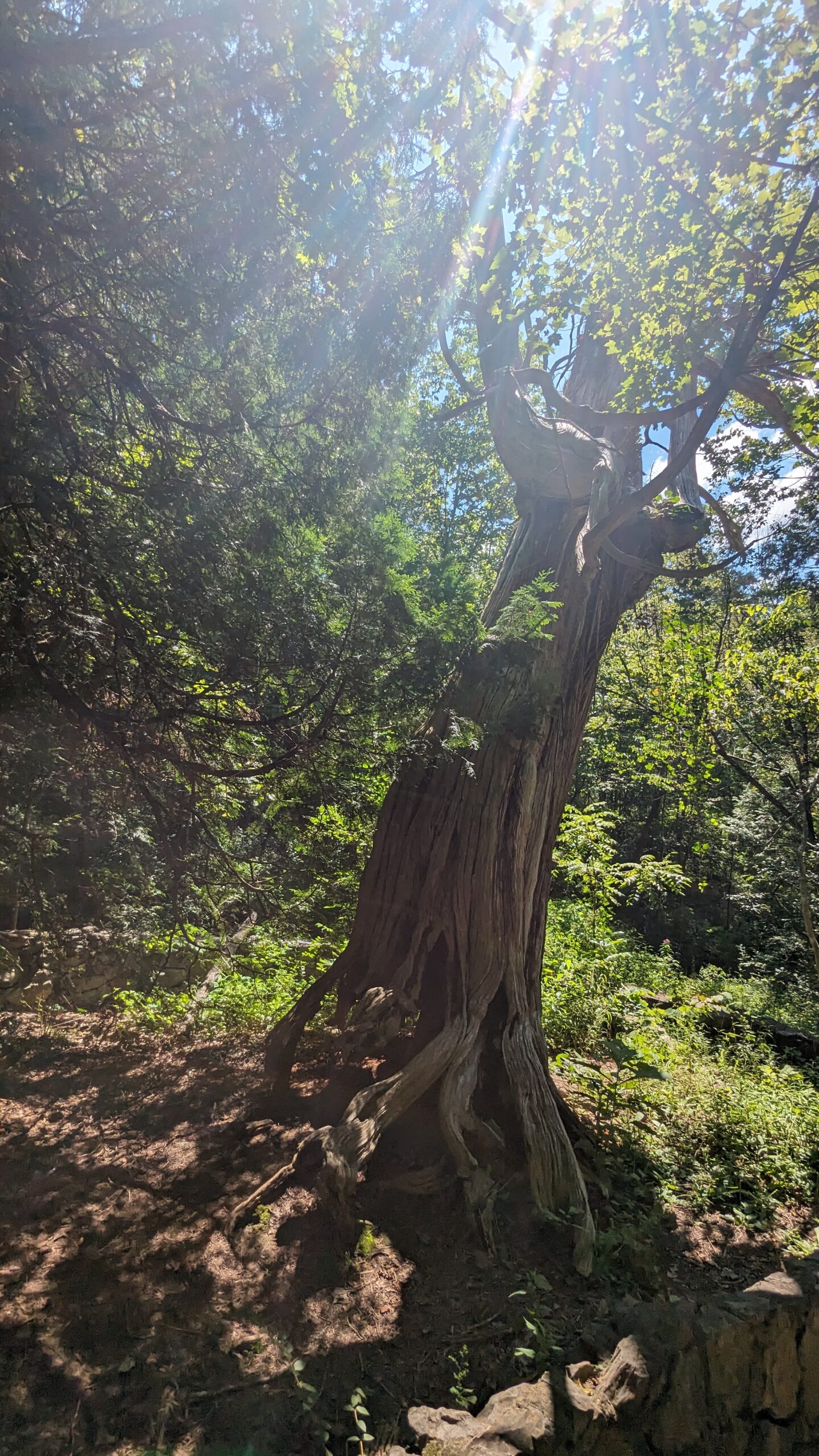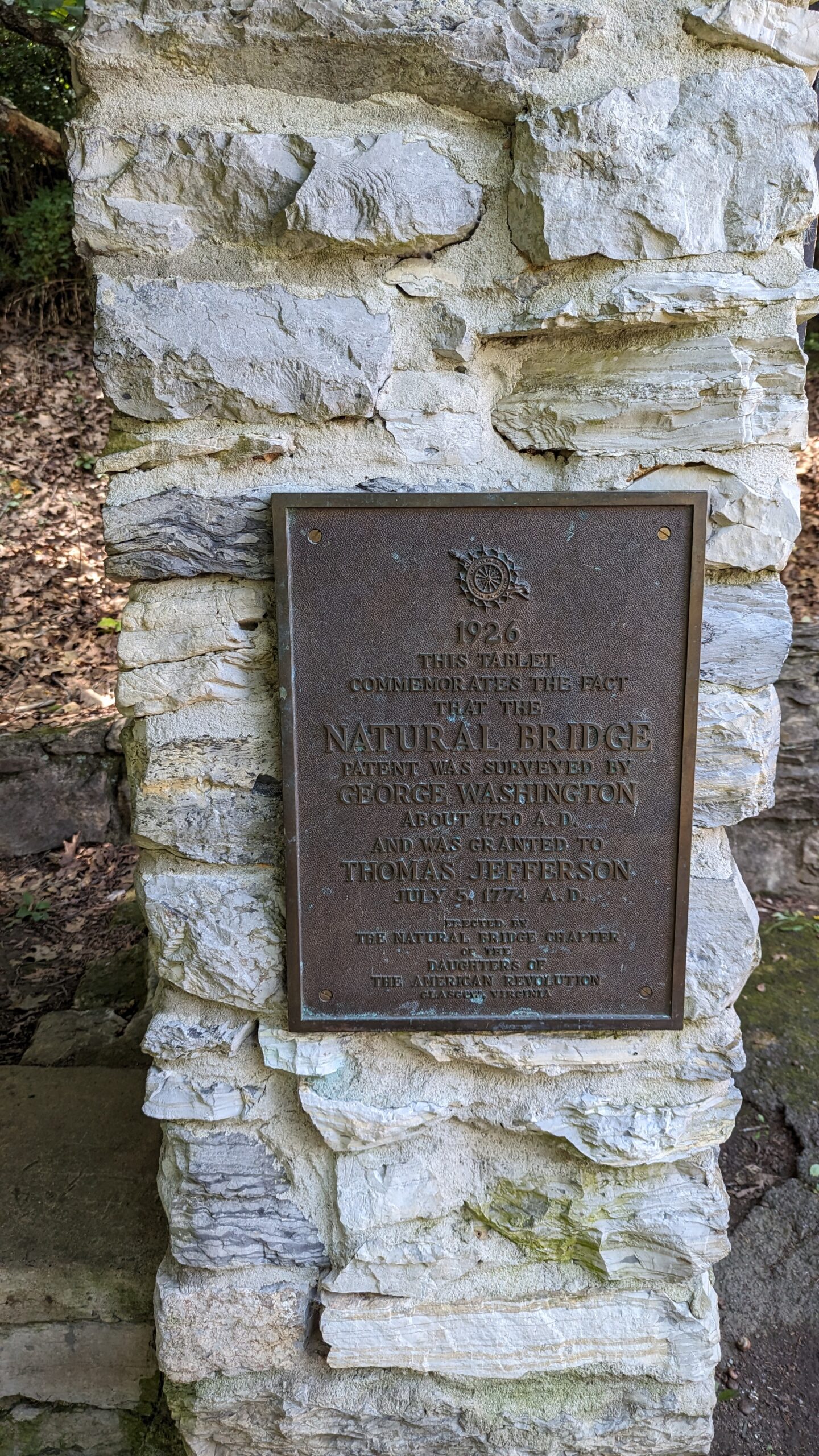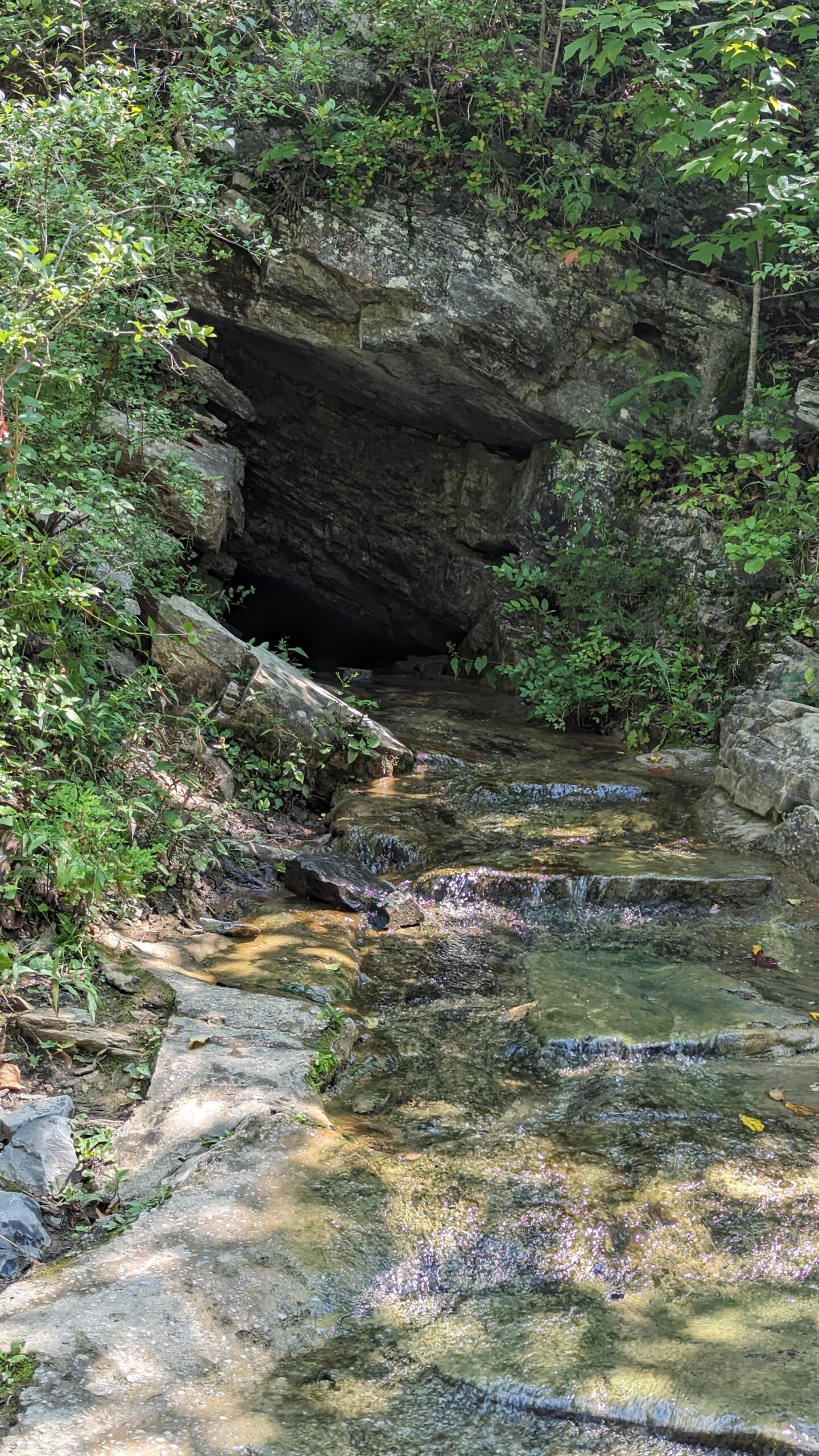 "Let's go to Lexington for lunch," I recommended. And so we drove route 11 the few miles north to the home of VMI and Washington and Lee University. The quaint town welcomed us, and we dined at Macado's, a regional chain with delicious sandwiches and cold drinks.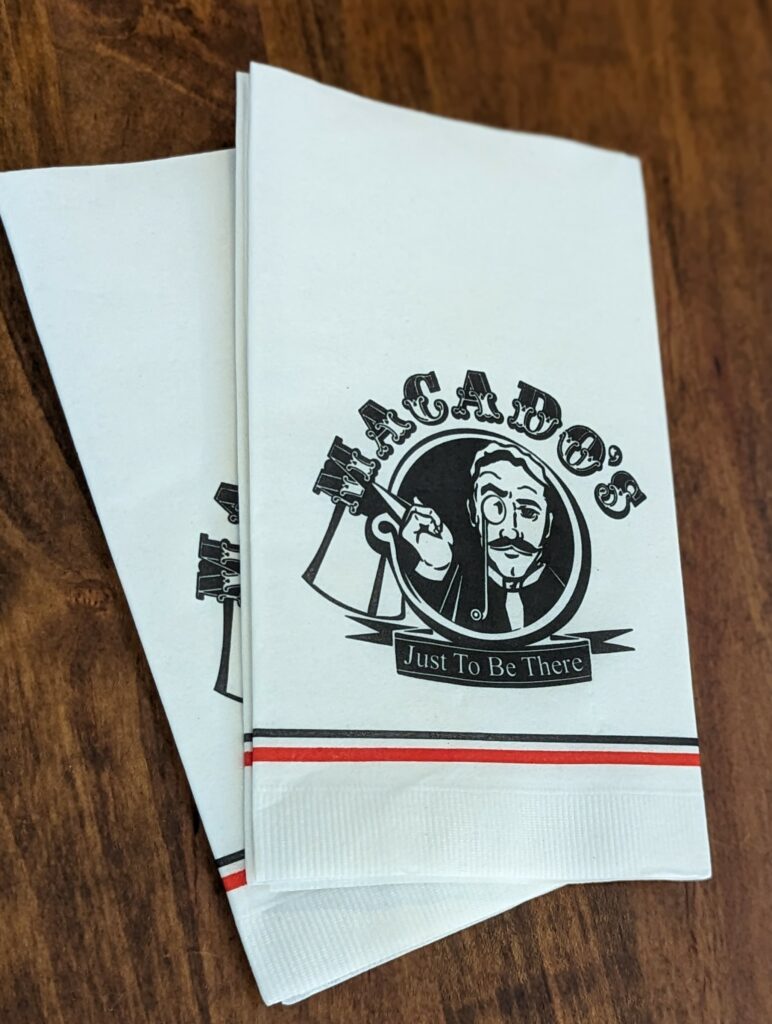 "This gives perspective to the soldiers marching in the Civil War," I said as we drove under the VMI arch beside the football stadium on our way back to New Market.
"Yeah, they marched exactly what we're gonna drive."
"Took 'em two days," I replied.
Oh, how life has changed since that long ago day in 1864. We'll drive for just over an hour on the land they took two days to traverse by foot, walking 25 miles daily.
"The days just flow by, don't they? Just like a river, they just float on by. Tomorrow will be Wednesday already; we've been here a week and a half already. Doesn't seem possible."
No, my love, it doesn't. Another day ends as we sit by the fire with our pups.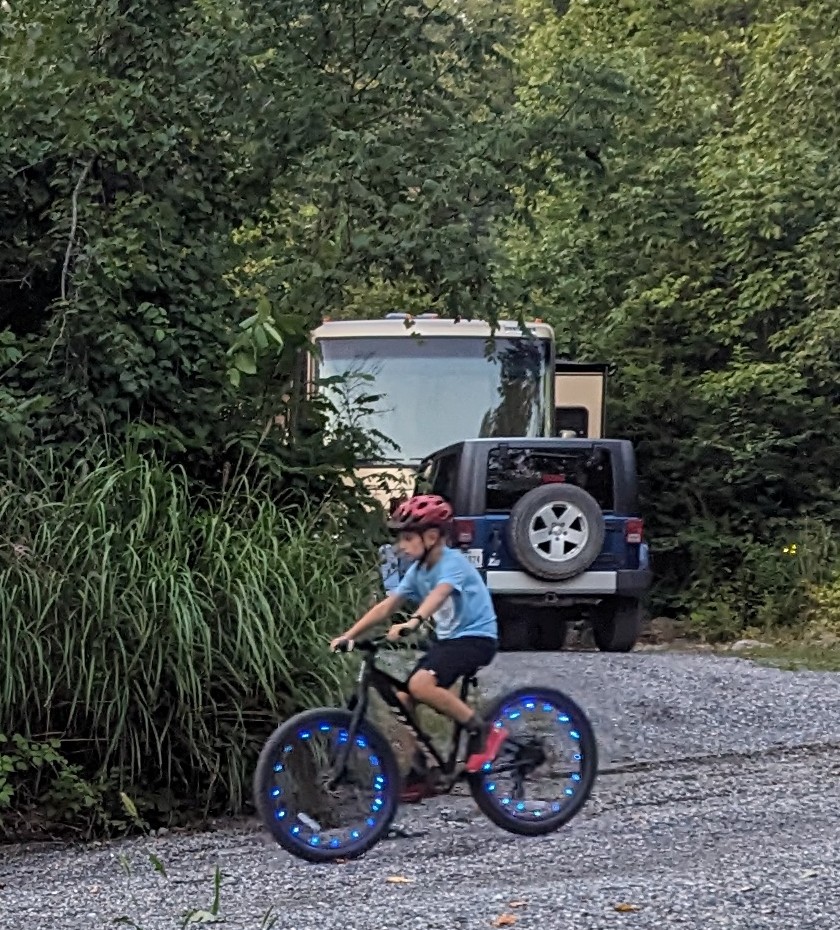 Kids riding their "cool" bikes make my heart smile—campground entertainment.
Wednesday, Aug. 9th, 2023
Besides my friend Lynda's birthday, today marks the release of my latest book, Love Remains.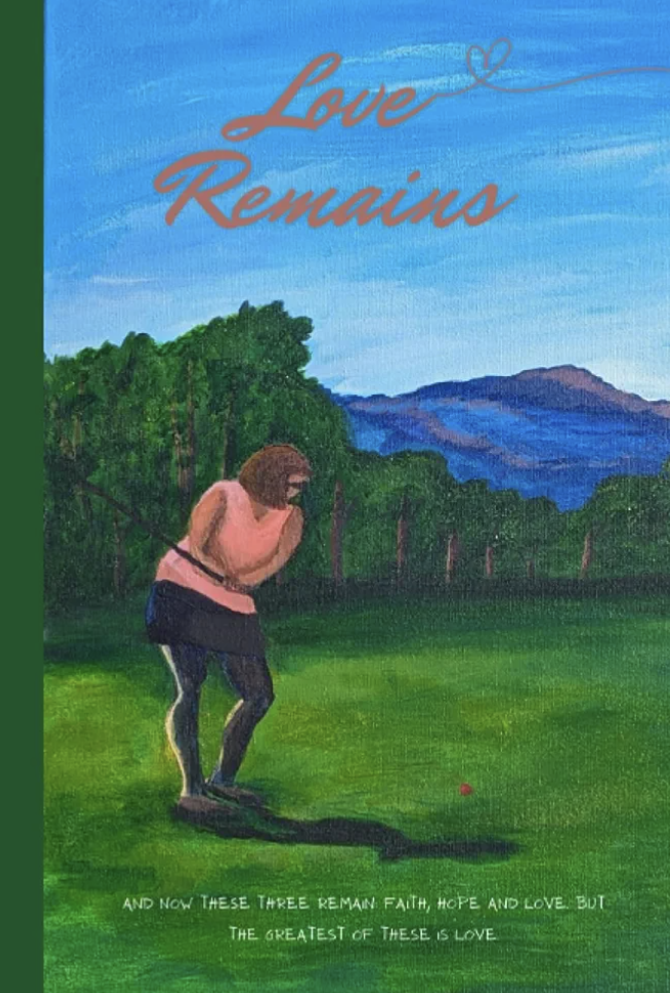 My reward, playing 18 holes with hubby at Shenvalee, our favorite combination, Olde and Creek.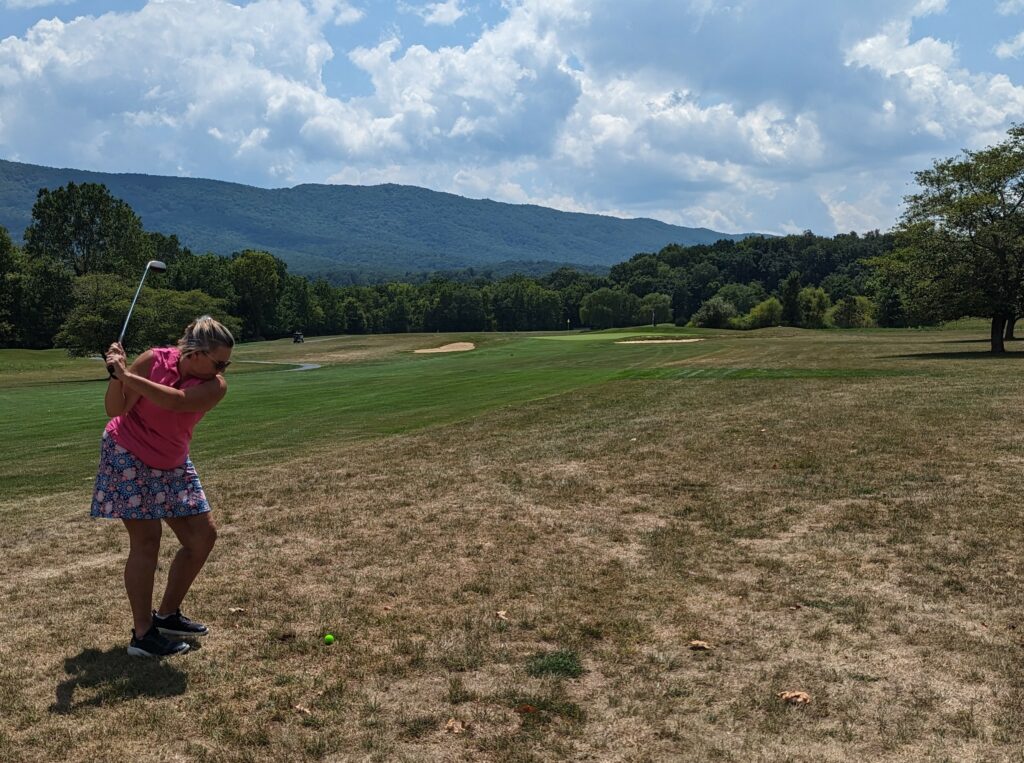 Lunch at Miller's Grill afterward, a quick trip.to Walmart for a carpet cleaner, then back to home camp for a quiet afternoon and evening
Thursday, Aug. 10, 2023, Our Anniversary
Lunch at Whiskey Jar. BBq Mac and Cheese. Board as our lunch companion.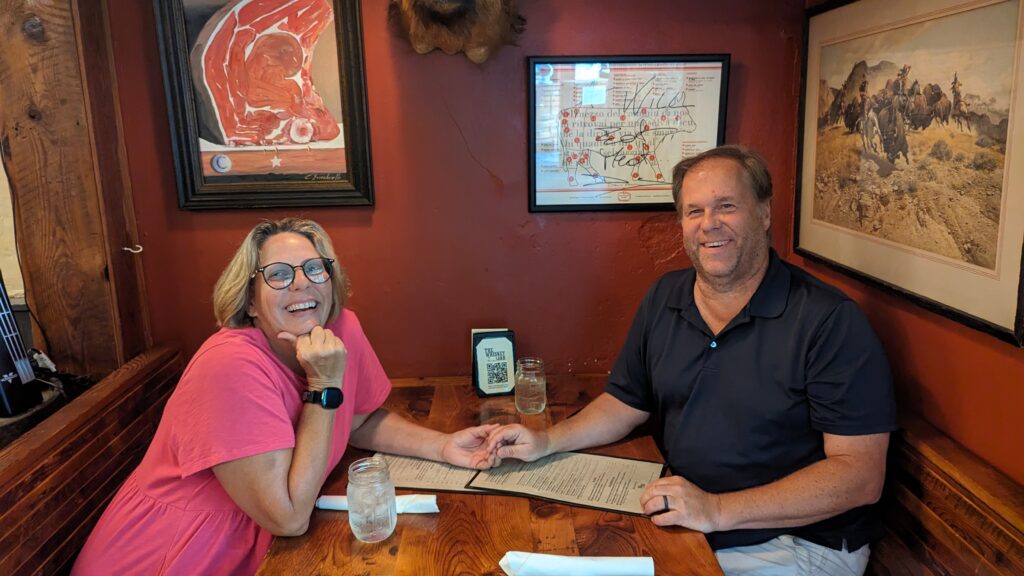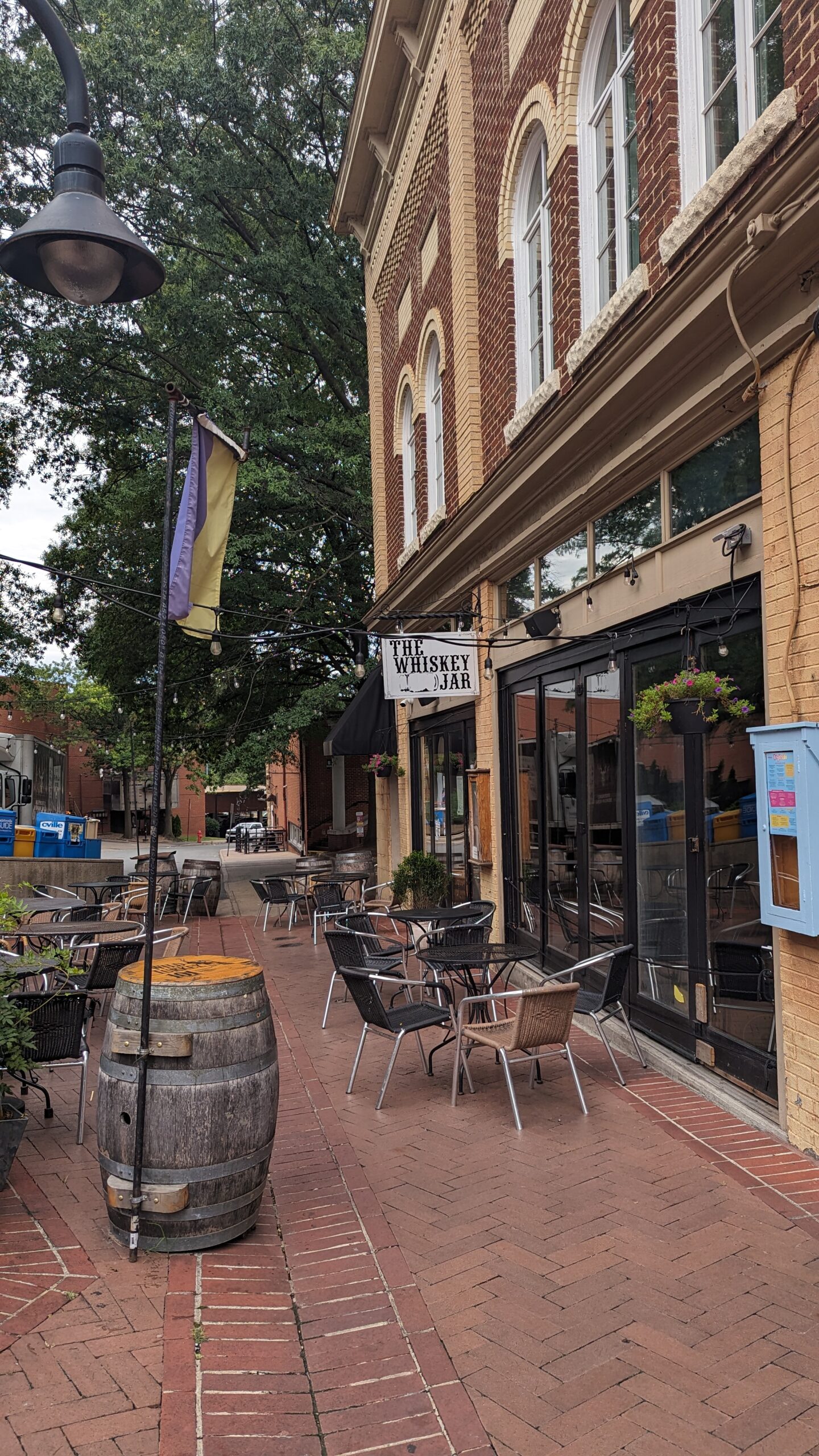 After lunch, we headed south to look at some investment properties. Unfortunately, we couldn't get to either one of them. The first had a stream running through the small gravel road leading up to it. The second house has such a steep entranceway we didn't want to attempt it.
However, we got to drive along the Blue Ridge Parkway and enjoy the view.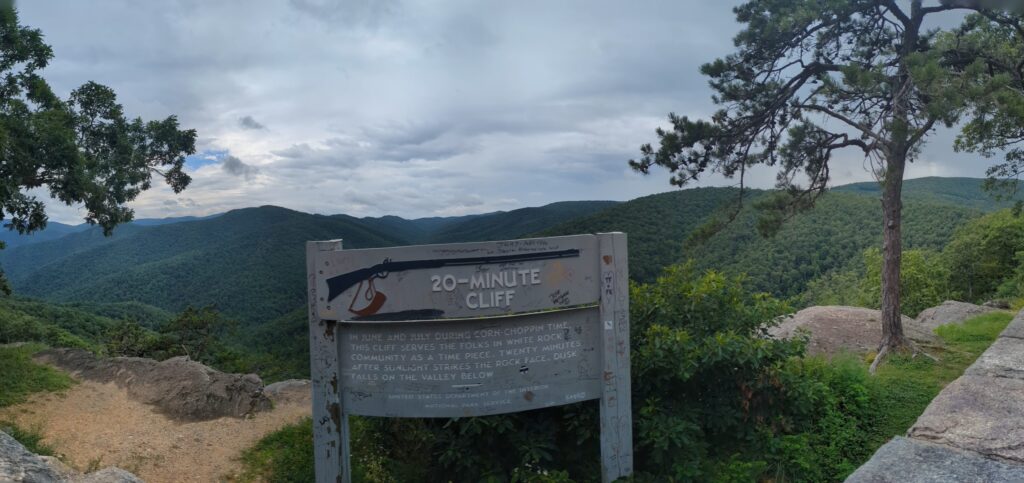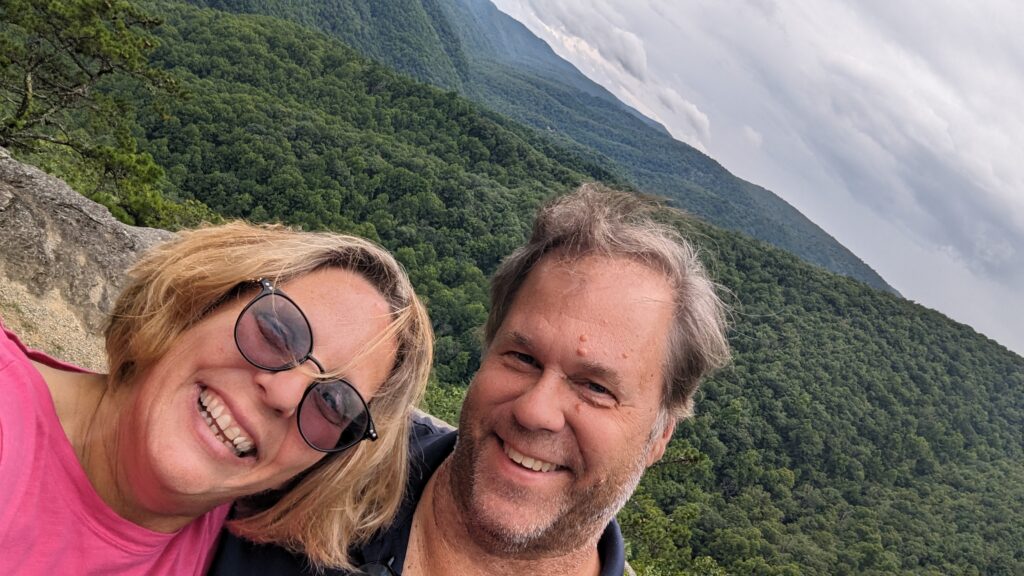 Ron's present to me, getting pedicures together. He gripes and complains about them but then loves it when we go. They shave his calluses and call him Russell Crow.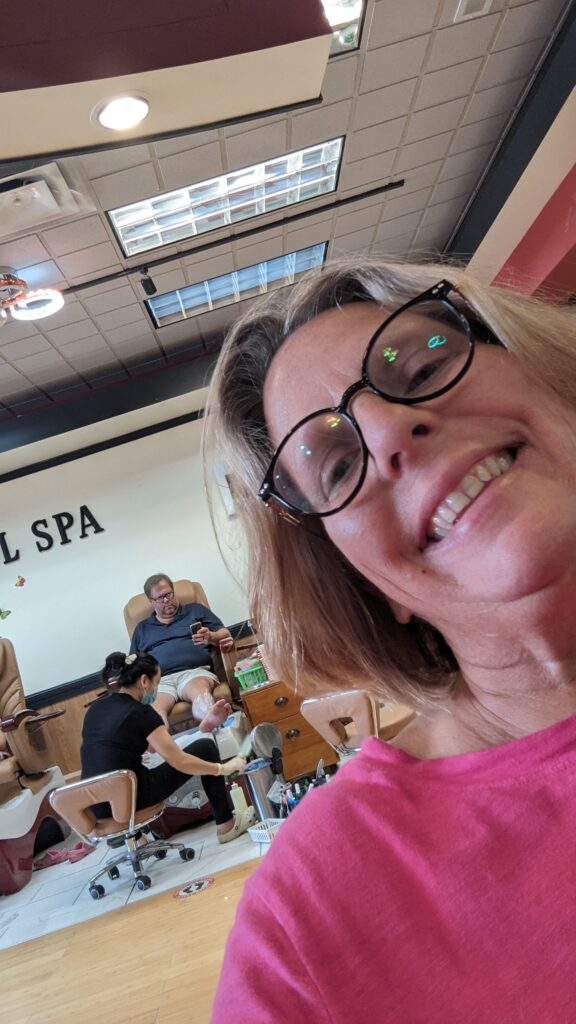 While Ron finished his pedicure, I went to Dollar Tree and picked up starch and pins to block all my crochet. I ran out of pins and still have a bunch to do.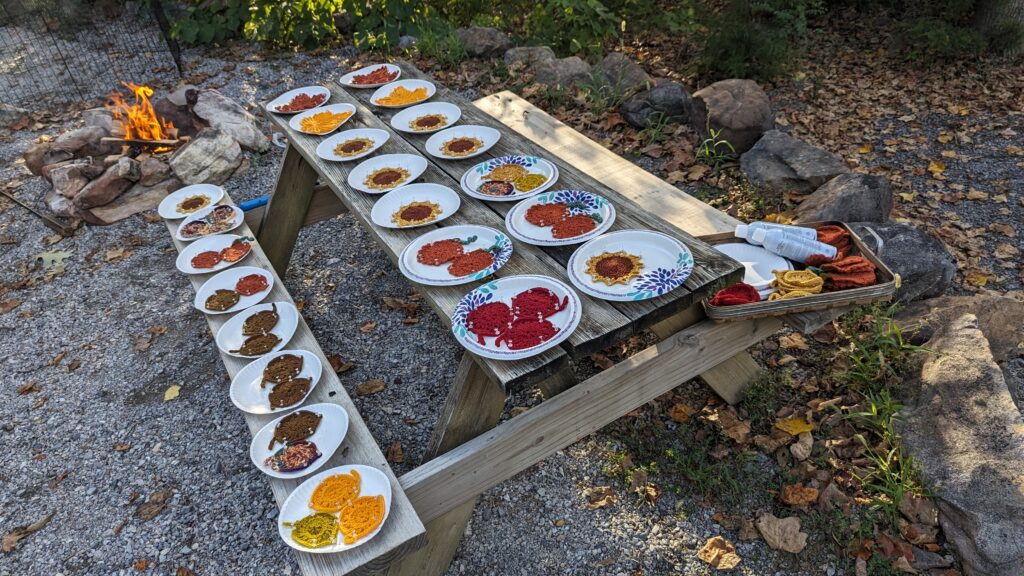 Campfire Chats:
"Why should I go to the Baptist student center, Dad? Why? They're all judgemental assholes."
"To meet a girl," Dad replied.
Ron went several times and found his assessment of them true. They talked about how the frat house guys and the sins they committed, drinking, drugs, and sex.
One of Ron's favorite stories to share about his Dad's persistence involves his father's constant badgering to go to the Baptist Student Union and the dentist. His Dad had an answer for the Baptist Student Union but could never give Ron an answer for the dentist.
Our anniversary centered around Ron's Dad and family.
"I'm an orphan now. You've been an orphan for how long? Nine years?"
When both parents pass, you become an orphan. Even in our fifties, we feel the gravity of that fact.
Praising God for the time to sit around a campfire and process life and its happenings. Grateful!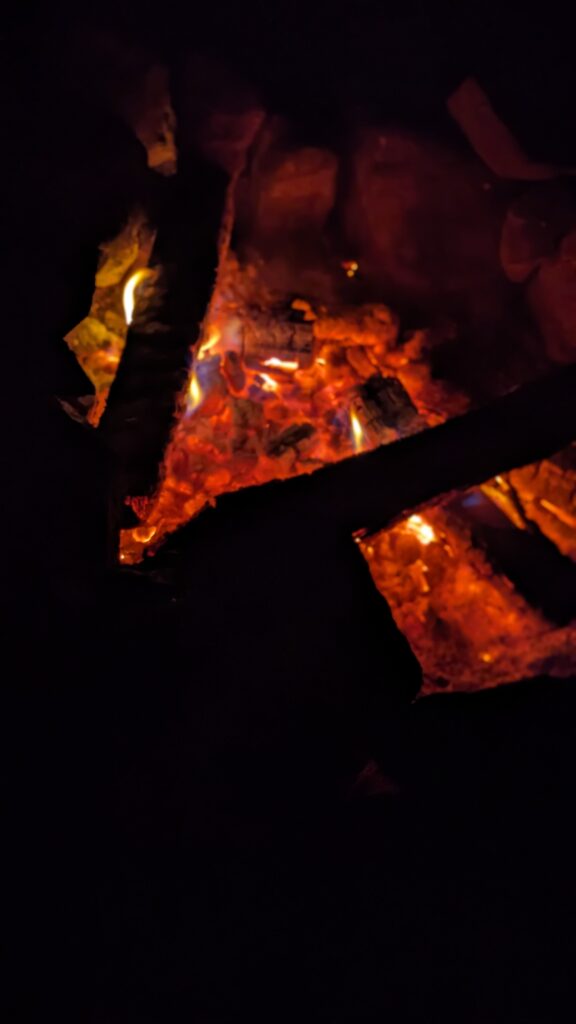 And as the embers glowed red, the wood almost gone, our anniversary dwindled to a quiet close as we headed to bed early.
Friday, Aug. 11th, 2023
Sitting by the fire, reading the last pages of the story of a fantastic woman seems appropriate.
She spent her twenties living in Ecuador, serving the Waodani tribe with her ten-month-old daughter after they murdered her husband.
Incredible woman! Reading by the campfire seems appropriate as I finish this book.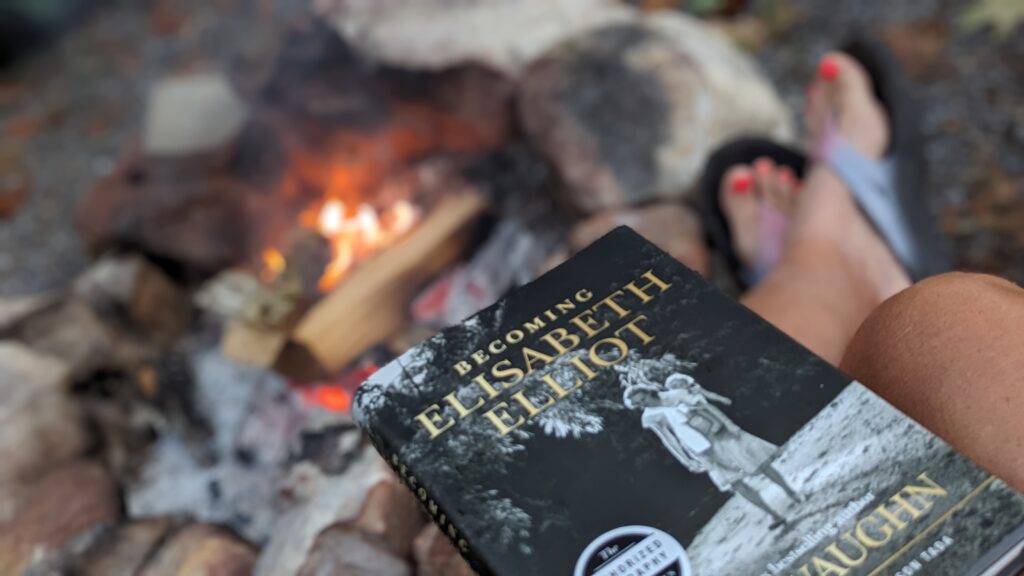 Running late for our 9:00 tee time at Shenvalee, the five-minute drive took longer because of the Shenandoah Yard Crawl, which takes place the second Saturday of August, but apparently starts on Friday.
Route 11, between several towns, becomes yard sale heaven. I, of course, wanted to skip golf, but we didn't. Ron promised we would go after.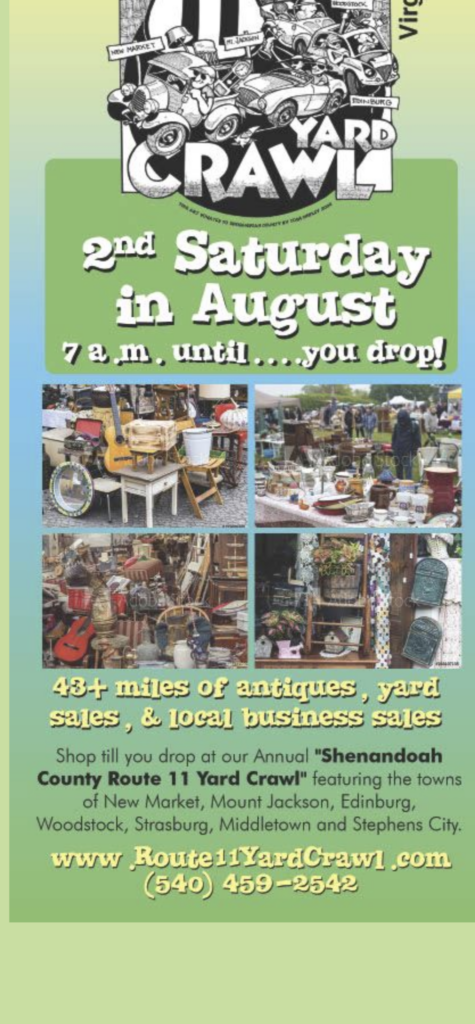 "1:00, and we played 18 and hit the yard sale," Ron said, happy to head back to the camper and cook lunch.
Our last 18 at Shenvalee cost the green fees; the golf course version of free for non-members. We paid to play three times because they had an August special after three players received a free round. Unfortunately, "free" only applies to members.
I felt suckered, but we already had the tee time. We zoomed through the first nine but had to wait on the back nine, slowing us down.
I only wanted to hit one of the yard sales we passed on the way to the course. But we hit several, and I found treasures to use in my shop.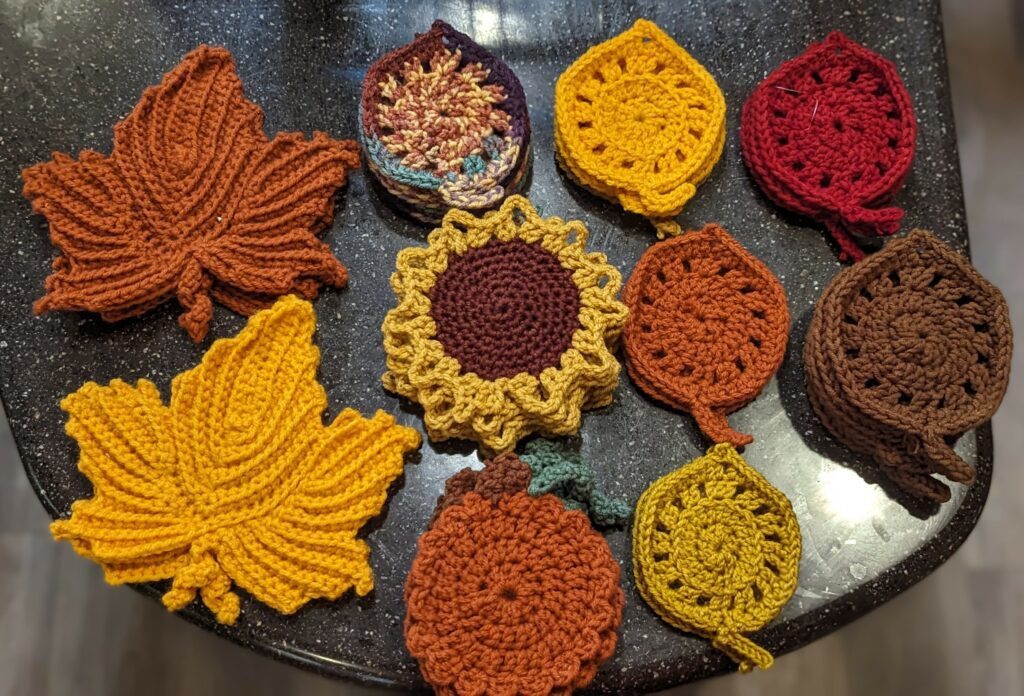 Once back at the camper, I unpinned my dry coasters. Ron cooked burgers, and we ate at the picnic table. Afterward, I pinned and starched the rest of my crochet, setting them in the sun to dry.
Determined to finish "Becoming Elisabeth Elliott,' I read, then napped. Ron worked on the solar panel wiring, then ran to Walmart for supplies.
We packed up what we could, then sat by the fire. I finished my book while Ron skimmed Twitter.
"Stay ten more minutes," I told Ron when he declared bedtime.
And so we sat another 25 minutes before he got up, and I followed. Our last night passed quickly, as did the entire two weeks. What a wonderful and relaxing vacation we had.
Thank You, God!
Saturday, Aug. 12th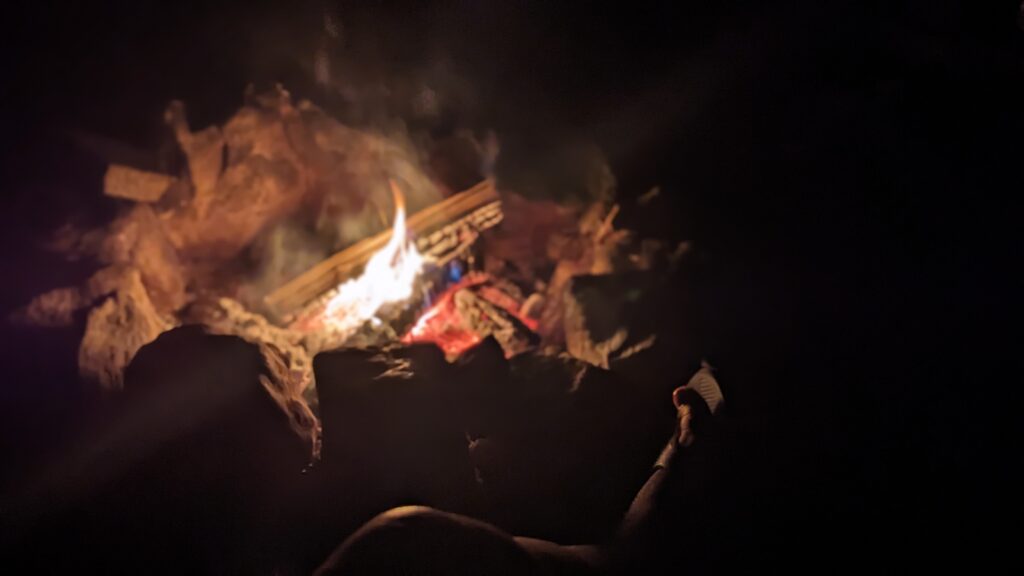 Waking at 5:30, I decided to sleep and didn't get up until 6:00. God gave me the perfect morning for my last Bible reading by the stone fire pit. Cool and clear, the fire took off the chill as I sat and listened to my Bible audio plan and read.