"Off to Watkins Glen, or, as my honey likes to call it, Glen Watkins."
After smiling and flipping Ron off for making fun of my dyslexic moments, we headed to Watkins Glen to recreate a picture of my mother taken Sept. 14, 1957, which she self-titled "Hopeless in Watkins Glen." Twenty-five years old, she had no way of knowing at the time she would have a daughter twelve years later, on Sept. 13th, 1969.
And now, in honor of my mom, we retrace her steps.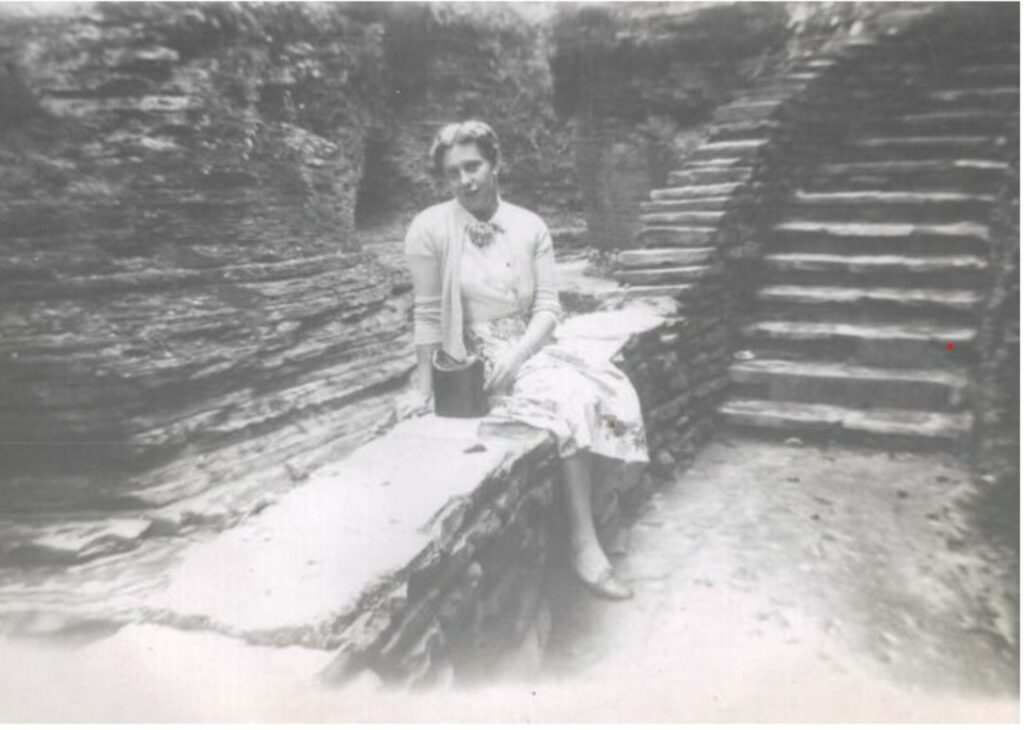 "It's somewhere in the Gorge. Is that what you want to do? It'll be $10 for parking."
When I asked the attendant at the gate of Watkins Glen State Park if she knew the background location of mom's picture , I couldn't believe how quickly we found our goal. Ron and I had no idea where to begin our search and decided to start with a bike trail through the area.
As I sat beside Ron, listening to him talk to the knowledgeable lady about directions, a prompt from within said, "Show her the picture." Feeling silly, I held the phone out the window in front of Ron and asked the attendant if she knew the background location. Turns out our new friend did.
Roberta Lou, an independent woman, traveled the North East with her friend Helen in Sept. 1957. You can read their full adventures here. Their first stop, Watkins Glen, where mom took the picture, "Hopeless in Watkins Glenn."
As we entered the village of Watkins Glen, the experience felt surreal. Imagining mom and Helen driving their Bel Air 2 door down the main street, excited as they began their adventure, made me smile. Mom's picture, "Hopeless in Watkins Glen," makes me wonder about the condition of her heart. To think of her feeling hopeless makes me sad when she gave so much hope to me.
Realizing our little love nest lay east of the famous family picture's spot, we decided to recreate it.
Who knew they hiked 830 steps in heels? Not Ron and I.
But that's my mom!
(Note: Pictures taken with a Pixel Pro 6, people erased with "magic eraser," tool on the phone.)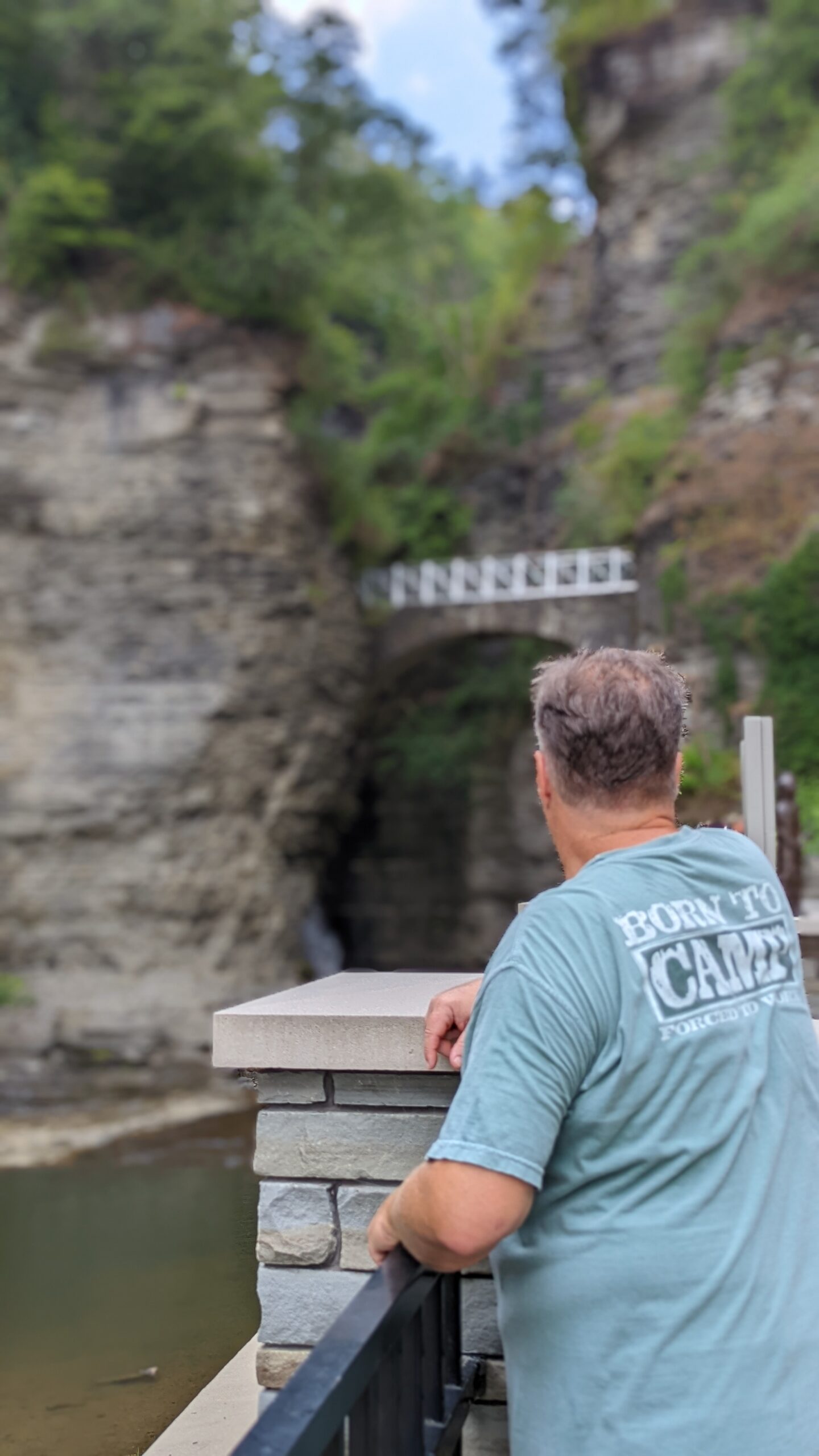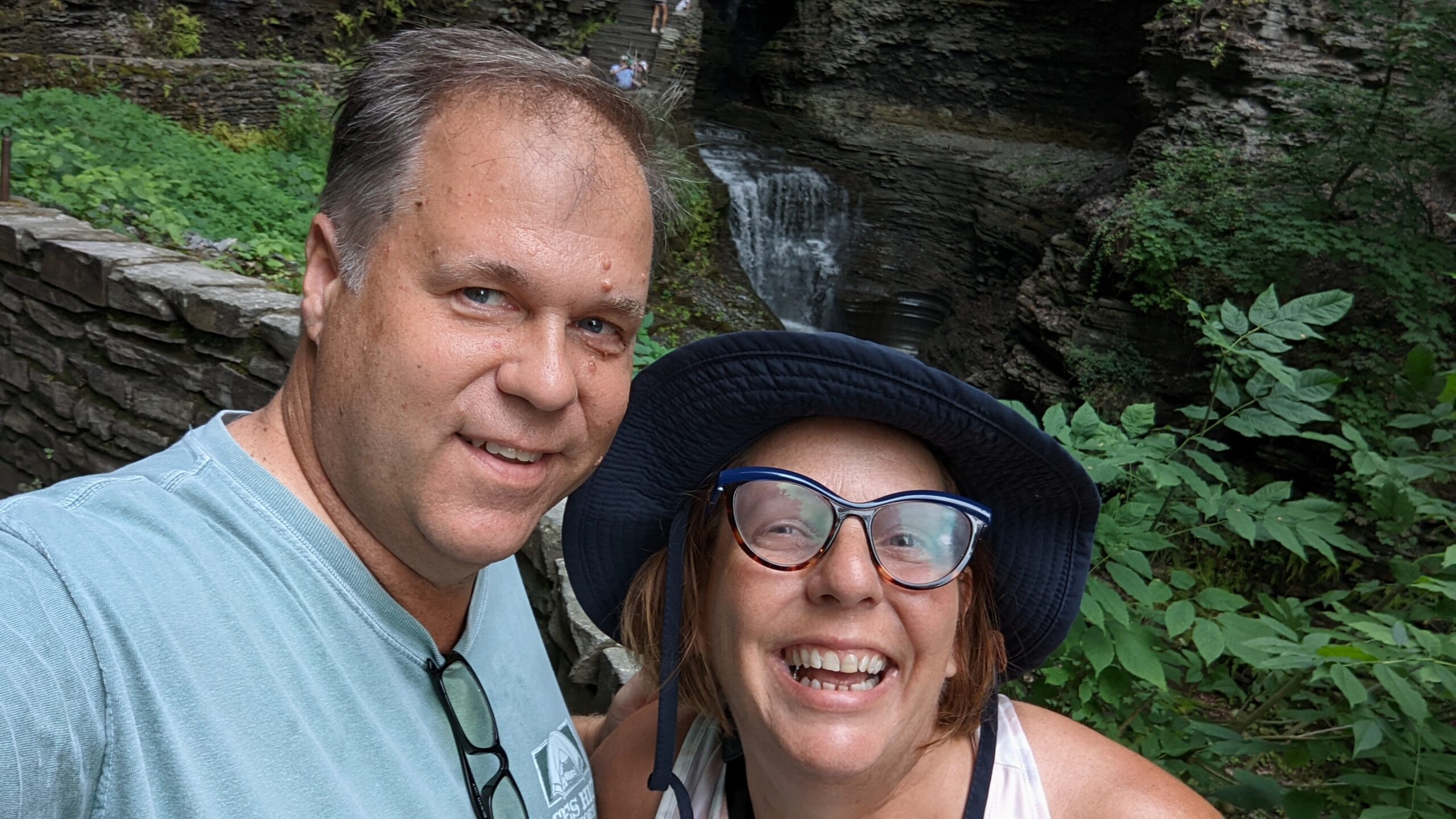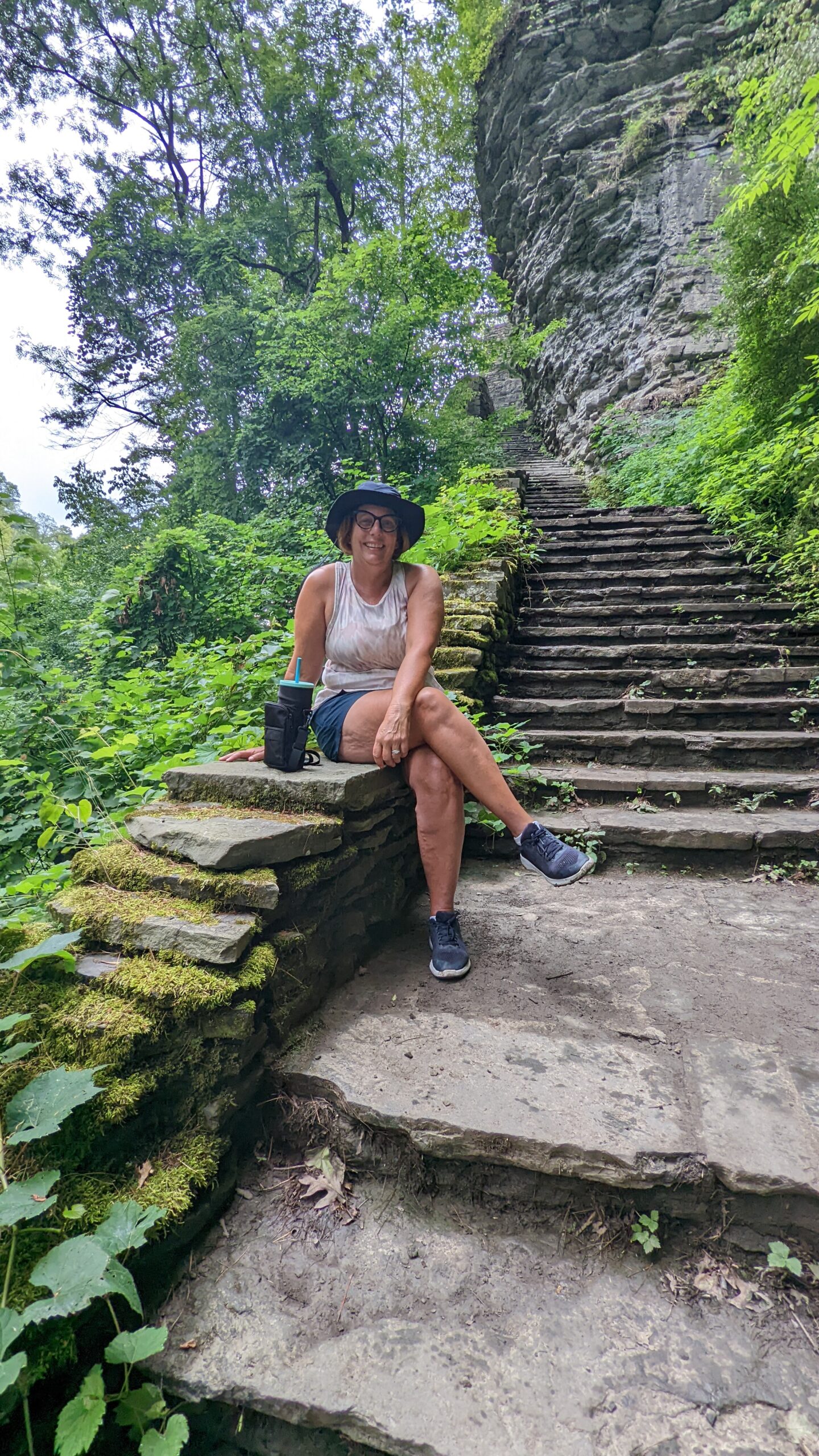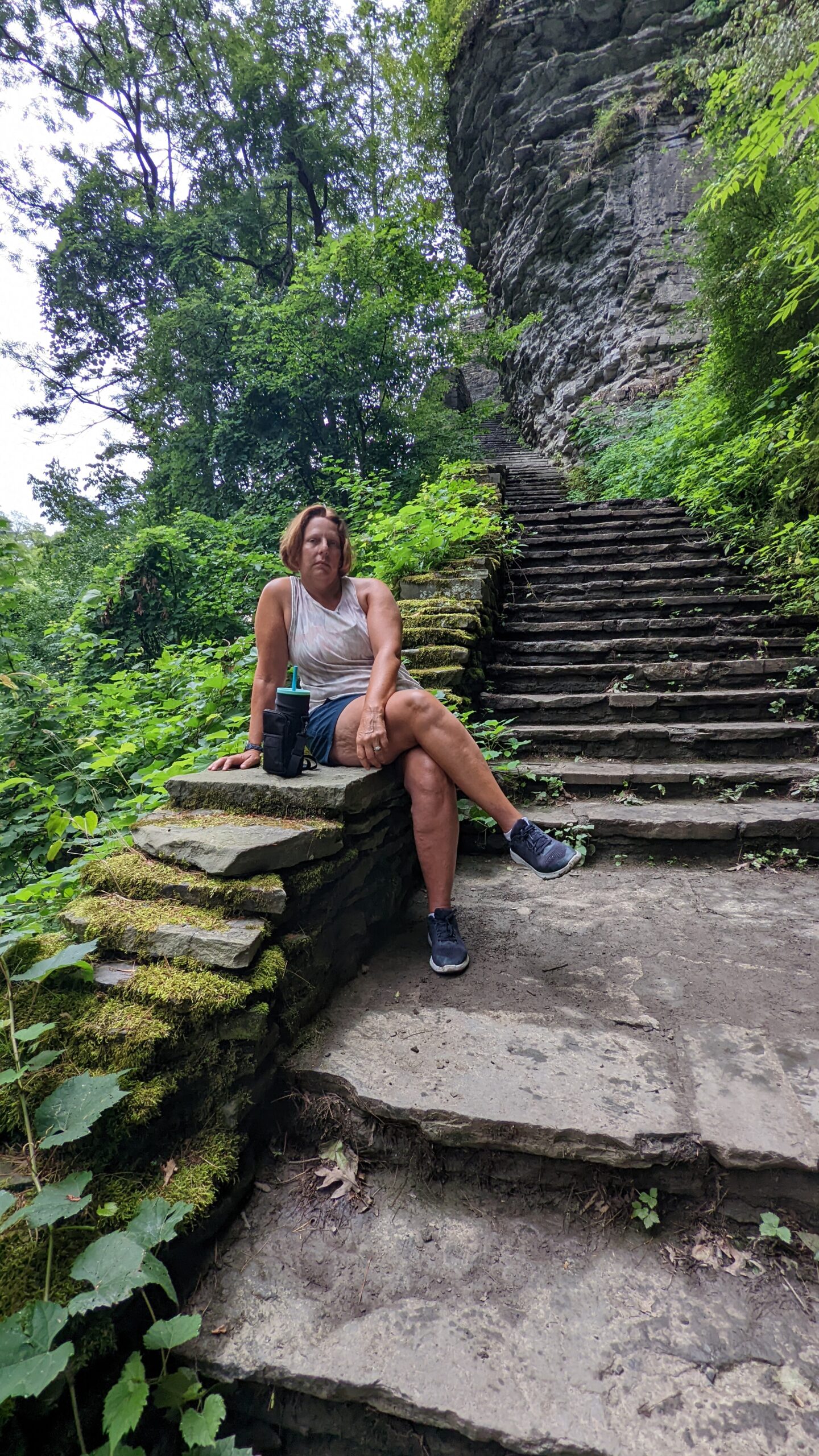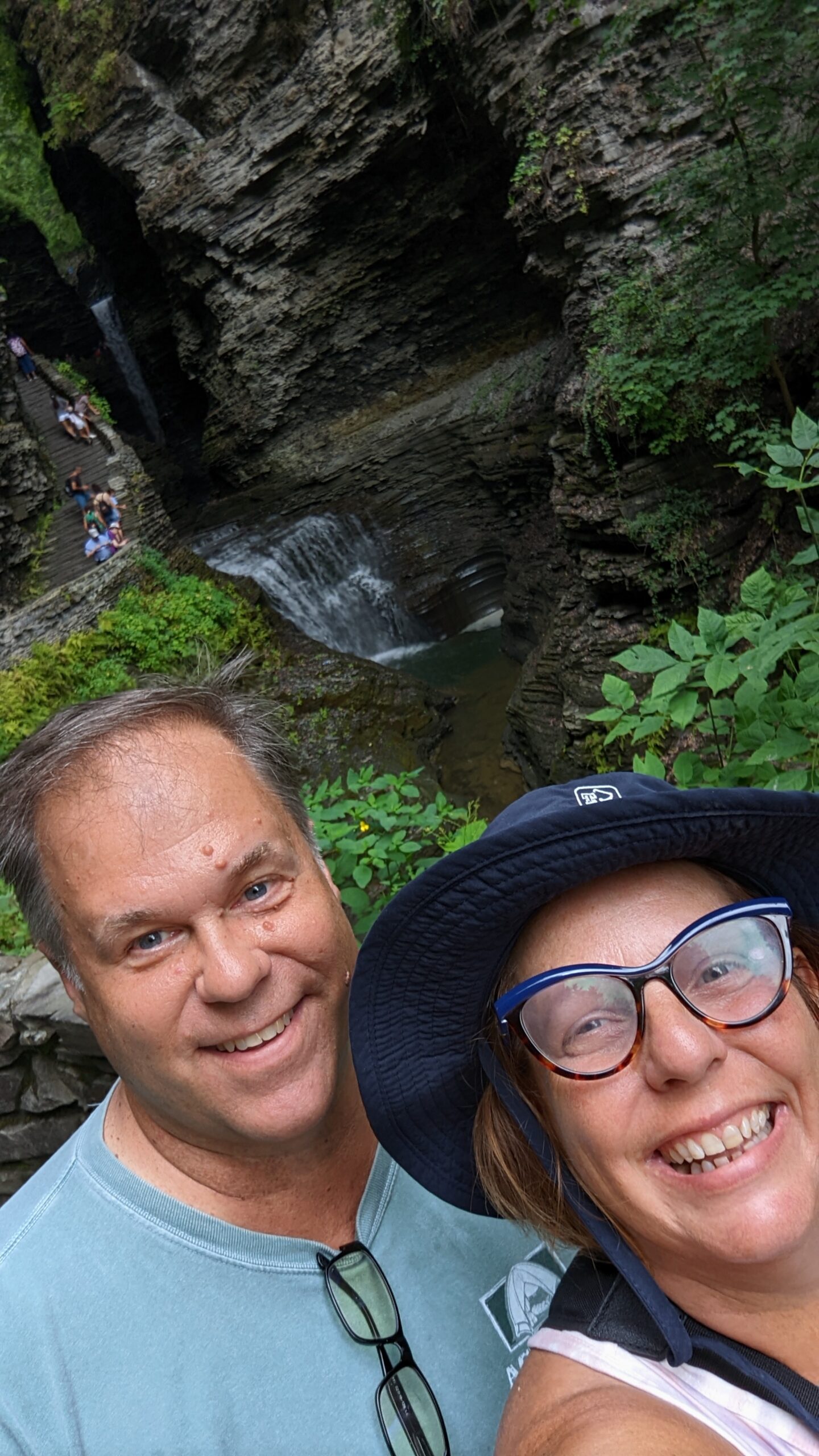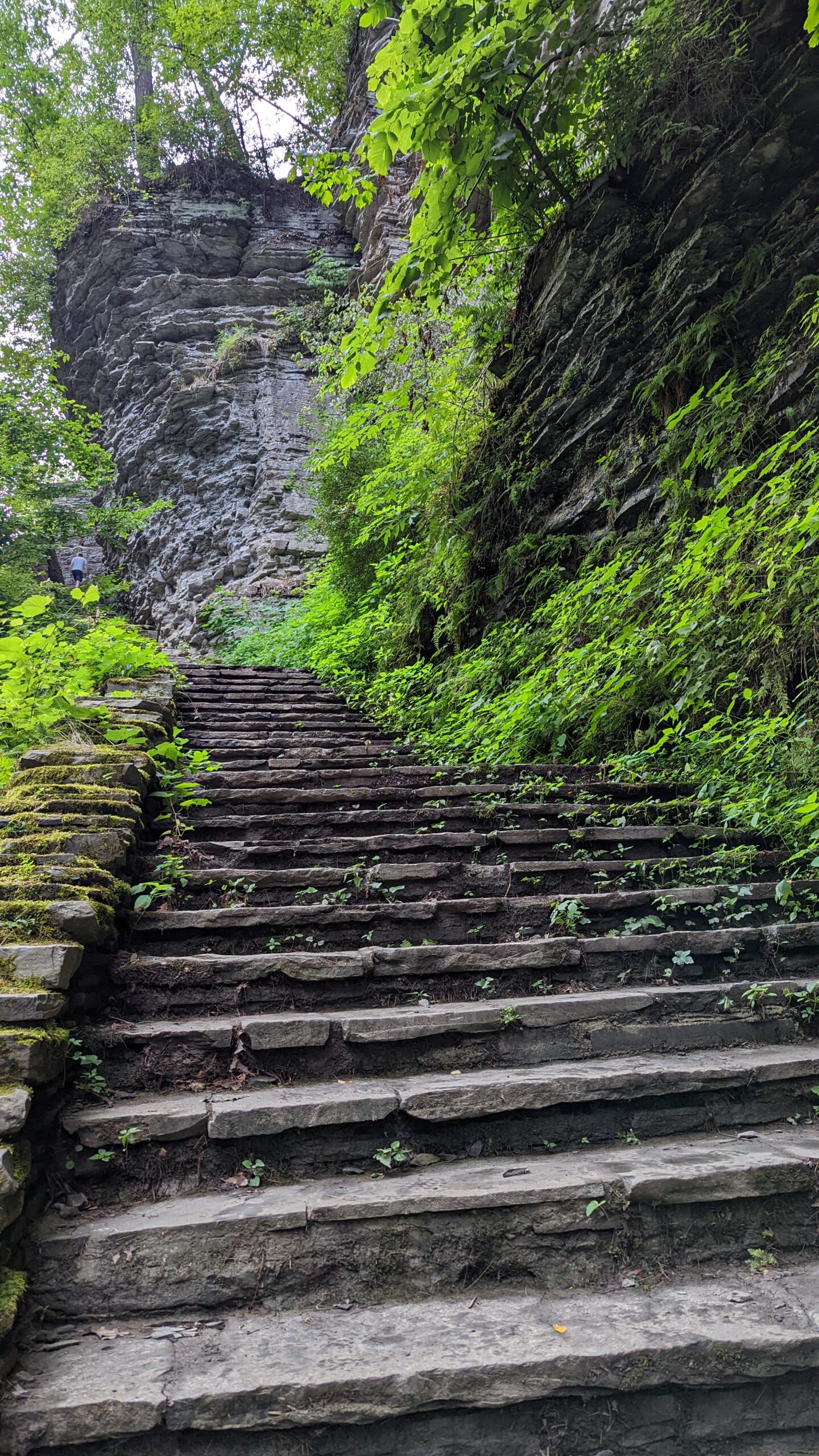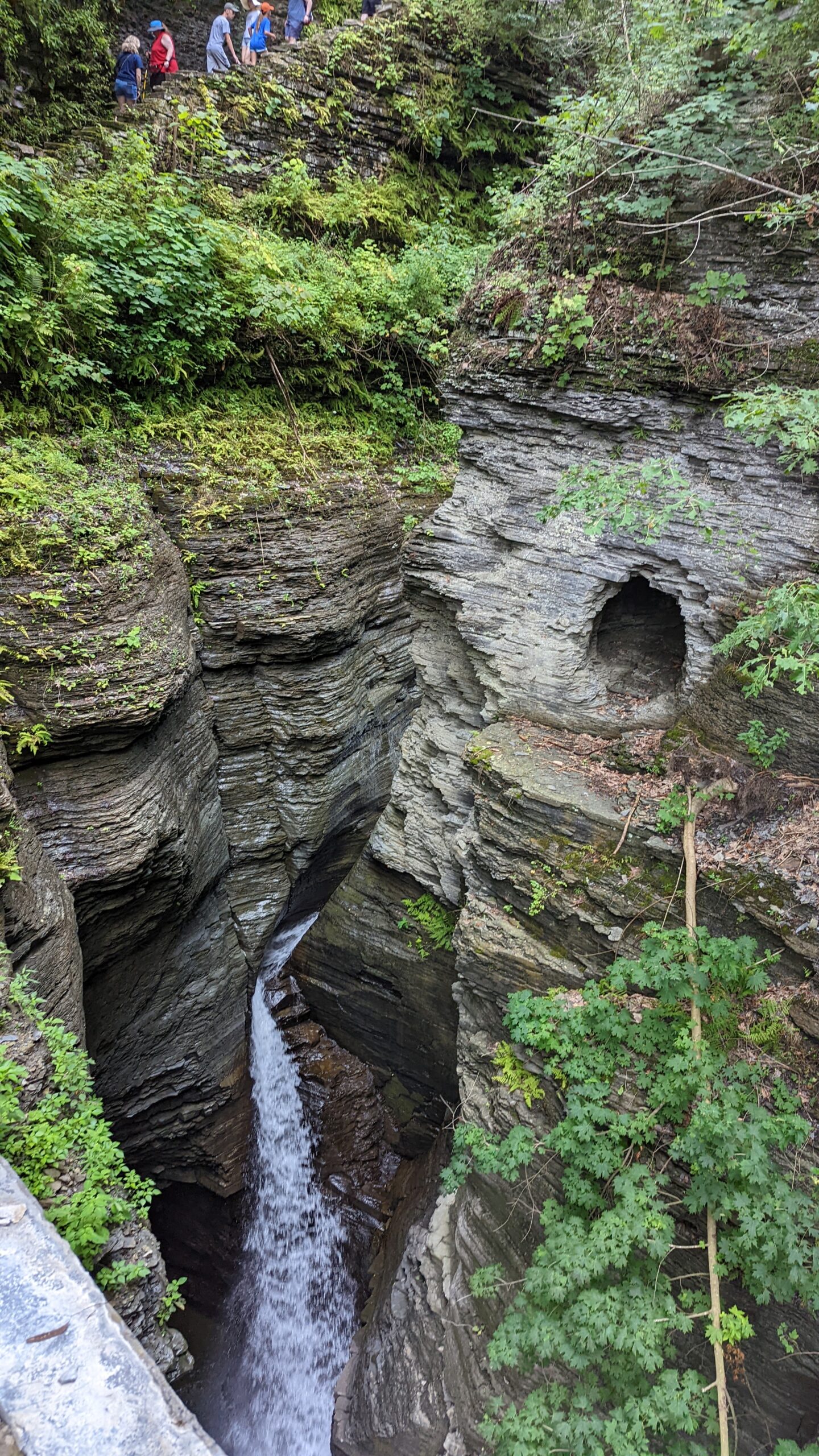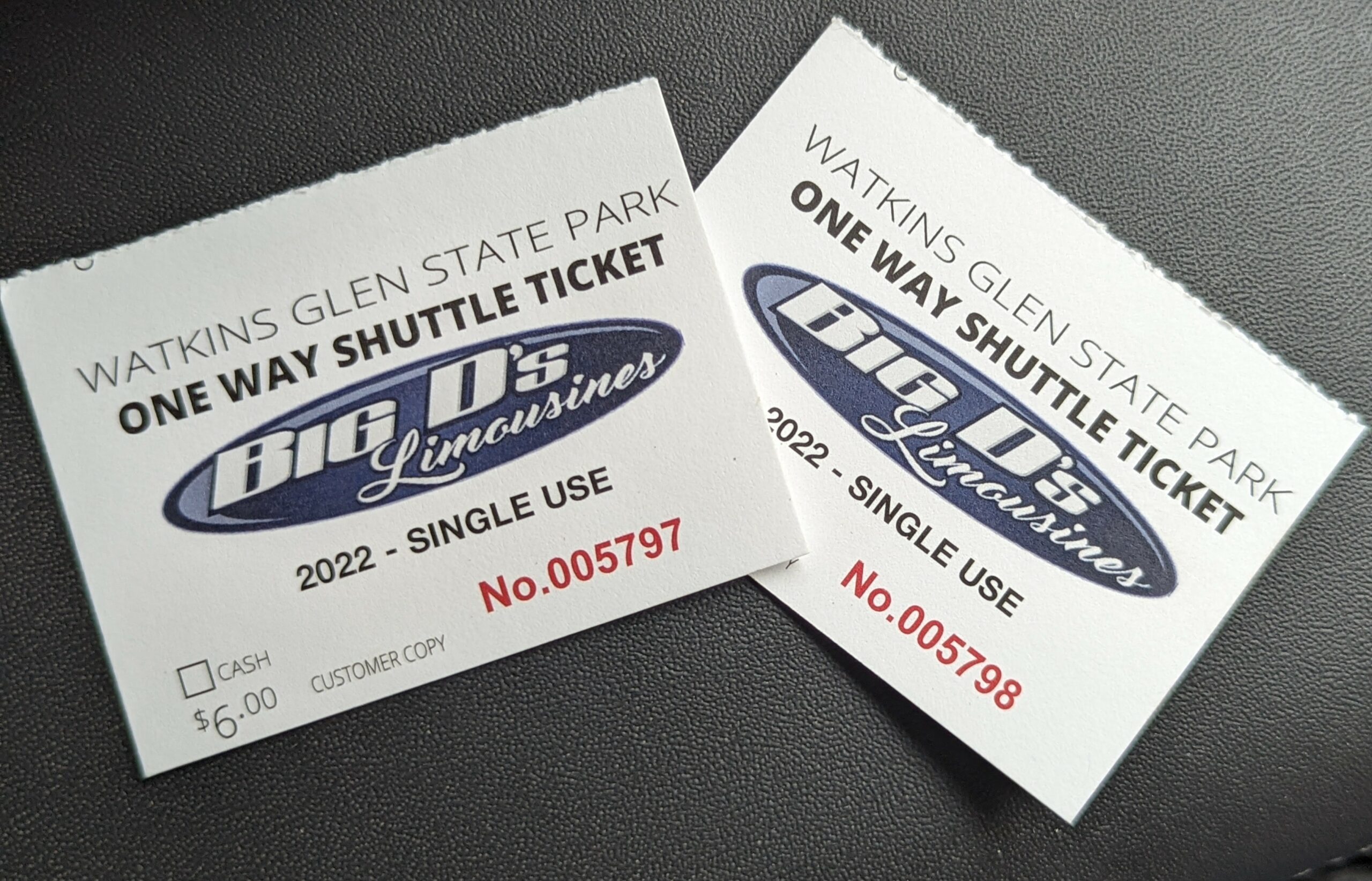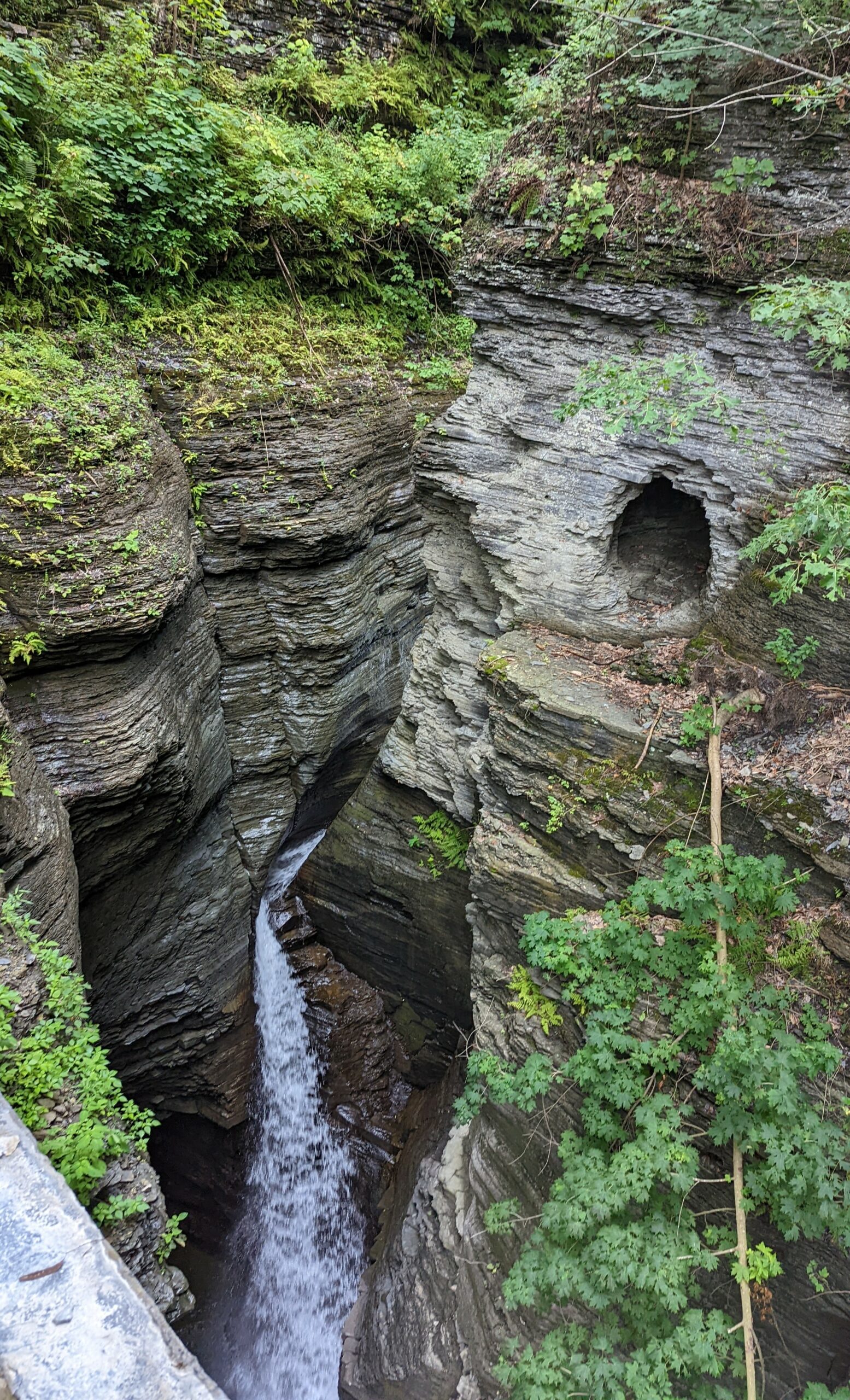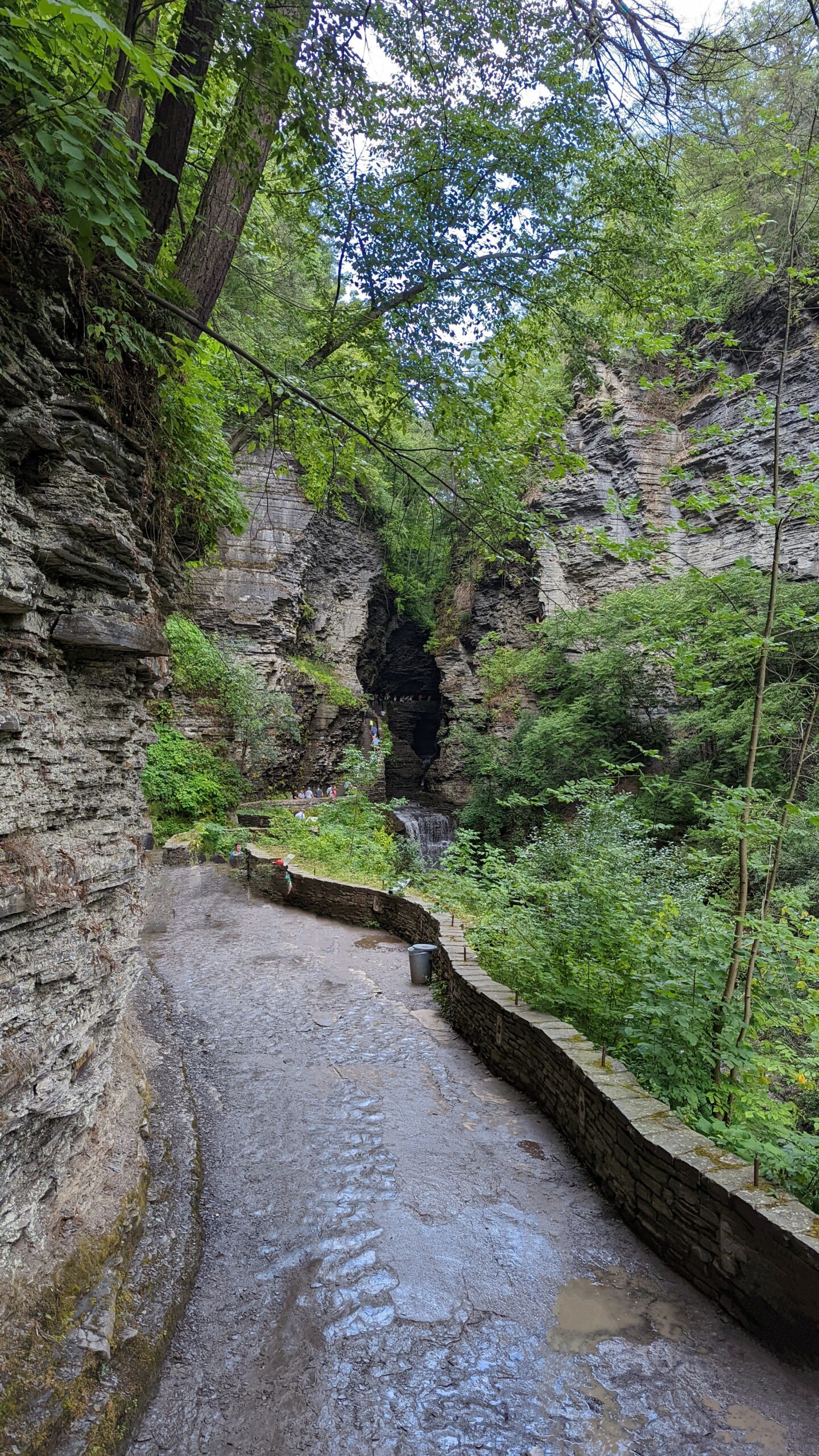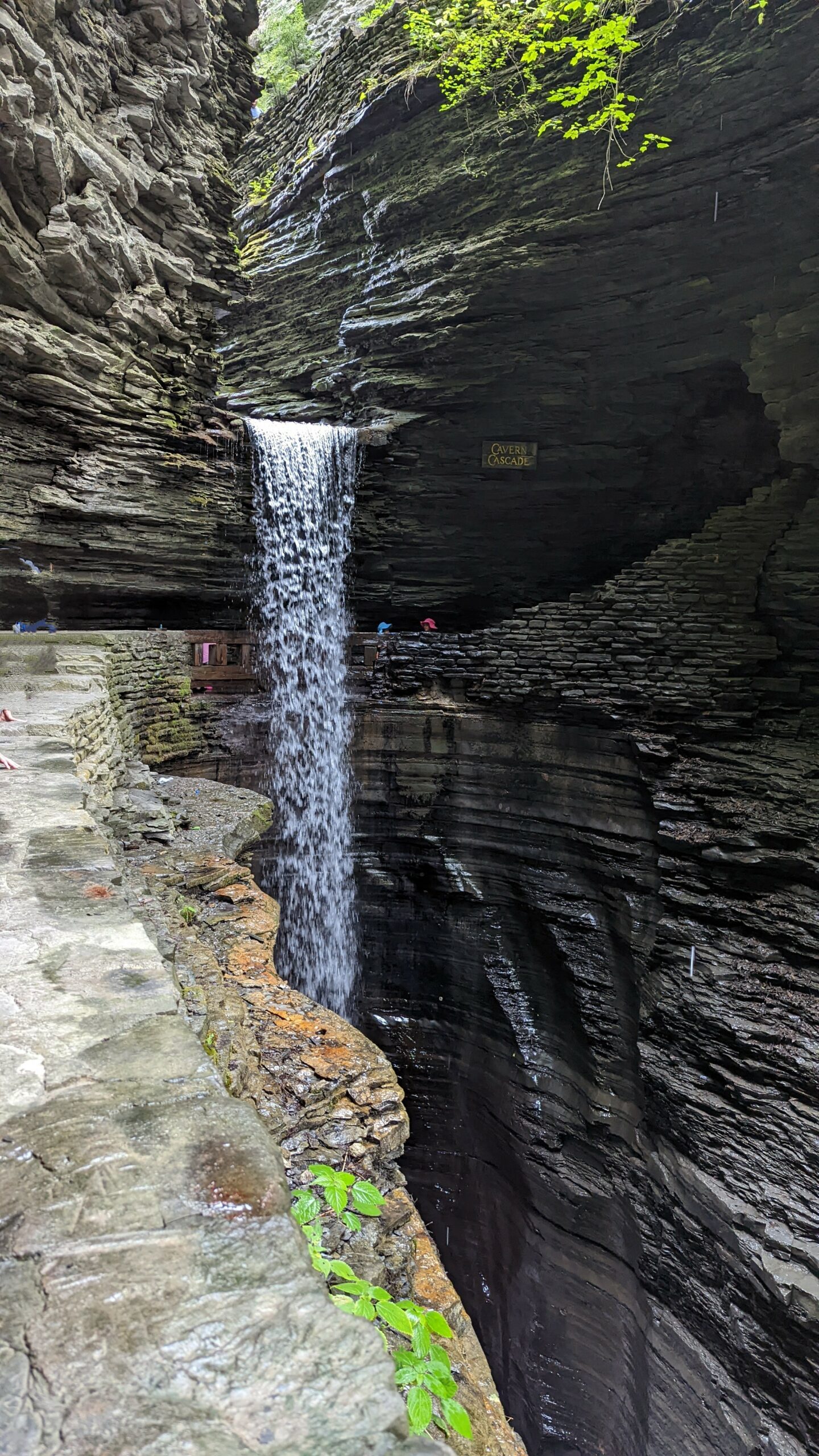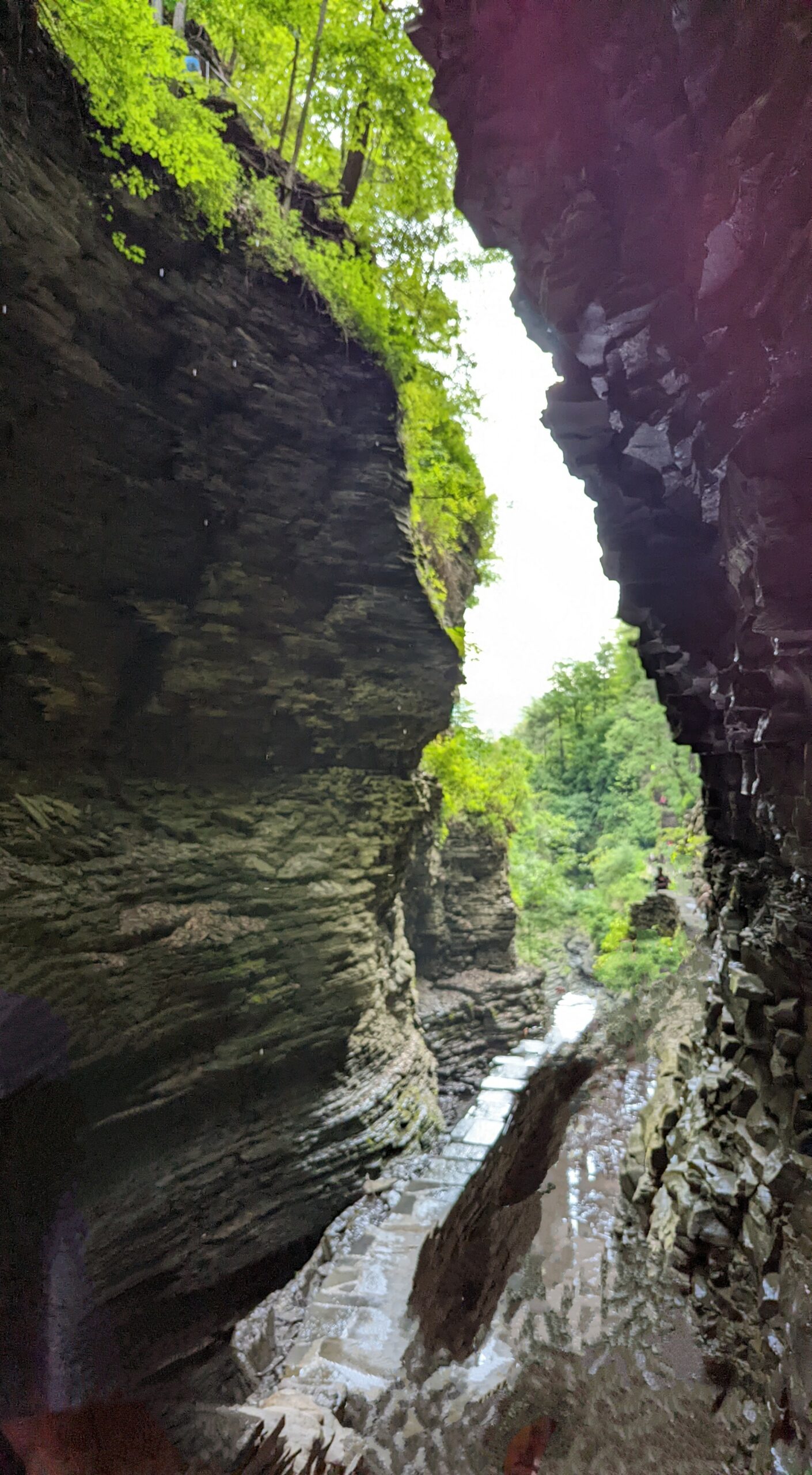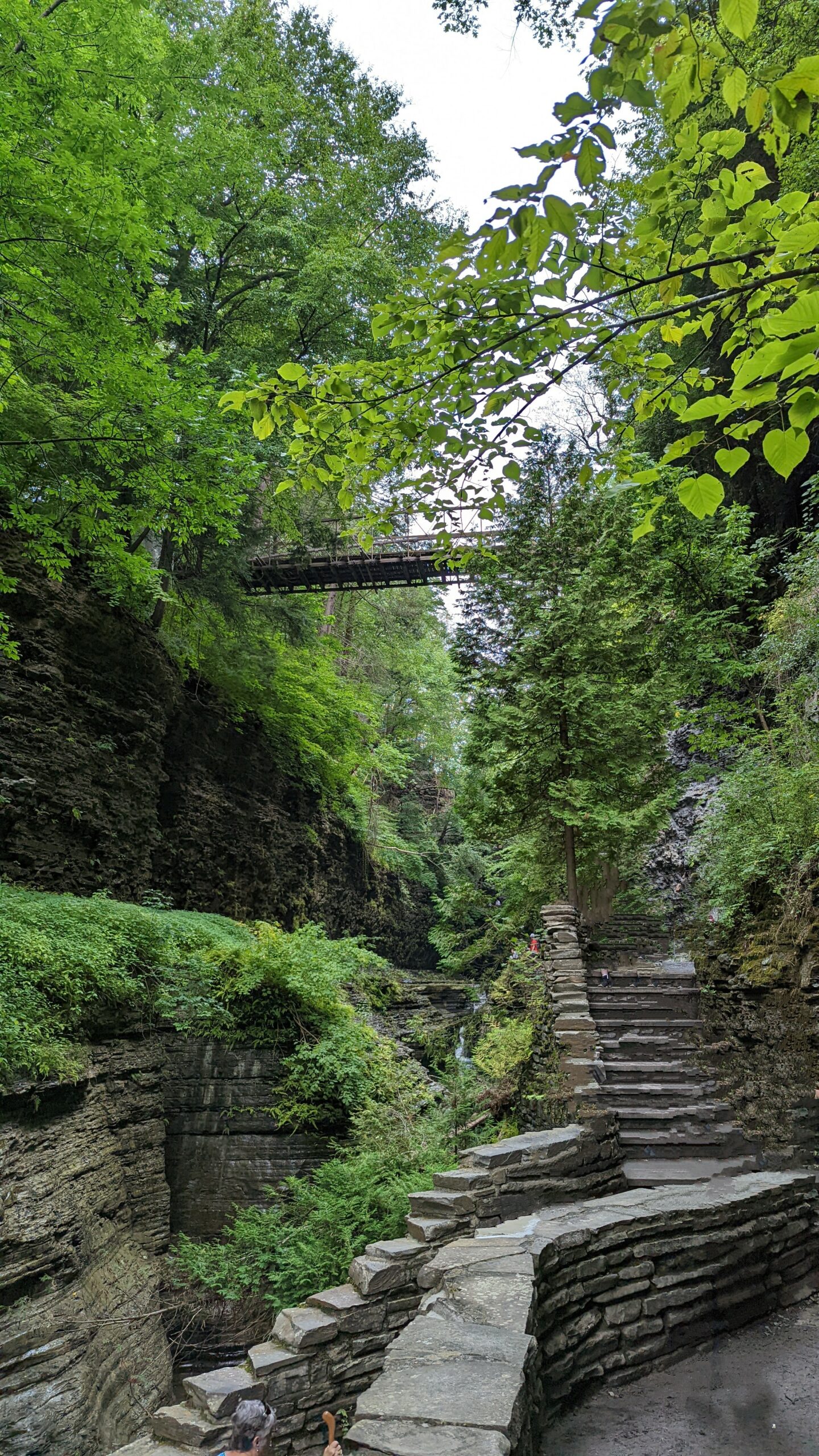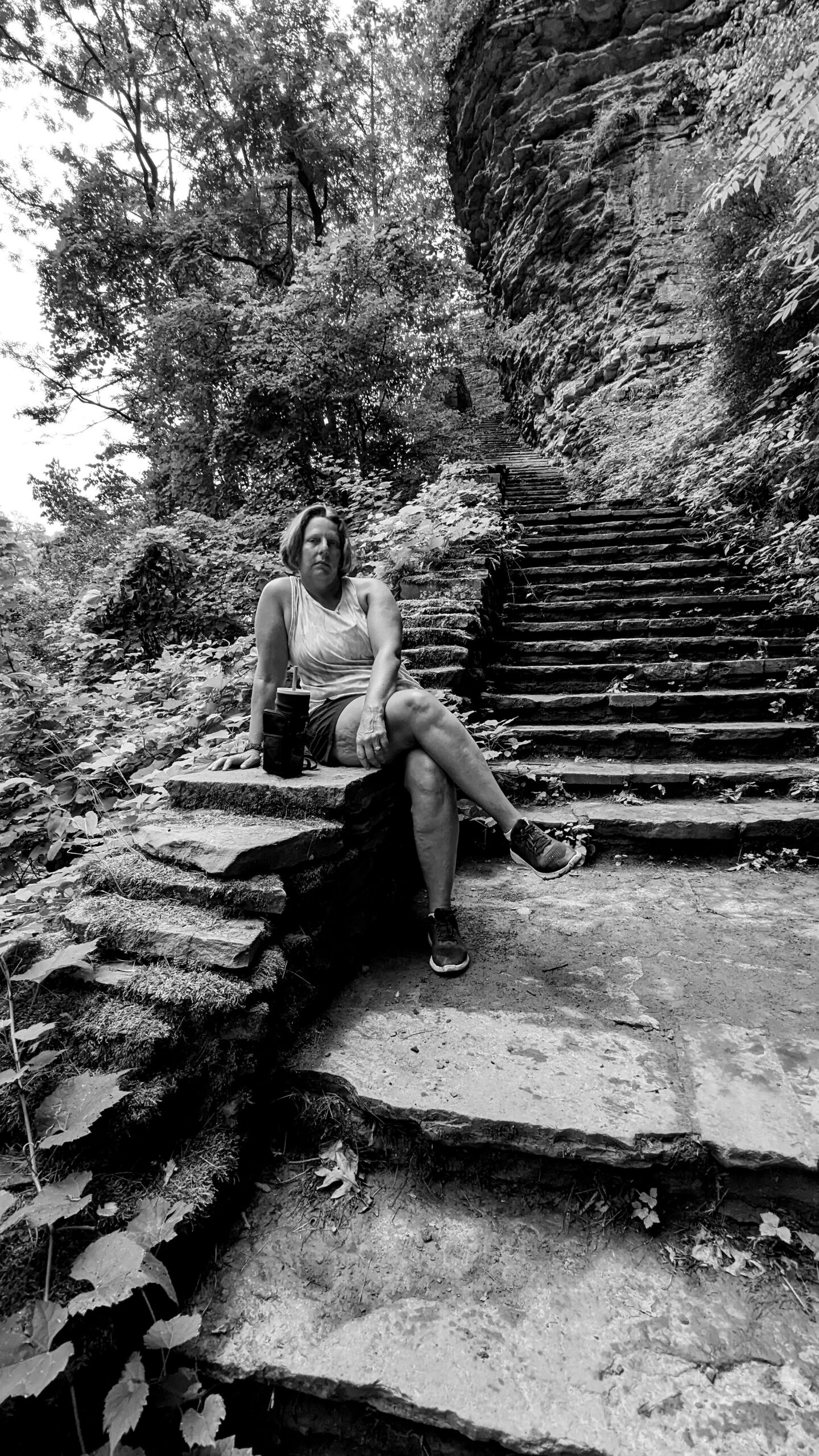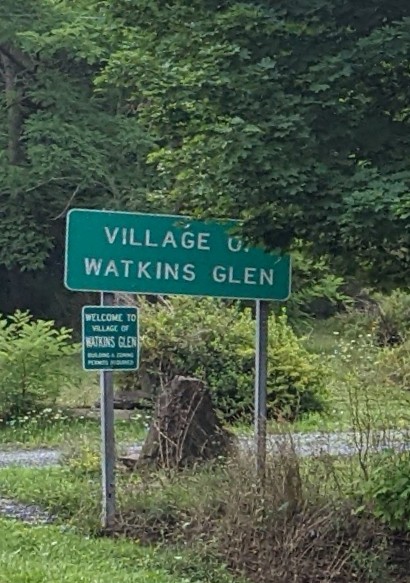 As we began the trek down the trail, we had no clue what lay ahead. Thankfully, we parked at the top and walked down, Ron's knee still recovering from a meniscus scope the week prior. The further down we went, the wetter the ground became. A damp earthiness filled the air, brilliant greens outlined the harsh rock, and the faint sound of water came from somewhere in the distance.
When I entered the dimly lit, circular stairway, winding into darkness, leading to a pinpoint of light ahead, I didn't realize I would soon walk beneath the falls. Sometimes, not knowing the path ahead makes the adventure so much sweeter. As I breathed in the cool air and felt the sprinkle from the waterfalls touch my skin, I smiled in amazement, astonished at God's artistry.
Unfortunately, I did not screenshot mom's picture, and lack of service forbid me from pulling it up online. We found a spot we thought seemed similar, and I did my best to recall how mom sat for her photo shoot. What I did know she had a black purse sitting in front of her; I made sure to have mine too. If we had pre-planned this trip longer than a day in advance, I would have tried to find a matching outfit, but I didn't have enough time.
Part of me wonders if Mom and Helen did a quick stop for a photo and, wiser than us, entered from the bottom. I'll never know, since mom passed away in 2014.
"You're asking an 85-year-old woman to remember something from long ago. I can't remember how far we went. I think we did walk down into the falls," said Helen when asked about the trip. Twenty when they ventured north, Helen's memory failed her.
"You're our savior today. You got us out of the park and found our camera," I said to the tall, balding stranger in khaki tee and shorts, sporting hiking boots, who handed me my camera through the passenger window.
Ron and I didn't realize we would have to walk so many steps. Because of his knee, as soon as we got the shot, we found the quickest route off the trail and caught the shuttle back to our parking spot.
While waiting for the bus, I wrote a post for Facebook, laying my video camera beside me. When the shuttle came, I left it on the bench, not realizing it until after the bus pulled away. Praying for God's help, he provided it in the gentleman who I thought also gave us directions out of the park. Realizing afterward I made a mistake; I now know why the guy gave me such an odd look.
"Thank you, Mom! Mom just gave us a good memory. We wouldn't have done that if it wasn't for her," I said after looking at the video of walking under the waterfall.
"I know, the Gorge is beautiful," Ron agreed.
Before lunch, we took the originally planned bike ride. Again we learned we started on the wrong side of town. Apparently, the other half of the path has beautiful waterfalls, but we'll have to wait and see. Maybe later in the week, maybe next trip, maybe never, only God knows at this point.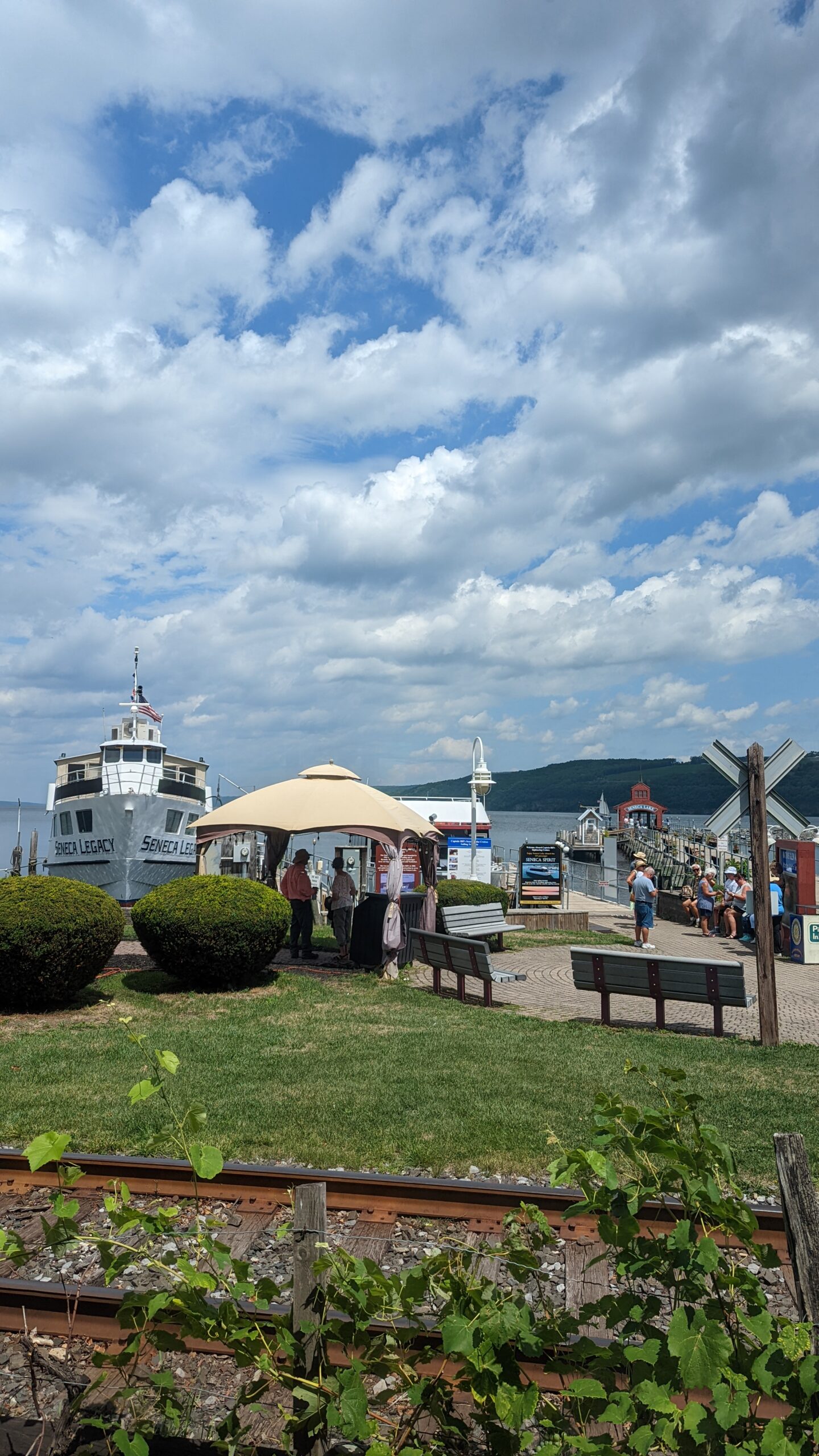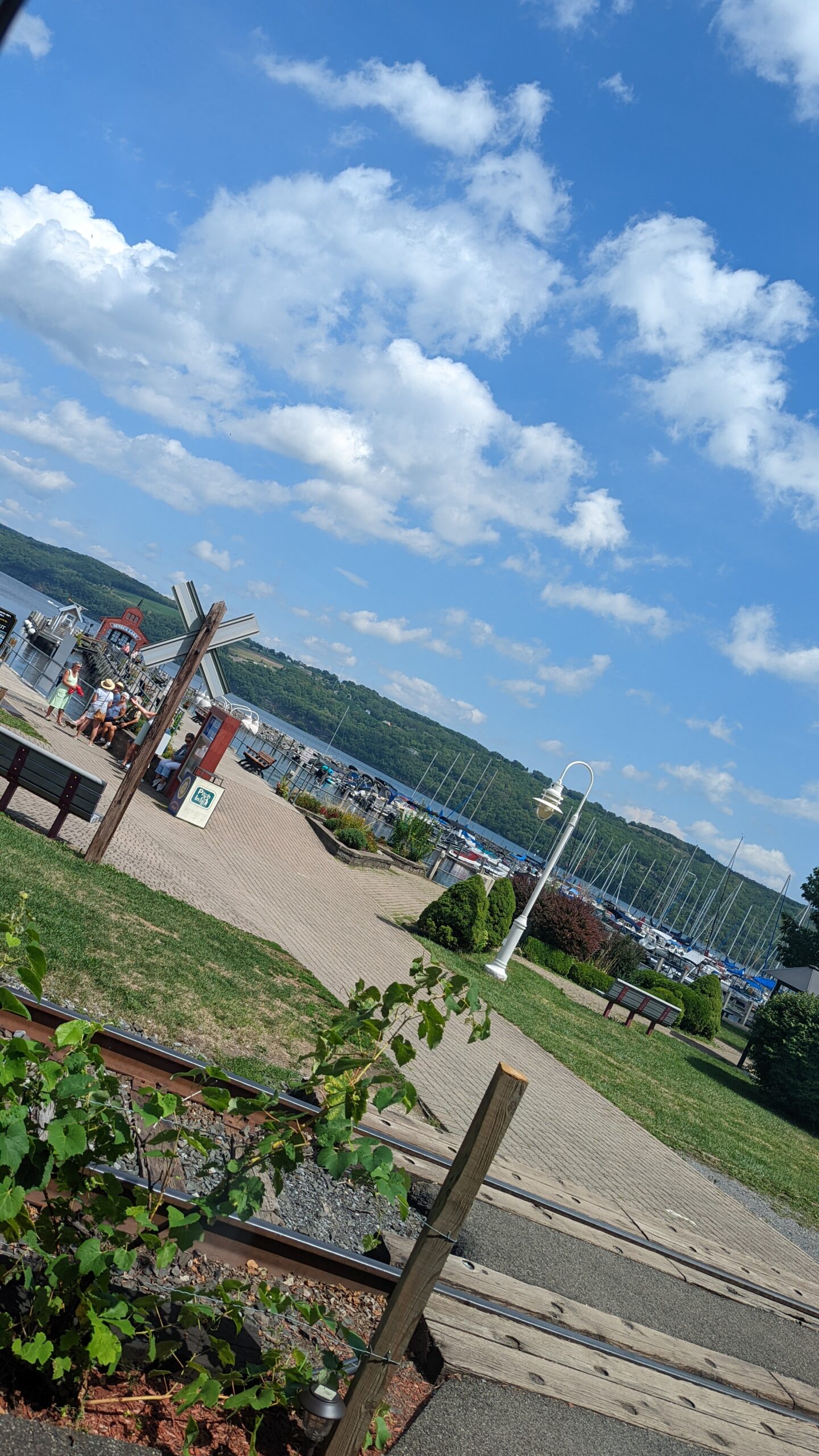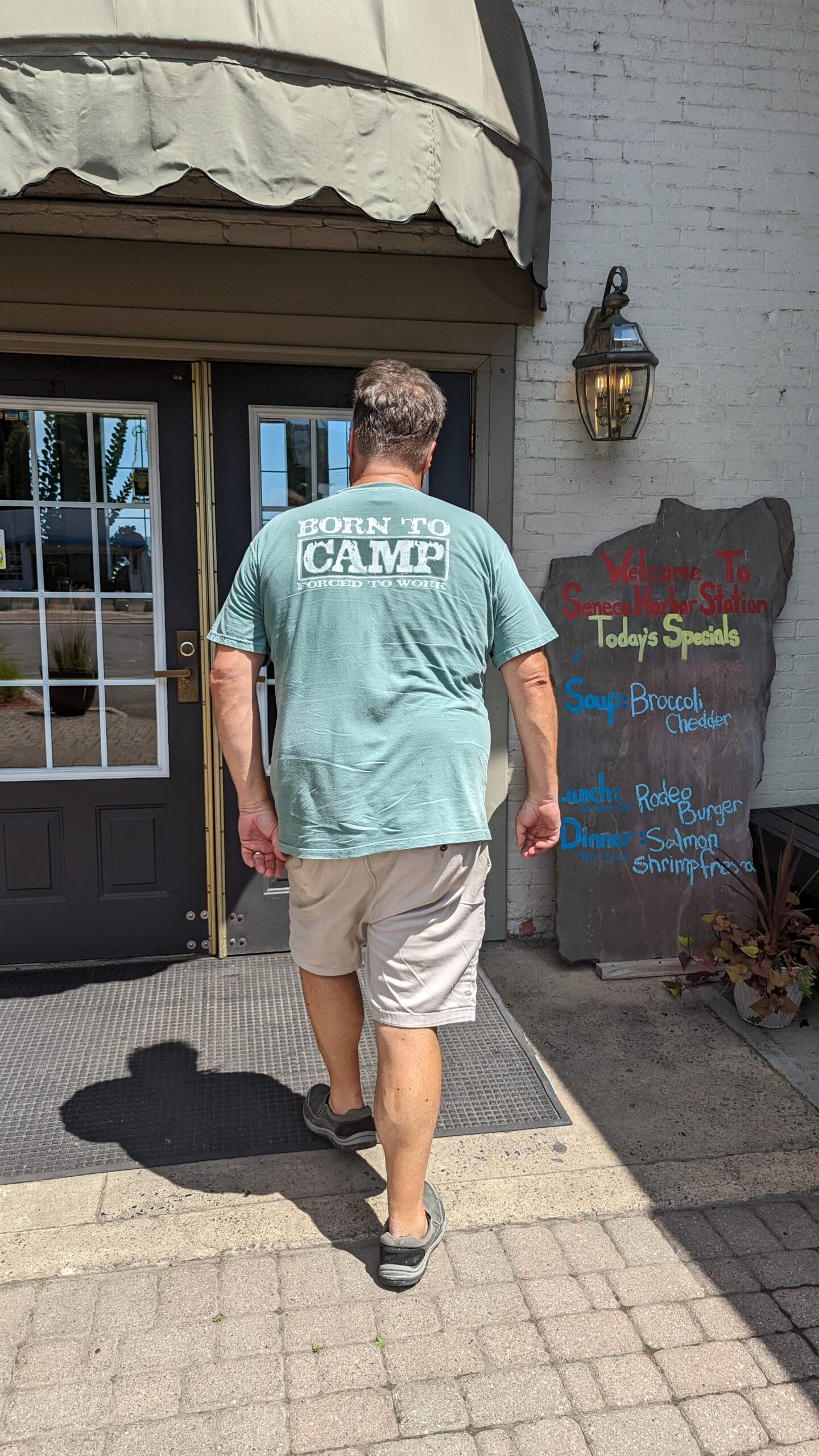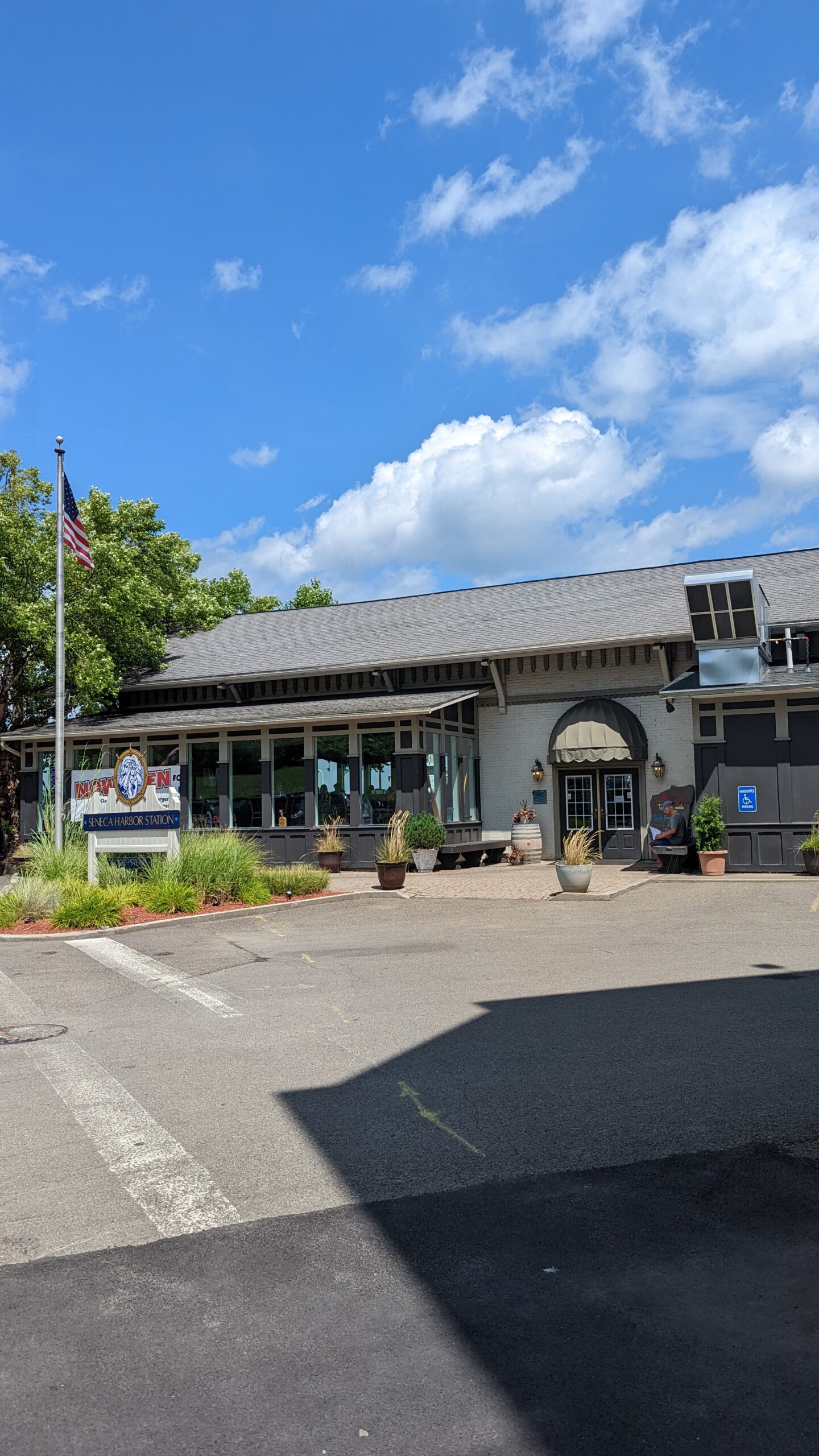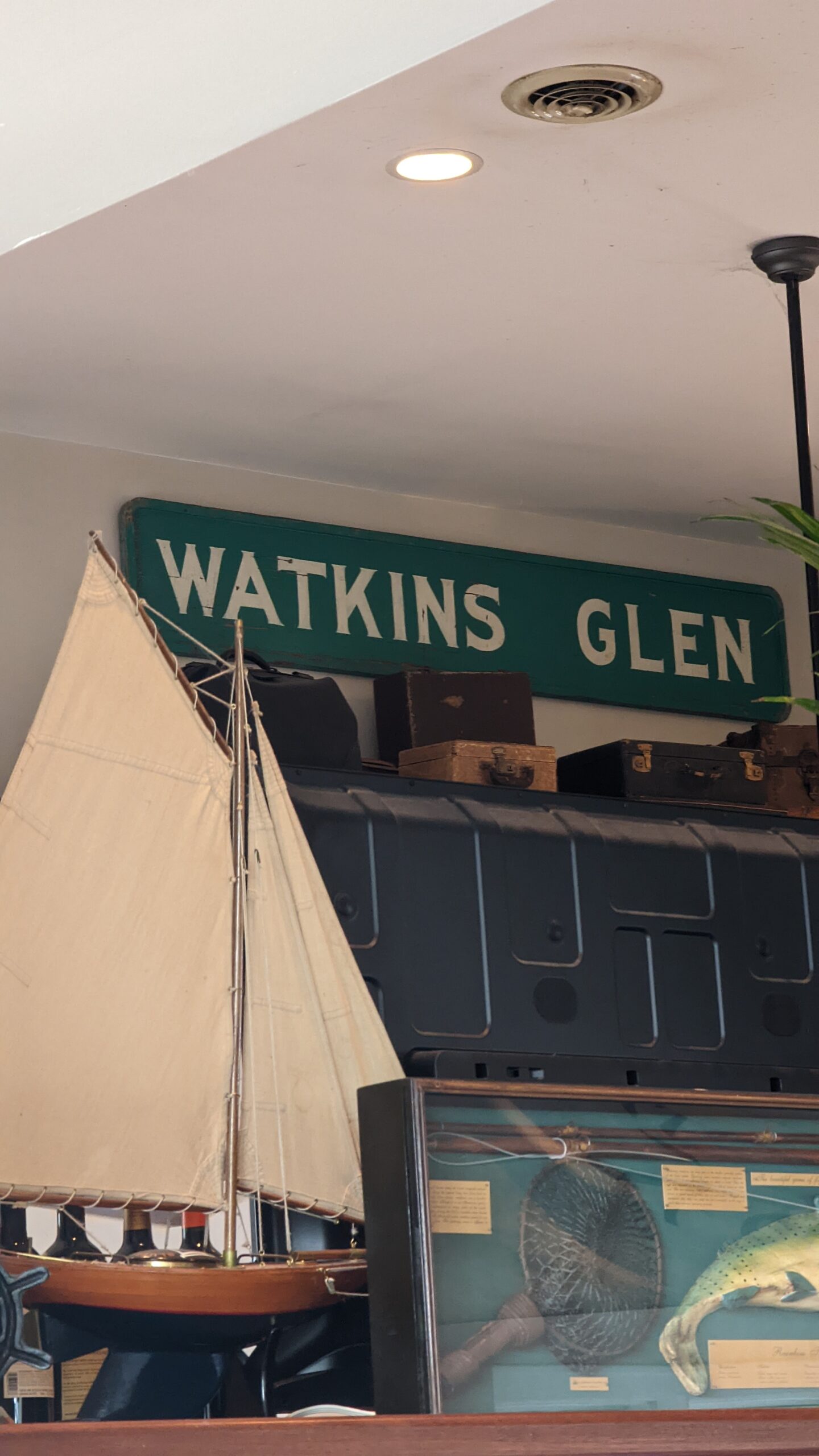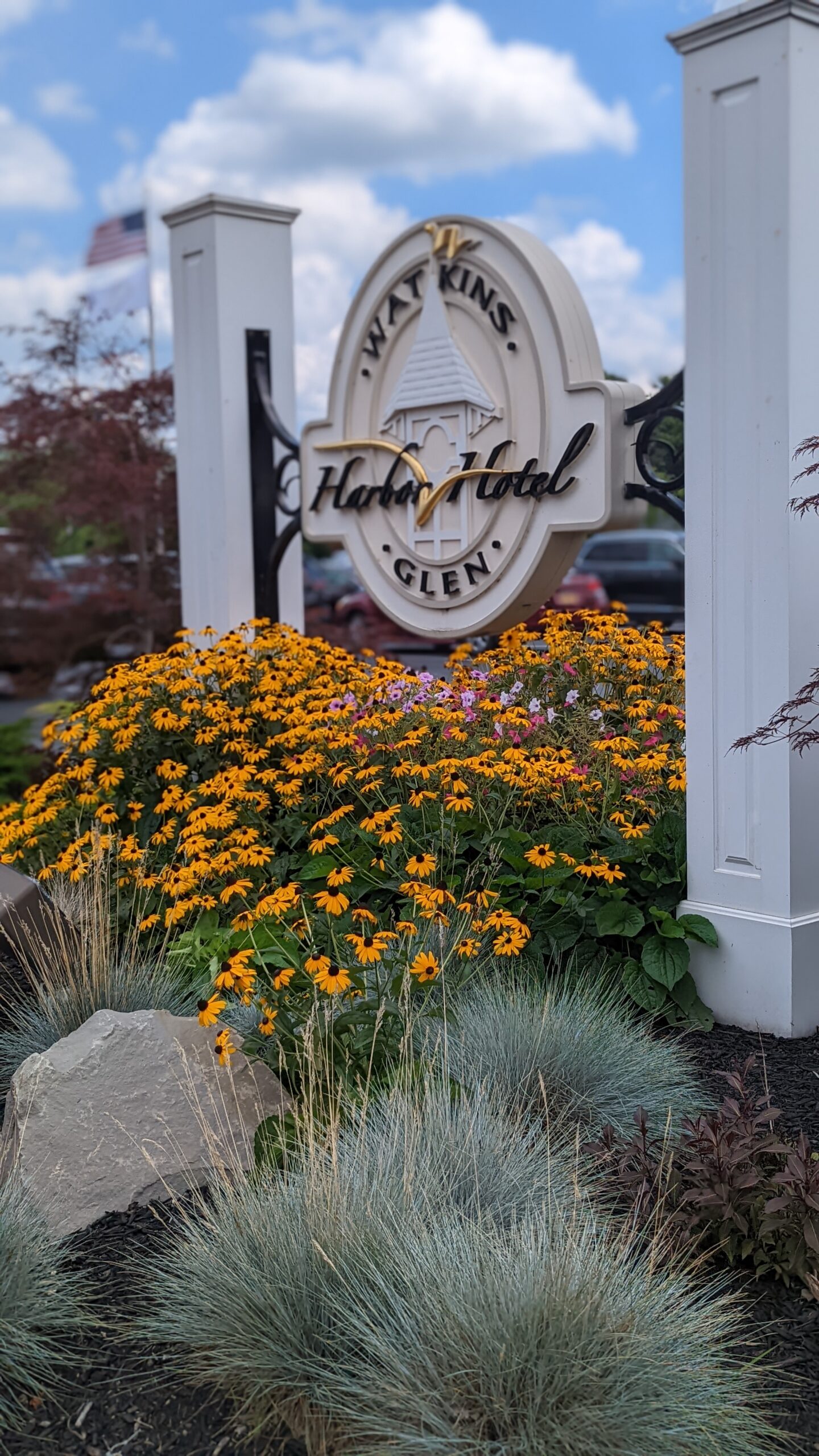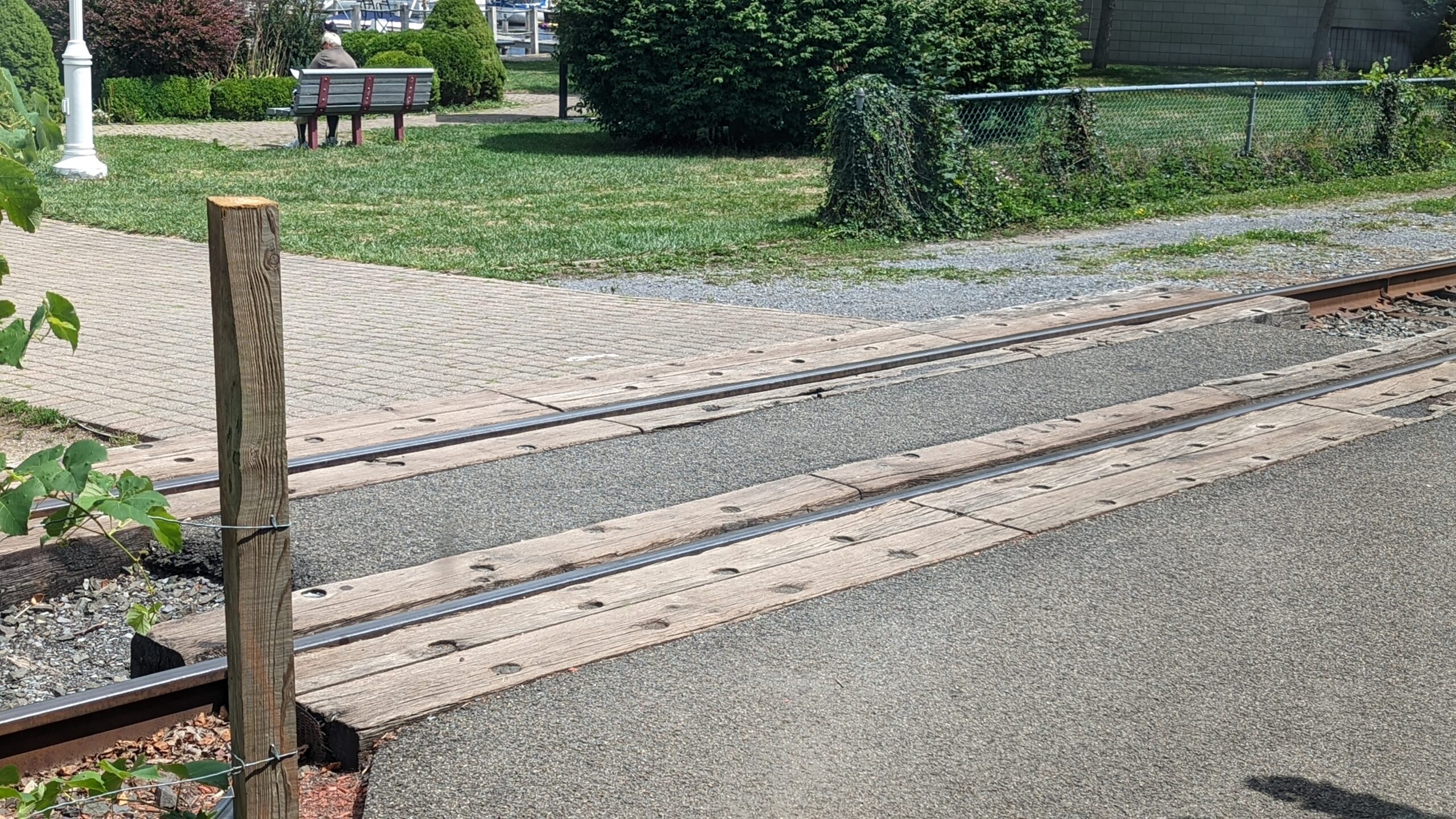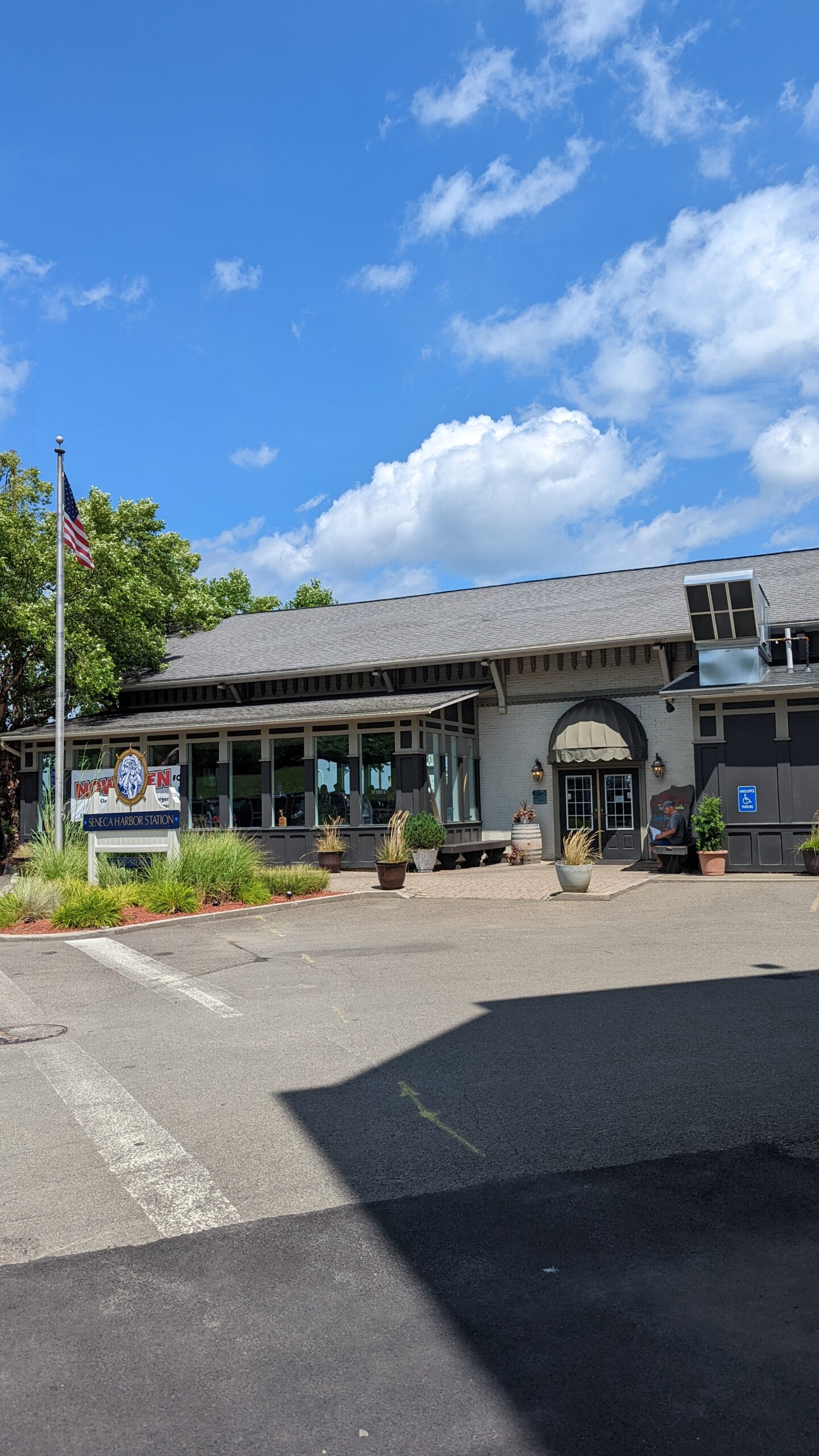 Cheers, Bert!" Ron said when we toasted at Seneca Harbor Station in Watkins Glen. Surprisingly, many restaurants in Watkins Glen close on Monday. Why I don't know. We went to one of the only places open for lunch and shared a Rodeo burger; a hamburger smothered in bacon, American cheese, and onion rings with bbq/ranch sauce. Ron upgraded to sweet potato fries as a treat.
"There's the railroad tracks. See, this used to be an old train station," Ron said, looking out the window and noticing the steel rails. Looking at the nautical decor and smartly decorated tables, it seemed hard to imagine the building as a train depot. Sitting on the water, we viewed the tip of Seneca Lake, one of the largest Finger Lakes in the region. A boat tour departed, providing us entertainment while waiting for lunch.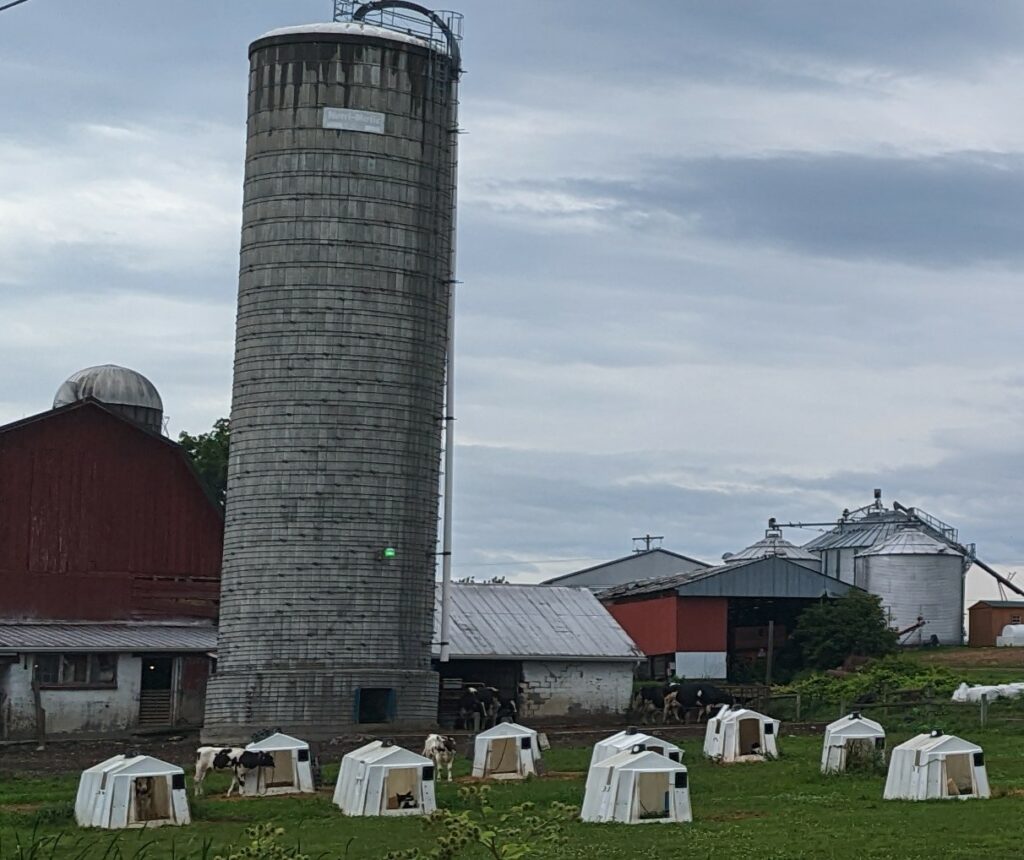 "Like dog houses for cows," Ron said when we passed a farm on the way back to the cabin. Neither of us has seen anything like it before.
Our drive up scenic 14 educated us about the number of wineries in the Finger Lakes. Competition abounds in the wine industry, apparently because of the geography. The sloping hills, short summers, and long winters combine with the influence of the lakes, enable winemaking in the area. The cold water in the spring makes budding late, which reduces the risk of spring frost. Summer warms the water going into fall and extends the growing season.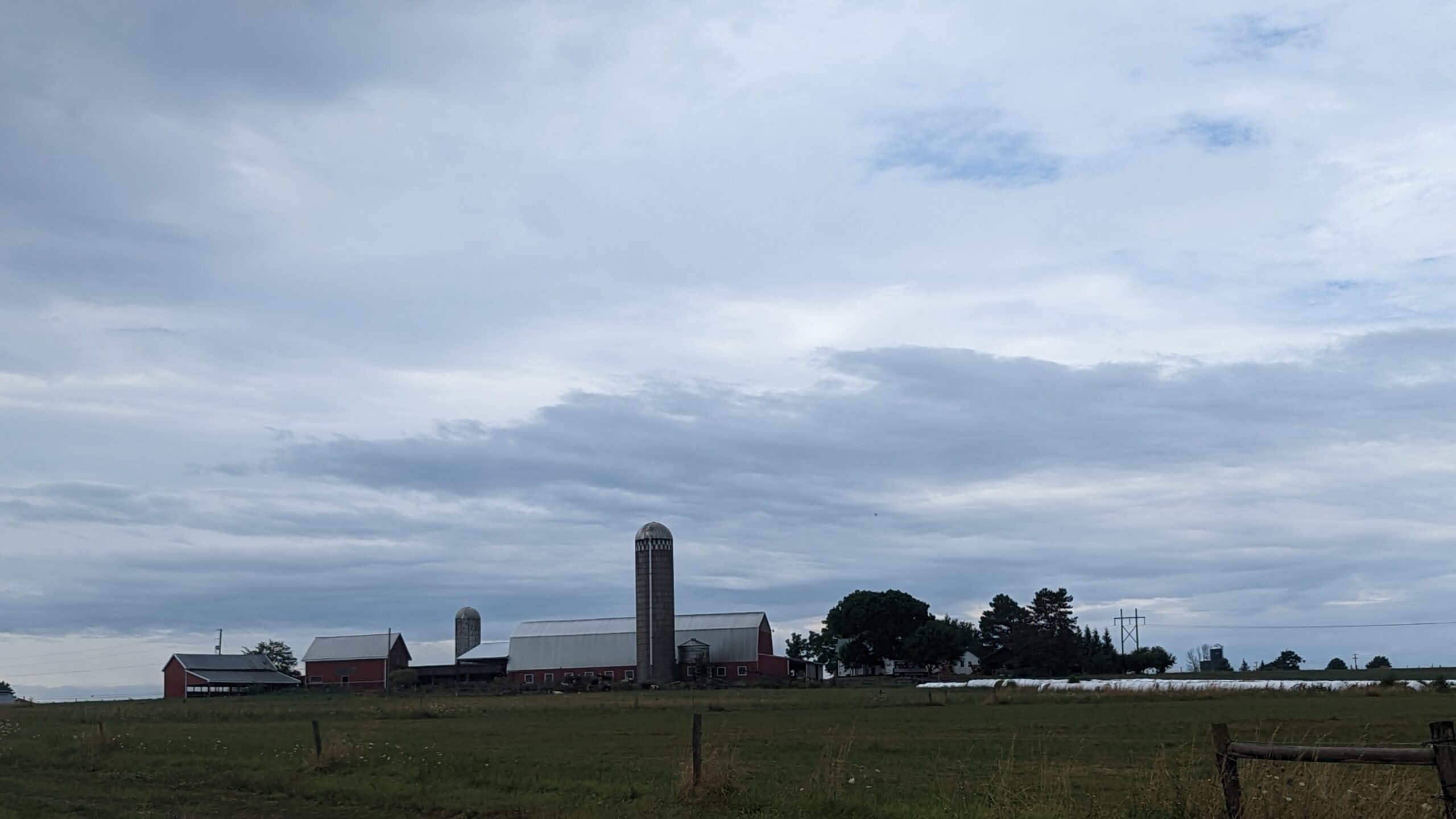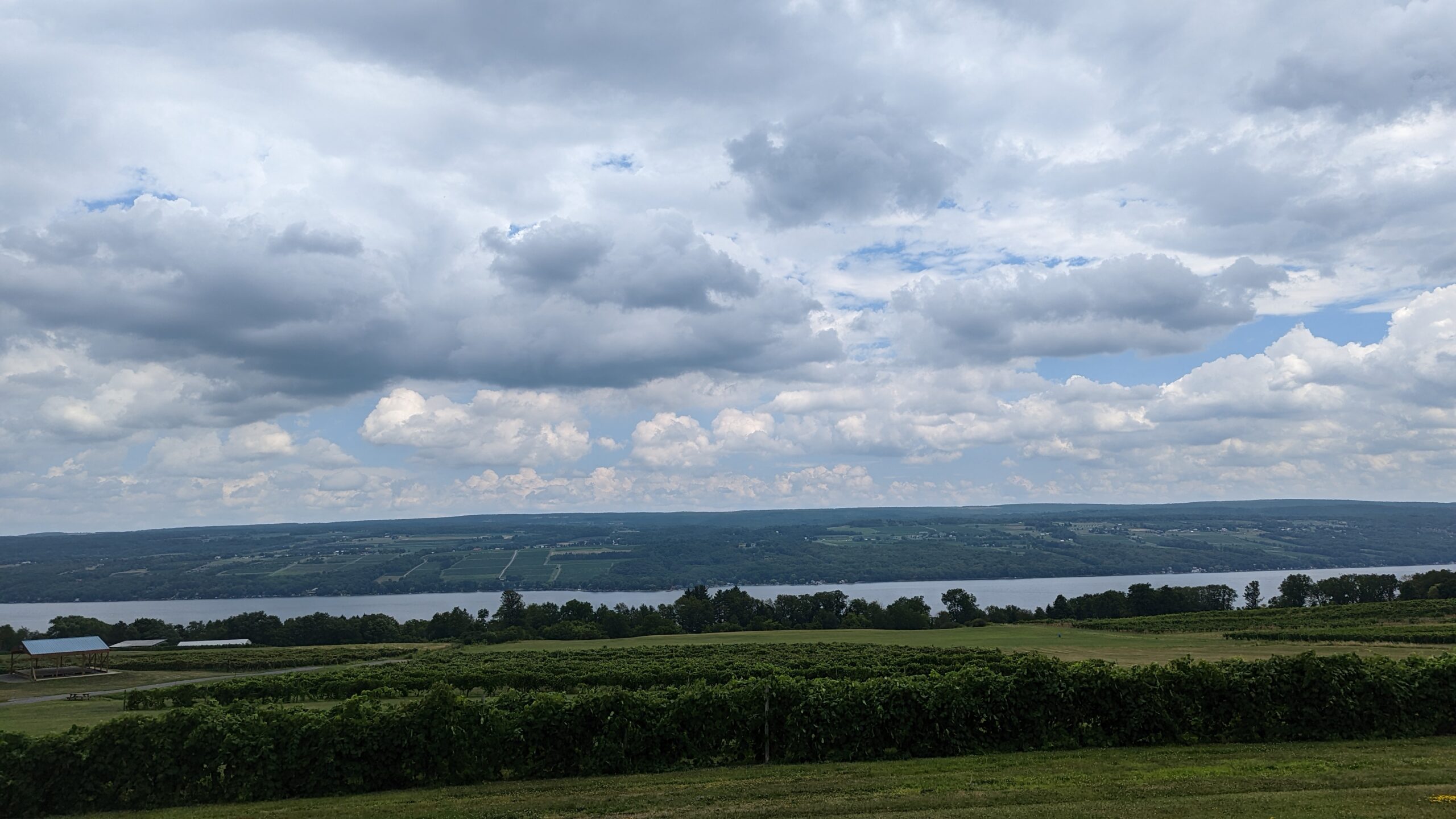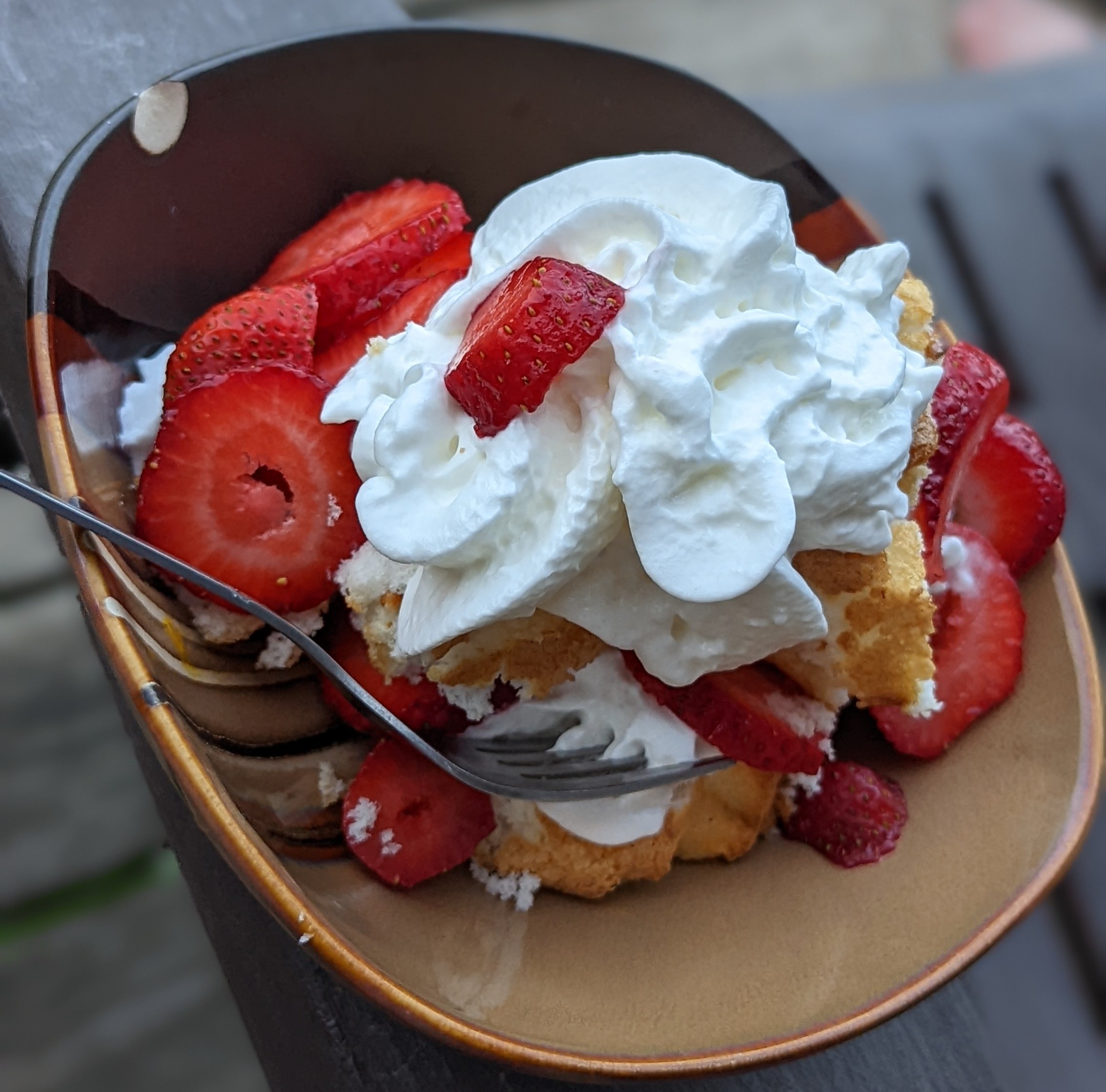 "Perfect way to end a day honoring mom. She loved a good steak!"
Ron cooked steaks on the charcoal grill for dinner, the chef in the Morrison household. We joke often about the similarities between my mom and him. "Bert," he loves to say when we talk about her, his voice taking on an affection inflection reserved only for her. She definitely would approve of the man I married, without a doubt.
I love you, mom, always!