"7:11 plus 8 hours means 3:11 arrival," Ron said as pale pink ribbons ushered in the daylight. Heading south, the Crusader began meandering to Florida for our annual trip.
"And we're off. Leg two of our trip to Florida," Ron said at 8:06 a.m. when he put the truck in gear and pulled out of site 42 at Palmetto Shores Resort in Santee, SC.
"We'll just meander south," Ron said after analyzing the strong winds, which will slow the next part of our journey down. "Windy but clear most of the day," Ron concluded.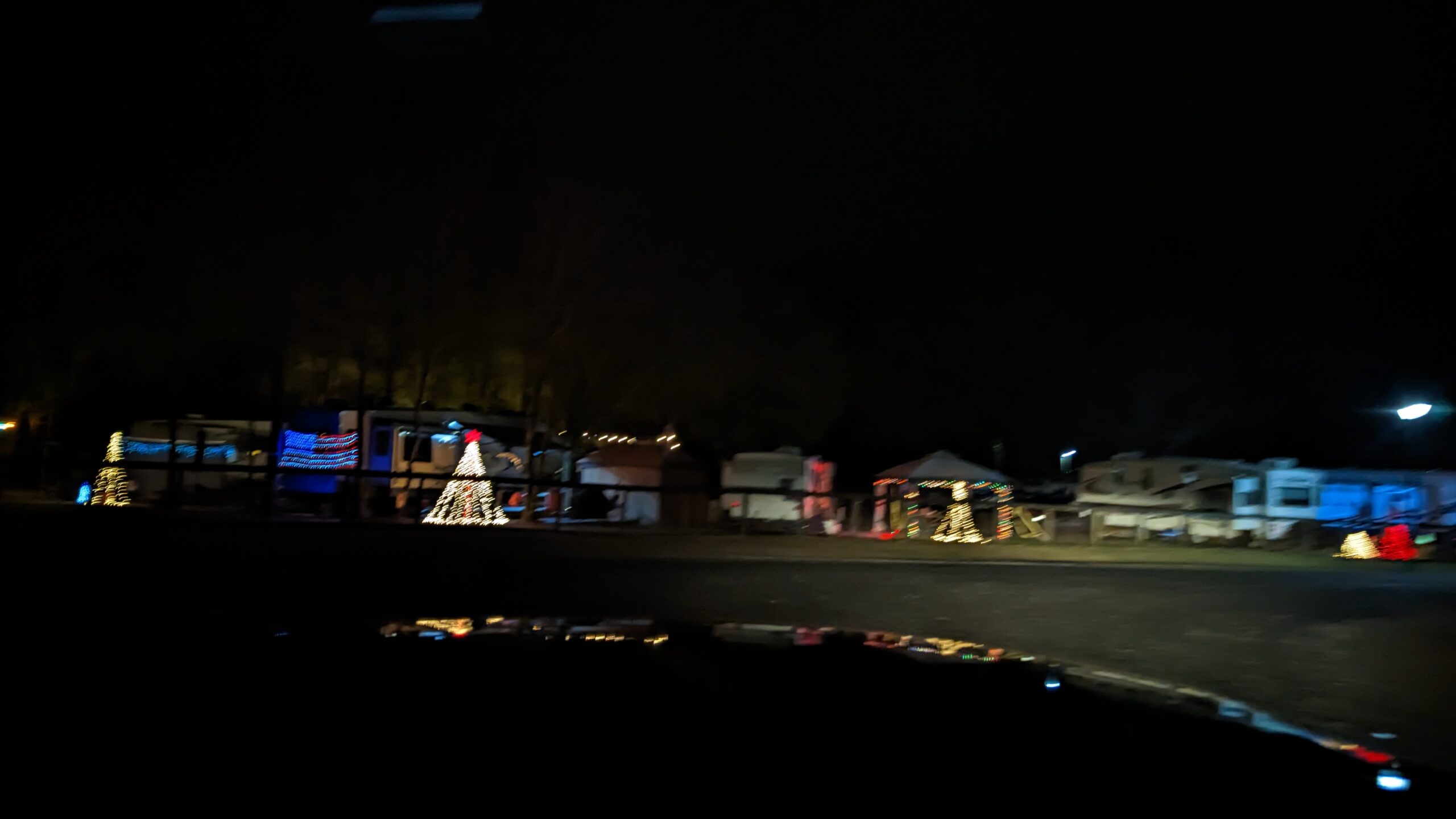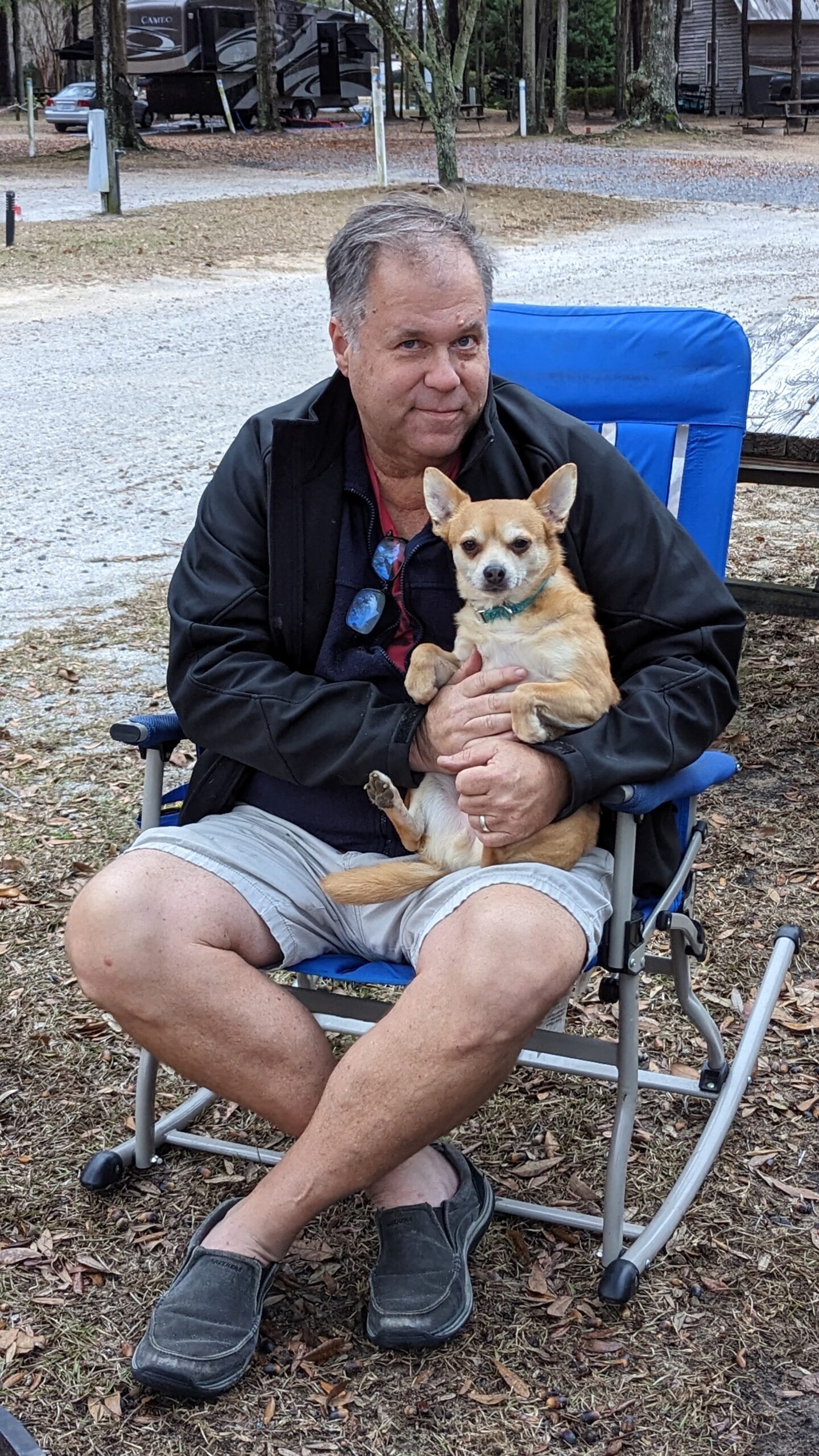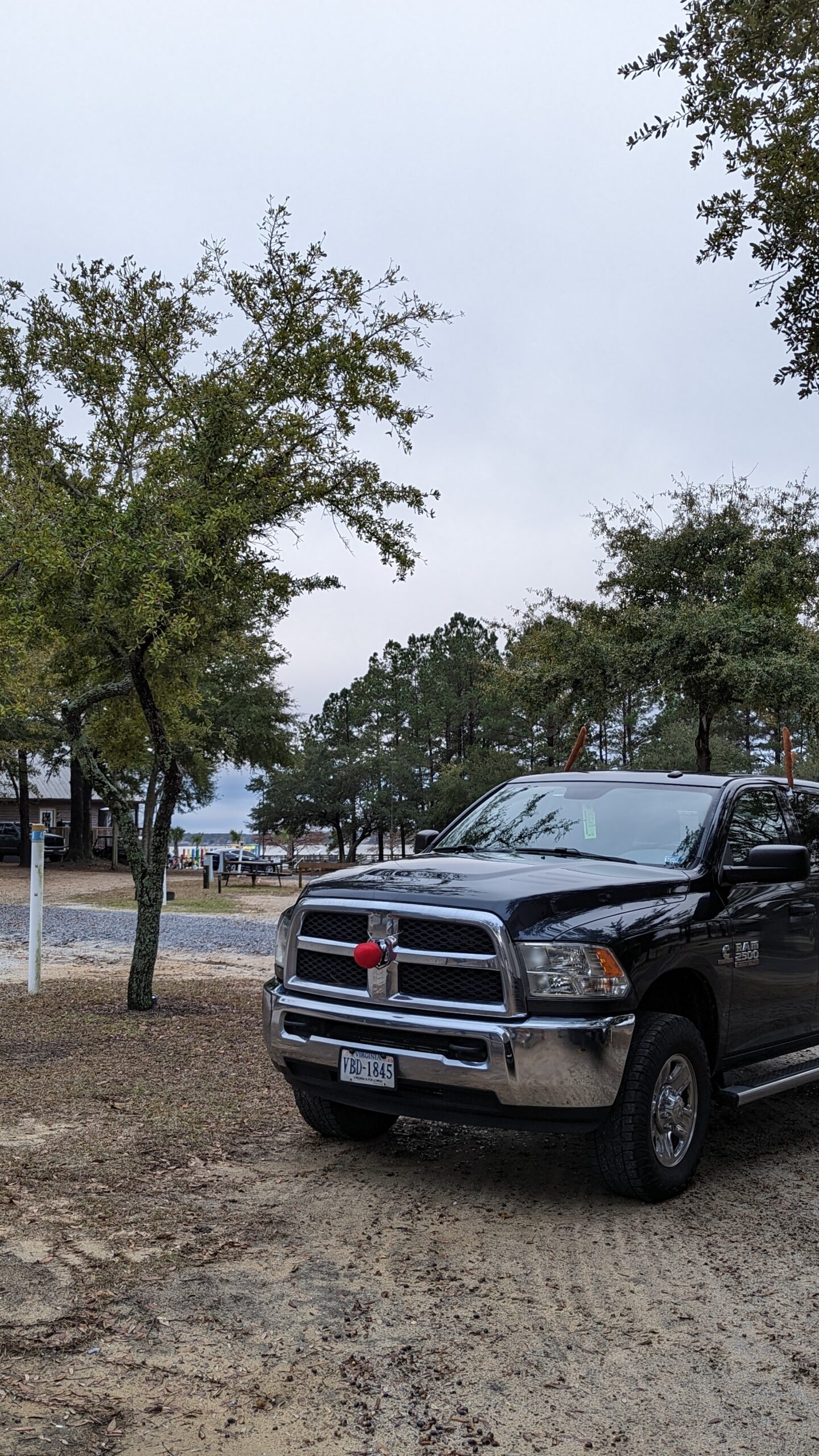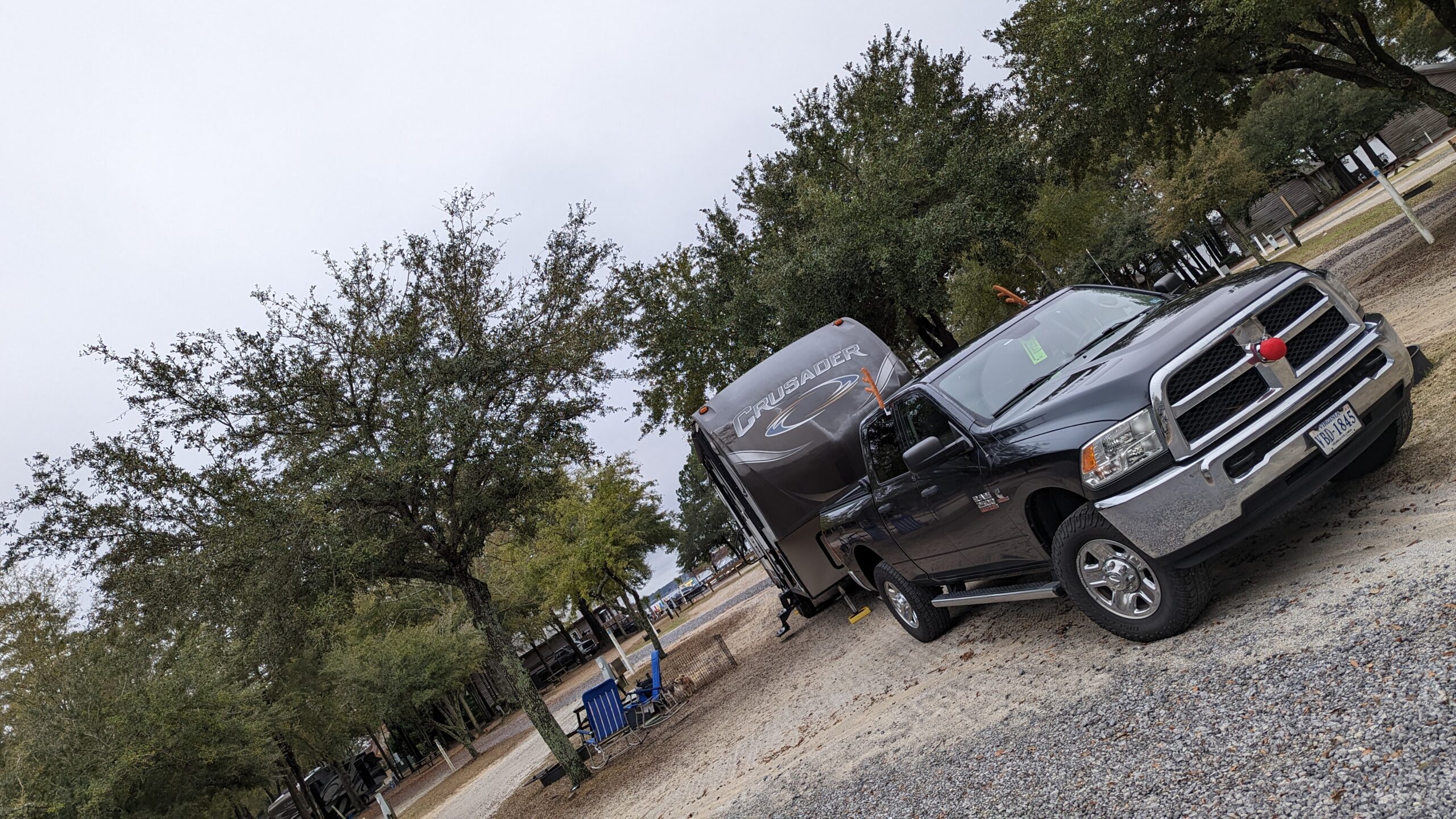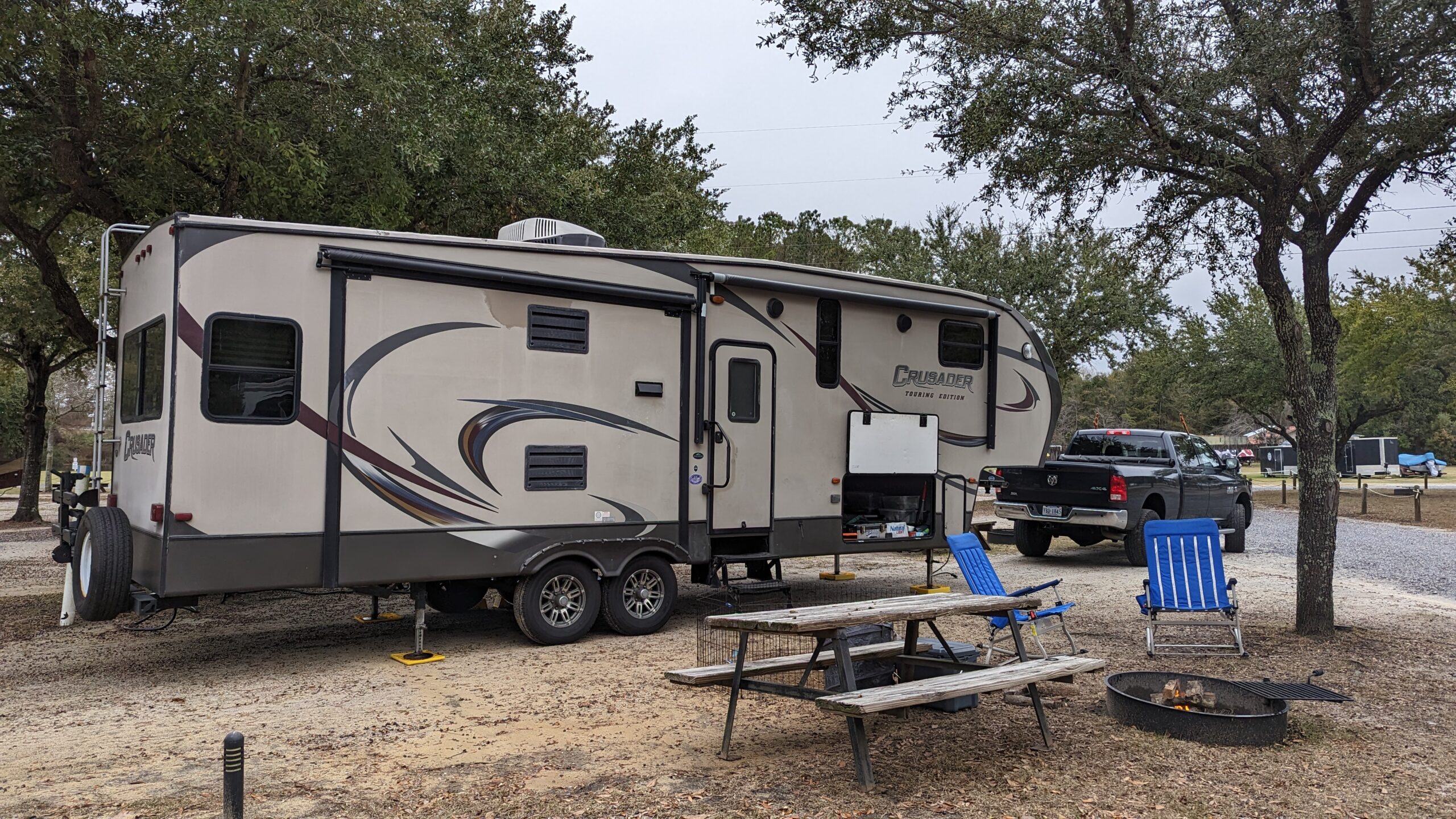 Ron's prediction proved true; the strong winds pushed and pulled at our rig, feeling the sway of the trailer behind us.
2:39 p.m., camp set, fire started!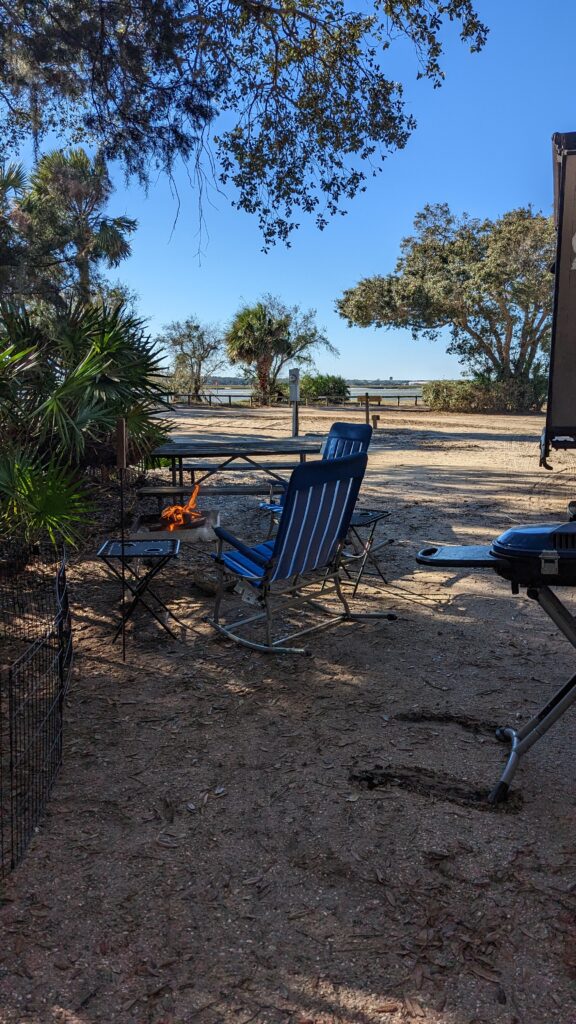 "I'm getting my jacket."
"I'm putting my pants on," I said in response to Ron's words. Chilly 59 degrees, the wind off the water making it even colder; I needed something warmer on my legs. Unlike my husband, who adamantly believes if you keep your core warm, you can wear shorts in the winter.
Of course, I reminded him of his audience.
"Remember, you're talking to the woman whose father lost his leg to gangrene because he froze his feet working."
Ron did have to admit I had a point.
Finished Christmas decorating by 3:09 p.m.
Grateful for another non-traditional Christmas with my Honey.
Let the relaxing begin!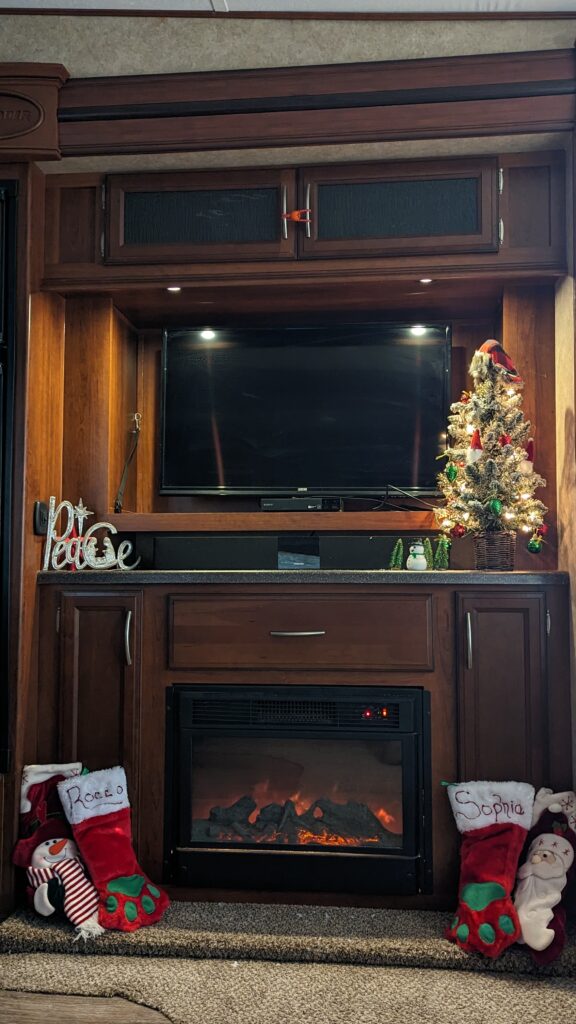 "That's right; there are no pictures of you on meanderings, just me and the dogs."
And so Ron took a few pictures for the blog.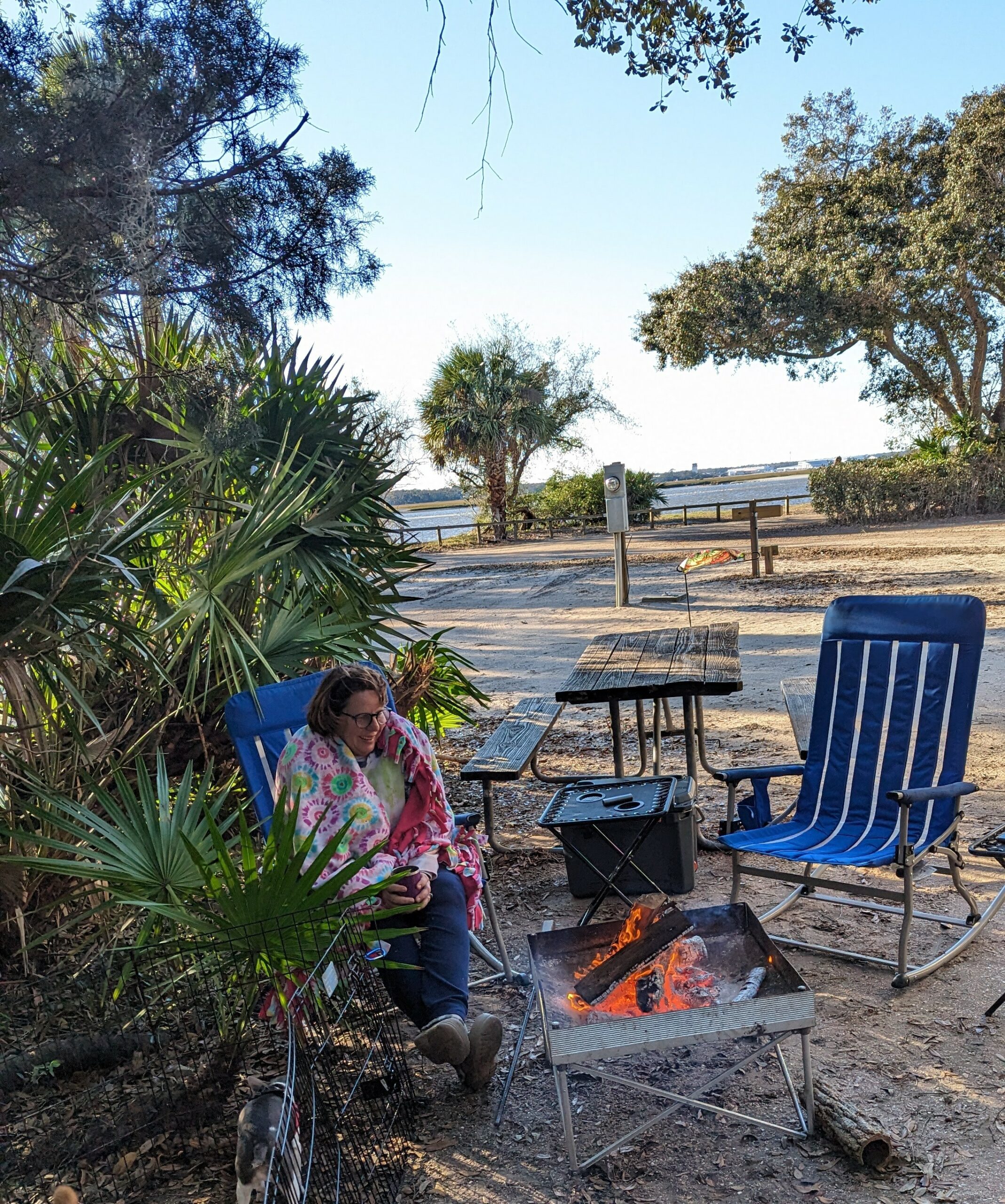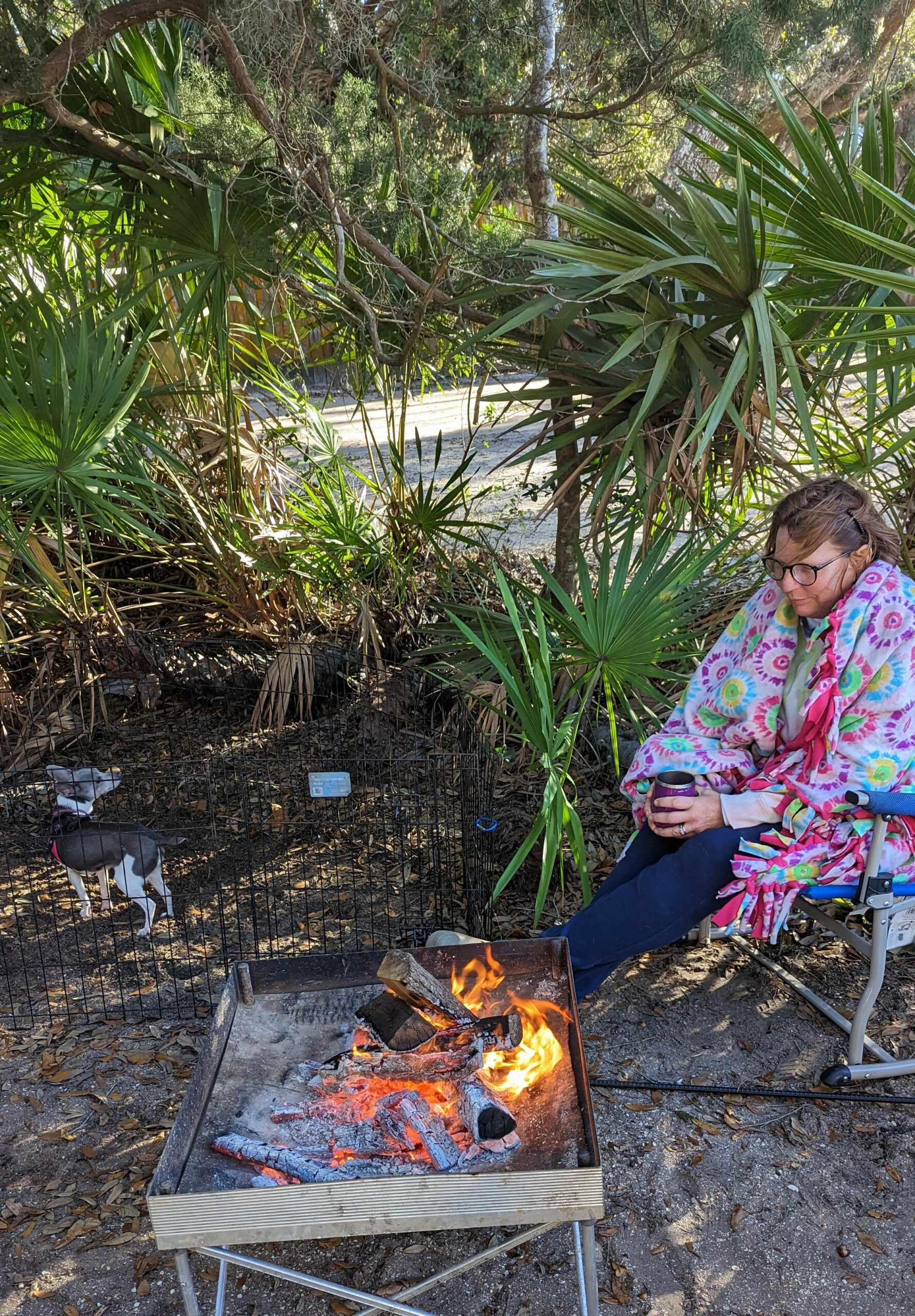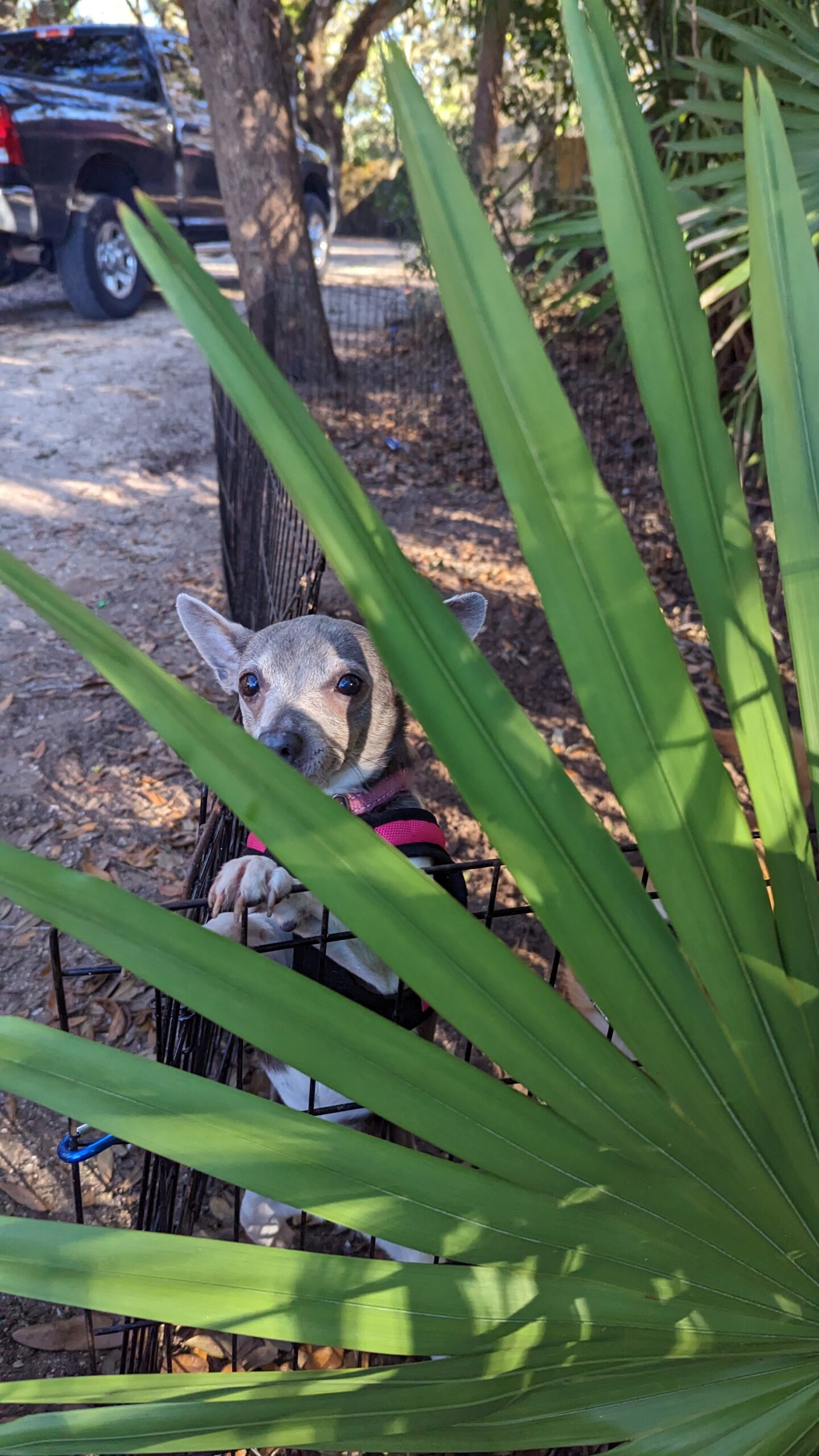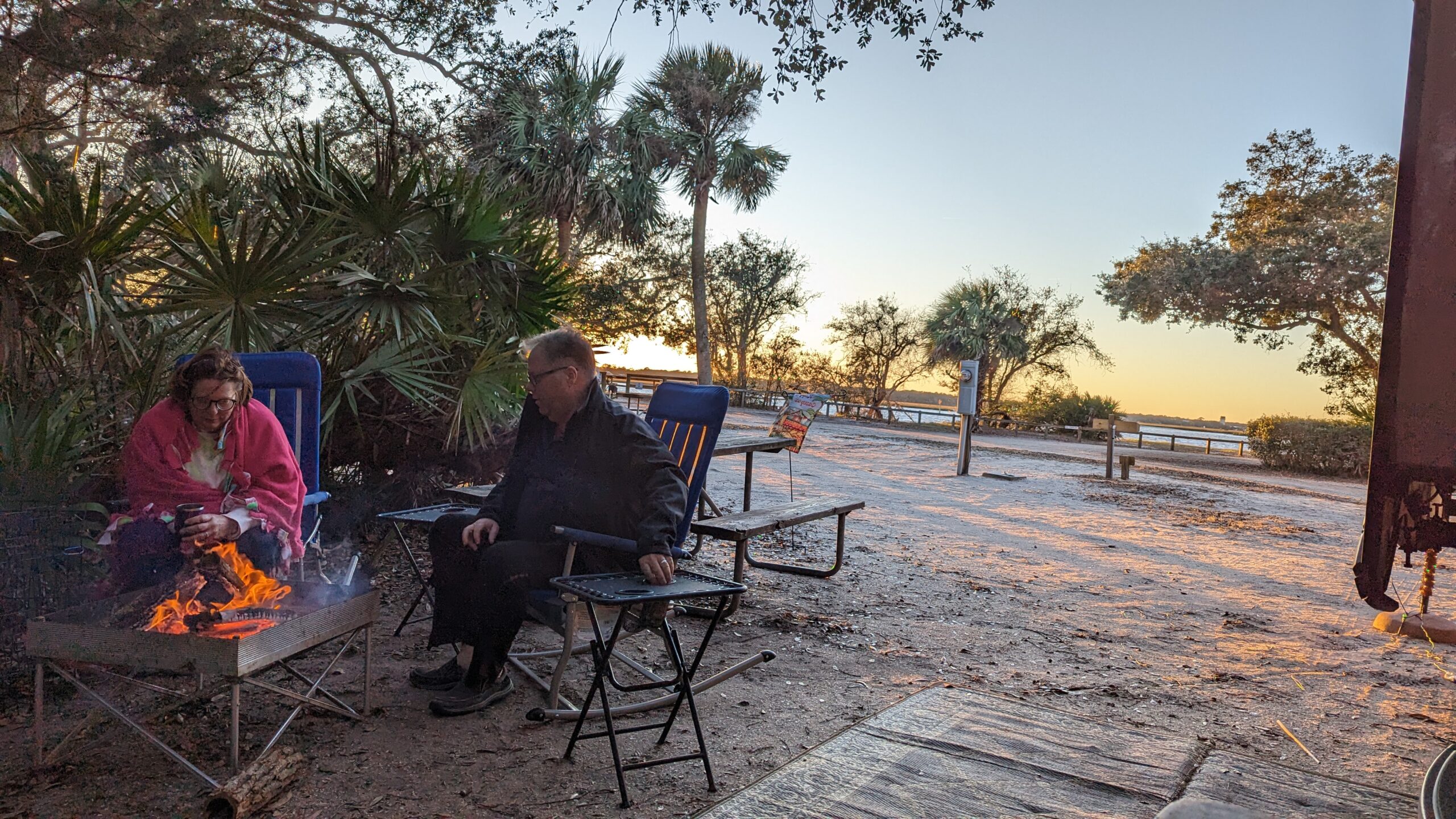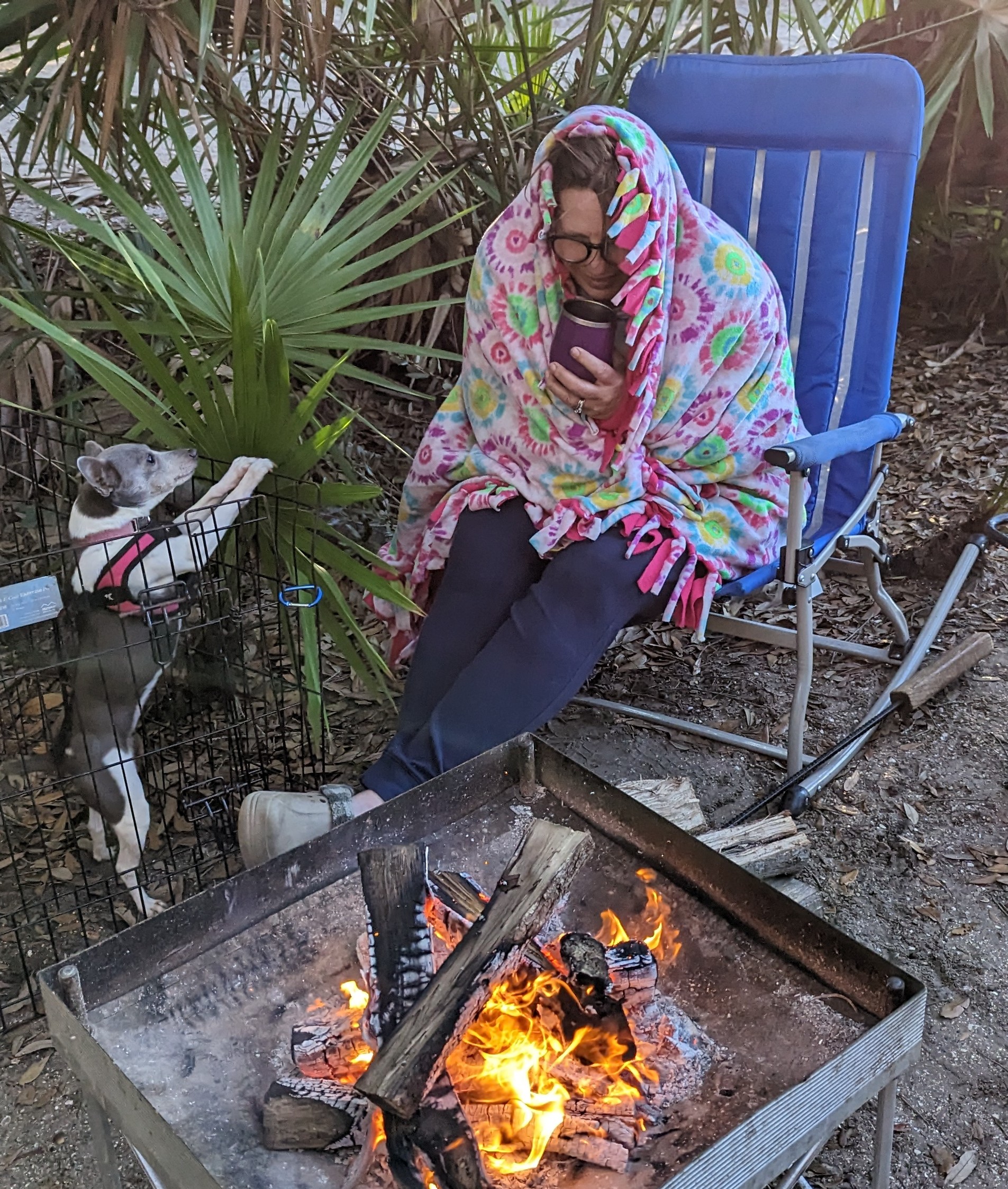 "Y'all got front-row seats without having to pay front-row prices," said the maintenance man.
Because of the below-freezing temperature, he had to drive to empty campsites and turn on the faucets letting the water lines drip and prevent freezing.
Thanks to the cold temperatures, people canceled.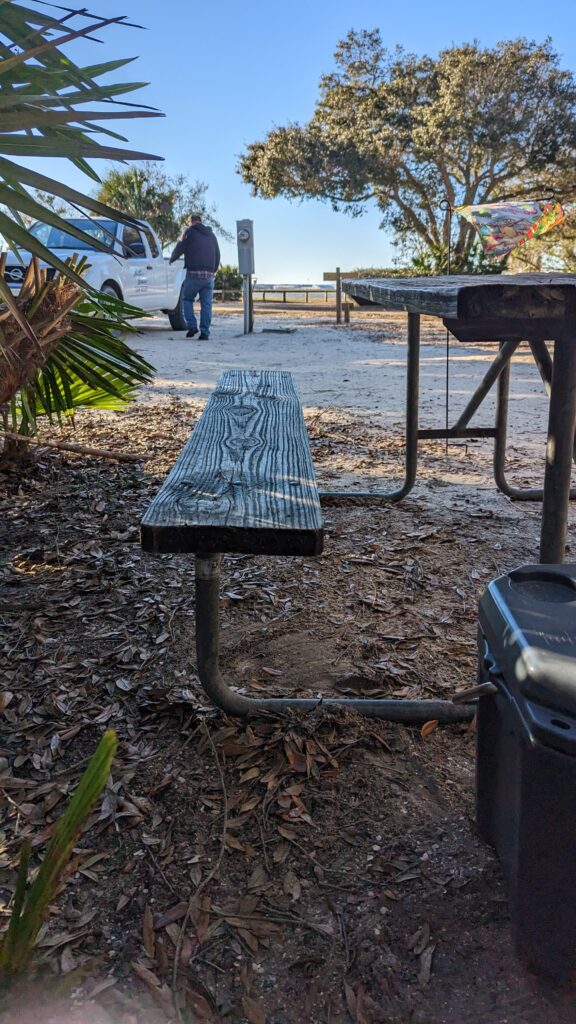 "We're from VA; still warmer here than back home."
With a grin on his face, he headed to his truck. If I predicted his thoughts, I think he might think us crazy. But only God knows what he honestly thought.
Christmas Eve morning started with strong winds and cold temperatures. When I let the pups out to go potty, the door flew from my hand, crashing into the side of the trailer, waking Ron.
But the lights of our Christmas palm tree in the early hours caught my breath and made me smile.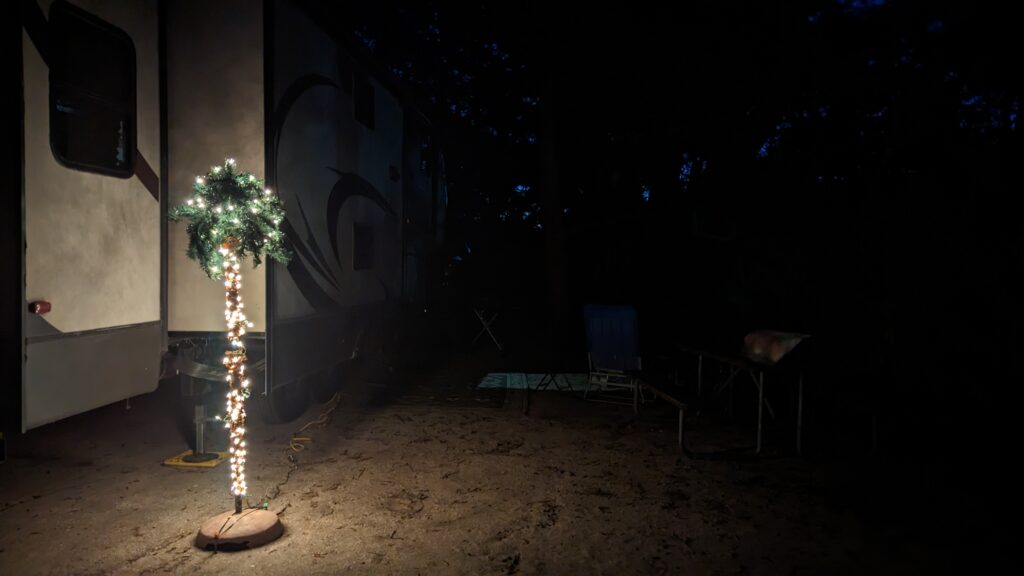 After finishing the Kindle formatting for "Love Like Jesus" and "Daily Word," we took the pups for a walk and then took a quick driving tour of St. Augustine.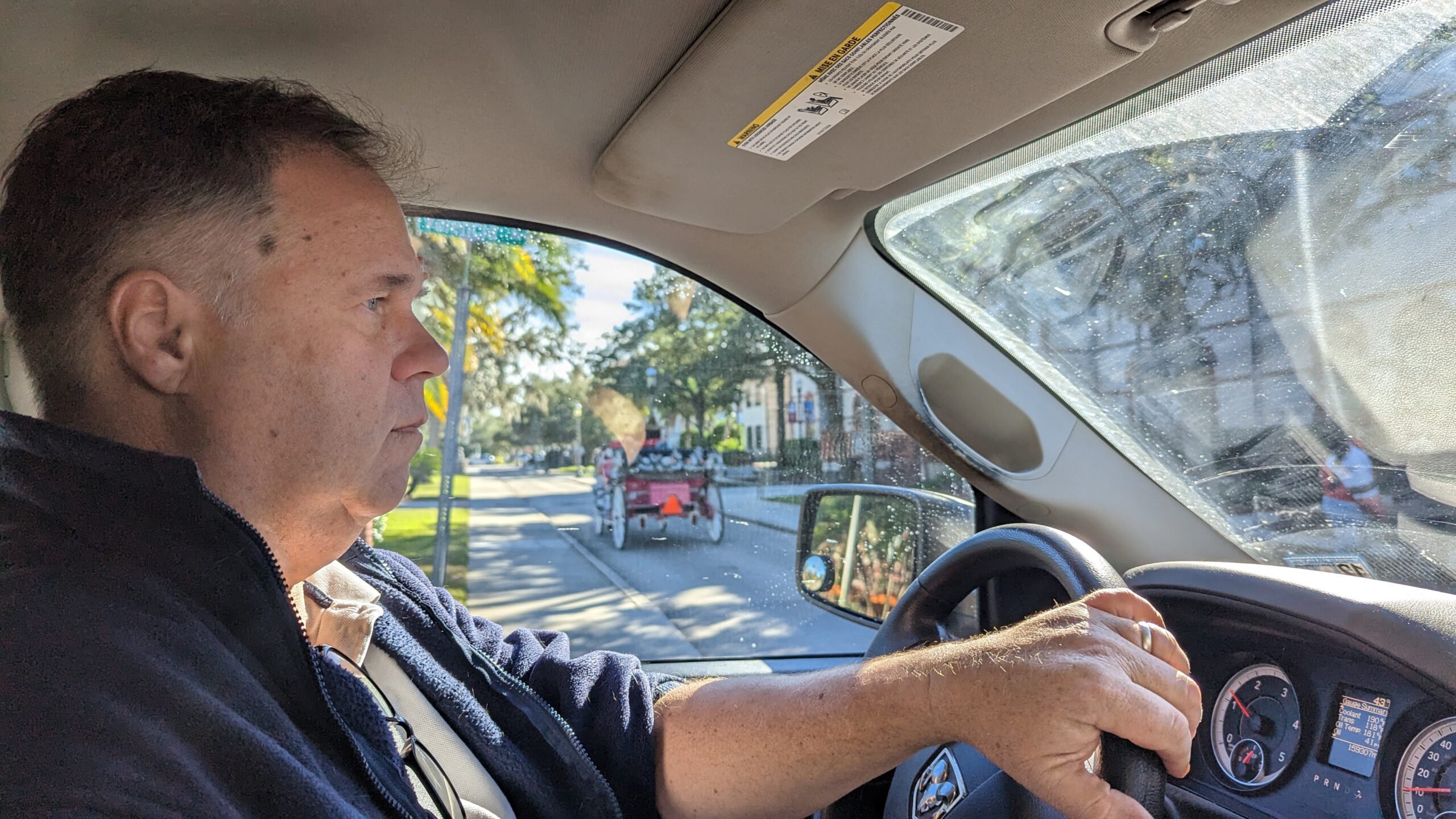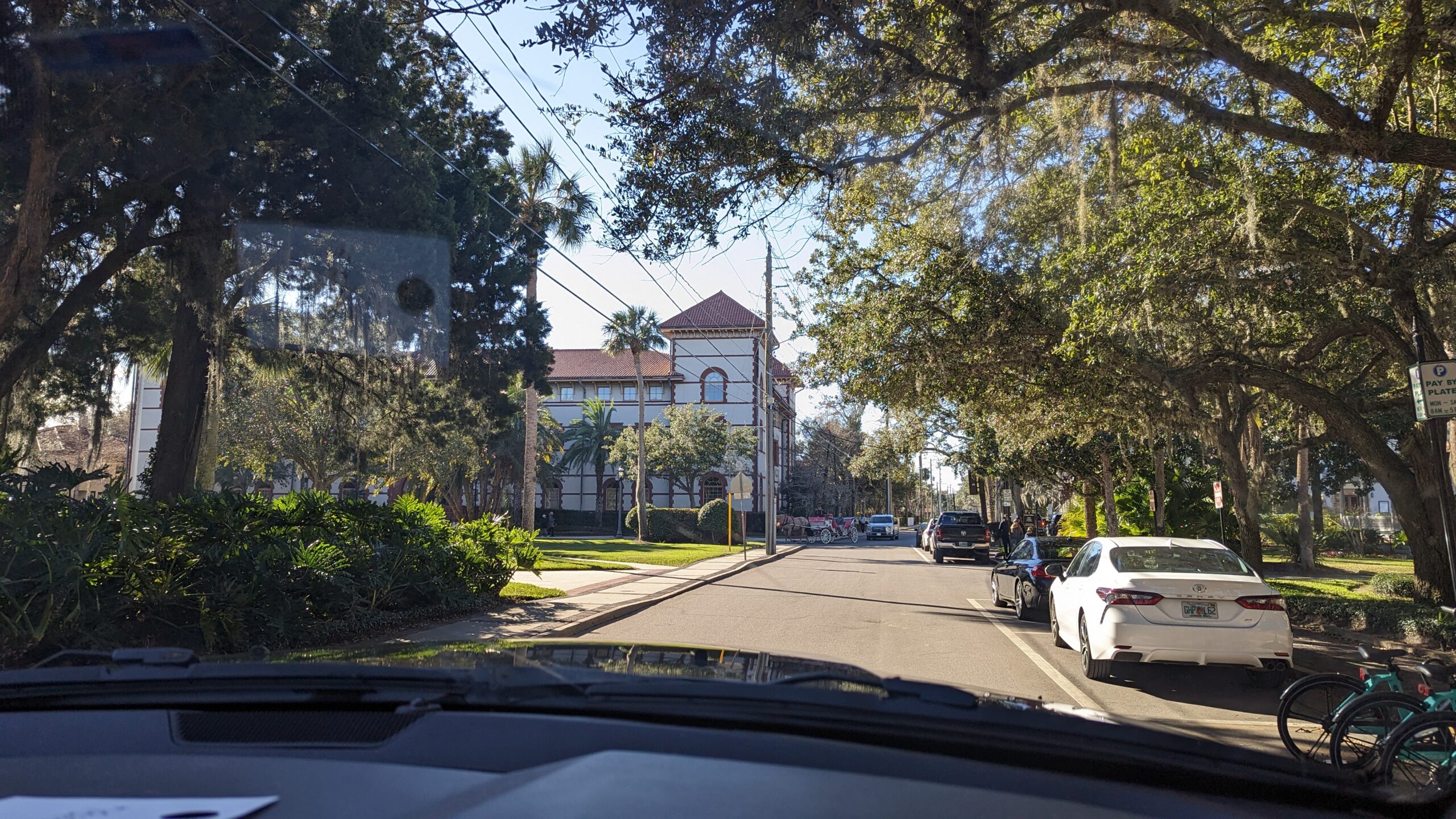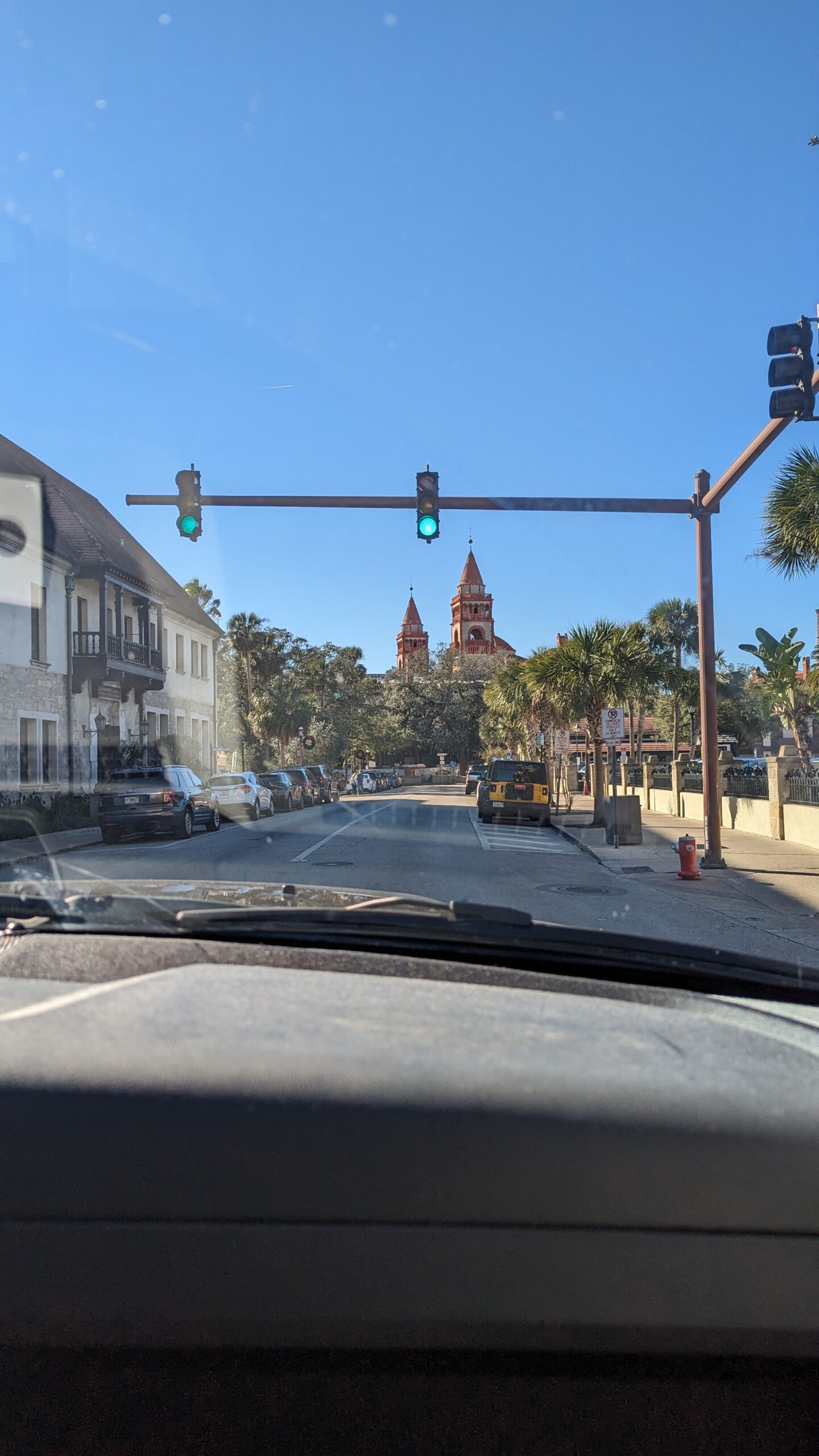 Ron turned our table at the Crusader, creating a new writing space for me. I plan on spending much of my week sitting at it, pouring my heart out in words on my laptop.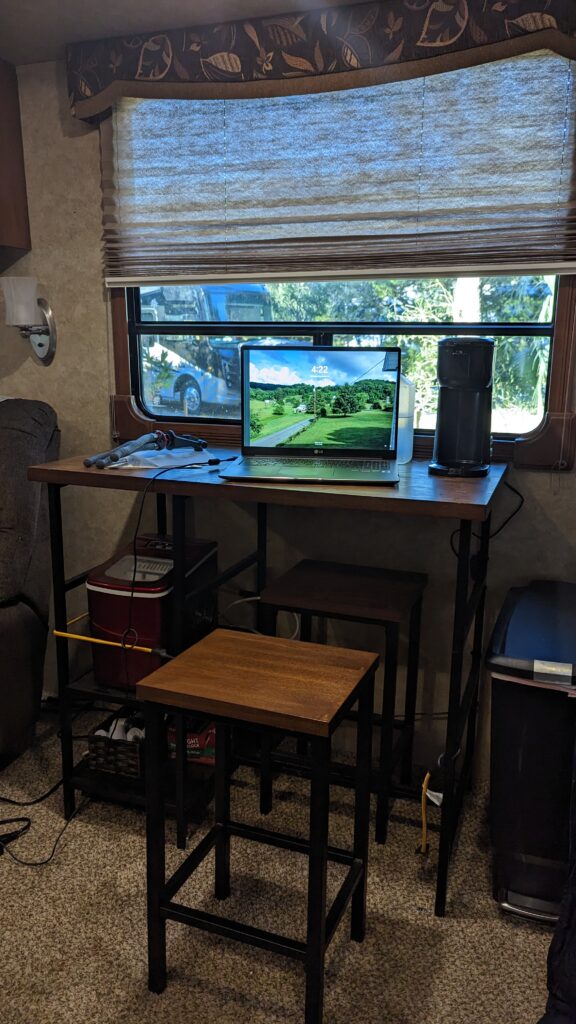 Grace United Methodist Church family service reminded me of my childhood. As the pastor read the Christmas story from the Bible, children filled the stage dressed in character. Unfortunately, Joseph had another engagement, but Mary handled things well independently.
Because of technical issues, we sang from hymnals like days of old. Gratitude filled me as Ron held my hand, and I nestled into his shoulder, answering prayers from my single days.
Beside us sat mom and daughter, one of the angels from the Christmas tale. Carefully, she held her candle to share the light of Christ with Ron; then, he lit mine. Standing, we sang "Silent Night" as people raised their candles in praise.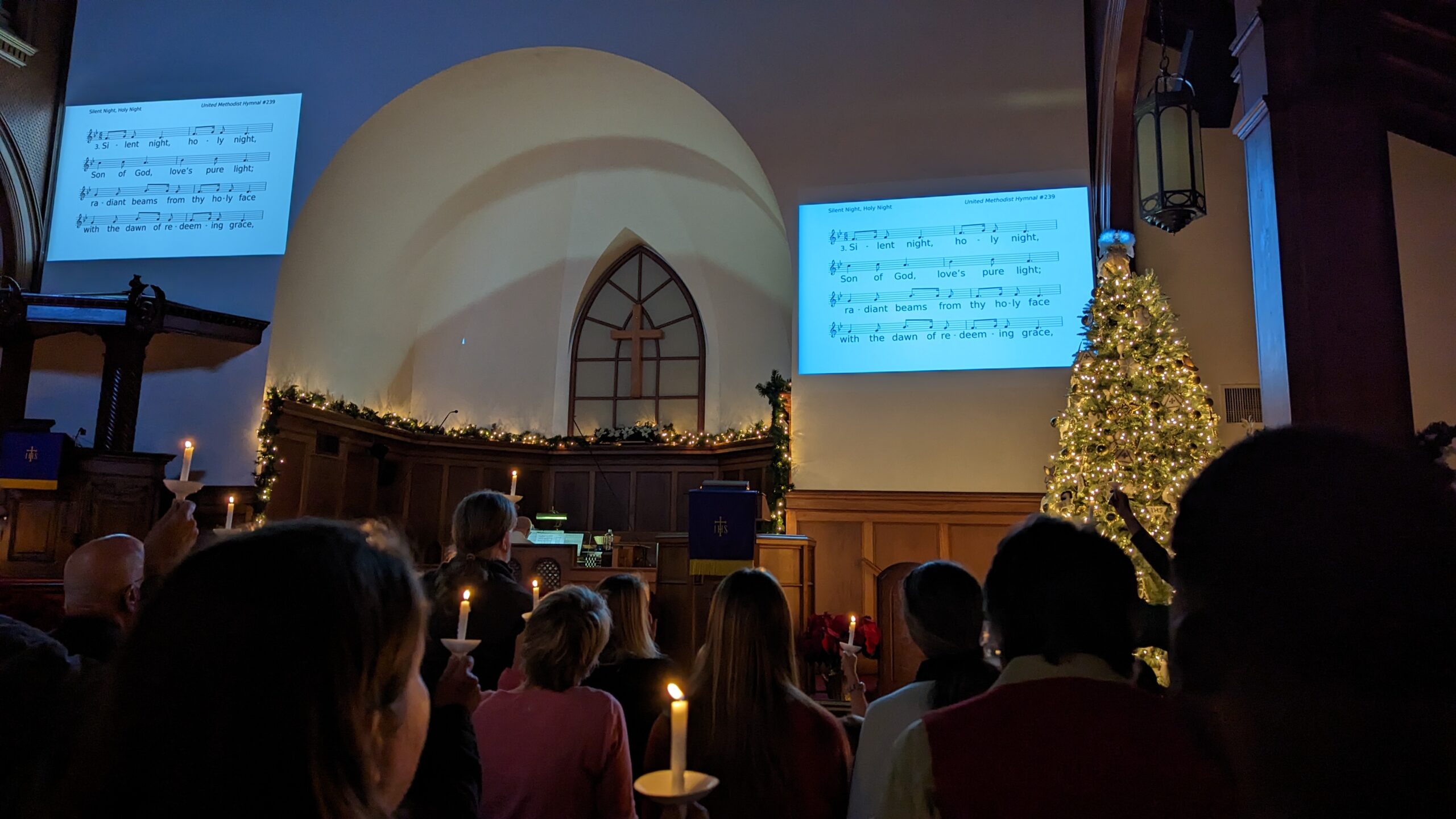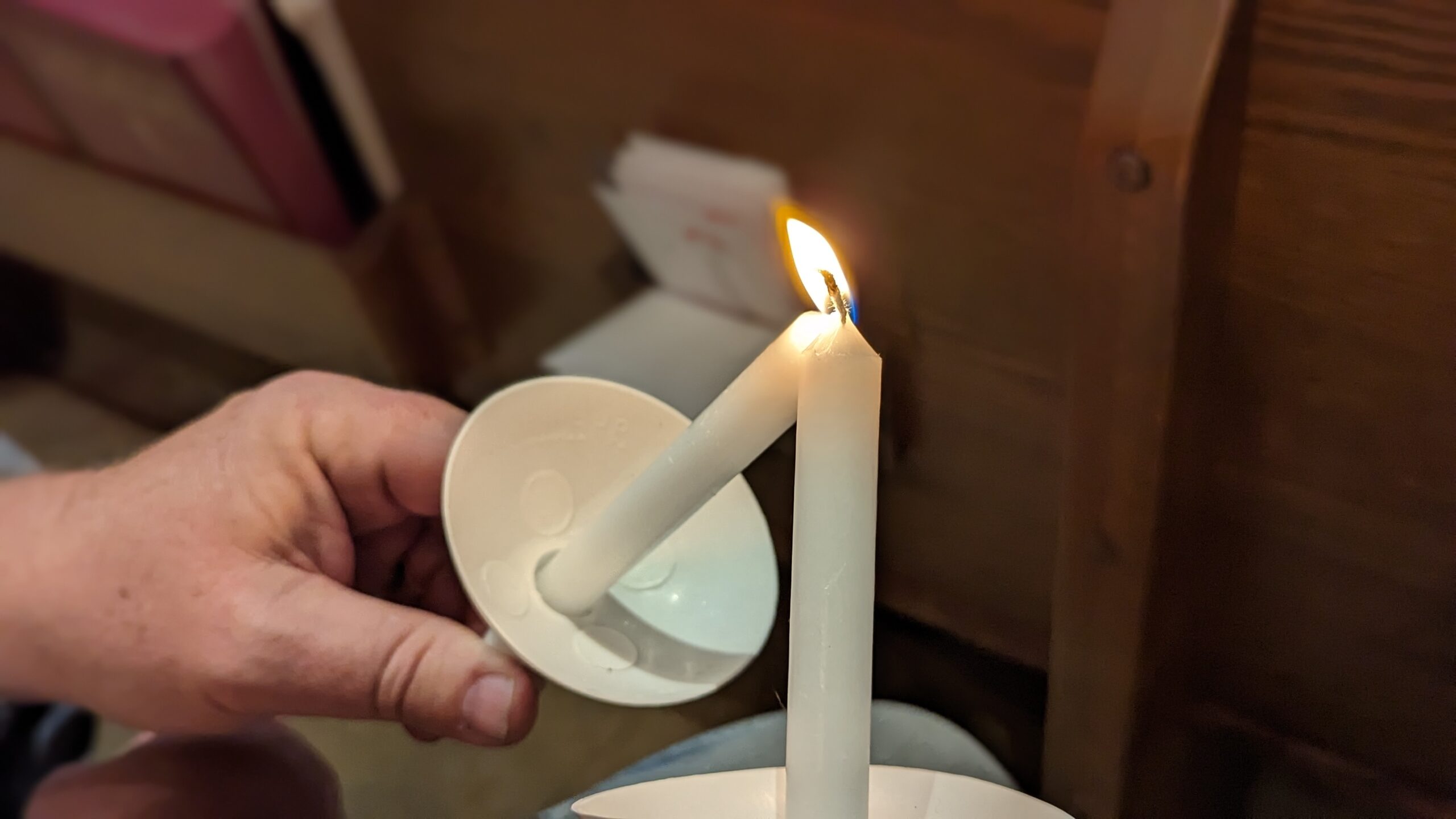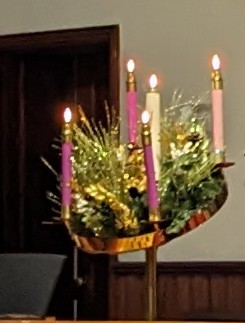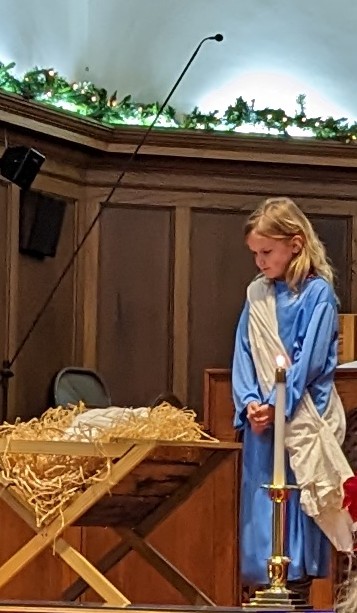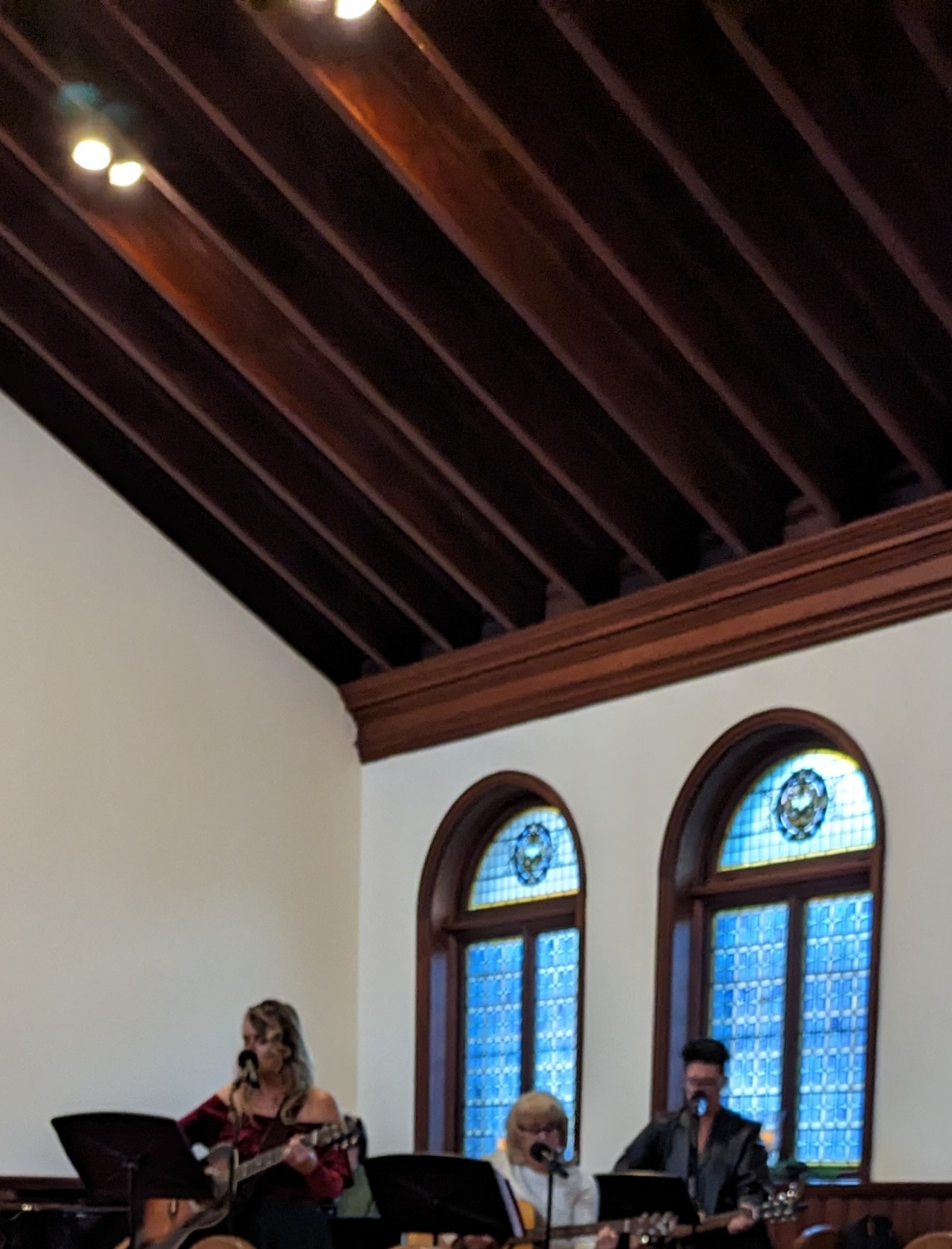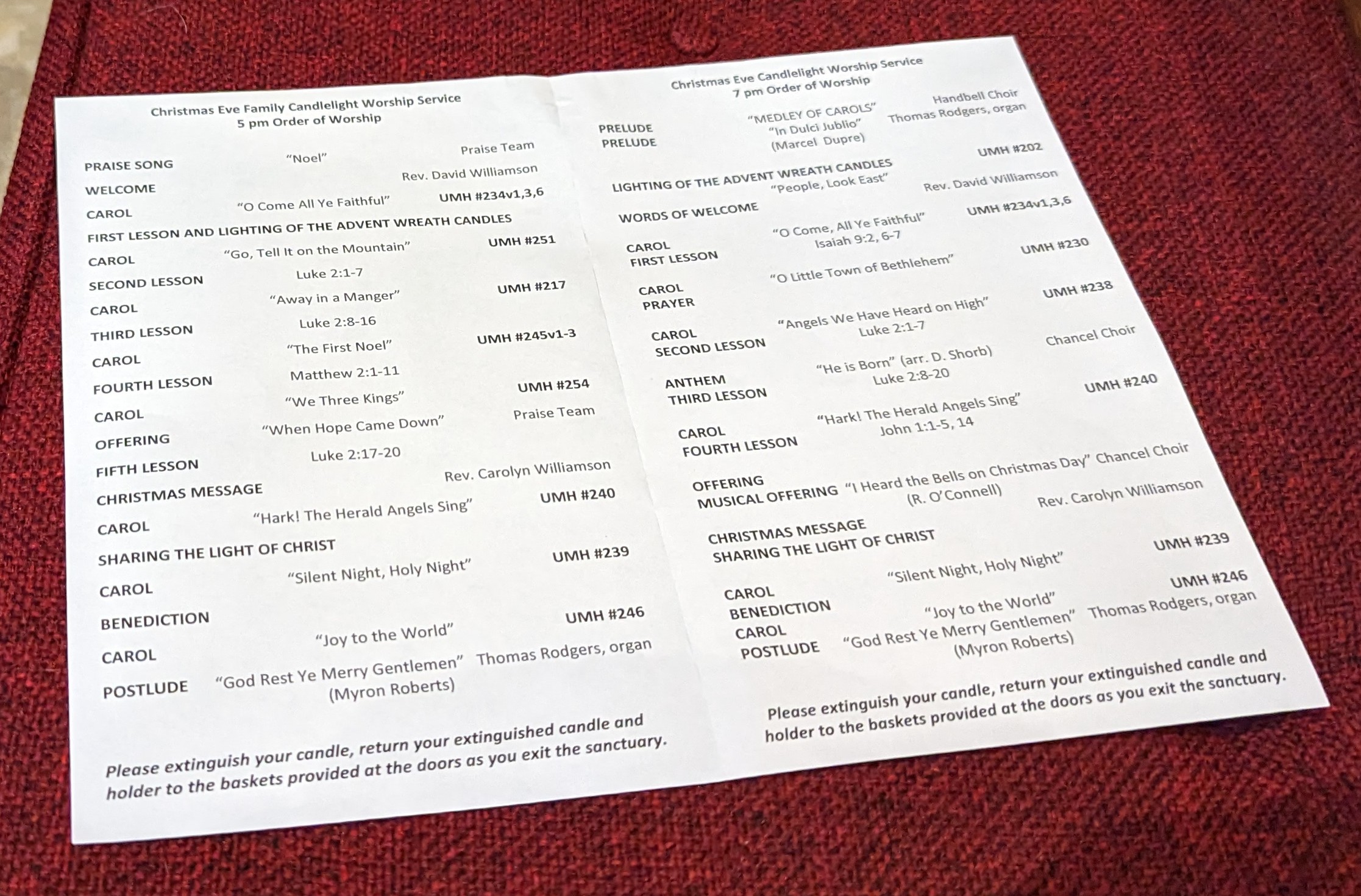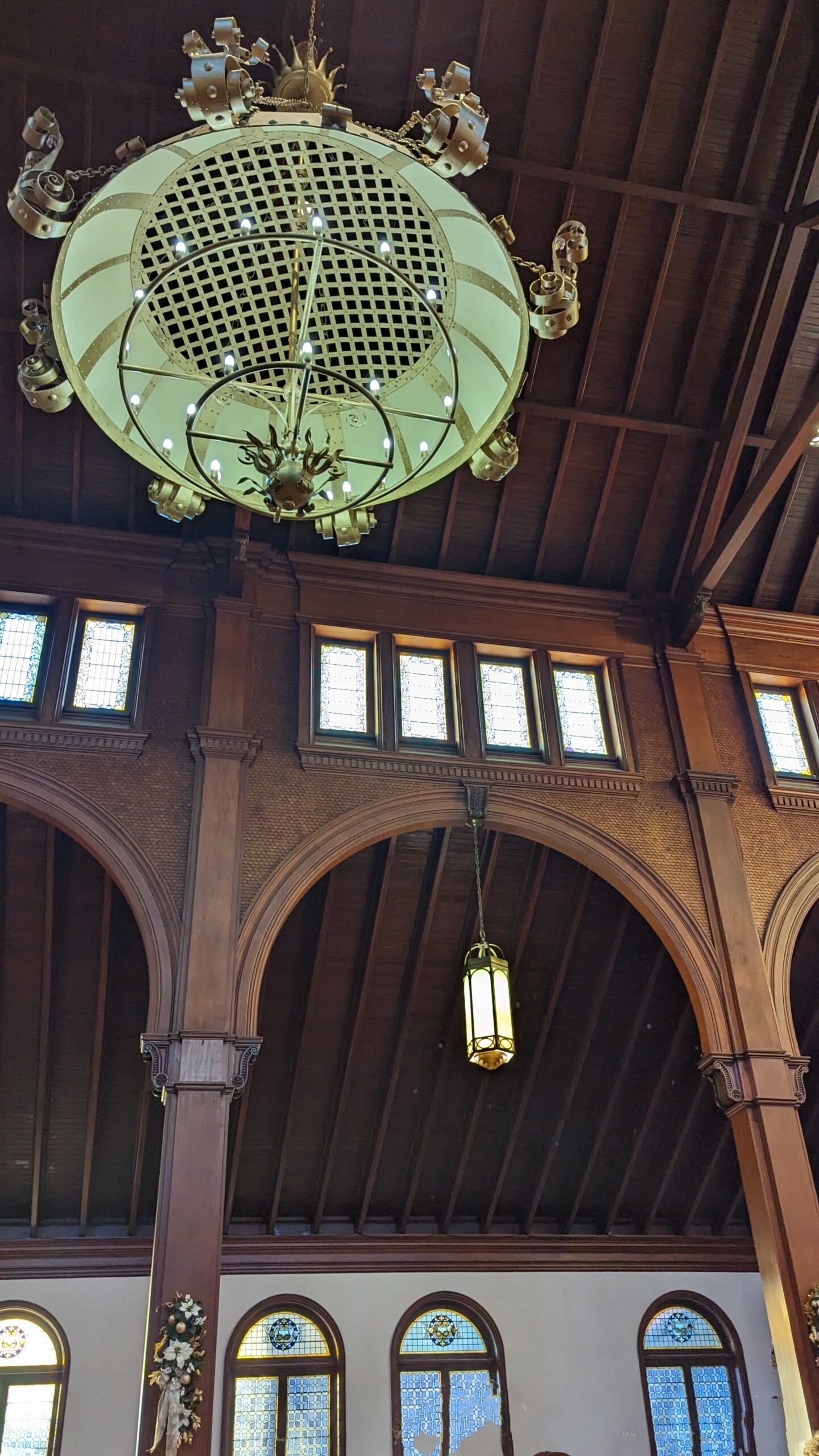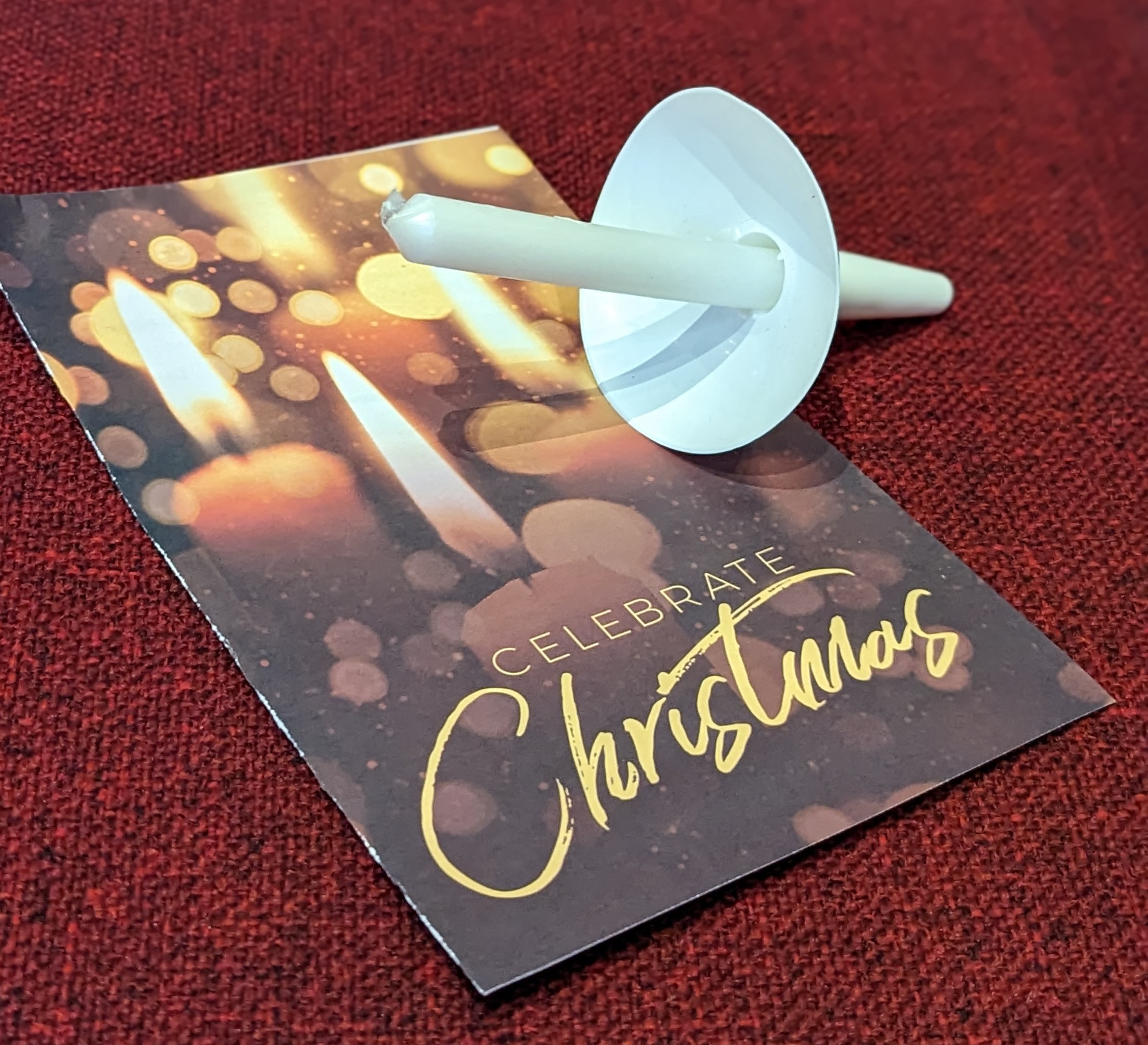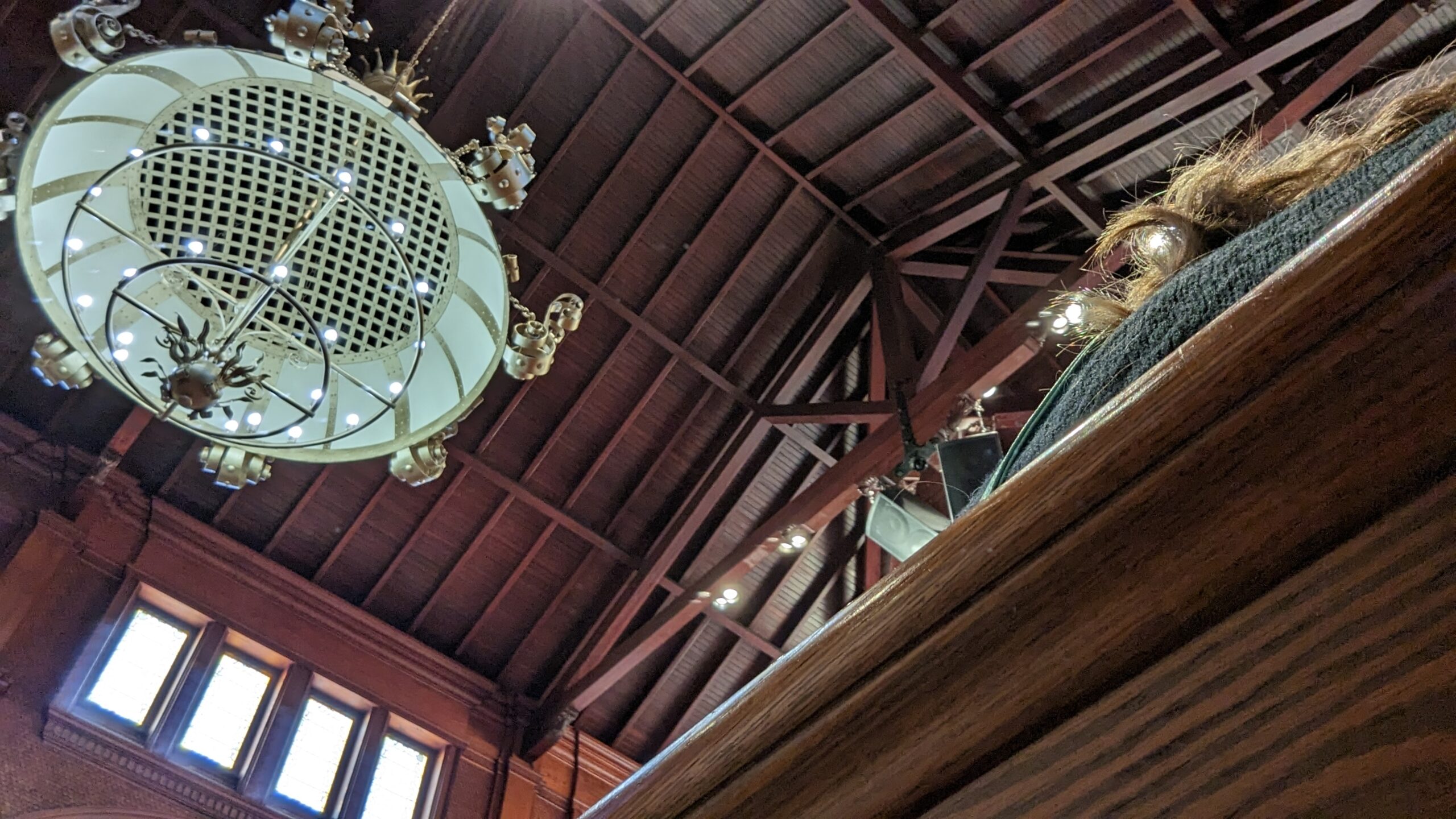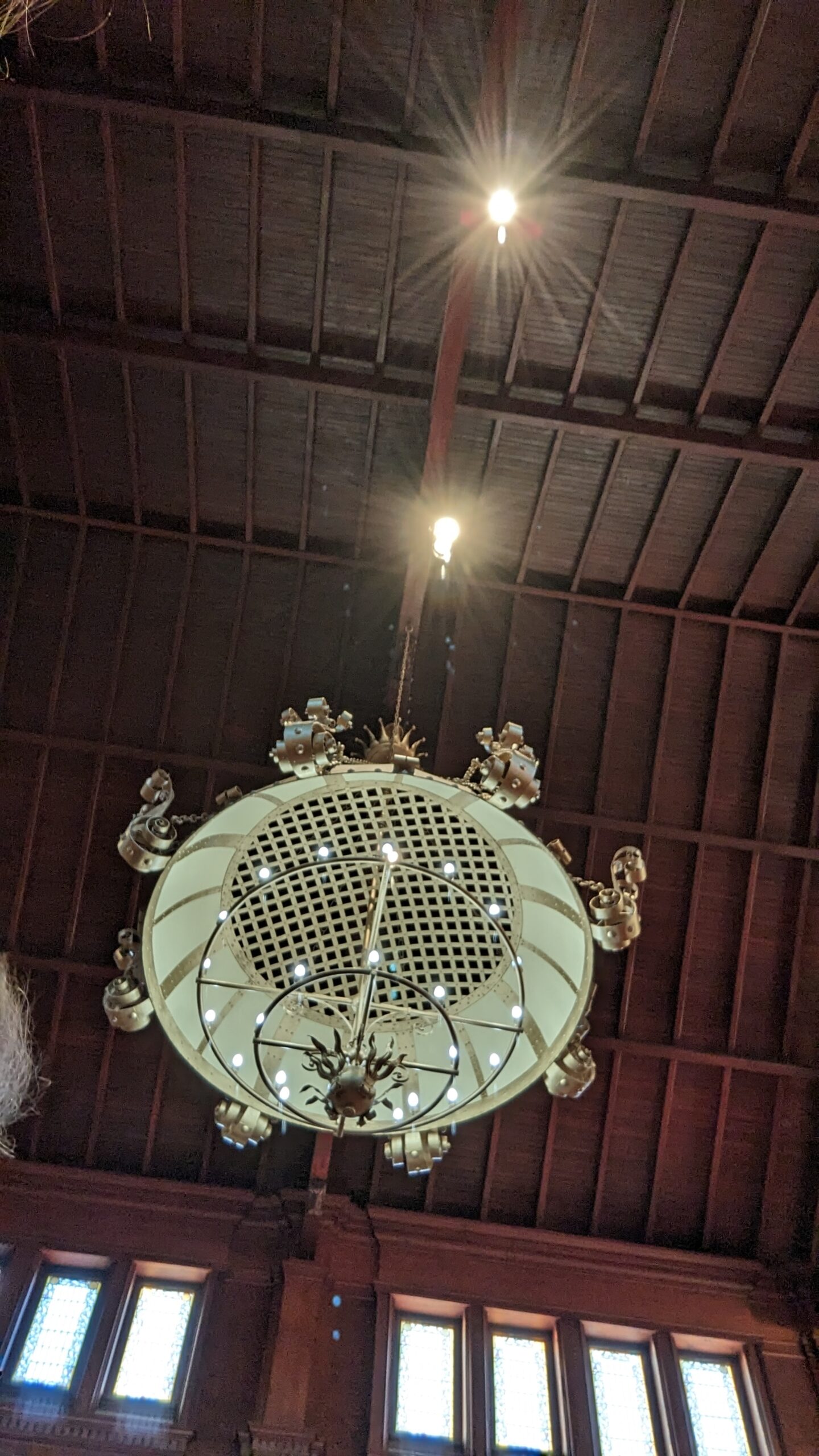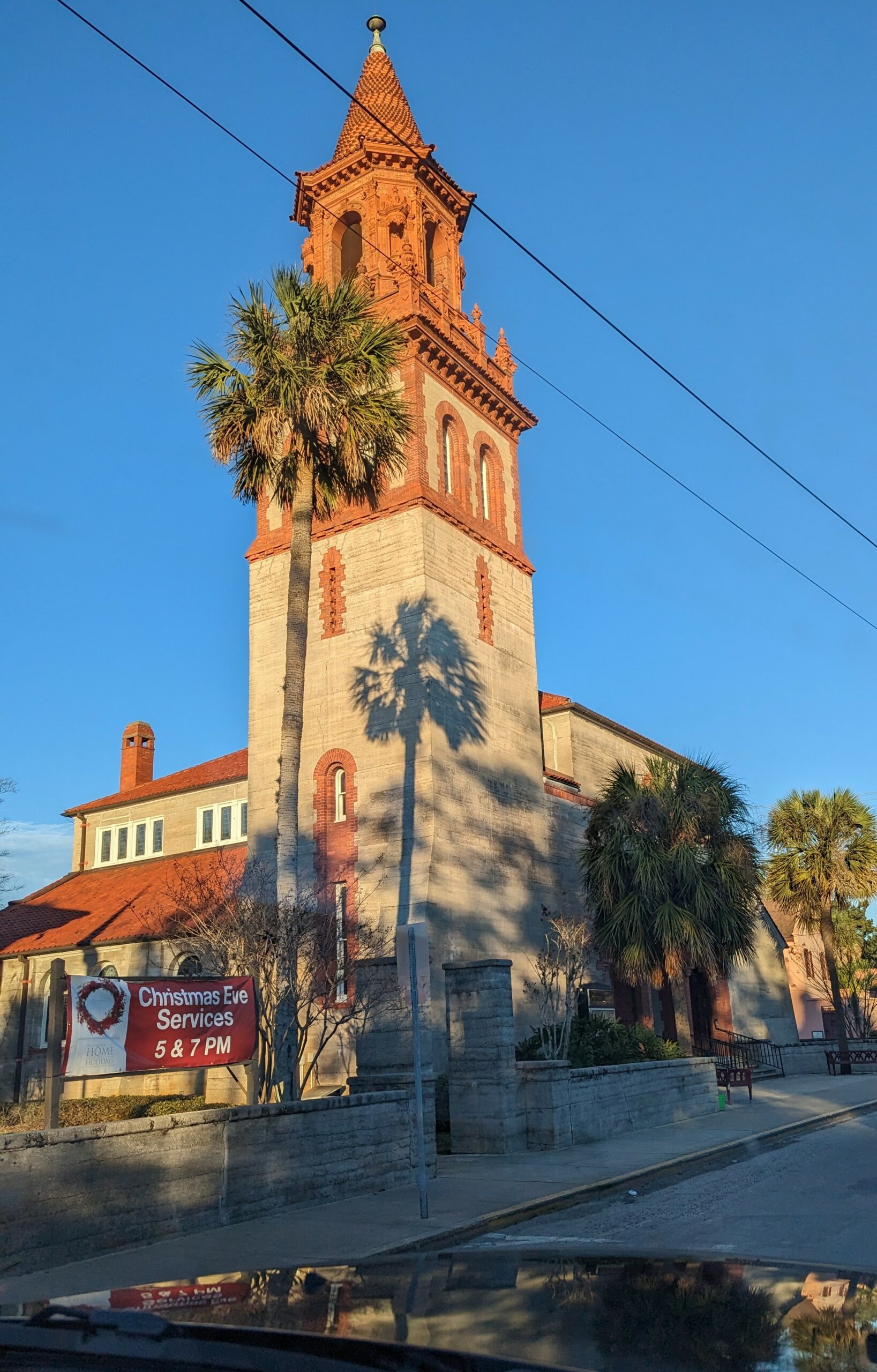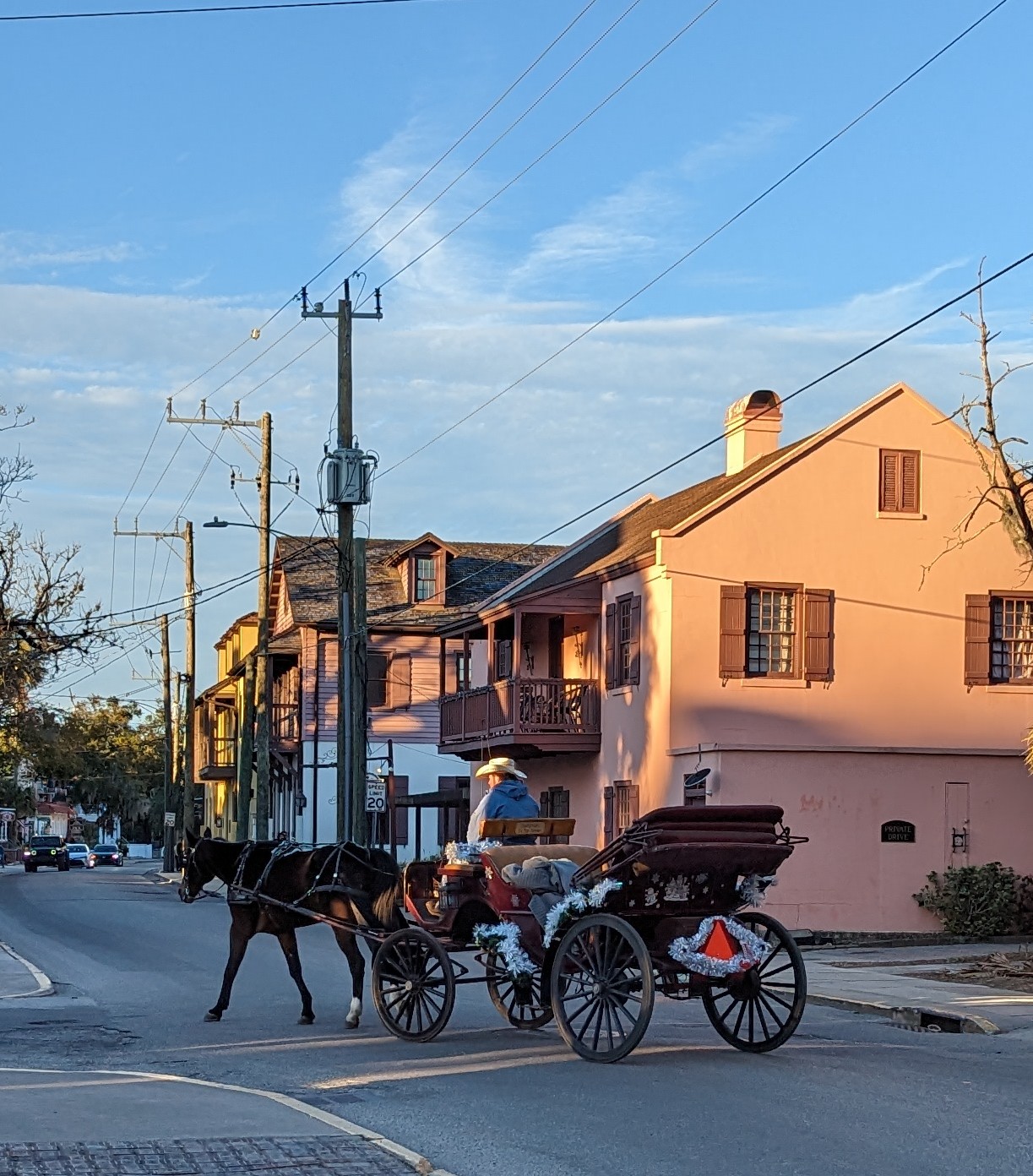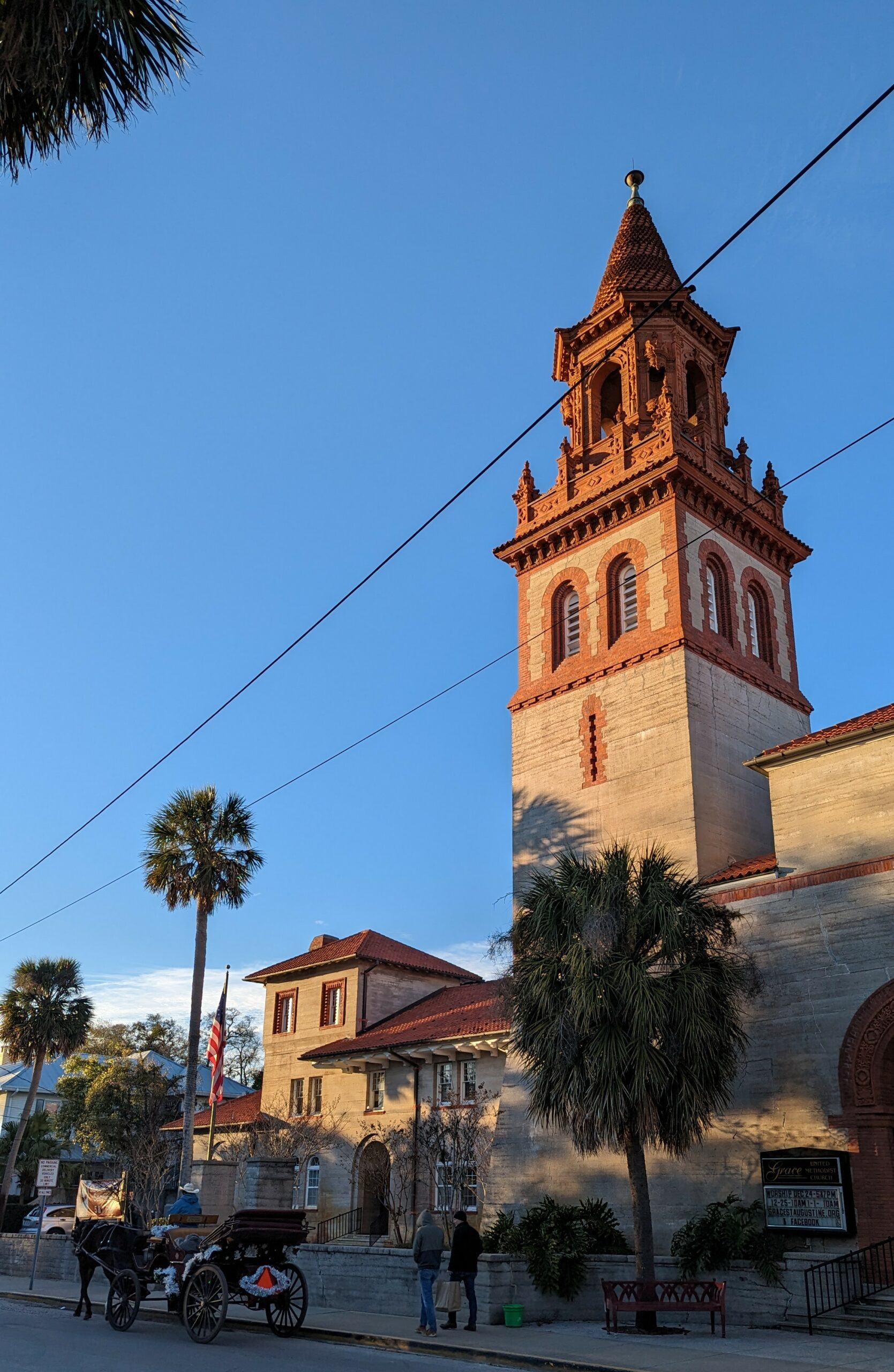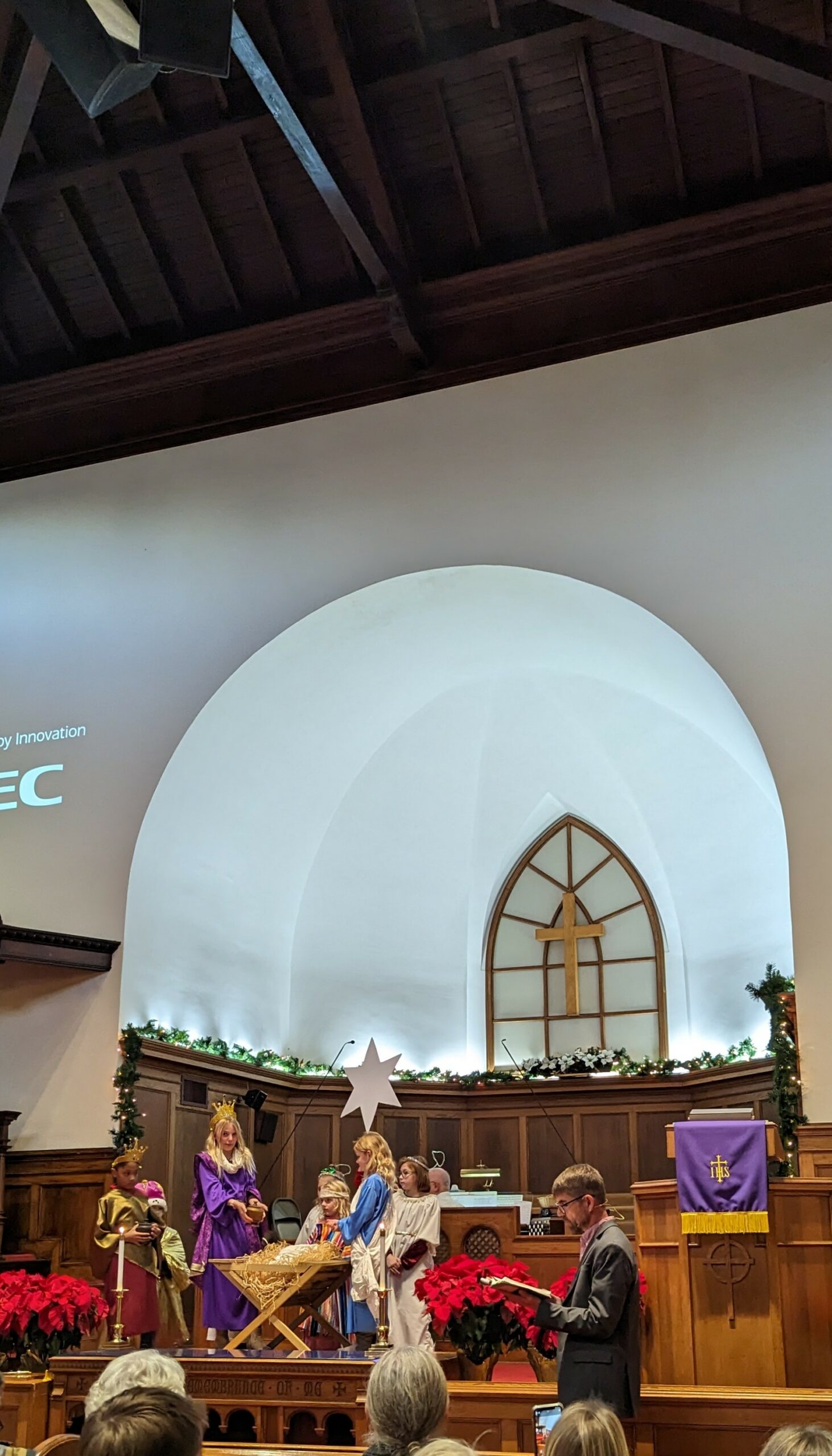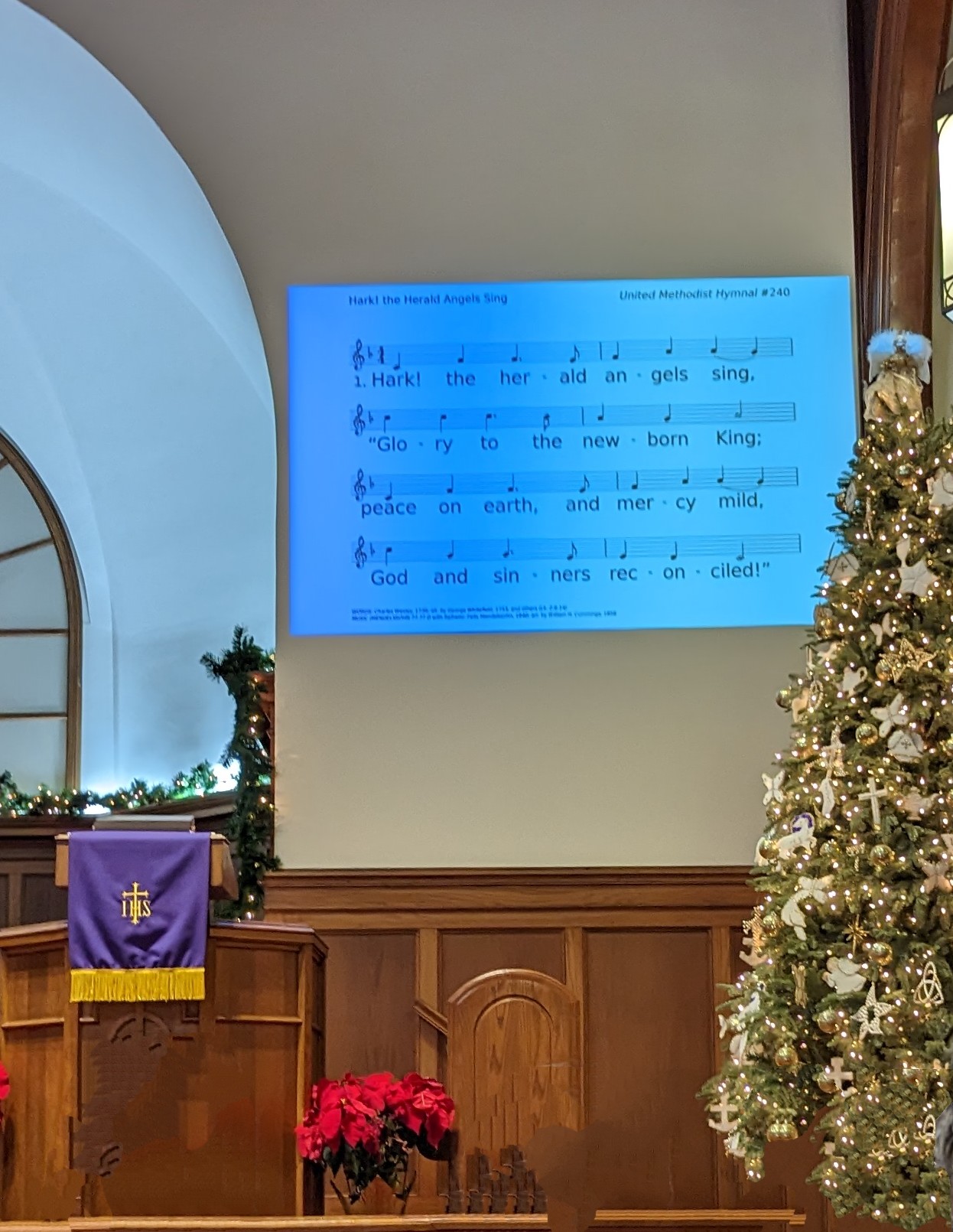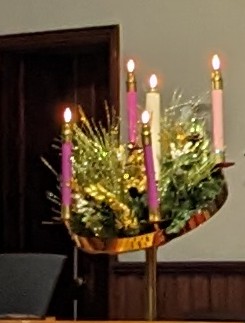 GPS took us through the city afterward, giving us a spectacular show of Christmas lights sparkling on all the streets. People filled the sidewalks, enjoying the beauty of the night.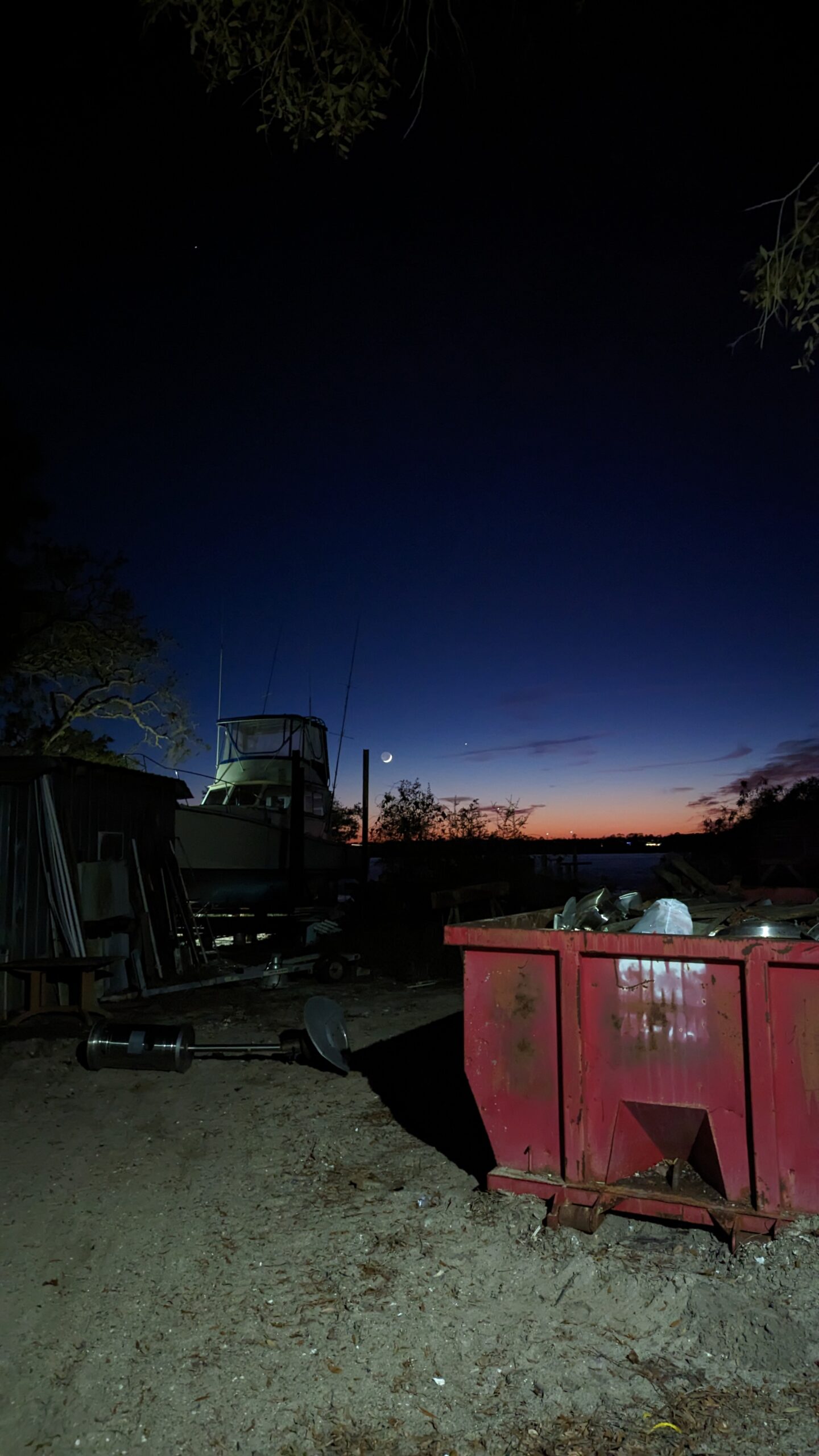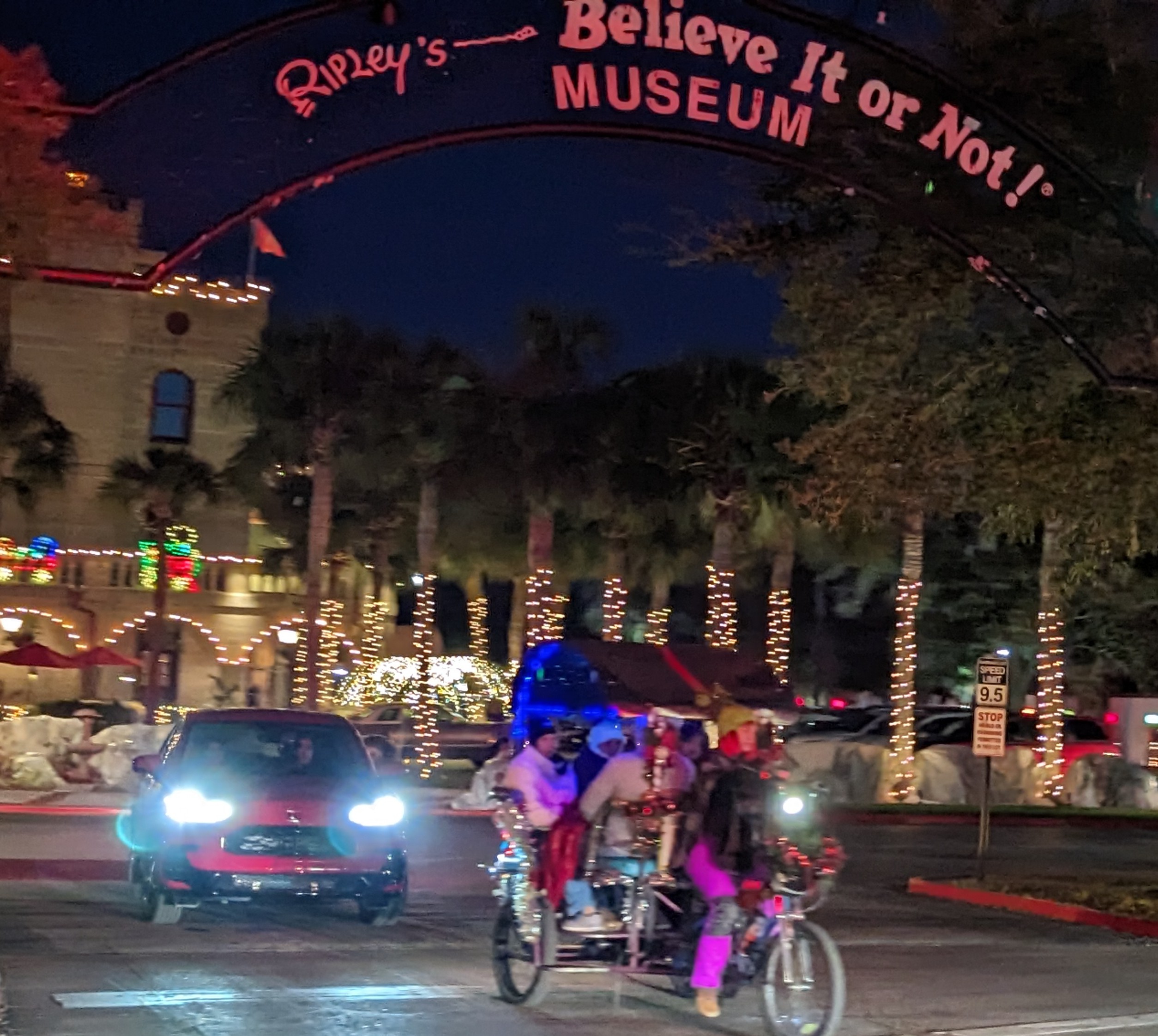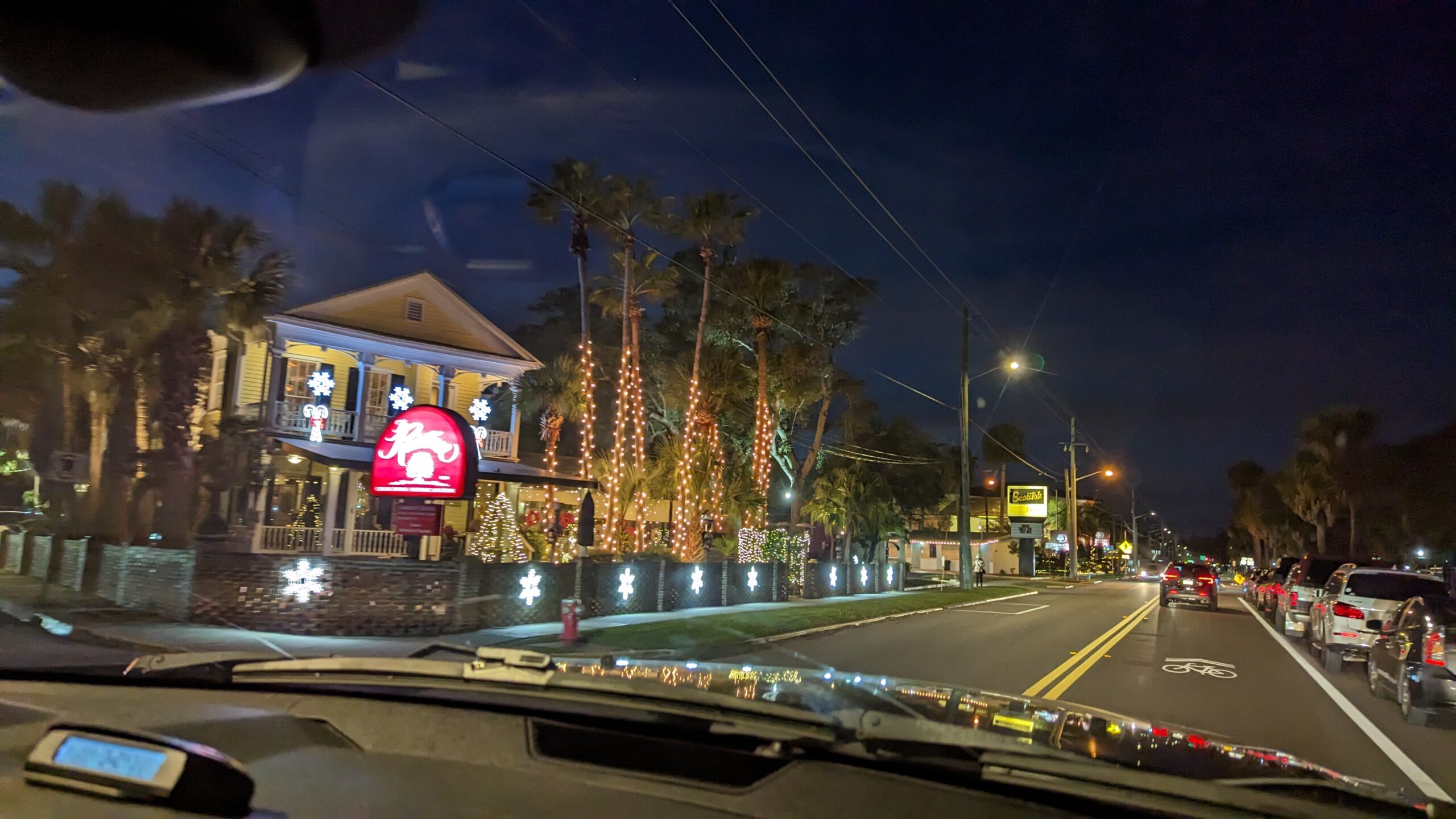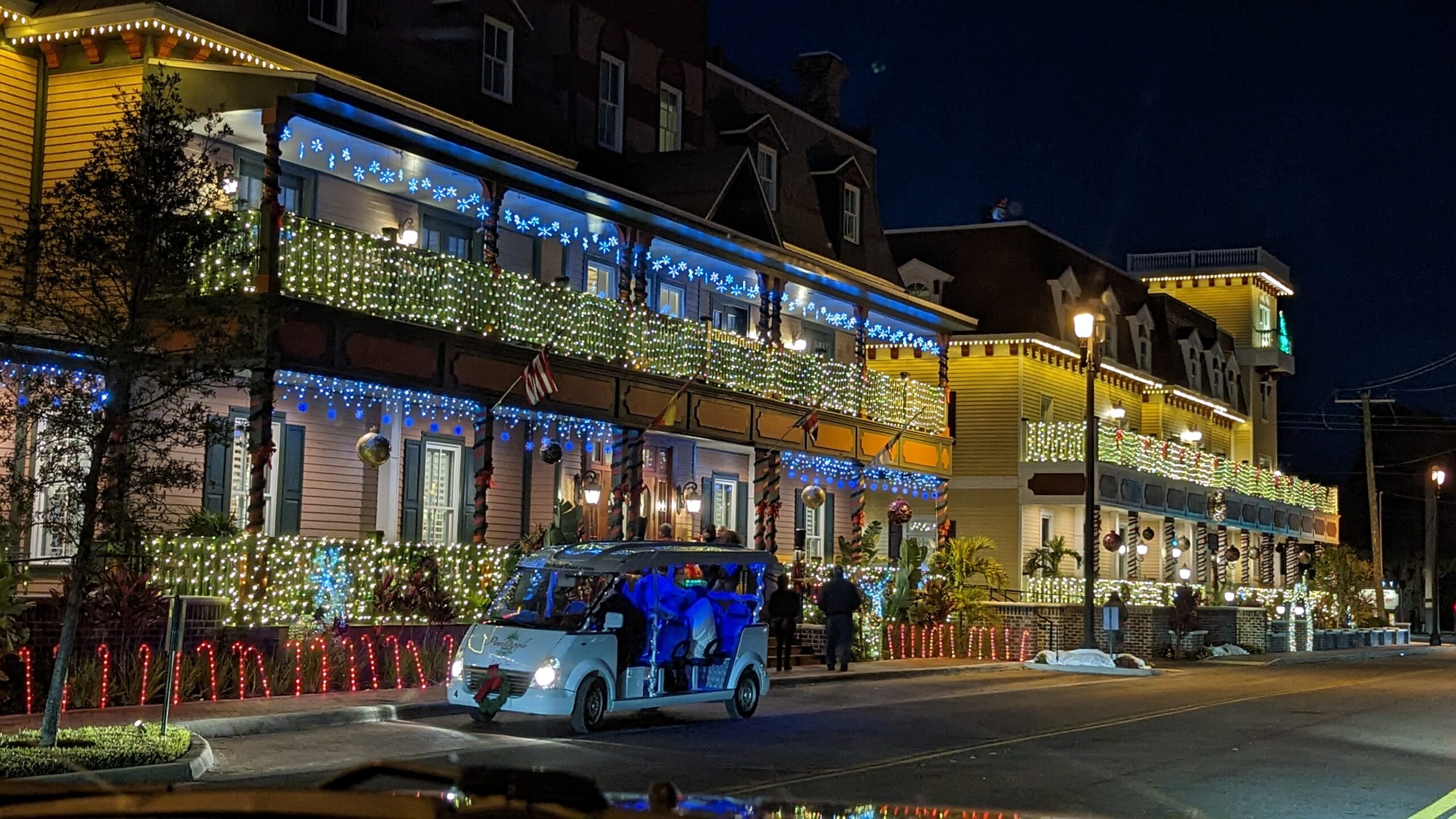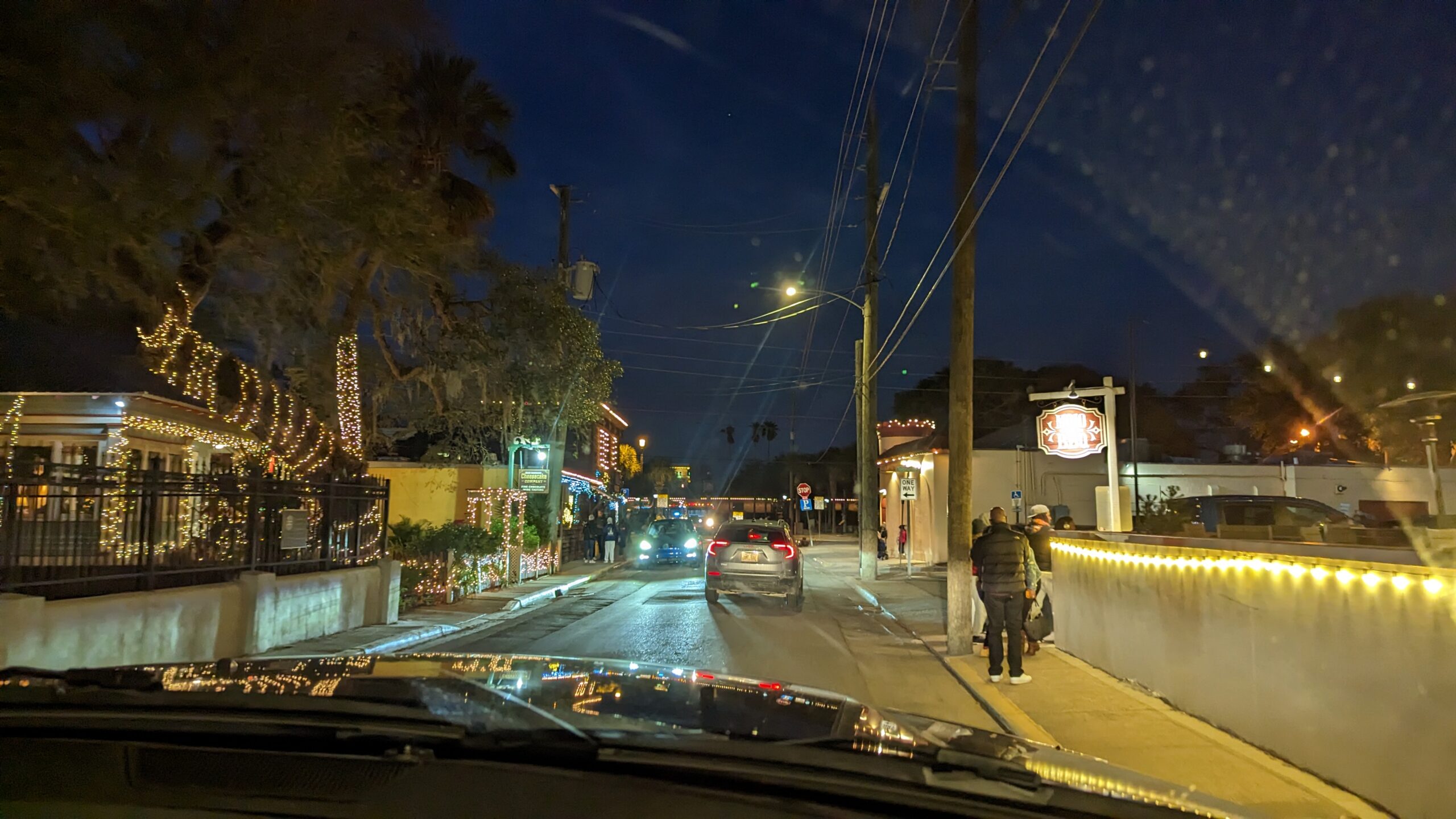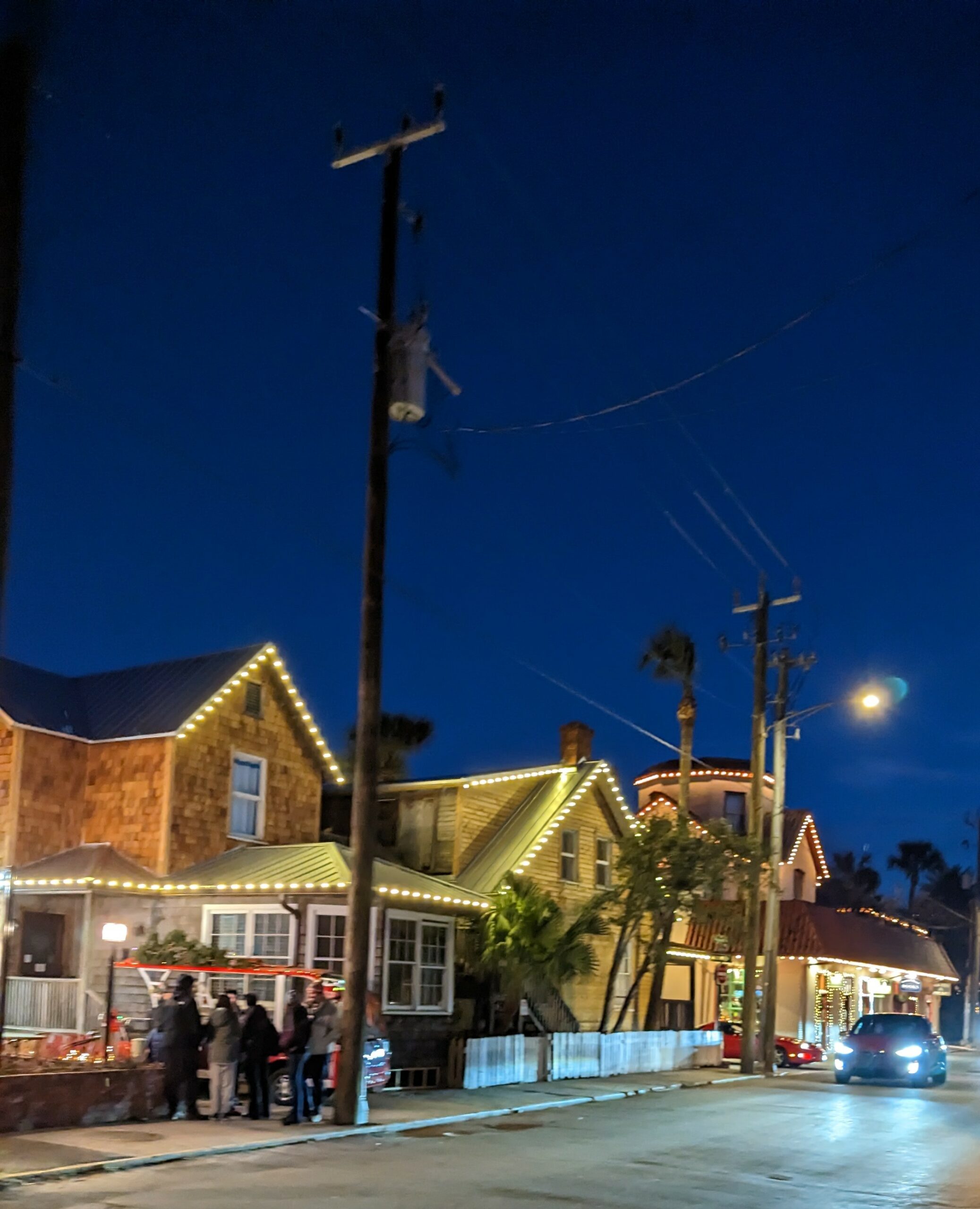 Arriving back home, the restaurants closed around us; I made spaghetti for dinner while Ron air-fried green beans for an appetizer. After agreeing on "A Boy Called Christmas" as our evening movie, we settled in for a quiet night.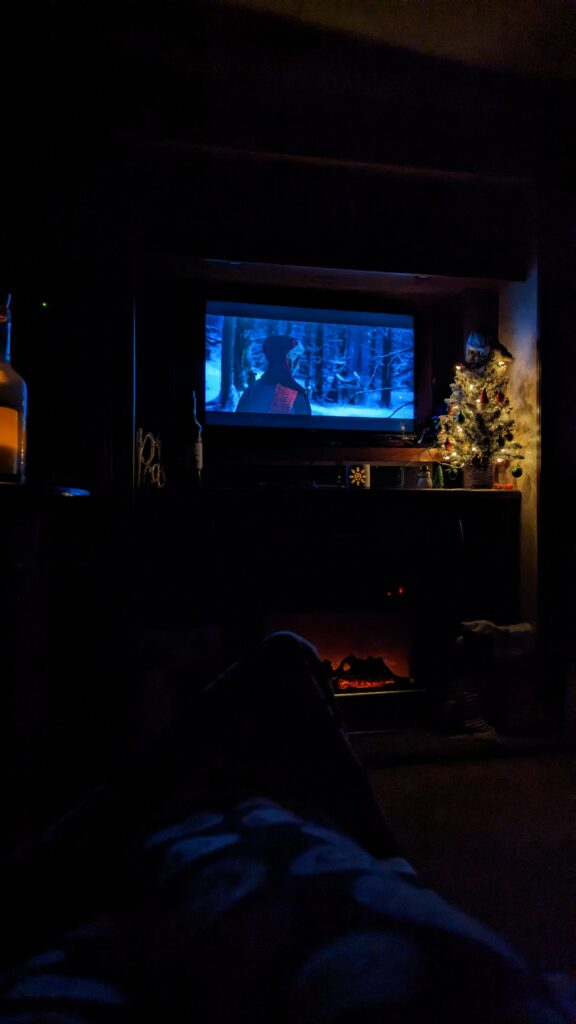 Christmas morning started leisurely. After opening our stockings, we both got hand warmers for each other. Golfing in the winter comes with cold hands. Ron learned no candy in the stocking for me last year and made a safer candle choice. The mulled cider fragrance made the Crusader smell delightful. I made him a coffee mug, pictured below.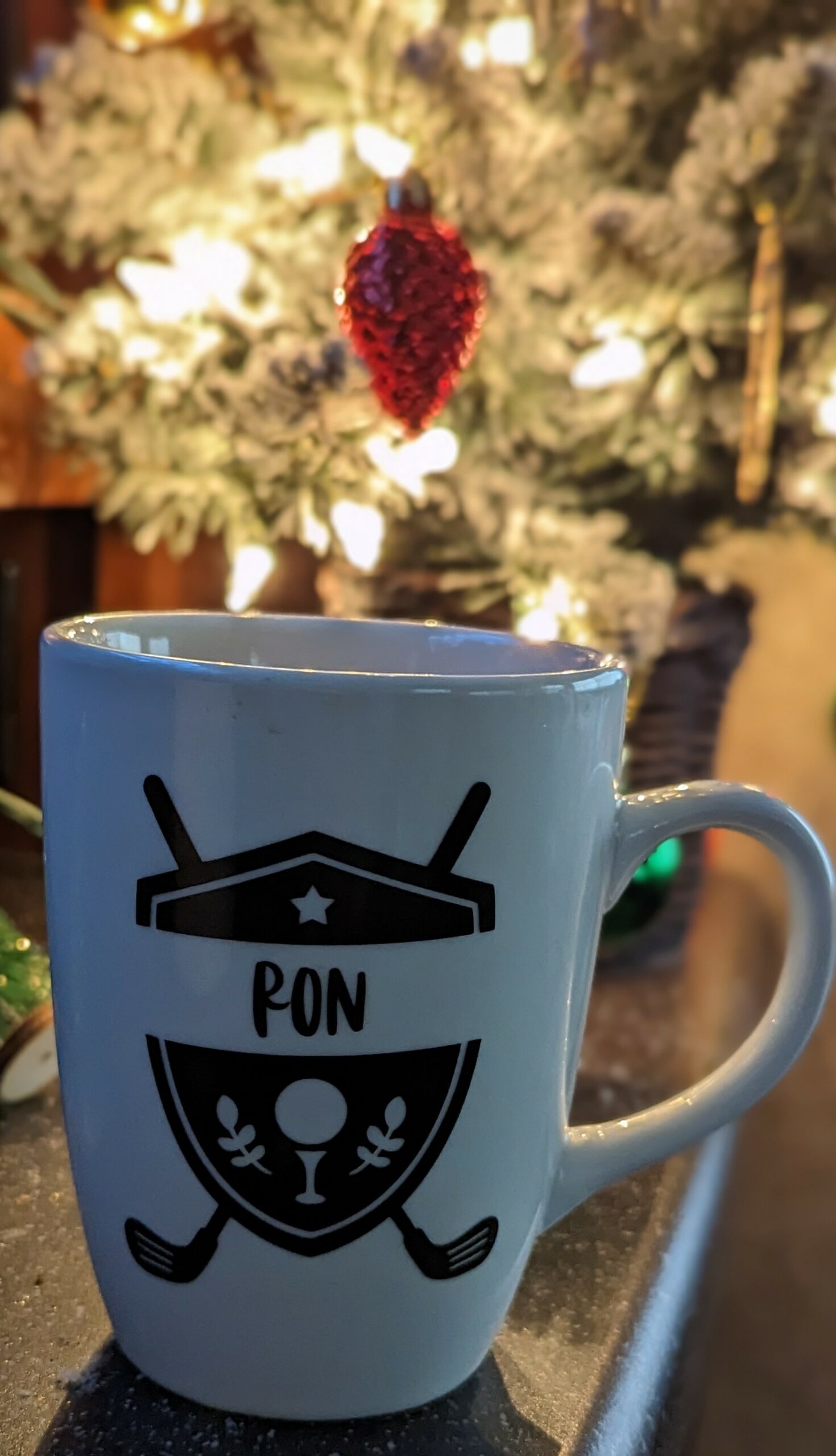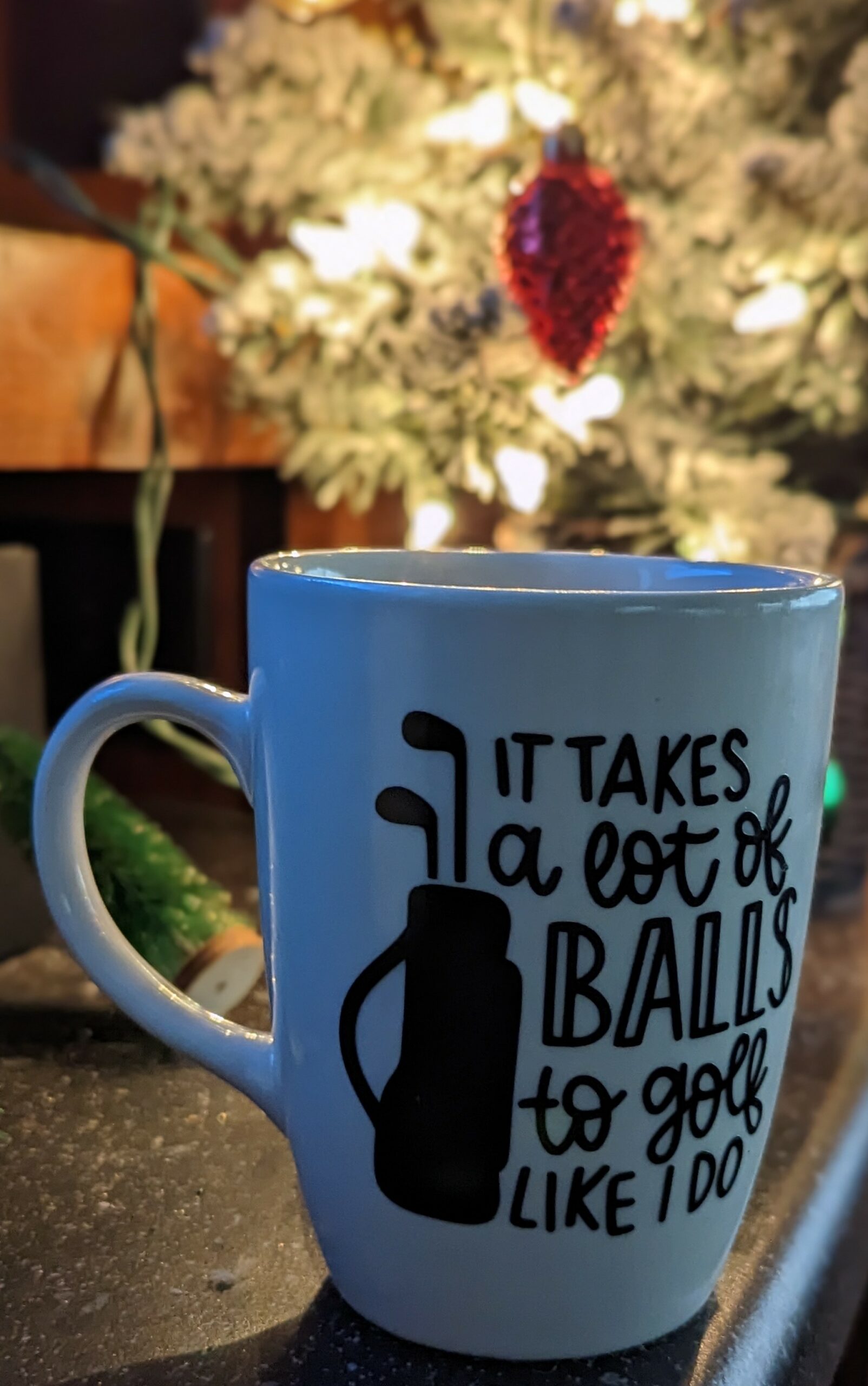 Restless, I headed out on an adventure while Ron lounged, playing on his laptop. Heading towards the dumpsters to drop off trash, pups in tow, I didn't have a destination after I got rid of the trash. Wearing many layers, the cold felt invigorating, and the bright sunshine drew me to the ocean.
"Taking a walk on the beach," read the text I sent Ron, crossing the street with the pups.
Immediately, the difference from the prior year became evident. No longer could we use the gated public access because it no longer existed, washed away in Hurricane Ian earlier this year. Using the Reef's entrance, the pups and I persevered.
Turning left to avoid dogs on the right, we began to walk on the narrow beach. For me, the loneliness of the beach felt like heaven on earth. Listening to the wave's rhythmic motion, inhaling the salt air, the sun's rays glimmering off the water.
Listening to "This Present Darkness" by Frank Perretti, I lost time. My mind wandered to far-off places, then I noticed a red seashell, which began my scavenging adventure. I determined to find a unique shell to mark my Christmas day walk. God had much more in store for me.
After wandering a couple of miles up the beach, I decided to turn around. And noticed the beach had become smaller and smaller, coming close to the houses, leaving little room to walk.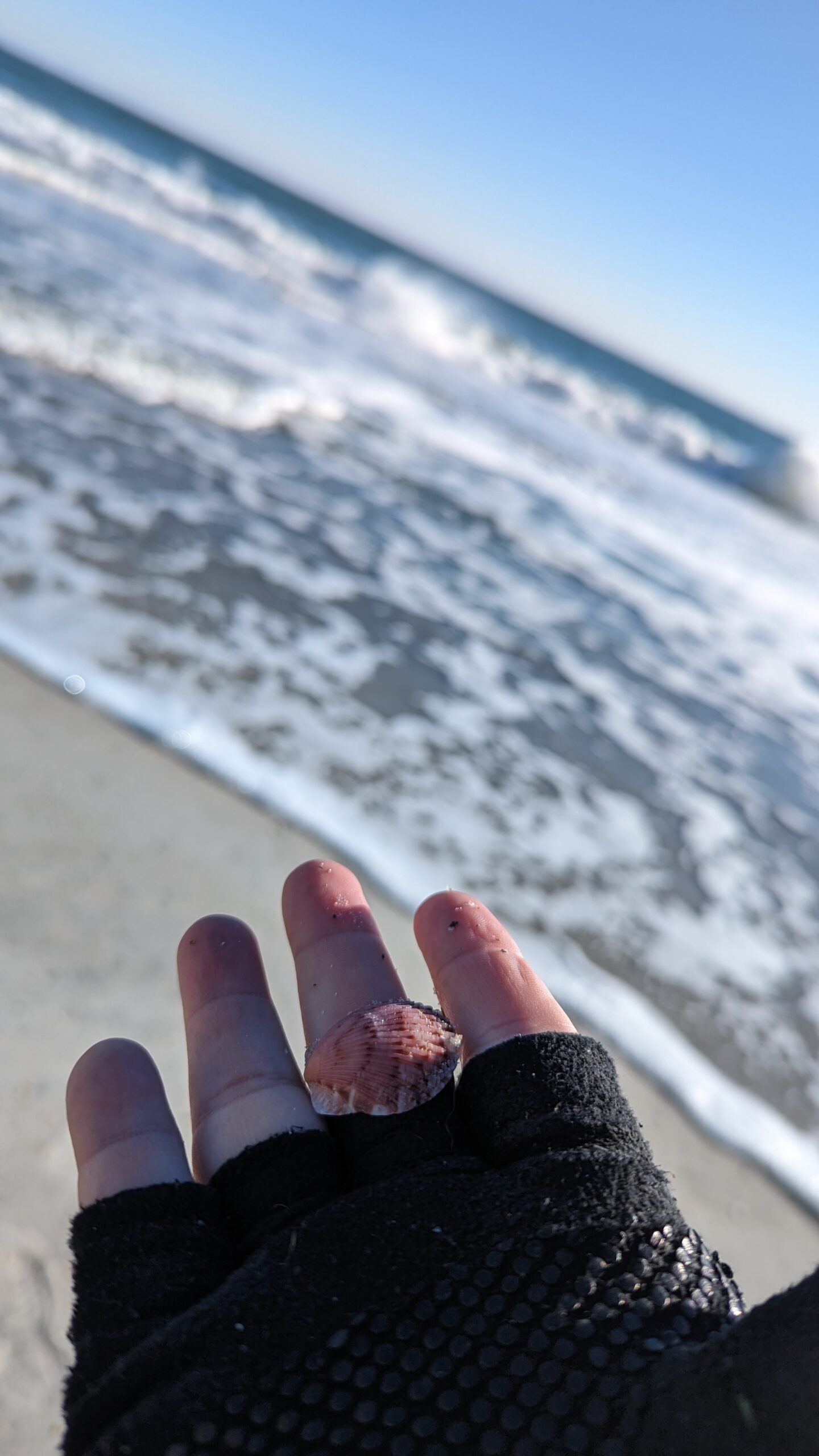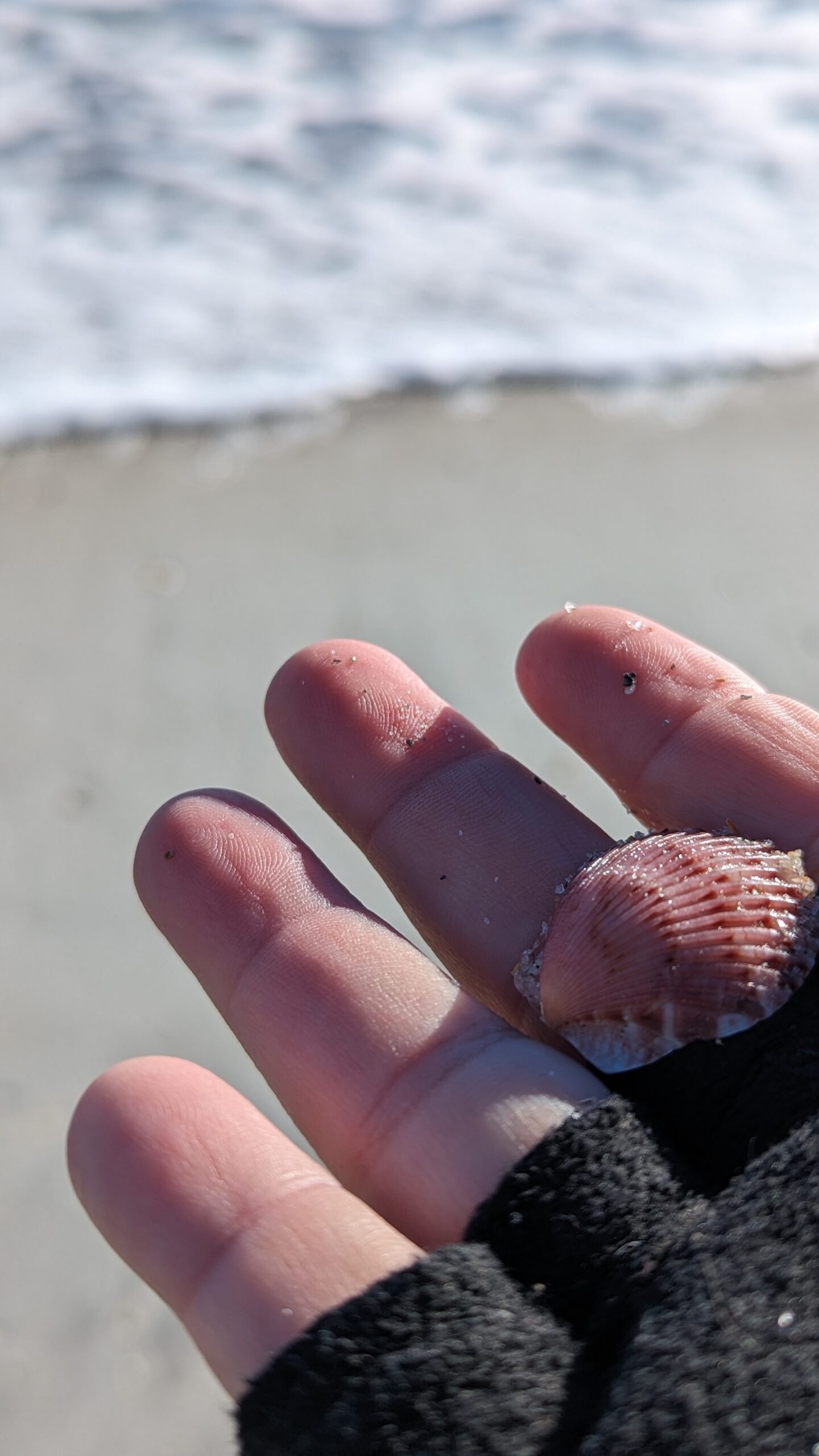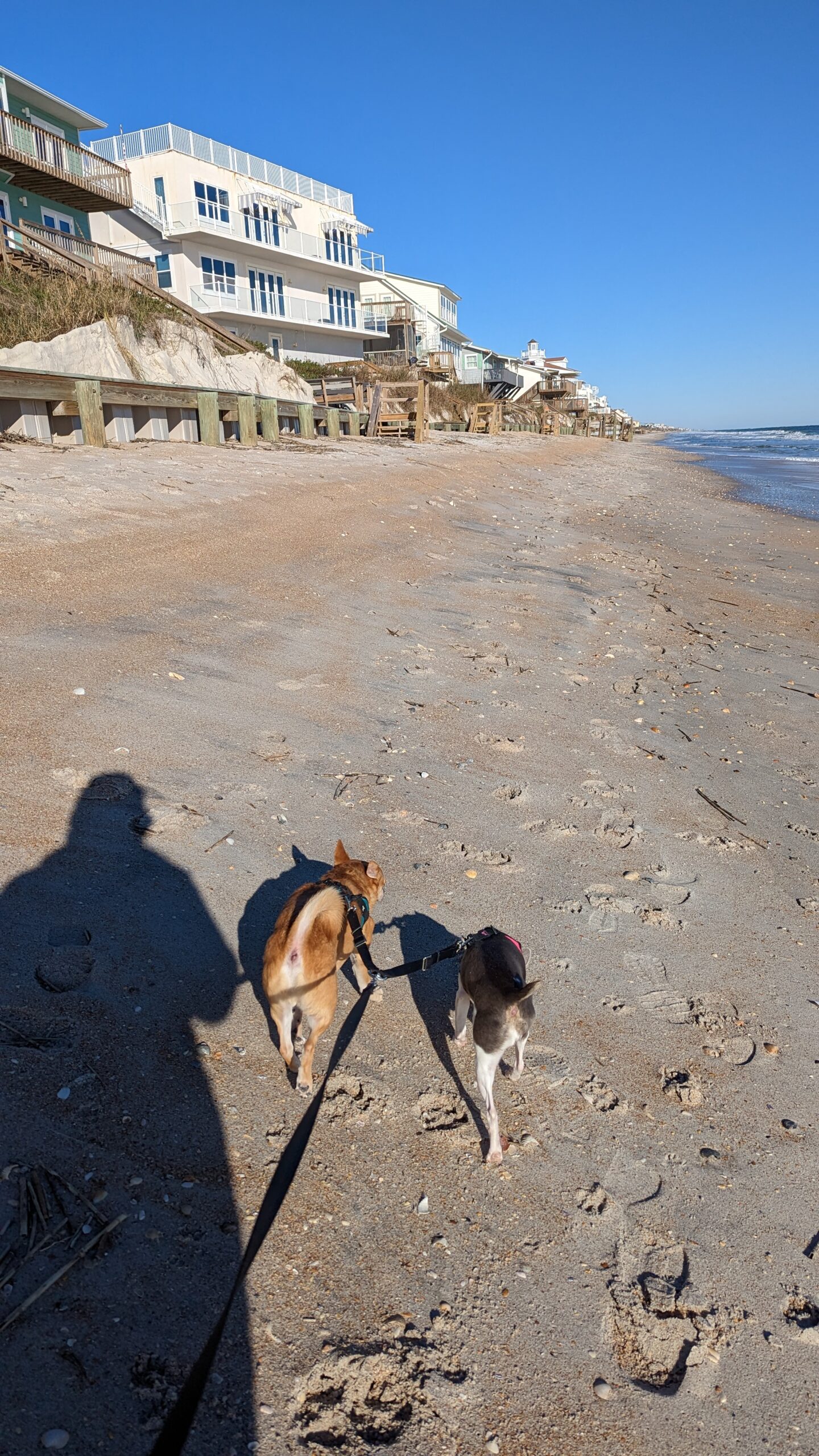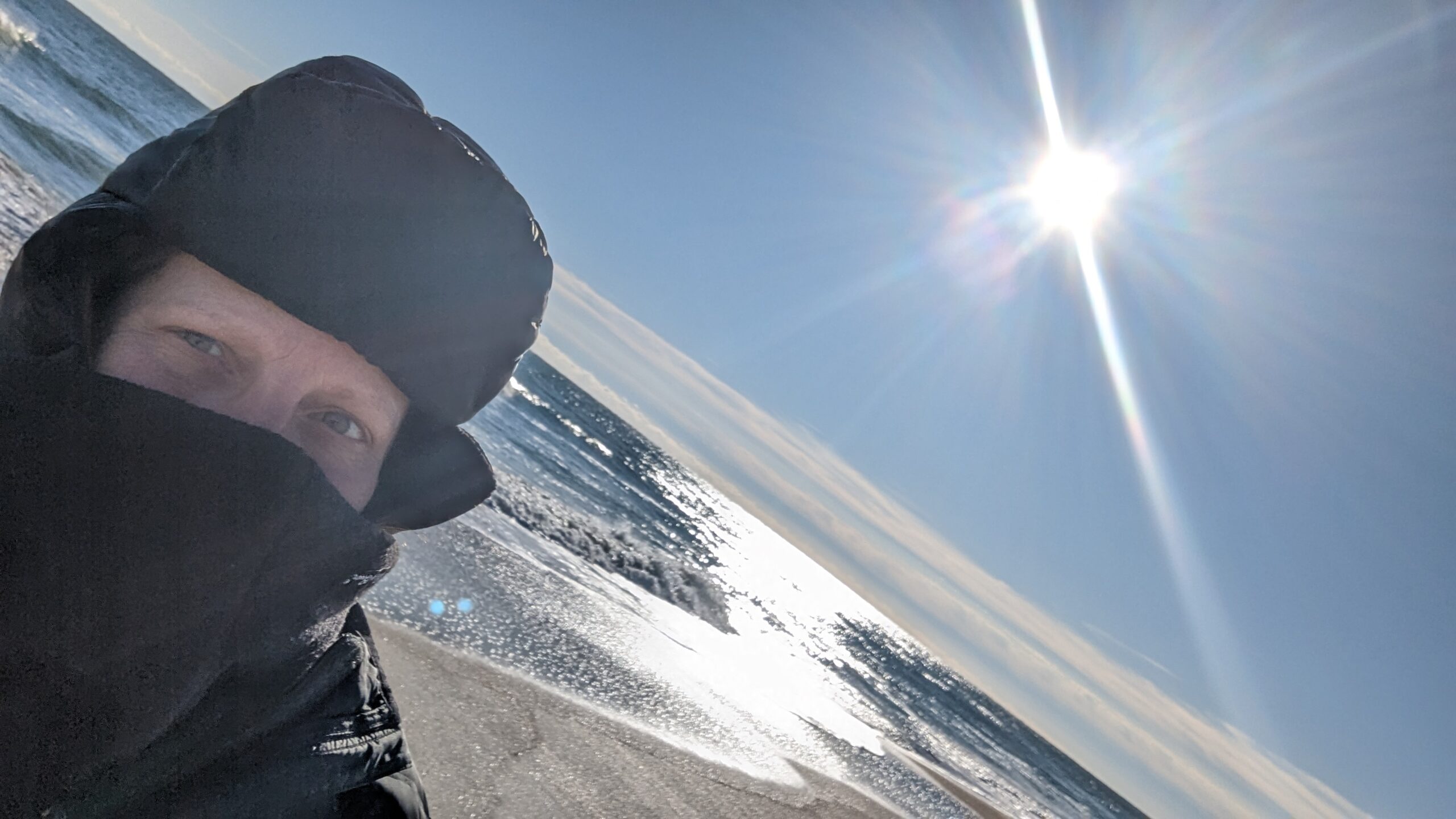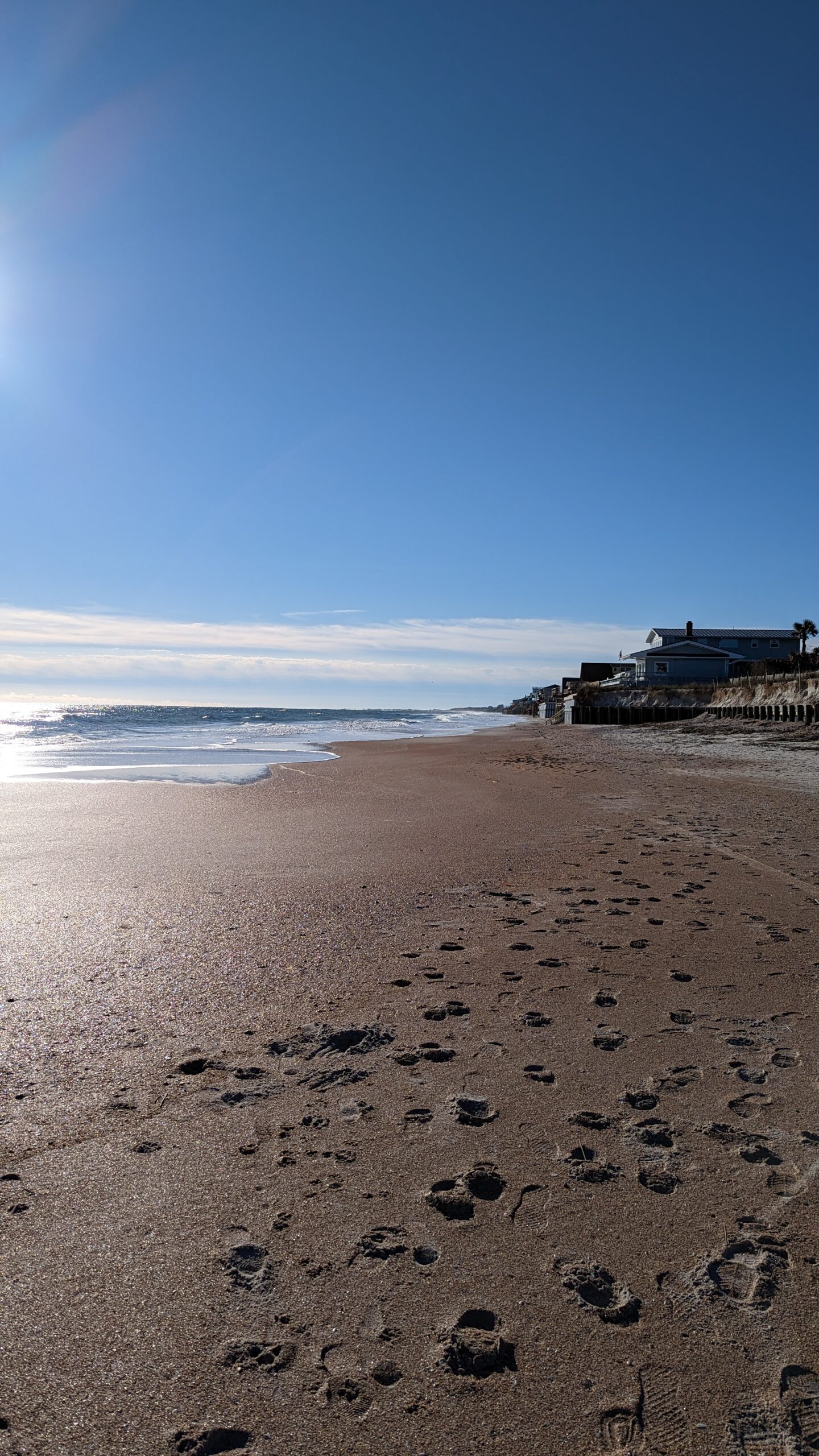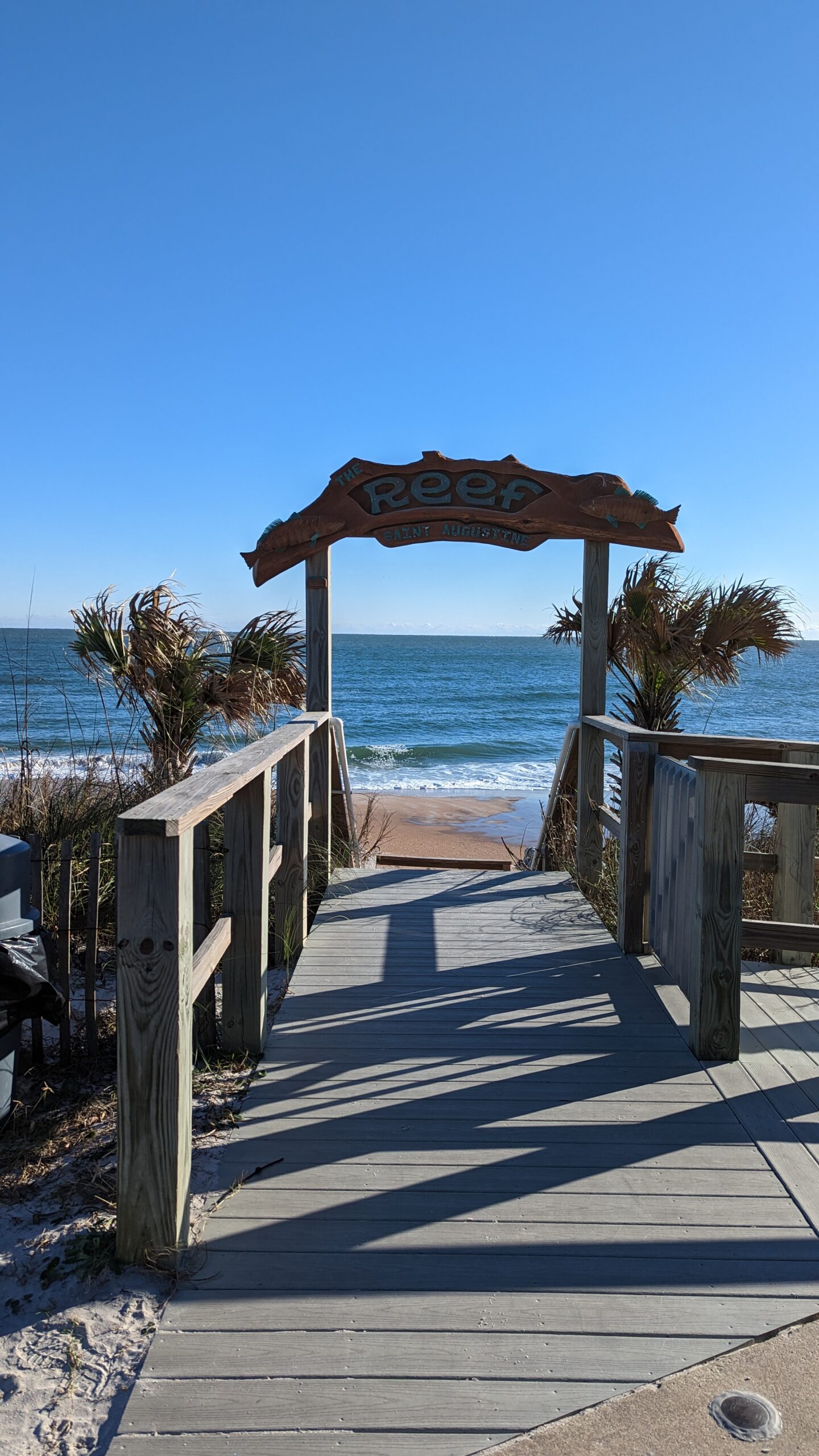 Before long, I found the perfect piece of driftwood to make a sign for my prayer booth. Picking up the wet wood, I realized carrying it back to the campground would require work. The story began to develop in my mind of how Honest Reflections' first booth sign originated. With each step, the tale becomes more and more real in my mind.
Finding the conk shell intact added embellishment to the story, another gift from God to treasure.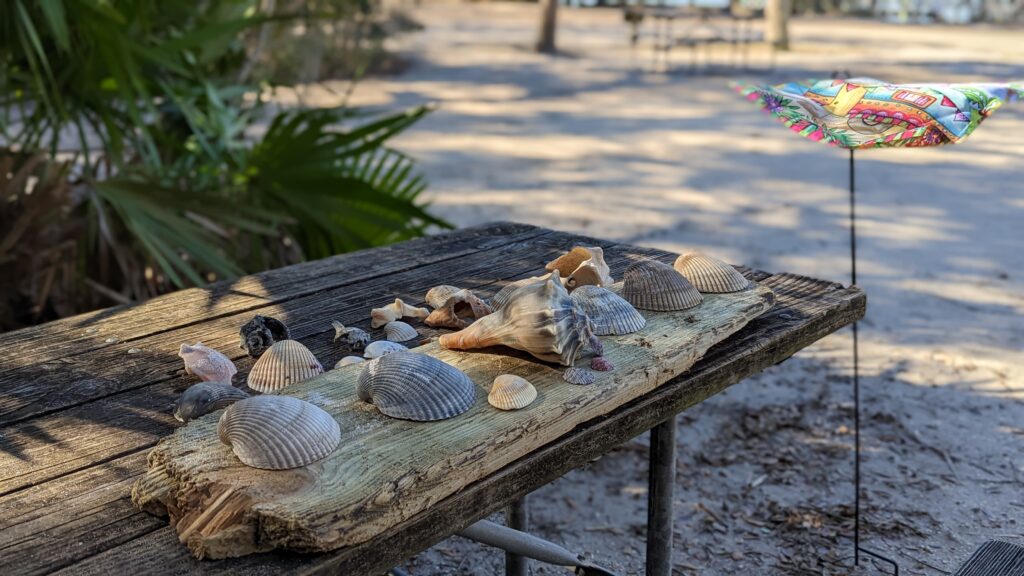 Waking from my daydreams, I realized I had a problem. The ocean swallowed the beach, and I had nowhere to walk. Forced onto the road, having lost my sense of direction, I used maps to get my bearings. Unfortunately, I went the wrong way again.
Eventually, worn out and exasperated, I called Ron to come to pick us up. Setting my bounty down by a parking sign, I leaned against the aluminum pole and posted on Facebook:
"Merry Christmas! As I wait for my husband to rescue me from the side of the road in an unknown location. I sent him a pin.
Pray for him!
Who knew the tide would come in on my morning walk or that it takes the entire beach?
Not me!
But it did.
And so, forced off the beach, I went the wrong way on the road.
And here comes my knight in shining armor.
"Unbelievable," he said when we got settled in the truck."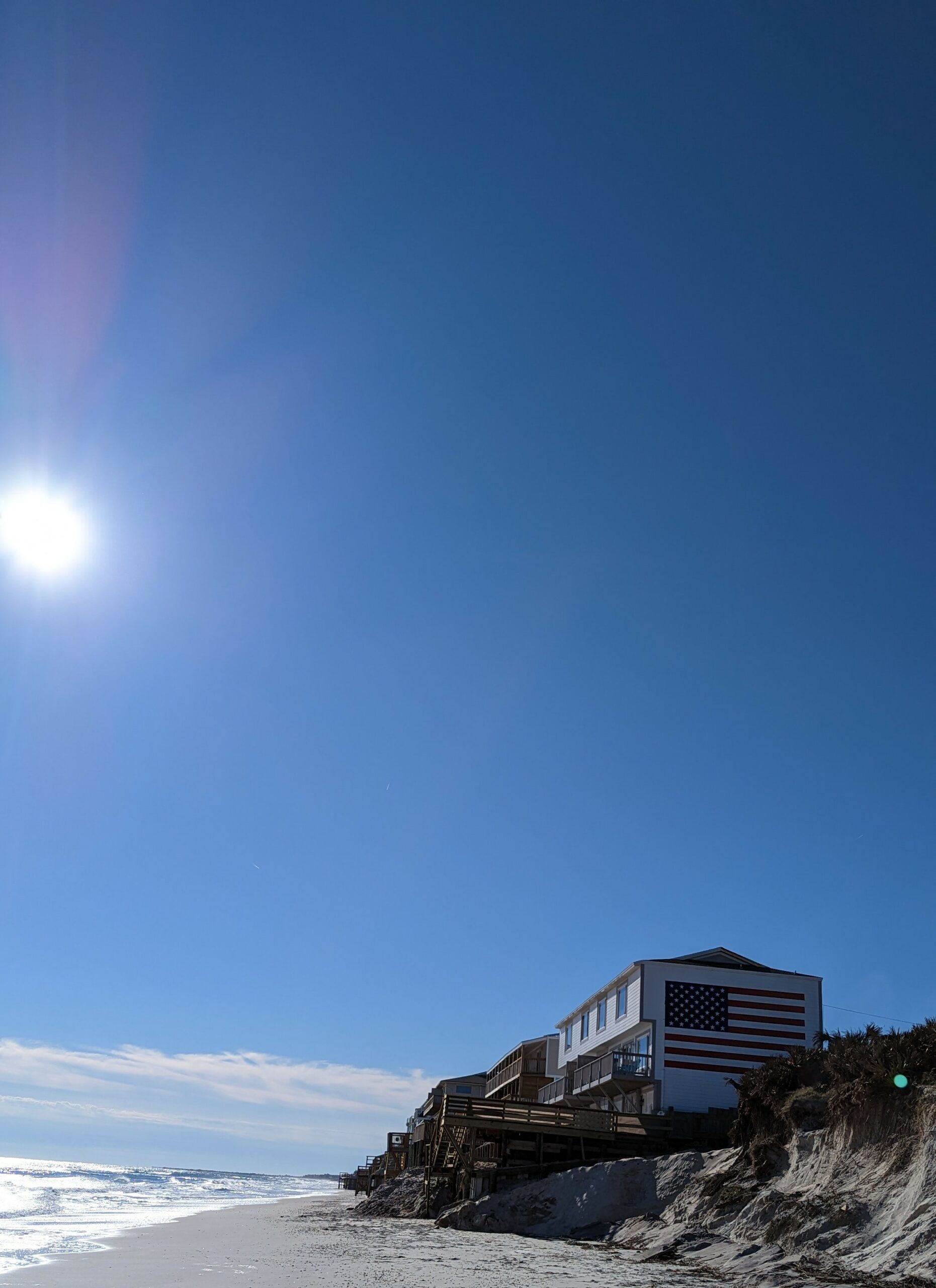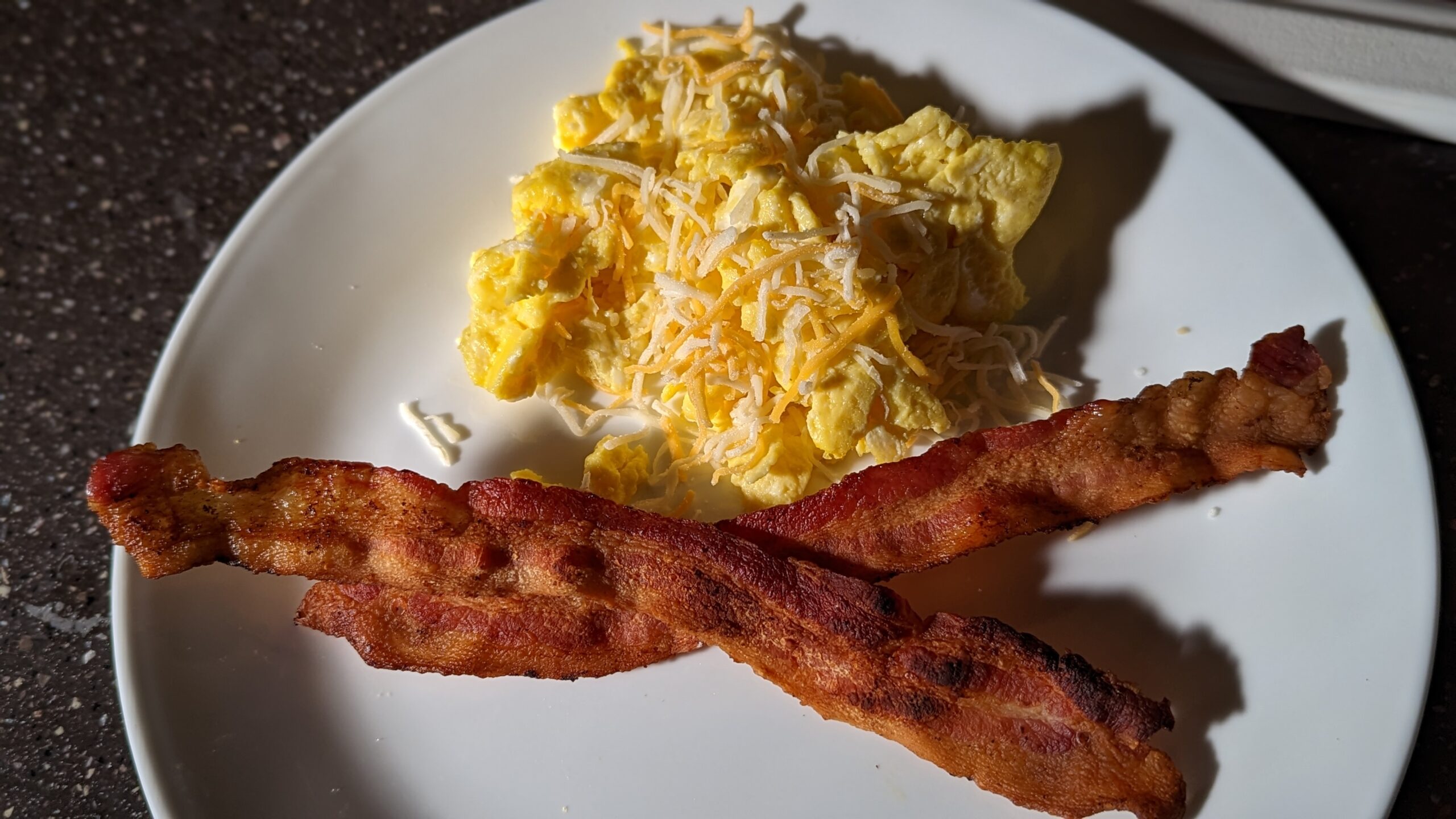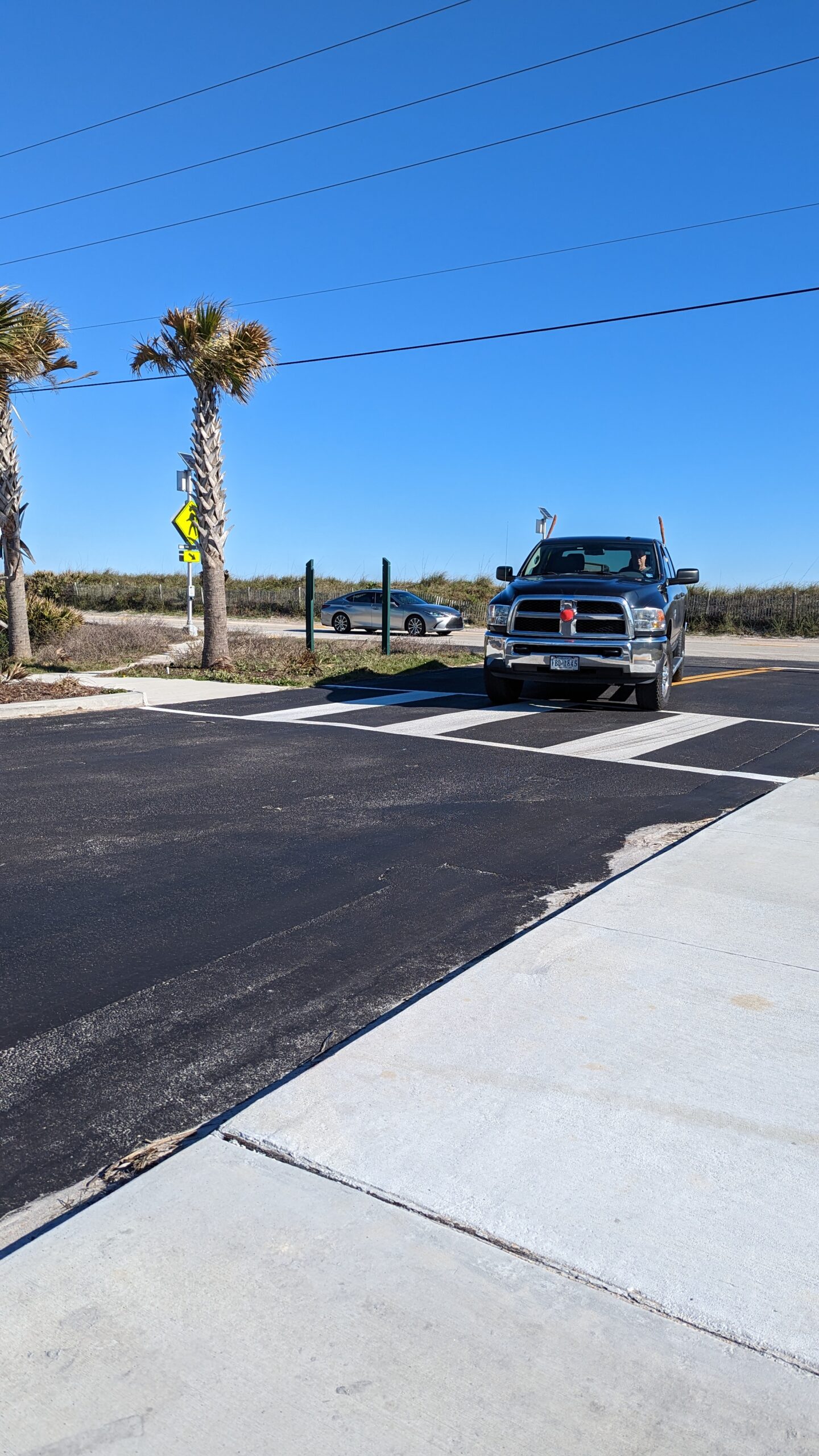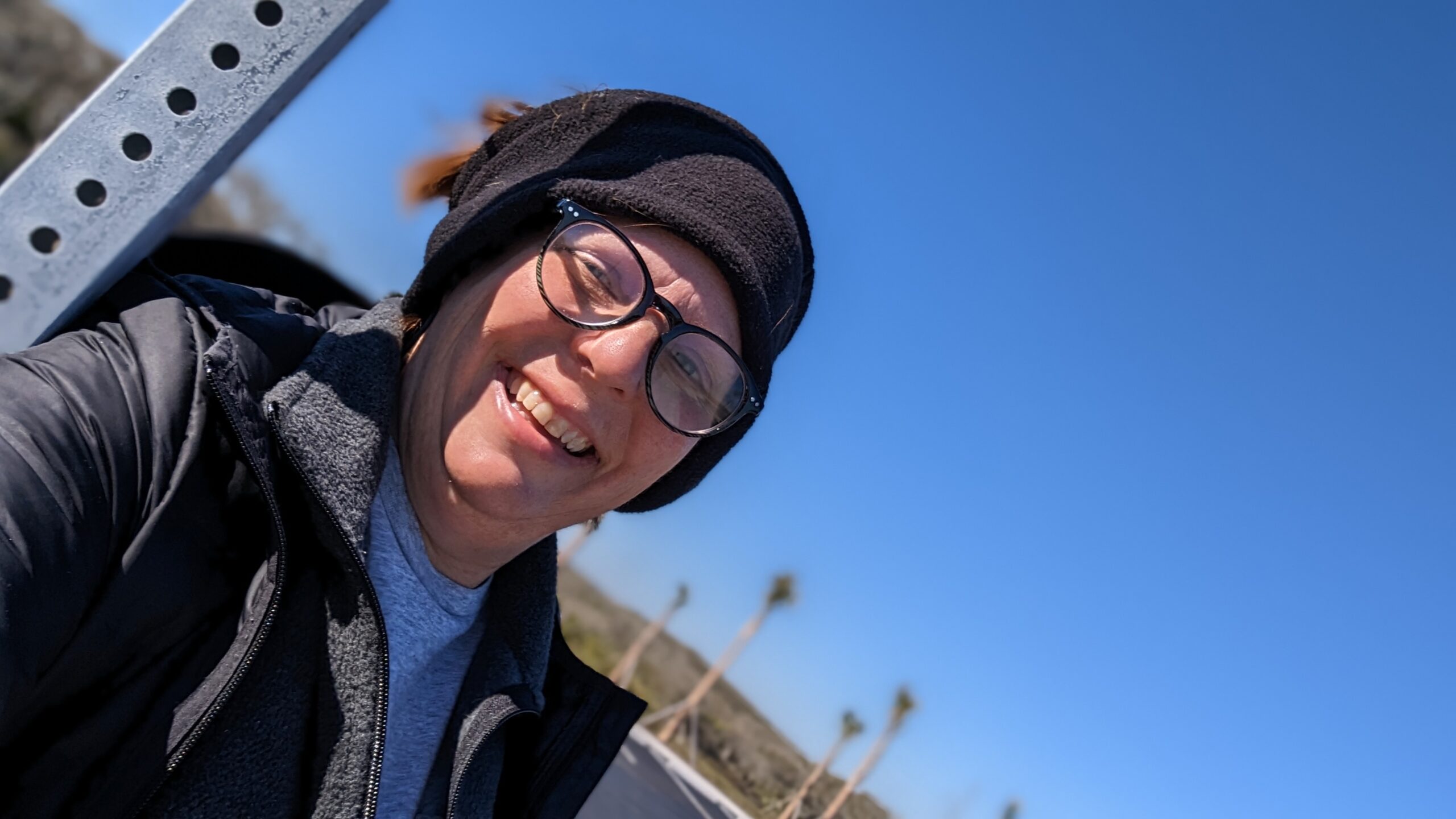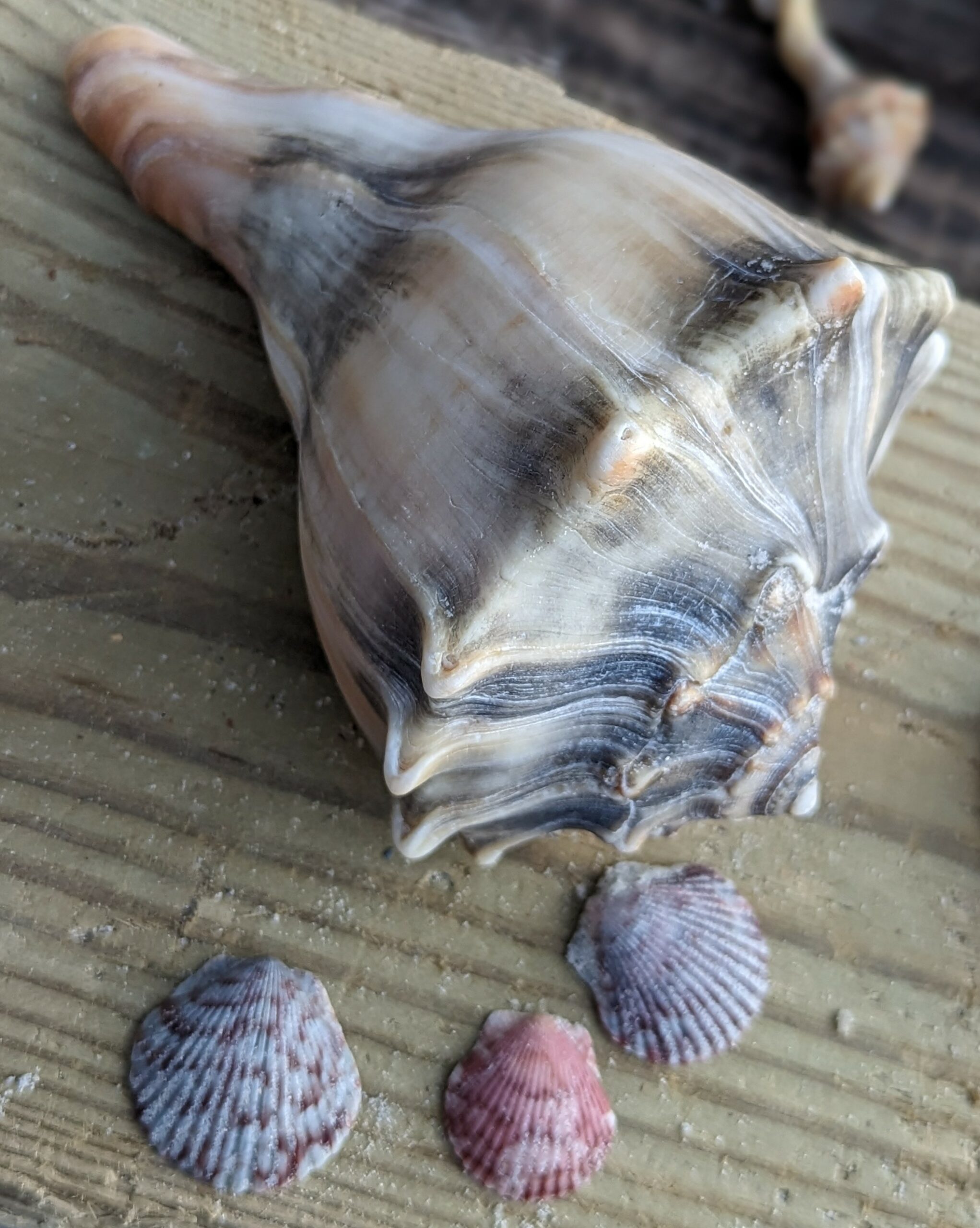 Bless my husband, picking up his stranded wife with her riff-raff from an empty parking lot, never once getting angry with me.
And he had breakfast cooked and waiting for me. Praise God.
As a thank you, I made Ron a Hot Banana, hot chocolate with banana liqueur. Then we settled into our recliners and watched "The Mulligan," a movie I highly recommend to uplift and encourage you. Fred Clause, our encore movie did the same.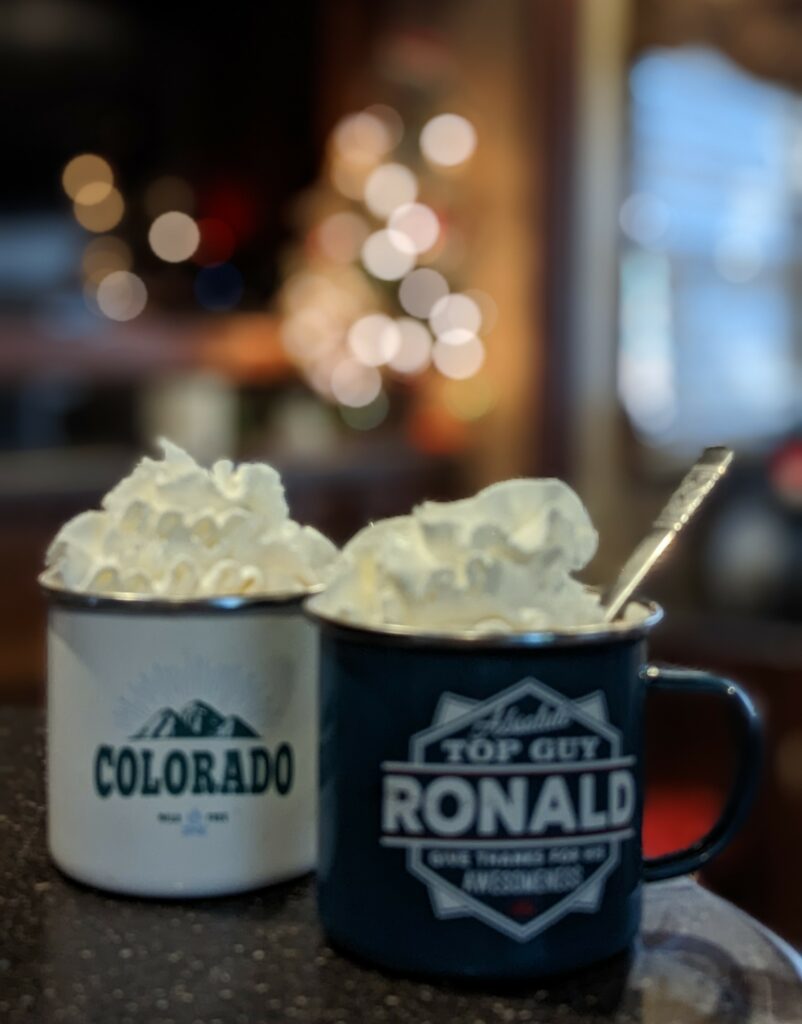 Sights from our afternoon walk, followed by a fire and cocktails.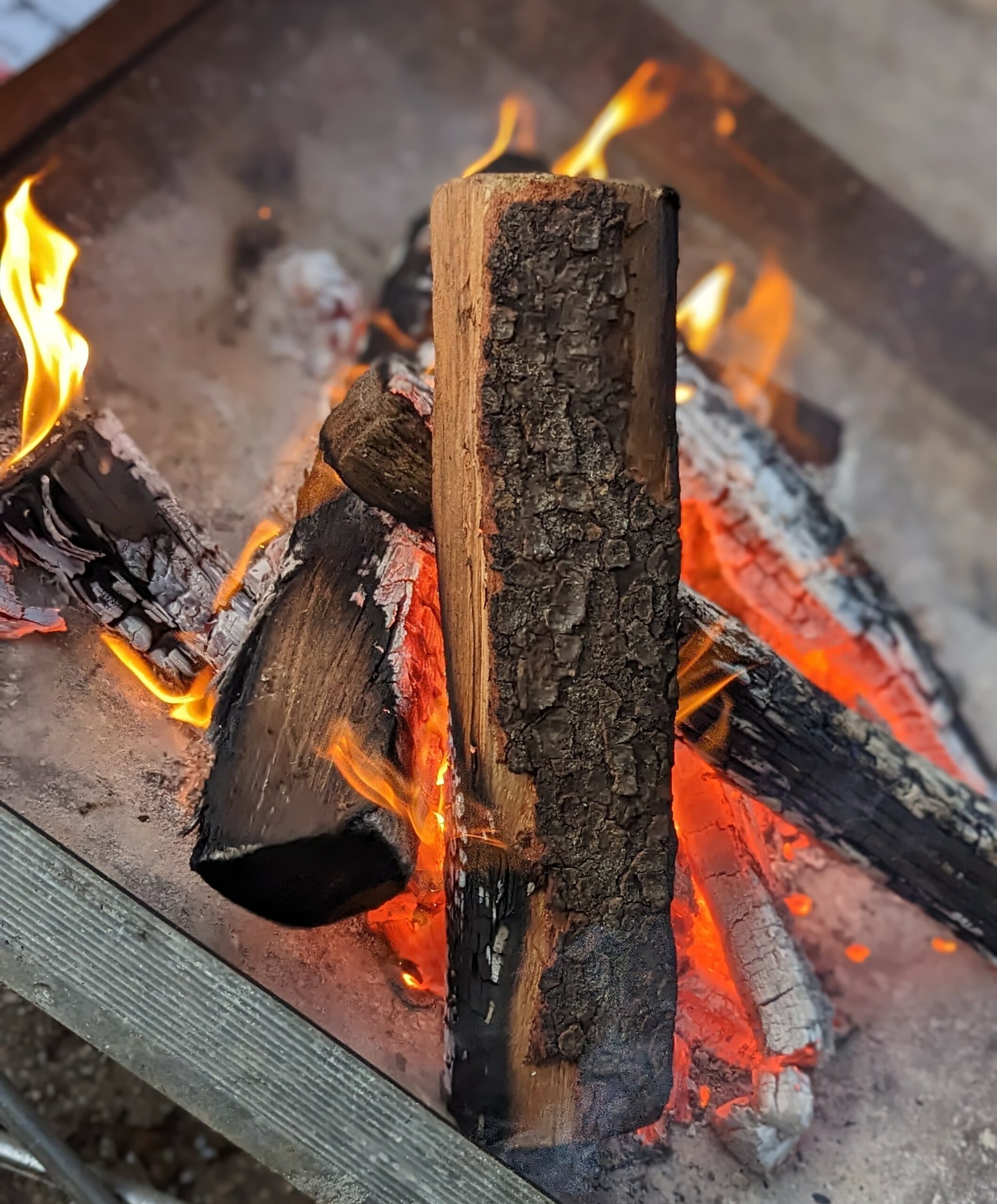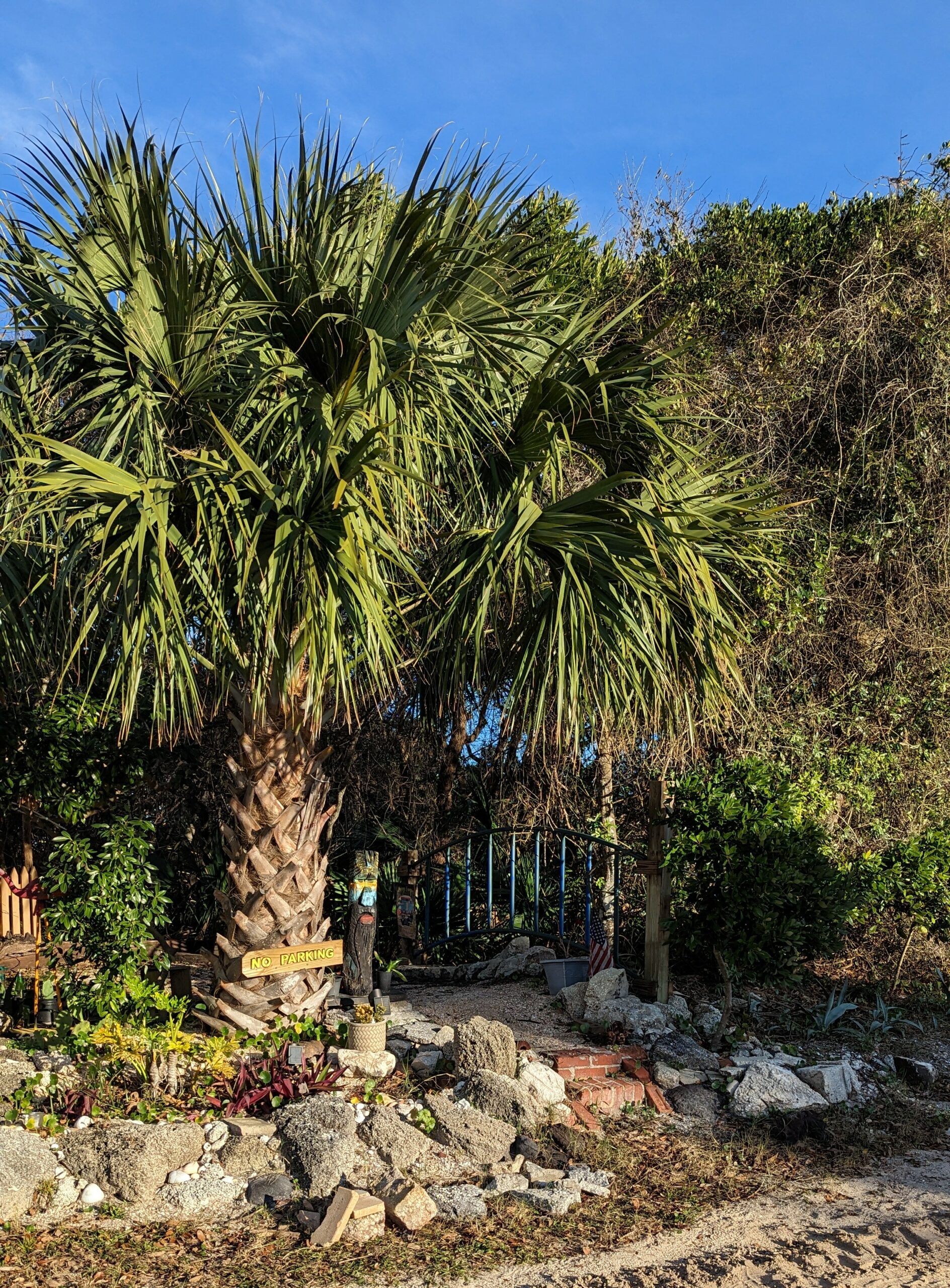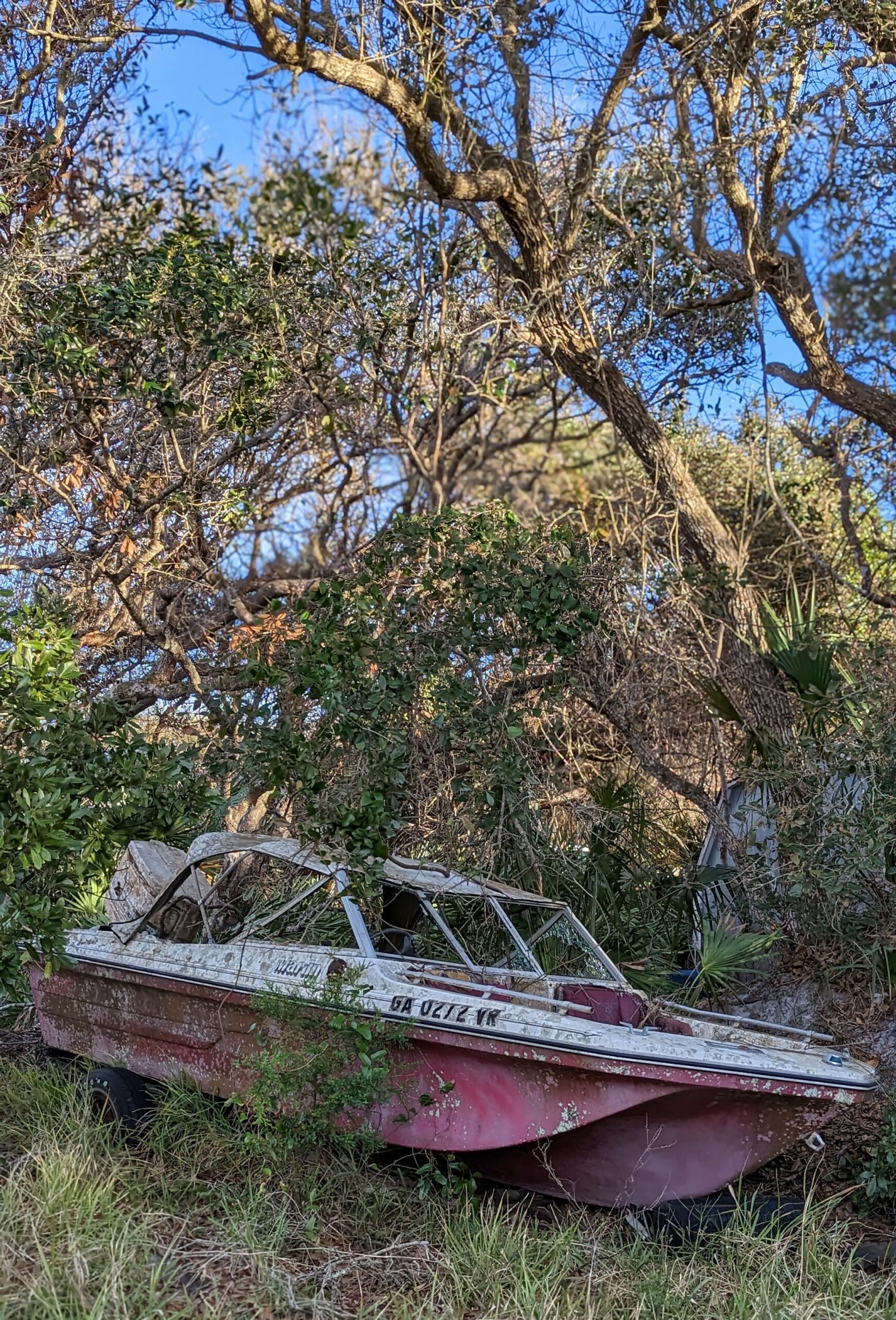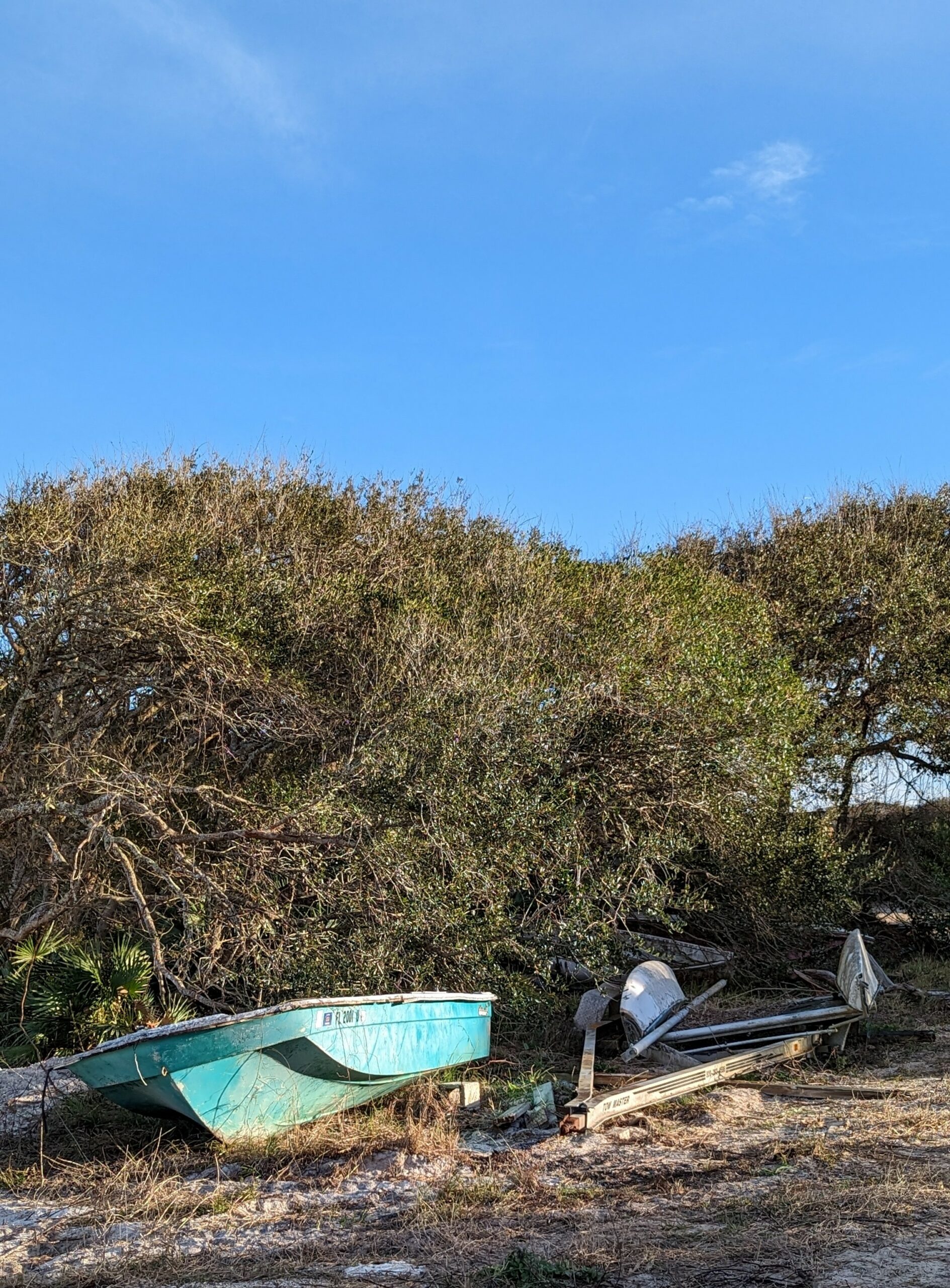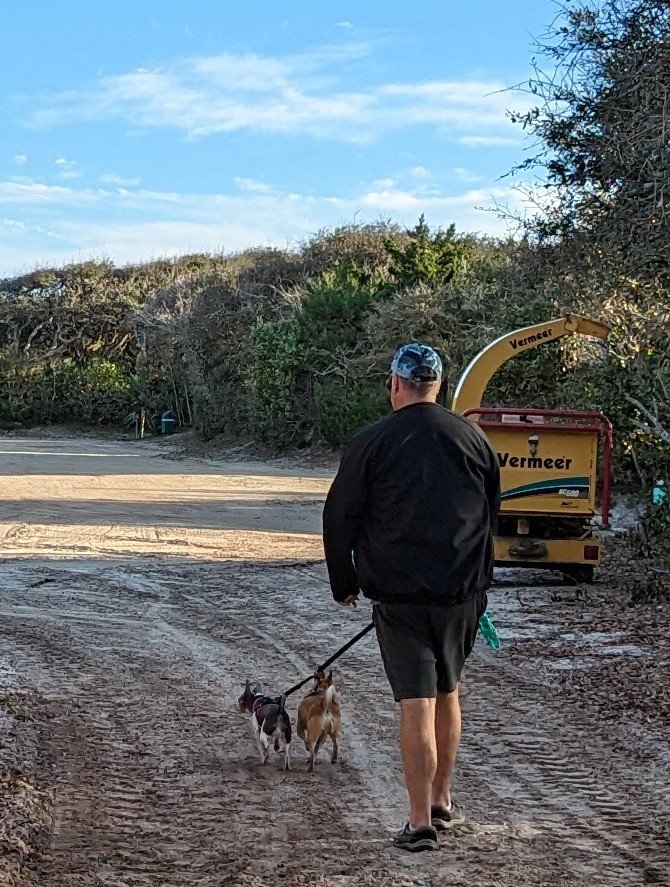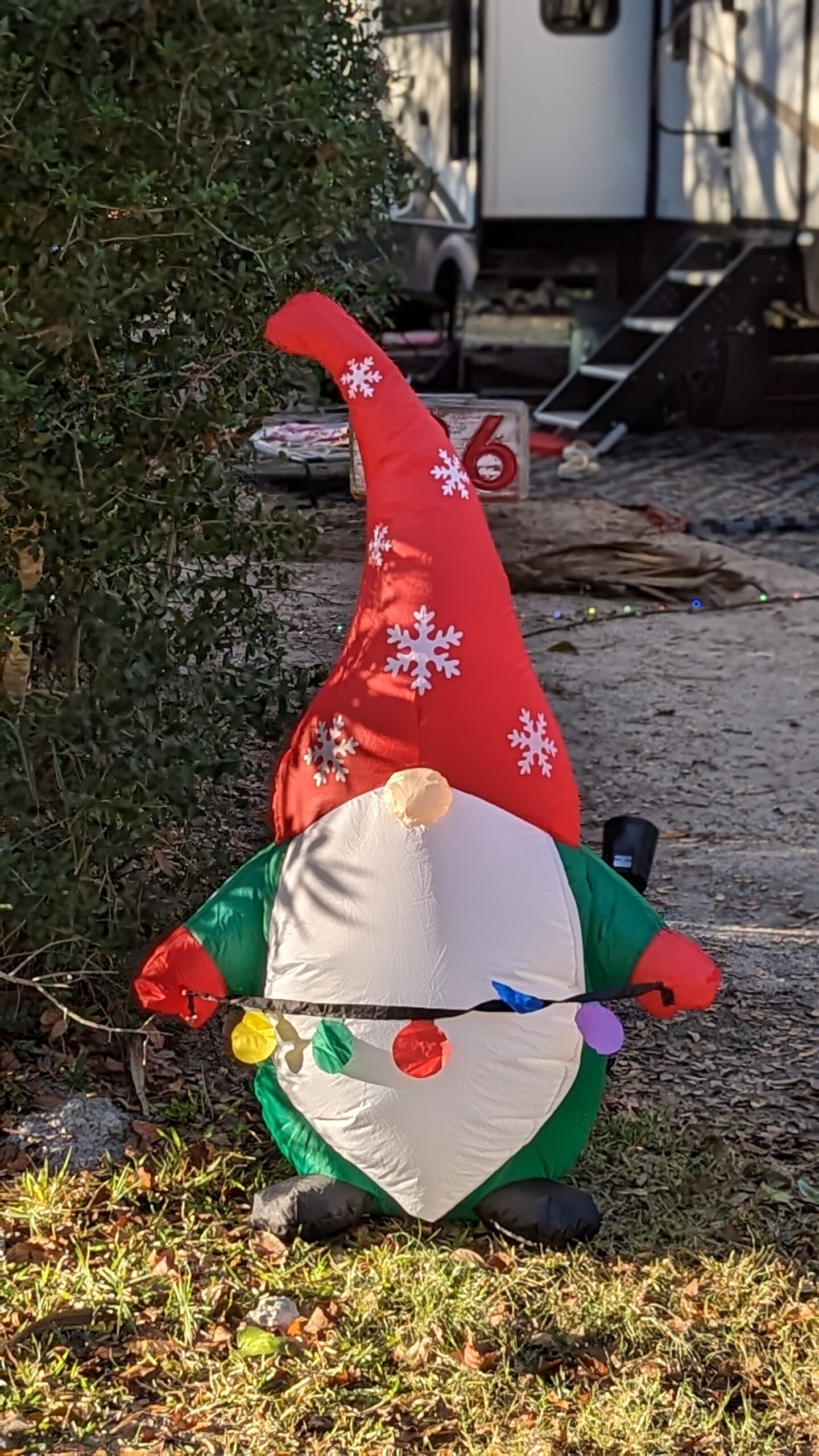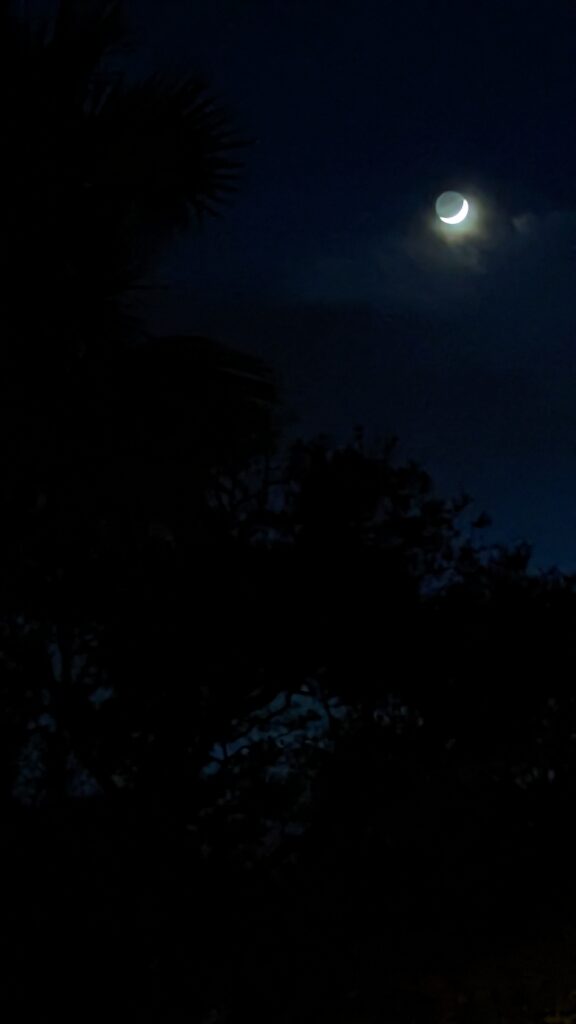 After attempting to golf at Palm Valley Par Three Golf Course last year, we finally played a round. Reminding us of Kevin Costner's "Tin Cup," the vintage pro shop and casual attitude made it a fun adventure. People line up at the first tee with no starter or tee times; you play when you play. You can practice whatever you want; the course offers a driving range with the choice of hitting off grass or mats. The putting green didn't have holes, but as Ron said, "You can use a tee as your target."
Linner, Ron and I's word for a late lunch, and early dinner, we ate at Fionn MacCool's Irish Pub and Restaurant. Chicken Pot Pie for me, Fish and Chips for Ron, both delicious, although we experienced slow service in an empty restaurant, not sure why.
A horse farm resides beside Palm Valley, running the course length. Catching videos of the farm animals helped pass the time while we waited for the foursome in front of us.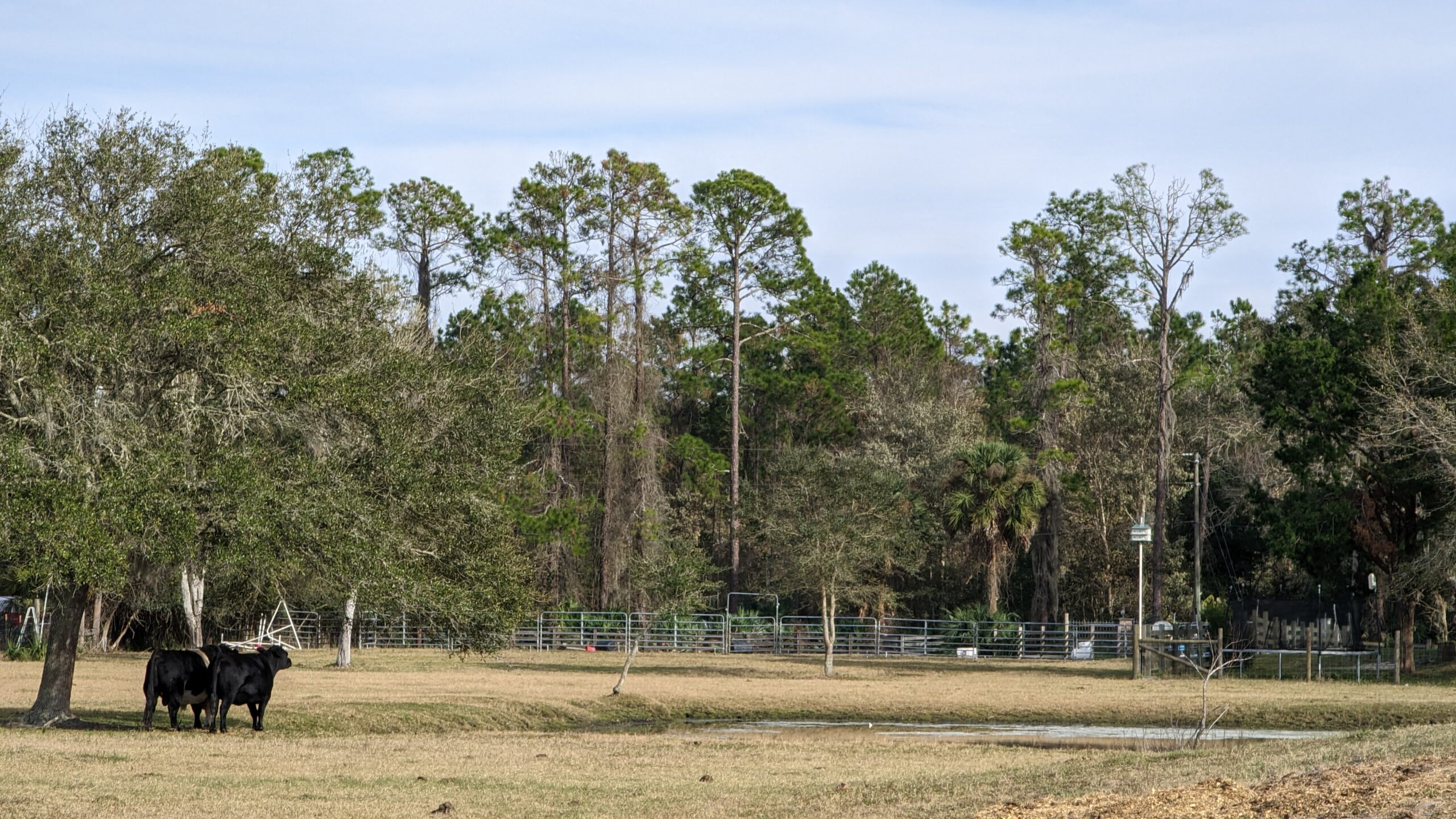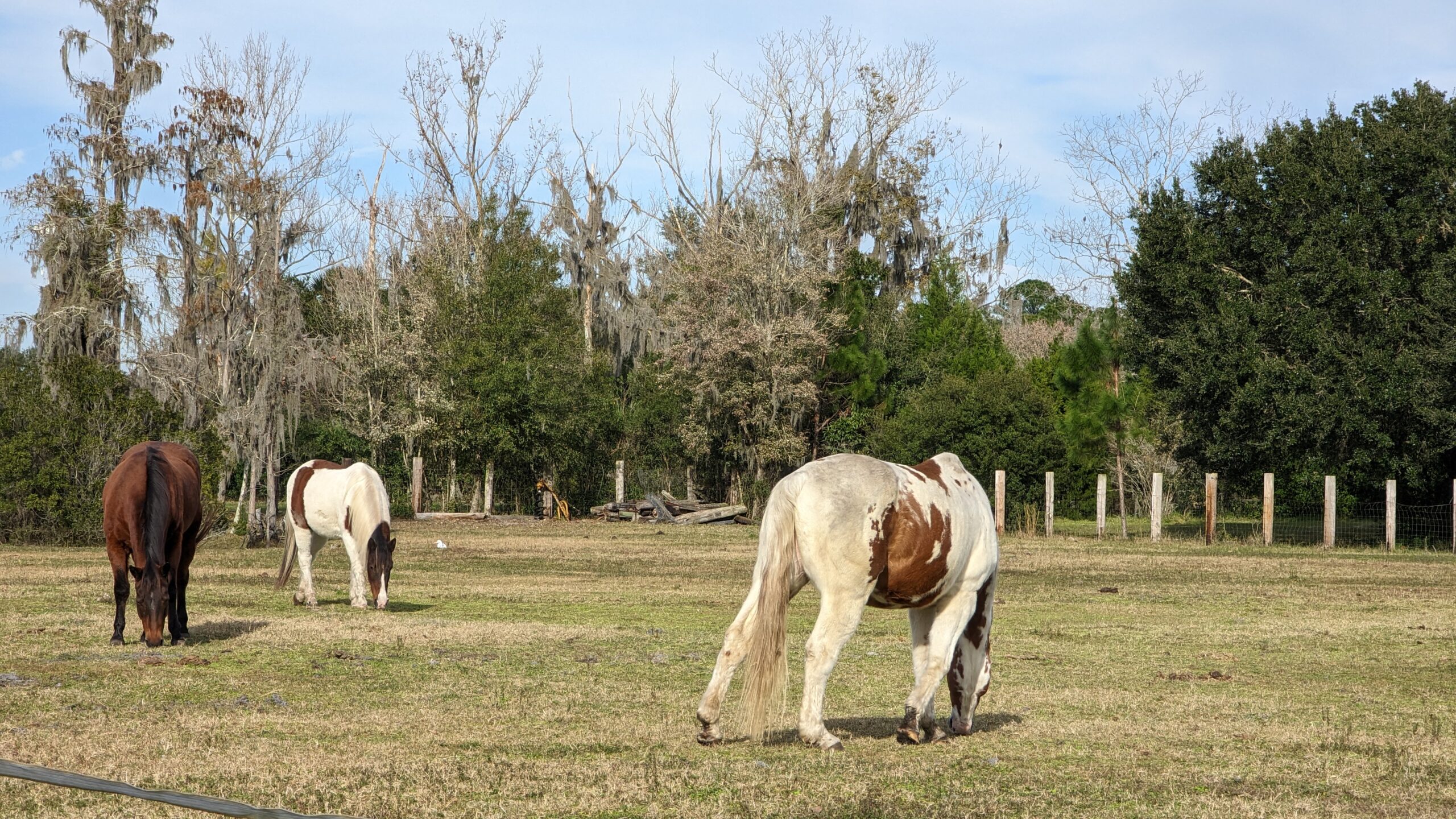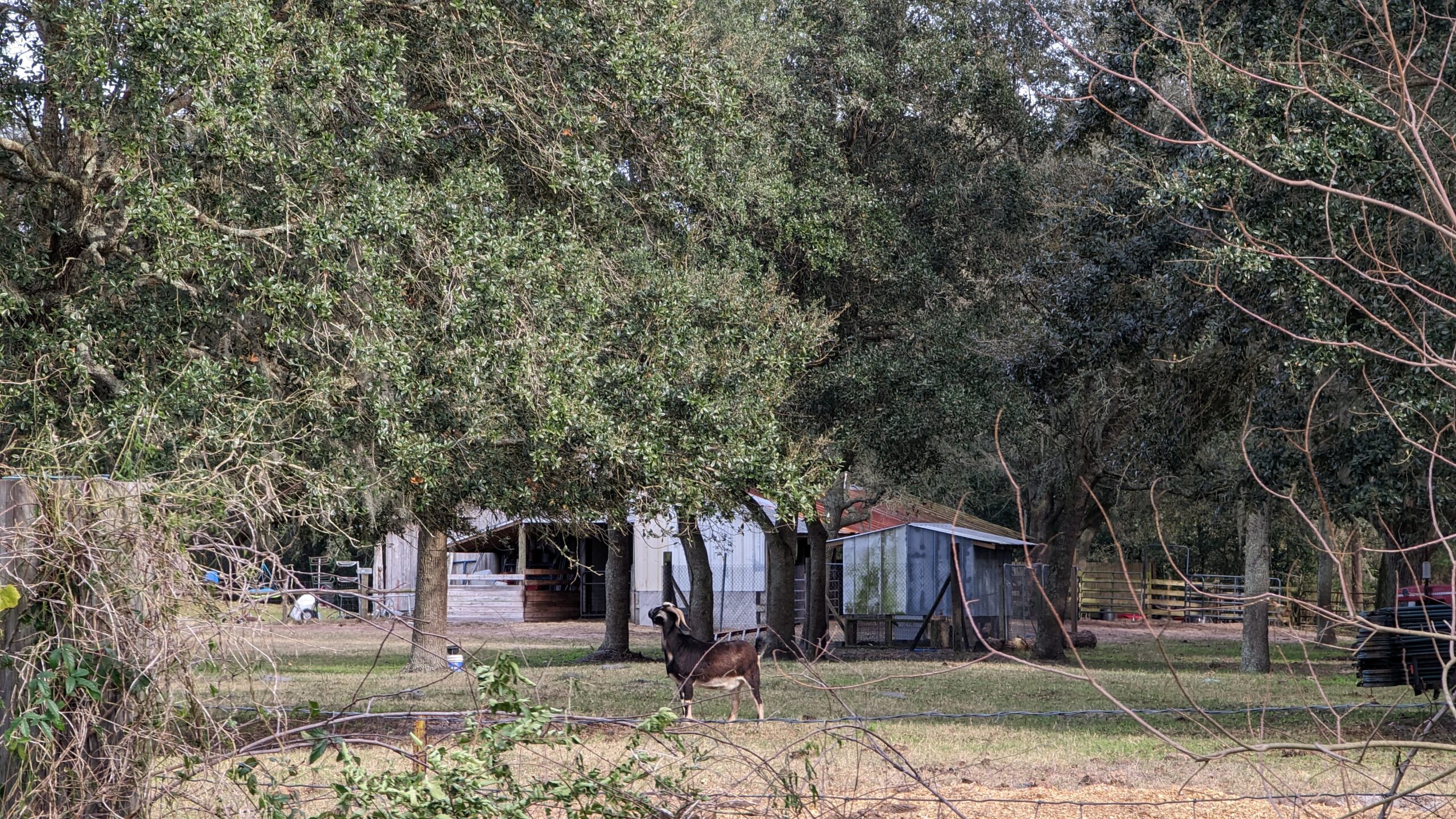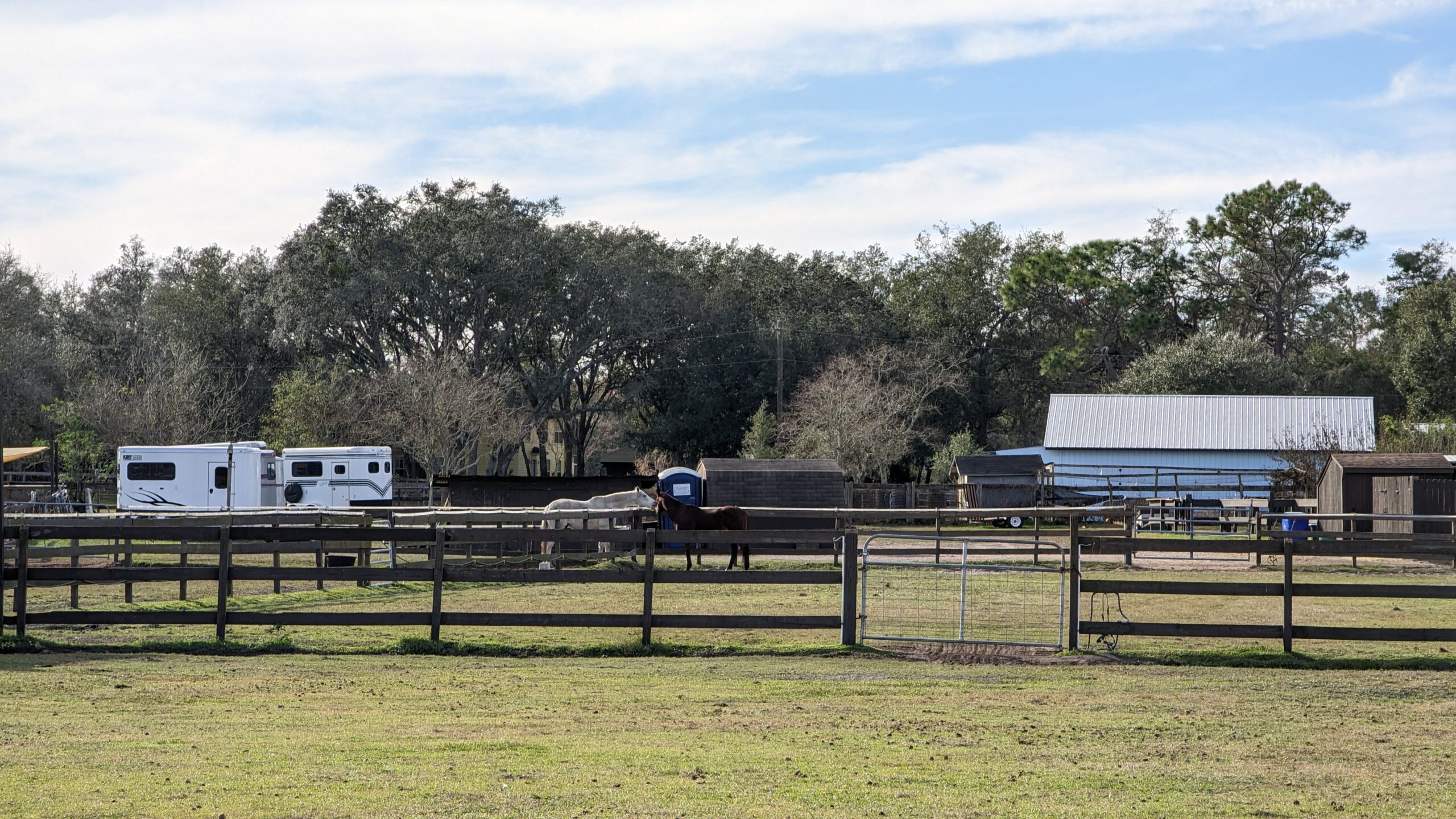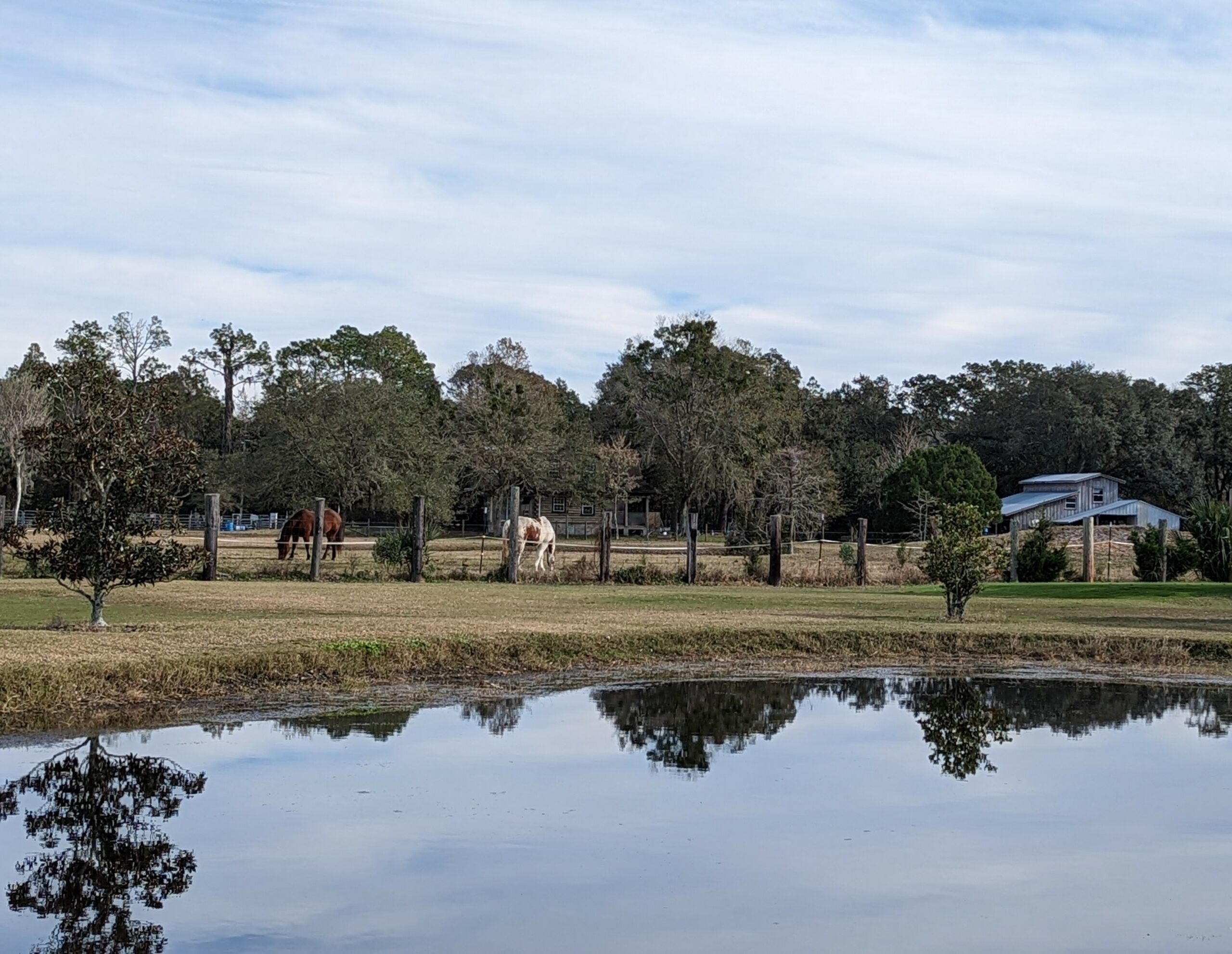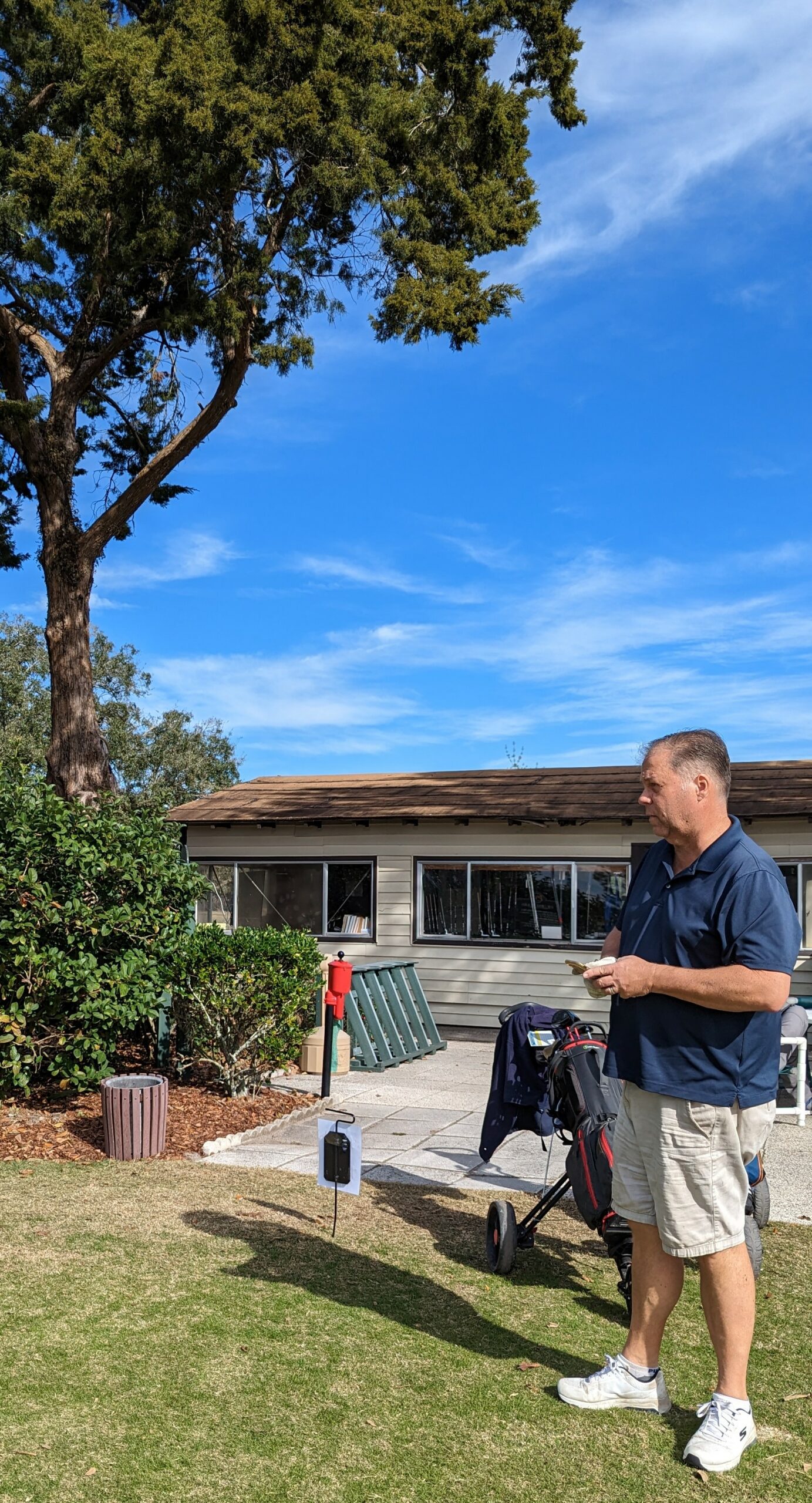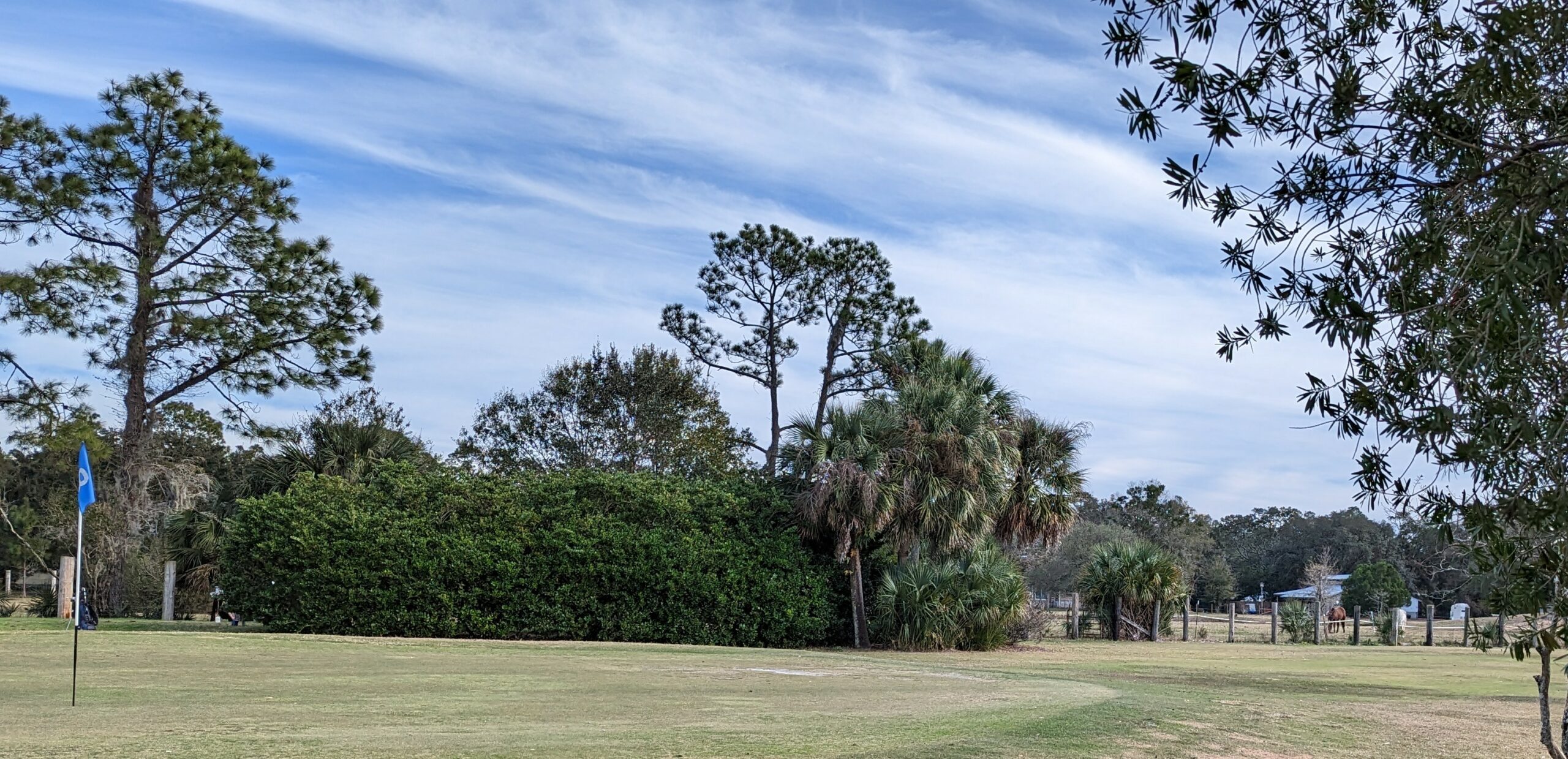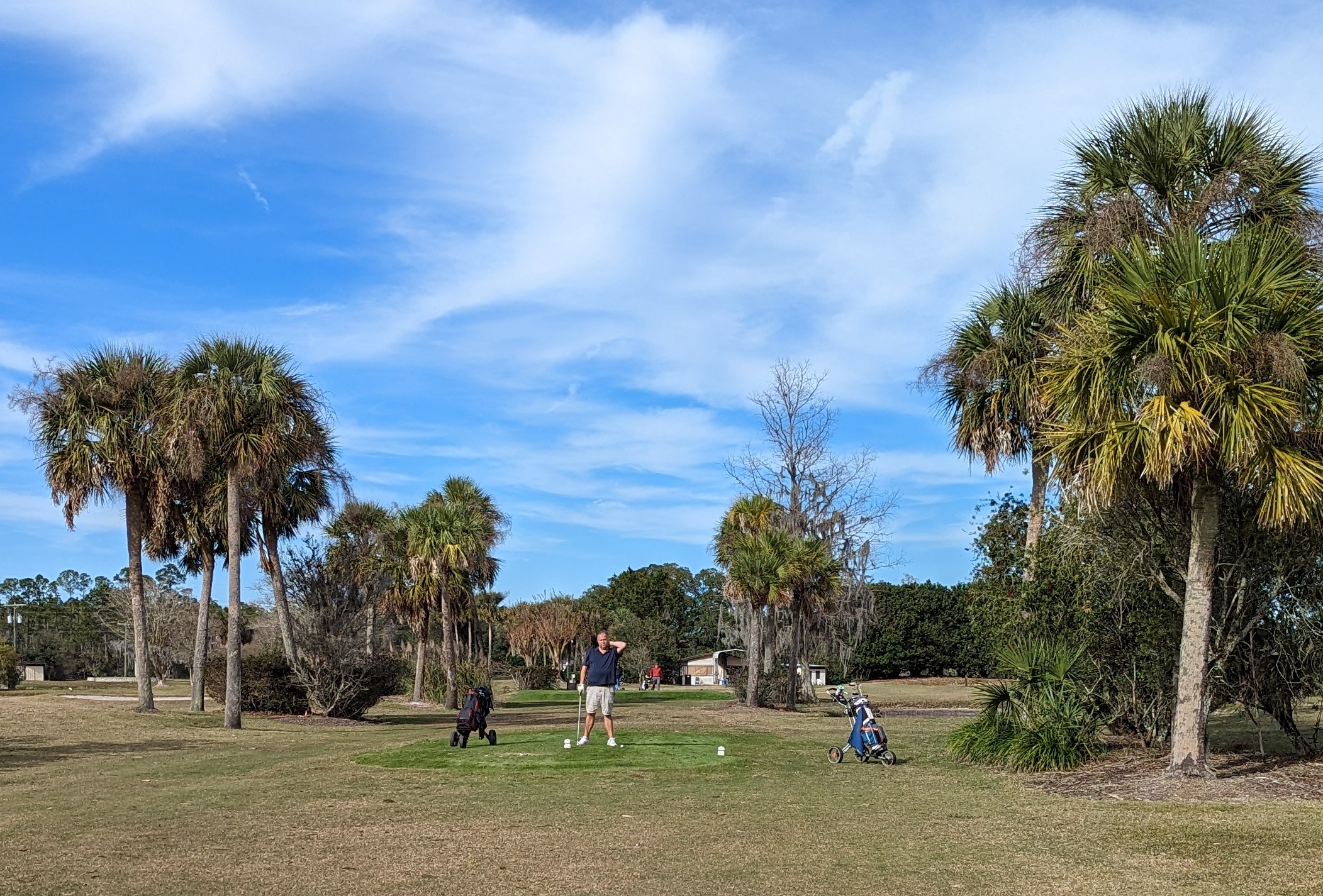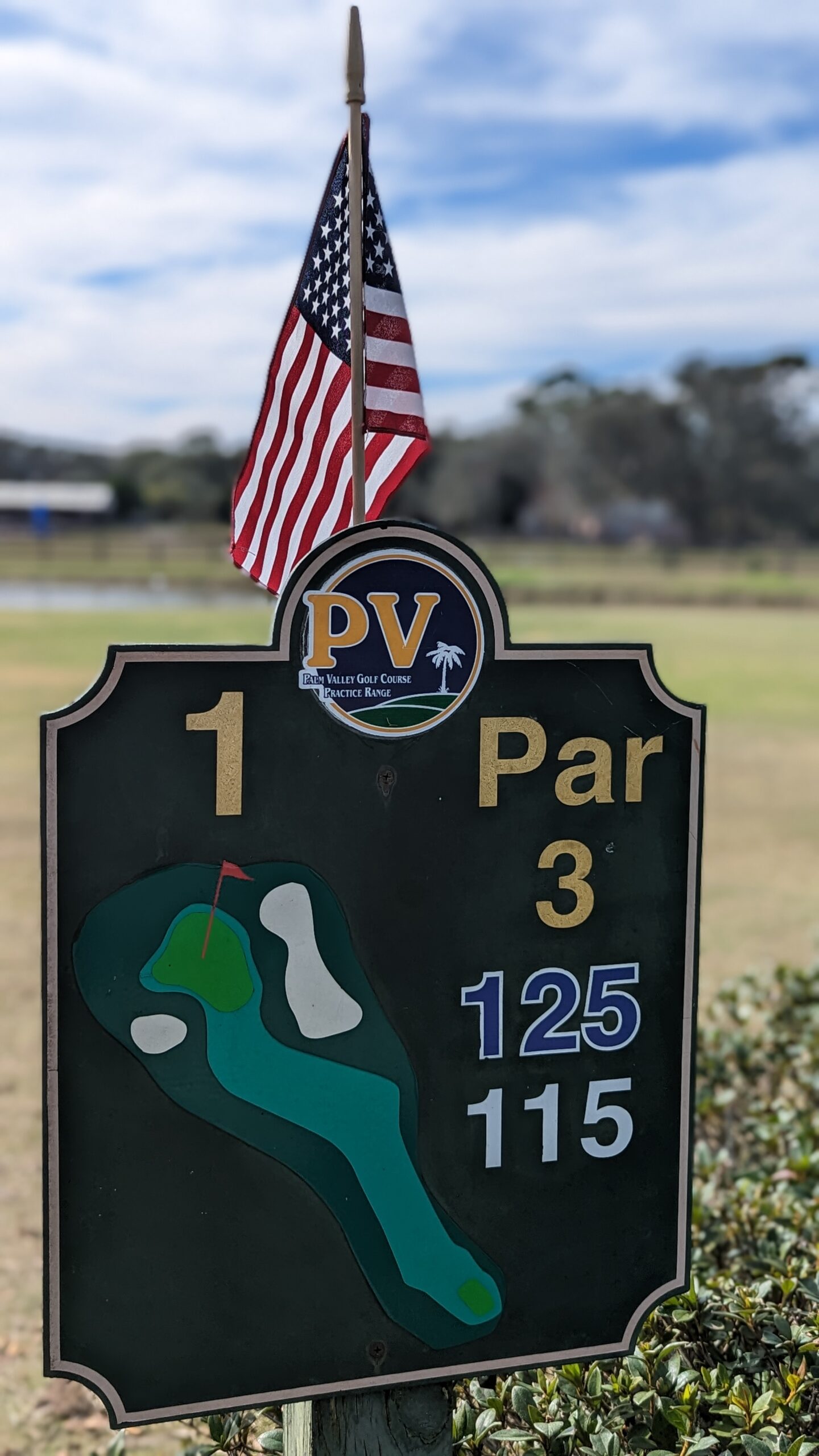 "Did you get that?" Ron said when we watched the goat stand on its haunches for an afternoon snack from the tree.
"Yep!"
We enjoyed watching our little friend and his antics while waiting on the tee box on seven.
With our bellies full and our bodies tired after walking nine holes, we returned to site 161 and relaxed. After feeding the pups, we enjoyed the spectacular work of God as we watched the sun's brilliant colors as it set.
"Brockmire" served as our evening's entertainment, but we called it a night before long—another relaxing day in north Florida.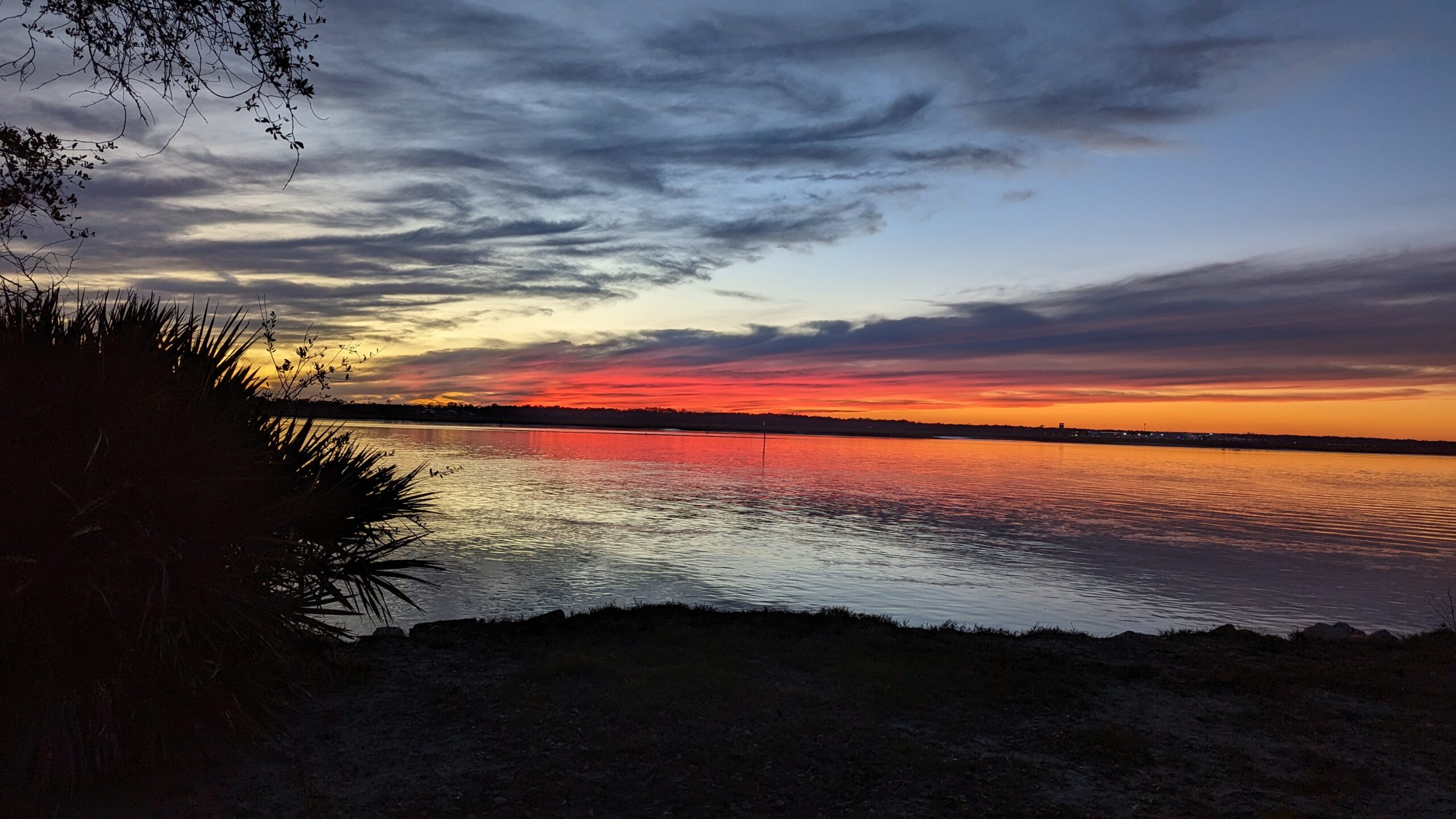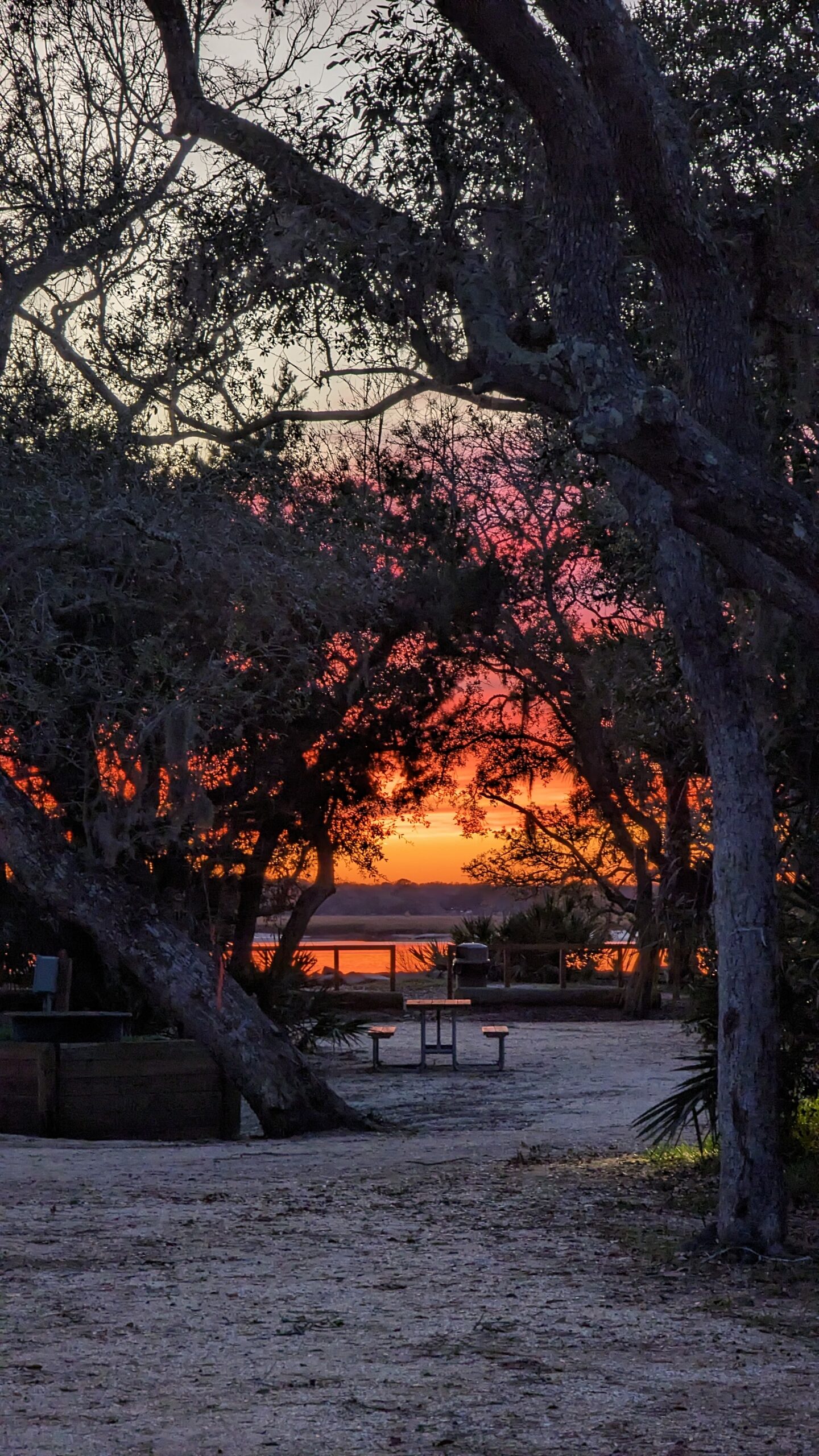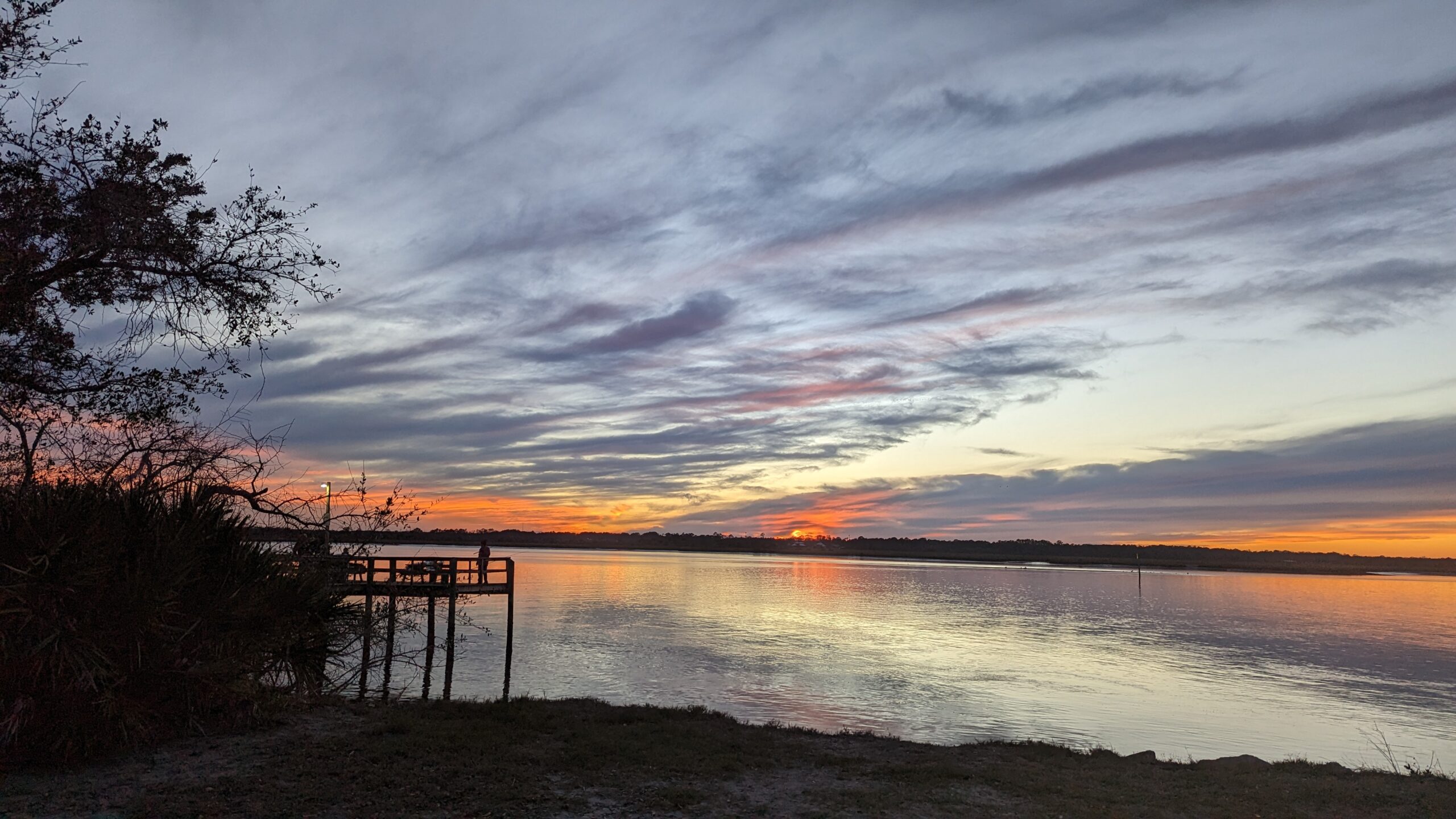 Best shot of the day, both photographically and driving, the reason we keep coming back.
No, I did not hit the bird.
Yes, I did try to scare him off.
He watched the beauty of a well-struck ball with us, never moving an inch:-)!
After golf, we returned to camp to take care of the pups. Once we fed the dogs, we walked to Aunt Kate's, enjoying a delicious dinner while watching the sunset. Walking the dogs when we returned, I captured some brilliant colors.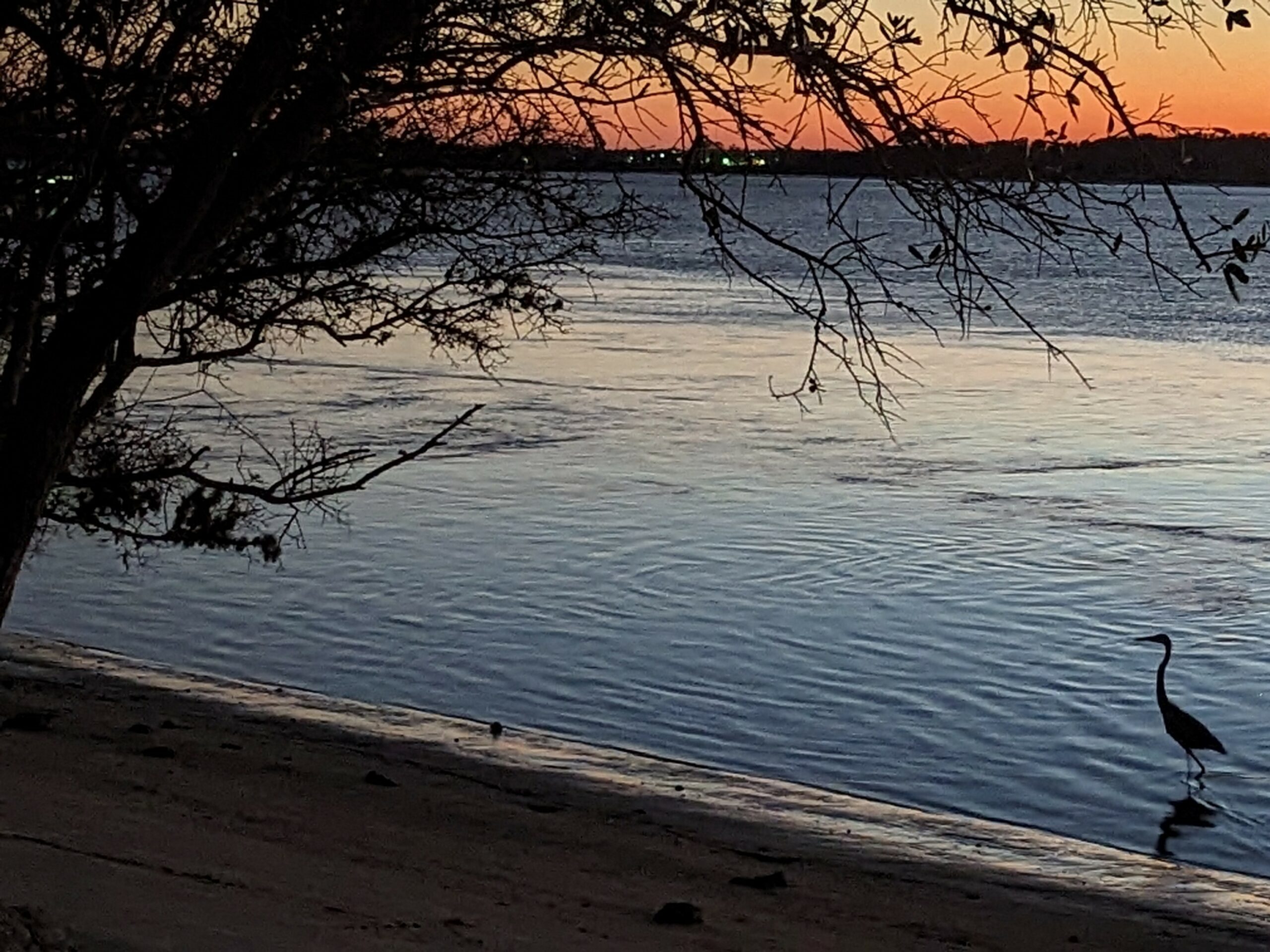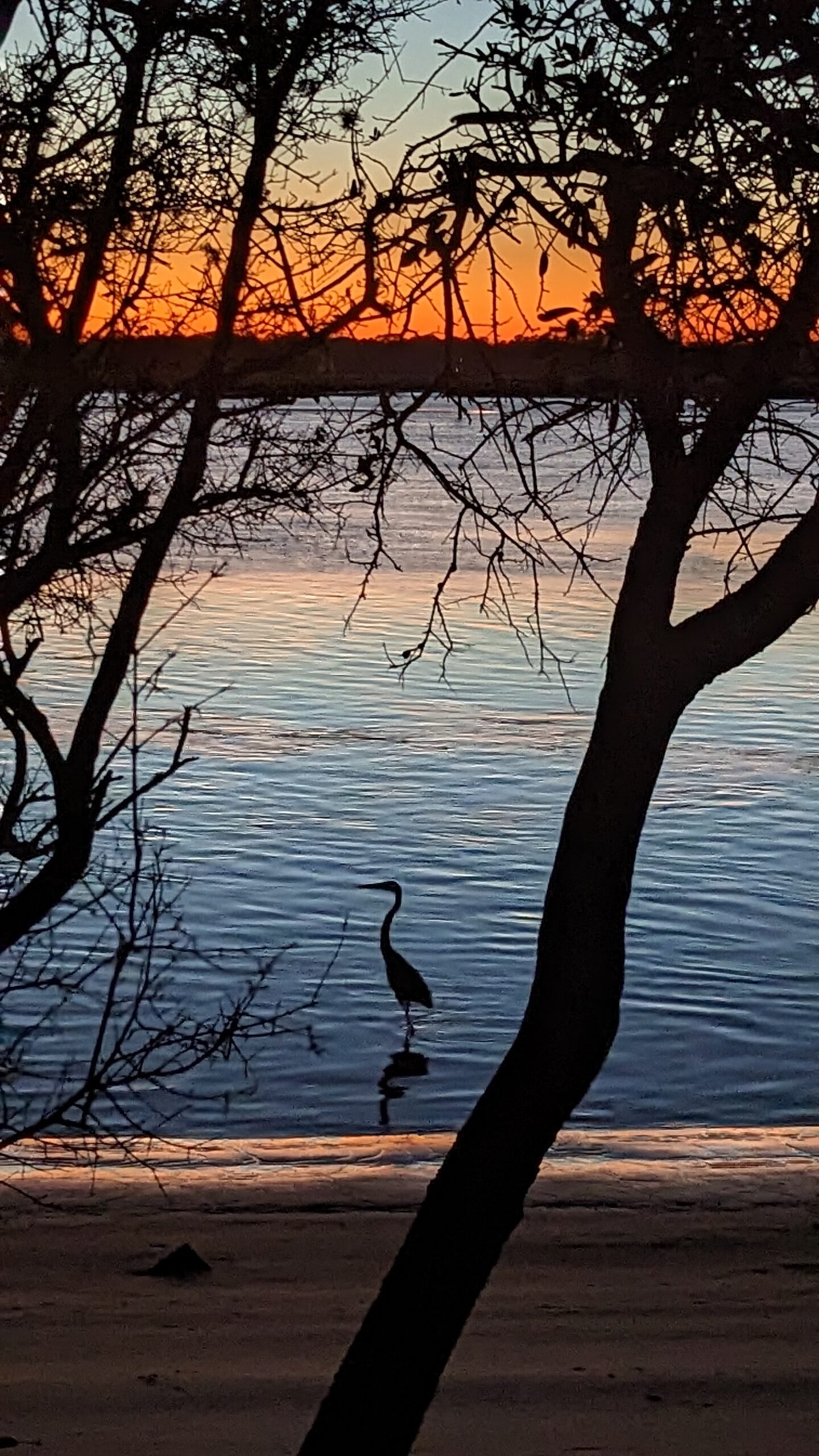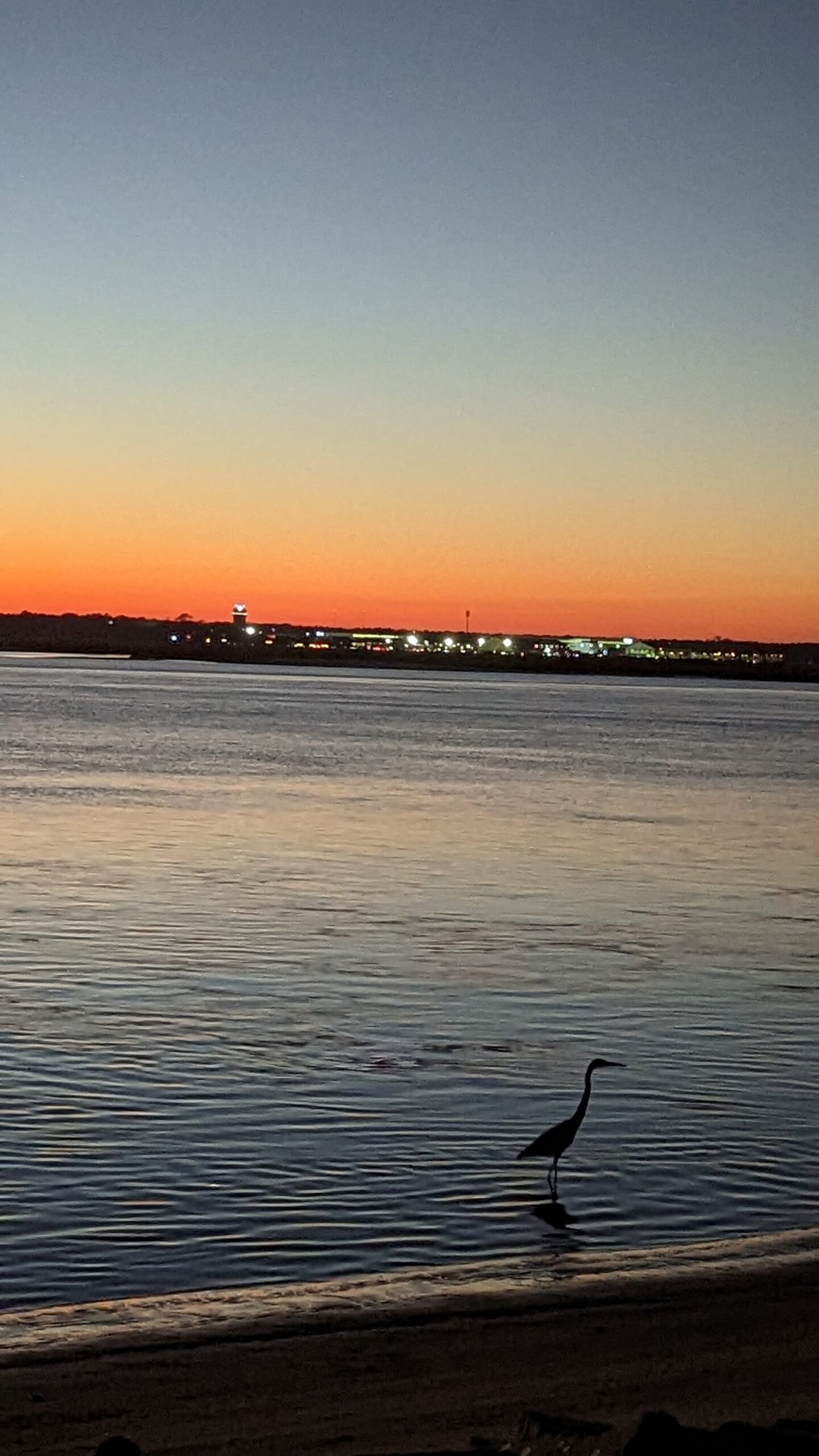 Today's treasure, handed to me by a woman walking her dog on the beach.
She saw me collecting shells and gave it to me.
"Wow, it's so beautiful!" I said
Her face erupted into a smile seeing my delight.
"Happy New Year!" She said, walking away.
The black-clad stranger answered my morning prayer to find another whelk shell. God used a stranger to respond:-).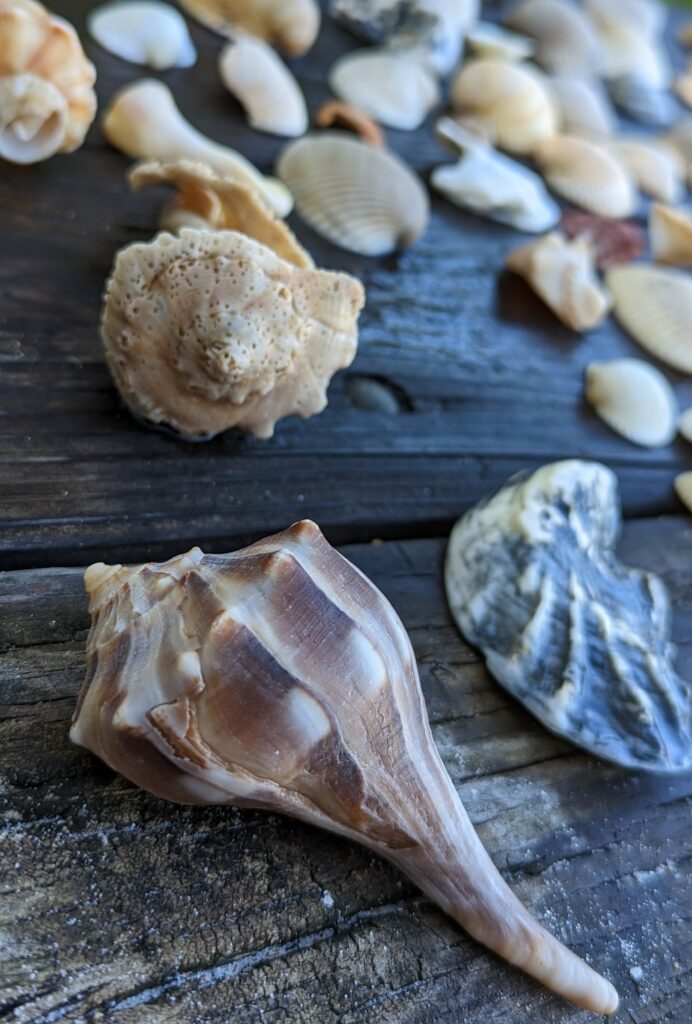 "What do you think, Honey? Do I need this for my shell collecting?"
"No, you can bend down," Ron said with a smile once he realized the gadget's purpose.
I did have the same thought. Glad to know he agrees. Better exercise if I bend down to pick them up.
God knows I need exercise:-).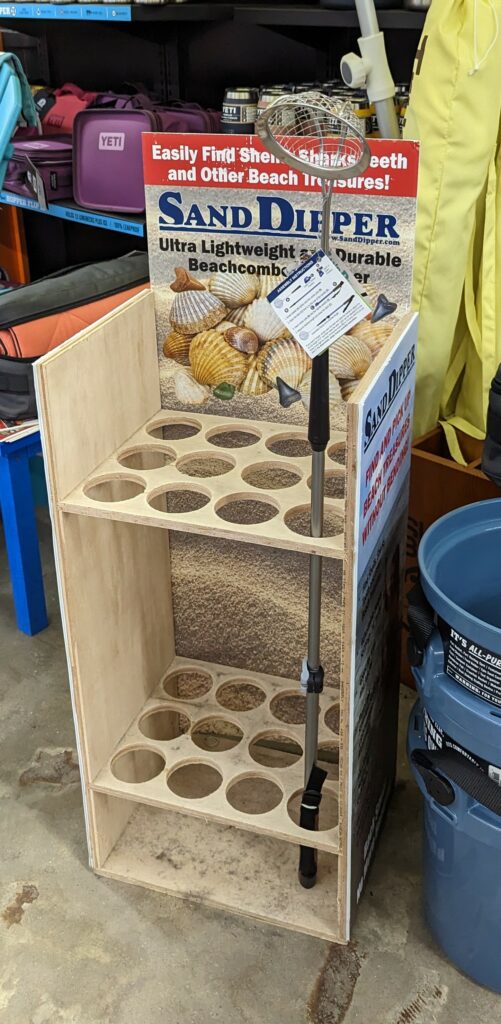 After cleaning my morning's bounty, Ron indulged me in consignment shopping at Alpha & Omega Thrift store in St. Augustine. The charity supports homeless women by pairing single mothers with senior women.
"Like a grandma," the clerk said when describing their mission. Supporting them by spending $115.26 on merchandise to upcycle for Honest Reflections uplifted me. God bless these women on their journey.
We realized on the way back we needed to get our laundry from the laundromat at the campground. Stopping, I learned my dilemma quickly, almost immediately.
The bedclothes didn't dry because of their wetness. When I transferred them to the dryer, I didn't realize they hadn't finished the wash cycle. Water everywhere!
Mortified, I gathered them together as quickly as possible and left. Ron went back and finished the load for me, one of the many reasons I love him, his grace for me.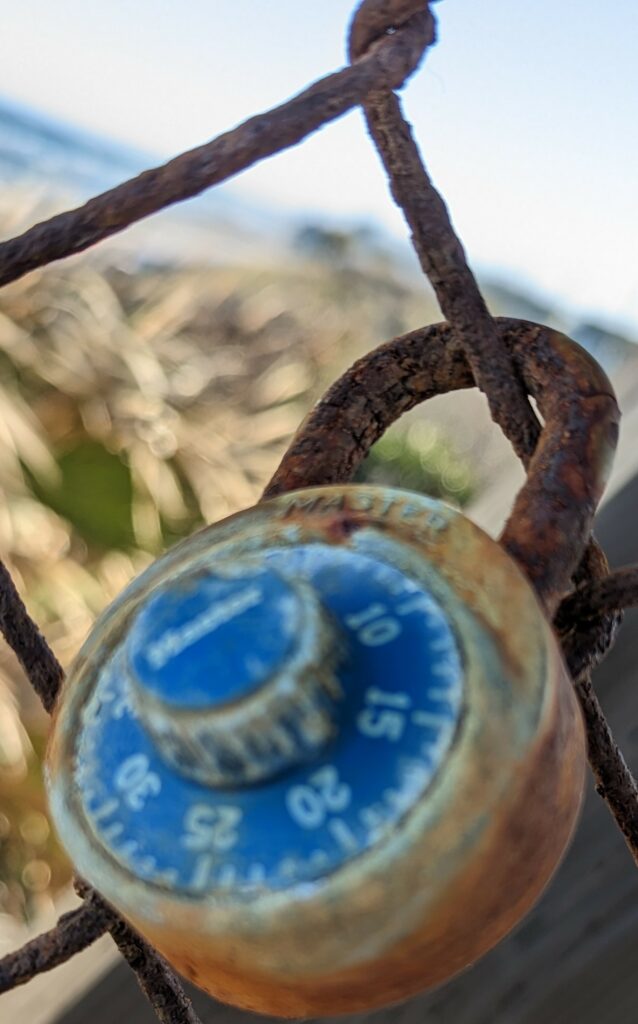 Hurricane Ian took its toll on Vilano Beach…and our lock of love, but at least the bridge survived; some did not.
One section washed out, leaving nothing but the house standing on stilts. Stairways, the only thing remaining from a hotel walk-over. Reminders of Ian's strength and devastation.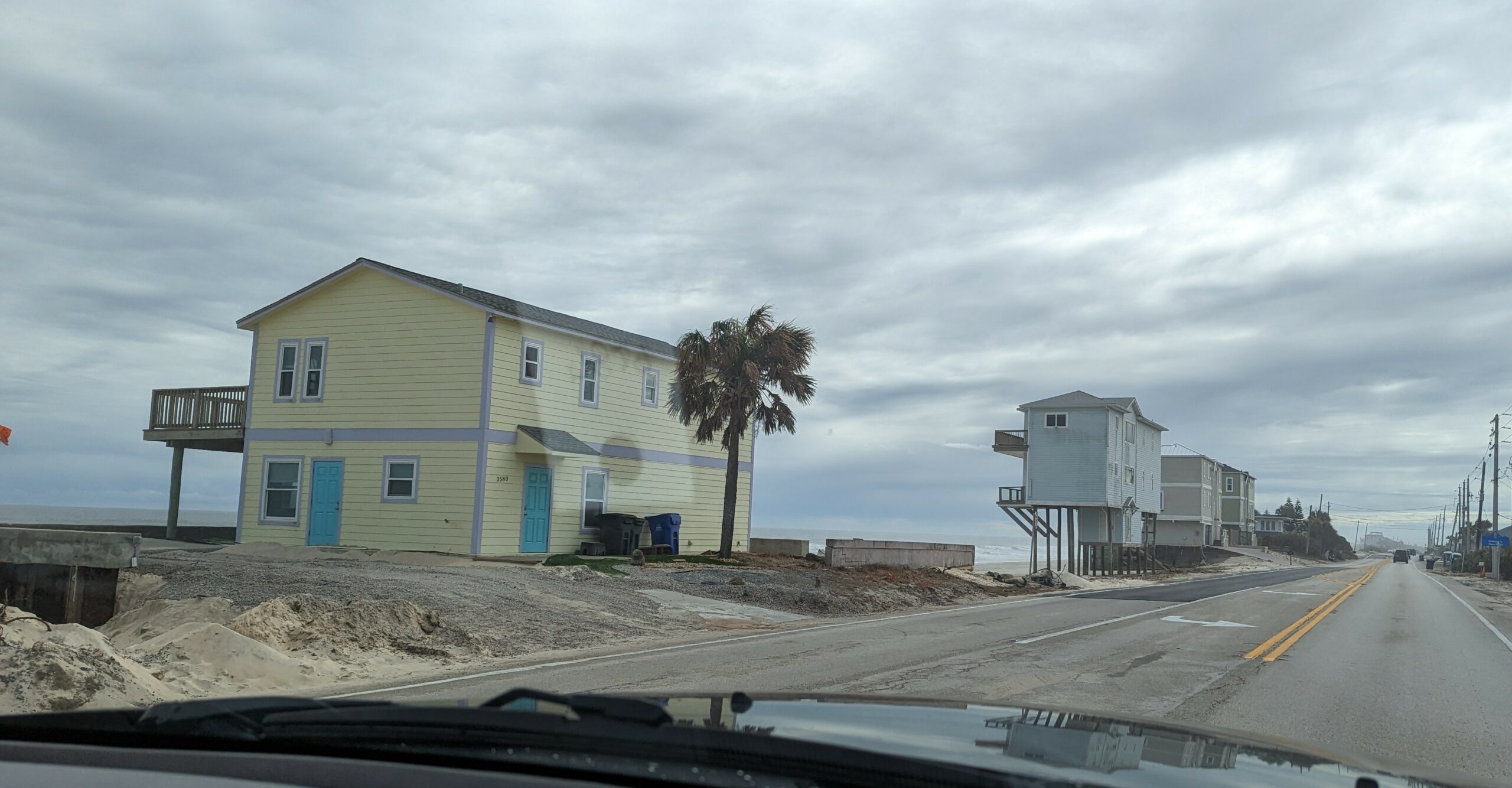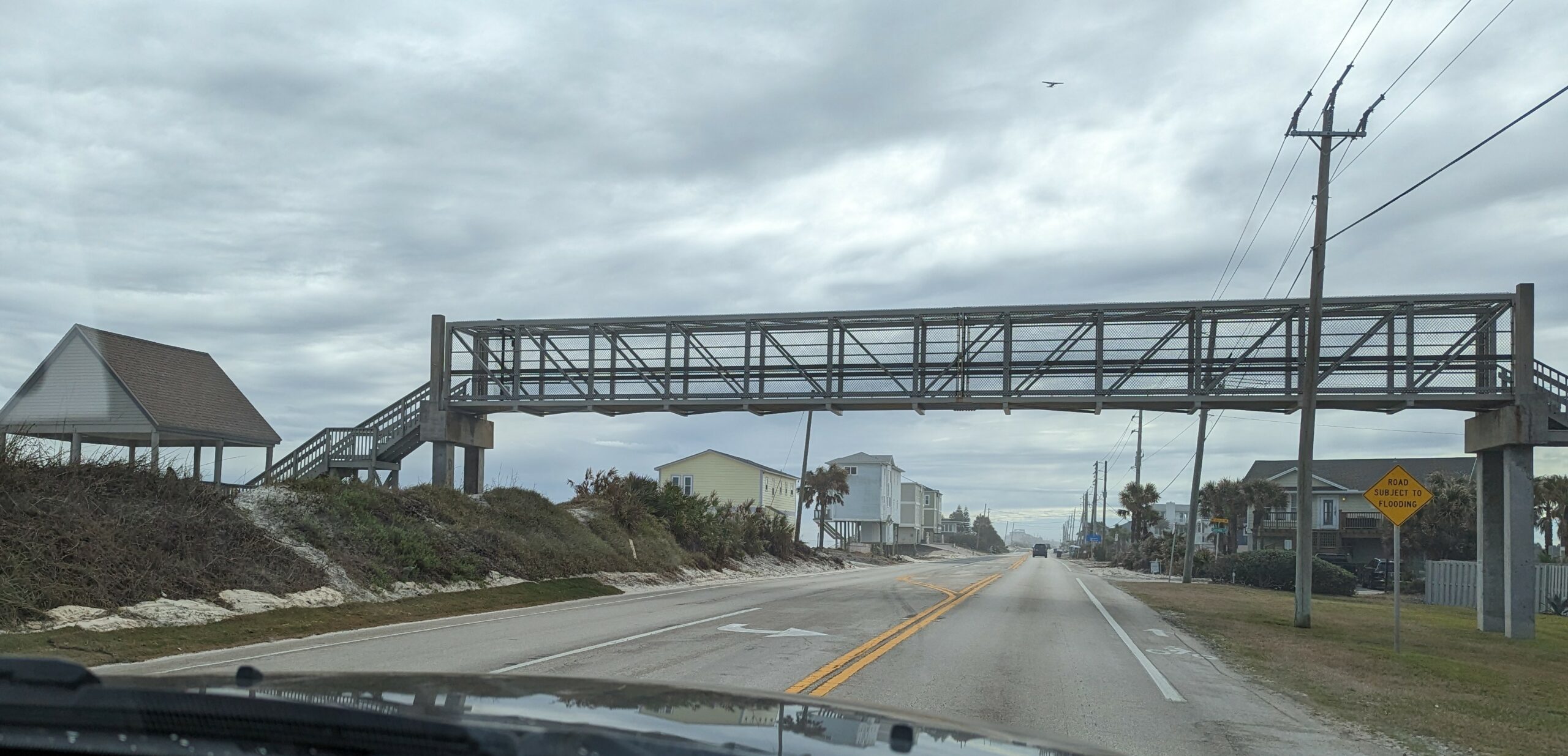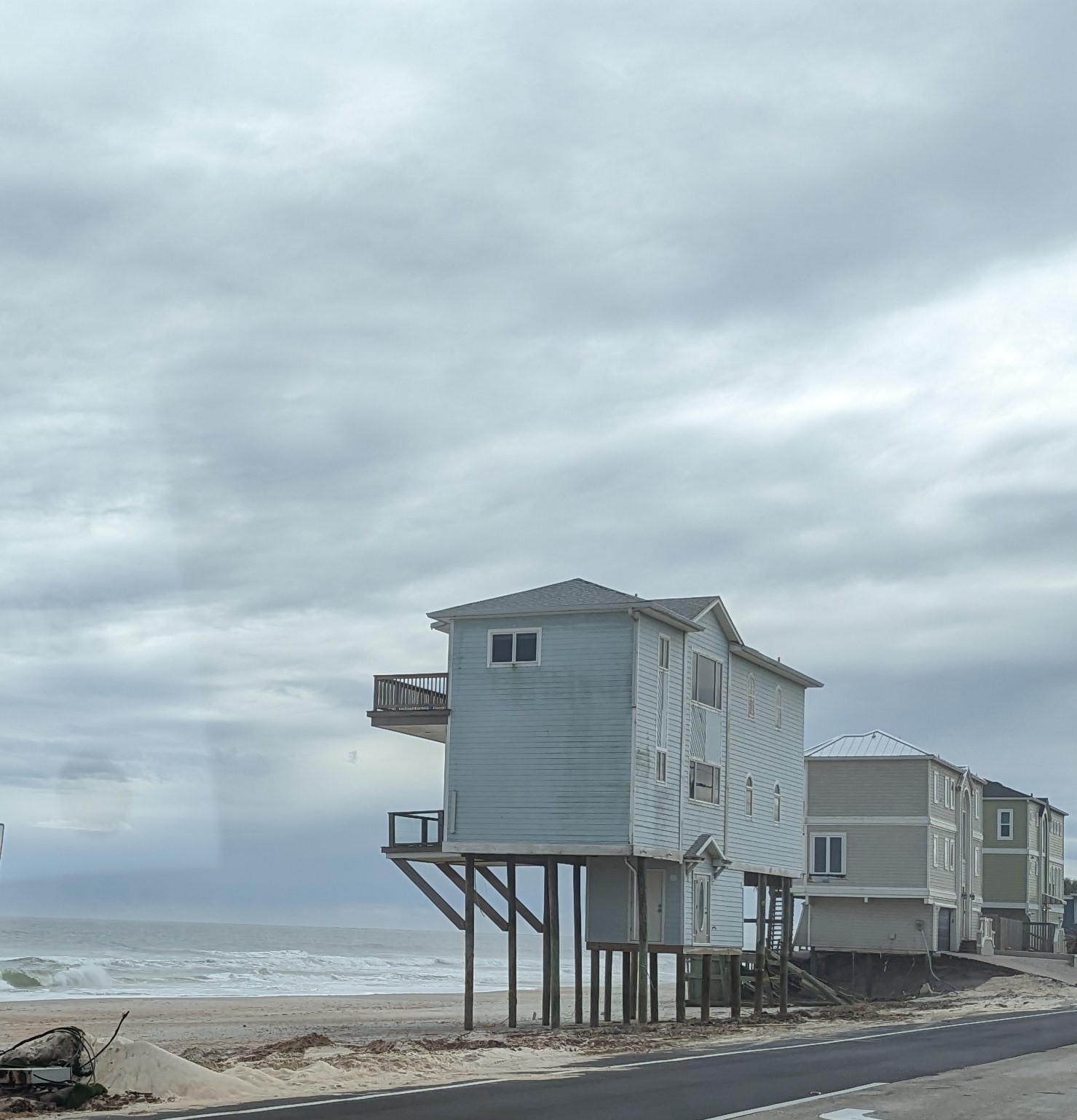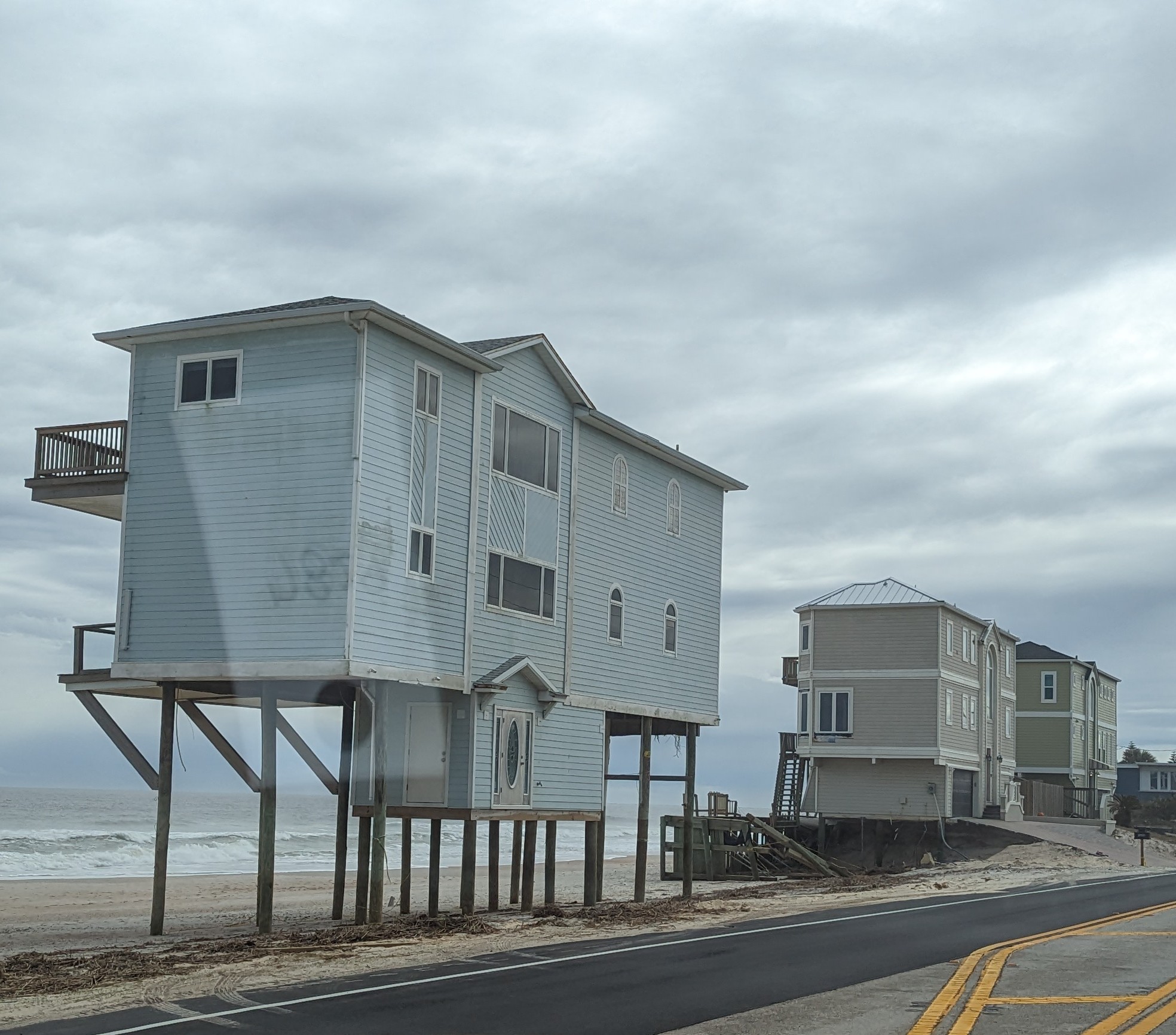 Thursday afternoon, we golfed at St. John's Golf Club. An interesting course, with square greens and tight fairways.
"If you can load up quick, you can sneak in behind that foursome."
Arriving an hour early, the starter accommodated us. Playing an unknown course always presents a unique challenge. Frustrating and fun at the same time. Only playing nine, we can only imagine the rest of the course.
"Probably wouldn't come back here," Ron said as we left.
Part of the problem came from no GPS. The course didn't register on either of our devices because the facility changed the layout. We managed as well as we could and made the best of it.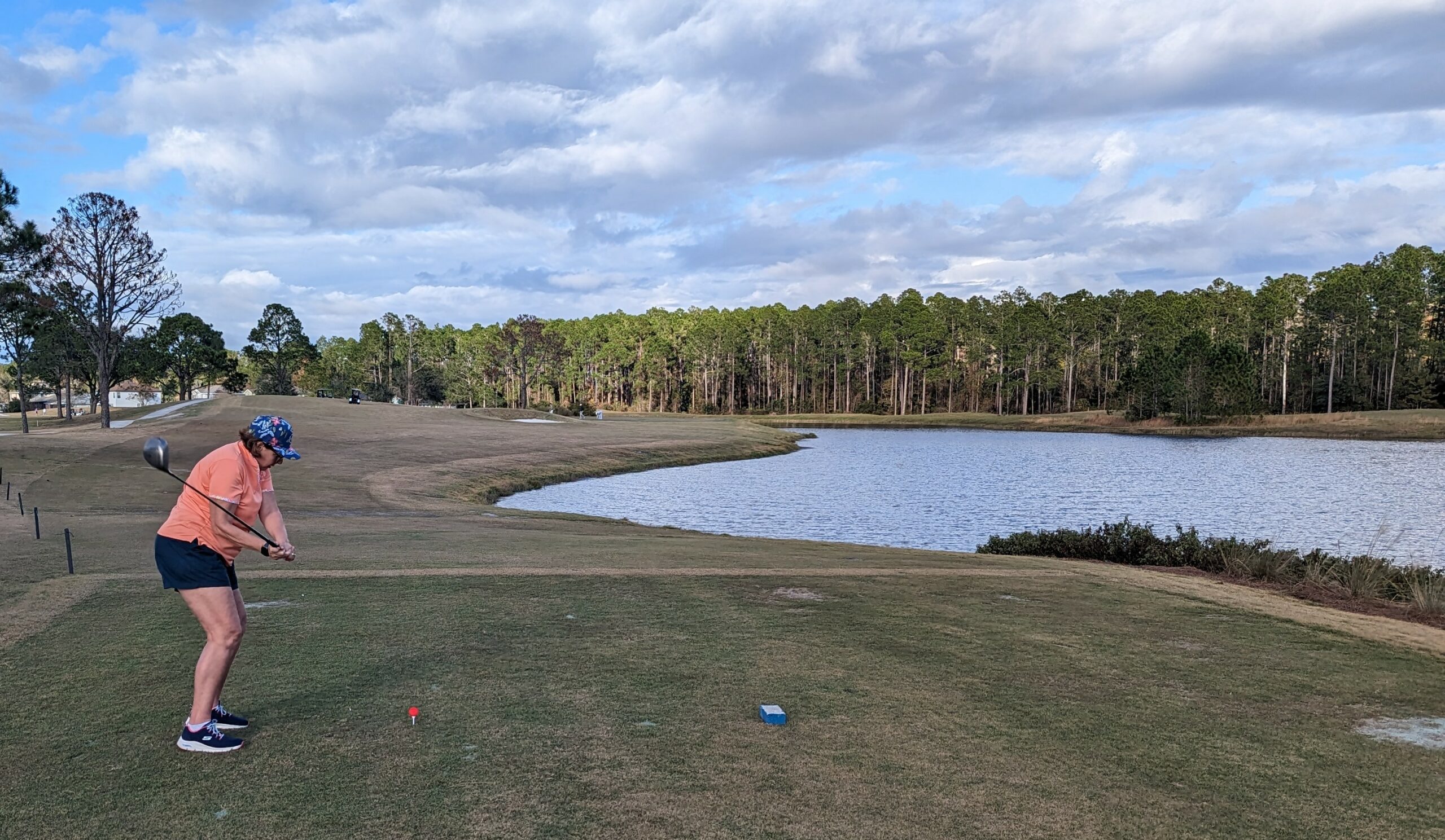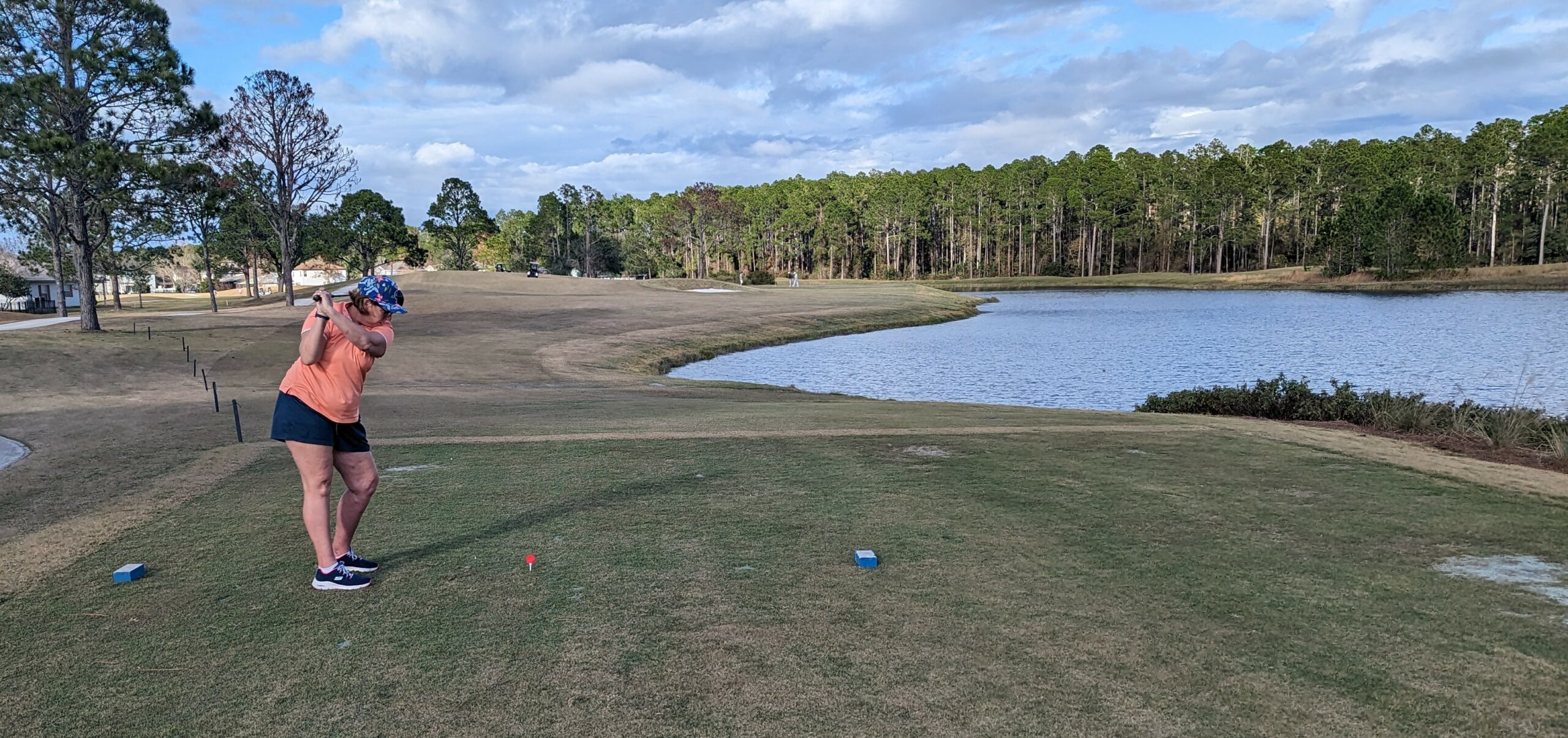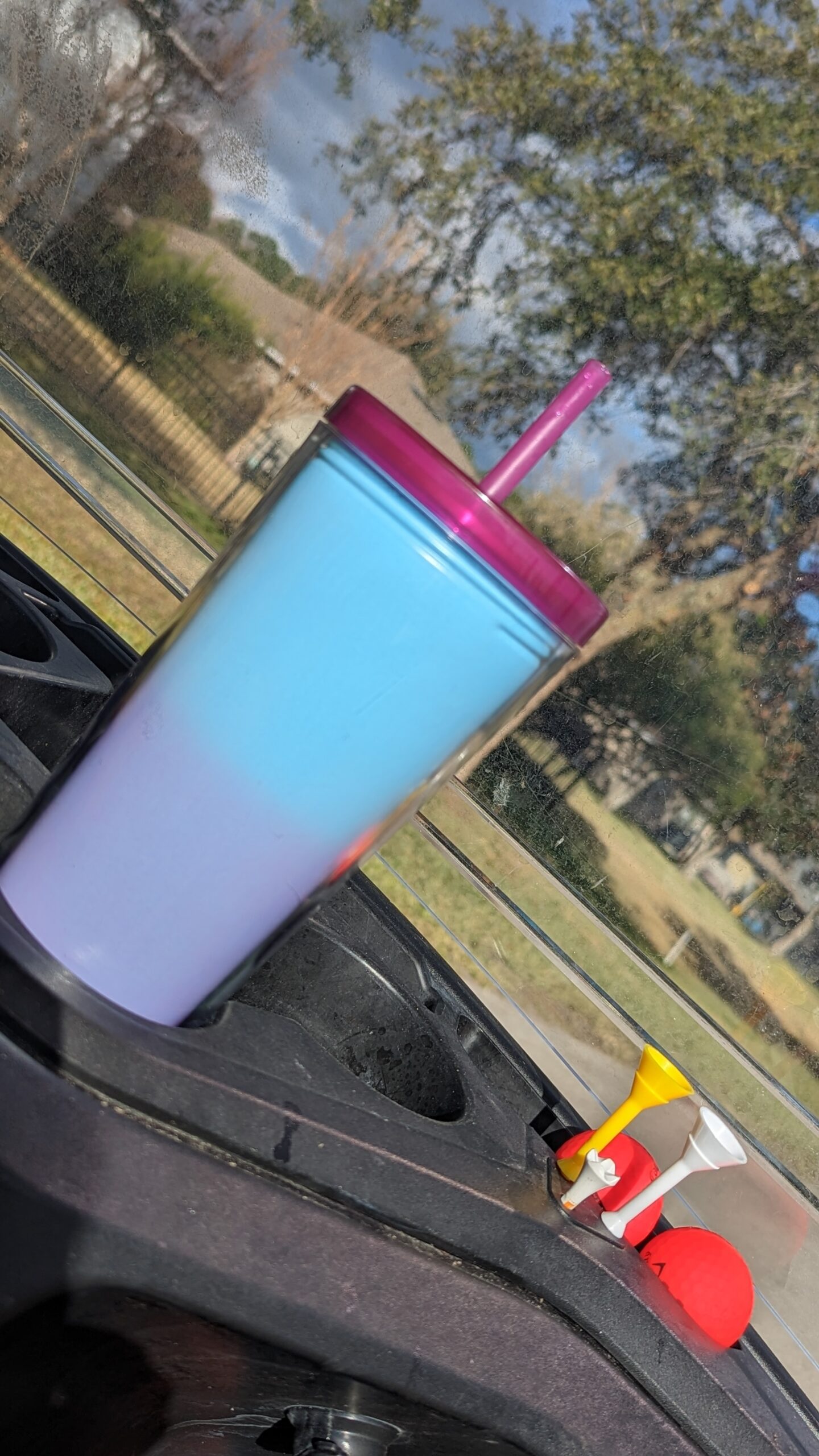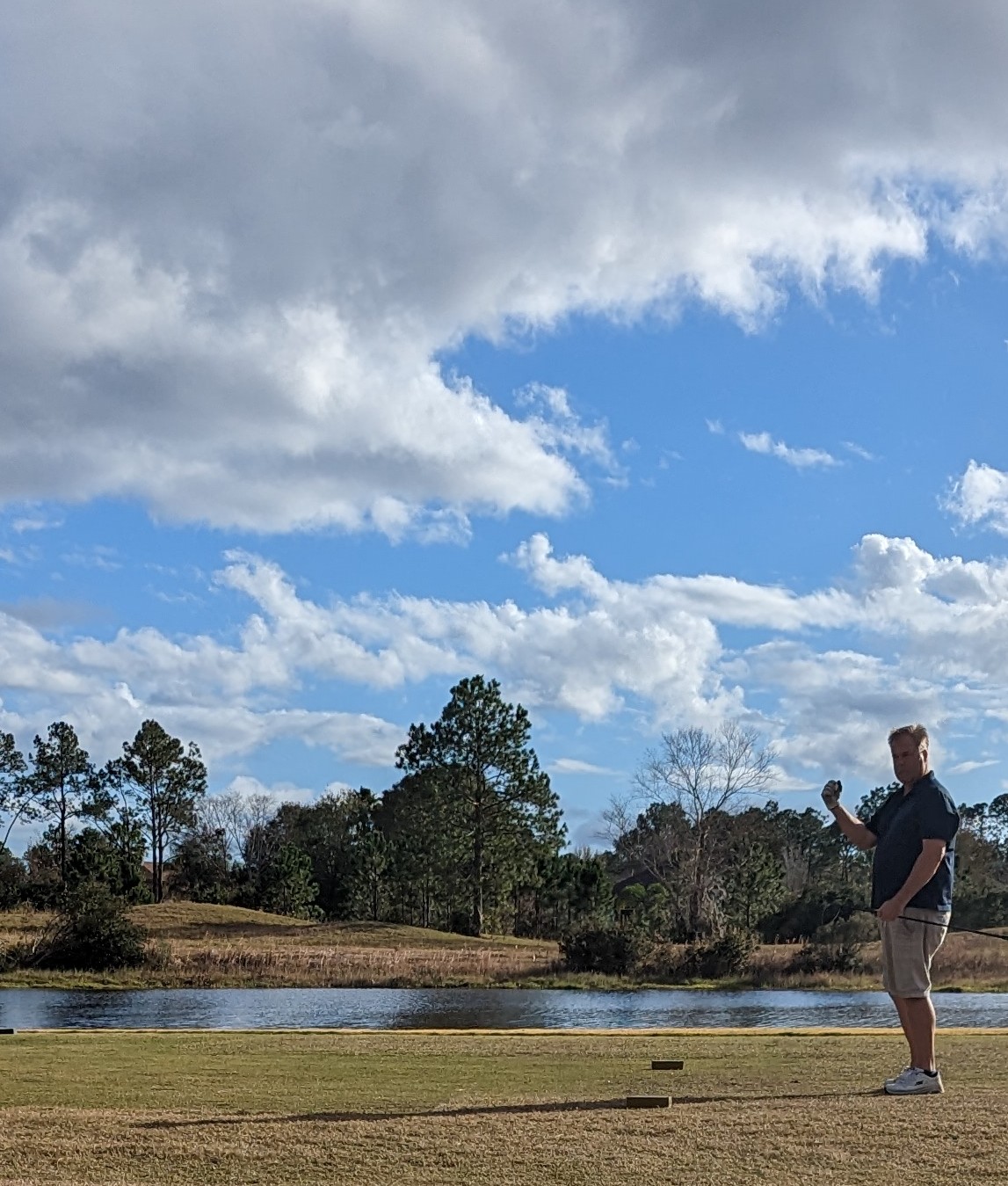 After an early night, we woke early Friday, hoping to get on the road before nine. After watching the sunrise, we packed up. By 8:37, the Crusader's nose pointed north as we began the trek home.
Six hours to Mt. Pleasant, we joined the stream of cars flowing up I-95. Sunny skies and dry roads made the trip easier. Thankfully, not too much construction slowed us down and only a few accidents.
Snapping pictures as we went, the I B-47 Stratojet on the grounds of the Mighty Eighth Air Force Museum makes an impressive sight.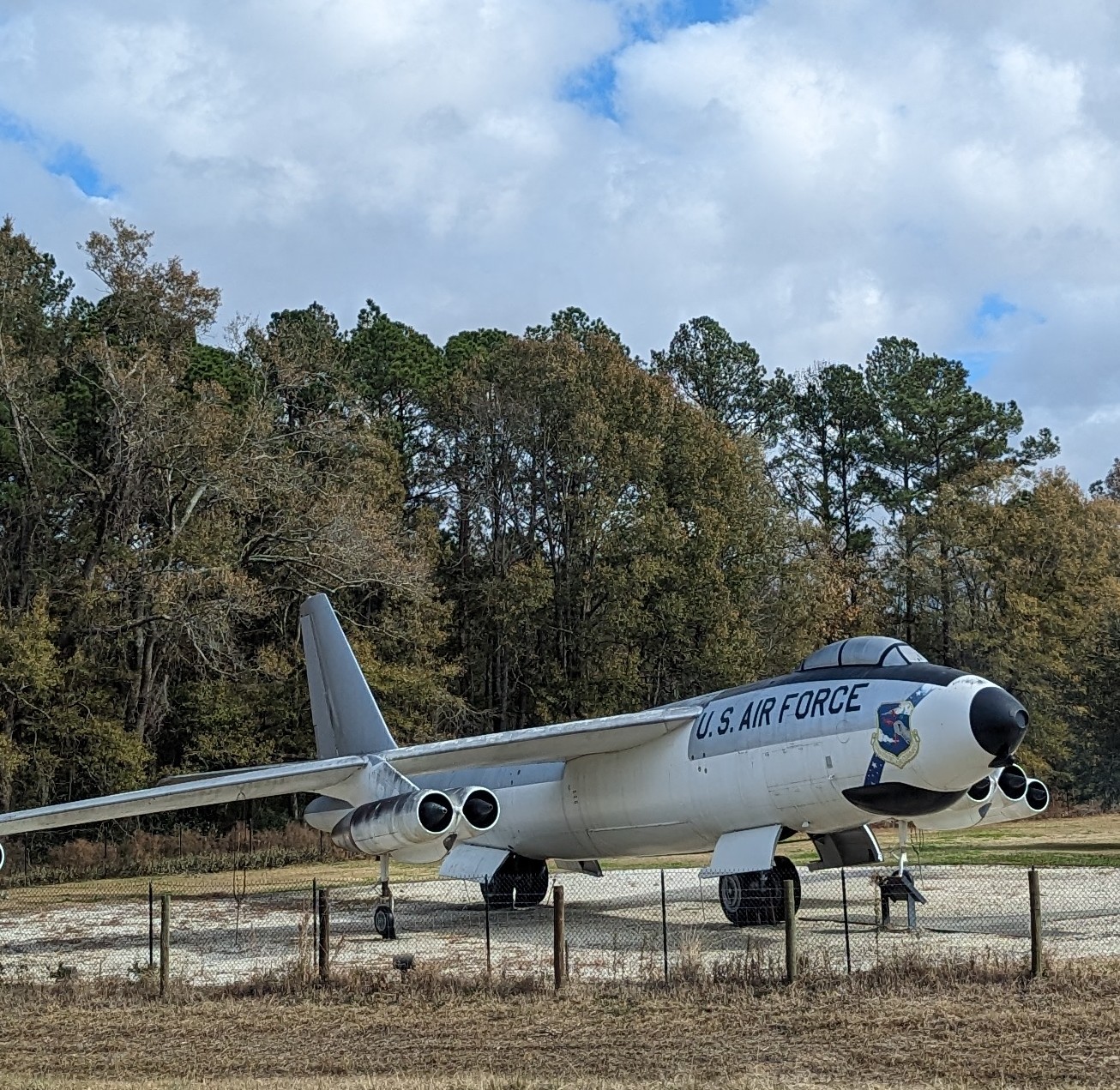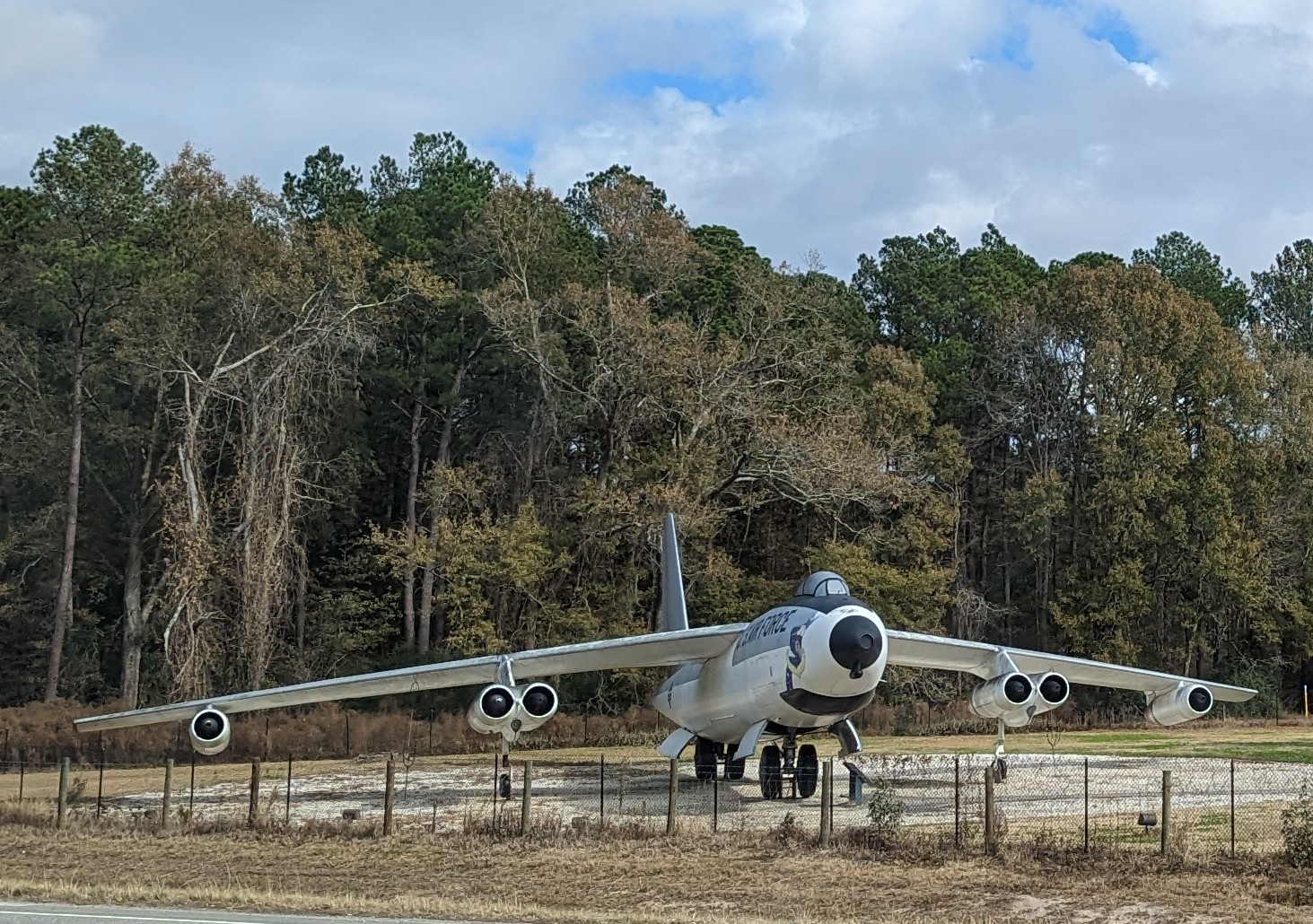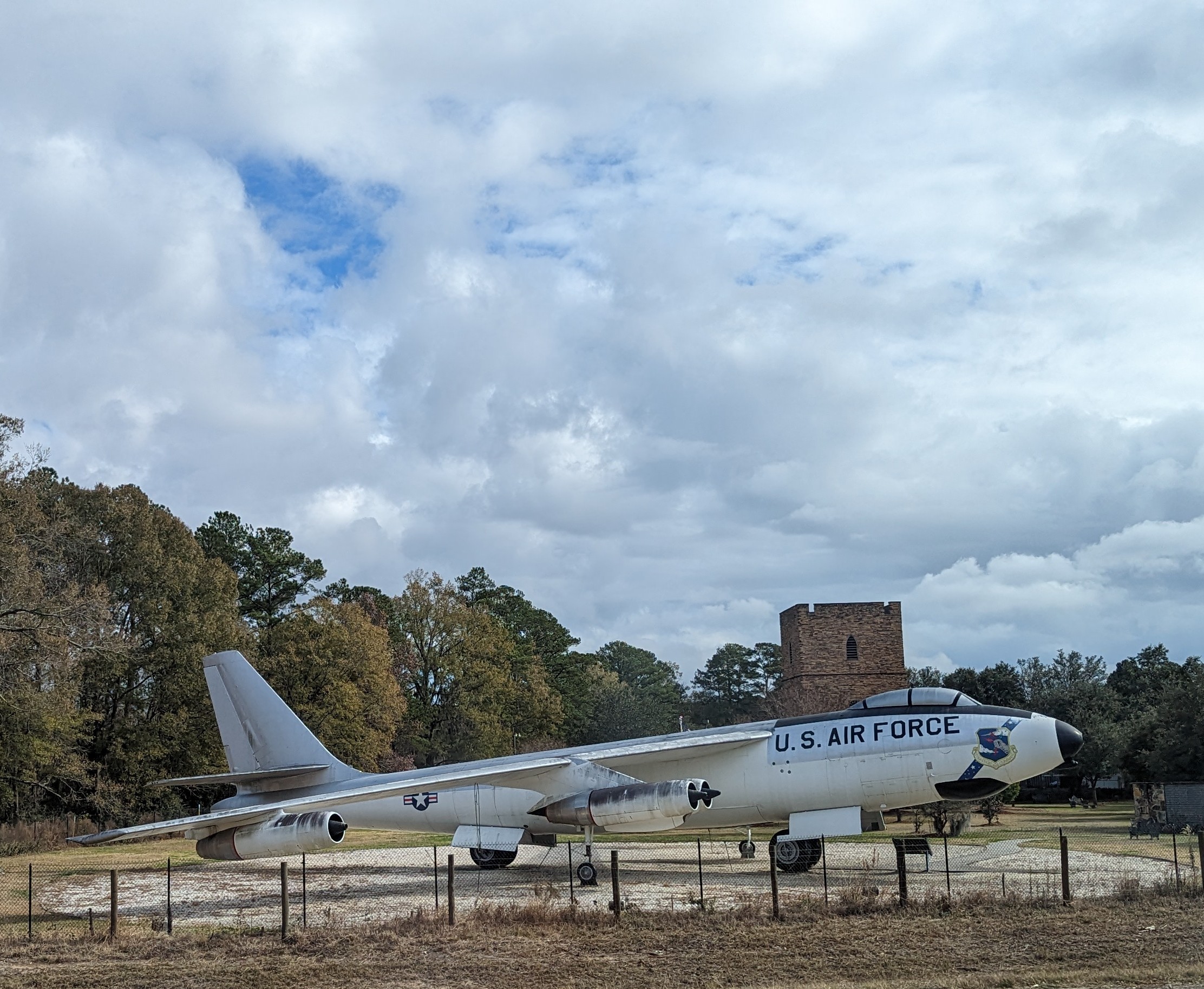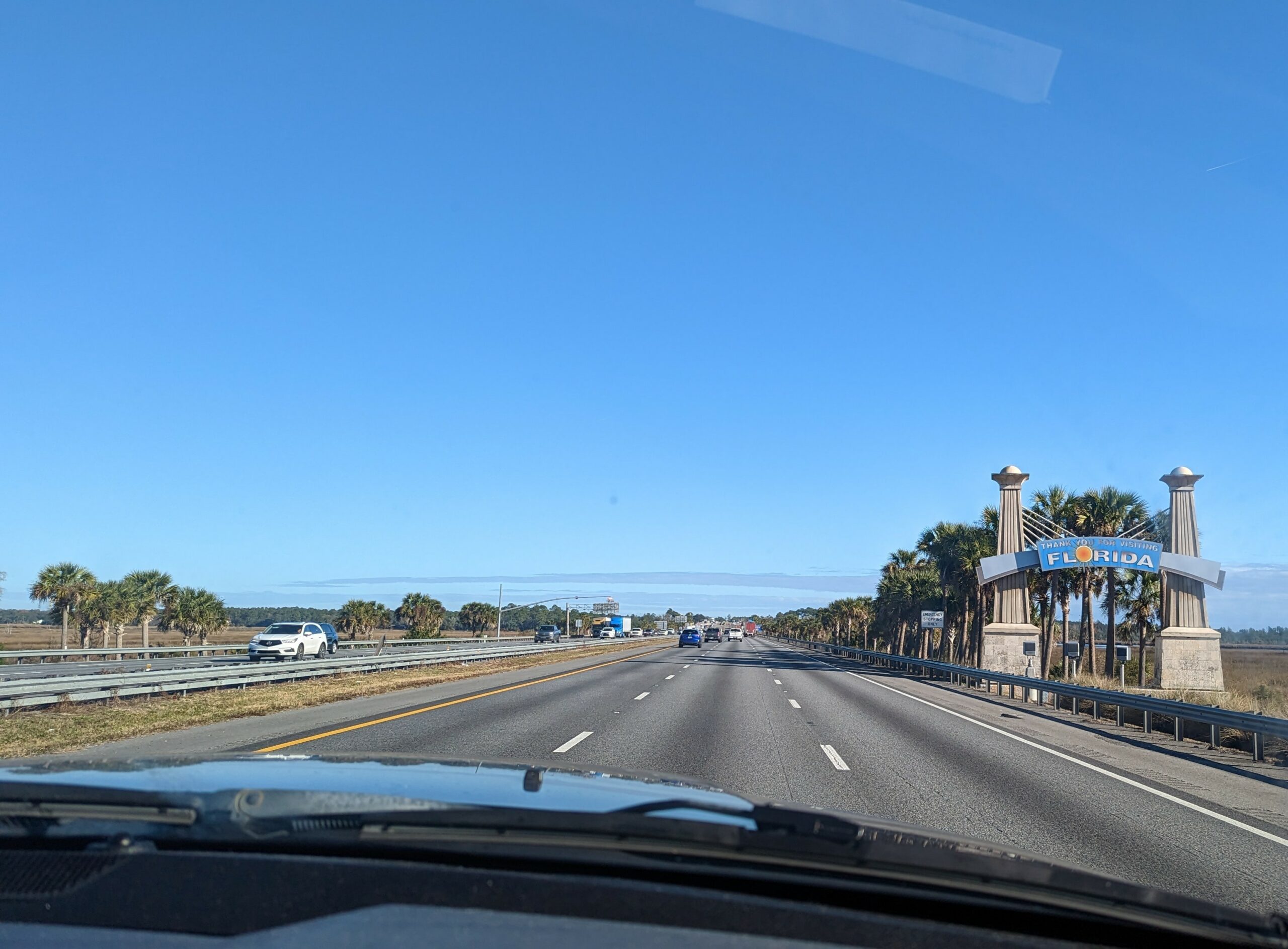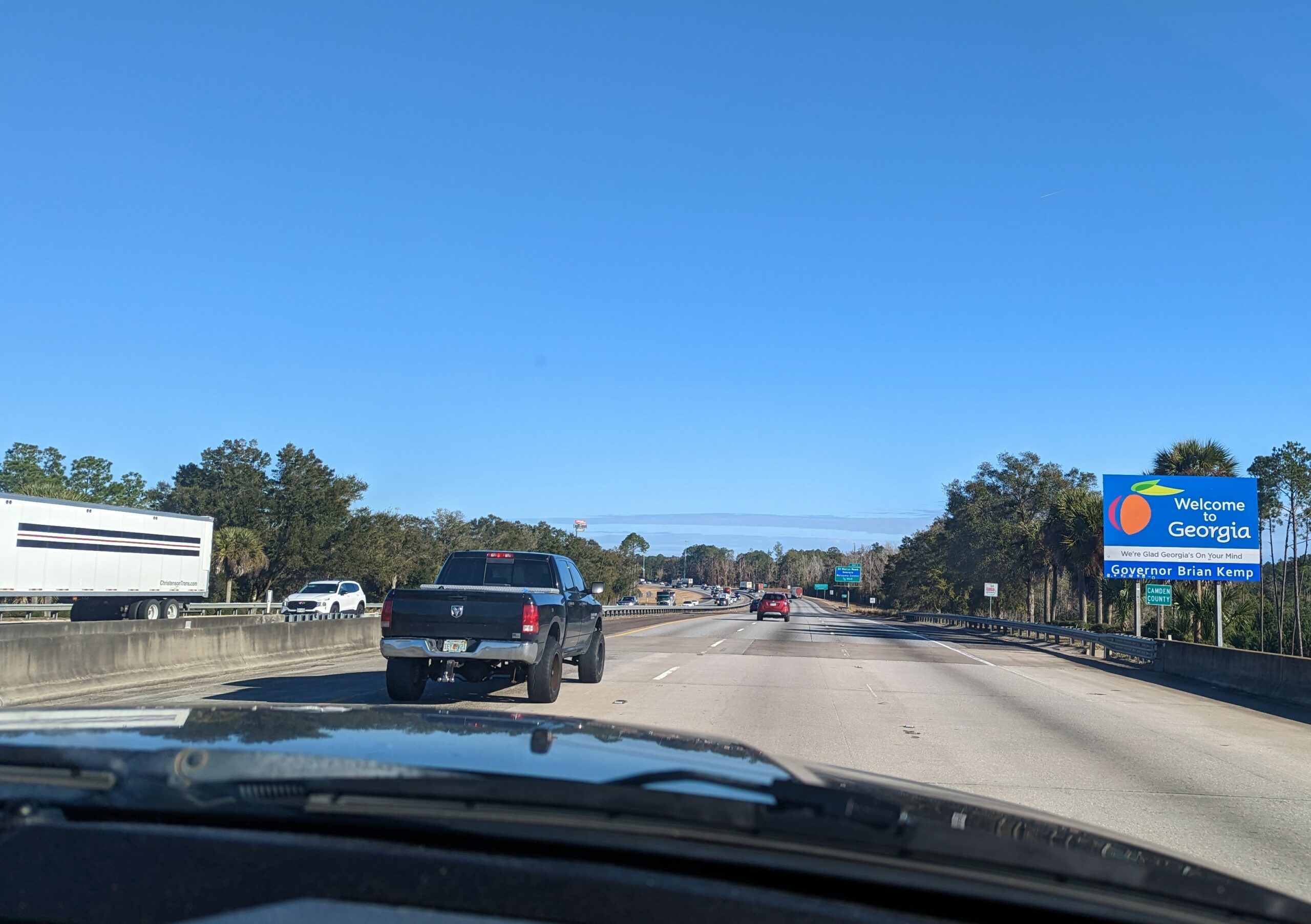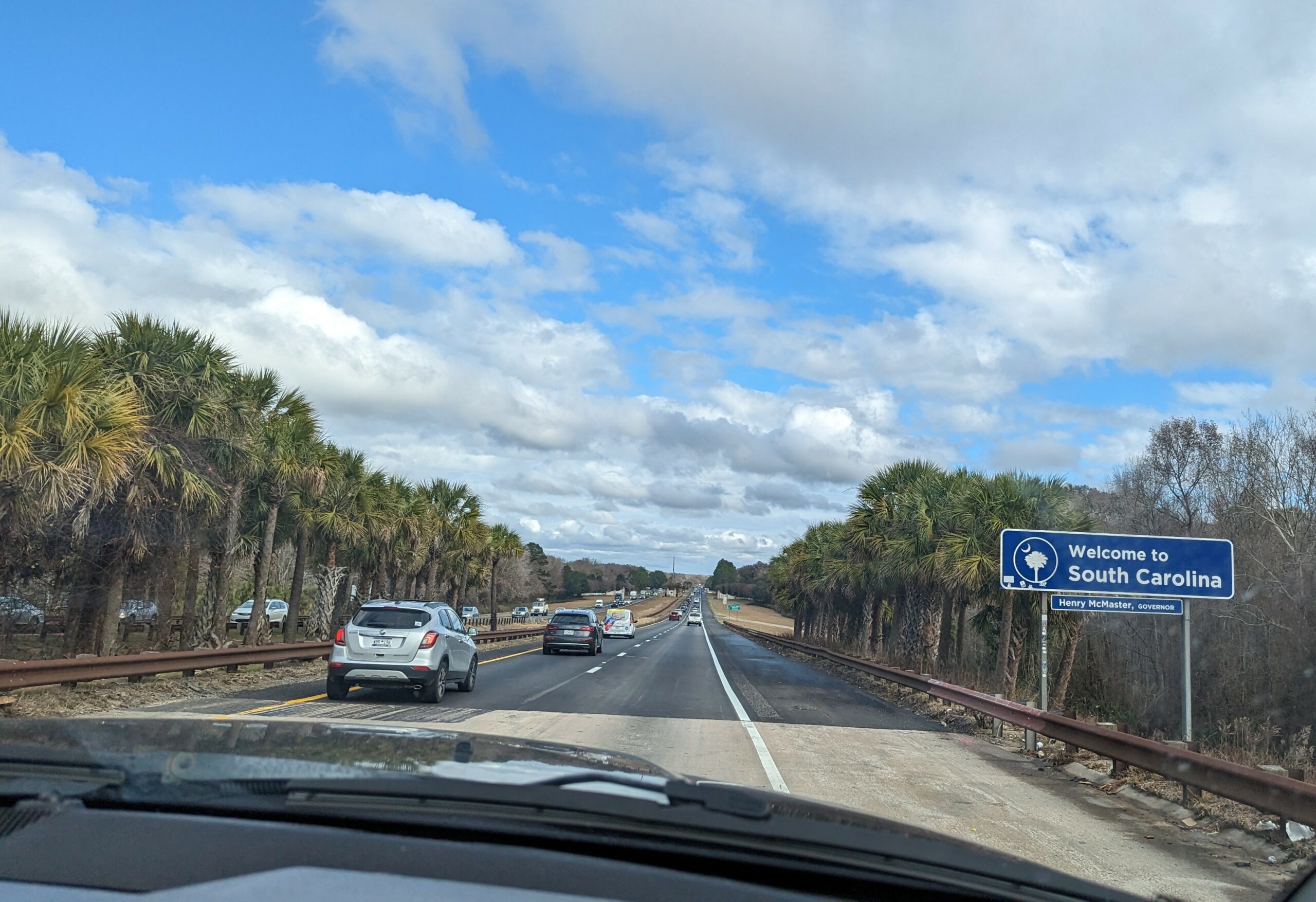 Arriving at Mt. Pleasant KOA, the camp escort led the way to B23. By the time the Crusader auto levelled, we had camp set. Tired after a long and traffic ladened drive, we watched our neighbors set-up their site.
Steve introduced himself from across the way. From New York, in 2020 they sold their 3800 sq. ft. home in upstate NY when the housing market exploded. Paying 24,000 for their Jayco, they decided to become full time RV'ers.
"It'sq the freedom I love. 'Where you wanna go next?' I ask my wife, an off we go. She's waiting for the market to burst and buy another house."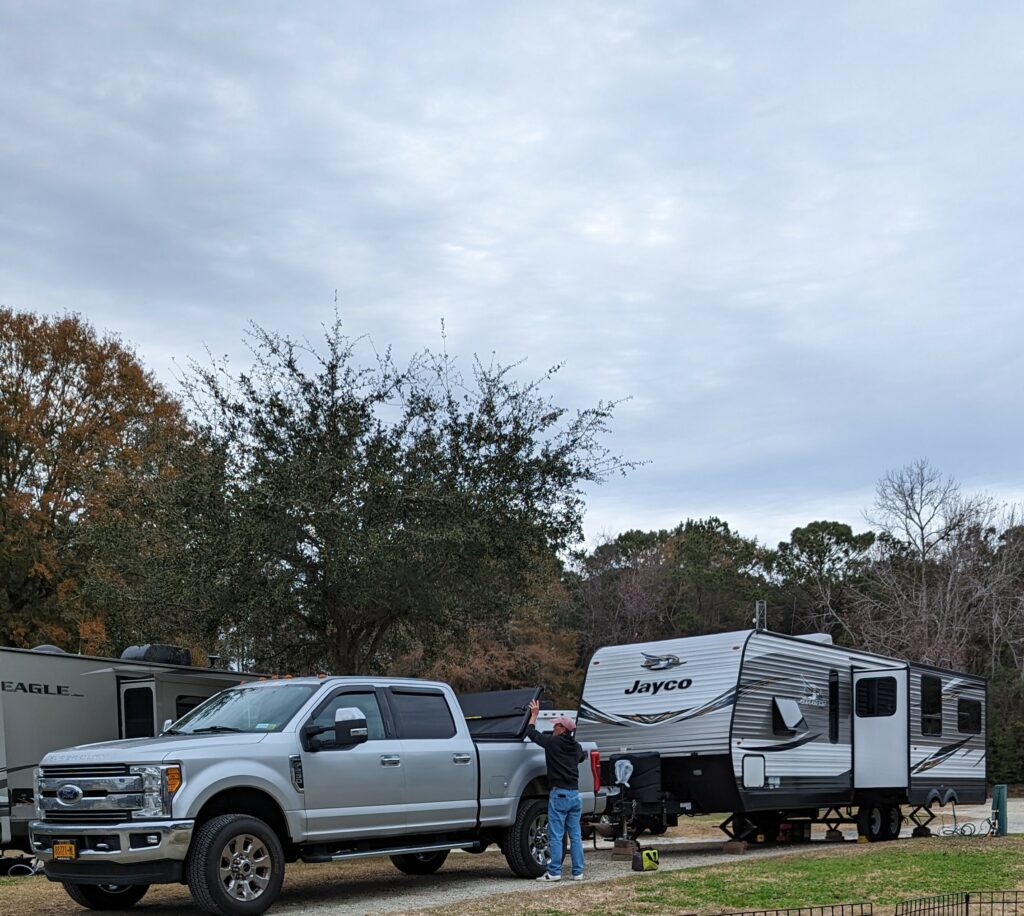 Wearing a black T-shirt with "Doyou wantTakeoutTonight.com" sprawled across his chest in white letters, I asked Steve about it.
"That's our business. We do diners, independent places. We do there website, menus, GrubHub, doordash. We work every morning. We were in retail, but when I hit fifty, I sold it and started doing this. We love it."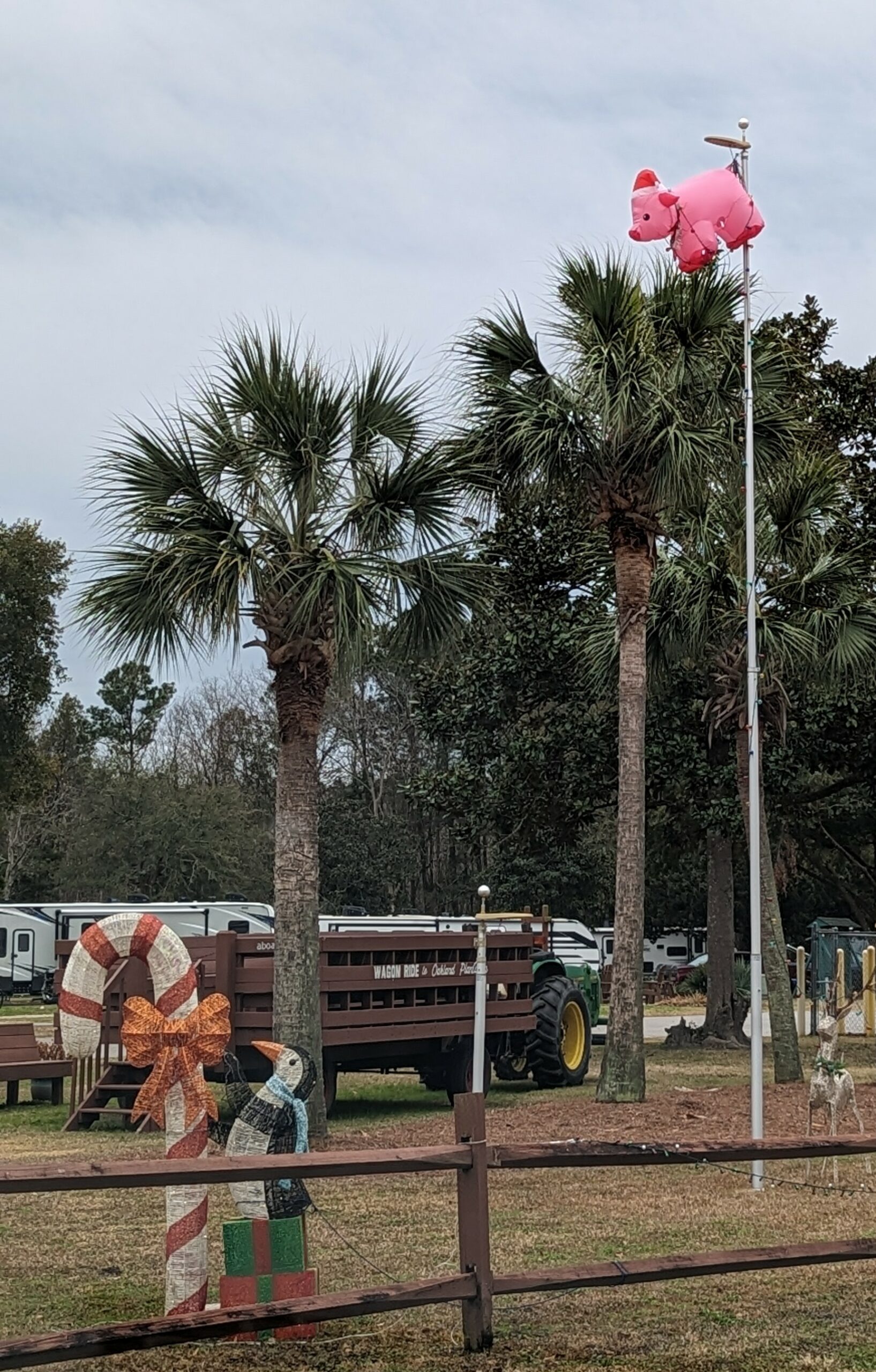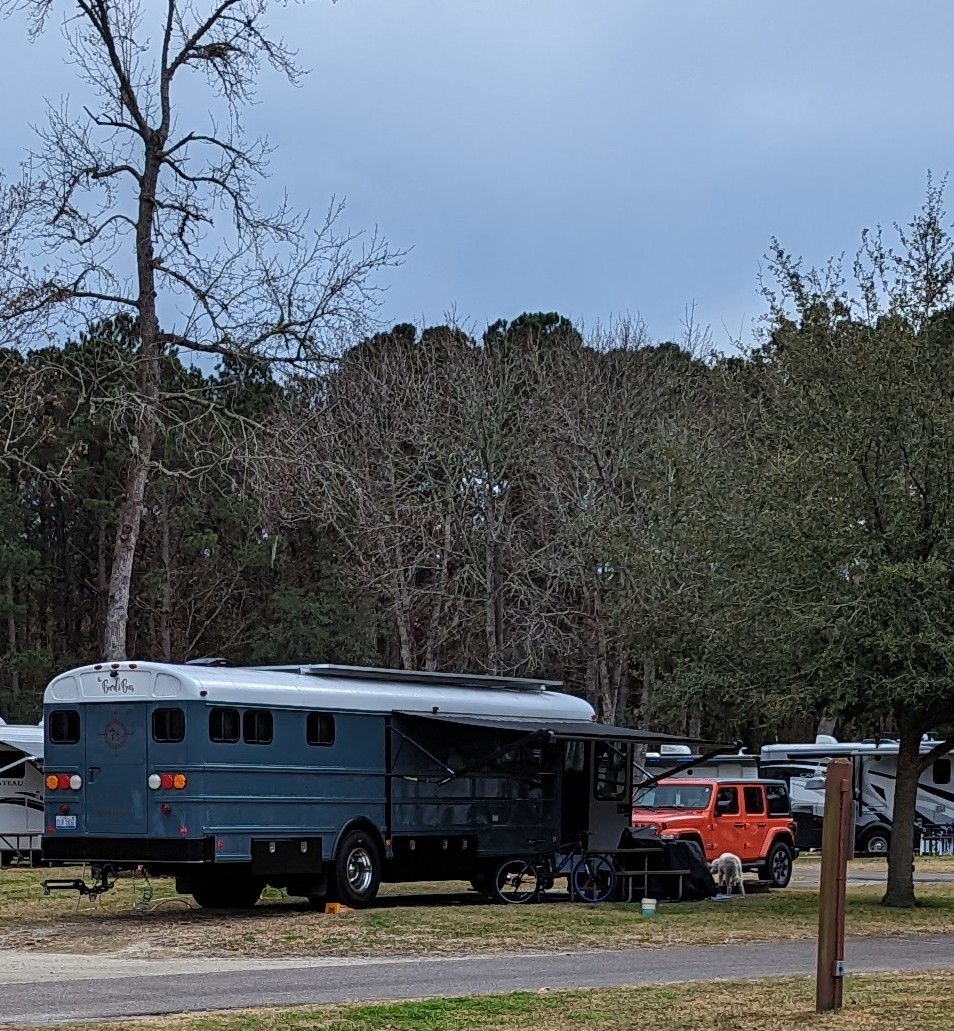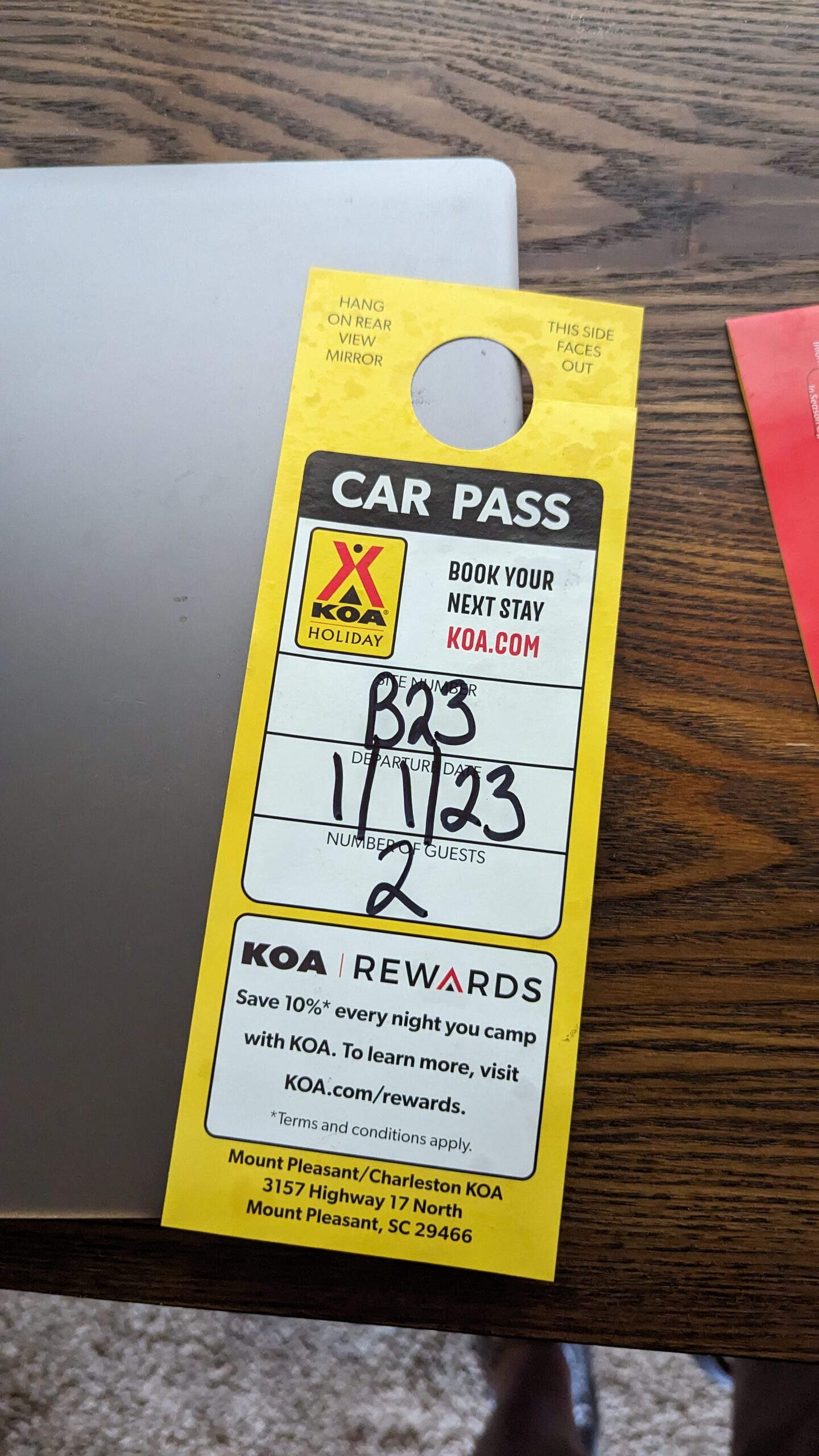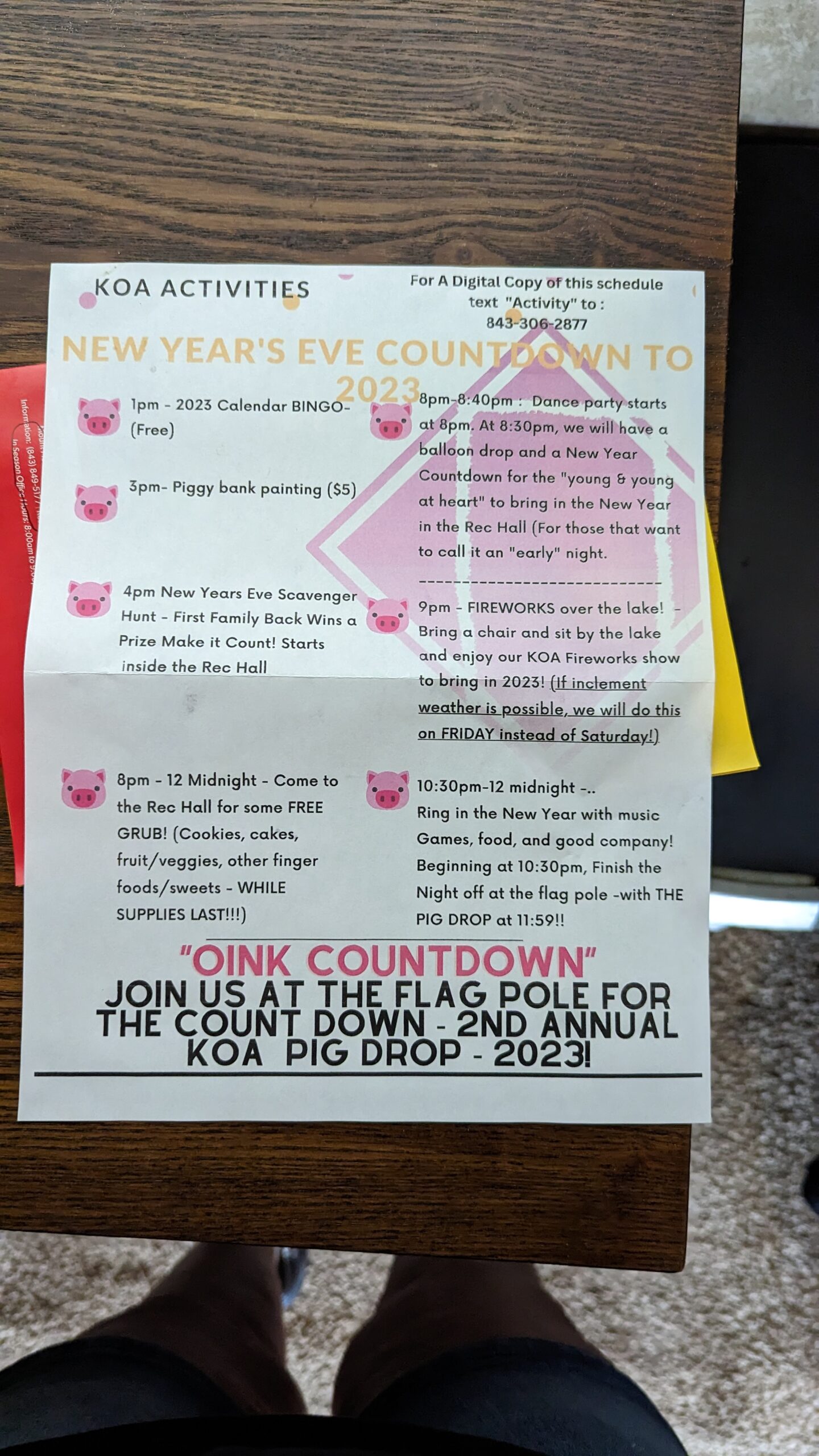 On our way to the Cooke's we saw the burlibus parked at the end of.our row. On mission for Jesus, they travel the country doing mission work
Lynda made chili and we chatted while the guys watched the Gamecocks game. When La, Eric and the kids came home from a day of visiting we celebrated her birthday with cake.
The KOA has a day full of New Year's Eve activities planned, concluding with a pig drop at midnight. We spent the morning shopping at Hobby Lobby, then met up with the Cooke's for lunch.
Afternoon naps refreshed us for the evenings festivities. Lynda made her infamous lasagna and we enjoyed a relaxing evening with our friends. Arriving back at the campground around 10:00, we slept for an hour and a half, then walked up to the pig drop, ringing in the new year with our fellow campers.
"I think we're off," Ron said at 6:52 the next morning when we headed home, ending our Christmas vacation and ushering us into the new year.