"Can't you just see me cruisin' around DuBois with my girls, singing?"
"Yes, I can," Ron replied with a wry smile as he glanced at me. "Pyromania" streamed from the radio, and I relived a teenage moment as I karaoked along to the best of my ability. My voice hoarse from my battle with the cold and off-key; he glimpsed a piece from my past.
Traveling to visit Uncle Earl, we had an 8:41 a.m. flight out of Richmond. Up early, gratefully my voice sounded almost normal, and my congestion decreased.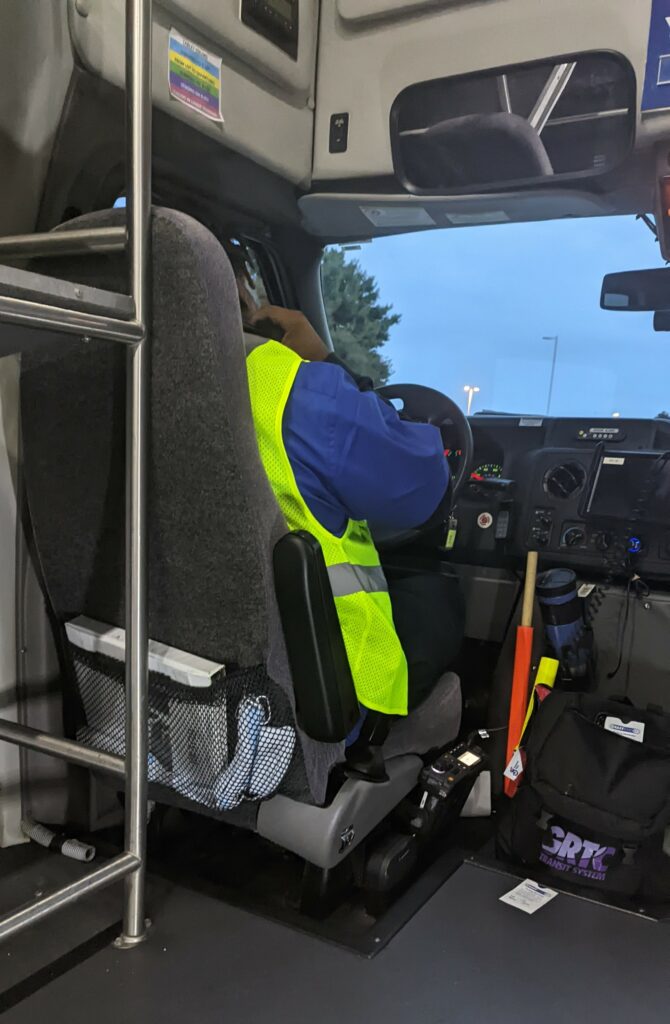 "We're going to Harlingen to visit our uncle who's dying. It'll probably be the last time we see him." I said to the kind shuttle driver when he asked us about our destination.
Uncle Earl, a dying breed, battles mesothelioma valiantly and with grace. His crown in heaven will carry many jewels.
Exposed to asbestos first at the Newport News Shipyard, he worked as a pipe fitter. "I'd bang on the pipes, breaking up the asbestos right in my face. Didn't have a clue."
After the shipyard, Uncle Earl worked at the paper plant in West Point, his second exposure to asbestos.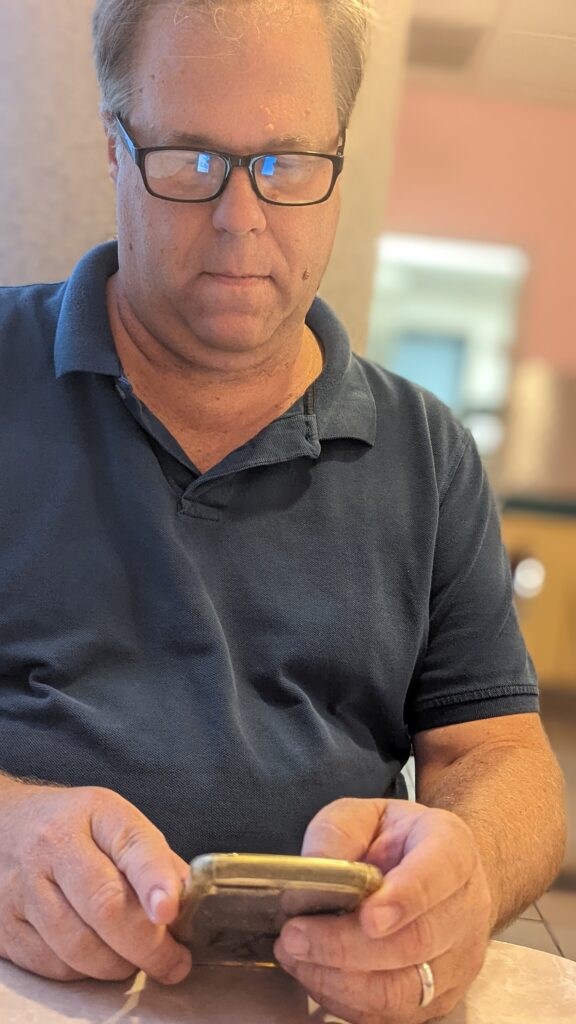 "Thoughts of the past and future cloud the present" Sam Harris
Sitting at Cheeburger Cheeburger, empty sandwich wraps on the table, soft jazz streaming from the overhead speakers, and a loud stranger venting frustrations over his cell, Ron helped me deal with my anxiety over flying.
Thirty years since my days as a Flight Attendant, airports and hotels my natural habitat, I felt old. How I did what I did back then, I'll never know. Anxiety plagues me these days. Lord, help me.
"After the first one, I'm fine."
Ron makes a good point. Now at our gate waiting for the flight, having security check in the rearview mirror, I feel more peaceful.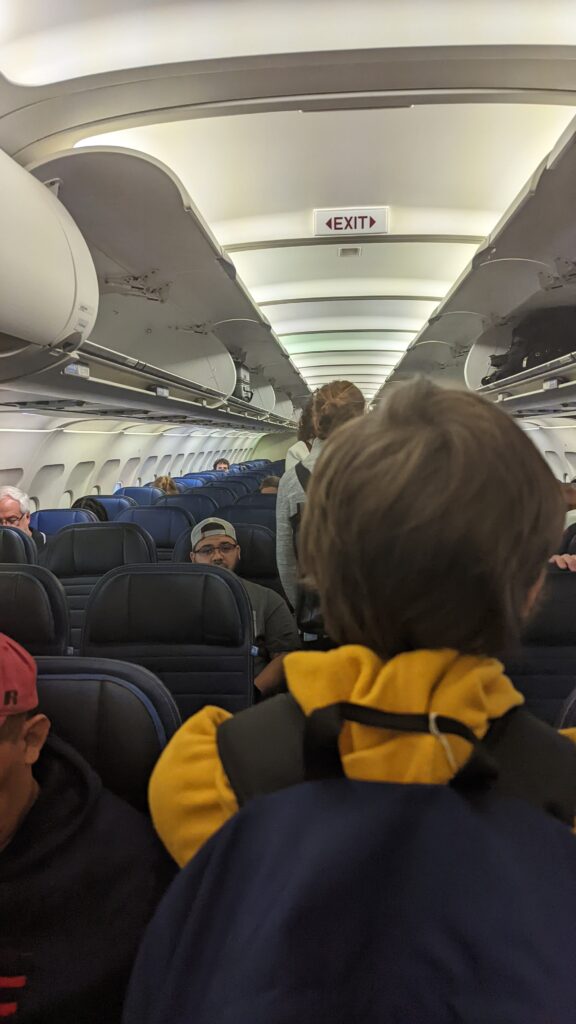 "Nothing broke my way," said the guy on his cell sitting behind Ron. Poor guy:-(. Praying his day, and ours keep getting better and better.
"They're playing your greatest hits," Ron said when Loverboy's "Lovin' Every Minute of It" came on over the airport speakers and I started jamming.
Soaring over the earth, nestled between my husband and the stranger from Houston, on the way to say goodbye to one of the most wonderful men I have ever met, makes me think about life and death.
Everyone lives in a glass house, with no way of knowing when an unexpected stone will shatter it. No one knows what the day will bring; something unexpected always happens.
Assume the best about people, not the worst. Assume the best, not the worst. My epiphany at 36,000 ft. while trying to lull myself to sleep.
I always assume the worst; I need to start assuming the best.
Loving others for Jesus means saying hard truths, telling people things they can't see in themselves but others can.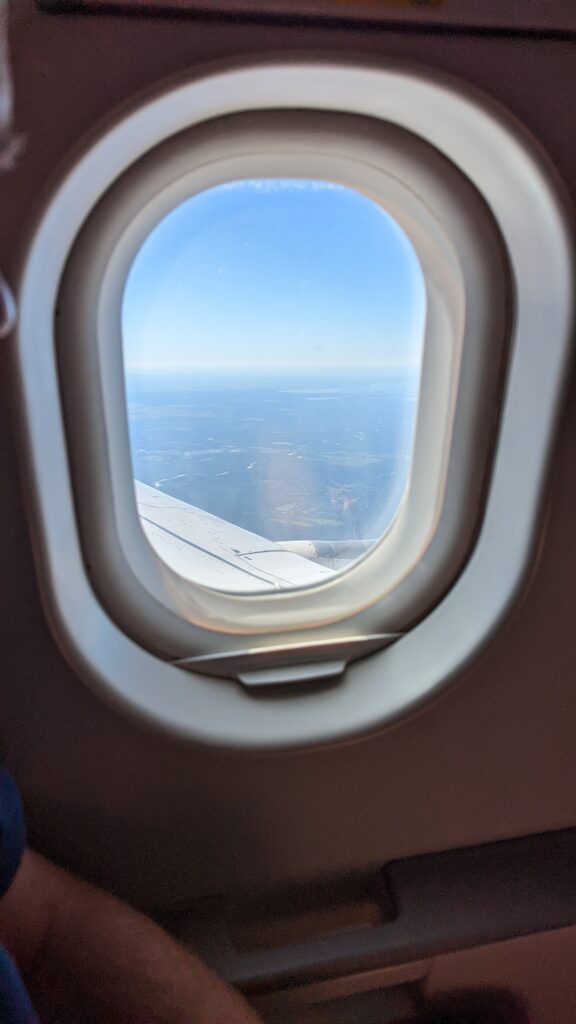 Things that have changed since I was Flight. Attendant:
"If your seated in an exit row, unplug all devices and clear aisle."
We didn't have charging stations, wifi or digital check in when I was a Flight tattendant.
"Golf course, Ron said, pointing out the window.
Baby screaming behind us, his ears hurting from the air pressure change, we landed in Houston without incident. Pain in my ears caused by my recent cold made me empathize with the baby.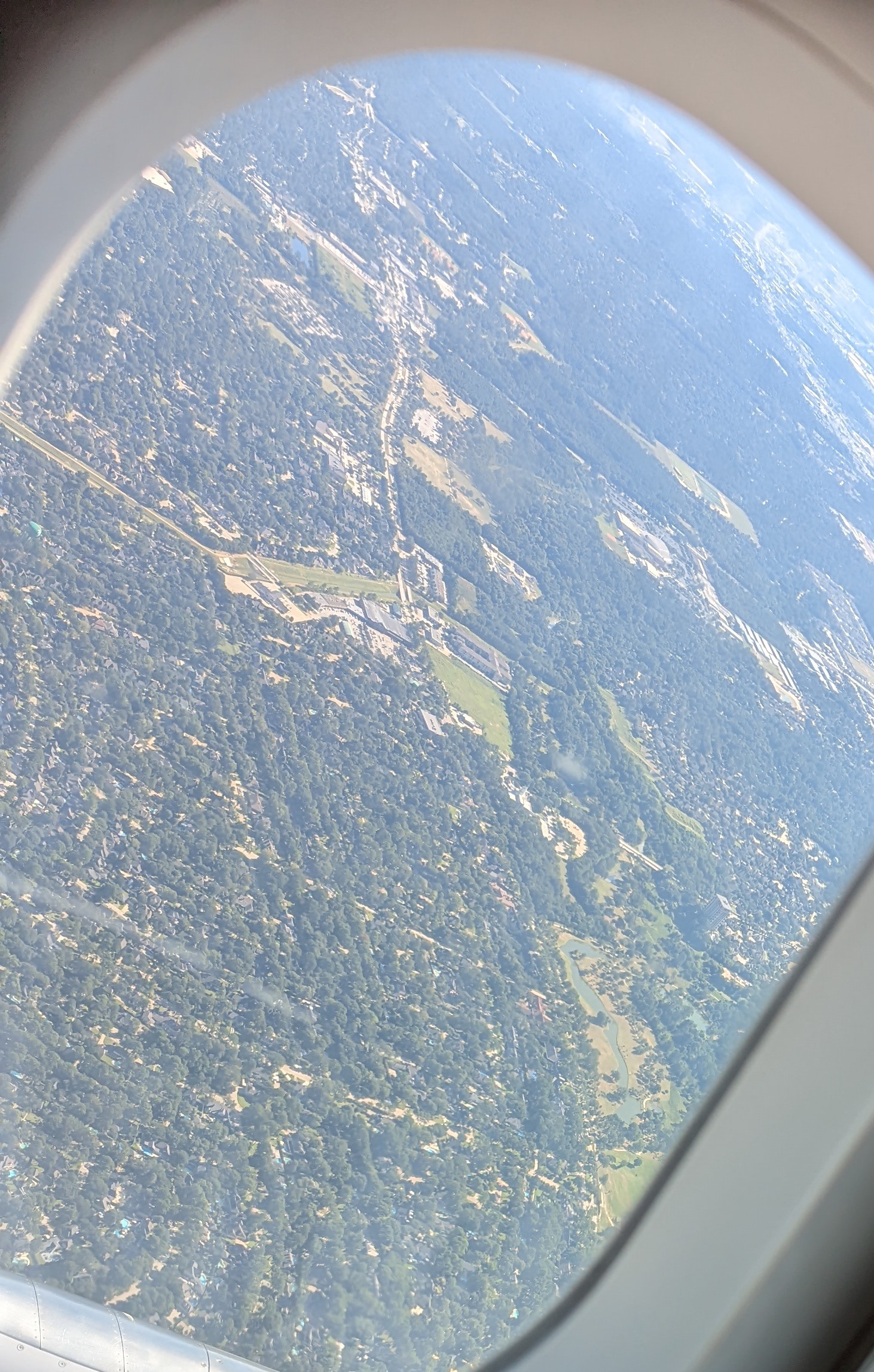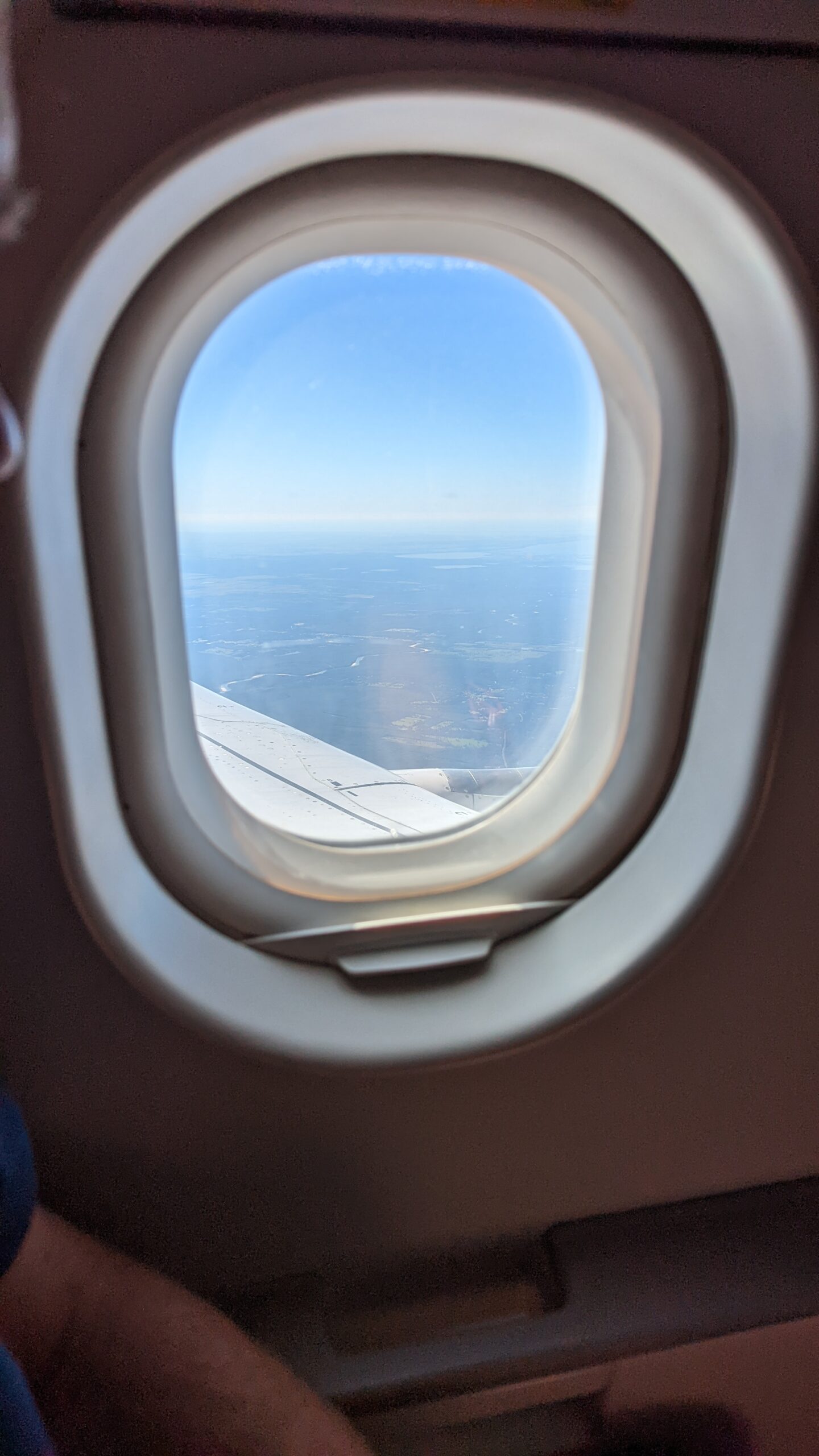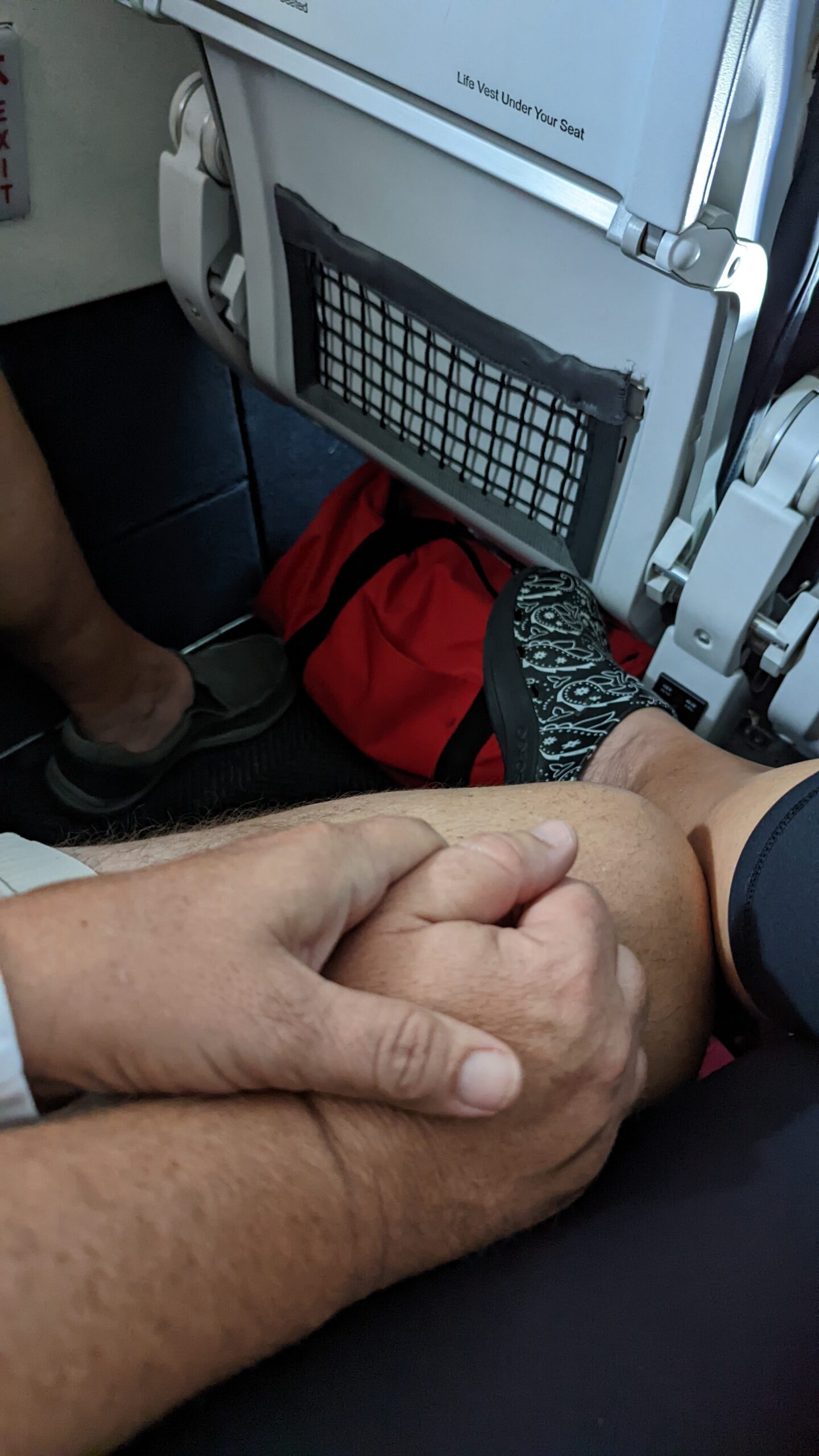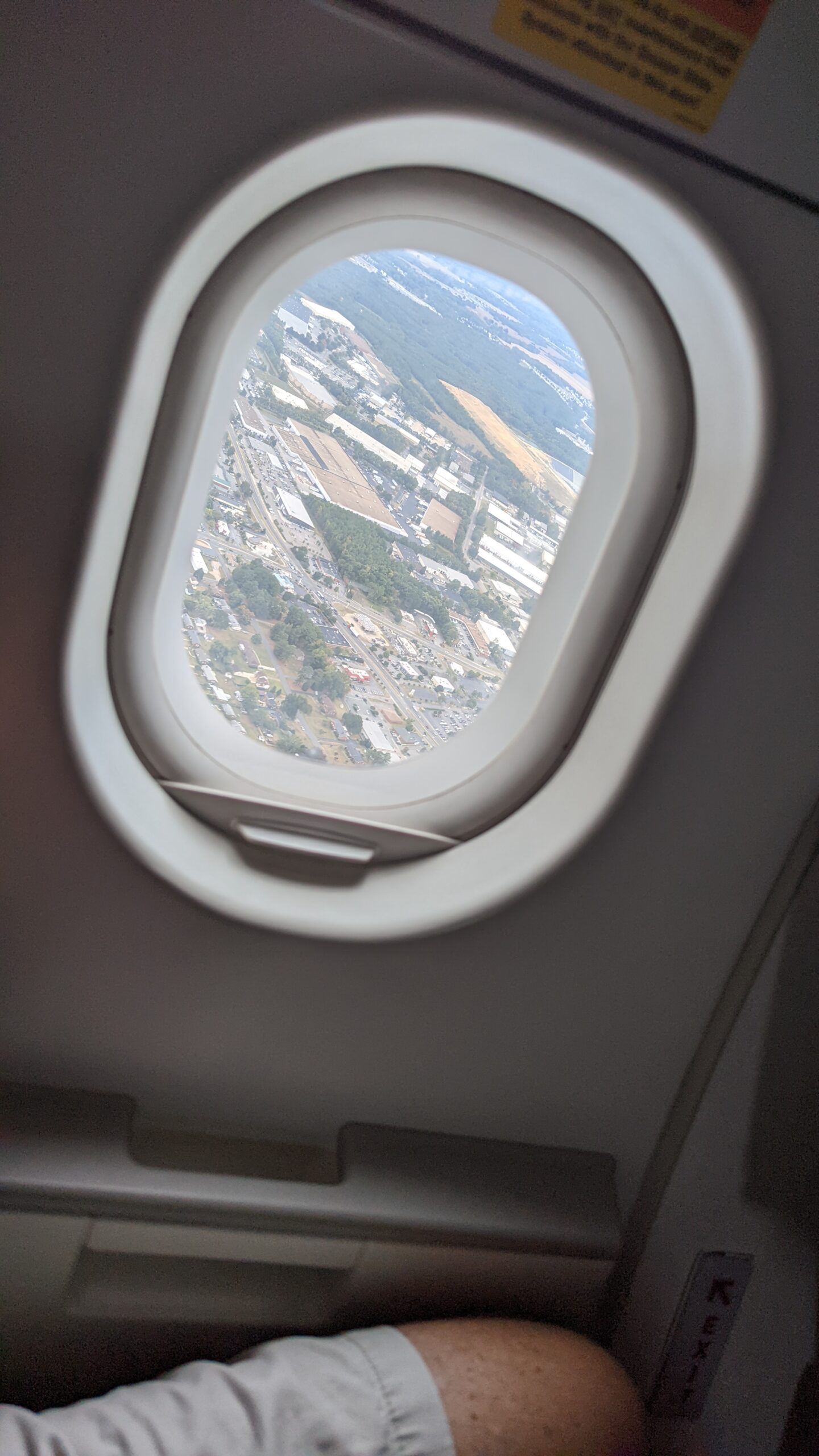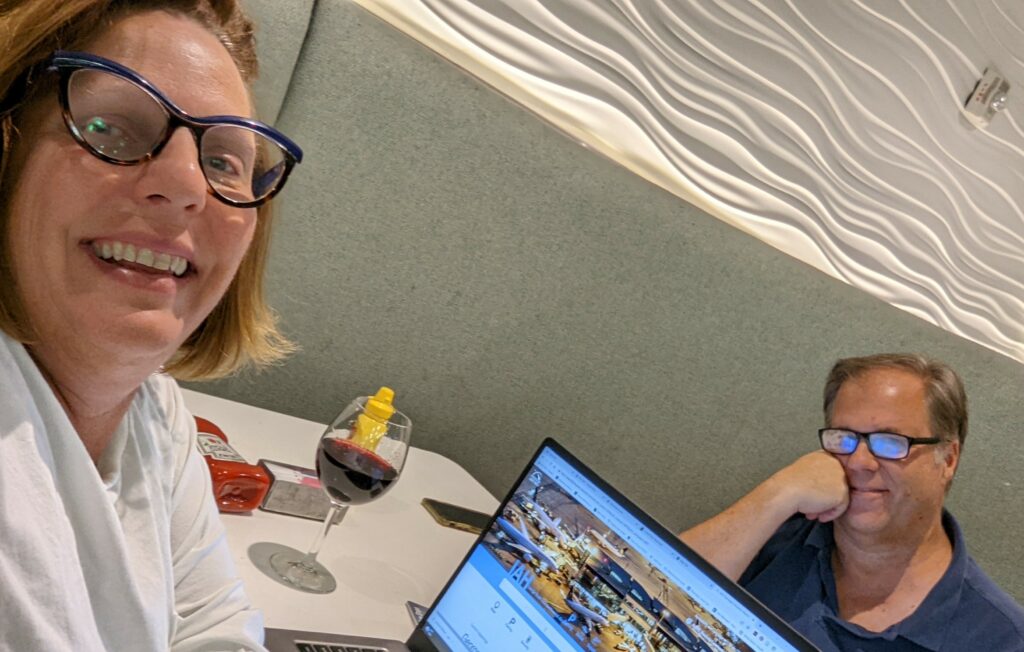 "Welcome to Texas," Uncle Earl said when he greeted us in the arrivals area. Looking well, skin flushed with color, although a few pounds lighter, Uncle Earl's smile lights up the world.
Patti's warm welcome when we walked outside in the 90-degree sunshine made us feel loved.
Patti, Uncle Earl's angel, cares well for him. Widowed twice, both husband's succumbing to cancer, she knows the battle well. With a smile on her face and sparkle in her eyes, Patti showers love everywhere she goes.
"You can get coffee 24 hours a day," Patti said, starting our tour of John Knox Village in the dining area. With a dance floor in the middle, the large multipurpose room served as the hub of social life in the 500-occupant retirement home.
Patti gave us the grand tour, passing the village shop, craft and woodworking rooms, and Halloween tree; they enjoyed an active lifestyle at John Knox.
Uncle Earl met us at the elevators on the third floor, parked in his electric wheelchair; he sat by the Chapel doors. Because of the chair's size, he took the freight elevator, unable to fit in the main one.
Room 306A held two twin beds with an updated bathroom perfect for our stay.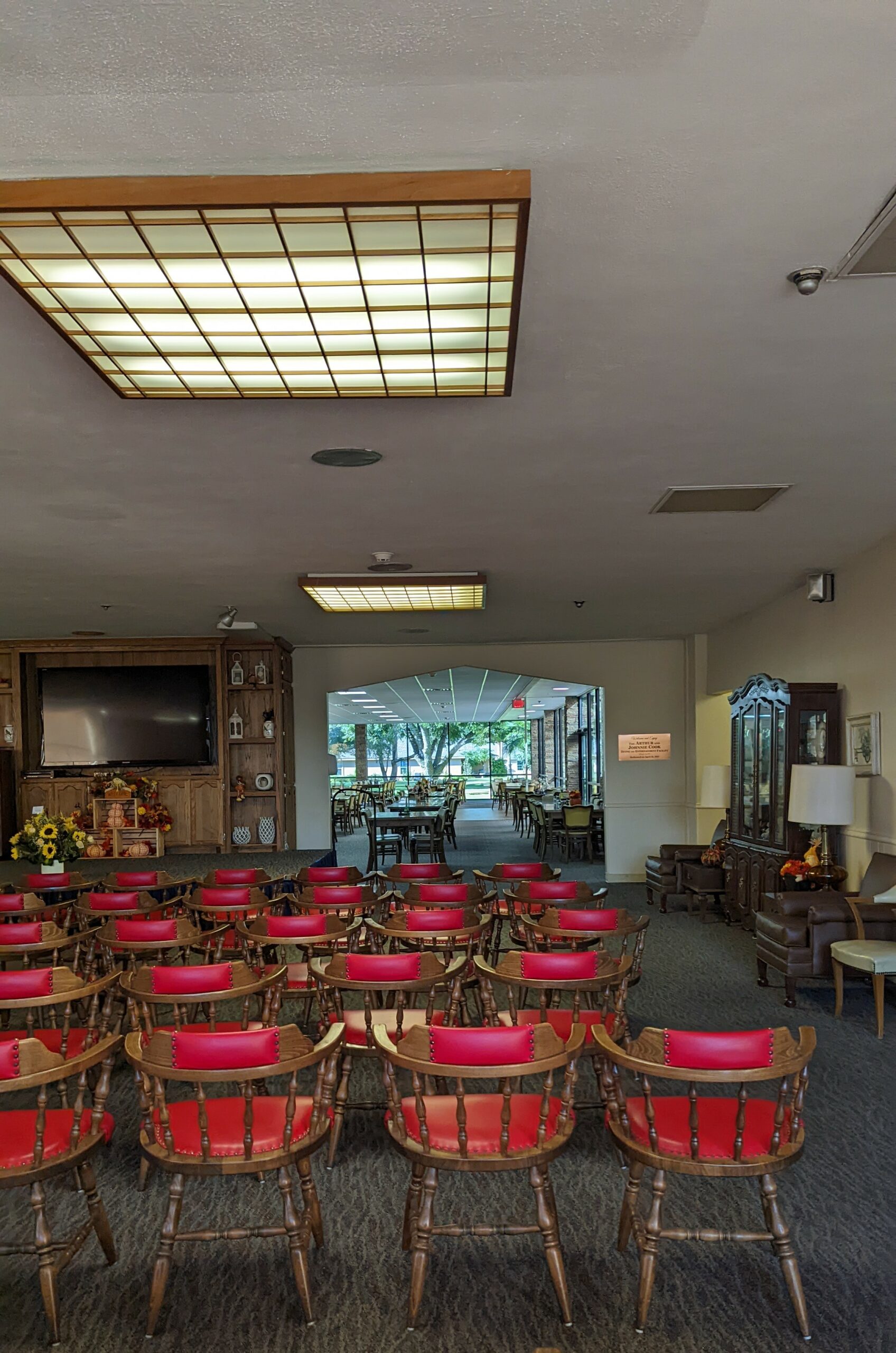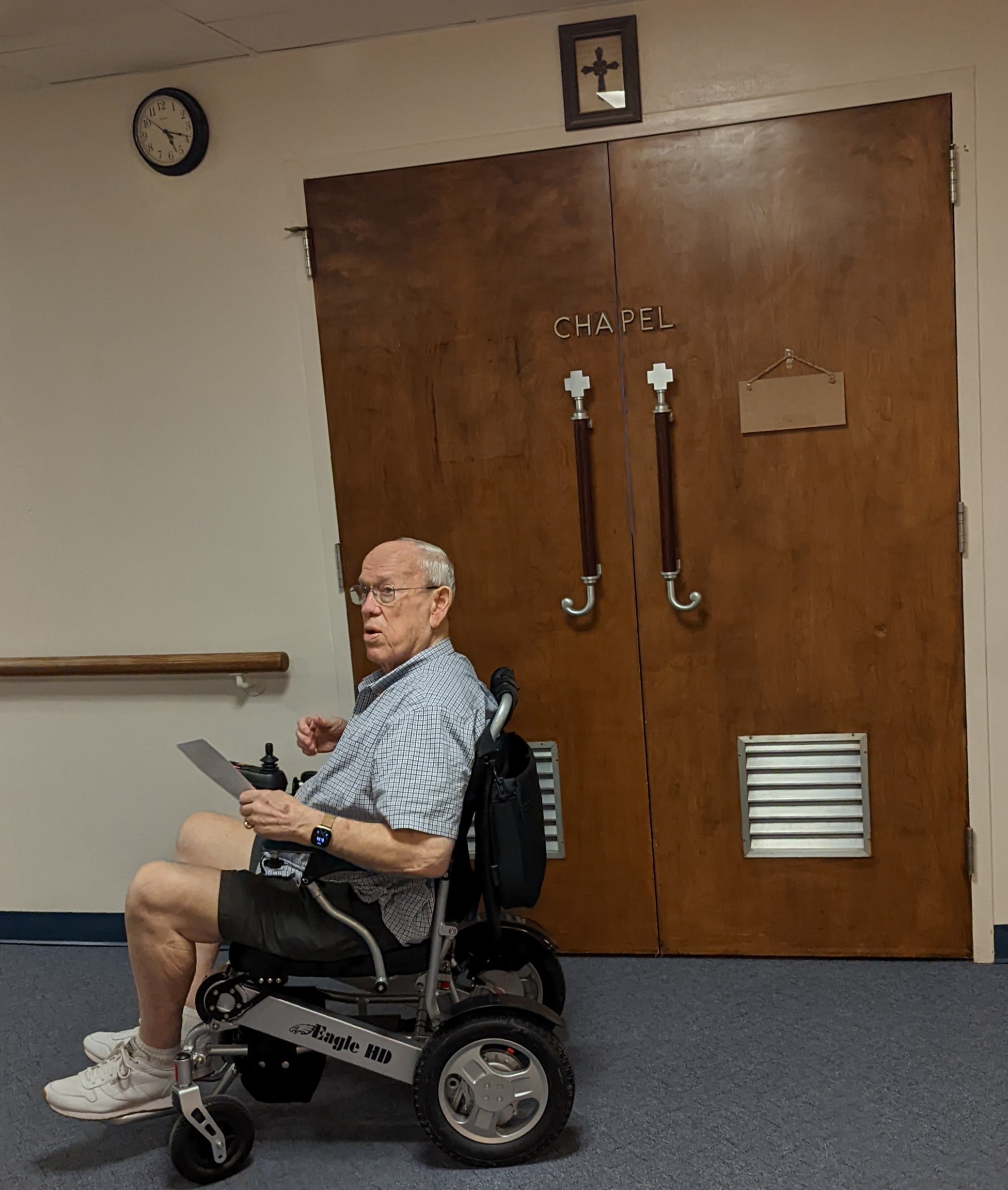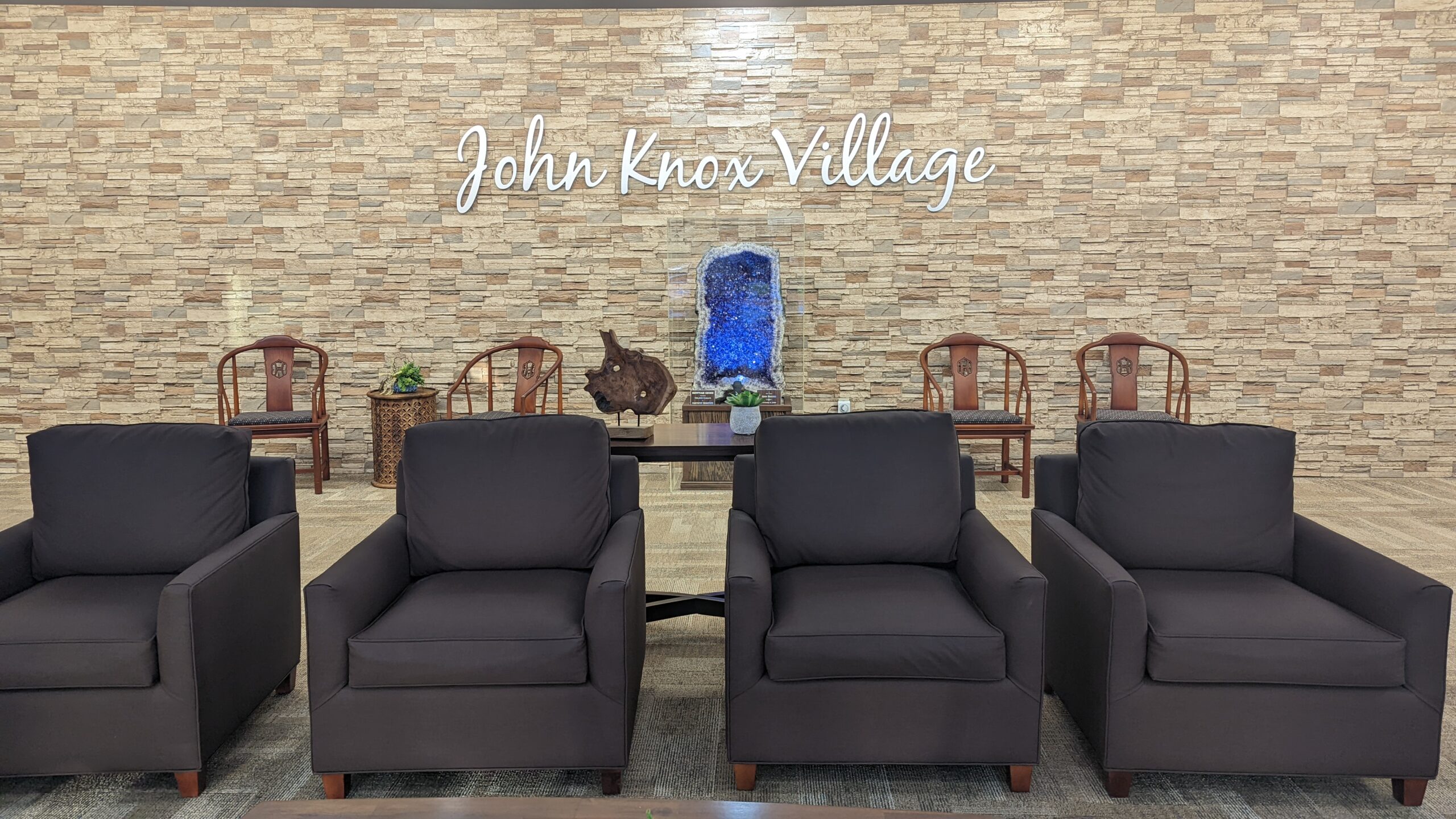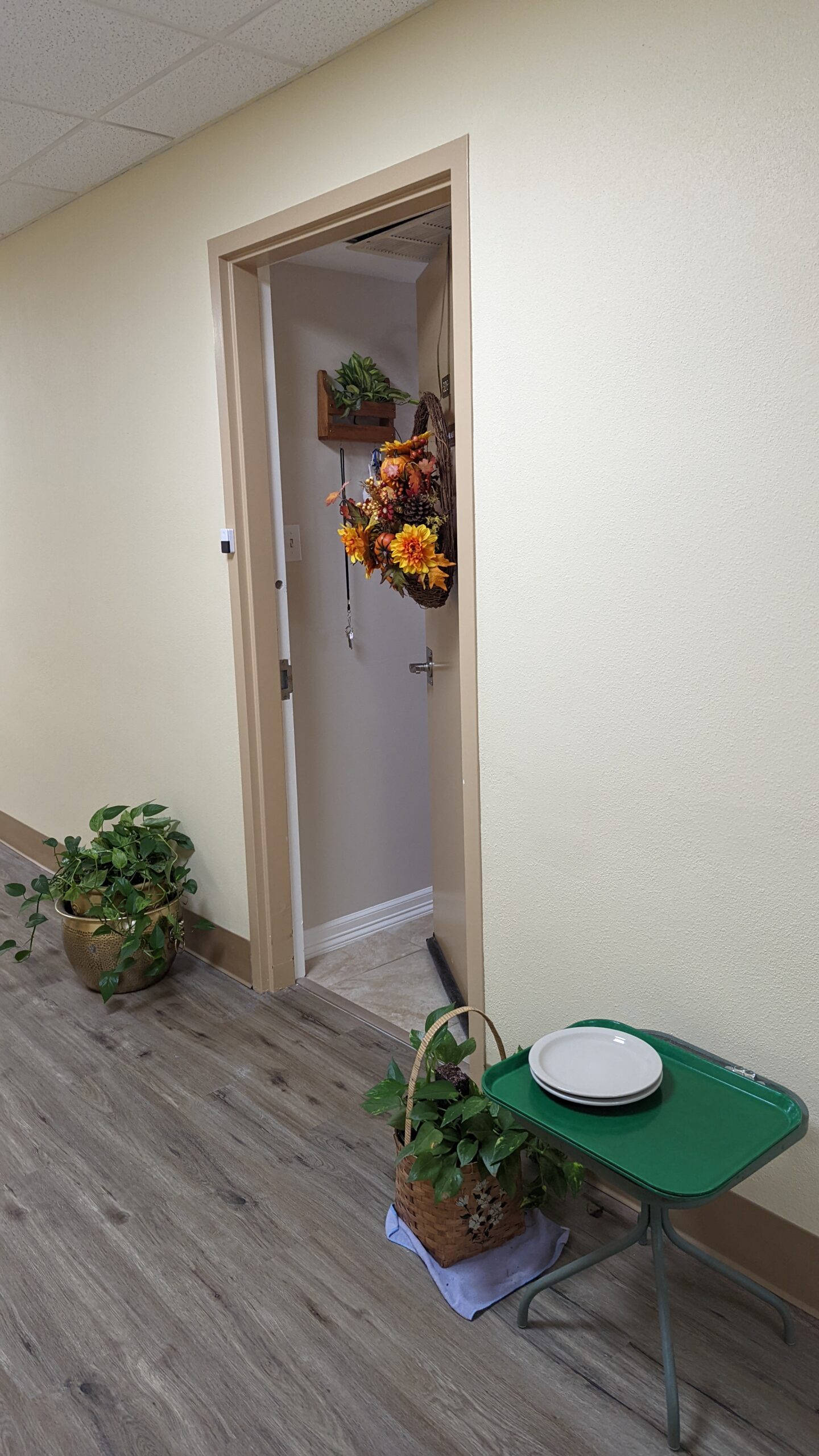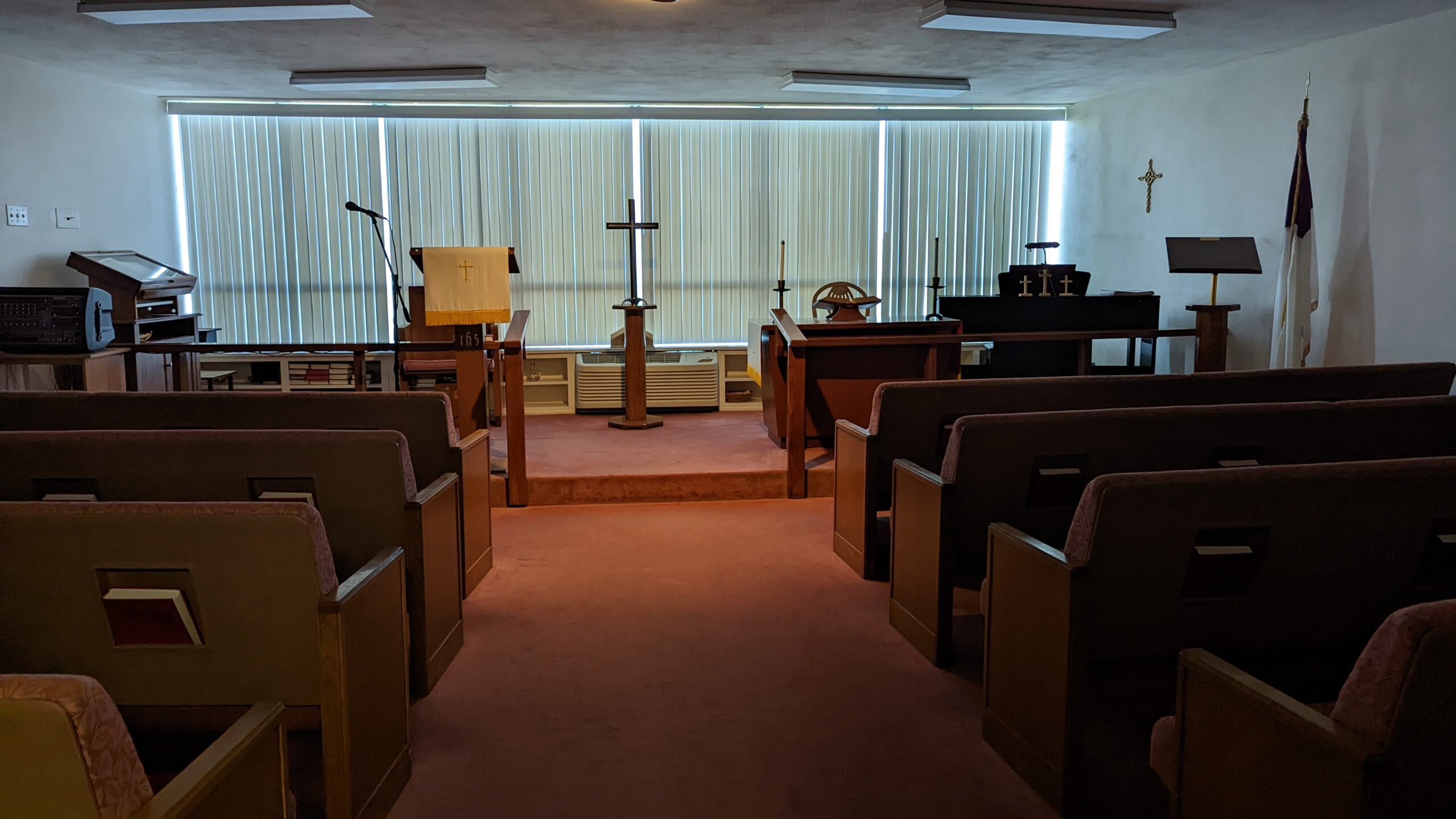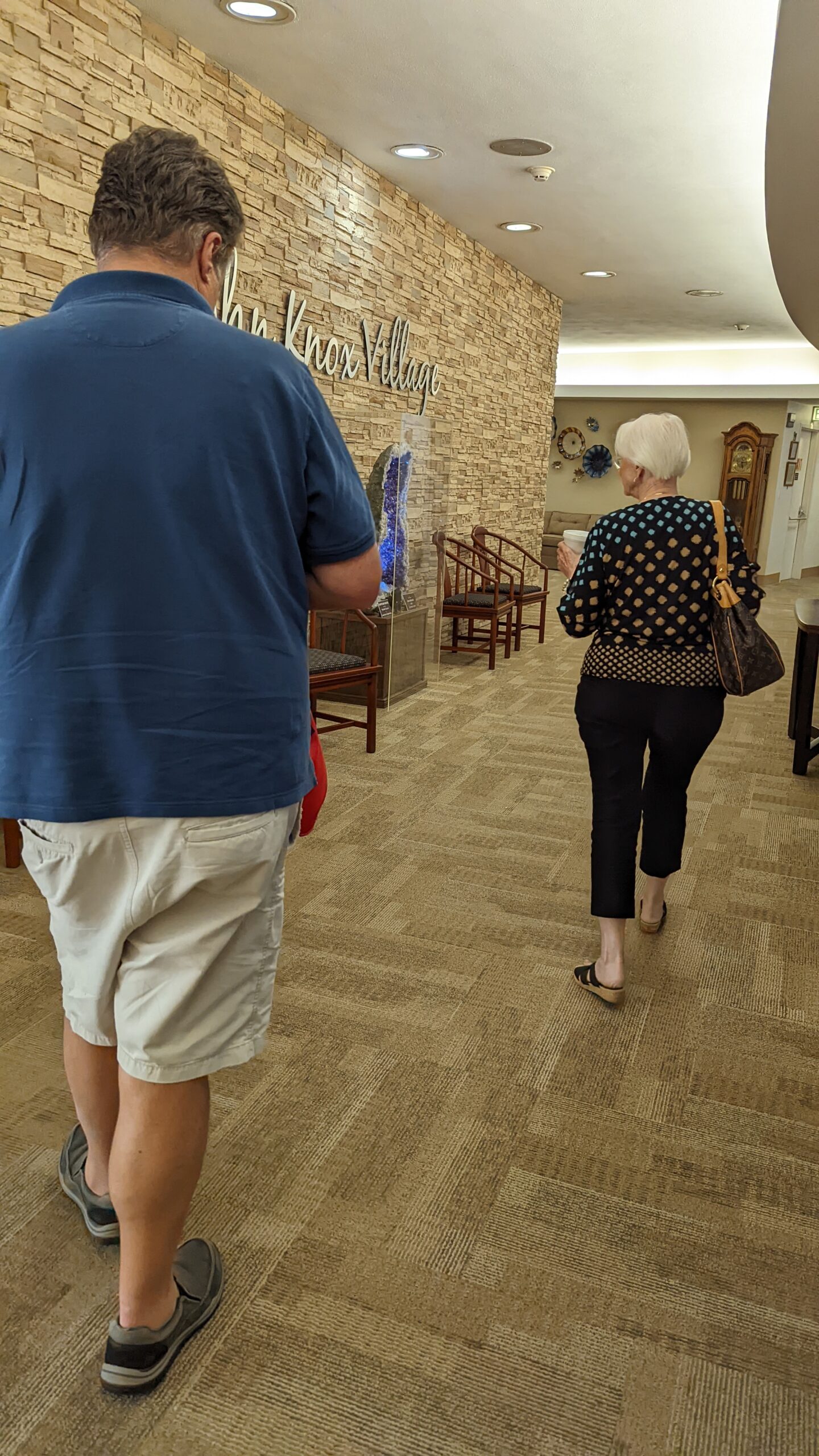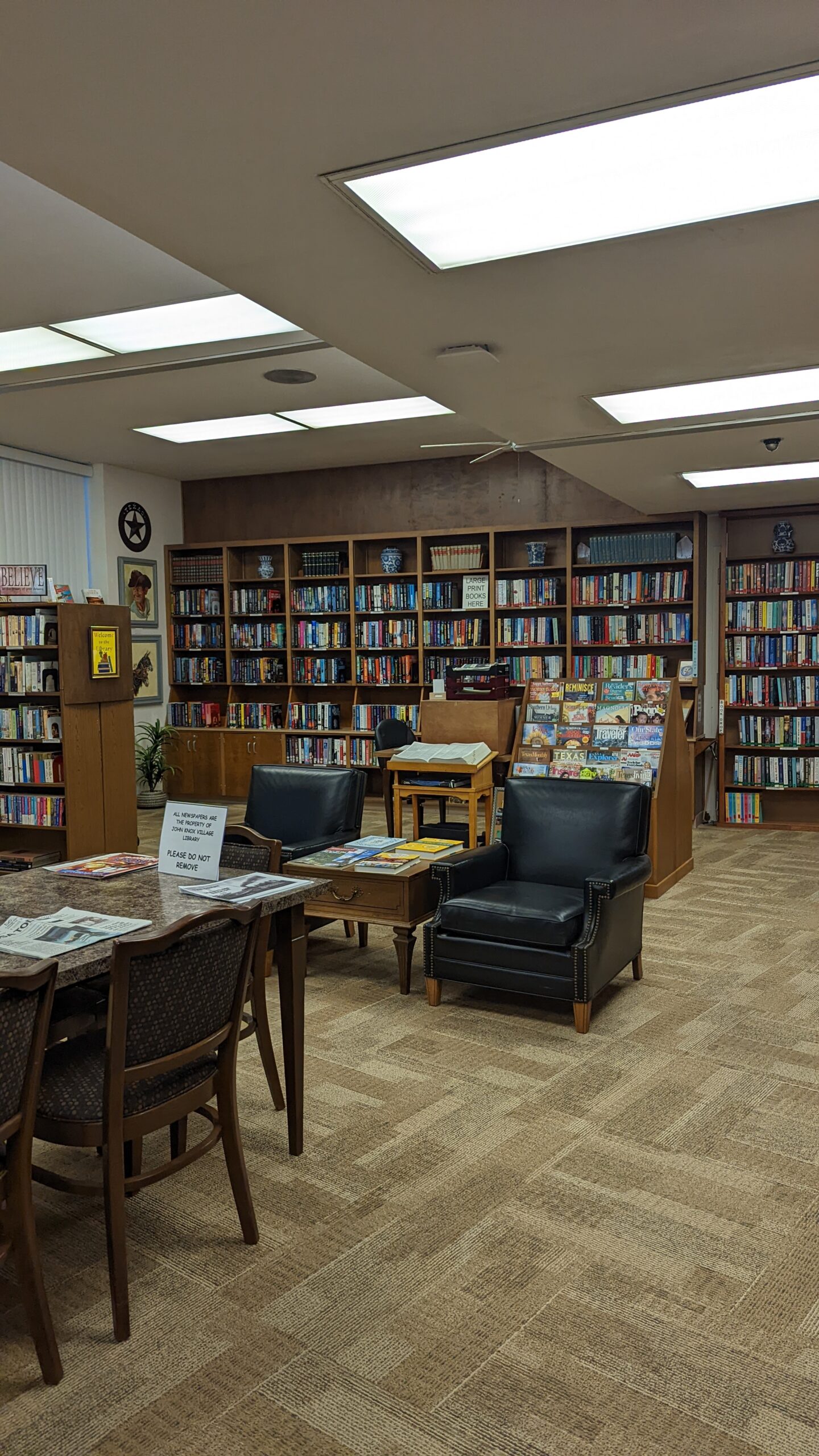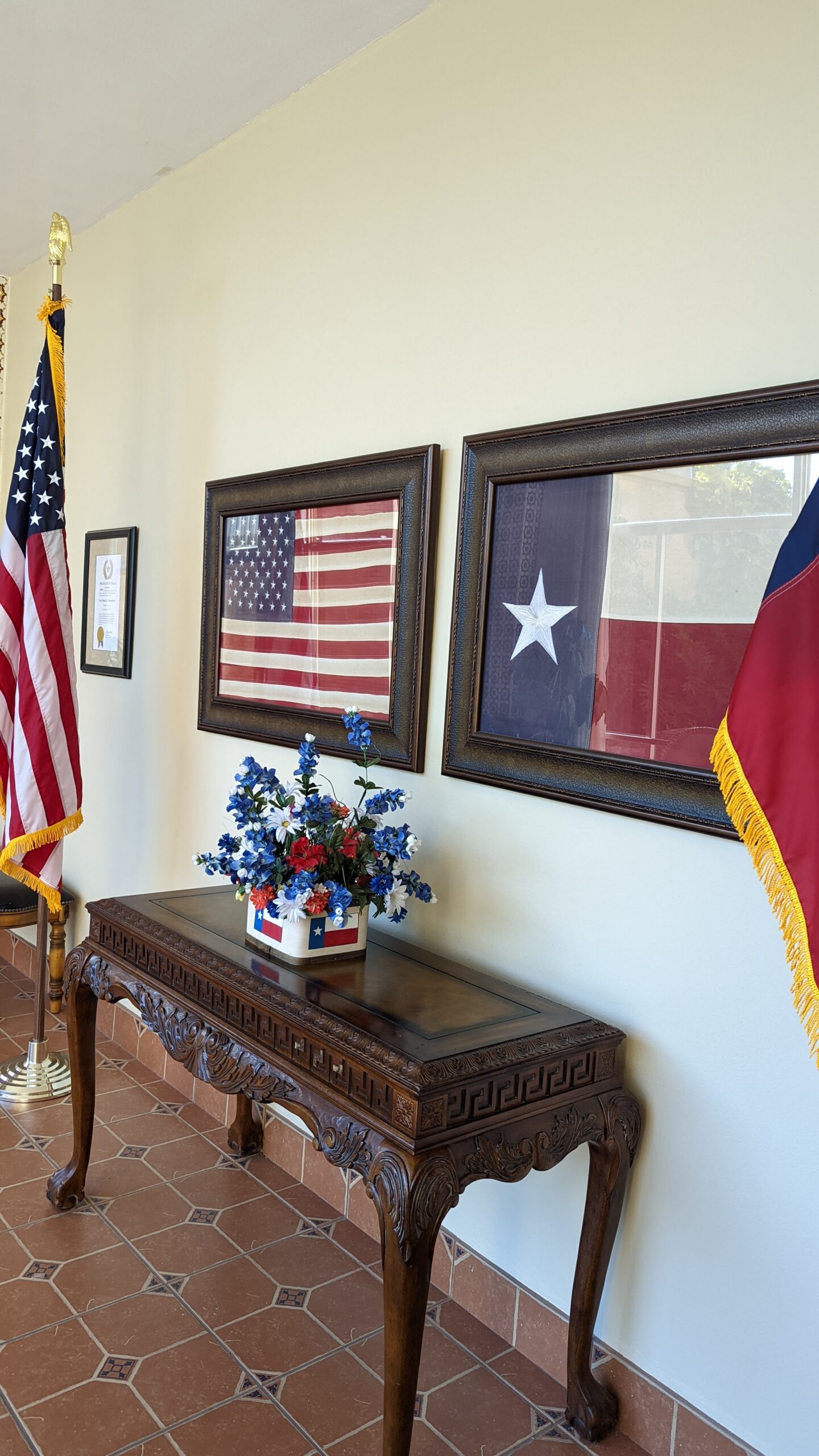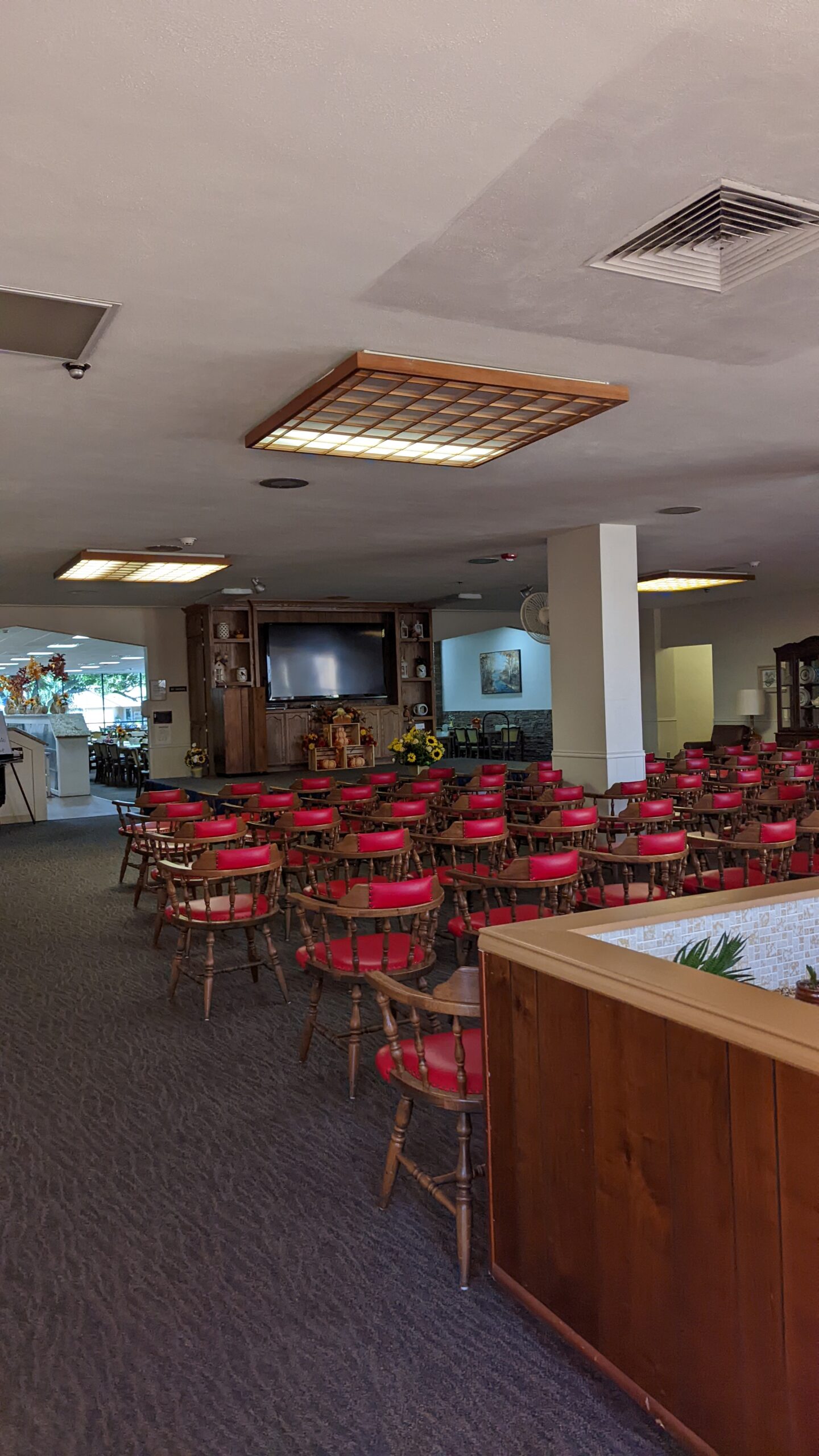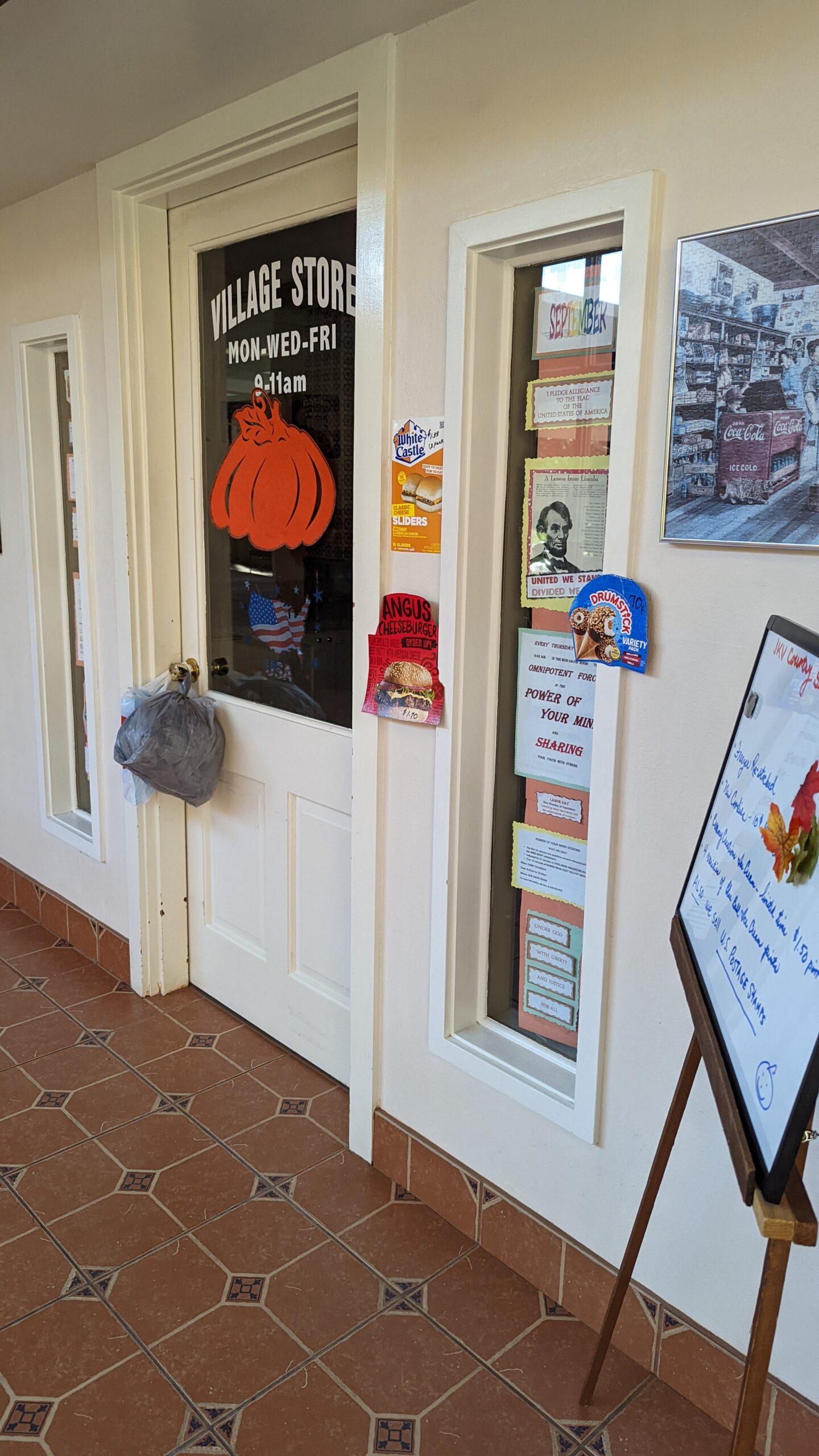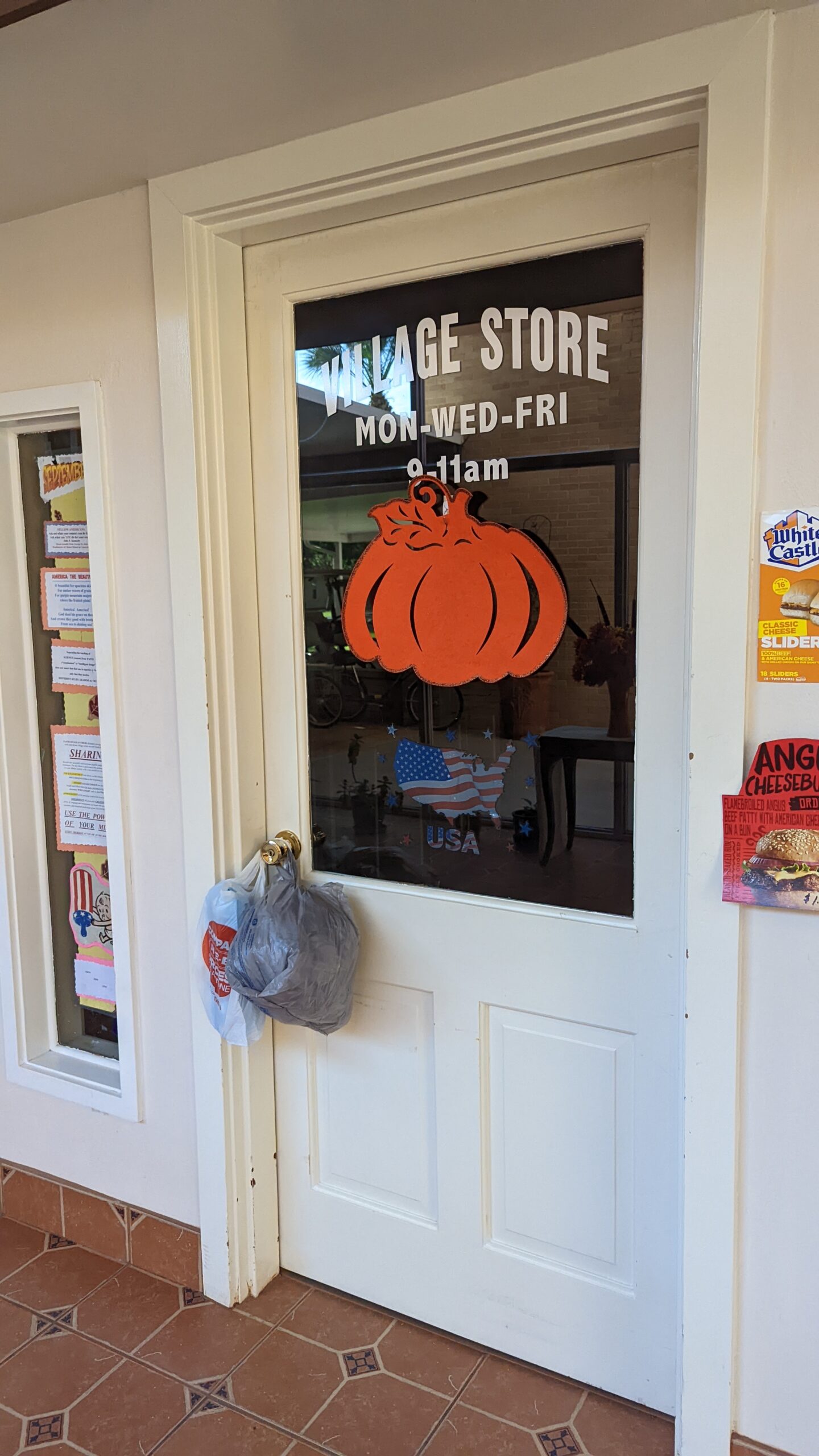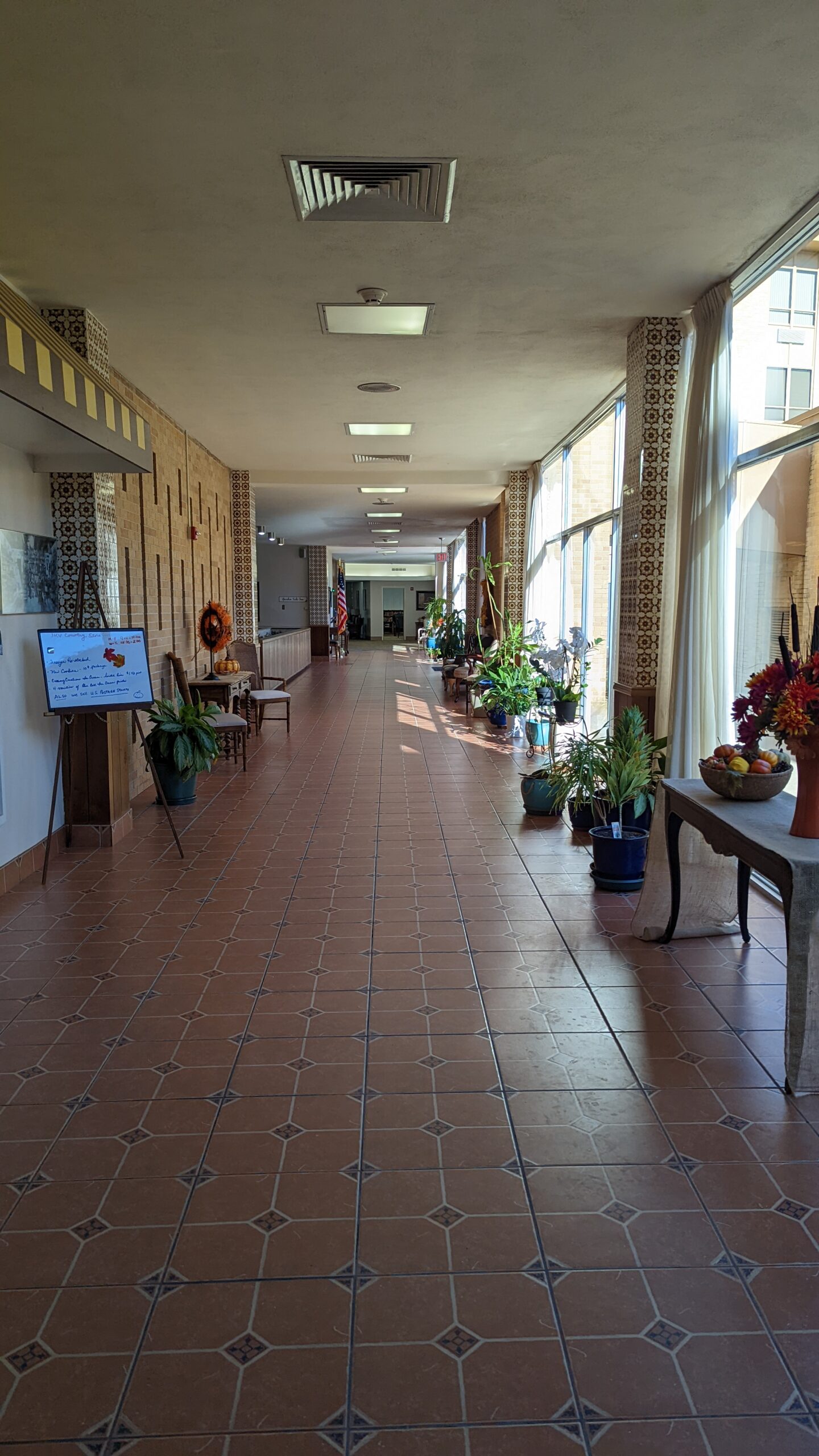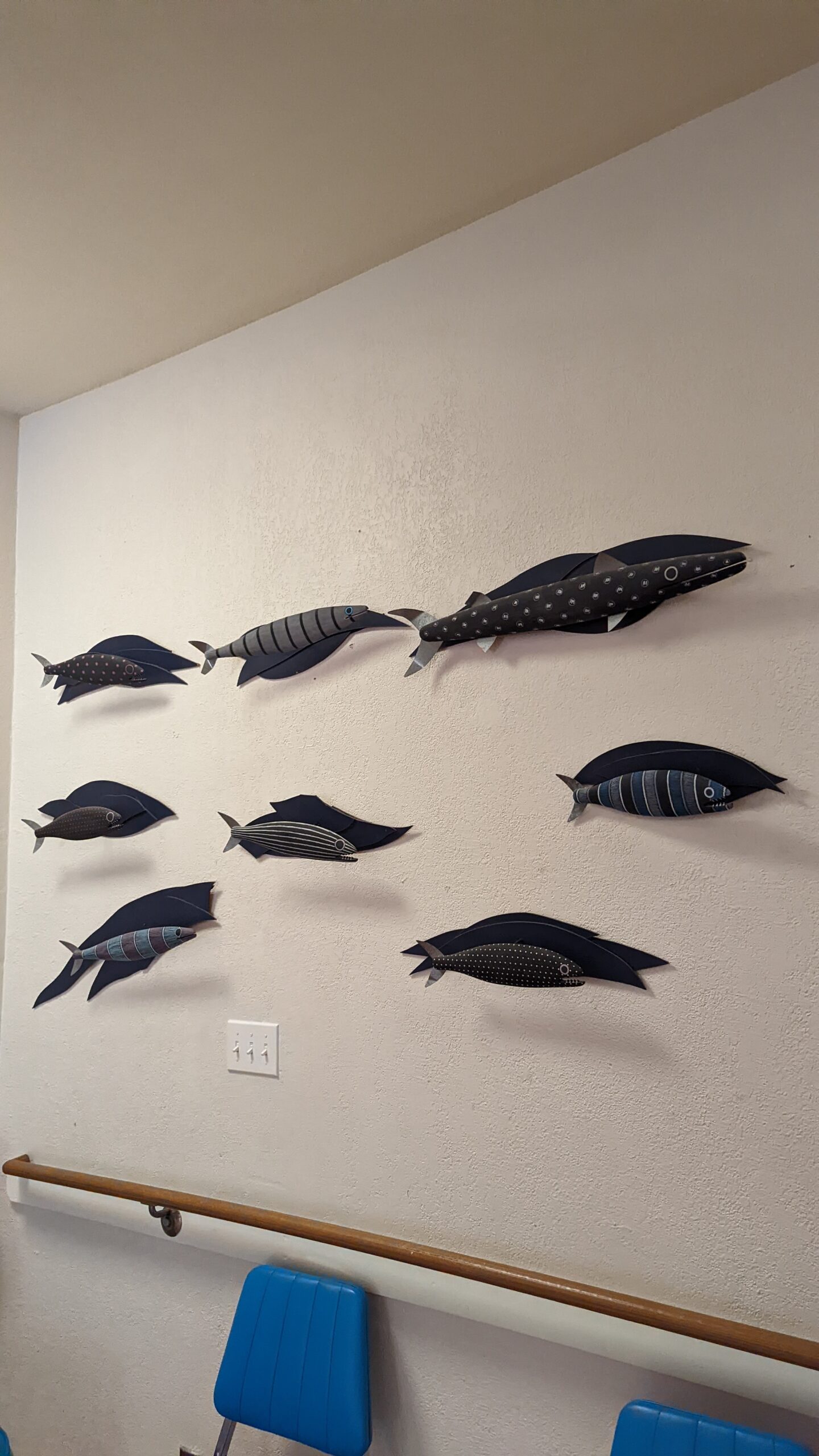 "Patti takes good care of me," Uncle Earl said as she buzzed around, serving us Michelob Ultra's as we waited for our extravaganza thin crust pizza from Dominos.
We spent the evening reminiscing about the past and catching up on current events. Tired after a long day of travel, we called it a night around 8:30 and headed to bed.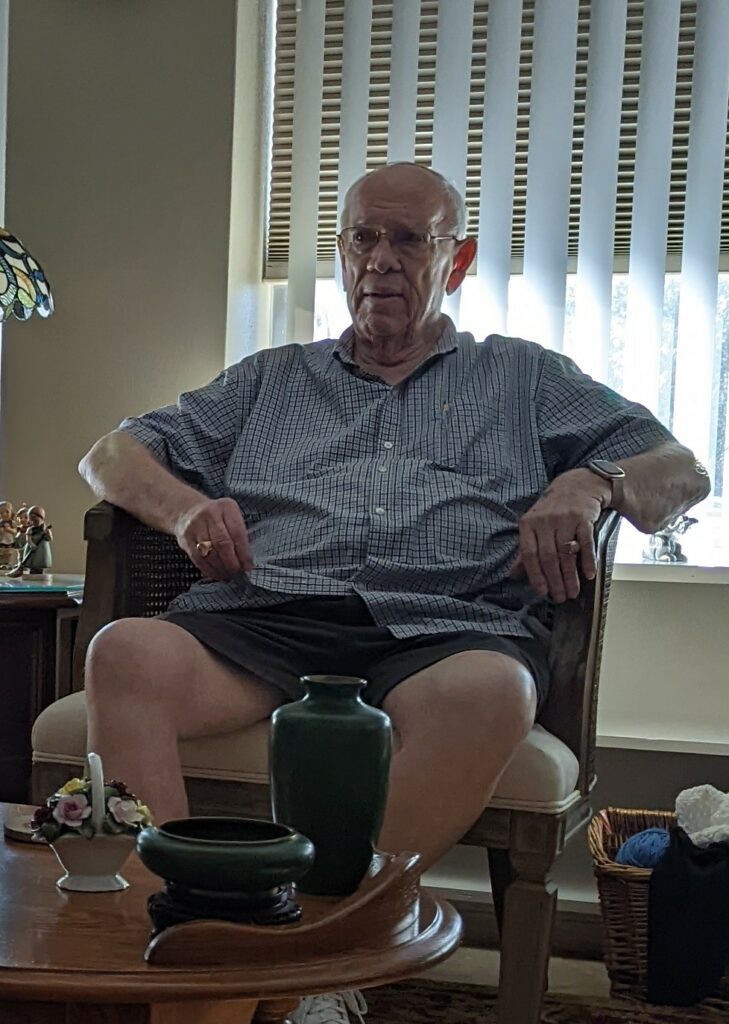 "We're taking you to Keno's for breakfast. It's a Mexican restaurant, and they have a really good breakfast."
Uncle Earl's words proved true. Patti's recommendation of the bacon taco tasted as good as she described it.
"Gringo's moved here and called it a Valley to get other people to come here. But really, it's a delta. There's no mountains or anything."
Uncle Earl answered my question about the "Valley." He and Patti referred to it often, and I didn't understand. Obviously, no mountains; why the name?
"So come one, come all to the magic valley of the Rio Grande. It was one of the greatest marketing schemes of the time, and some could argue that it worked." Why is This Called the Valley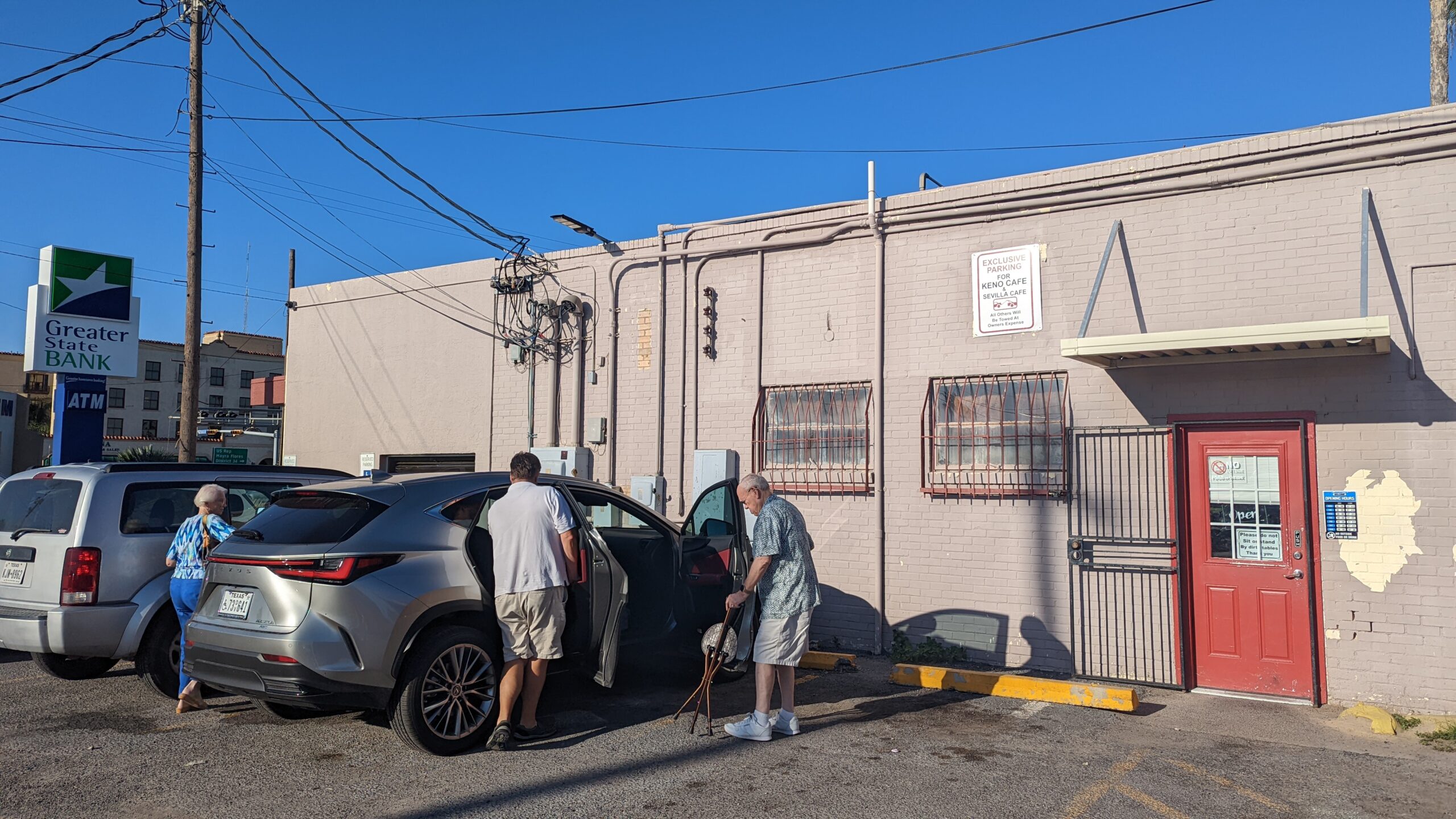 Arriving back at John Knox village, we ran into Uncle Earl's number 2 woman in his life, Margie, 95. When Patti needs help, Margie lends a hand. Leaning on her walker in a bright-colored blouse, Margie lights the room up with her smile. Howard (maroon polo) and TommySue spent nine of their 18 years full-time RVing working for Escapees RV. Tom, in his green polo, runs the White Elephant, the facilities consignment shop.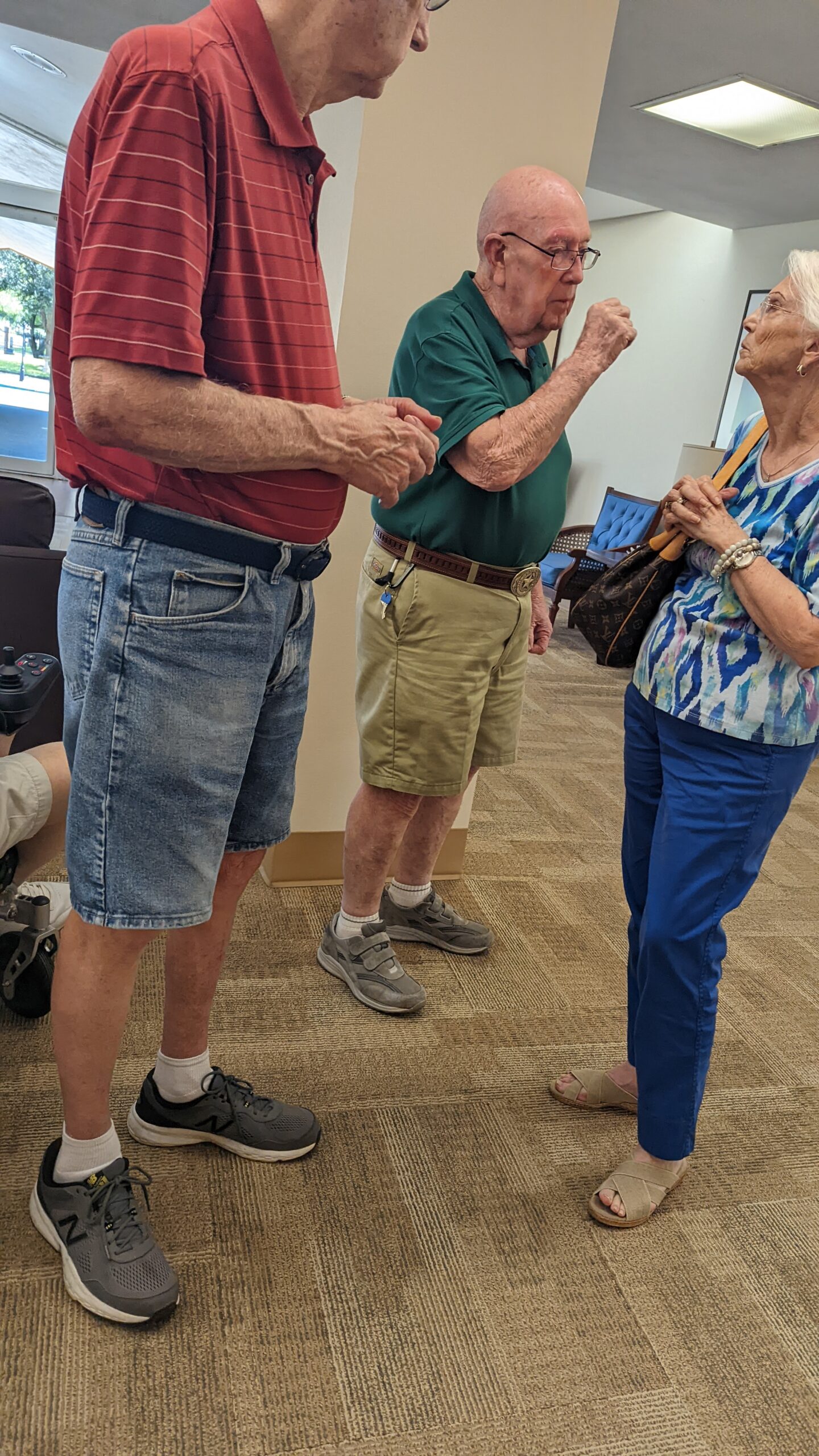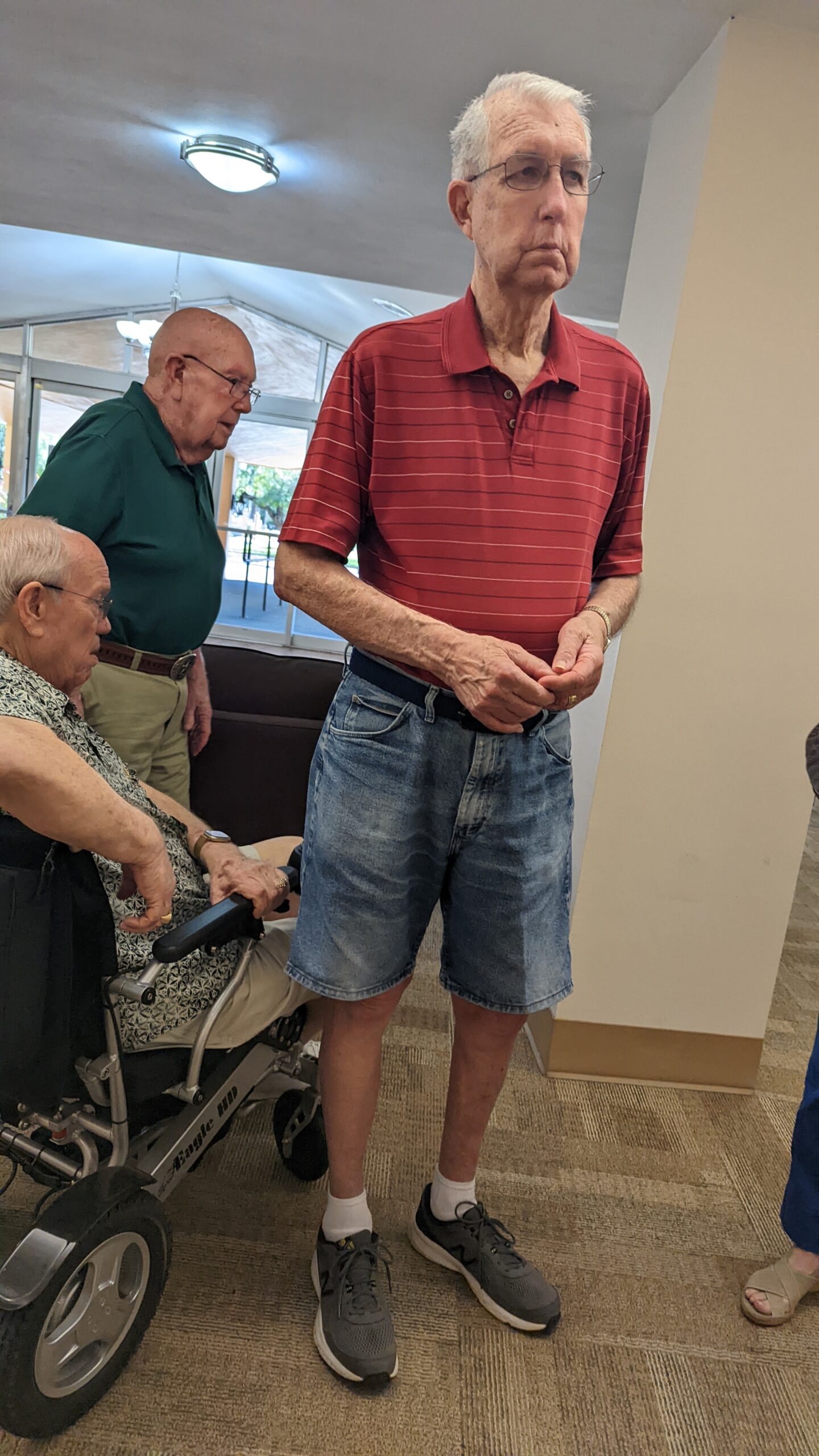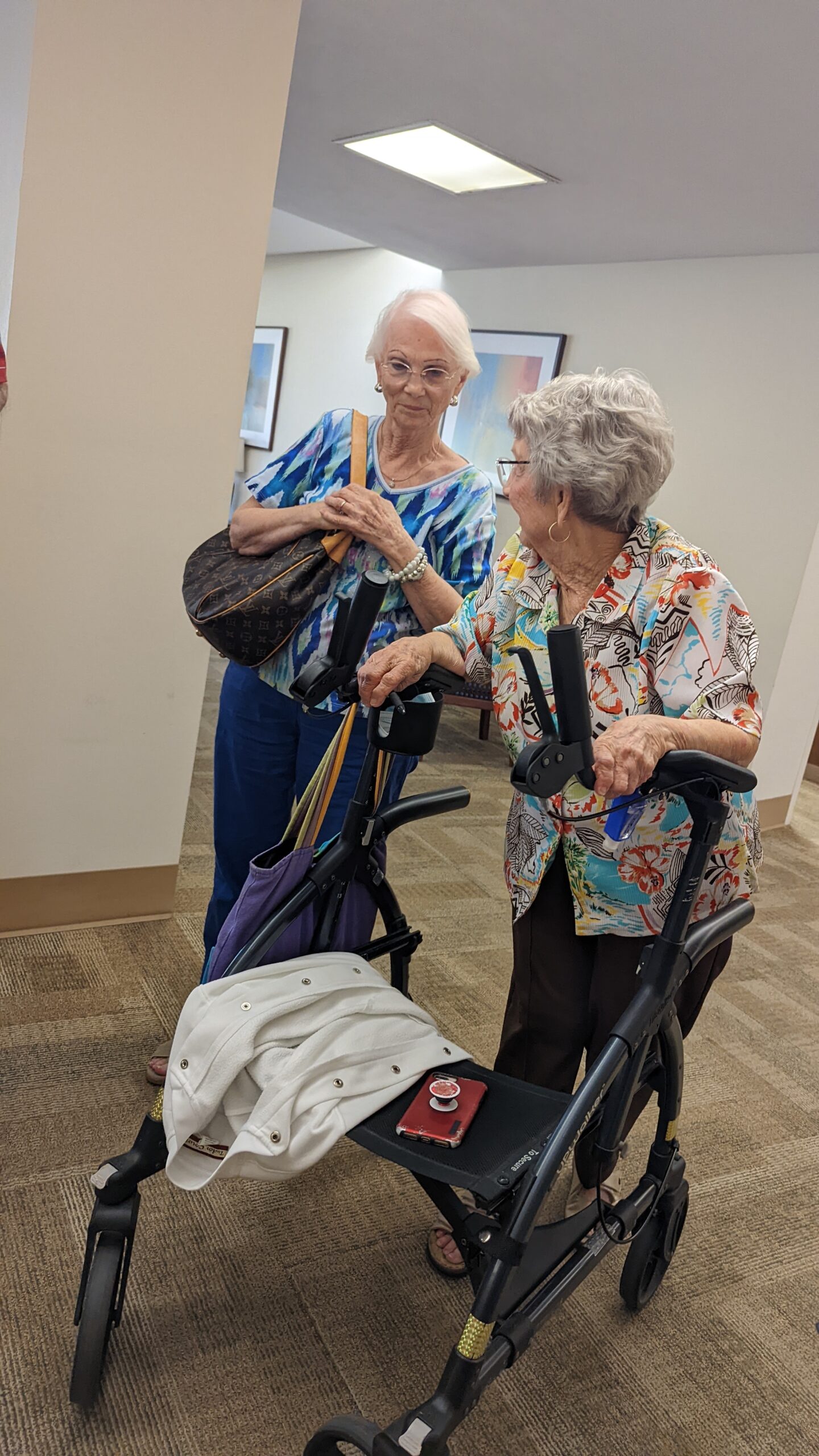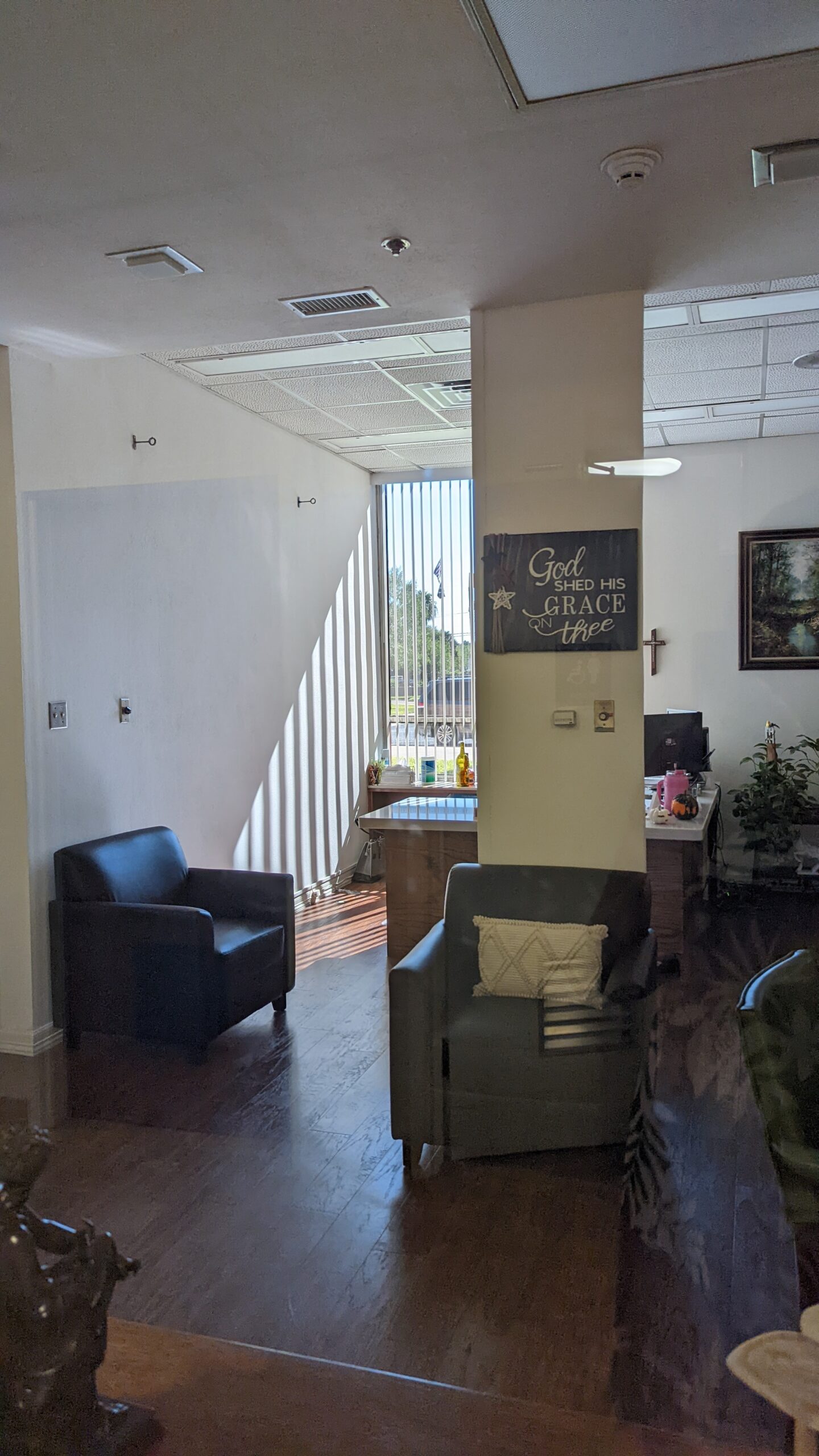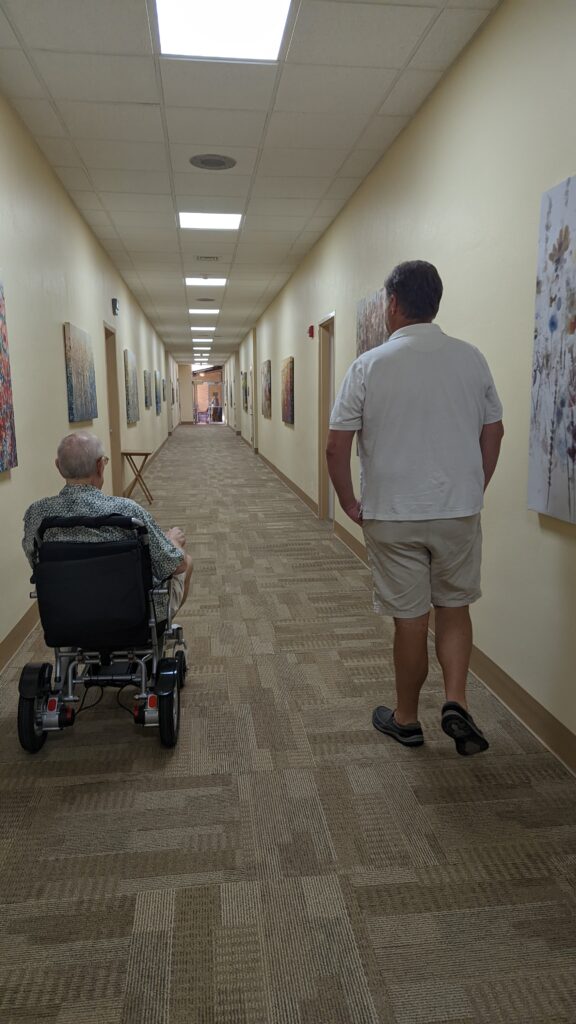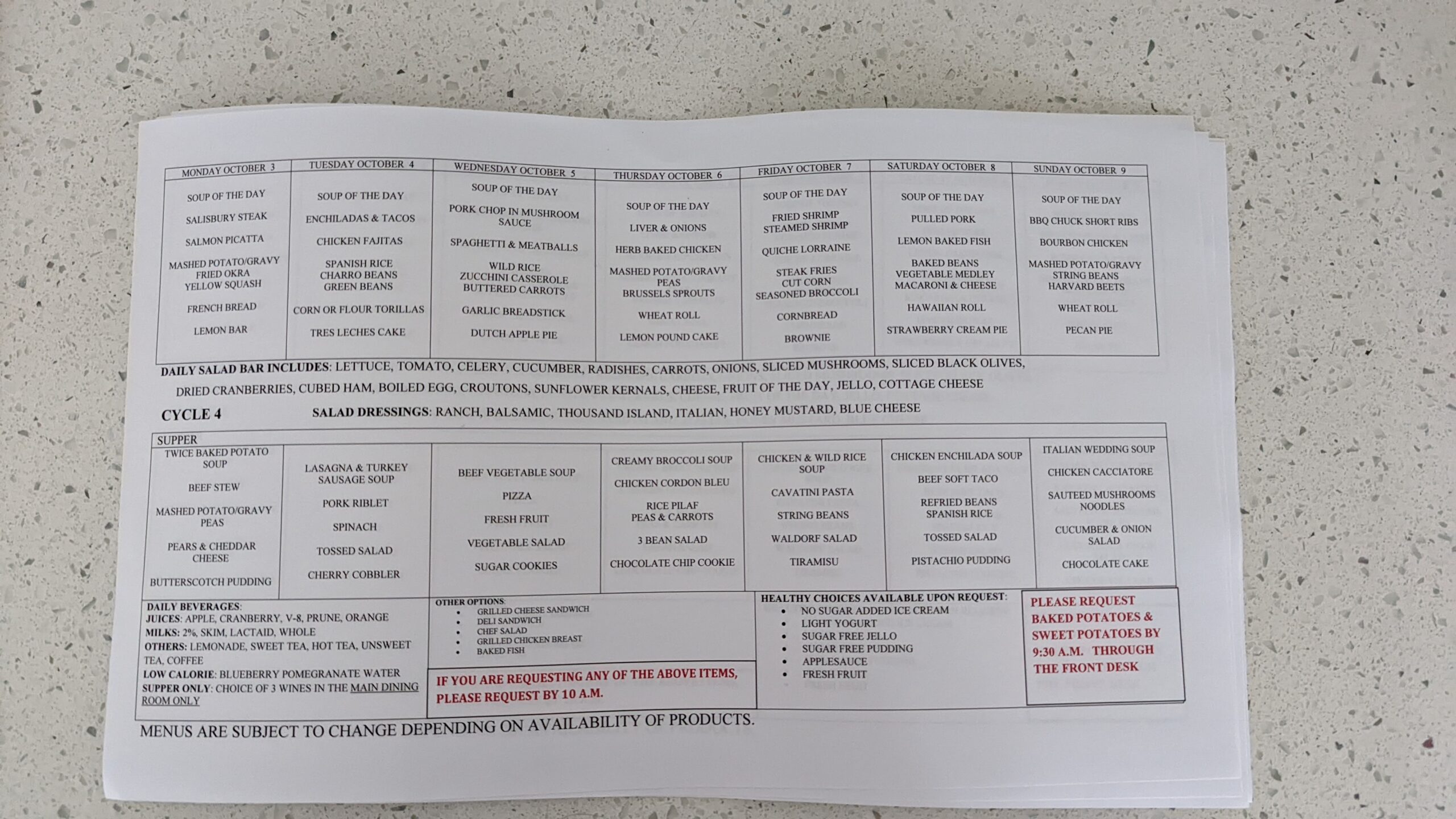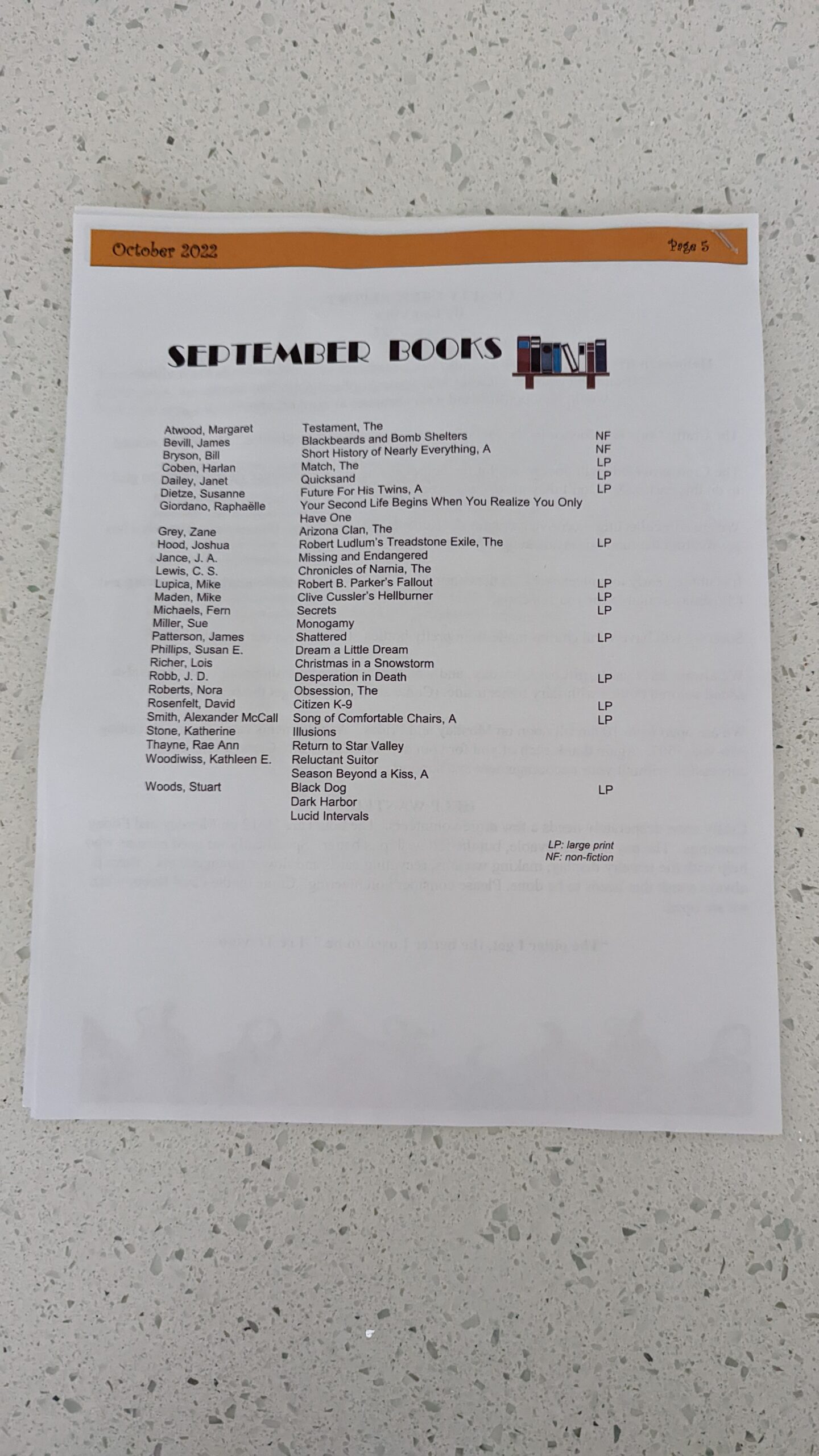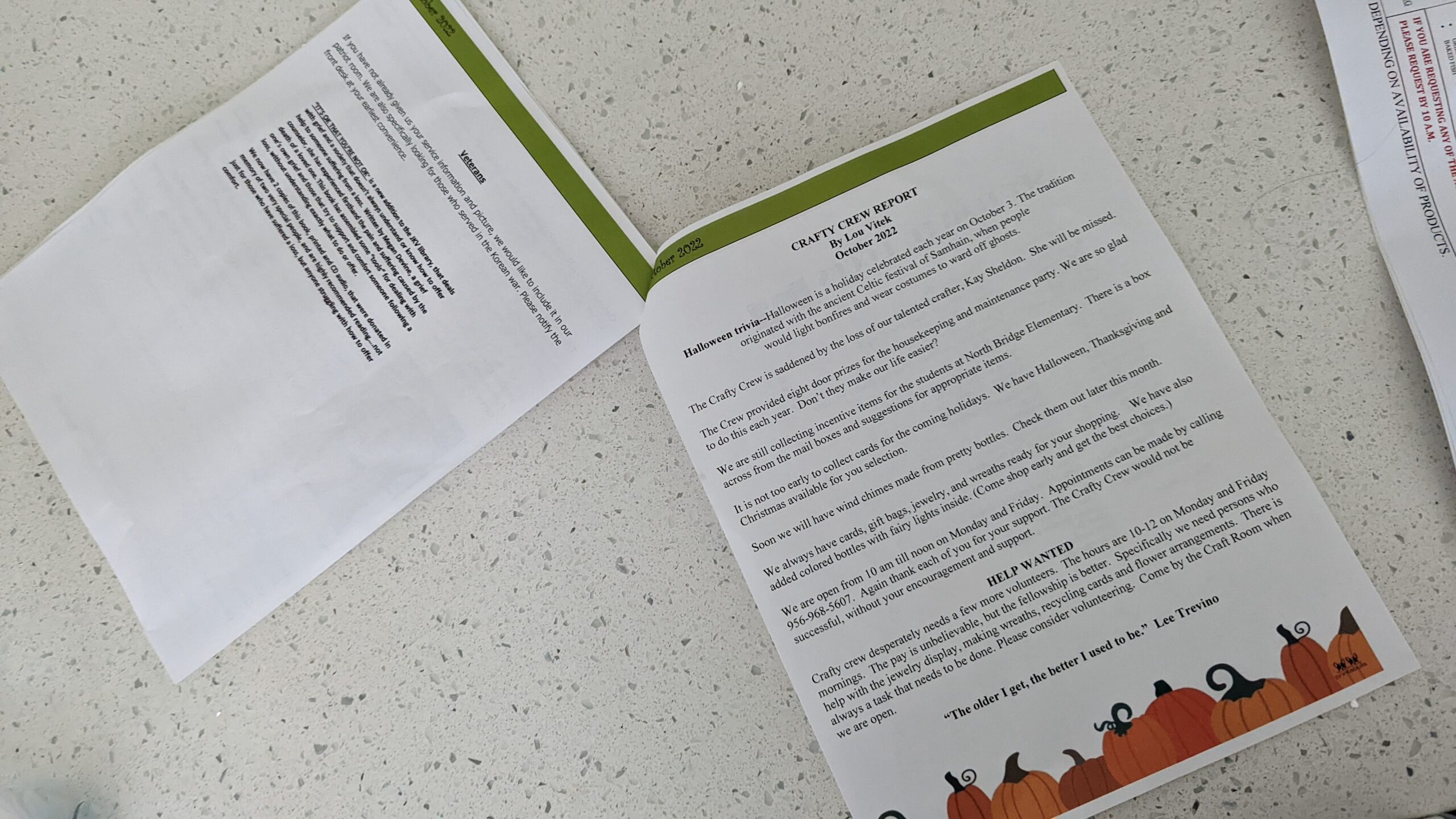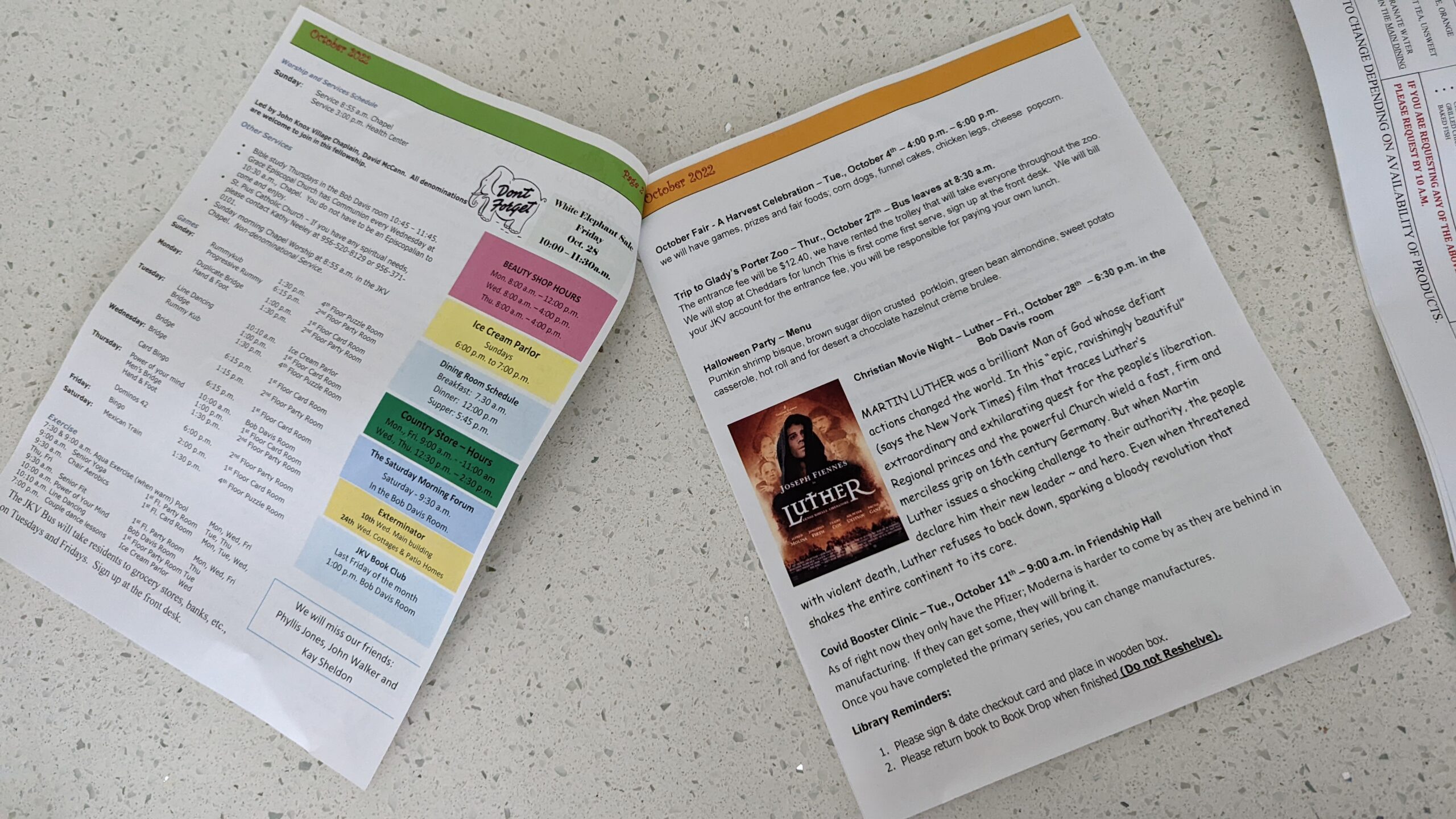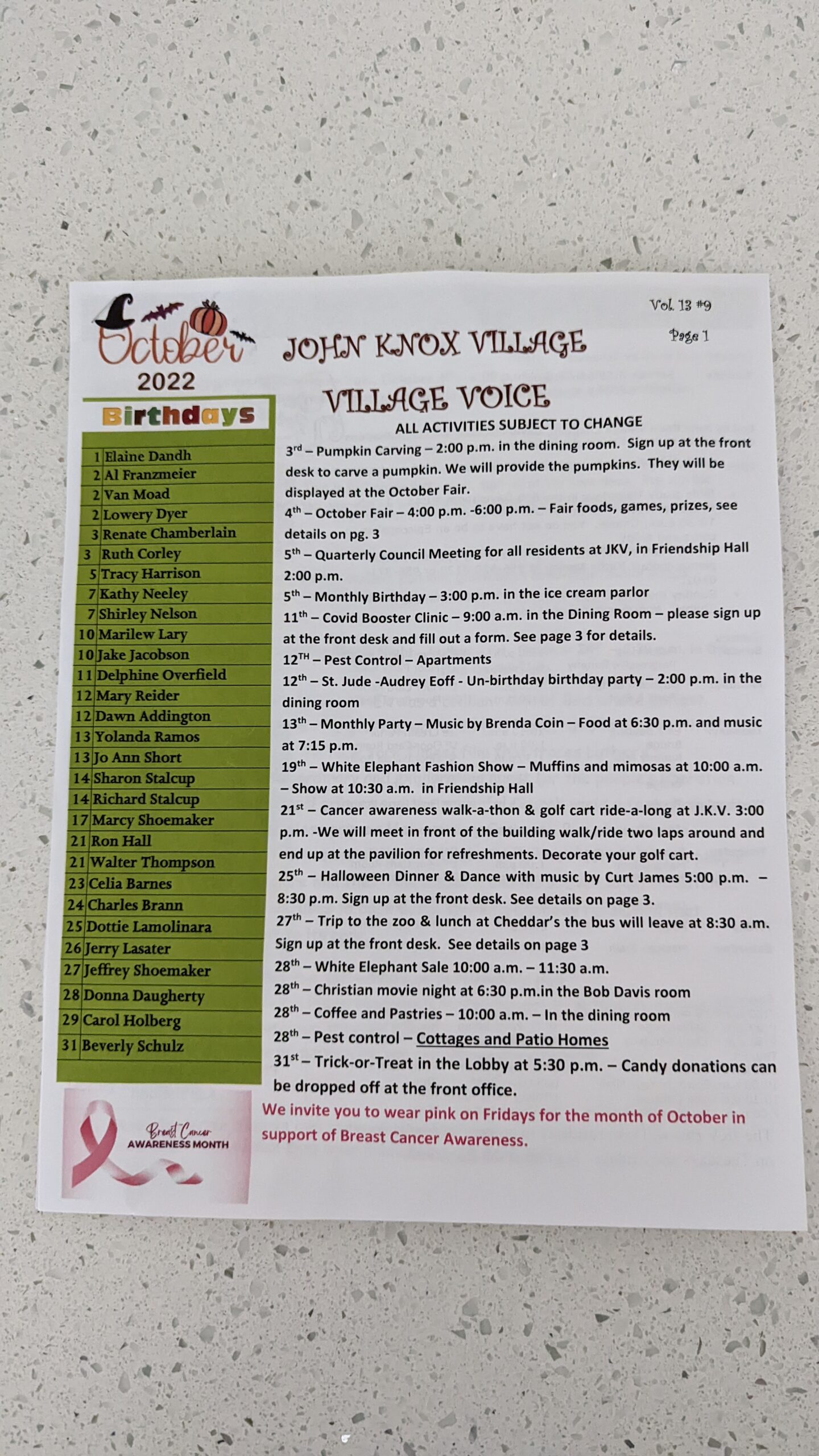 "They drafted 13 men out of the county; one of them was a preacher. I enlisted for 3 yrs, and Nancy took in boarders and worked odd jobs. We rented the house; she went with me to Ft. Monmouth and rented a place from an Italian family. Went to Germany; she went with me and worked for the Stars and Stripes paper."
Uncle Earl learned German from the store clerk near the base who spoke English.
"I was in Germany when I got picked up to go to Vietnam. Tried to get Nancy home." Because Aunt Nancy didn't have orders, the military wouldn't pay for her trip home. Finally, Uncle Earl went to his commanding officer, who helped her get a space available flight home. Not a comfortable way to travel, Aunt Nancy had no other choice.
"I came home on 30 days leave and had to go on morning report at Ft. Eustis. Got Nancy set up with Mr. And Mrs. Callis on the island."
Uncle Earl learned while at Ft. Eustis that they switched names for Vietnam, "Which is how I ended up in Vietnam, I think my name got switched." People who had influence, made phone calls to get friends and relatives names removed from the draft, substituting someone else's name. Uncle Earl received his draft notice just before his 26th birthday while in the middle of building a family home where they could raise children.
"I was there between 68 & 69. I was in Mekong Delta. I was radar. All of us had permanent flight orders; we could take a chopper anytime we wanted. We'd jump on a chopper, drop off with those guys and get them up as quick as we could. We got shot and shot down. We had to spend the night in the field waiting for another chopper. I had to stand out in the field with a strobe light on my head so the chopper could see us. I was a sitting duck."
Listening to Uncle Earl talk about Vietnam brought back the enormity of the war and the impact on their lives. Decades later, sitting in his leather chair, he recalled the traumatic events for us.
"We were mortared 24 hours a day, friendly fire. I was ready to shoot back and the commander came past and said, "Friendly fire, can't shoot back. I had to just let them shoot at me. Dant Tam air base, we were sprayed with Agent Orange. Commander told me so."
Uncle Earl explained how he witnessed people killed by friendly fire but not reported as such. Instead, to increase the body count, if the soldiers shot an enemy but didn't kill them, they would count the blood drops.
"Every blood drop they made us count as another body because they wanted a high body count."
Sitting quietly, lost in thought, Uncle Earl continued his memories.
"I didn't let anyone know I was a Vietnam vet until we moved to Harlingen because we were so persecuted. Discharged in California, they had groups of protesters out there. We had to wear civilian clothes to fly home."
As we ended our trip down memory lane, Uncle Earl told us, "I purged it all from my mind. I had too. Some people got help; maybe I should have. But I just purged it from my mind."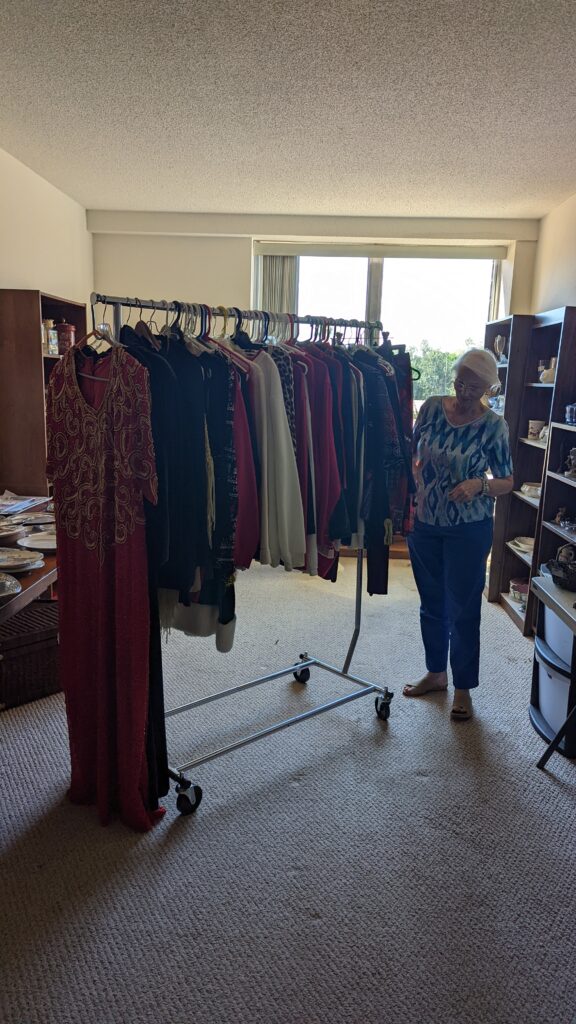 "It kind of helps me and gives me something to do when Earl's sleeping. I come down 2 or 3 days a week."
Patti gave me a personal tour of John Knox's White Elephant. People donate clothes, furniture and household items. Patti organizes the clothes, which sell from $1-$4. They sell the leftover bags for $10 to people who sell them at the flea market. With their proceeds, the invest in the village. White Elephant gave $19000 to the health center. And have sold $1000 in less than two hours.
When I saw the travel pillow, I bought it for Ron and the flight home. For myself, I found a hummel bell, exactly like one owned by Uncle Earl, and bought it for my keepsake.
Well-organized and stocked, the White Elephant has everything one could need at unbeatable prices.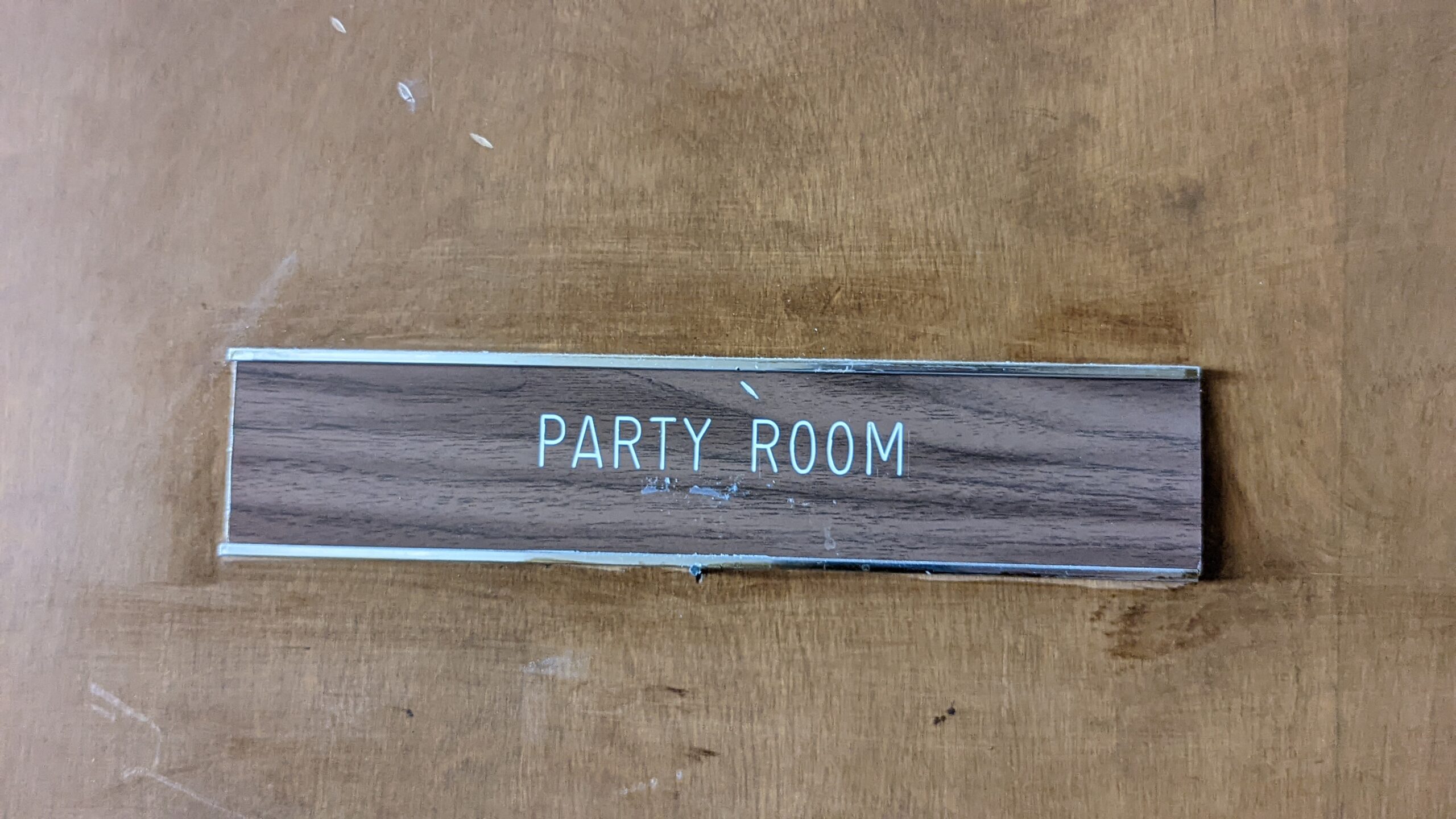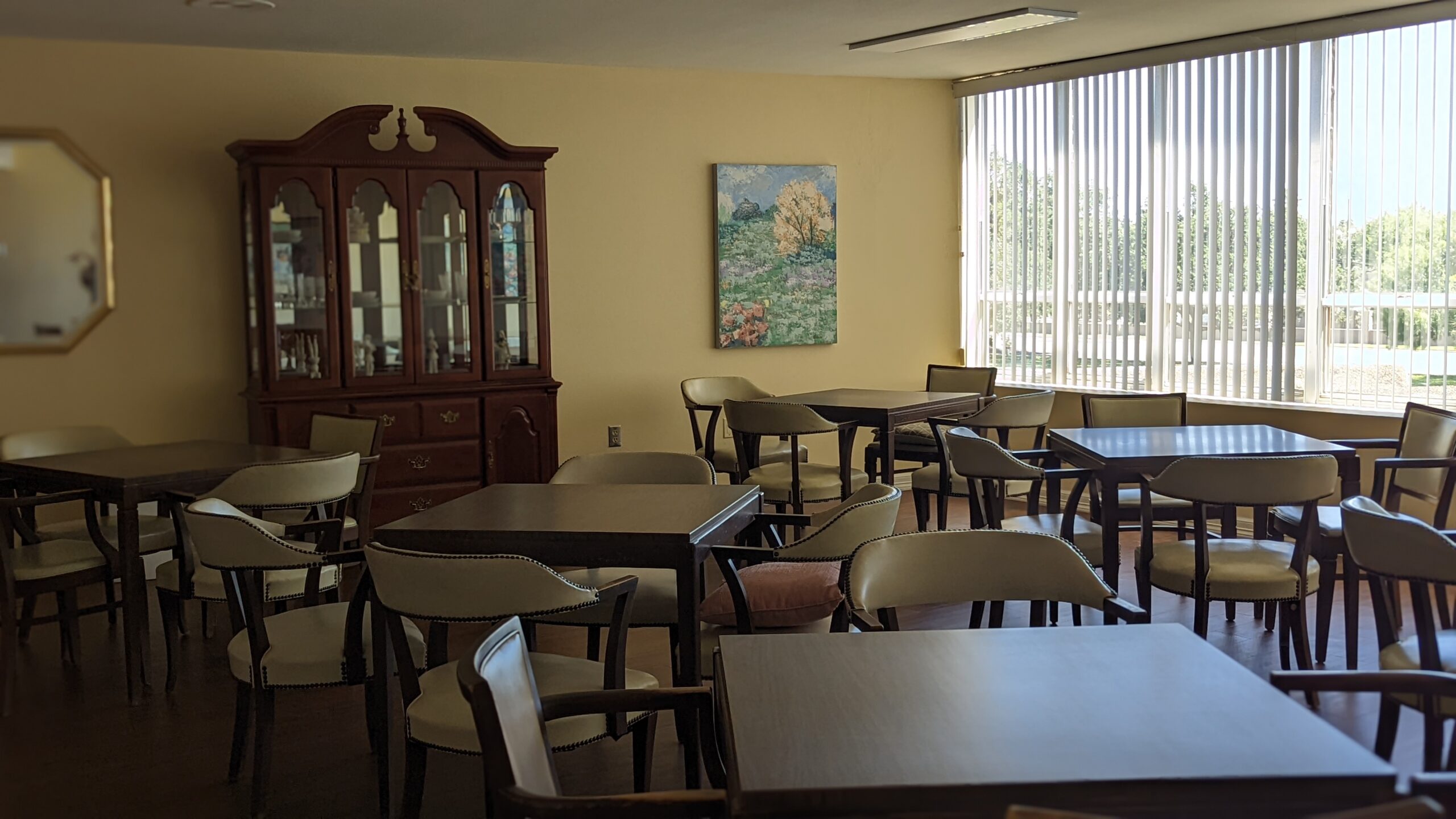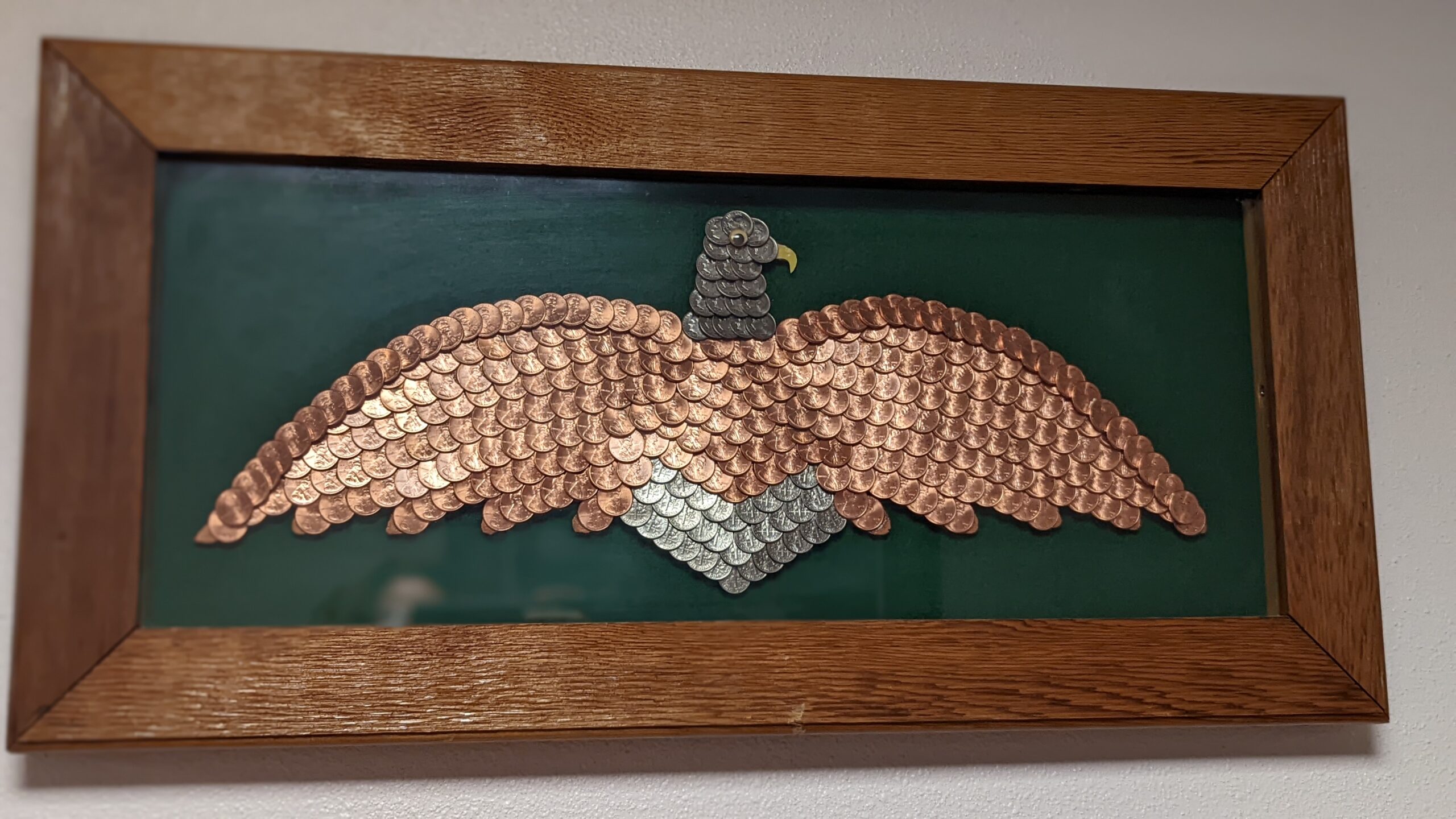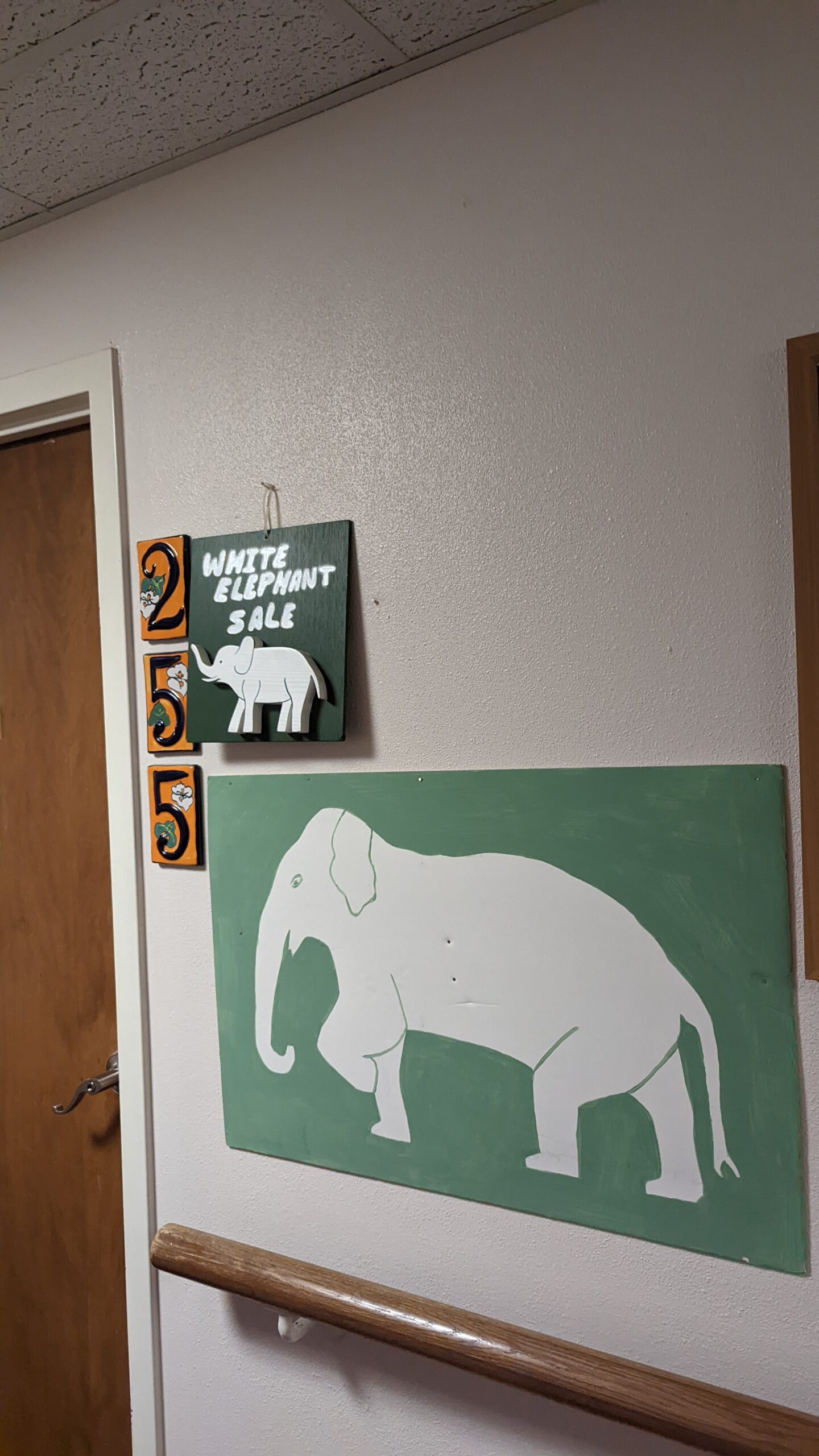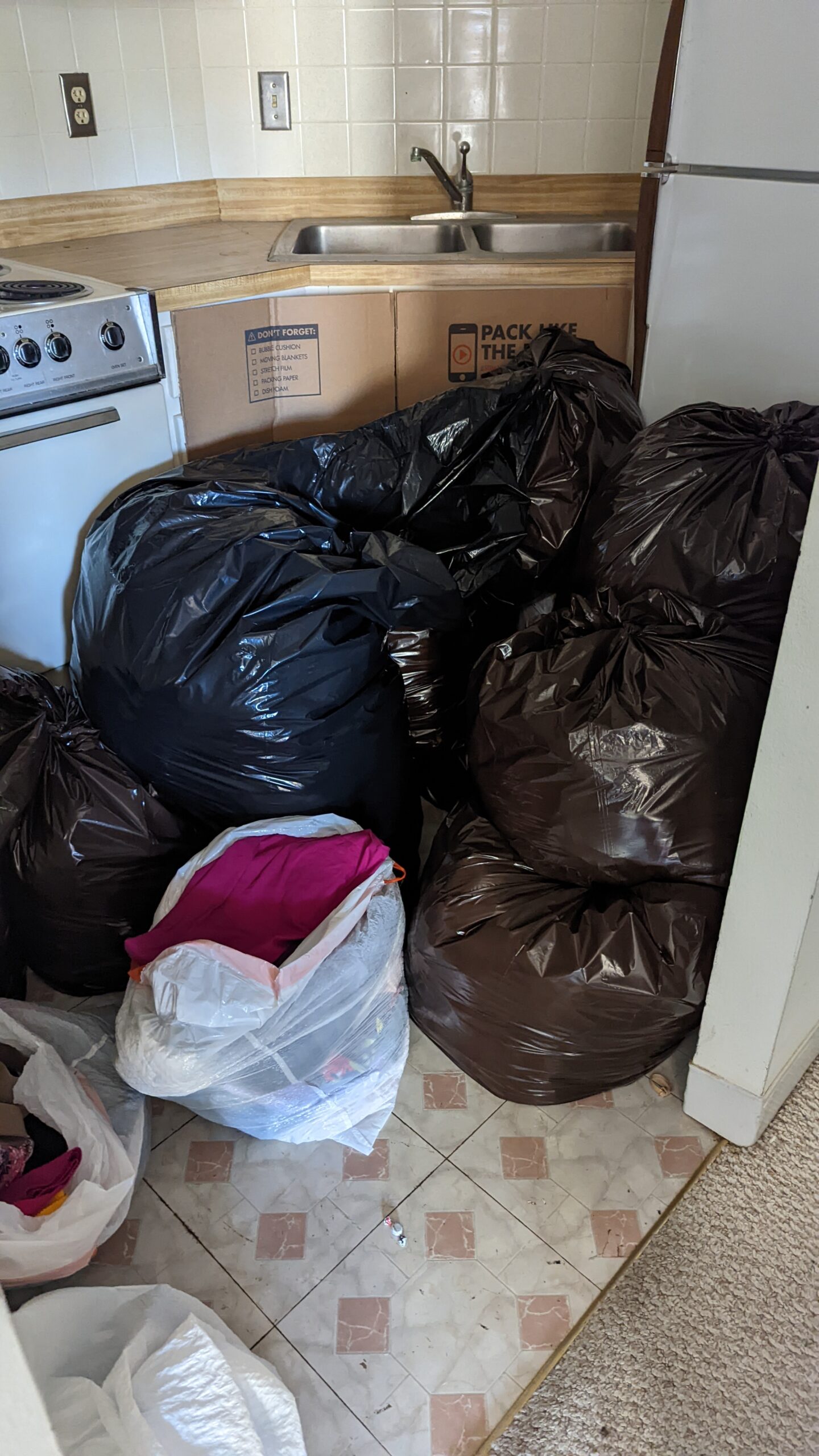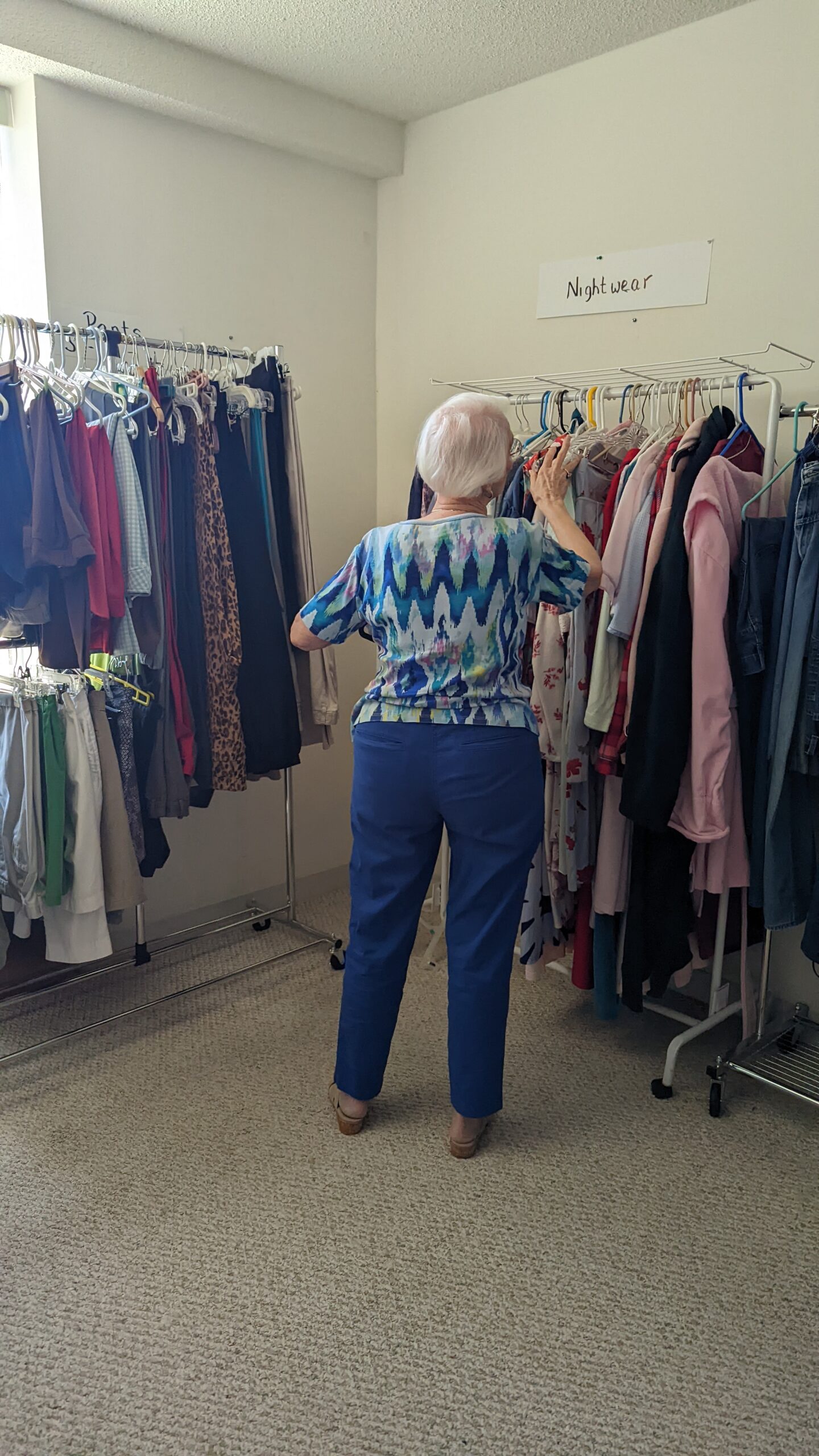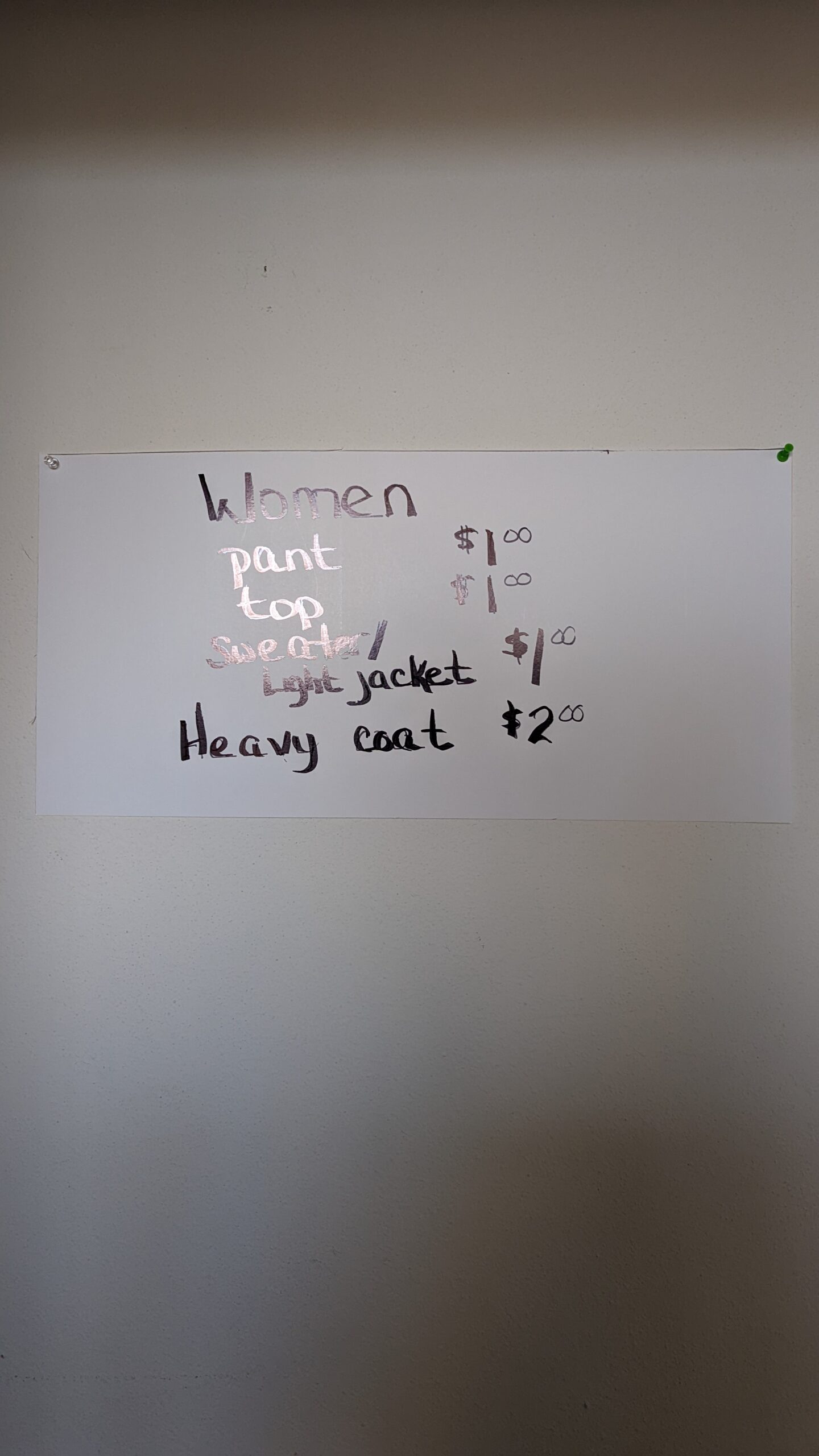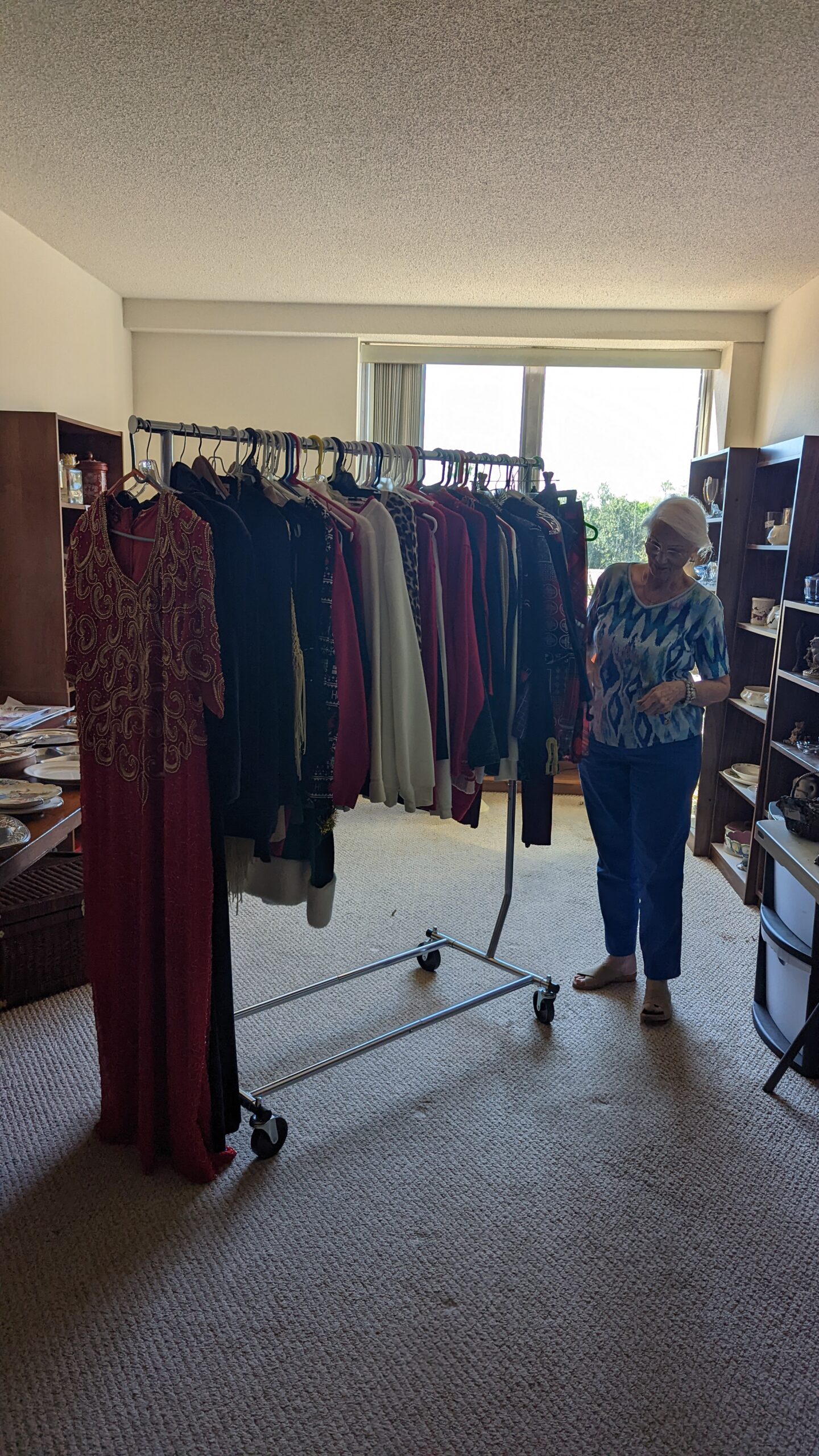 "Uncle Earl told me a Gwynn's Island story I never heard. I always wondered how the cow got on the island," Ron said when we returned.
When Ron's Uncle Les entered the world, he did so during the storm of 1933.
When his Uncle Bill, father Hardy's brother, received a letter his new nephew needed milk, he had a plan. Writing a letter to Hardy, he told him to meet him out in the Chesapeake Bay with his boat. Pulling up alongside the fishing boat, Uncle Bill used the wench to lower a cow onto Hardy's boat. And Bessie came to live on Gwynn's Island, providing milk for the new baby.
Aunt Nancy and Uncle Earl met boating one day. Somehow, Uncle Earl threw her overboard, beginning their romance and 55 year marriage.
"Piggy," (real name unknown) couldn't swim; he fell off the boat by himself. He would come up, get air, sink to the bottom and walk a few steps, then go to the top and do it again. He walked to shore." Ron loved listening to stories from Gwynn's Island.
"Everyone had nicknames. Uncle Les was called Stormie because he was born during the storm." Ron said, his eyes alight with joy recalling the story of Les's birth.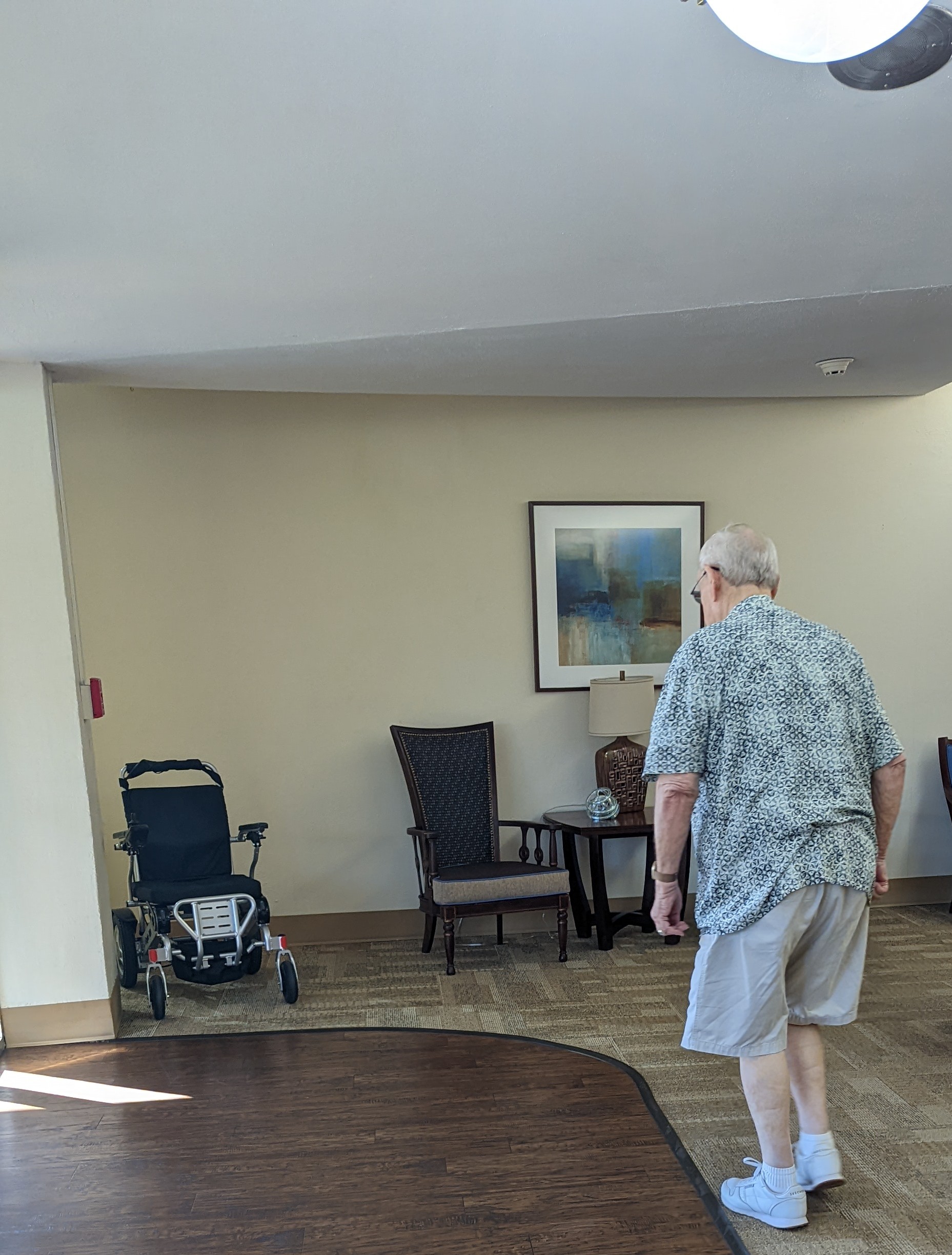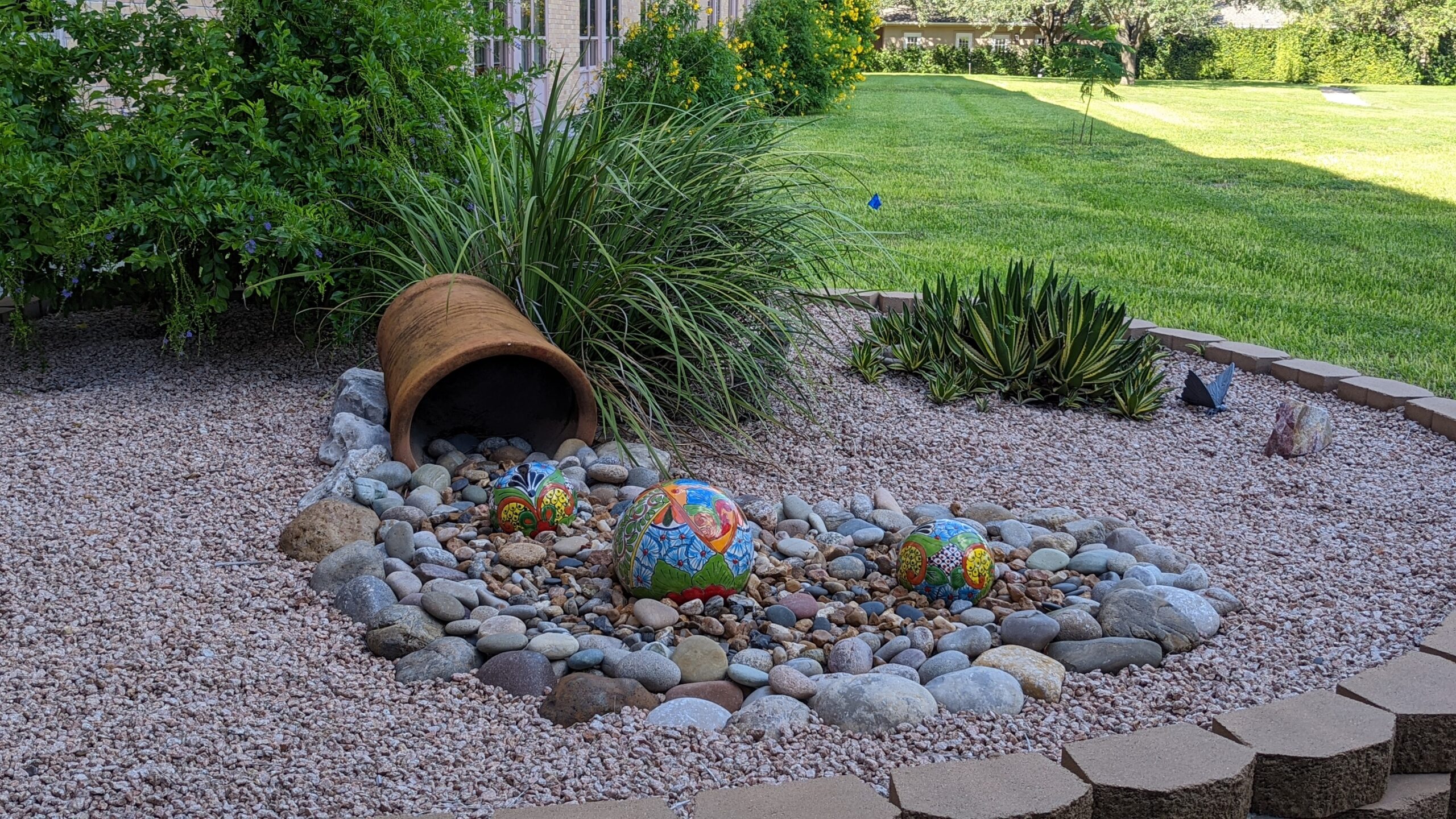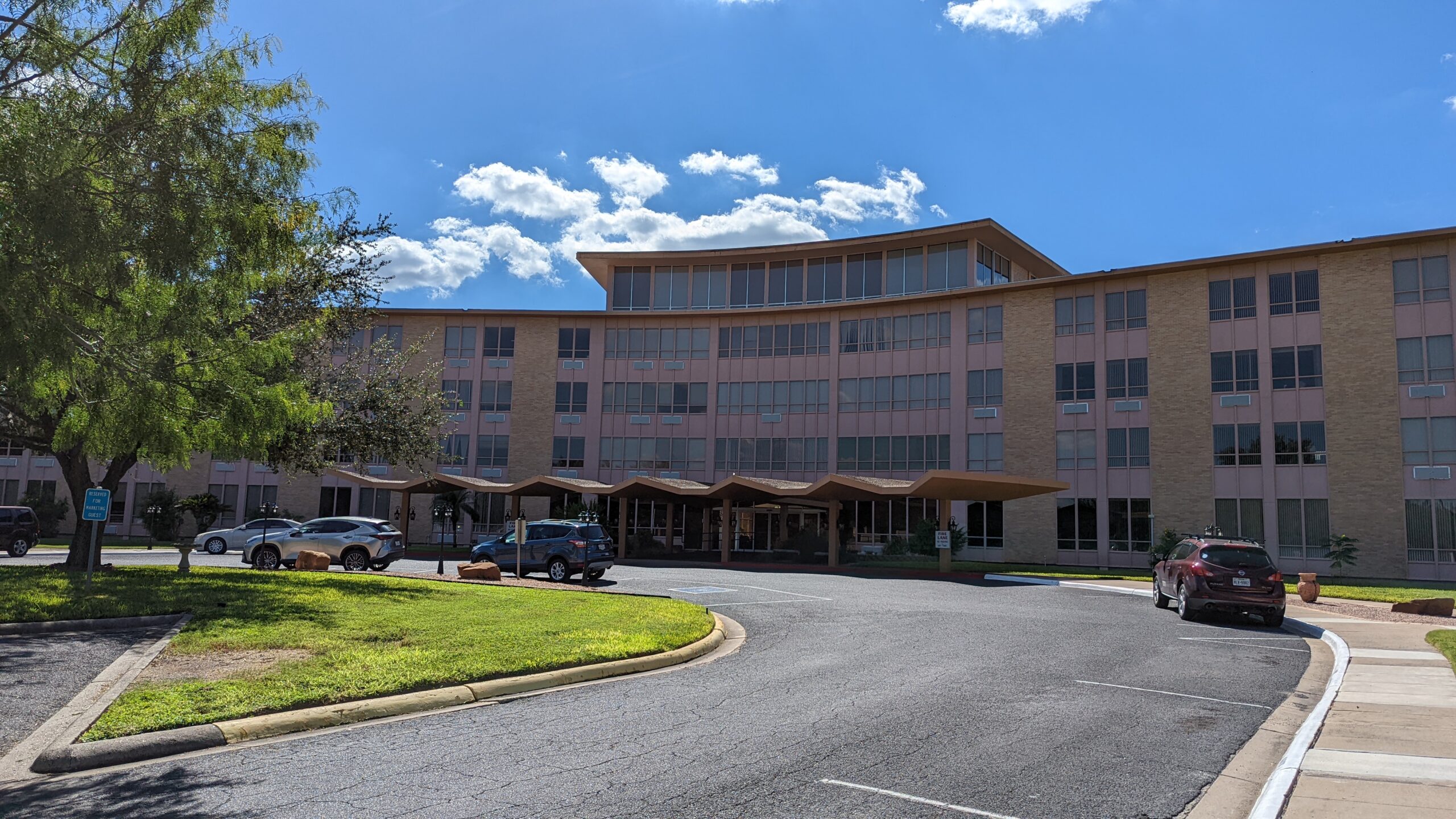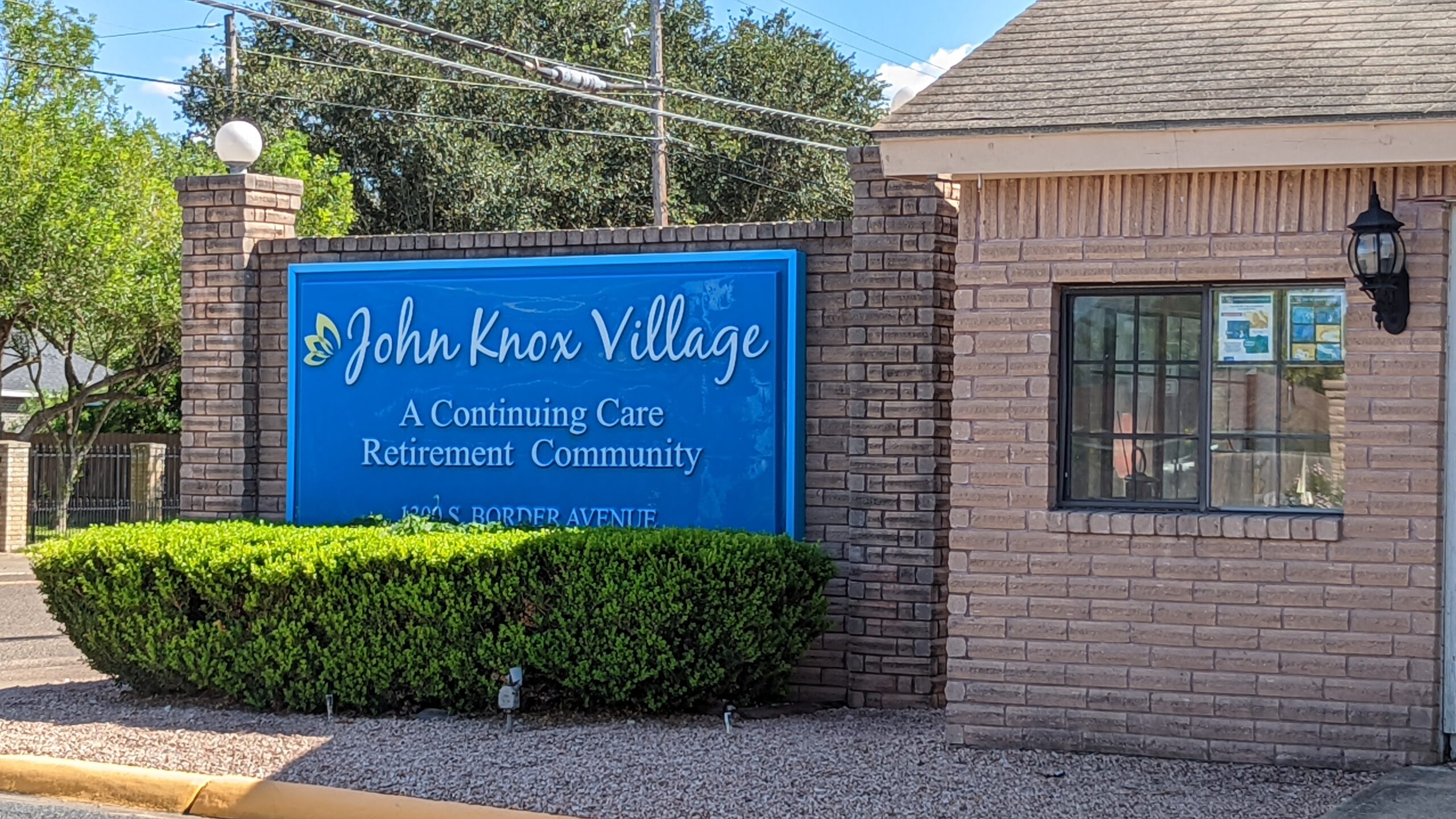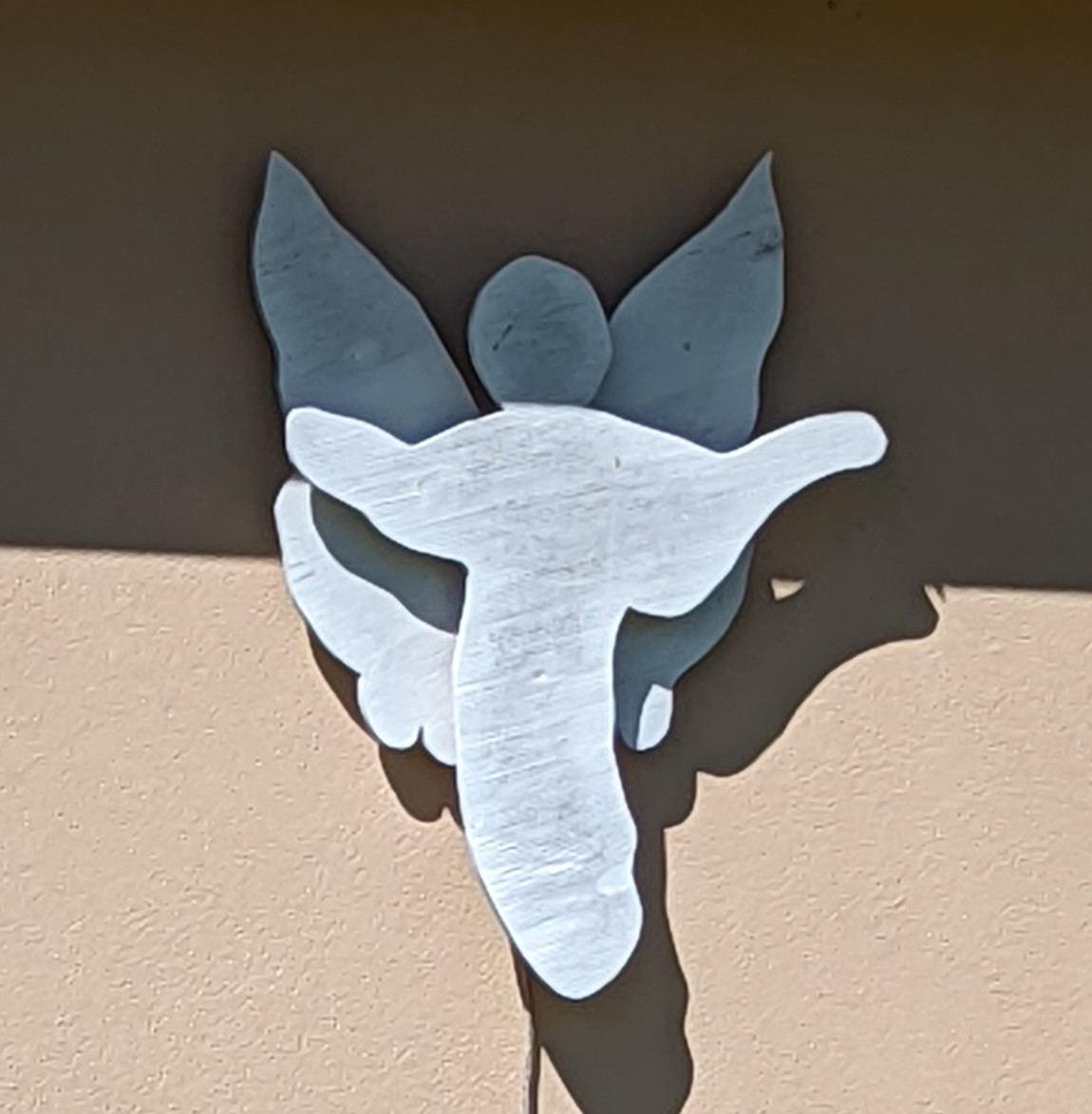 "We used double-sided tape, they never moved." In Uncle Earl and Aunt Nancy's Grand Teton, they had Hummels. Members of Escapees RV and Thousand Trails, they stayed two weeks at a time, the maximum allowed, before moving to a new place.
"When we were full timing, I had some maintenance issues. But it seems that people who let 'em sit then use them have more problems. Although, we did have a problem, I think it was California. I pulled out from getting gas and I see my wheel roll passed, we broke an axel."
With three axels, the Grand Teton still drove, but Uncle Earl pulled over and called a repairman. The local guy fixed the axel right in the parking lot, welding it back together.
"I never had another problem with it." Uncle Earl said as he finished the story.
"I told the guy I needed a place to store the camper. He told me to bring it on over, he'd fix me up. So I took it over and he moved a park home, put me in it's spot. We stayed there til we started full timing."
Sold the island property in 1999, lived for a year at Bethpage Campground before they started full time RVing. Worked for the Circus while RVing. They landed in Harlingen when Aunt Nancy needed a knee surgery, and they stayed.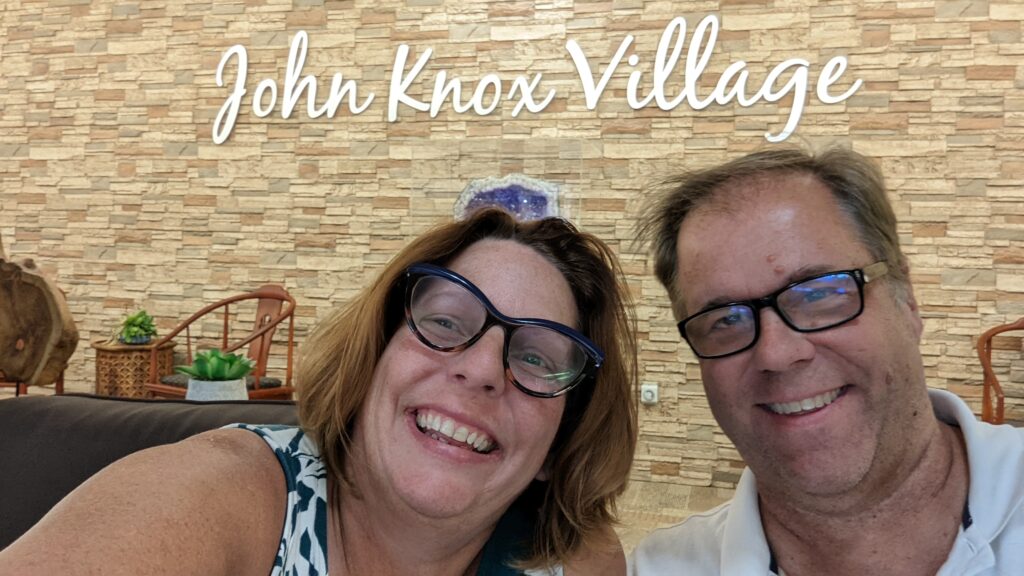 We visited Harlingen three times, our first visit in Aug of 2018, three months before Aunt Nancy passed. Uncle Earl took us for the best brisket we ever had, walked us across the Mexican border for a day of shopping and lunch. The waiters wore tuxedos at the Mexican restaurant where we had fresh margaritas and authentic Mexican food. I purchased heart worm for the puppies, sombreros and a margarita set. South Padre Island an hour west of Harlingen made an excellent day trip to the coast. On our last day, Aunt Nancy cooked us a steak lunch with Uncle Earl's assistance, allowing me to experience one of her famous home cooked meals.
Our next trip happened three months later, for Aunt Nancy's memorial. Uncle Earl telling the tale of how they met.
"I can't remember what I said, but it was something about her legs. And she slapped me. I thought no girl's gonna slap me, so I picked her up and threw overboard. She tried to get back on and I wouldn't let her."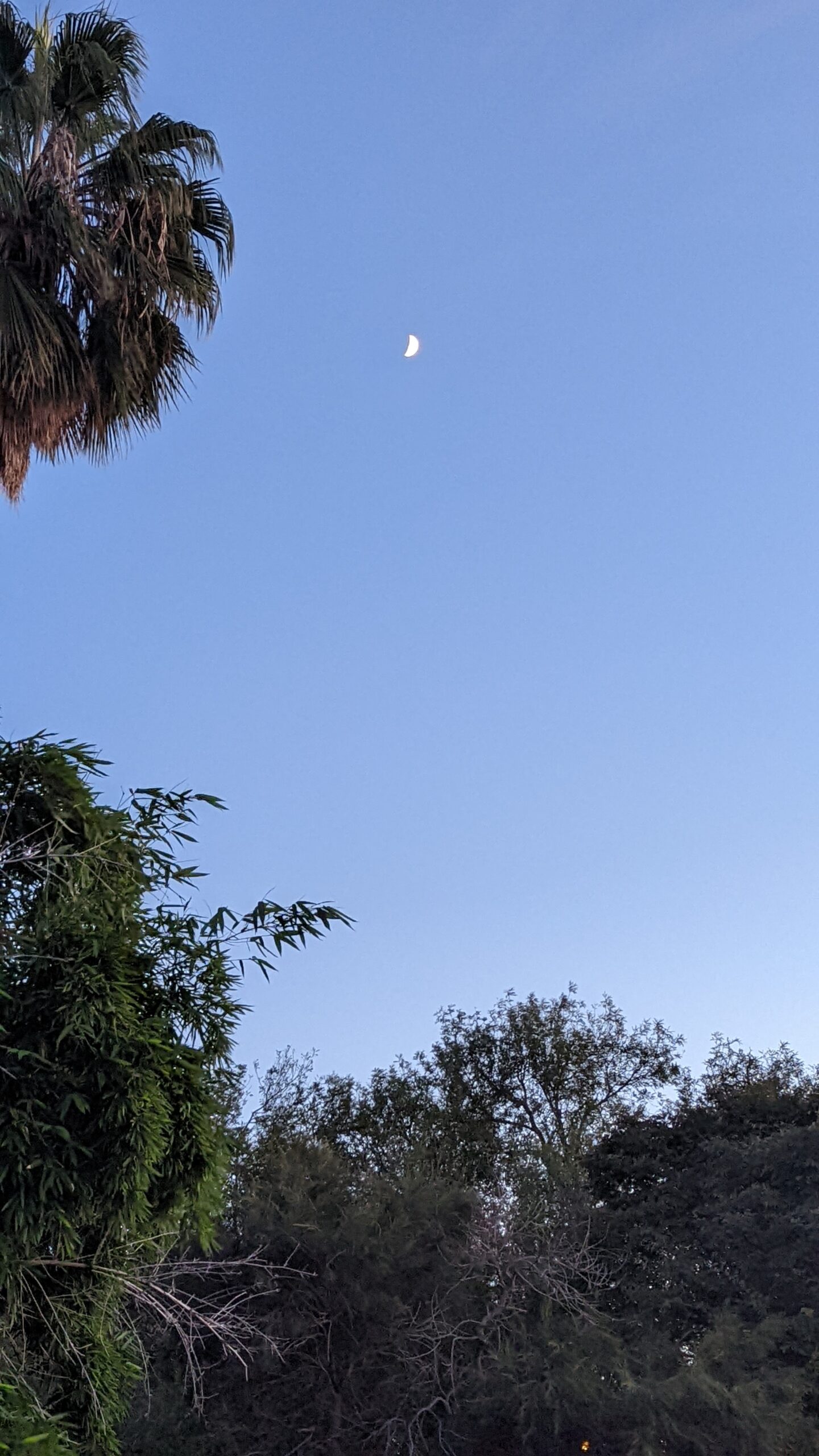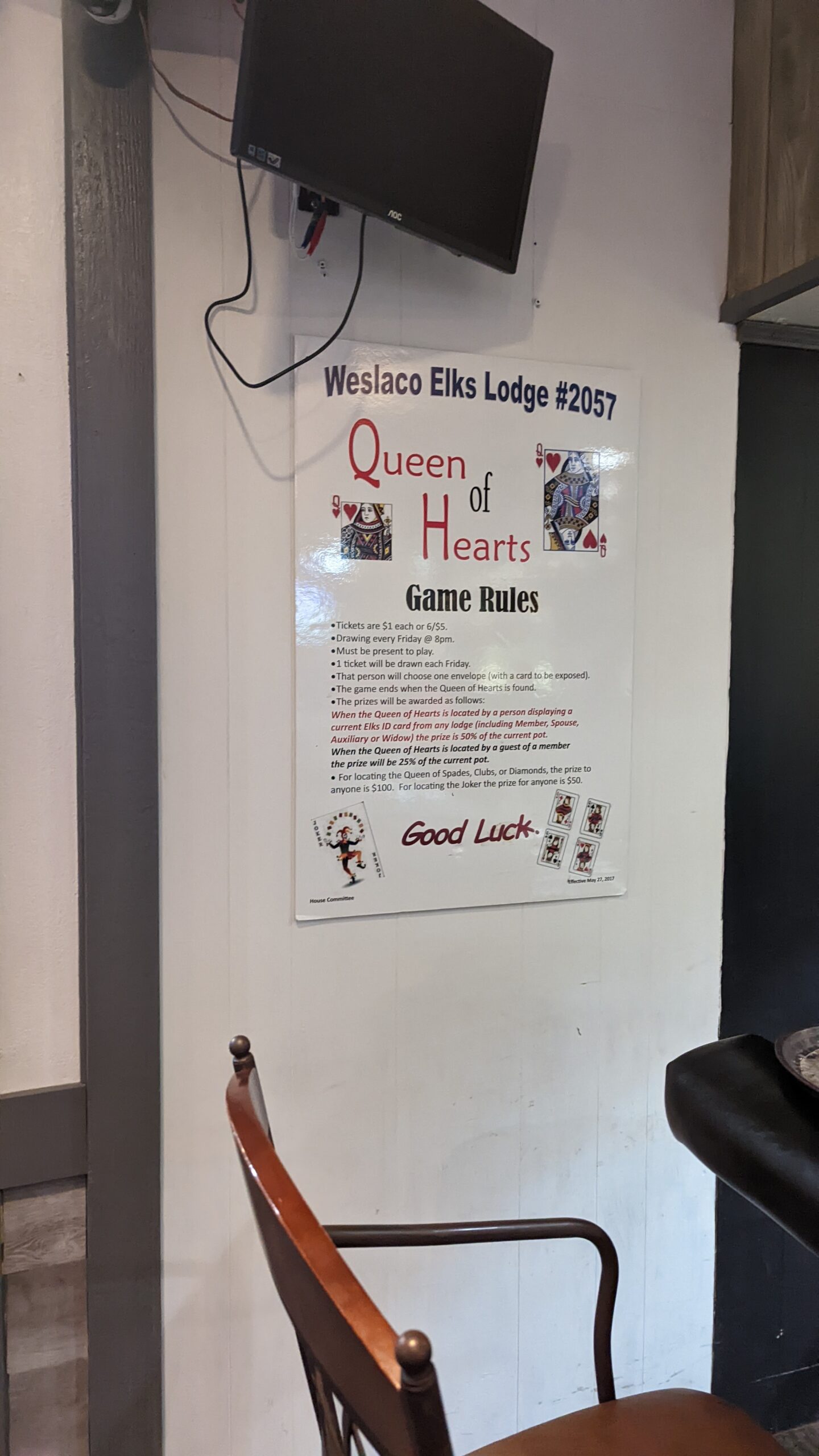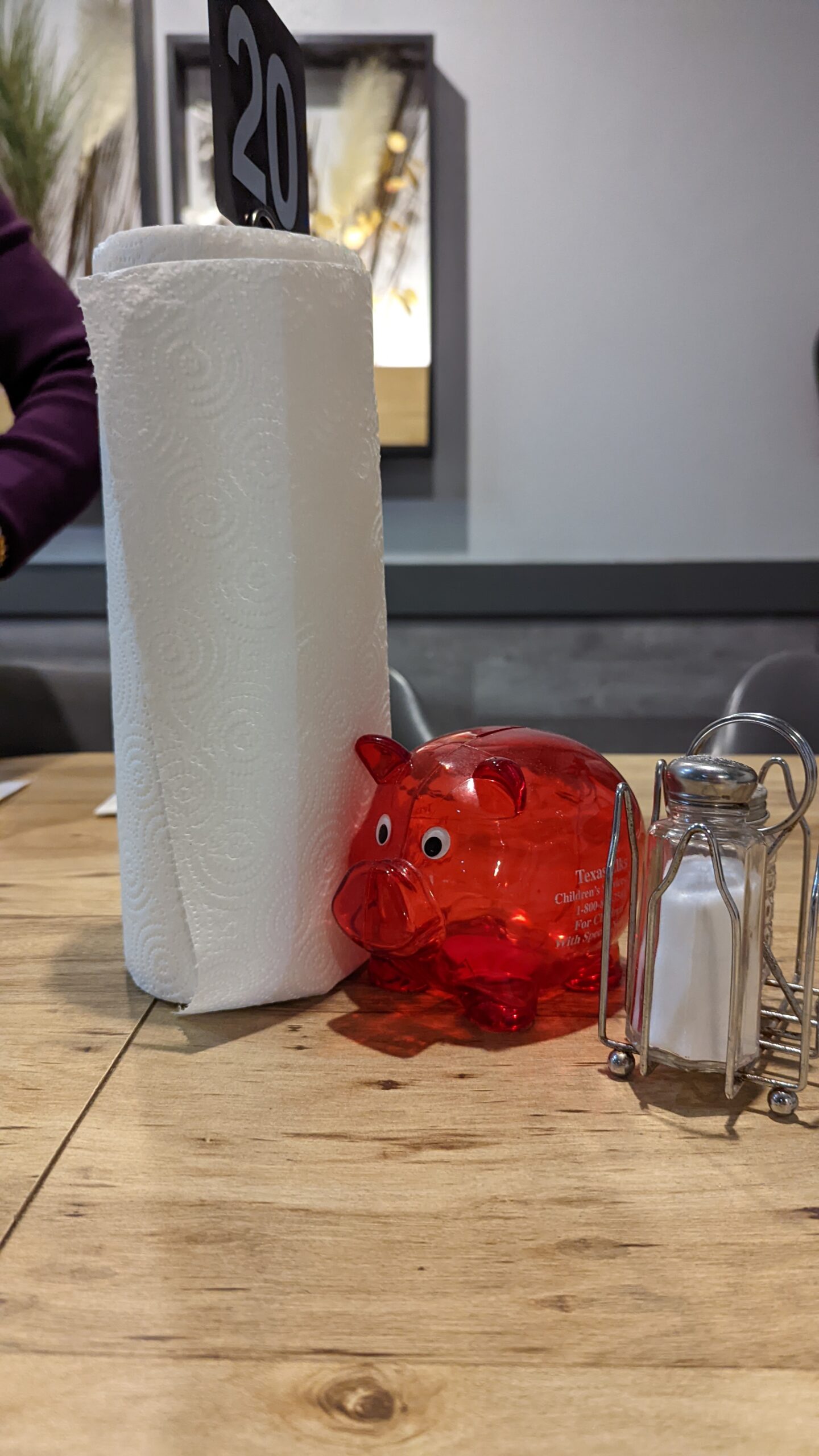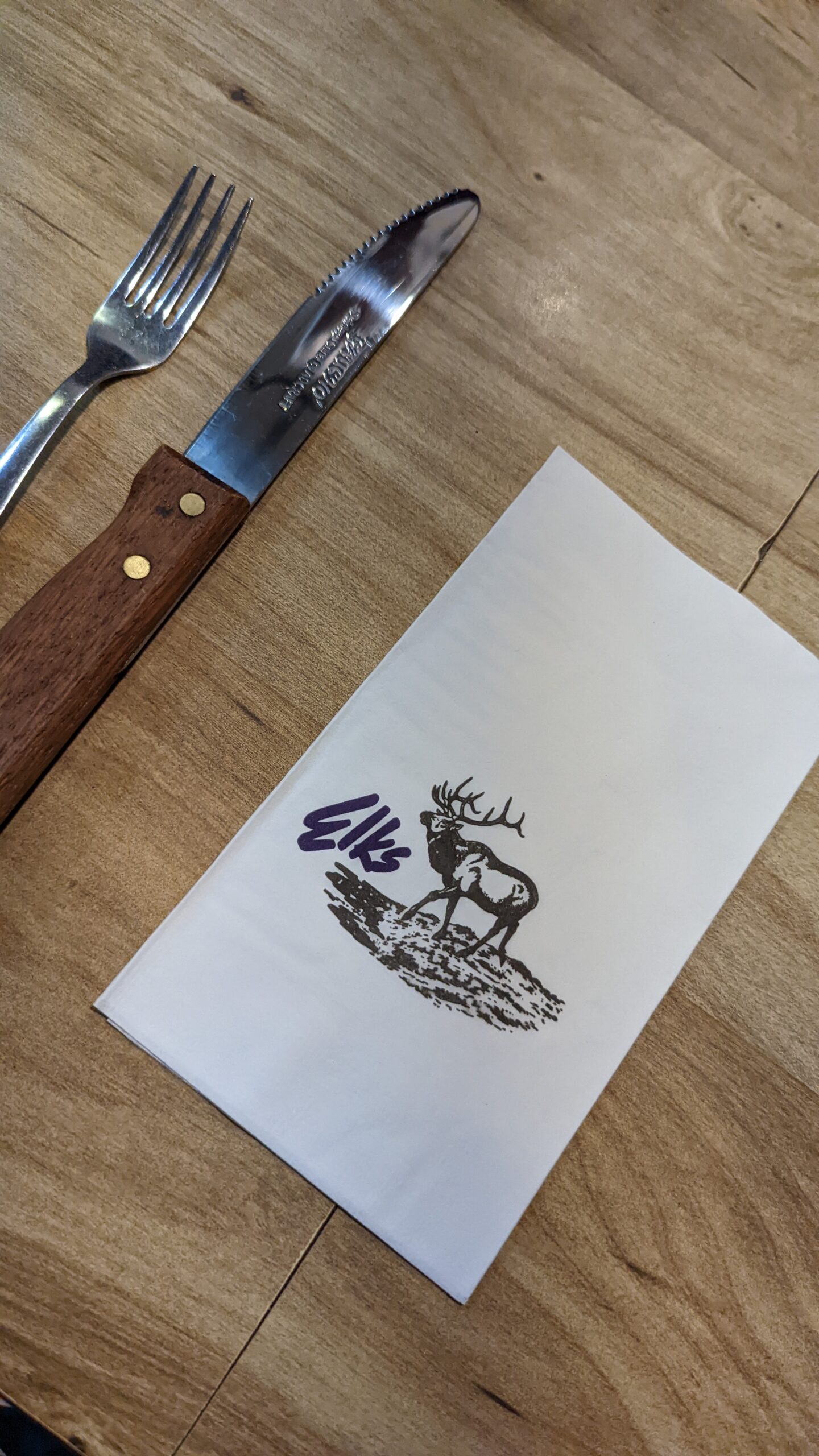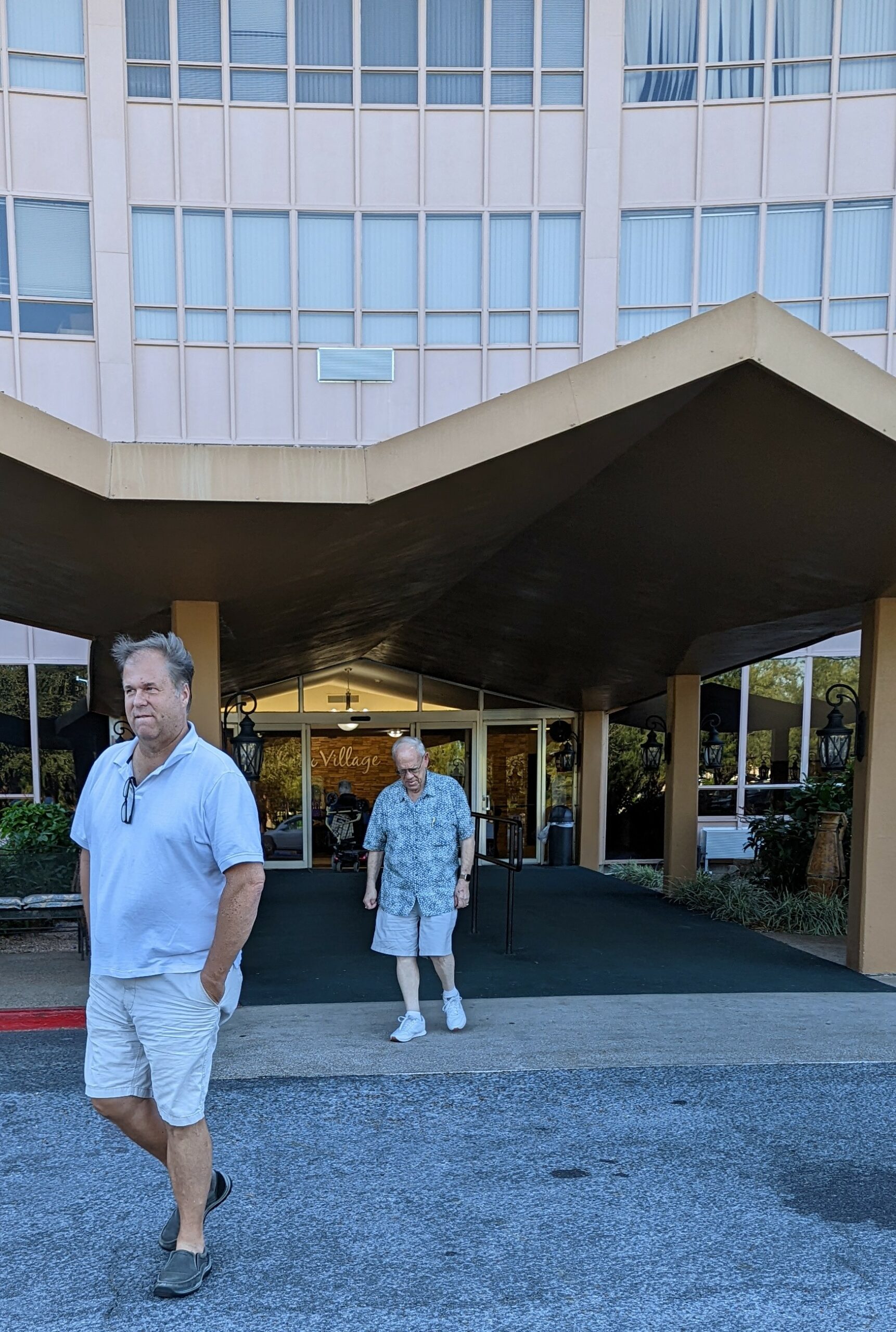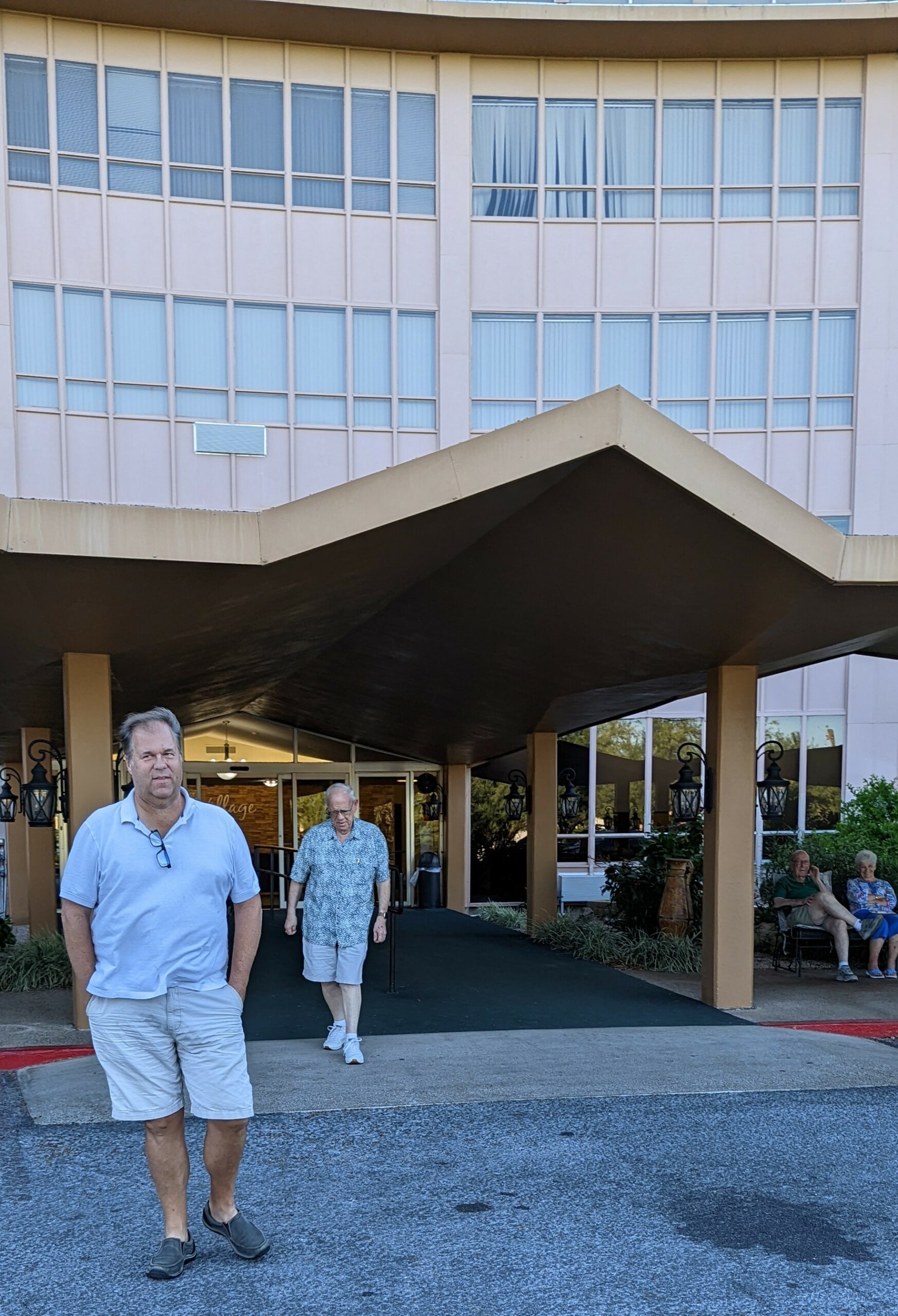 "We're taking you out for a steak dinner at the Elk's club."
Can't say no to a good steak, 12 oz NY strip for $21.95 with salad bar and live music. Uncle Earl looked tired, in pain all of the time because of the cancer, he ate well.
"My doctor doesn't know it but I take 600 mg for the pain, he prescribed 300.". Thankfully, the medication brought him comfort, but as he told me at breakfast, "I'm pushing myself."
God bless you Uncle Earl, now and forever. We love you!
"I'm making biscuits and gravy for breakfast, I already have the sausage thawing. We can go to 9:00 service, it only lasts a half hour. Then we'll take you to the airport." Patti had it all planned for us and we appreciated it.
"Did I tell you where I got this cross?" Uncle Earl asked, lifting the wood cross, carved with loaves and fishes from his marron shirt, running his fingers over it.
'I was in the Holy Land on the tour bus and the guy handed them out. The tour driver had them made for us. He knew we liked them. There were five of us at my last church who had them. I wore it every week then, now I just wear it on communion day."
Uncle Earl recommended James Michener's, book, The Source, about the Holy Land.
Over breakfast we chatted about children, Ron and I's efforts that came to no avail. Aunt Nancy's miscarriage she had late in life, the closest they came to having a child, after trying for years.
Patti wore Aunt Nancy's apron as she buzzed around the kitchen, serving us her delicious biscuits and gravy. After joining us at the table, she shared her struggles with having children, both ovaries removed in her twenties, she didn't have a choice.
At ten til nine we walked the short distance to the chapel and enjoyed communion lead by Pastor David. His message about duty packed a powerful punch, one we all can apply to our lives.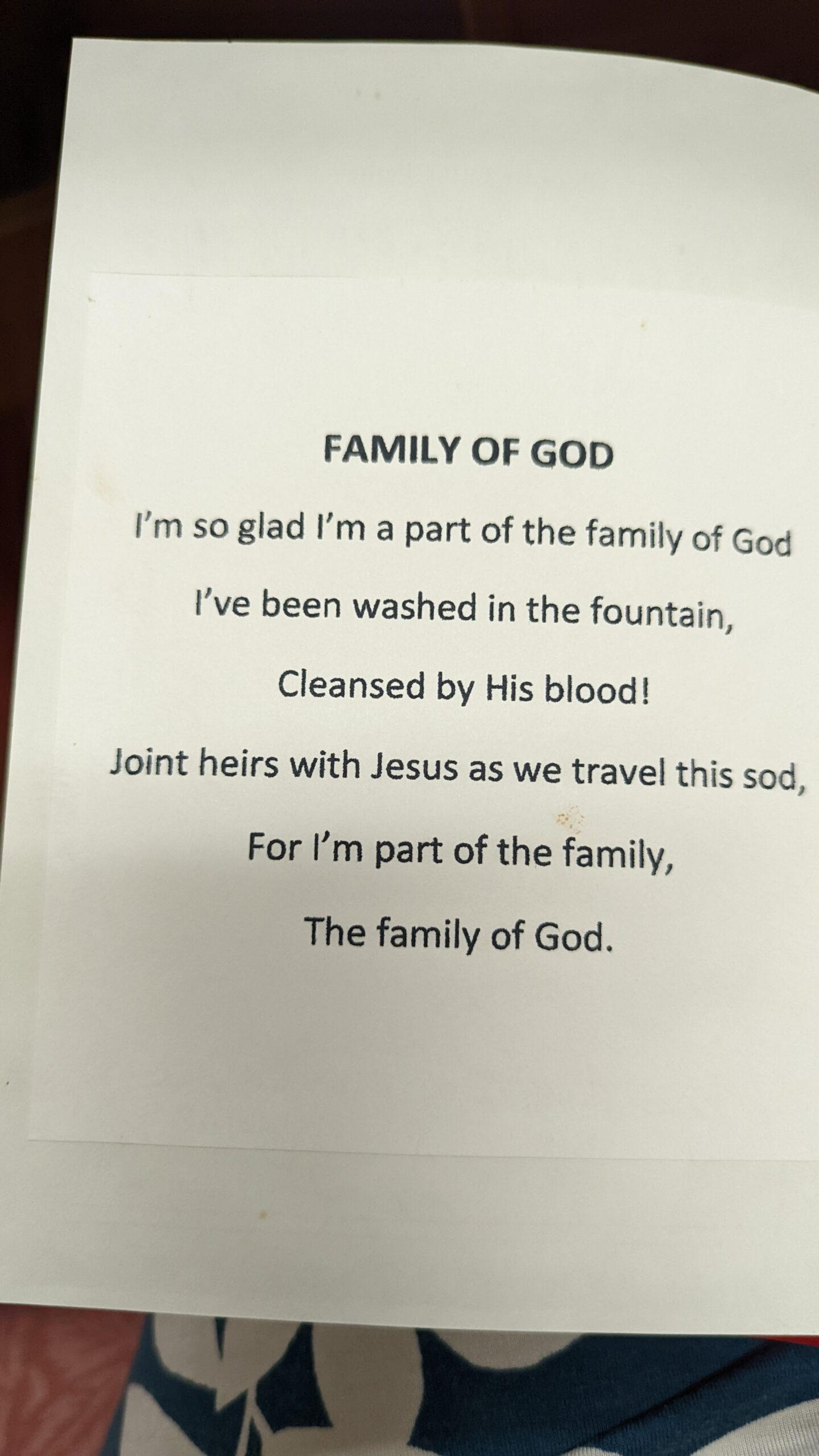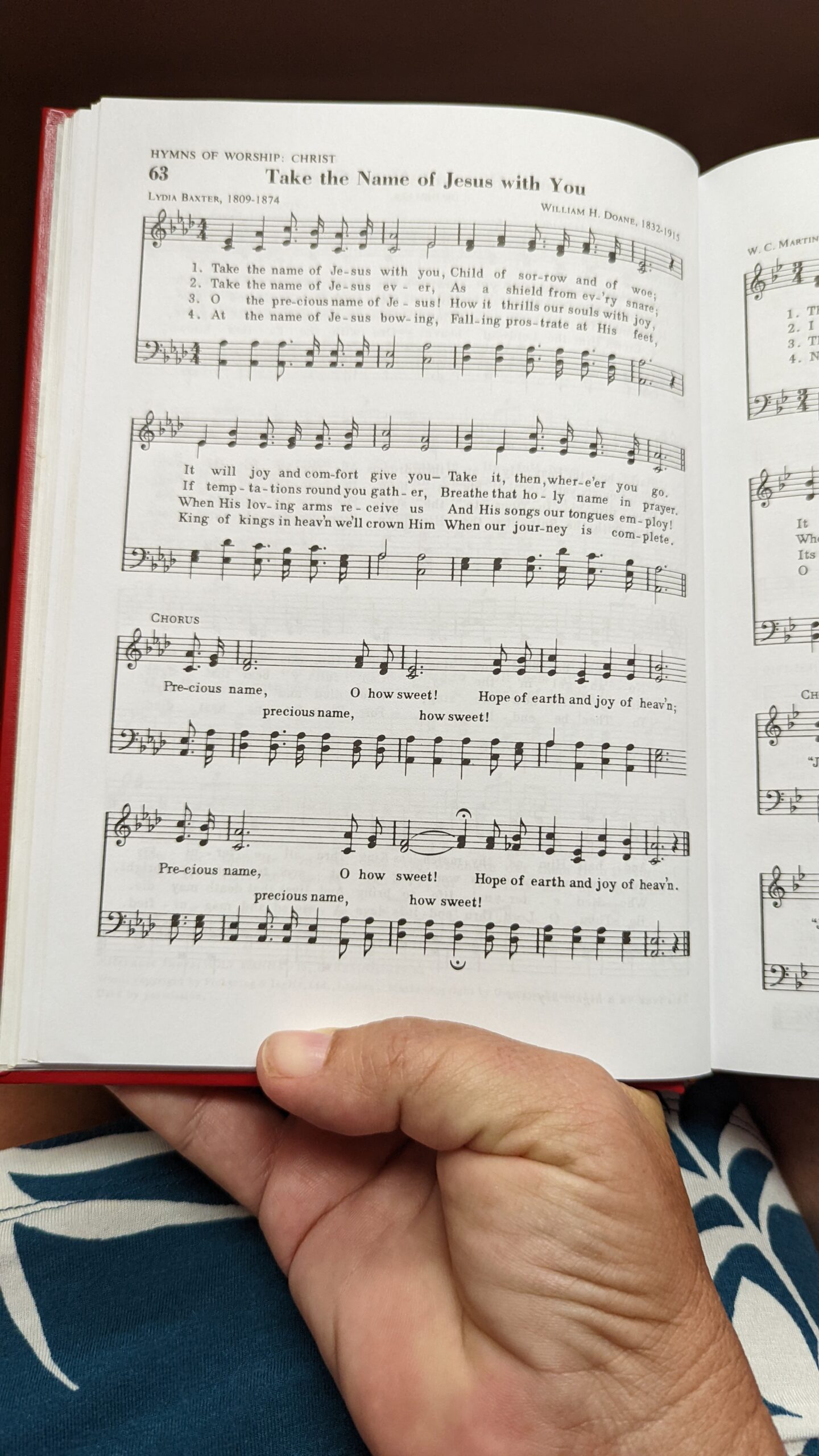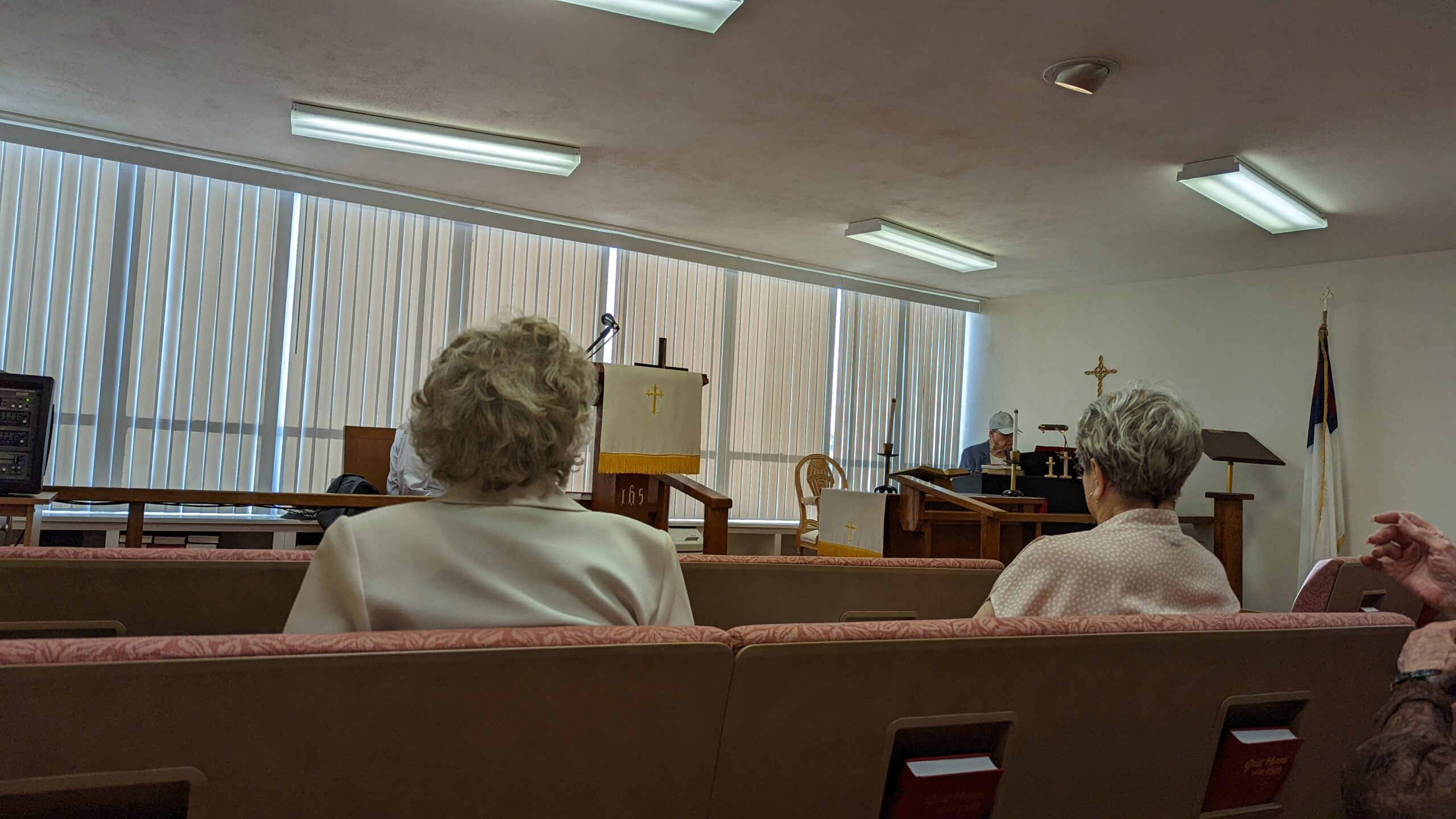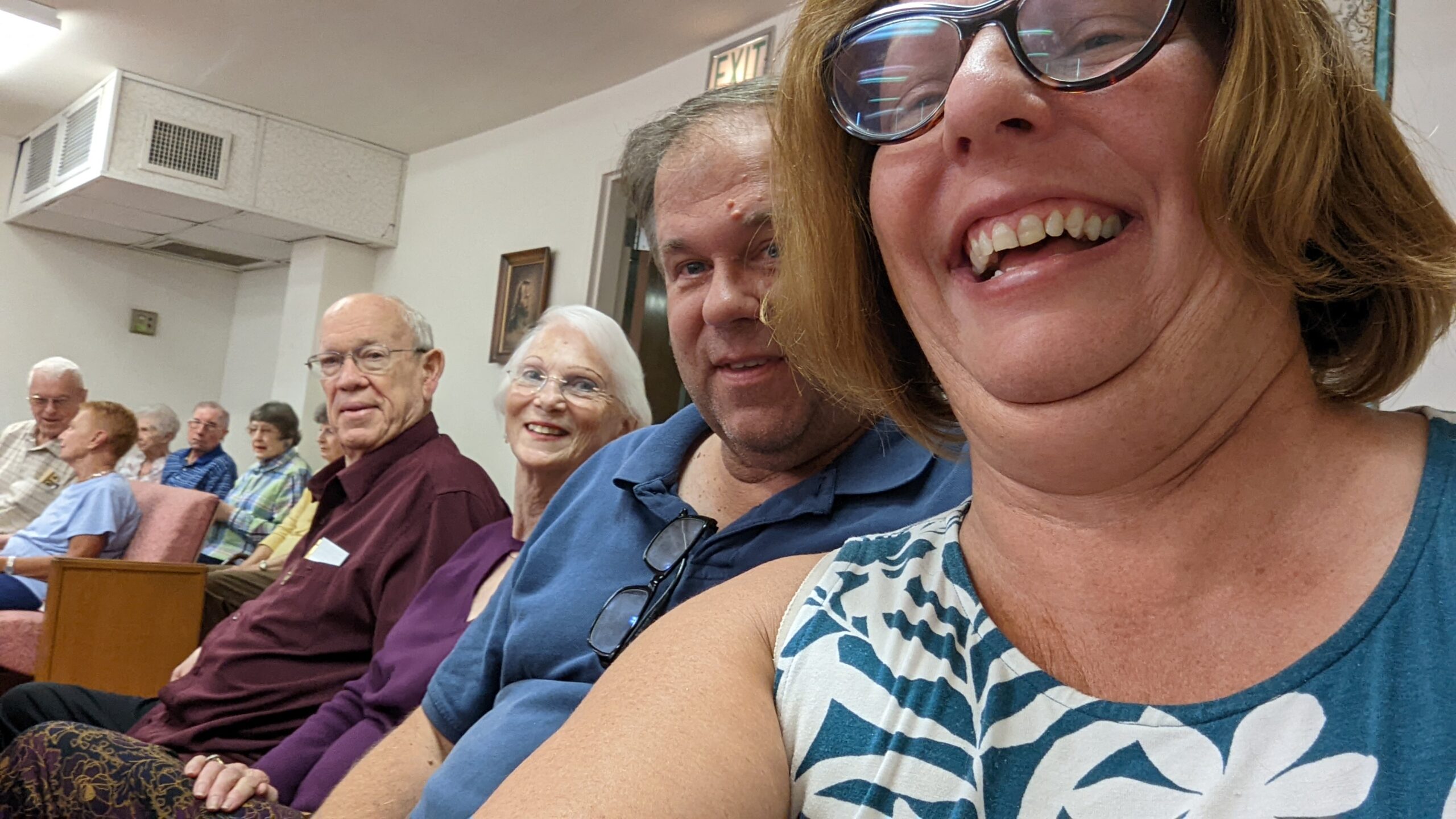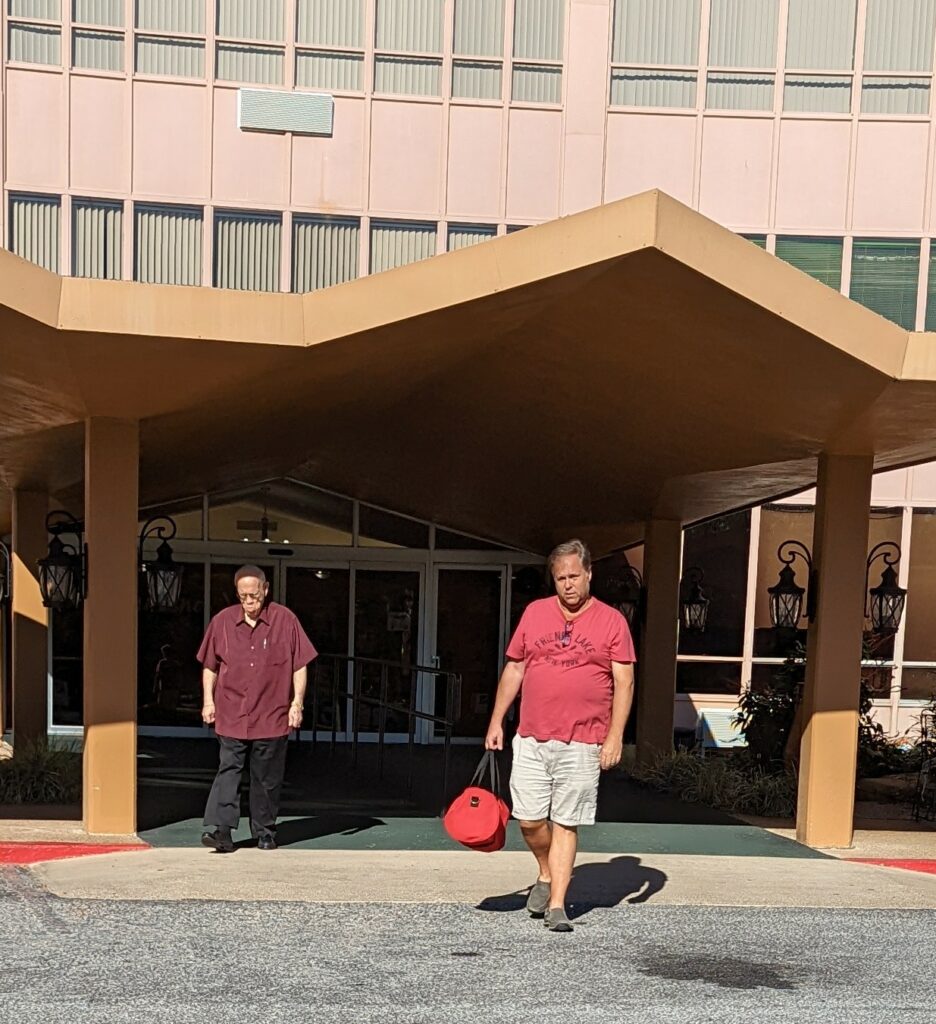 "Ron, thanks for coming." Uncle Earl said, holding out his hand to shake Ron's. Moving aside, I closed in for a hug.
"I love you Uncle Earl."
"I love you too." He said as he closed his arms around me.
Until we meet again, you always carry a piece of my heart with you. And a tear rolled down my cheek as I thought about when we would see each other again, maybe not until heaven.