"Take the bucket," I said.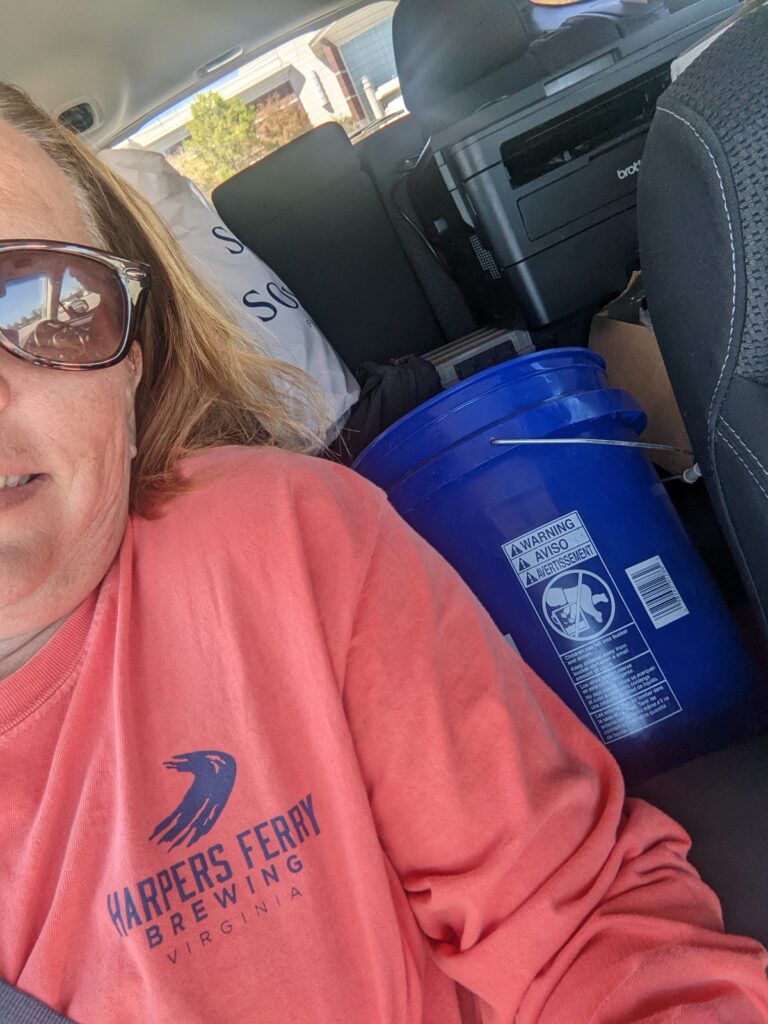 Ron rolled his eyes and headed towards the garage.
Because of the diesel price, we decided to rent a cabin instead of taking the camper—something we've always wanted to do but never have. We seized the opportunity when it arose. Thanks to our dear neighbor Stephanie, who graciously said yes to watching our tiny fiends, we're experiencing something new.
One of the three stores Ron covers in Myrtle Beach needed a visit. Updating the current cable provider, the company scheduled the installation for a Friday. OF COURSE, we will take advantage of such a coincidence and make a weekend out of it.
But we didn't want to bring the camper, and hotels on weekends doubled in cost. We couldn't justify spending the money until I looked into cabins at Mt. Pleasant KOA, where we typically camp. Cute, the tiny homes sit on a serene pond overlooking the water—however, no bathrooms in the cottages, a definite problem.
The solution became the bucket since my middle-aged body ain't trekking through the woods to pee every hour. However, we didn't need the bucket; we managed just fine.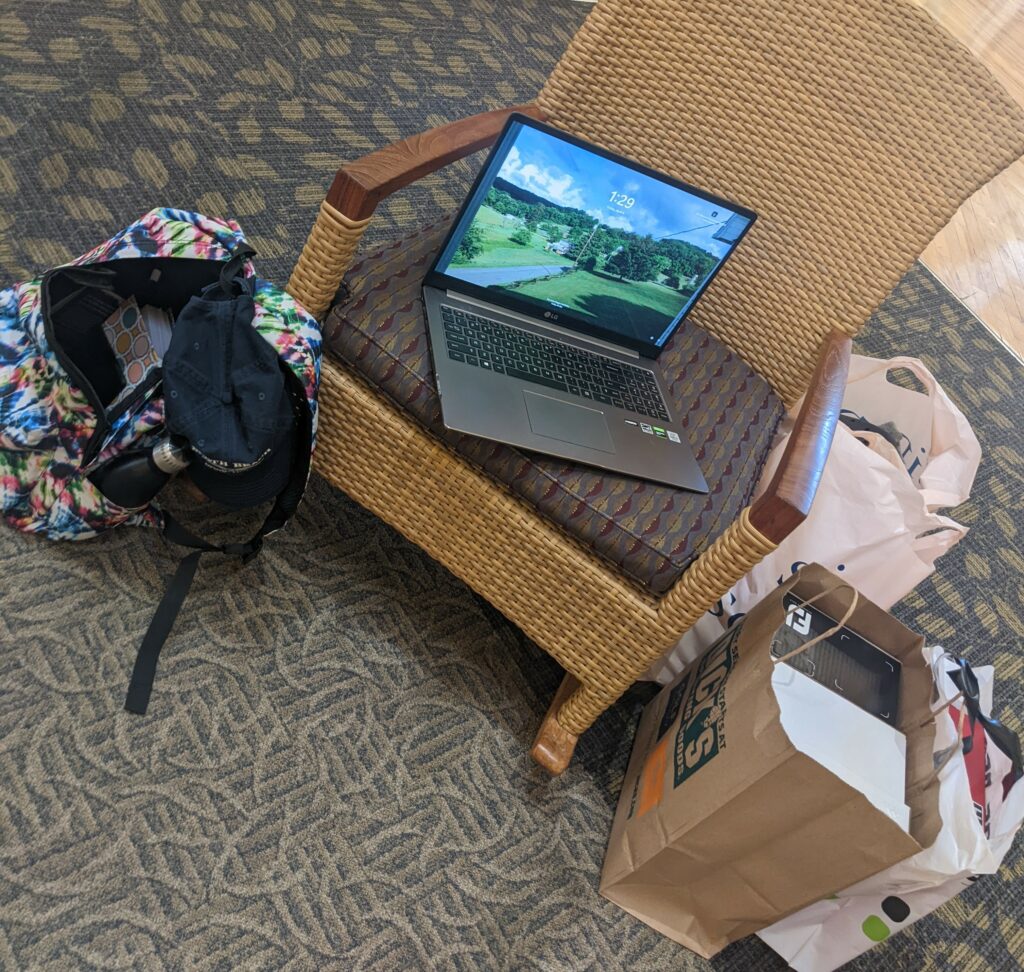 "How much can I spend?"
"Whatever you want," Ron said.
"Just like my ring," I said as I opened the door of the Subaru, grinning from ear to ear.
When Ron and I first shopped for rings, we went to Reeds Jewelers in Mt. Pleasant, SC. We did our pre-marital counseling blitz on the fourth of July weekend, hot in the low country. We did what usually takes 6-8 weeks in four days with Mike and Lynda Cooke, our marriage mentors. After filling out an extensive questionnaire, Lynda compared our answers, then we went through every single question and discussed it. We solved problems before they arose during that four-day weekend.
Ron figured the time had come to look at rings. When we walked into the store, he told me I could get whatever I wanted. He breathed a sigh of relief when he saw my choice.
Currently, I'm sitting in Coastal Grand Mall getting some work done myself. Of course, one quick lap around the mall brought forth a great bounty. End of winter clearance sales made this a good trip.
And now, I have other work to do while I wait for Ron to finish his.
"The shoulders are going; welcome back, 80s," Ron said with a smile as we sat outside Wicked Tuna at Murrells Inlet enjoying lunch on a beautiful April day.
"Yeah, they're catering to us." We enjoyed every moment of the sunshine on our faces, the wind in our hair, and the fresh smell of salt air. My summer salad tasted as delicious as it looked; Ron's burger and fries received no complaints.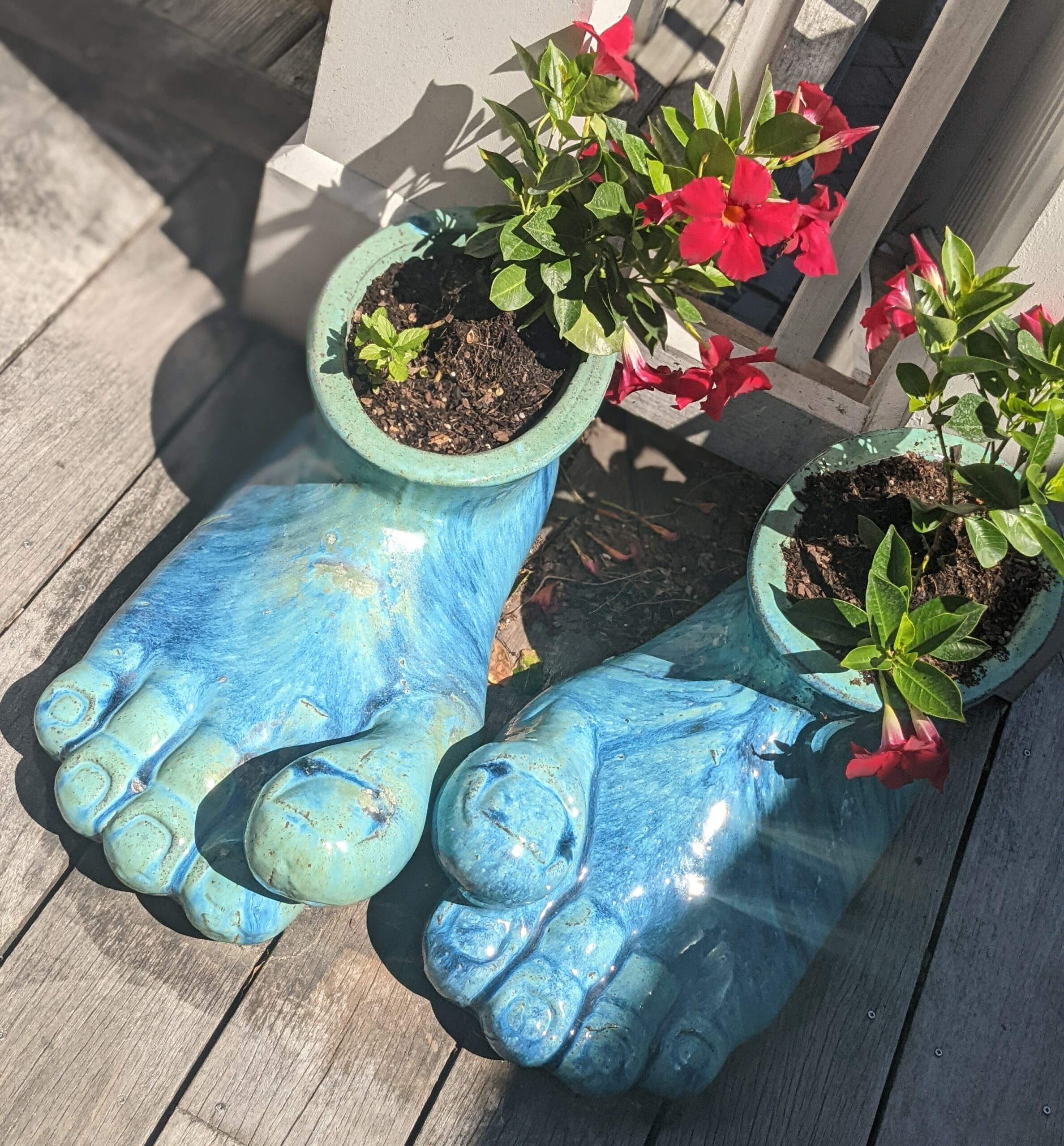 "Where is it?"
"There are very few places it could be. I bet I don't even have to tell you, and you'd find it." When I asked Ron to find the wine, he found it easily. The cabin had one small table and a counter, not a lot of places to put things.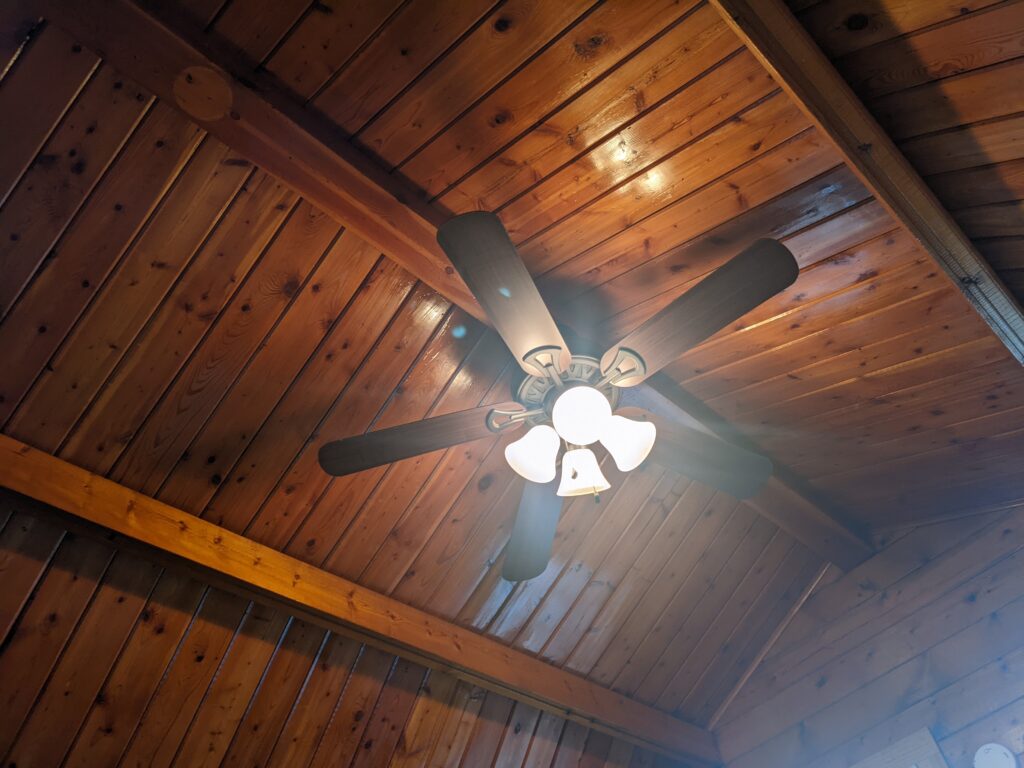 Staying in the cabin reminded me of my childhood church camp adventures. Clean, simplistic rooms with cots and no bathrooms created an experience for us. I remember arriving the first day, excited to stow my belongings under my bed, off to explore the forest. Finding a cave, I remember no one wanted to enter it, afraid of the dark, so I went first. Campfire sing-a-longs, morning devotions, swimming, and playing bundled together in warm memories brought back to life this weekend.
The view from our front porch included the new cabin construction happening lakefront. Our neighbor's cottage sparkled with white lights, creating a romantic haven.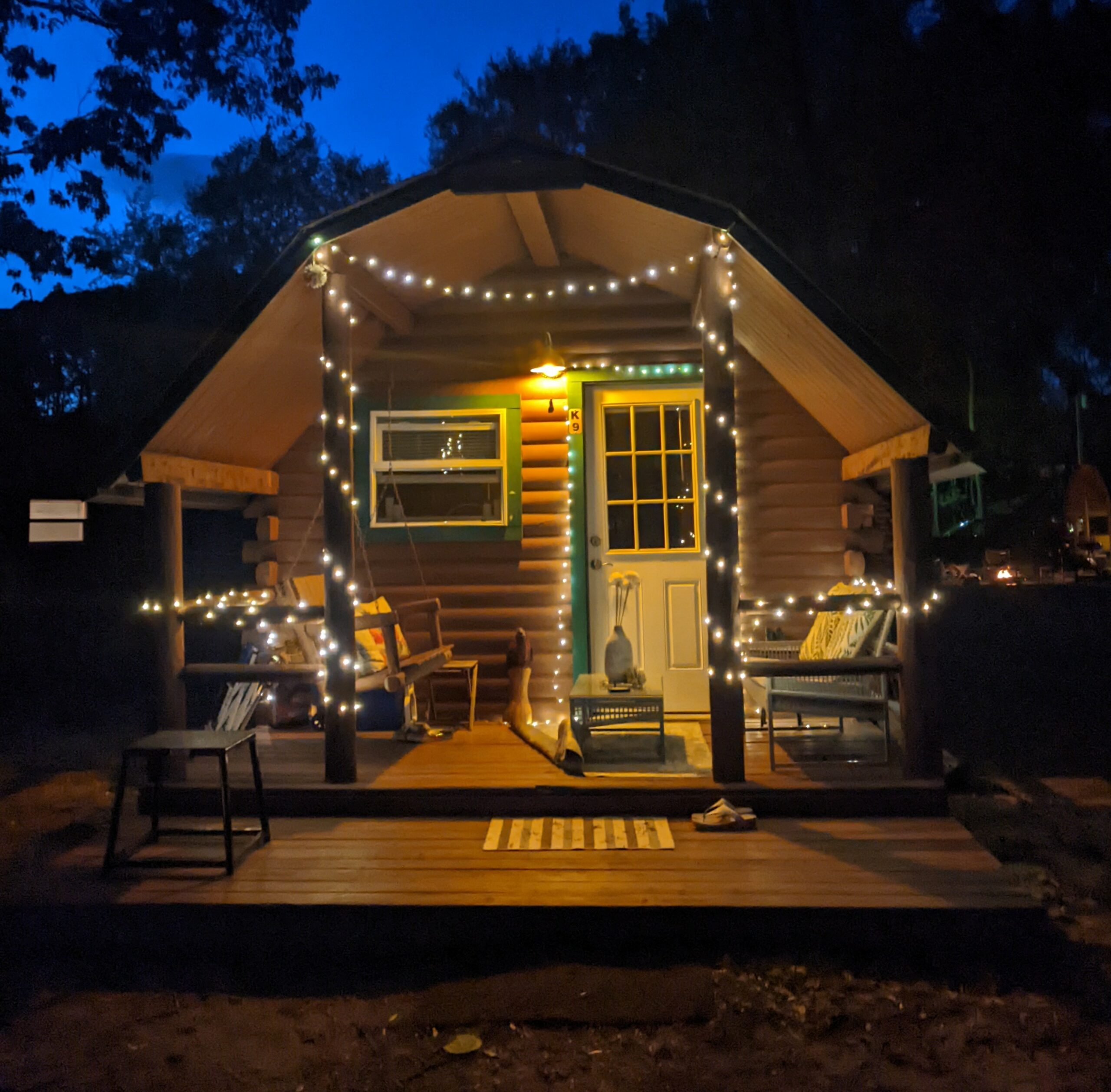 Three cabins from the bathhouse, not a bad location, but we missed the luxury of having a bathroom. Of course, we got our steps in walking back and forth.
"I miss the Crusader," Ron said as we looked over at the full RV sites. We love camping because it makes us appreciate the comforts of home. Now we understand the luxuries of our RV more fully.
"First world problems, for sure," I said to my friend when we chatted on the phone Friday night. Sitting by the fire after a long day, we enjoyed the peacefulness of the moment.
Of course, we didn't prepare for our cabin stay well. Ron improvised with a shoebox from my earlier shopping spree with no cooler for food and beer. Ice remained in its midst when I packed up to leave Sunday morning. Who knew shoeboxes had so many different purposes. Well done by my brilliant husband.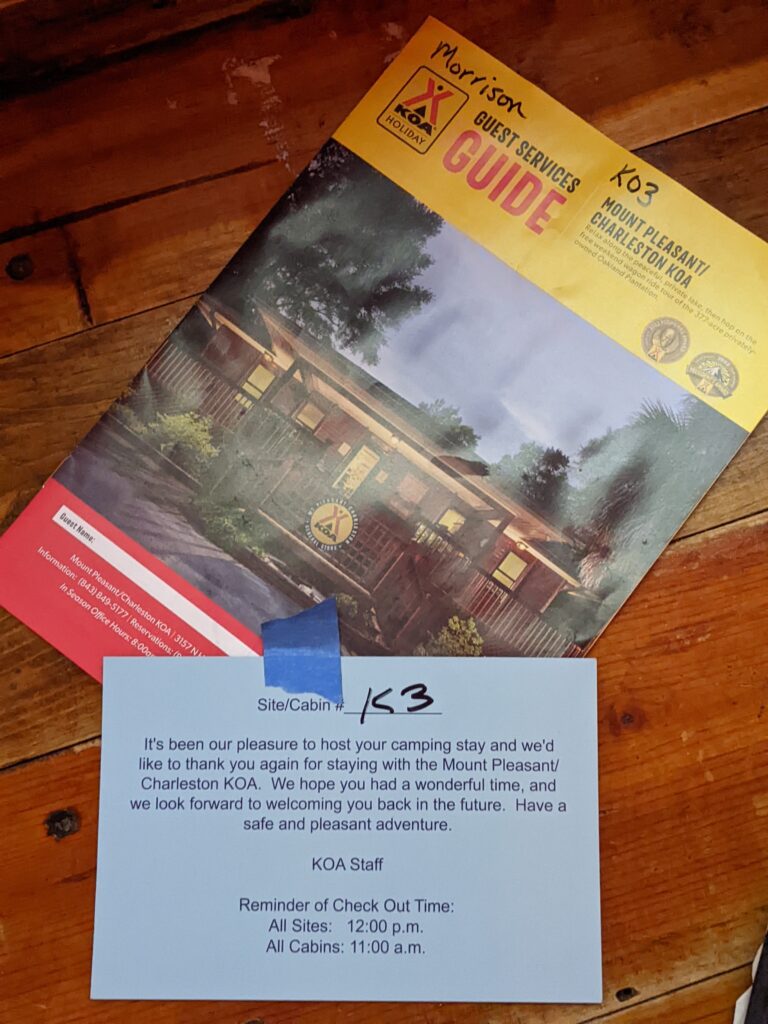 Saturday, I enjoyed book club with the ladies of Life Community Church. "Everything is Spiritual" by Rob Bell led the way for a fantastic conversation. Meeting at Vintage Coffee Cafe, the meatballs and charcuterie board paired well with the wine.
Ron spent the afternoon at the semi-finals of the Credit One Open. General admission tickets cost $35, allowing him to watch from the upper tier. Sunny, the wind made the afternoon chilly. He only stayed for the first match; too cold in his shorts and tee, Ron decided to call it a day.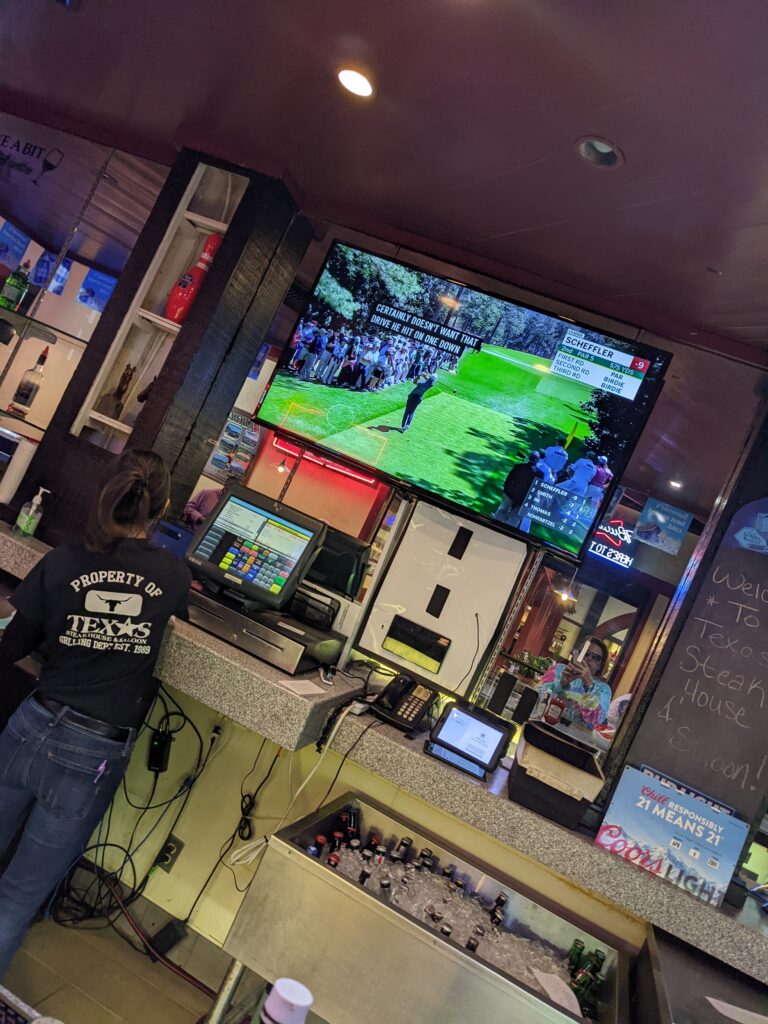 We enjoyed a wonderful dinner at Cantina 73 with our friends. "The best tacos," according to Ron. Food, fun and laughter made our hearts full. Sleeping on the air mattress gave us much better rest. We slept late, barely having time for breakfast at Toast All Day before arriving with out a minute to spare at church; celebrating Palm Sunday with our LCC family an excellent way to start Holy Week.
After stopping at Texas Roadhouse for a linner, lunch/dinner combo meal, we arrived home just before 8:00 p.m. The pup's excitement at our arrival made it a pleasant homecoming.