Leaving a few minutes later than hoped, we pulled out of the storage unit at 8:21. a.m. heading south to Myrtle Beach, SC. Maps showed a back-up on the Monitor Merrimac Bridge-Tunnel, so we decided to take the James River Bridge.
"Dutch rode his motorcycle over this once. It scared him; he stopped riding after that." I told Ron about my brother's antics as we crossed the apex of the drawbridge where the metal grate connects the two sides.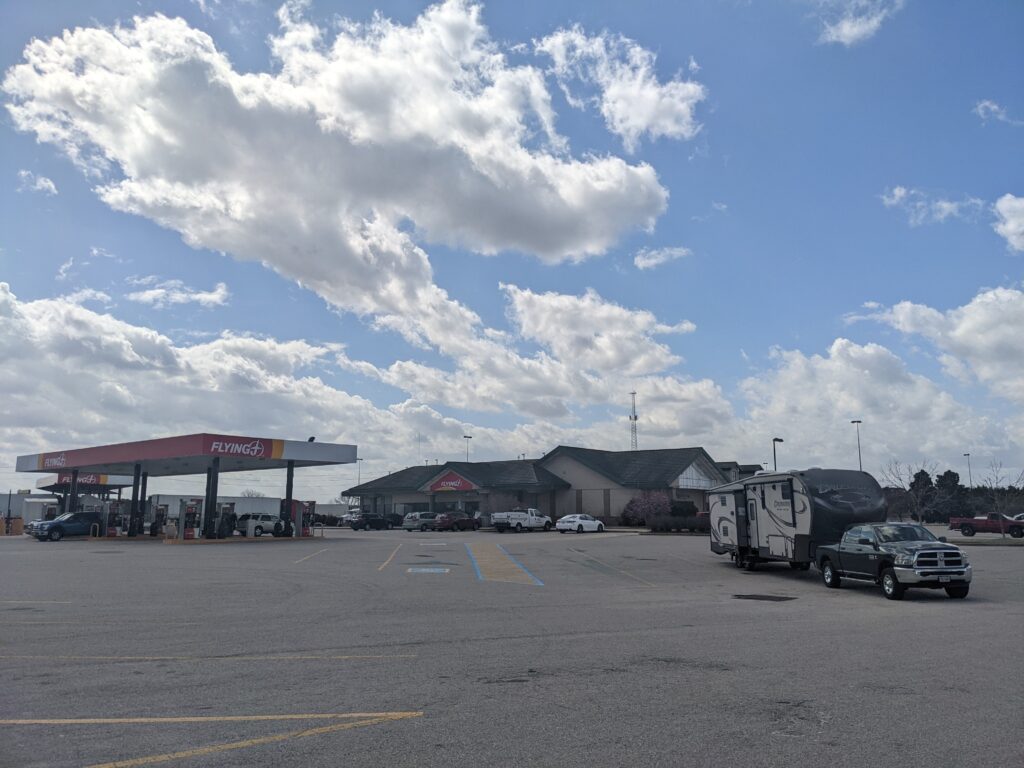 Frustration multiplied for Ron in the strong headwind, increasing the gas mileage of the trip. When the white Toyota with a flapping fender flew by, pieces of metal flying from the damaged car on the bridge, it didn't help his annoyance. Google's route to 58 took us through many twists and turns, giving Ron more opportunity to practice patience.
"And why do you like the Flying J?" I said to Ron as we turned left off of I-95, crossing traffic, pulling in front of a small black car to fill the tank. Turning right and going to Pilot seemed more accessible to me.
"Cause I can, well it's an RV spot, and I can use my credit card."
Truck stops generally don't allow you to use credit cards at the pump. Instead, they use Fleet Cards. "Kinda like a credit card, only for gas. Truckers use them." Ron said. Paying $5.09 a gallon, savings 6 cents on the gallon thanks to our Good Sam's discount, we paid $97 to fill a half-empty tank.
"Little boxes on the hillside
Little boxes made of ticky tacky
Little boxes on the hillside
Little boxes all the same
There's a pink one and a green one
And a blue one and a yellow one
And they're all made out of ticky tacky
And they all look just the same."
When we drive by new townhome construction, Ron always sings the theme song from Weeds, "Little Boxes" by Malvina Reynolds. Several new townhome projects line the road on 58 outside of Emporium, VA, little boxes, different colors, all sitting on the hillside.
"No way!" I said, lightly punching Ron on the shoulder with a look of disbelief on my face. Not dating at the time, he knew I loved the HBO show Weeds. At the time, in 2010, I didn't have HBO and couldn't watch the show's latest season. Ron went to the dark side of the web and somehow downloaded the entire season for me. I remember the episodes had foreign language captions at the bottom. And I knew when he handed the DVD to me before we took the court that night, Ron liked me.
And so, Weeds has a special place in our hearts.
"Do you deliver firewood?"
Arms hanging over the driver's window, the guard looked at his watch before answering."We do, but Horry County has a fire ban because of the wind, and it's been so dry. It's supposed to end the 10th, but it's supposed to rain tomorrow, so that may change."
"Good thing we asked; we don't want a repeat of last year," I said as we pulled away. Unbeknownst to us, we built a fire during the ban. Then security pulled up in their gold cart and reprimanded us for our error.
"Great site. Closest to the beach ever." Ron said as he cracked open a beer and surveyed our new home.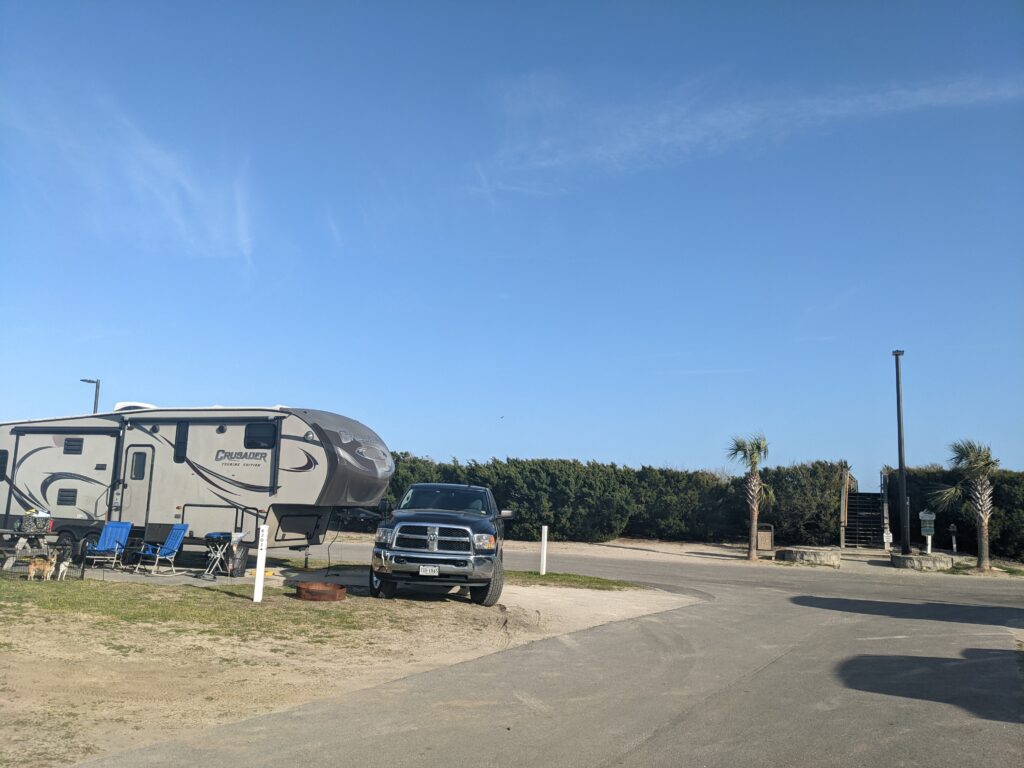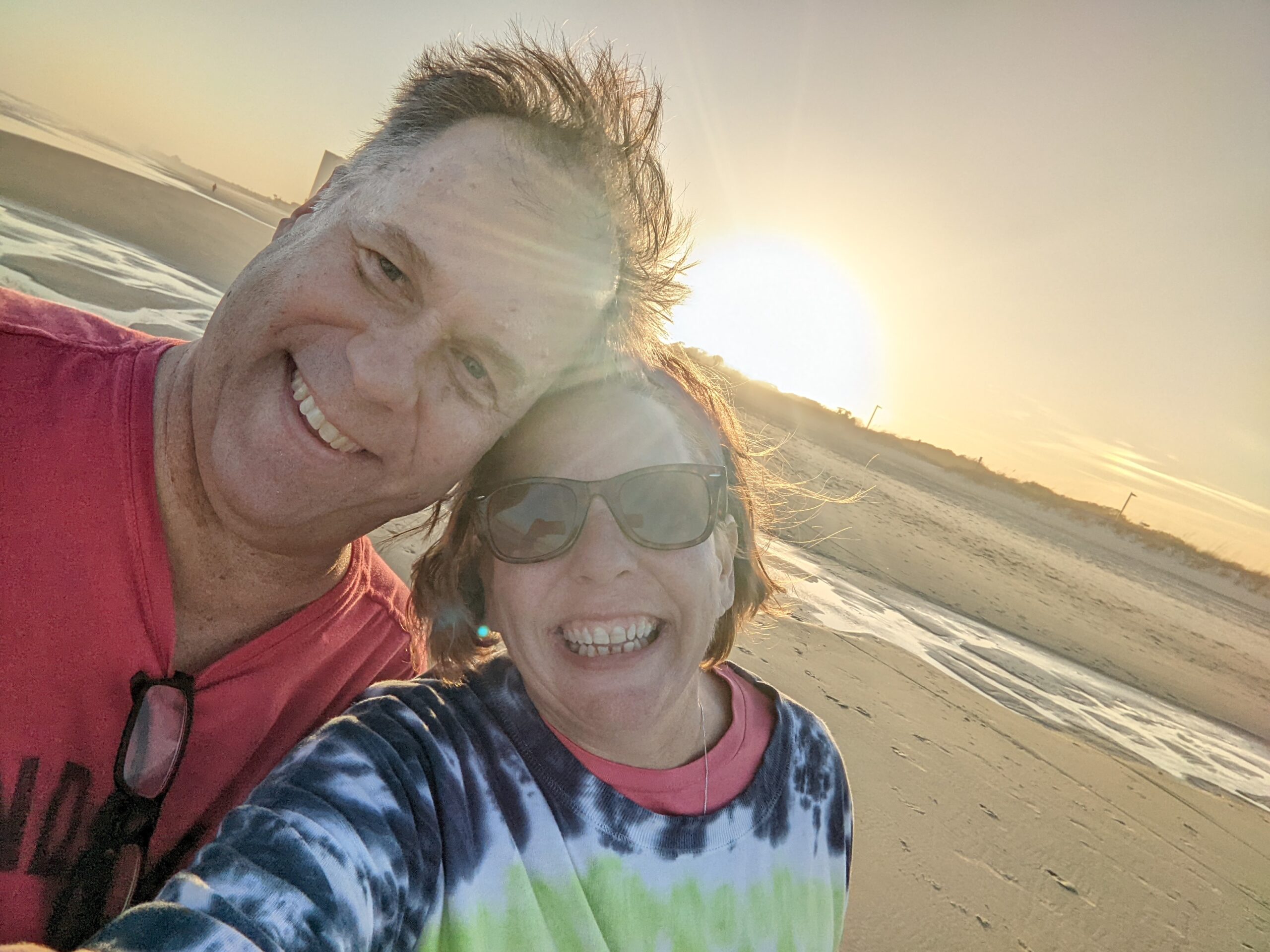 Knowing the forecast called for rain the rest of our time here, we took advantage of the sunshine. Nothing feels better than a relaxing walk after a stressful drive. Sand between the toes, sun shining on our face, the wind blowing in the salty air, all washing away the tension one step at a time.
"I'm going to be you," Ron said, whipping out his phone snapping a picture of me. After returning the favor, I capitalized on the moment, posing playfully. Ron does get exasperated with my photos but loves to read the blog. You can't have one without the other, that's all I'm saying.
Unable to have a fire, we cozied up inside, watching "Inventing Anna." Another one of Shonda Rhime's excellent works, the well-told story, keeps you engaged.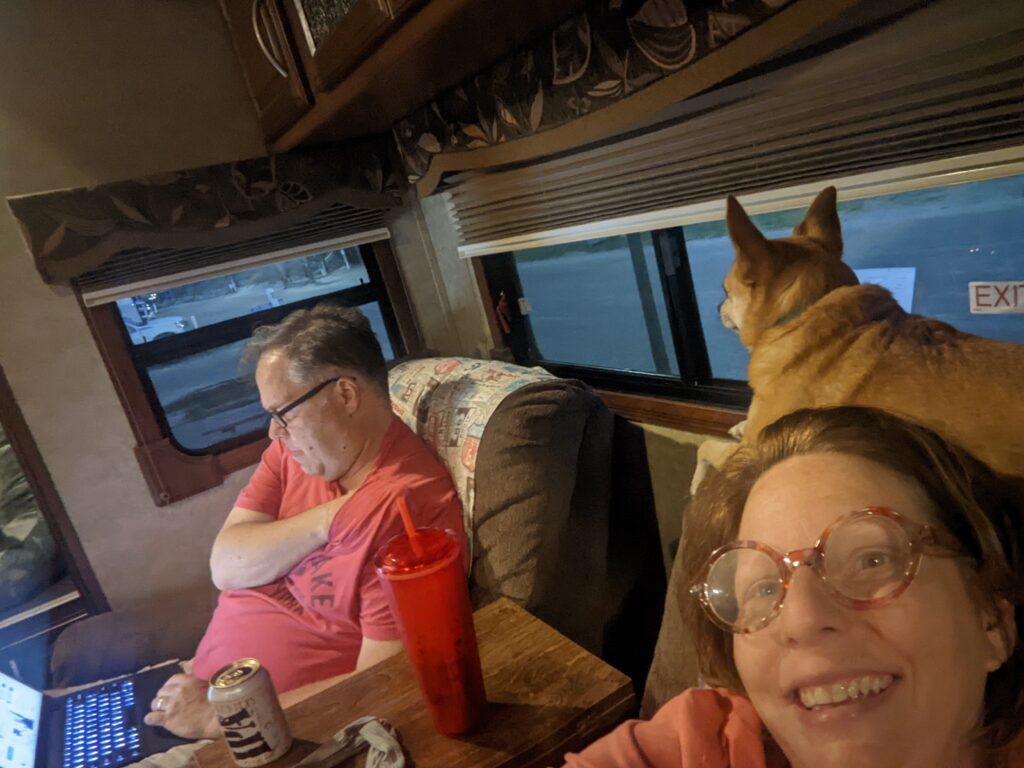 "Heads down, work," my friend Wendy said when I told her my intentions for the week. Nothing inspires me more than writing at the beach. Currently, I'm working on a "Word of the Day" book, as well as my first guided journal. Using work I did in 2019, I'm creating a series of 12 30-day devotionals with journal questions.
Last night, while enjoying our evening cocktail, I had the idea for the series. Creating journals makes my heart smile. Ever since childhood, I've loved writing. My first "novel," a handwritten, self-illustrated ten-page book I gave my mom in the second grade, the topic I can't remember.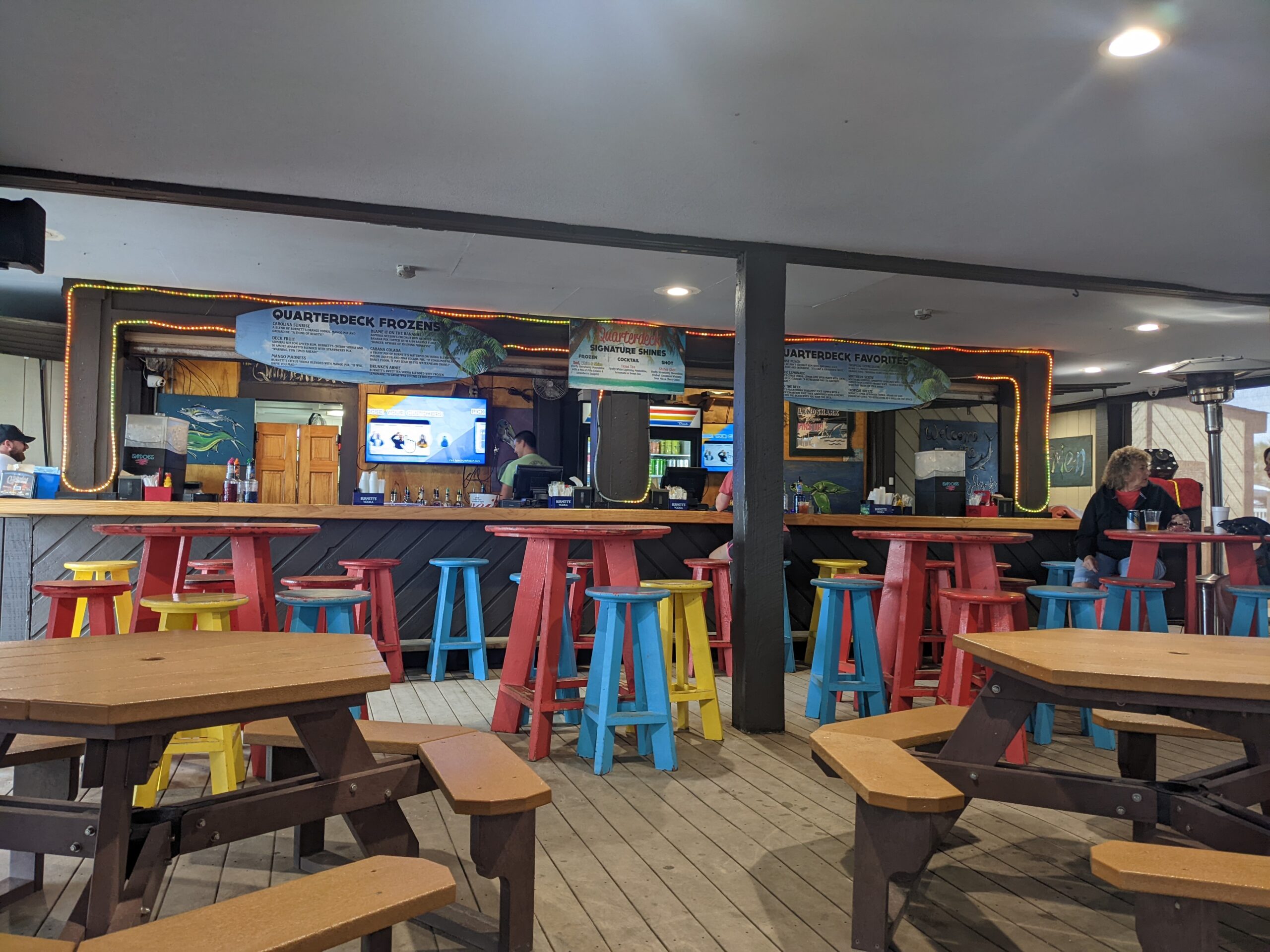 "I feel guilty for doing what I want," I said to Ron this morning. Never in my life did I think I would become a writer, nor love it as much as I do. Each day, I thank God for the gift of living my dream, praying He gives us many more.
"What can I get you to drink?" Jenny asked. Our waitress, a perky brunette with a welcoming smile, brought life to Quarter Deck. Located on the beach behind Myrtle Beach Resort, Ocean Lakes Campground and Lakewood Campground surround the gem.
"Time to stroll," I said, closing my laptop and looking to Ron. Each workday ended with a short stroll down the sand for a happy hour cocktail. Business boomed at Quarterdeck, in part to the introduction of nightly bingo. We made sure to avoid the crowds and go early.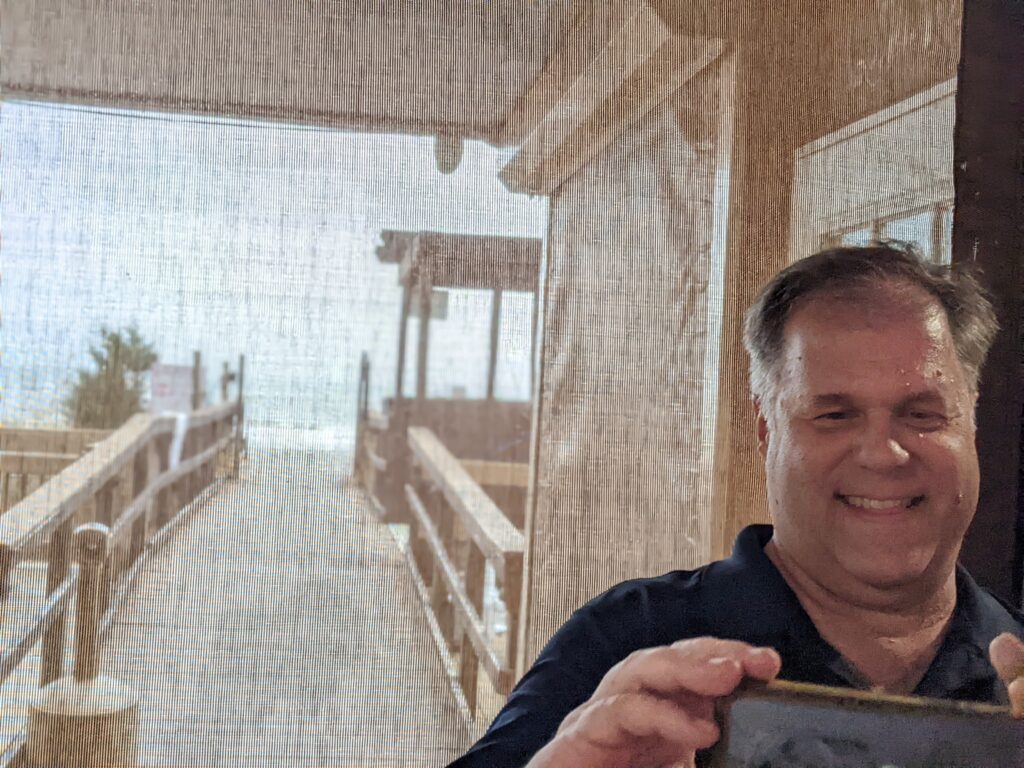 "Bingo Monday, Tuesday Wednesday, trivia Thursday, Karaoke Friday and Saturday. We cater to the Snowbirds this time of the year. They live here through the winter and go home in the summer, totally different crowd in the summer," said Alexandra, our waitress on Wednesday.
March in Myrtle Beach has a special place in my heart. Ron's annual work trip gives me a place of refuge. While Ron visits stores, preparing them for the upcoming busy season, I hibernate at the beach, spending mornings indoors, waiting for the sun to warm the day. Around noon, typically the warmest hours, I spend an hour or so working in my outdoor office. Gray days make the beach a much more productive place for me. I can see the screen better. Sunny weather makes the laptop hard to see, so I use a tent to create shade.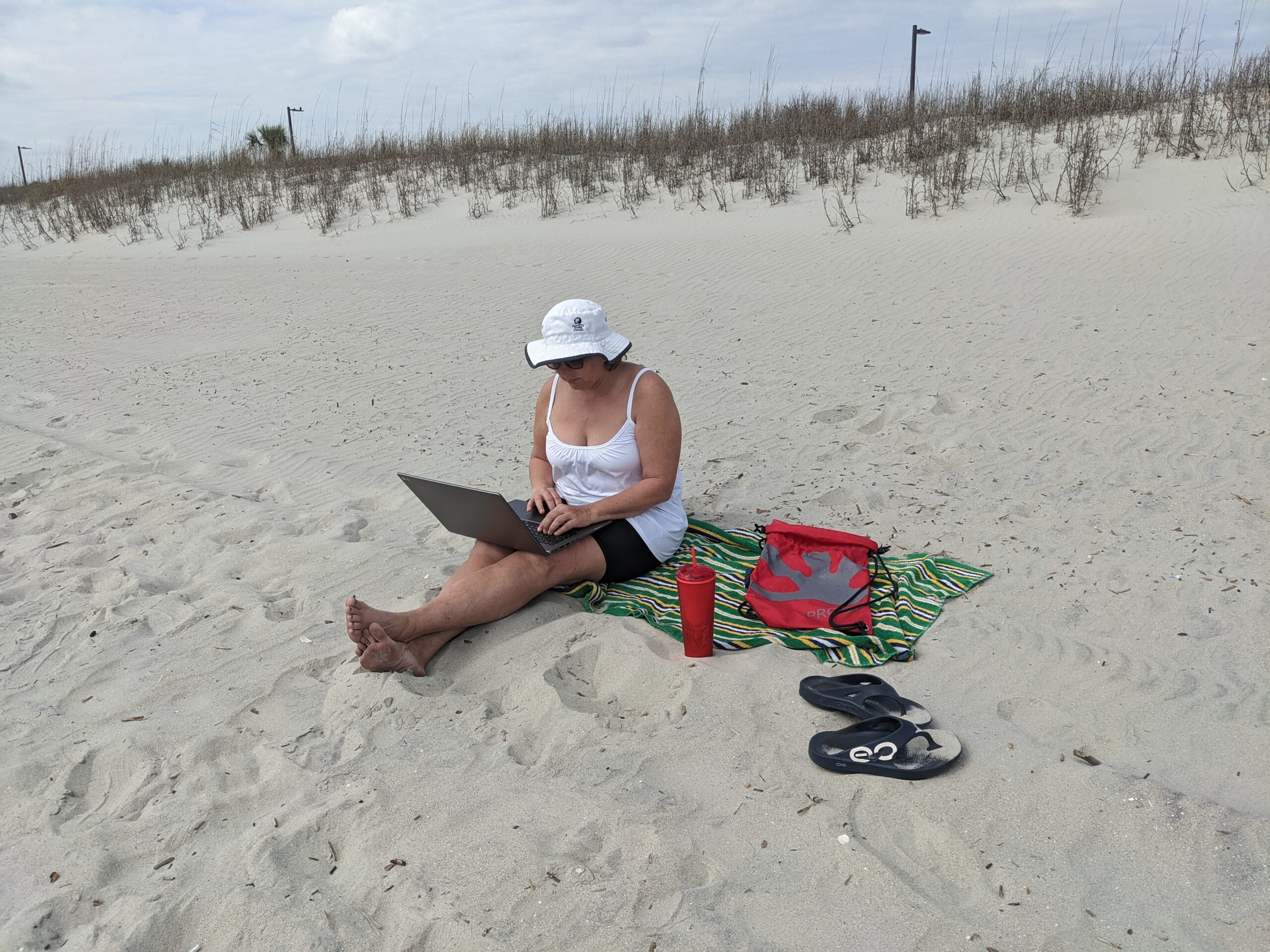 Finally, at 52 1/2, I bravely did yoga on the beach by myself not caring what others thought, it turns out, no one cares.
The pups enjoyed their after-meal walks on the beach. Our camper, first in line, sat directly across from the beach access. I loved kicking my shoes off, walking across the street, and straight into the sand. Sleeping with our windows open, the breeze blowing crisp across our heads, waves crashing against the shore, some nights, rain tapping on the roof, heaven on earth to me.
"If I die, make sure to put "loves long walks on the beach in your profile," Ron said jokingly on one of our many beach walks. Gratitude for my husband overflows; he teaches me so much, especially how to take a joke. I do love him so. But he does not love long walks on the beach; I appreciate every one he takes with me.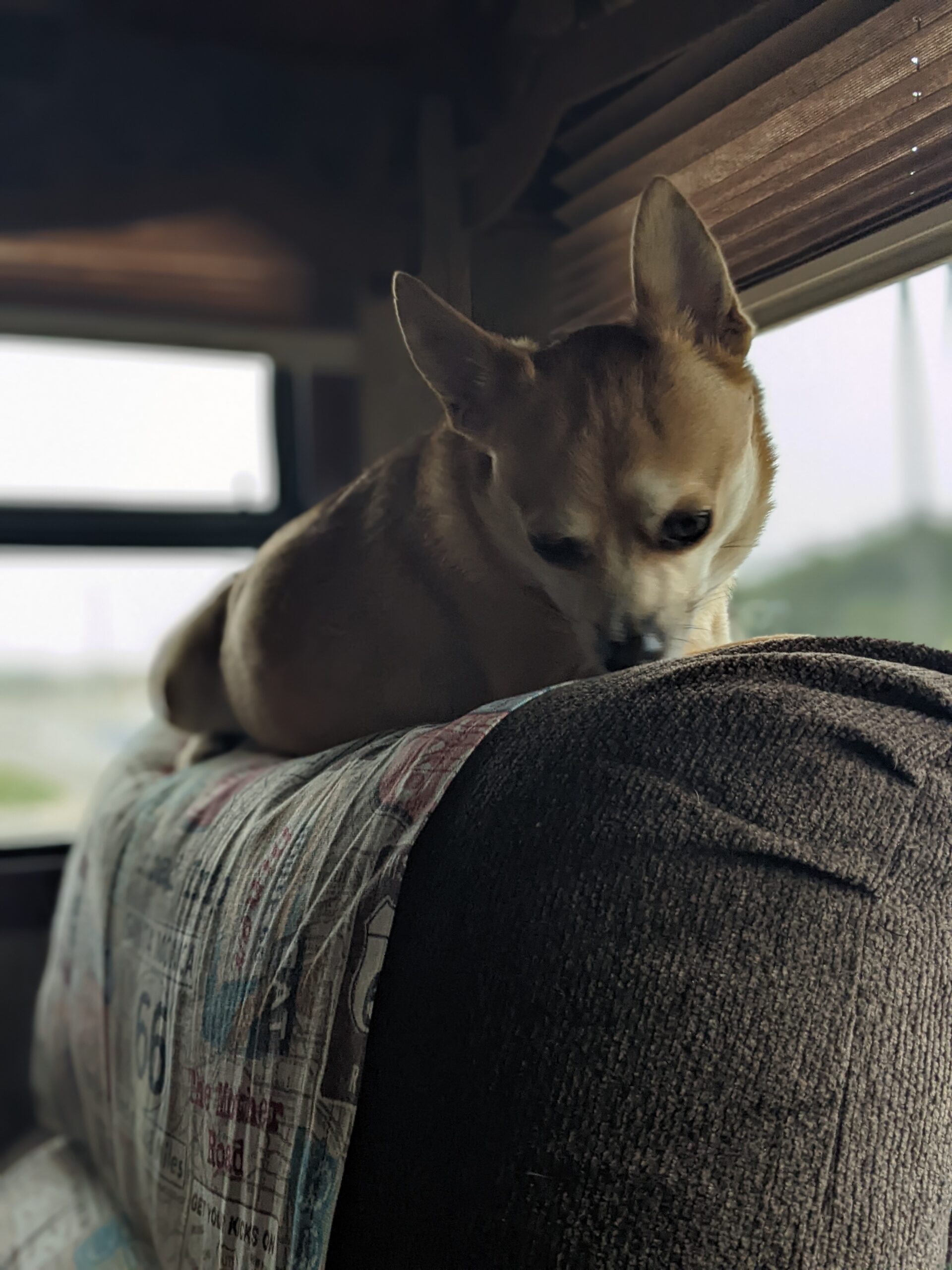 Ron comes home for lunch. Sometimes he'll pop down to the beach for a bit, never staying long. We come only because of my love for the surf and sun, not his. However, married to me, Ron has learned to appreciate the beach a bit more.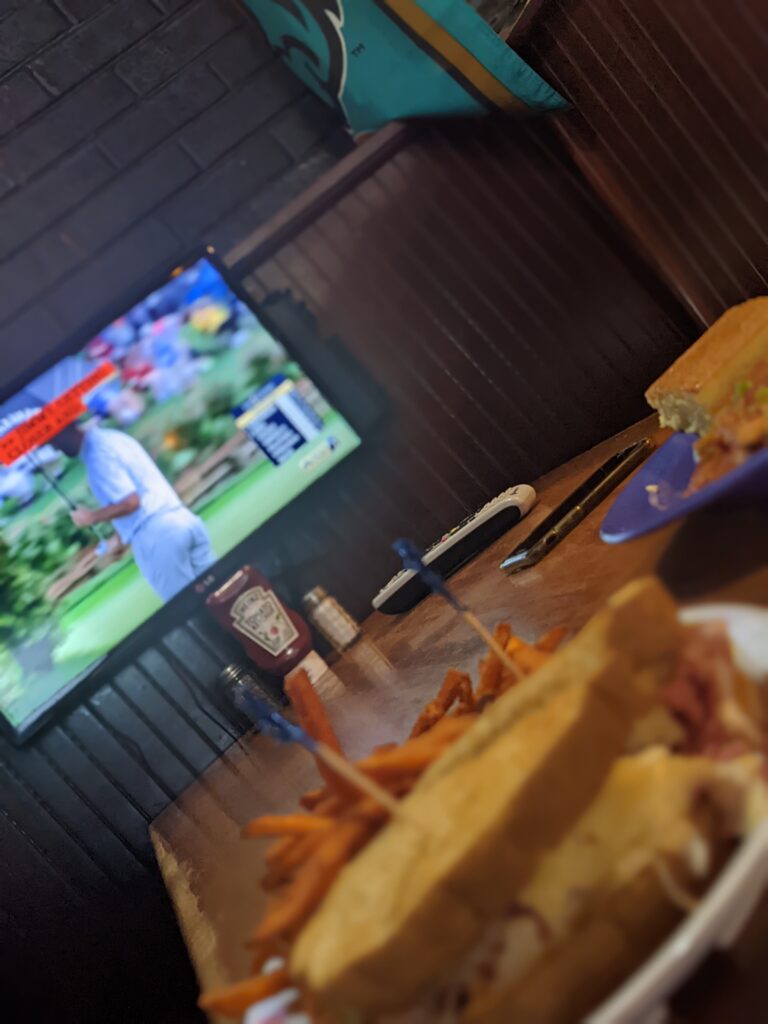 lLunch at Dagwoods Bar and Grill. Reuben sandwich, shrimp and grits.
"It's surprisingly good," Ron said of Dagwood's lunch special, shrimp and grits. Watching the rainy play at Sawgrass, The Players tournament our favorite, especially since visiting the course over Christmas. Unfortunately, the weather doesn't want to cooperate this year.
"Tomorrow looks like a rough day," the announcers said, a picture of the radar glowing behind him.
Ron's rooting for Will Zalatoris this year. I don't have a favorite.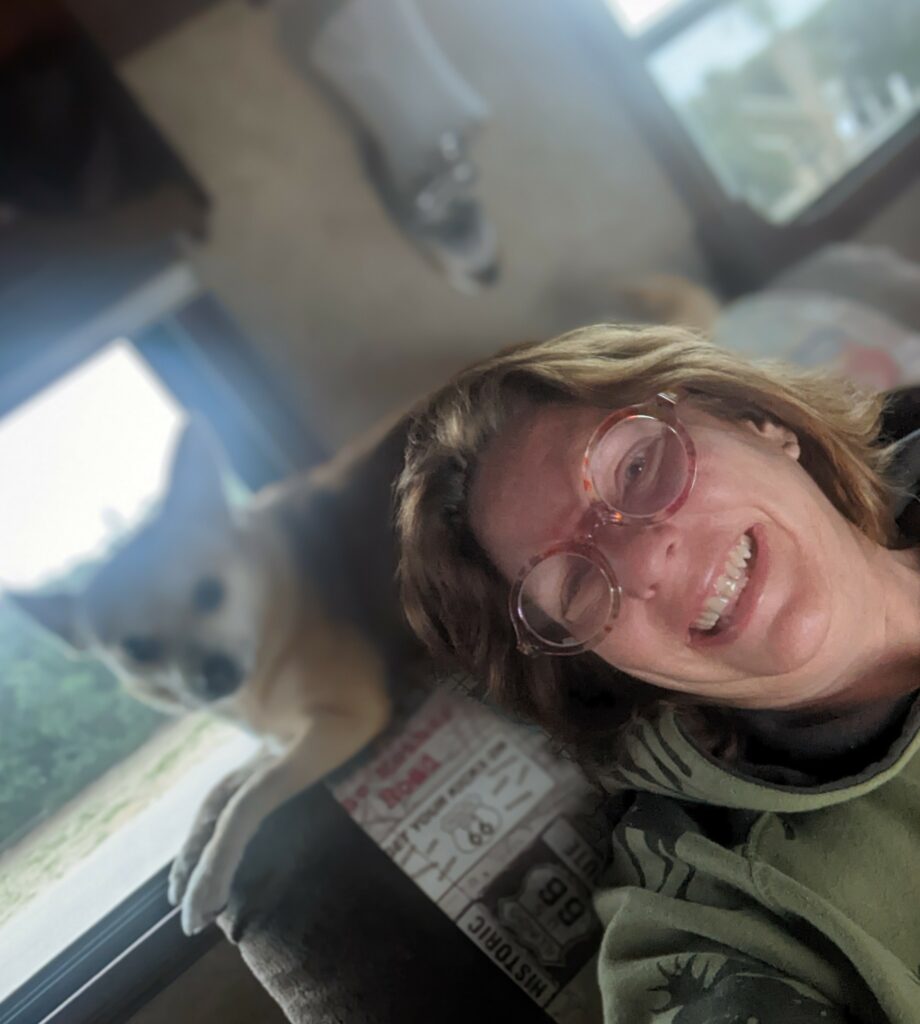 "You couldn't beat me straight up, so you cheated," I said to Ron after losing 162-124 in a distance match. No way can I hit as far as Ron, hence red tees in the golf game, they make the game fair between genders. Ron did admit he thought distance would give him an advantage. "You kicked my ass in the first game."
So our afternoon at Top Golf, Target Orientation Practice (Top), ended with a tie, one win each. Not a bad way to spend a rainy afternoon in Myrtle Beach.
P.S.
"A man can fail many times, but he isn't a failure until he begins to blame somebody else." James Burrows
Ron read me the quote during his scroll of Twitter the next morning. Working on becoming a better sportsman, I felt guilt for not letting him have his win. However, I do find games frustrating when playing at an unfair advantage. Obviously, I still have work to do.
"How about, umm, egg mcmuffins. How's that sound?" Ron asked as the wind whipped around the trailer, flapping the oven vent continuously, rattling our second home to and fro. Nestled in my tie dyed fleece blanket made years ago, God's power on display, I simply murmured "Mmmm Mmm" to Ron's question.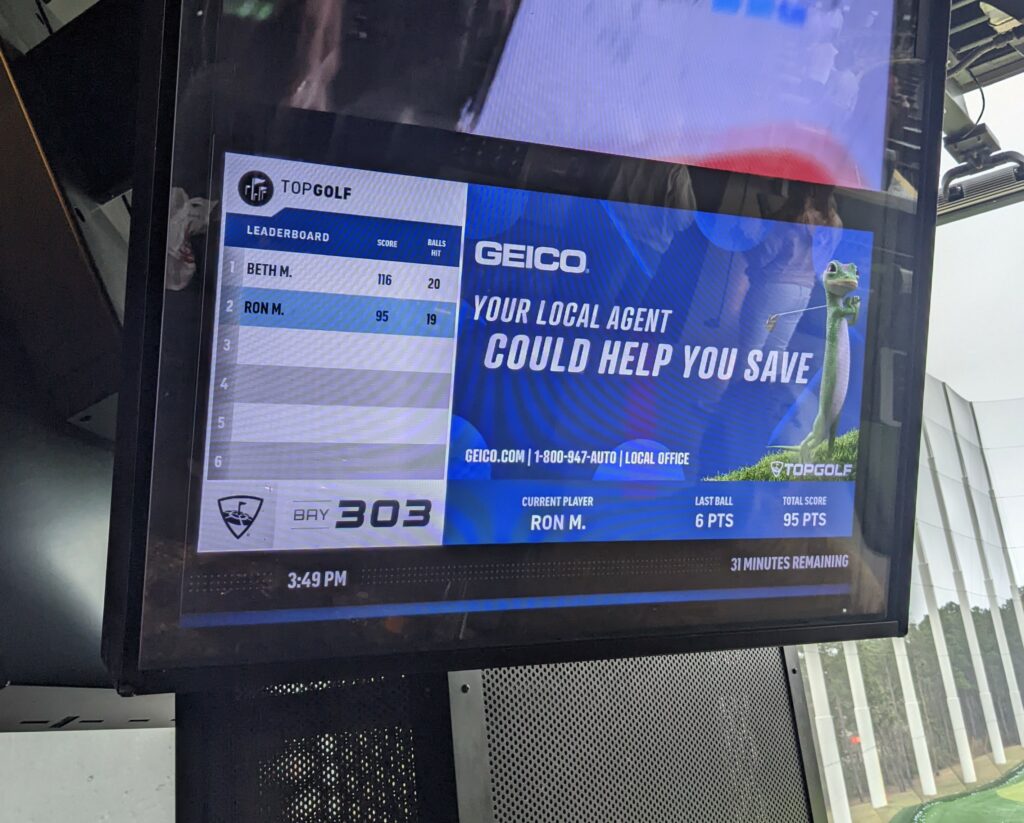 "30-40 mph gusts at home. I hope the house is okay. 17mph in St. Augustine. Do you ever think about how much power there is in the atmosphere. Do you ever think about it. There's no way to harness this power. Wind mills try, but can't."
I love listening to Ron, he thinks so differently from me. No, Honey, I haven't thought about wind power before I met you.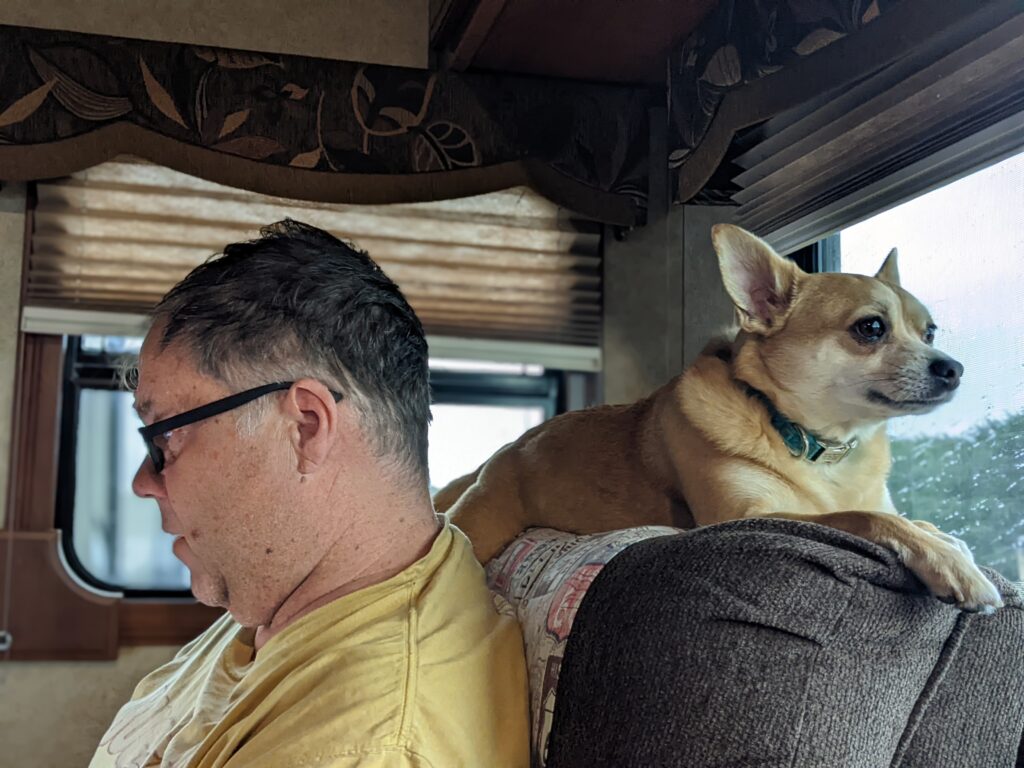 "Everyone thinks forgiveness is a lovely idea until he has something to forgive." C.S. Lewis, Mere Christianity
Ron loves to read me quotes in the morning, always profound and thought provoking. The topic of forgiveness comes up often between us. Forgiving others, forgiving ourselves, forgiving God, all things we struggle with daily.
Joyce Meyer, in a recent podcast, said, "The quicker you learn to forgive, the better your life will be.". She used an analogy of potatoes. A teacher had her class bring in a sack of potatoes and a clear sack. On each potato, the student wrote the name of people they wouldn't forgive for whatever reason. Then the pupils carried their sacks every where they went. The sacks got heavy and burdensome quickly, then began to rot. Forgiveness releases you, let go of the potatoes as quickly as possible.
"It's actually 8:30." I said to Ron Sunday morning as we enjoyed coffee together. The morning sun shone brightly through the camper's windows, the pools of water in the road mostly gone, contentment filling our abode. However, we forgot about the time change.
After breakfast, I took the pups for their final beach walk of the trip. One lonely soul walked along the edges water as we stepped onto the sand. Crisp air caused me to shrink my hands into my sleeves, seeking warmth. Calm waves lapped the empty beach, soothing to the soul, refreshing it.
I noticed the first star fish after only a few moments, which lead to a line of them outlining the water line. Never, in all my beach walks, have I seen starfish like this. My mind wonders what caused the phenomenon.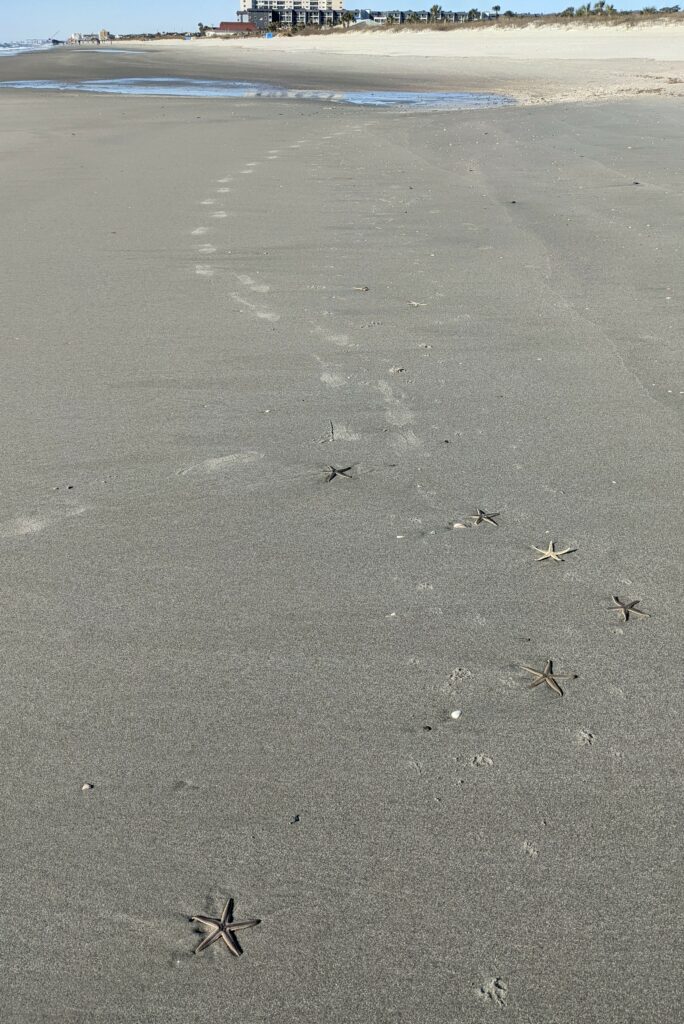 "You've got to come see this," Ron said, coming around the trailer to the front door. Following him, I saw the broken ice which fell from the slide out when it closed.
"Never seen that before," Ron said after explaining what happened.
We both had a morning of new experiences, a great way to end the trip.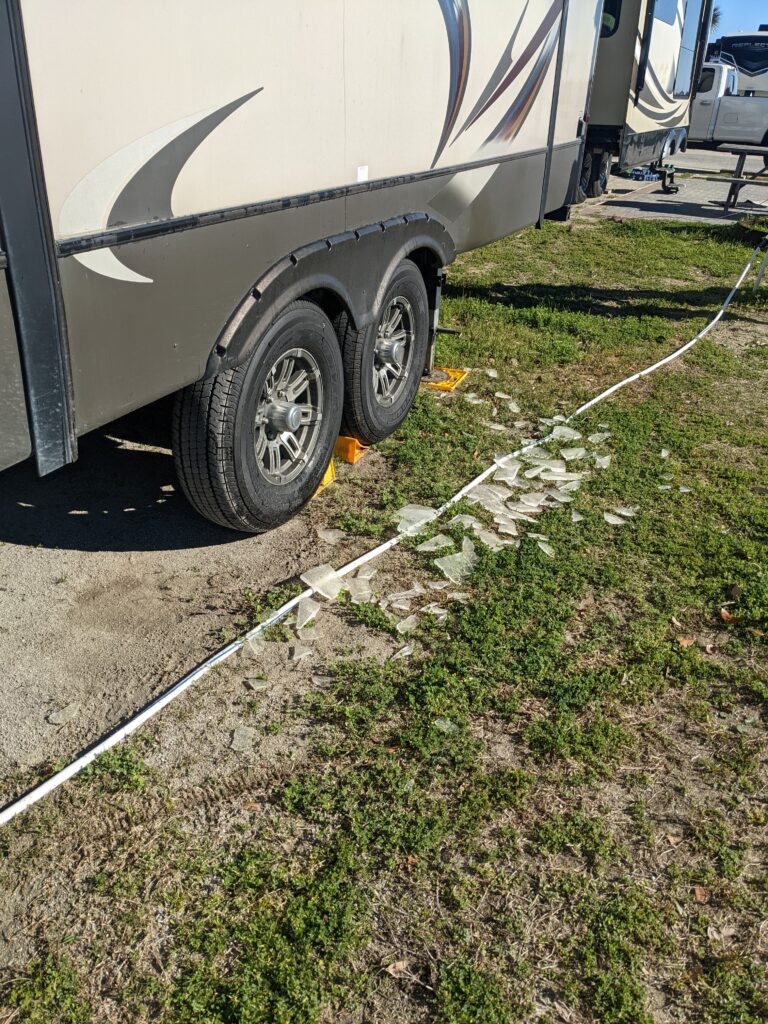 "I'm heading to the beach to say goodbye." I said as Ron finished dumping the tanks.
One last peak at God's magnificent work, breathing in the vitality of the waves, filling my soul until we meet again.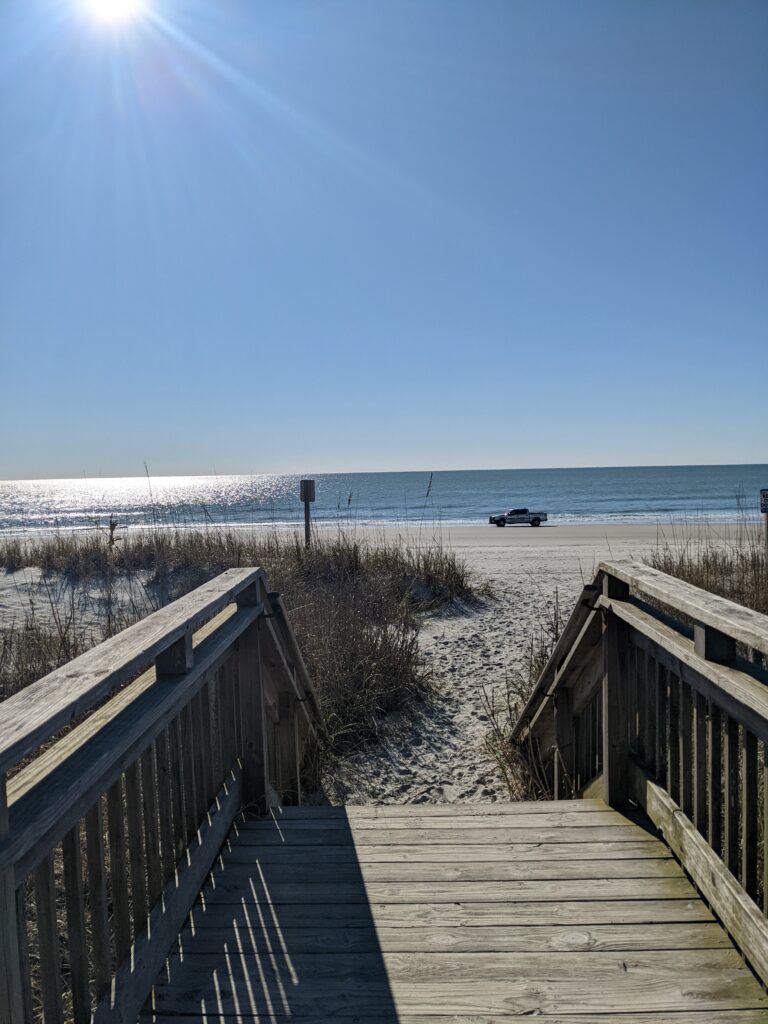 "Everyone looks like they're packin' up, and getting ready to leave," Ron said at 10:14 a.m. as we meandered our way out of the campground, making our way home.
"it's just so hard to put it all down…the anxiety." Ron said. The tire gauge shows the back rear low, then changes to the front. Ron took a test drive with the truck to check the tires and everything seemed fine. Since we've started RVing, we've encountered many issues. Ron's preparation for our safety always calms my fears.
"Oh look, all fixed. It must have been the way the wheel turned. See, now anxiety gone. Even though I knew what was going on, the light took away my anxiety. "
Once you've experienced a blown tire, it plants a seed of anxiety in your head.
"The more miles we travel, the more anxieties we battle," I said, after a lengthy discussion on anxiety.
May today's battle be mild!