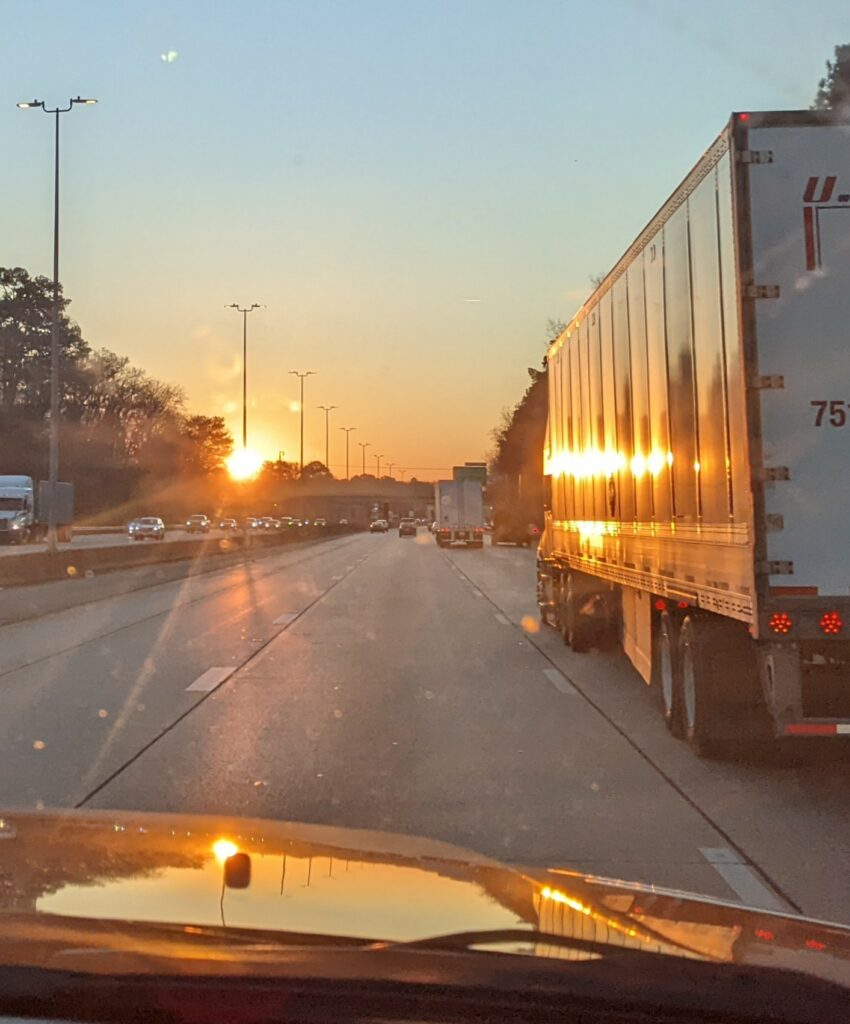 After a quick walk with the dogs, we piled in the truck at 7:18 a.m. headed to pick up the trailer.
"Right on time, a little early." Ron said at 7:52 a.m, climbing in beside me after hooking up the trailer. We began our slow rolls, heading for a new adventure, the early morning sun bright, leading us on our way. Every year, we breathe a sigh of relief when we get to make our Florida trip. Early in our marriage, we decided to forgo Christmas presents to each other, instead, heading south for a week.
"It gets me through winter."
Ron's right, we know when we get home, we only have two months until the weather starts warming again. The rhythm of our life after nine years of marriage. Florida, our refresh and renew trip.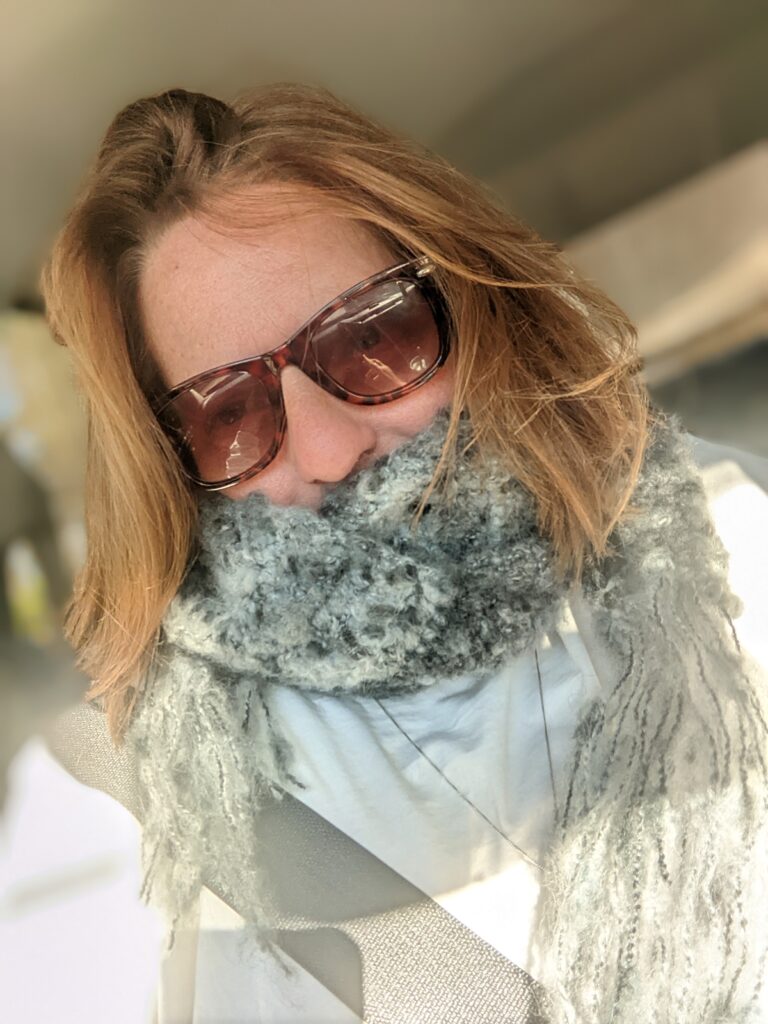 Our entertainment for this part of the trip, the podcast "Bad Women, Ripper Retold" by Hallie Rubenhold. Listening to the "Revisionist History Podcast" by Malcolm Gladwell lead me to discover the series. Jack the Ripper didn't kill prostitutes. His victims were homeless, alcoholic women with tragic life stories.
Packing for the trip, I found my crochet bag which I haven't touched since last year. Inside, not only did I find my yarn and needles, but also the DJI Action Camera I lost, and the extra battery pack. Unfortunately, thinking them gone, I bought a replacement. Confessing my find to Ron was difficult, but his response was kind.
"No biggie. We'll sell one on eBay." Grateful for a grace-filled husband who doesn't anger easily.
Since I've started walking more regularly, I've realized my need for a scarf. Finding one skein of black and gray mohair yarn gave me motivation to crochet again. And so I did, finishing the scarf an hour before we arrived at our destination.
We checked into Palmetto Shores Campground at 3:34 p.m. Heavy traffic with multiple accidents delayed us an hour. After a little debate, we decided not to unhook the truck. Planning on pulling out first thing in the morning, why create more work for ourselves.
I had the fire roaring before we finished setting up. One of our favorite New Year's was spent here, burning a butt load of wood the campground generously gave us. We paid, but they were generous in their portions.
"That has to go on Meanderings," Ron said when I showed him the pup pictures.
Enjoying a beer by the fire after setting up, Ron's favorite part of the trip. Knowing we've arrived at our destiny safely, without any unexpected issues, brings relief.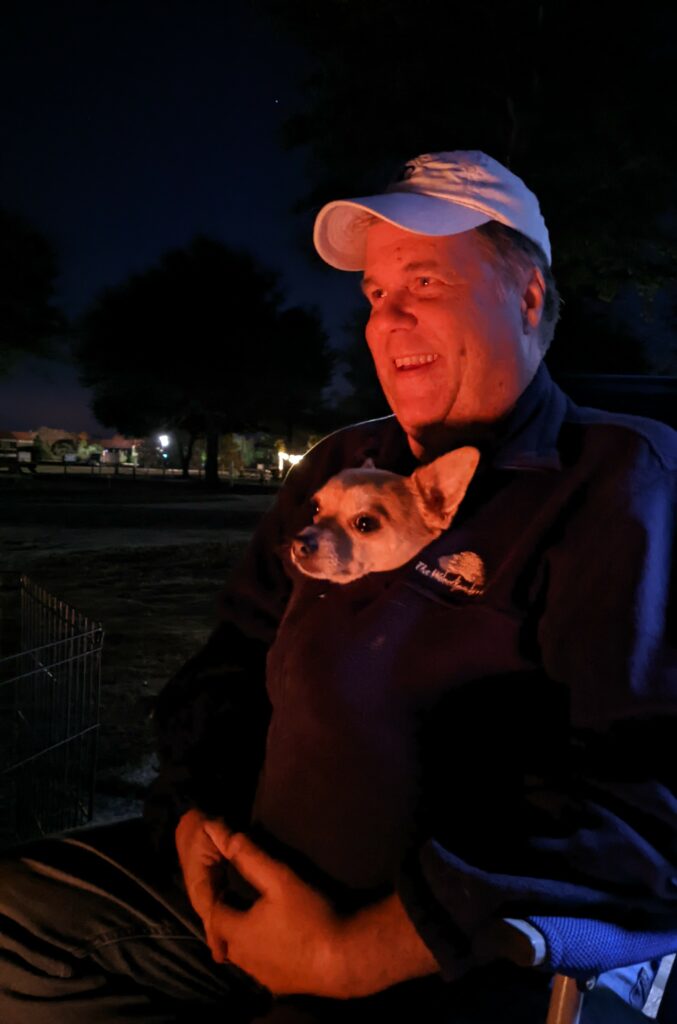 During my days working for Nautica, I drove 50,000 plus miles a year. Not once did I have a flat tire on the highway. Since marrying Ron, we've experienced so many I can't keep count, I think around 11. More than one a year for sure. Sixteen years on the road by myself without flat tires, I much prefer a few flats with Ron.
Our fireside chat included talk of the next day's journey. We must arrive before 3:00 p.m. when the office closes. Two phone calls in the past two weeks from North Beach Camp Resort have communicated the urgency of the situation. Of course, we understand, everyone wants to celebrate Christmas Eve.
"Do you want to go for a walk?"
When the sun began to dip in the sky, we put the harnesses on our tiny beasts for their nightly jaunt. We're not sure, but think the campground has new ownership. A lot of improvements since we were here last year.
Less than a mile off of I-95 makes Palmetto Shores RV Resort an ideal stop for a quick overnight. A small lake offers a beach. Cabins line the lakefront, all with individual fire pits. A restaurant overlooks the lake. Not open during our visit, I imagine watching the sunset while having dinner, breathtaking.
What was the putt-putt golf course has become an adult playground. Concrete cornhole boards, life-size chess, shuffleboard, and Ron's favorite, pickleball.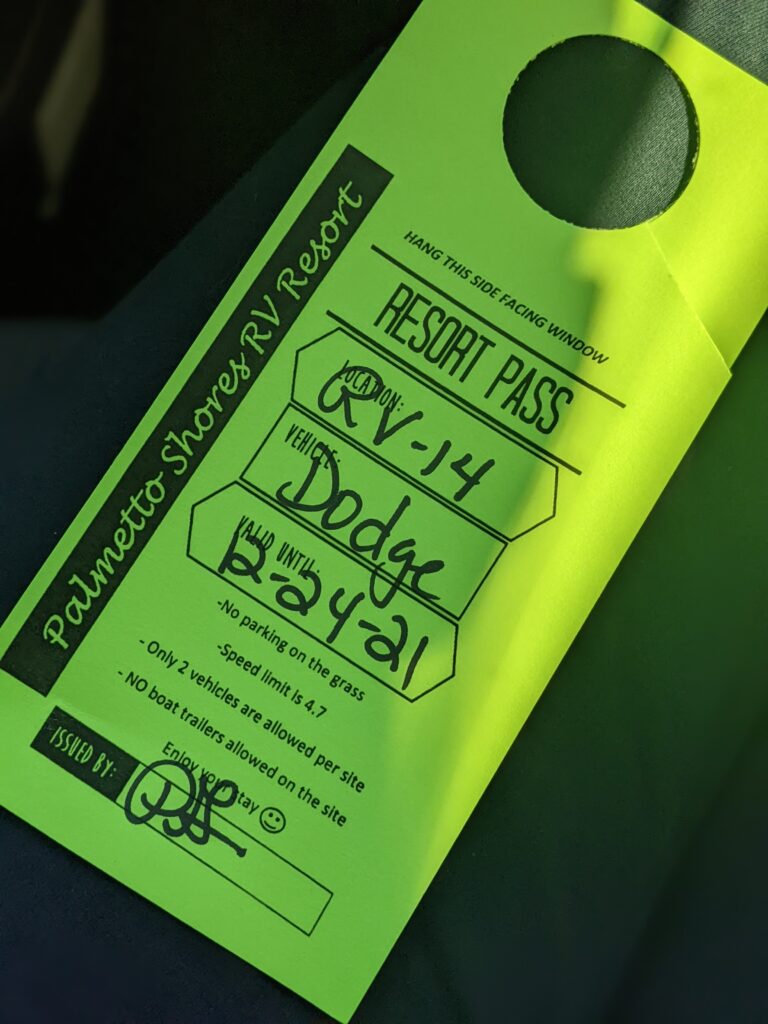 At 8:12 a.m. I jumped in the truck, ready to go. After a brisk walk with the pups in 31-degree weather, we were ready for the five-hour drive.
Ron, dressed in plaid shirts, and his "Mobile Device" red t-shirt, kept warm with his fleece jacket from the Woodlands golf course. He finished unhooking water and electricity before taking his place beside me in the truck cab. Four episodes to go in the podcasts, just enough entertainment for the next leg of our journey.
"Alright Baby Doll, we're ready to go," Ron said. And away we went.
"I'm going to play the Florida playlist. I didn't get it finished, and it's not organized, but that's ok." Ron said when we finished listening to the last episode of the podcast.
Rolling down I+95 in GA, crocheting away, I recognized the chords as soon as they began to play, our song.
"What should be the ringtone for you on my phone?" I asked Ron, sitting beside him on the couch of 2258. Dating, I never cared about anyone enough to make a ringtone for them, not before Ron. His answer tells why.
"I have the perfect song!" With those words, Ron played," I will follow you into the dark," by Death Cab for Cutie. Listening to the words, I had no doubt my heart was his completely.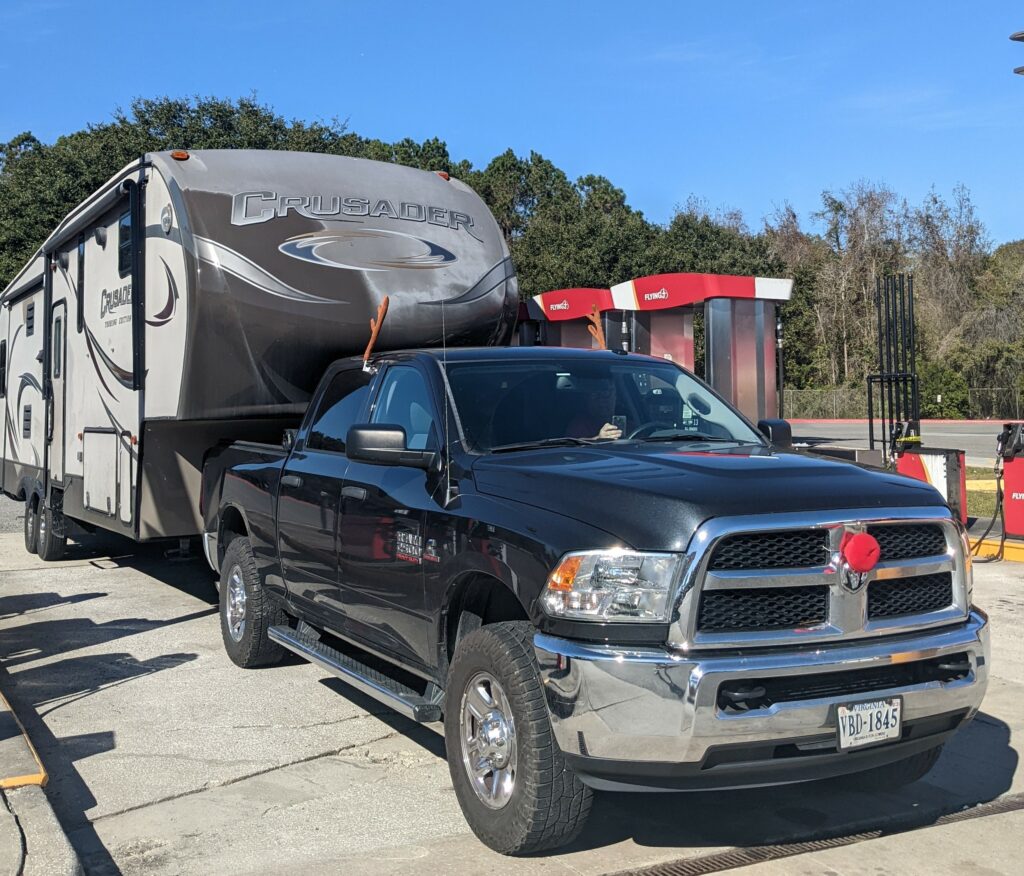 "Ah, I meant to get one and forgot," Ron said as a car drove by us on the highway with a red nose and reindeer ears.
Stopping for gas, I went inside to buy drops for my itchy, watery eyes. The first thing I saw was the Rudolph car kit. Unfortunately, no eye drops, but that's ok. Becoming Santa's sleigh, even better. You can see Santa, looking at his phone, perusing over the next leg of our journey.
Only after years of marriage do I recognize Ron's anxiety when driving. Because of past experiences, he frets. Ron's way of dealing with his anxiety, he doubles and triple checks everything. For weeks before we leave, I listen to him talk about these worst-case scenarios. By the time we're ready to go, I'm anxious and he's calm. However, now I recognize he's dealing with his anxiety, and by the time we leave, all of the i's are dotted, t's crossed. No need for me to "get worked up" as my mother would say.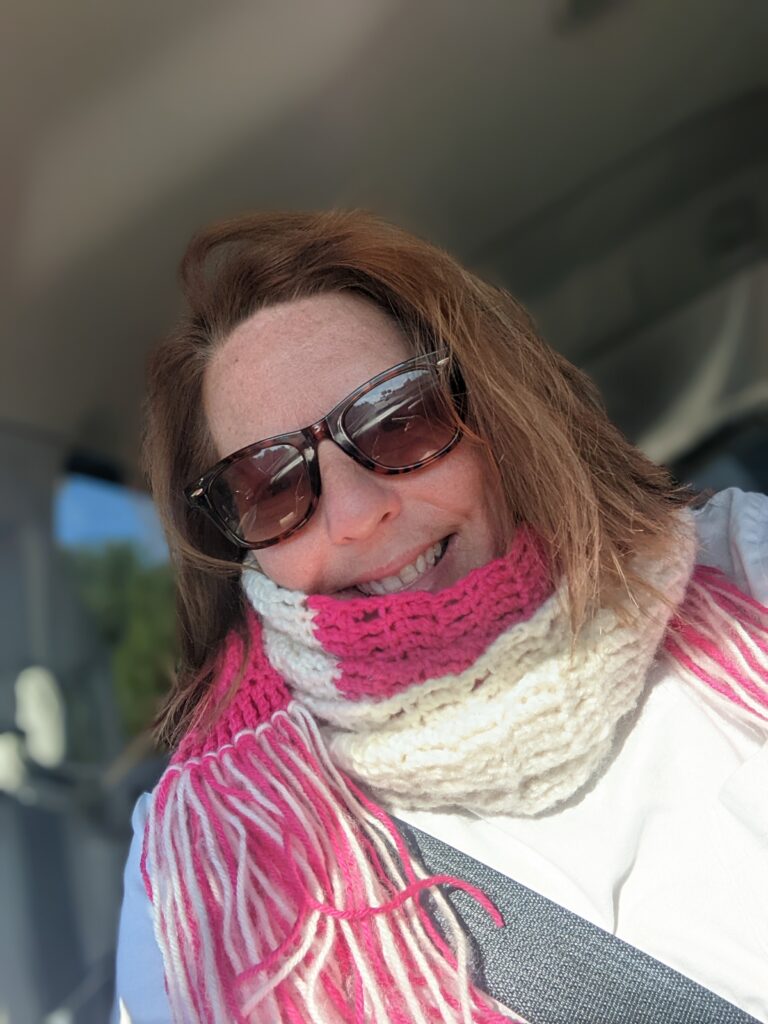 "Welcome to Florida," GPS said at 12:15 p.m. Sun is warming our face on this 73-degree day. Praise be to God!
"We're in a 35-minute radius if you see things you want to check out," Ron said. We had just crossed the Napoleon Bonaparte Broward Bridge, I was uploading the video of the bridge, trying to take notes at the time. Having just finished my latest scarf creation, I was in the process of taking a selfie for the blog when we came upon the bridge. Pink, and white wrapped around my neck, holding the phone still on the dashboard, I'm sure I was a sight.
Exploring new territory is our Christmas present to us. Years ago, we decided in lieu of presents, we would take a trip. One of our better marital decisions. Can't wait to see what we find on this adventure.
Vilano Beach reminds me of Cape Hatteras. Driving down A1A to our campground has the same feel as traveling to the furtherest point on the Outer Banks of North Carlina. Touted as one of St. Augustine's best-kept secrets, it doesn't disappoint. In the morning you can watch the sunrise over the ocean, in the afternoon, the sun sets over the Tolomato River.
"Did you see inside? There's a bat phone!" Said the man standing beside the bat car. Unfortunately, I did not get to see the bat phone, the car was gone when we came out of Publix.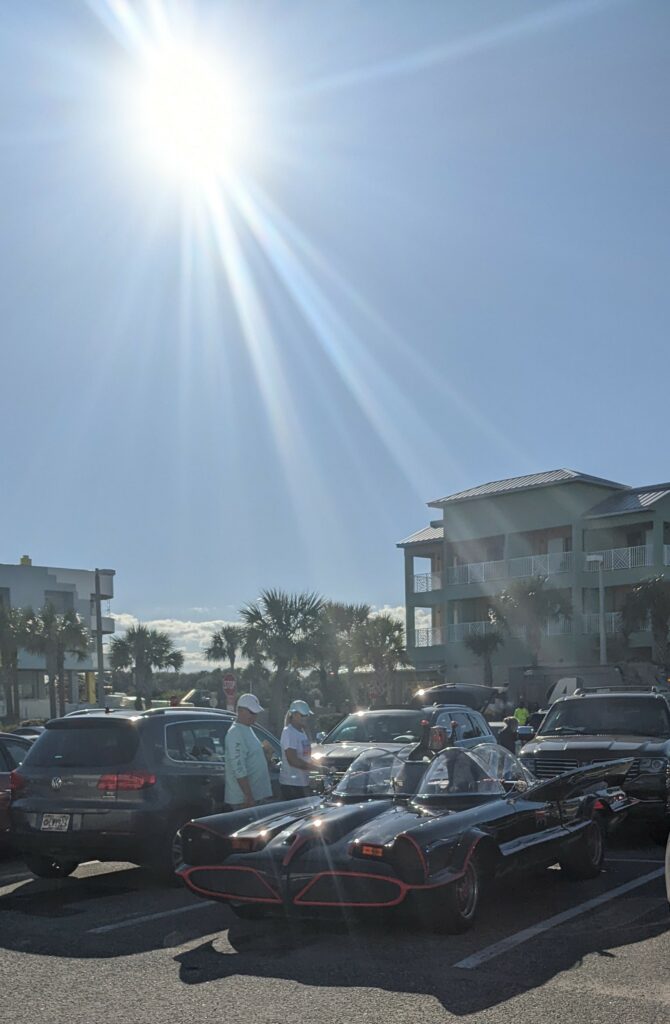 "Do you have a lot of people?" the grocery clerk asked when we checked out with 8 bags of firewood.
'We're here for a week." I said. Ron and I looked at each other with knowing smiles. "But we may be back tomorrow for more," I added. Obviously she doesn't know my pyromaniac tendencies, but Ron does.
"Have you ever worked on Christmas Eve?"
One question ended the tip argument between Ron and I. Ron's never worked Christmas, I have.
Worst Christmas, Toronto 1995. I was a junior flight attendant who worked what I got. And that Christmas Eve, I spent alone in a hotel room in Canada.
The captain of our three-person crew was a gem. When I opened my door in the morning, I found a stocking full of goodies. Leader that he was, he thought of his crew, spending the holiday miles away from their loved ones.
My favorite thing to do at Christmas, tip generously.
Christmas candlelight service somewhere new! Ron found Memorial Presbyterian Church online, loving the architecture of old churches, it was an easy choice for him. Raised Presbyterian, I feel right at home. Ron comes from a Baptist background. Capturing the beauty of the church was impossible for me to do in pictures, but I tried.
"I'm the only one wearing shorts by the way."
Ron wasn't quite as comfortable as me. I was the only one wearing a Santa hat with "Nice" written on its brim. People were dressed business casual, but not as much as I thought. Live and learn:-).
Christmas day rolled in gently, sleeping a little extra than usual. How different from when we were chomping at the bit to open presents. Our trip is the present.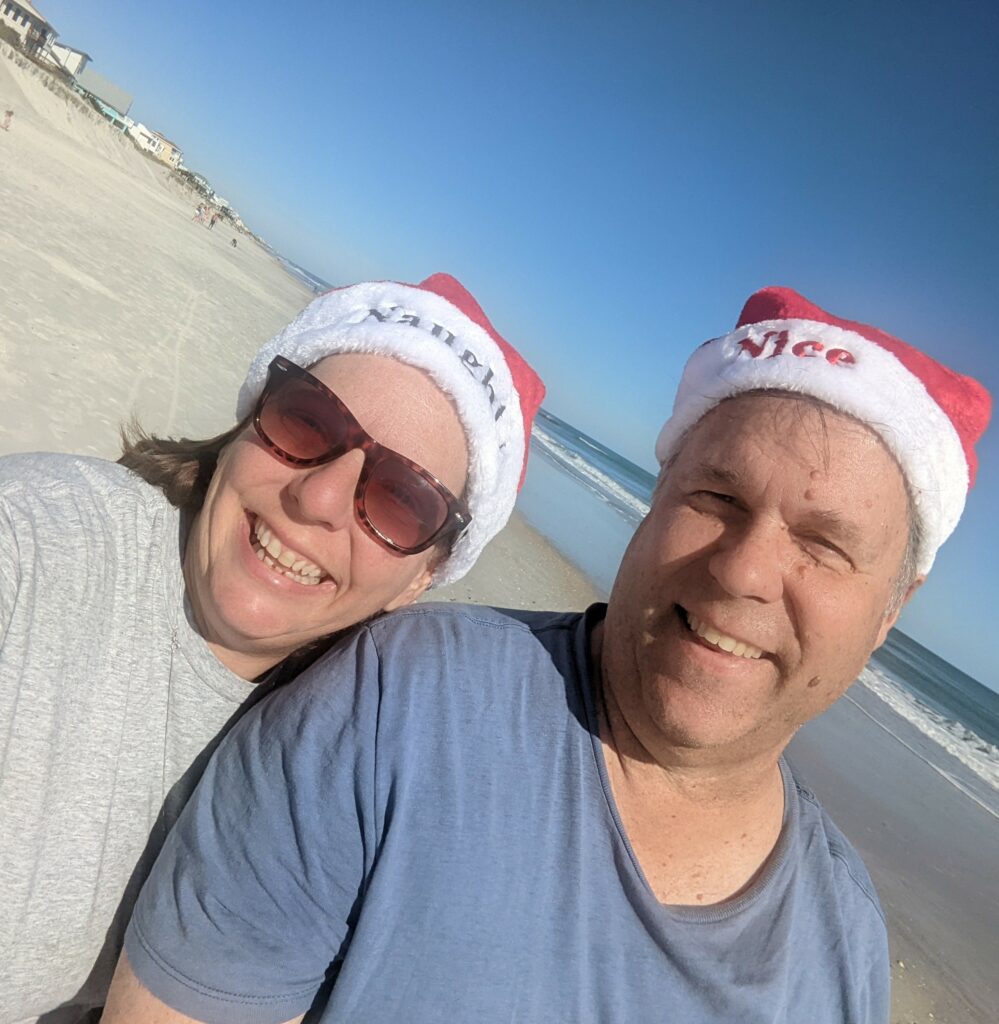 After opening our stockings, Ron cooked a scrumptious breakfast of eggs, pancakes, and bacon. Exploring our new surroundings, we took the pups for a walk. Receiving and sending Christmas texts from family and friends occupied our time as we enjoyed the laziness of the day.
Our Christmas dinner, hamburgers on the grill. Since we forgot to buy buns, bread made do. Afternoon naps, before we started an early camp fire, waiting for the sun to set. From our campsite, we can see the water. Watching boat traffic pass by entertained our afternoon.
"Look at those dolphins out there playing. I'm not going to be able to get that on film". But I sure wish I could have.
Ron and I hoped we'd enjoy North Beach Campground. Trusting reviews, not always a wise choice. However, when people described the campground as a hidden gem, they weren't lying.
"You can either go to the pool, the river or the ocean. You have three choices," said the mother to her son as I passed by on my bike. What her child chose, I didn't hear, but she's right, the choices of things to do are plenty in North Beach Camground.
Our evening walk around the campground revealed all sorts of Christmas lights. My favorite, a Christmas tree made from hockey sticks, covered in luminescent bulbs. Our neighbors to the left are Canadian, staying until Jan. 3rd. on the otherside of us, retired teachers from California meandering their way around the country.
"No way they have the same set-up as us." Ron said.
Our Californian neighbors share our taste in bikes. The husband has the exact same bike as Ron, his wife's similar to mine, except electric. Definitely a bike friendly area, worth strapping them on for our visit.
Ron didn't want to walk along the ocean front, so the pups and I braved the night terrain ourselves. Not many stars were in the sky as we strolled the sandy beach.
"Yeah, me too. I feel like I have a partner in crime to enjoy life with." I said to Ron when he affirmed he liked being married to me.
We rounded out Christmas weekend with LCC's online service Sunday morning. Afterwards, we toured St. Augustine looking for Pickleball places. We found two, Dale Williams Pickleball, Paddle and Tennis Courts and Treaty Park. Lunch was at Beaches, a quaint restaurant with outdoor seating on the river.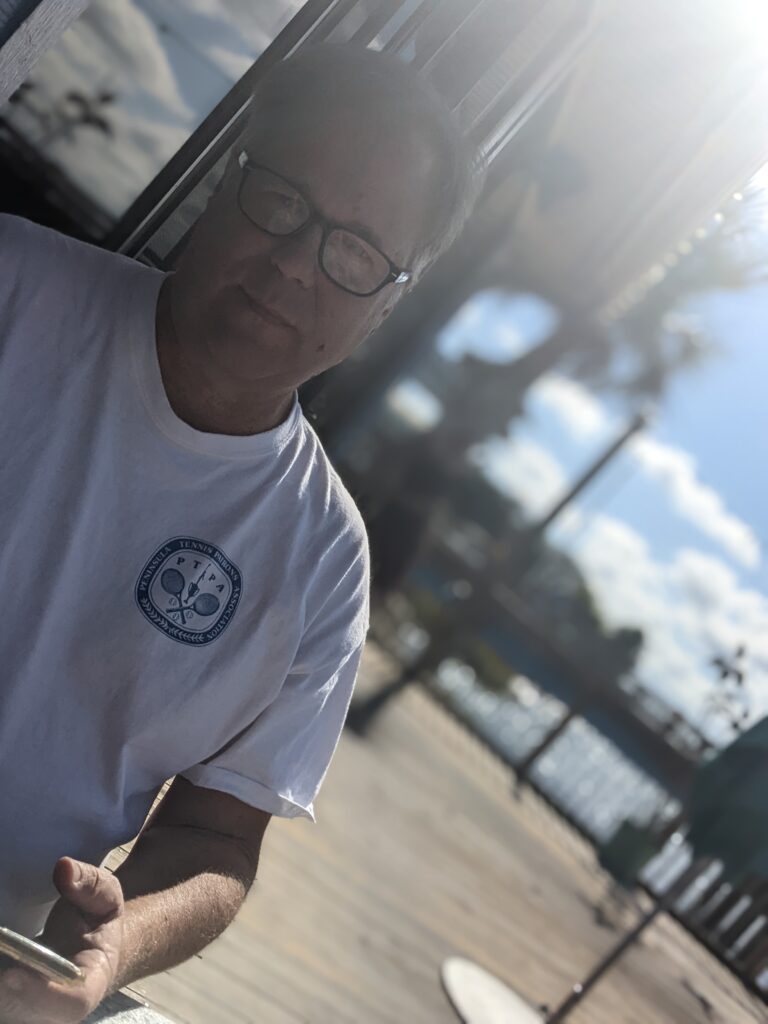 sunset 12/26
"When you were a child, did you hear, " Turn the lights off." A lot from your parents?"
'Yes. And I hear it a lot from my wife now."
Campfire chat revolved around mundane topics. Ron doesn't know how to turn off lights. Therefore, he uses LED lighting because they don't use as much energy. He doesn't have worry about turning off lights. Ce la vi. Why argue about things you can't change?
Pumpkin pie and cookies, two things I can't resist, nor did I. All gone now, until next year when we meet again.
As the fire began to die, we received new neighbors across the way. Watching them set-up was the entertainment for the evening. For some reason, viewing others create their temporary home never gets old. Camping for over seven years now, still one of my favorite things to do.
And with the entrance of new neighbors, our picturesque Christmas weekend came to a close.
And to all a goodnight.